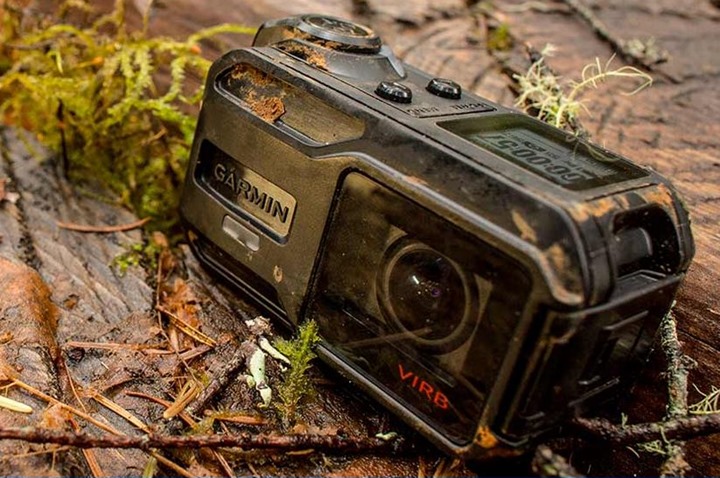 Today, Garmin announced two new action cameras – the next in their VIRB action cam lineup.  These two cameras continue in the footsteps of the Garmin's first generation cameras by focusing heavily on sensor data and internal metrics that can be added to your videos.
What's New:

Let's cut right to the chase and get straight into the new and notable features within the VIRB X & XE series.  I should note that the two versions are $299 (VIRB X) and $399 (VIRB XE).  The main difference between the two models is the recording resolution/frame rates, but I'll get into that later in the comparison tables.  I asked what the 'X' stood for, and essentially it's being used as the environment variable (as in: You'll get "x" data).  The 'E' in XE stands for Elite.
Here's my bulleted run-down of the new stuff, distilled from the marketing fluff:
– Both models now have WiFi, GPS, accelerometer, and full ANT+ sensor capabilities (previously only the higher end VIRB had it)
– Addition of gyroscope, increased sensor data collection at higher rate
– Slight resolution increase to 1440/30p for VIRB XE
– New slow-mo options: 240fps @ 480p, and 120fsp @ 720p (XE only)
– Natively waterproofed to 50-meters (no external case required)
– Flat front glass/case that Garmin says will repel water droplets
– Ability to connect to supported Bluetooth-enabled OBD sensors (automotive primarily)
– Ability to connect to Bluetooth 4.0 audio devices (i.e. microphones)
– New 'Pro' mode for adjusting white balance, sharpness, ISO, exposure bias, and color profile
– New auto image rotation option, which ensures photo/video is right-side up
– New continuous photo mode
– New photo burst to 10 frames per second for VIRB X (previously was 6 fps
– New photo burst to 30 frames per second for VIRB XE (previously was 6 fps)
– Ability to have camera 'sleep' in between long-interval timelapses (up to 120-seconds now)
– Dedicated photo-taking button (also automatically tags video highlight too)
– Ability to capture Garmin HRM-RUN Running Dynamics & Garmin Vector Cycling Dynamics data
– Improved microphone that isn't blocked by rubber stopper, works underwater
– Ability to share videos/photos directly from Garmin VIRB mobile app
– Ability to create gauge/dashboard overlays form the Garmin VIRB mobile app on videos
– Ability to control and stream up to 10 cameras from the Garmin VIRB mobile app
– Support for 128GB micro-SD cards (increased from 64GB)
– Uses GoPro mount on camera itself
There are also some things that were cut from the previous generation models, or are different enough to be worthwhile noting.  They are:
– The unit itself no longer has a preview screen display (only has menu/settings information on display). Live preview requires mobile app.
– No more HDMI output port
– Reduced battery life, from "up to 3 hours" down to "up to 2 hours"
– New battery design isn't compatible with old design
– Removal of Ski Mode, due to removal of barometric altimeter
– New mounts are sorta backwards compatible. They are compatible with the previous collared mounts, and a $10 adapter is available to fit other existing first generation VIRB mounts.
– Barometric altimeter has been removed, just GPS elevation data now
Ok, that's just the bulleted list rundown of basically everything.  In the next section I'll dive into the details a bit more on some of the more notable new features.
Digging a bit deeper: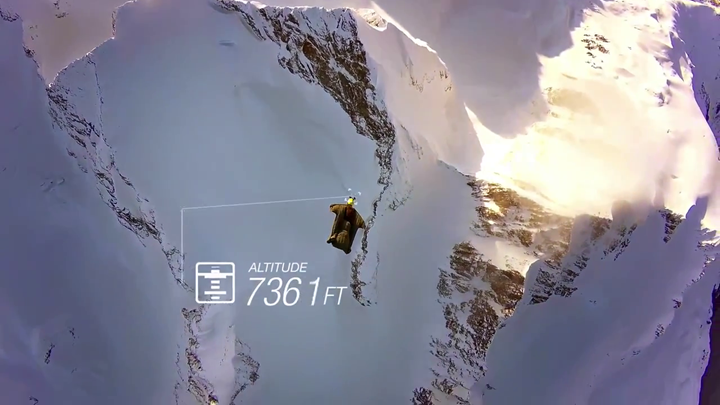 As you can see from above, there are a ton of new features.  Some of them are big ticket items (both models now having WiFi, GPS, full sensor support) , others are competition catch-up items (i.e. burst photo to 30 frames per second, mobile app transfers), and finally some are just minor tweaks (i.e. 128GB card support).
Still, there are some features that are definitely new on the scene and worthwhile mentioning. First is the support for specific Bluetooth data streams, most notably for Bluetooth 4.0 audio devices that support wide-band speech.  This means that you can pair a microphone with it and then narrate the action in realtime.  This is pretty darn cool.  I can think of many cases where I might be using a camera trying to demonstrate something and being able to narrate what's going on with a wireless mic is quite nice, versus having to do it later. Also of note is making the existing on-unit microphone more external now, as opposed to being blocked by the rubber stopper as was the case with the first generation devices.
The Bluetooth connectivity does allow for the VIRB to connect to Bluetooth-enabled OBD devices that transmit metrics like throttle position, RPM and speed.  These are primarily used in the automotive realm.  However, it can also communicate with various Garmin marine systems/devices for boating related endeavors.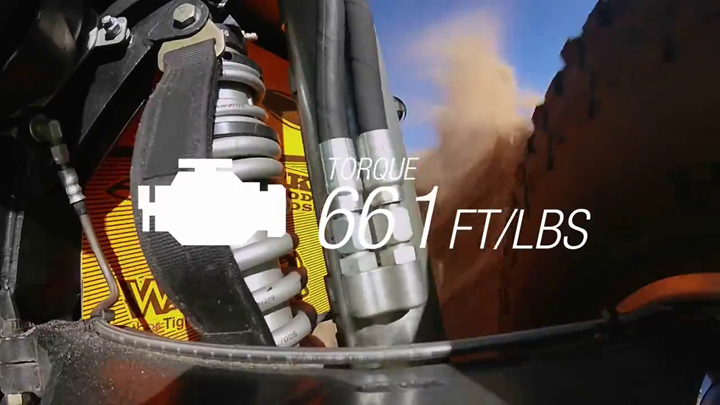 At this point, the Bluetooth support isn't extended to Bluetooth Smart sensors (i.e. cycling or heart rate sensors) – though the chipset is certainly capable of it, as it's a full Bluetooth 4.0 chipset.  So that's really more of a firmware enablement type item.  Of course, Garmin continues to support virtually all major ANT+ sensor types.
In fact, that sensor support is expanding.  The VIRB X & XE units will now capture Garmin Cycling Dynamics & Running Dynamics data, and make it visible within dashboard items.  This data comes from the Garmin HRM-RUN heart rate strap, and their Garmin Vector power meter pedals.  Today with the existing units only basic heart rate and power information is captured.  I could see some semi-interesting scenarios with running gait analysis having the camera off-body on a track and then overlaying the HRM-RUN data being streamed to it.
As a side note, these dashboard items are now officially branded as "G-Metrix".  Or, as the rest of us know them as: Data stuff.
Next on the advanced user front is Garmin's addition of pro-style controls over the camera itself.  On the VIRB XE you can now tweak the white balance, ISO limit, exposure bias, sharpness, and color profile.  This is roughly in line with what GoPro has been offering for some time, and is a nice addition – especially for those who are spending more time fine tuning the video for later use.  The VIRB XE also contains electronic image stabilization, leveraging the sensors within the camera.
Externally speaking there are a number of changes.  First is doing away with the dive case and getting smaller.  The unit is now lighter too.  The unit itself is waterproofed to 50-meters, so it should be good for the vast majority of scuba divers (plus those who end up in the drink on their bike).  With that does come the loss of the preview screen though.  The new screen is only used for configuration and doesn't preview what the camera is seeing.
Additionally, Garmin has adopted the GoPro mount system – which means you'll have increased compatibility with quite a number of 3rd party mount related products.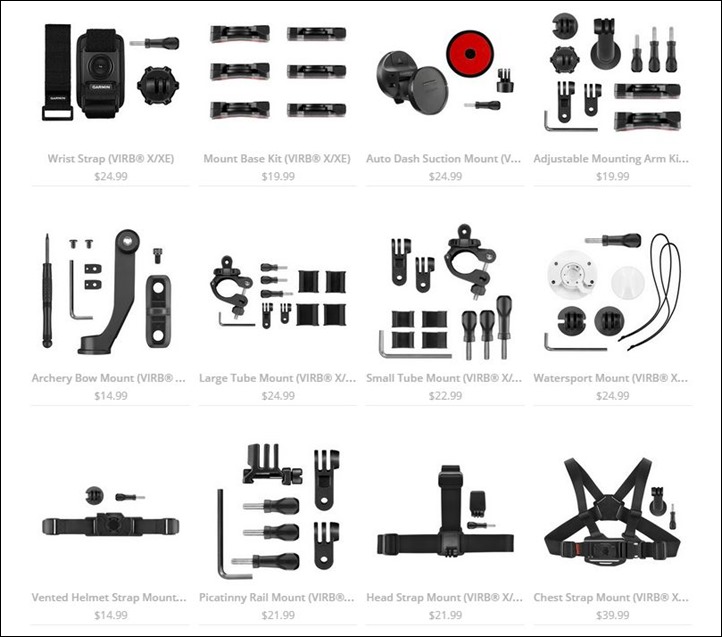 As for the loss of the preview screen, instead you'll need to use the updated VIRB mobile app to preview video.  The app supports previewing of the video, as well as previewing it while recording.  And not just previewing one camera, but up to 10 cameras at once.  It can both show the video streams as well as control the camera settings and state.  This sounds pretty much like what Sony introduced this past winter at CES, with their multi-camera control.  Definitely cool stuff.
Probably the most important new feature for the mobile app though is the ability to transfer photos and videos from the unit to the phone (and then shared onwards to the interwebs).  This wasn't available in the first generation series, leaving quite a gap to most other connected action cams on the market.  Now you can not only transfer, but also apply gauges/dashboards to the videos – such as your speed or altitude.
The mobile and desktop apps will also be able to show highlight tags from the video footage, which are automatically generated when you take a still photo using the dedicated button.
Lastly on the app front, while connected the app will continuously record the GPS position of the camera – so in the event you lose it (or somehow lose the person attached to it), you have a chance of finding it.  This is definitely ideal in the snow (where I've managed to have a camera fall off once before).
VIRB X Photo Gallery:
Here's a quick photo gallery I shot yesterday with a bunch of different shots of the VIRB X.  The hardware is final, however the software is not. Thus small changes in how things appear in both the app and the device menus should be expected:
Other Technical Details:
Garmin sent over a field of view chart showing the viewing degrees for each of the different modes within the VIRB X & XE.  I've gone ahead and included it below.
VIRB X/XE Field of View Angles
| Zoom Mode | Vertical FOV deg | Horizontal FOV deg | Diagnol FOV deg |
| --- | --- | --- | --- |
| 4:3 Wide | 94.6 | 119.5 | 141.2 |
| 4:3 Zoom | 72.8 | 94.2 | 113.2 |
| 4:3 UltraZoom | 49.7 | 65.6 | 80.2 |
| 16:9 Wide | 70.3 | 115.4 | 128.2 |
| 16:9 Zoom | 53.6 | 90.9 | 102.2 |
| 16:9 UltraZoom | 36.2 | 62.8 | 71.6 |
Detailed Comparison Charts:
I've added the VIRB X & VIRB XE into the product comparison database, and plotted them next to the VIRB Elite & GoPro Hero4 Silver.  I figure that offered a historical comparison, and a market comparison.  Of course, you and mix and match yourself pretty easily with other units by using the product comparison tool.
Function/Feature

Garmin VIRB X
Garmin VIRB XE
Garmin VIRB (Elite)
GoPro Hero4 Silver
Copyright DC Rainmaker - Updated October 3rd, 2016 @ 6:07 am New Window
Price
$299
$399
$299
$399
Availability
Summer 2015
Summer 2015
Global
Global
WiFi Builtin
Yes
Yes
Yes
Yes
Bluetooth to Phone
Yes
Yes
No
Yes
Recording Light
Yes
Yes
Yes
Yes
GPS builtin
Yes
Yes
Yes
No
Altimeter builtin
No (uses GPS elevation)
No (uses GPS elevation)
Yes - Barometric
No
Water Resistant
50m
50m
IPX7 (1 meter for 30 mins), separate 50m dive case available
40m with included case
Accellerometer
Yes (+Gyroscope)
Yes (+ Gryoscope)
Yes
No
Video Preview Screen
No
No
Builtin
Yes
Voice Control
No

Battery

Garmin VIRB X
Garmin VIRB XE
Garmin VIRB (Elite)
GoPro Hero4 Silver
Recharges via
USB
USB
Mini-USB
Mini-USB
Removable battery
Yes
Yes
Yes / 2000 mAh
Yes / 1160 mAh
Recording Time
2 Hours
2 Hours
3 hours
2 Hours
Secondary attached battery
No
No
No
Accessory

Storage

Garmin VIRB X
Garmin VIRB XE
Garmin VIRB (Elite)
GoPro Hero4 Silver
Storage Card Type
Micro-SD
Micro-SD
Micro-SD
Micro-SD
Maximum Card Size
128GB
128GB
64 GB
64GB

Video

Garmin VIRB X
Garmin VIRB XE
Garmin VIRB (Elite)
GoPro Hero4 Silver
4K
No
No
No
12.5/15 fps
2.7K
No
No
No
24/25/30 fps
1440p
No
30 FPS
No
24/25/30/48 fps
1080p
25/30 FPS
24/25/30/48/50/60 FPS
30 fps
24/25/30/48/50/60 fps
Records 360* Video
No
No
No
No
Automatic Image Rotation
Yes
Yes
No
Yes (Feb 2015 update)
Image Stabilization
No
Looping Recordings
Yes
Yes
Yes
Yes
Timelapse Mode (constructs timelapse video)
Yes
YEs
Yes
Yes (Feb 2015 update)
Travelapse/Hyperlapse Mode
No
Pro Settings Mode
Yes

Audio

Garmin VIRB X
Garmin VIRB XE
Garmin VIRB (Elite)
GoPro Hero4 Silver
Internal Microphone
Yes
Yes
Yes
Yes
Supports Bluetooth Microphones
No
Pro mode with seperate tracks
No

Photo

Garmin VIRB X
Garmin VIRB XE
Garmin VIRB (Elite)
GoPro Hero4 Silver
Megapixels
12 MP
12 MP
Up to 16 MP (4664*3496)
12 MP
Timelapse Mode (photos on interval)
Yes
Yes
2,5,10,30,60s
0.5,1,2,5,10,30,60s
Burst Mode
UP TO 10 PHOTOS/SECOND
UP TO 30 PHOTOS/SECOND
Up to 6 photos/second
Up to 30 photos/second
Continuous Shooting Mode
Yes
Yes
No
Yes
Concurrent w/video mode
Yes
Yes
Yes
Yes
Records 360* Photo
No
No
No
No
Pro Settings Mode
Yes
RAW photo creation support
No

Sports

Garmin VIRB X
Garmin VIRB XE
Garmin VIRB (Elite)
GoPro Hero4 Silver
Skiing Mode
No
No
Yes
No
Control from sport computer
Yes
Yes
Yes
No
ANT+ Sensor Connectivity
Yes
Yes
Yes
No
Bluetooth Sensor Connectivity
No
ANT+ Profile Types
HEART RATE, SPEED, CADENCE, TEMPERATURE, POWER (+ Bluetooth OBD data)
HEART RATE, SPEED, CADENCE, TEMPERATURE, POWER (+ Bluetooth OBD data)
Heart Rate, Cadence, Temperature, Power
No
Overlays sport data on recording
Yes (via Garmin apps)
Yes (via Garmin apps)
Yes, via included desktop apps
No

Phone

Garmin VIRB X
Garmin VIRB XE
Garmin VIRB (Elite)
GoPro Hero4 Silver
App platforms available
iOS/Android/Windows Phone
iOS/Android/Windows Phone
IOS/ANDROID/WINDOWS PHONE
iOS/Android/Windows Phone
Use as remote control
Yes
Yes
Yes
Yes
Video preview
Yes
YEs
Yes
Yes
Transfer video-photos from camera
Yes
Yes
No
Yes
Multi-camera live control/preview
Up to 10 cameras
Up to 10 cameras
No
NO

Software

Garmin VIRB X
Garmin VIRB XE
Garmin VIRB (Elite)
GoPro Hero4 Silver
App for computer
VIRB Edit
VIRB Edit
VIRB Edit
GoPro Studio

Accessory

Garmin VIRB X
Garmin VIRB XE
Garmin VIRB (Elite)
GoPro Hero4 Silver
Remote control button/key
Yes
Yes
Yes
Yes
Diving case
No (unit already waterproofed to 50m)
No (unit already waterproofed to 50m)
Yes, up to 50m
Included

Device Connections

Garmin VIRB X
Garmin VIRB XE
Garmin VIRB (Elite)
GoPro Hero4 Silver
USB Connector Type
USB
USB
Mini-USB
Mini-USB
Micro-HDMI
No
No
Yes
Yes
Composite Video
Adapter Available
Adapter Available
Adapter Available
Adapter Available
Audio 3.5mm Stereo Mic
ADAPTER AVAILABLE
Adapter Available
Adapter available
Adapter Available

Purchase

Garmin VIRB X
Garmin VIRB XE
Garmin VIRB (Elite)
GoPro Hero4 Silver
Amazon
Link
Link
Link
Link

DCRainmaker

Garmin VIRB X
Garmin VIRB XE
Garmin VIRB (Elite)
GoPro Hero4 Silver
Review Link
Link
Link
Link
Link
Again, remember you can mix and match products within the product database here.
My Overall Thoughts: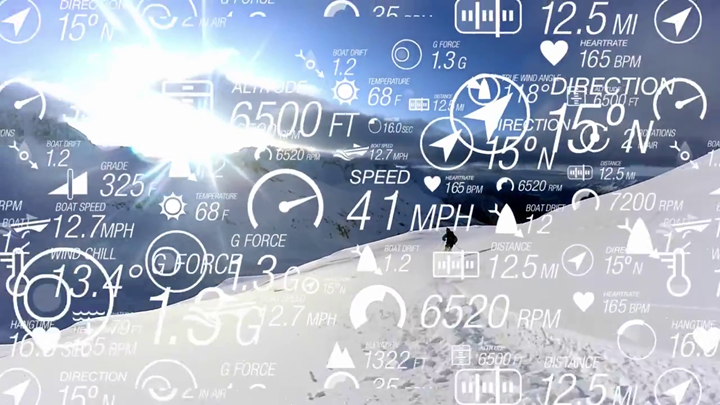 Now, as I remind companies out there on a near-weekly basis: I don't recommend products I haven't had some amount of actual hands on time with.  And Garmin certainly isn't immune to my stance there.  In this case they were unable to get me any meaningful hands-on time with the unit ahead of announcement, and thus consistent with my thinking there: I can't recommend pre-ordering it at this time.  Perhaps it'll be great.  Or perhaps not.
My time with a unit was months ago, and really only touching the exterior of it for about 90 seconds.  Which is honestly probably the main aspect of the new VIRB that I think they got most right.  It's the internals and pricing I'm not yet sold on.
To start, Garmin has no doubt improved the VIRB from the previous generation.  Substantially in fact.  Some of that is external focused in terms of shrinking the size and going with a GoPro compatible mount.  The camera is smaller too, though slightly more oblong than the GoPro. And some of that is in the interior, with aspects such as improved sensor capabilities like the gyroscope, added Bluetooth OBD and audio support, and new WiFi/GPS functionality in the base unit.  Finally, huge improvements in the app make it much more capable now – such as multi-camera control and preview, as well as the ability to actually transfer the content you shoot and then add gauges right from your phone.  That's all cool stuff, no doubt.
But I think they missed the mark on the video resolution/quality. With GoPro, Sony, and others at 2.7K and 4K resolutions, Garmin really needed to match at least 2.7K in the higher end model.  In my discussions with them, Garmin notes that for fast moving action that the higher frame rates offered by 60fps is better than going for higher resolutions.  And that's true.  Except, that's also a cop-out.  GoPro offers both higher resolution and higher frame-rates in both its mid and higher end cameras.  As does Sony.  Further, the reality is that most things people actually shoot on these cameras aren't heart-stopping action sequences.  Rather, it's a wide range of video from playing on the beach to being a tourist in a major city.  All of which is where the GoPro quality really shines.  And on top of all that, we're skipping the fact that GoPro has a $129US offering and Garmin's lowest starts at $299US.  Or that GoPro tends to do annual releases in October, potentially quickly overshadowing the planned summer VIRB X/XE release.
Now this sounds like I might be a bit disappointed in the new units.  And, there's probably some truth to that.  To put it in perspective, I'm lovin' the beautiful quality of the GoPro Hero4 series (as well as the size).  And with Garmin VIRB Edit (free software suite), I can actually mix that GoPro footage straight with Garmin fitness device metrics on the screen.  So I can pretty much get the same result anyway when using other Garmin devices.  Had Garmin increased the resolution and kept the preview screen – I think they'd have had runaway winner.  Instead, they're forcing folks to choose between a camera with sensor data (VIRB), or video quality (GoPro)…at the same price.  That's a tough sell to make to the mass market.  And that's before you even start looking at GoPro's enormous 3rd party hardware compatibility and growing 3rd party mobile app support.  Oh, and the massive marketing machine behind GoPro as a brand.  Of course, you could just go with Sony's offering, which has both the higher resolution and much of the data displays.
Of course, maybe I'll be proven wrong.  Maybe none of those things matter to the average consumer.  No doubt there are many features that niche markets will love about the VIRB X & XE, such as the automotive and marine device integration and audio support.  And, those lucky enough to have a handful of units will enjoy multi-camera aspects.  Same goes for those wanting to scuba dive without a case.
The only other problem is that we'll have to wait a bit.  As noted, the VIRB X & XE aren't planned to come out till "Summer 2015".  And unfortunately, in Garmin speak that almost always means availability/shipping towards the very end of that announced time period – a season that technically runs through September 22nd.  But maybe I'll be proven wrong there too.  I'm always happy to be proven wrong on that front.
With that – thanks for reading!
(Note: With the exception of the Gallery I've added, all other imagery from Garmin)