I'm often asked how I find my training routes while travelling.  I've discussed that a bit in the past in terms of how I research places to run/bike/swim.  But sometimes it's not so much finding a place, as it is getting a specific workout done.
For example, yesterday I had an interval workout to knock out.  It had a number of segments, but the meat of it was 10x400m.  On a track, that'd be easy to replicate over and over again.  But, what if you were where I was – in the middle of nowhere?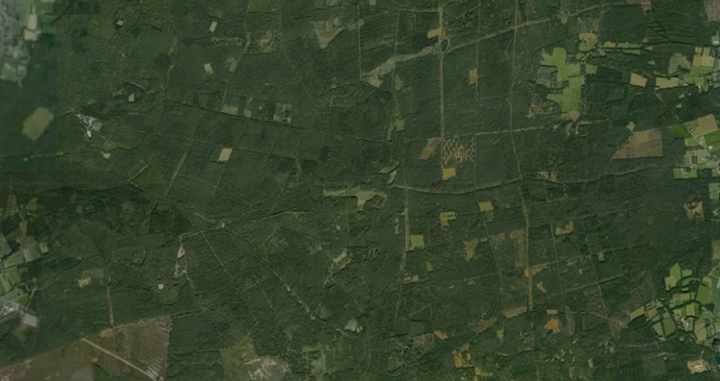 Well, then it gets a bit trickier.  In my case I was back in lovely forested Apeldoorn for a quick 28 hour trip.  And while there was a track, it was some distance away by car.  Plus, figuring out whether it was open to the public and closing times seemed like even more complexity.  In general for me time is my biggest limiter.  So spending time getting a taxi to the track, then running, and then getting a taxi back just appeared as a giant time waster.
Instead, I'd simply make my own track in the woods.  The first portion of the workout was a 10 minute warm-up followed by a set of high-cadence drills, which then segued into a 5-minute build of intensity.  All of that I could do wherever the heck I wanted since none of it really required much consistency.  So I did the 10 minutes wandering around the forest: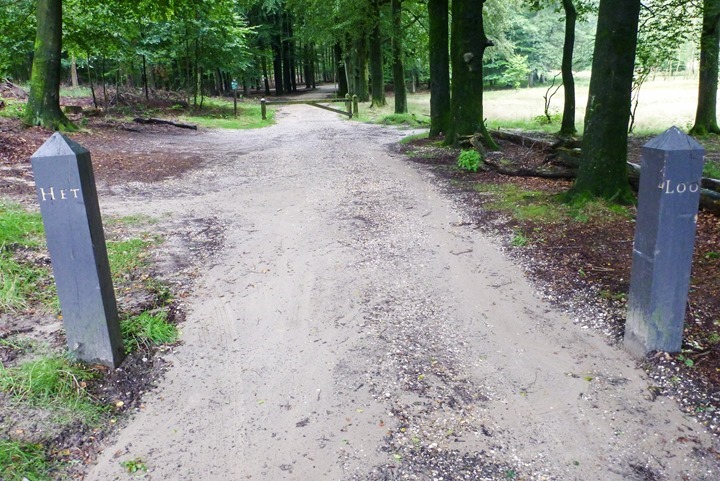 And then the cadence drills and build I did on a running/cycling path, since the forest was a bit muddy.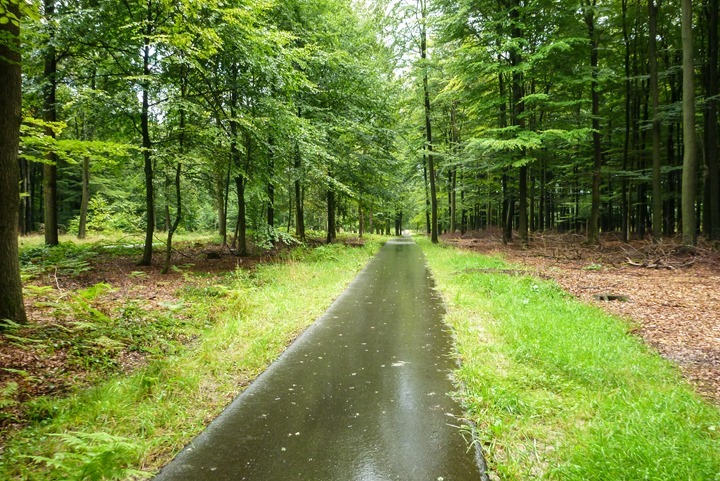 Oh yes, did I mention it was alternating between pouring and sunny? Like a confused child that just couldn't decide what to do: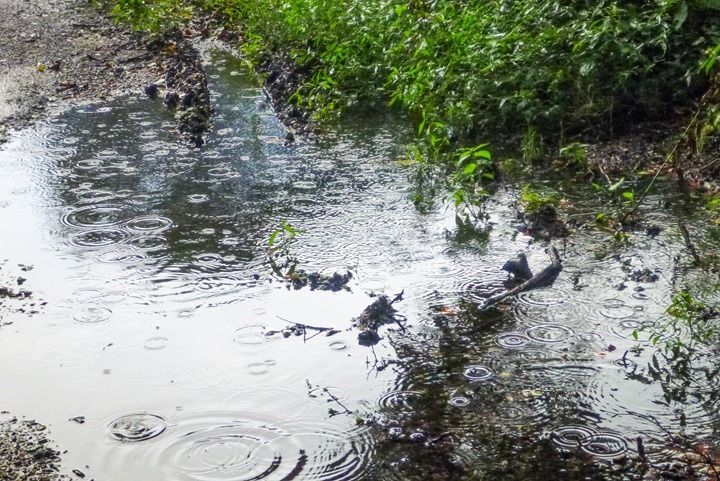 So as for the 10x400m sets, I wanted something that was very repeatable.  Ideally it'd be flat and straight.
I wanted straight because it would make it more likely that my route was the exact same each time.  Plus, if you have really tight 90 degree twists and turns you're more likely to both slow down and slip and fall (it was wet).
And I wanted it repeatable so I could compare each set.  By that I mean that while I could have simply run 5x400m in one direction and 5x400m back, I really wouldn't be able to compare interval #1 to #9.
In my case I had seen a perfectly straight section earlier in the evening, so I started with that: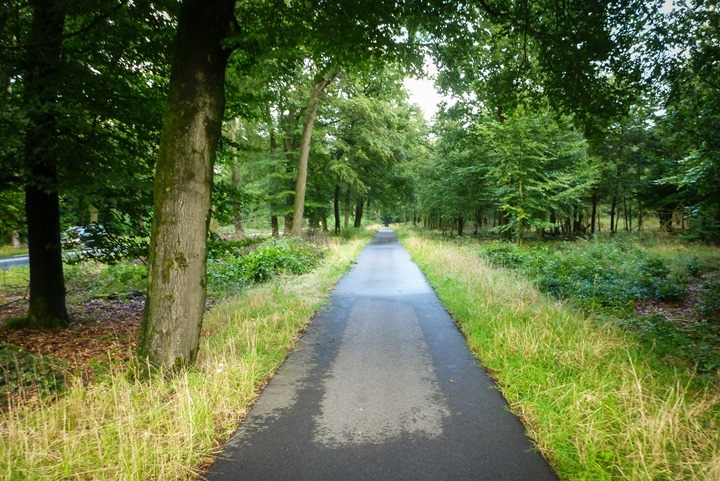 I then found two chunks of wood on the path and just moved them out of the way to form a start line and a finish line.  You can see them in the lower right of each photo.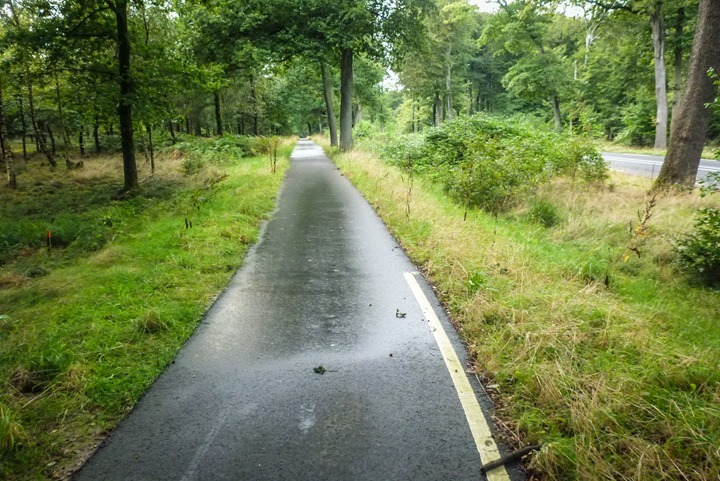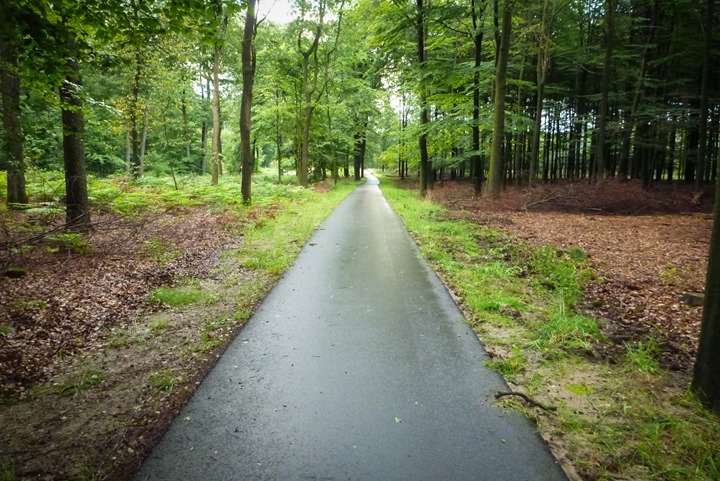 As for measuring the distance?  Well, I used GPS for that.  I simply started it with my first interval and then when it hit .25 miles I pressed stop and called that my finish line for all future attempts, regardless of what the actual watch displayed for distance.
So why not use GPS for every attempt?  Well, you'll get slight variations in distance – especially since I was in the forest and doing them under tree cover.  And for preset intervals, in particular for ones as short as 400m, it's fairly important that you're doing 400m each time and not doing 385m one time and then 410 the next.  As that sort of difference would realistically result in a swing of at least a few seconds for each set.  And as any track coach will tell you – a key goal of intervals is doing them precisely the same each time (whatever the value is).
Now, the only catch with my plan is that it turned out to be on a false flat.  A rather significant one actually.  All my even numbered intervals were downhill, while all my odd numbered intervals were uphill.  You can see this a bit in the elevation graph for that section (the grey part):

This means you'll get slightly different values for evens vs odds, but since I was doing enough of them I could easily compare them across those sets.  So it wasn't too big a deal to simply look at 2/4/6/8/10 and compare within 'like' efforts.
Which, of course is often another goal of intervals.  You ideally want to see how your body is reacting and dealing with the sets.  Depending on the goal of the intervals you might expect more or less increase in effort (heart rate typically) over the course of the 'evening'.  For example, is interval #10 immensely harder to hit time wise than interval #2?
In my case, I managed to nail all my uphill intervals last night on the prescribed time (1:27/400m), with a few of the downhill ones being slightly faster by 2-3 seconds.  I ended up trying to keep the intensity on the downhill ones basically the same as the uphill ones, thus resulting in the slight time increase.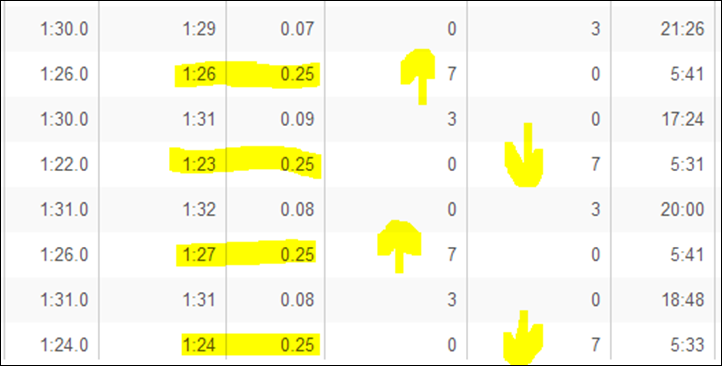 Finally, for pacing on a real (oval) track, I actually ignore GPS entirely.  Seriously, just don't use it – it's just not good at measuring distance and thus pace for the level of accuracy you want.  Instead, I just use the 100m markers and do math from there.  So if I had a 1:28×400, then that's simply 22s per 100m.  Thus you'd hit the lines at 22s, 44s, 66s, and 88s.  Simple, right?
Out in the woods I was too lazy to mark off those sections.  So instead I just did lap pacing.  For that I use the lap time option on my watch to pace by.  This isn't perfect of course due to the slight variations – but it got me in the ballpark of the pace I was looking for (approx 5:48/mile, or 3:36/KM).  And realistically after 2-3 of these I was able to pace by feel without even looking at the watch.
In the end, here's what my little segment of forest looked like from a satellite standpoint:

All but one track was within a few meters of the running path (with one being a few meters beyond that), which isn't bad sine I did some 14 passes of that section over the course of the night including some final sprints after the 10×400 set.  Not too shabby for the woods.
And, also, not too shabby for a nice solid workout in the evening after 5 hours of trains in the morning and then more work at the office to fill out the day: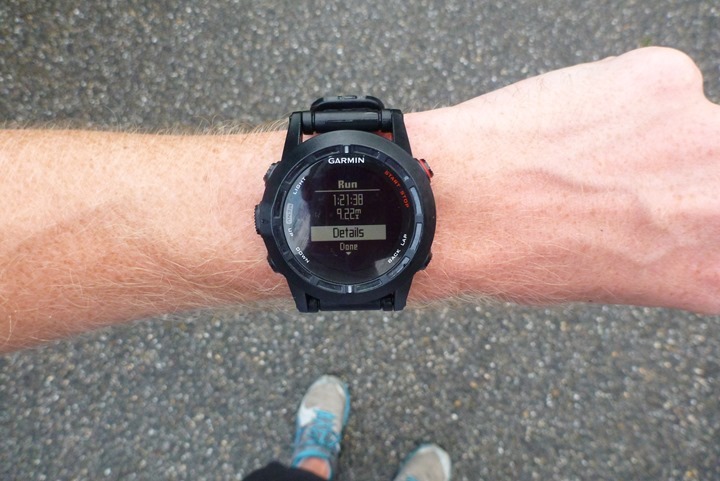 Thanks for reading!