Sadly, the summer is slowly winding down here in Paris – but, nonetheless we're taking advantage of every moment we can!
1) A Friday Night Run With The Girl
After we wrapped up a bunch of initial work, The Girl and I went out for a nice 50 or so minute run.  Just a fun loop up and down the river, even better with the northern river road closed for the beaches – but yet still open at night for pedestrians.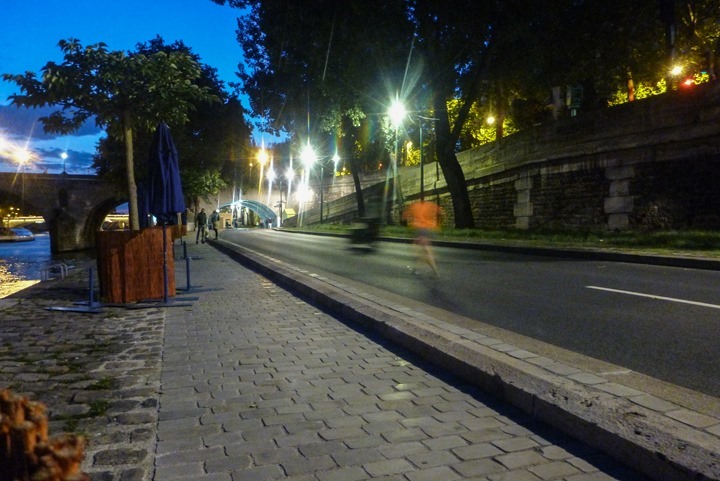 At 10PM the Eiffel Tower did its usual hourly sparkling session, so we grabbed a quick photo: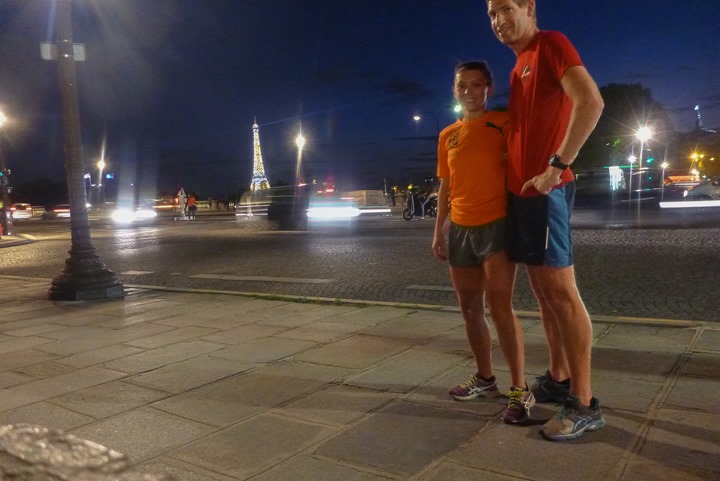 The weather was pretty much perfect for runners – a touch bit cool to be walking around in t-shirt or shorts, but ideal once you're running and working a bit.  Overall we've had a very mild (borderline cold) summer.  Really only 1-2 weeks of actual hot/warm weather.  Which we aren't complaining about at all!
2) More cake deliveries
When I noted "initial work" was completed Friday night (above), I mean that there was later work to be done.  With two wedding cakes due on Saturday, that meant that cakes came out of the oven just before we set out for our run.  We'd use that time to let them cool.
Meanwhile, upon return from running at 10:30PM (and some pizza) The Girl would set out creating these two cakes – both of which would be done by a touch bit after sunrise: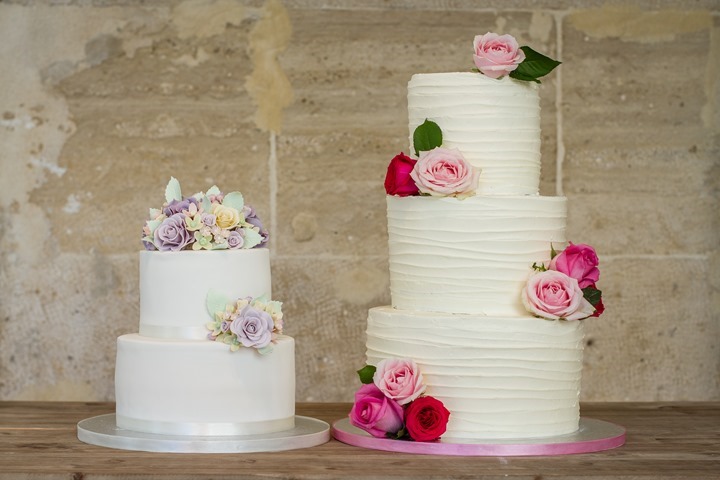 From there we had two deliveries.  One within the city, and then another just a bit outside the city.  It was a bit tricky because one cake could be delivered no later than a given time, and then the other no earlier – leaving a bit of a dead-space gap in between the two deliveries unfortunately.
The second one was off at a golf course country club.  It's always funny that all the other wedding vendors have these nice big delivery trucks.  Meanwhile, we drive up with our little Autolib: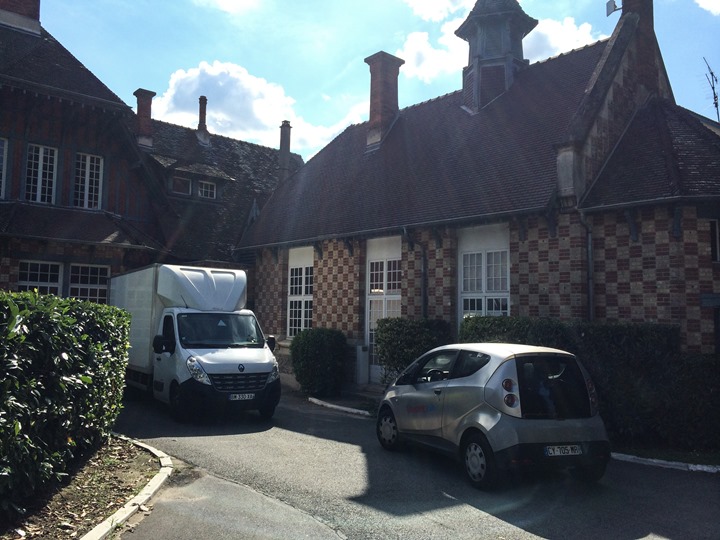 Yup, that's just how we roll!
3) Picnicking at the Eiffel Tower
After dropping off the last cake, we went straight to the Eiffel Tower and ditched our Autolib.  From there we joined our friends for a picnic on the Champs de Mars celebrating a birthday in the group.
It was a perfect day to be out there for late afternoon till after dark, with the weather not too hot during daylight but not too cold later at night.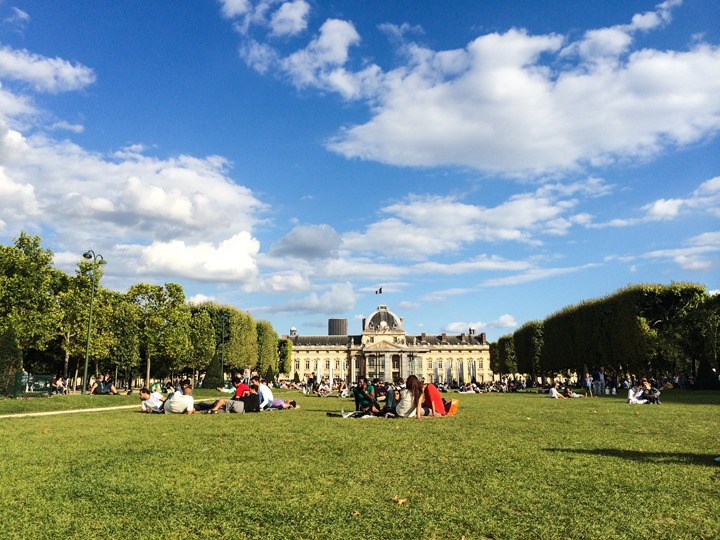 One of the guys (who is also a chef) brought ribs (cooked sous vide initially, then finished in the oven).  Totally awesome.  Their poor little dog kept on going around to everyone trying to get some ribs. No such luck with a group of Americans eating ribs.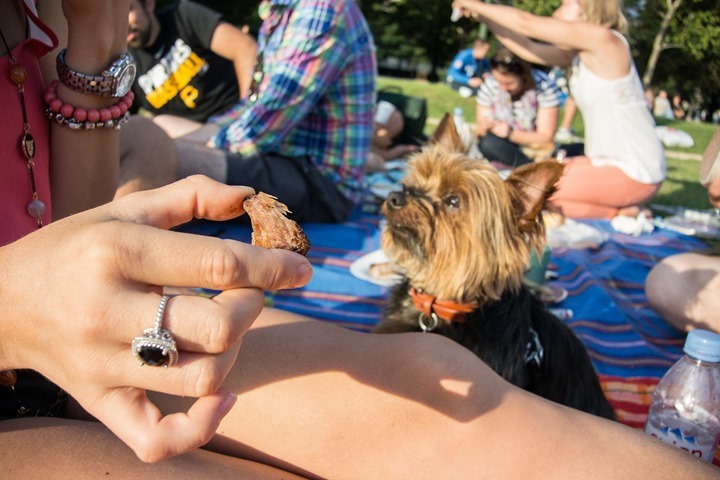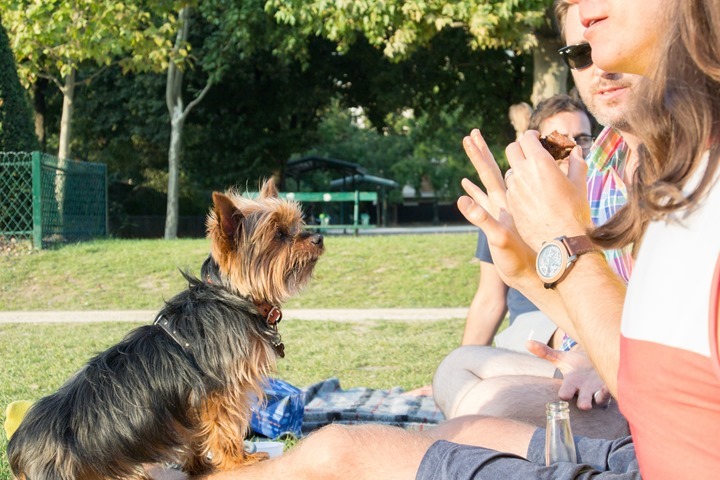 Meanwhile his wife and our friend who takes photos for folks visiting Paris grabbed shots of all the couples – including us.  Woot!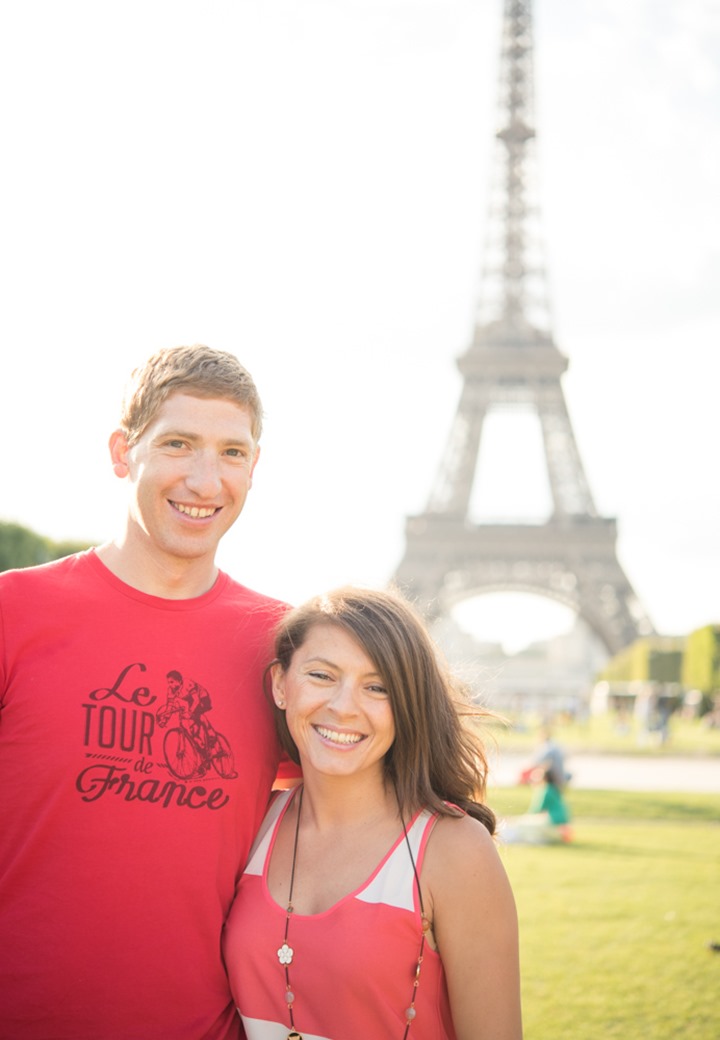 Plus, one big group shot.  A few of the couples are unfortunately leaving here in a few weeks.  It's a bit of a reality in an expat community with most people on set-duration work contracts (we aren't however).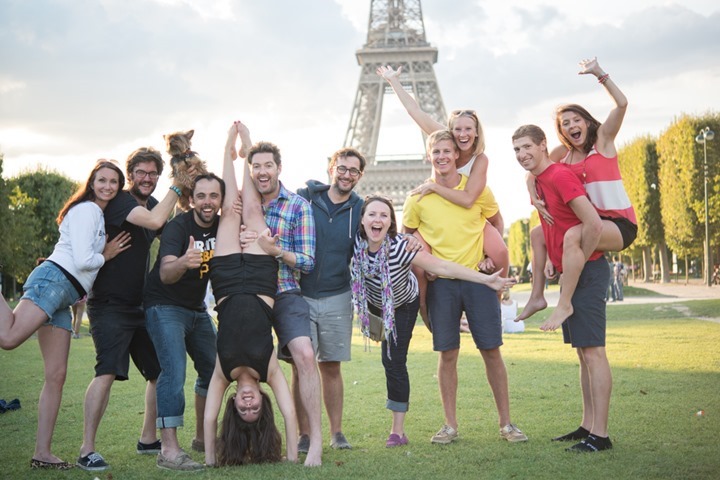 Here's a shot I grabbed just after sunset.  As you can see the lawns have plenty of people out just enjoying the evening.  Can't beat it!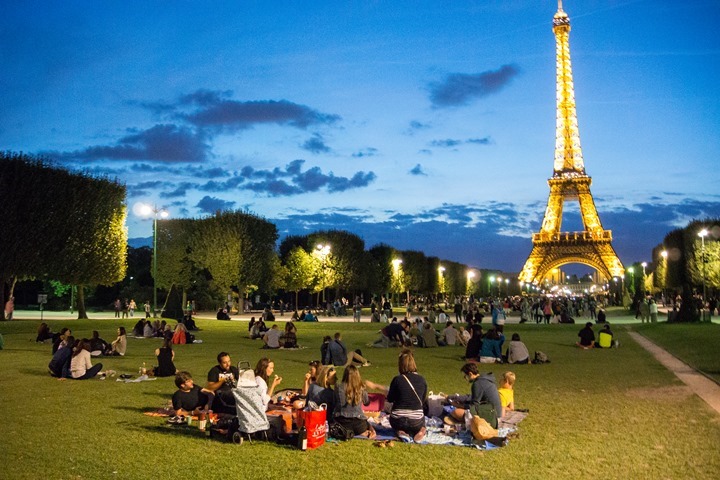 4) Hanging out at the beach…sort of.
We had planned to enjoy a bit of time later Sunday afternoon at the Paris Plages, which are the temporary beaches setup each summer from mid-July till Mid-August.  On Friday, I got a few photos of them in all their glory: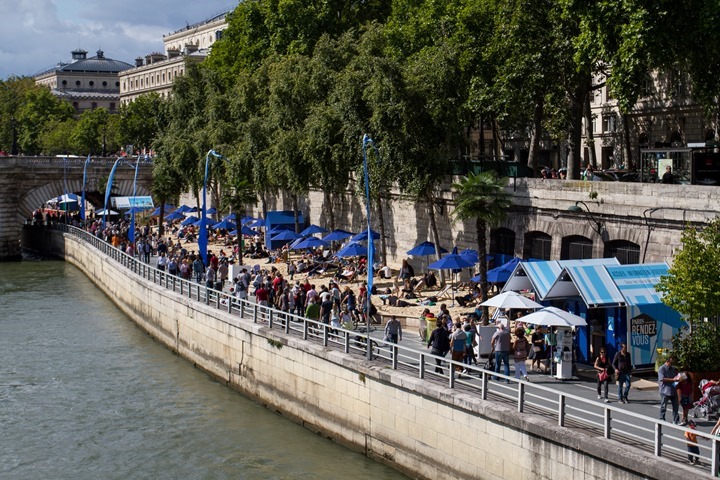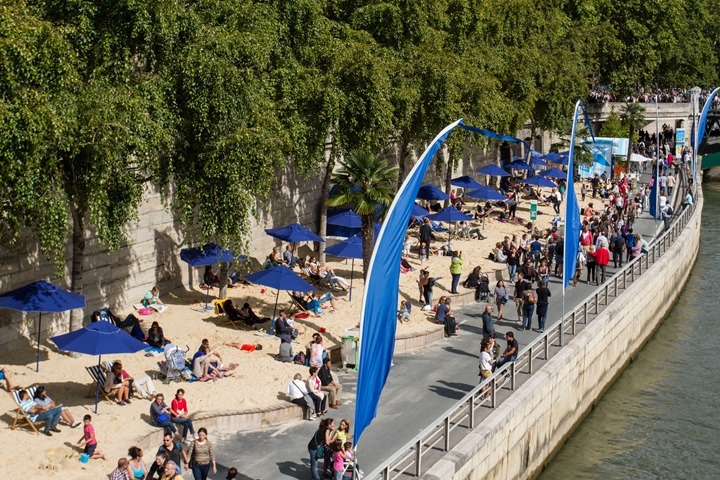 But by time Sunday came, it was a bit colder, and astoundingly windy for Paris.  So, beach attire (or sitting in blowing sand), wasn't terribly appealing.  Fear not, there's plenty of other things to do in Paris Plages that doesn't involve sand: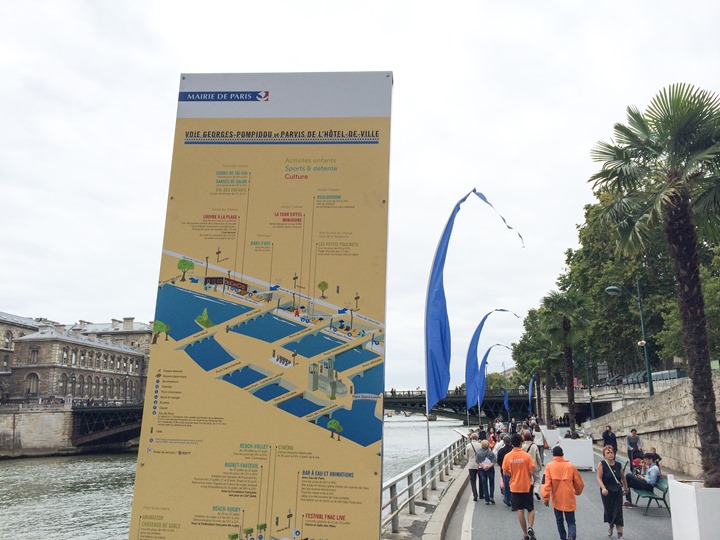 Instead we went down to one of the pop-up cafes that were setup as part of the nearly mile-long stretch that ends next weekend.  We got a bar style table overlooking the river: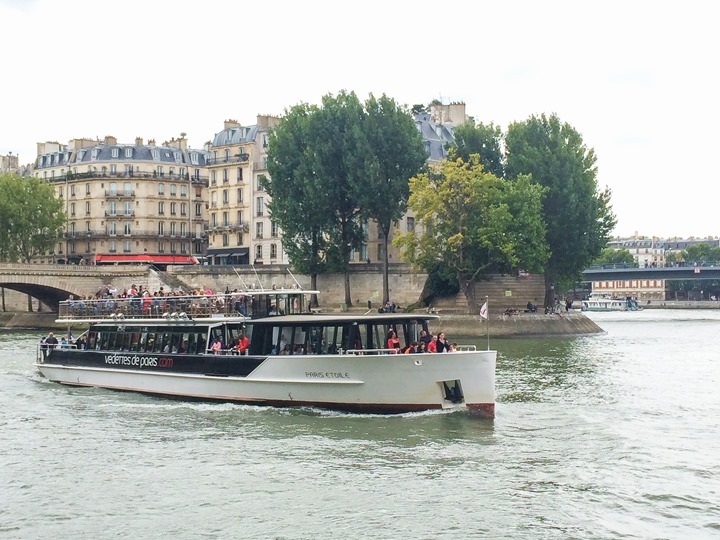 And went with some savory crepes and hot chocolate.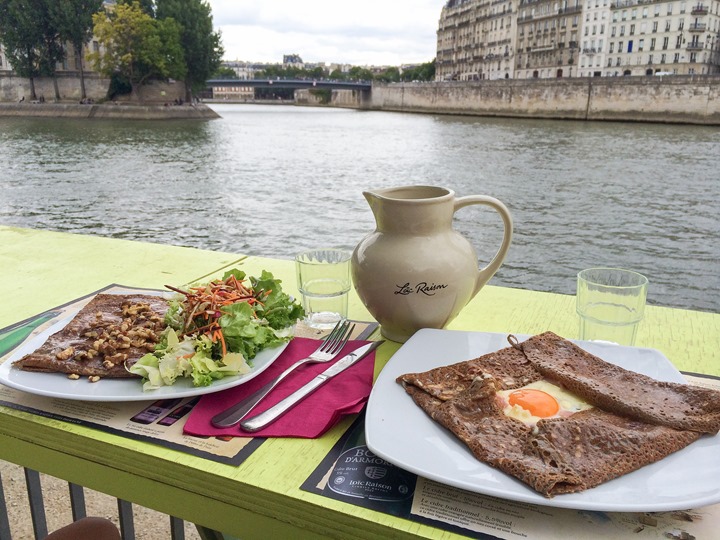 This particular spot would be great to have a little café year-round, or at least like some of the other pop-up restaurants that stay open from May till September.  But alas, come this Sunday it'll close down for another year.
5) A quiet 10-miler
With crepeage complete I decided to head out for a run.  I didn't really have a specific plan, nor a distance in mind.  I figured I'd just run to one of the main forests and then loop around a bit and come home.  As long as it was at least an hour or so I'd be happy.
I was once again toying with the Soleus Pulse GPS watch.  This would make it my 3rd run with it.  Hmm…maybe 4th.  Either way, enough that I'm getting a pretty good feel for how it works.  Here's me at the beginning of the run waiting for it to first find satellites and then find GPS.  Don't worry watch, it wasn't like I was in a hurry anyway…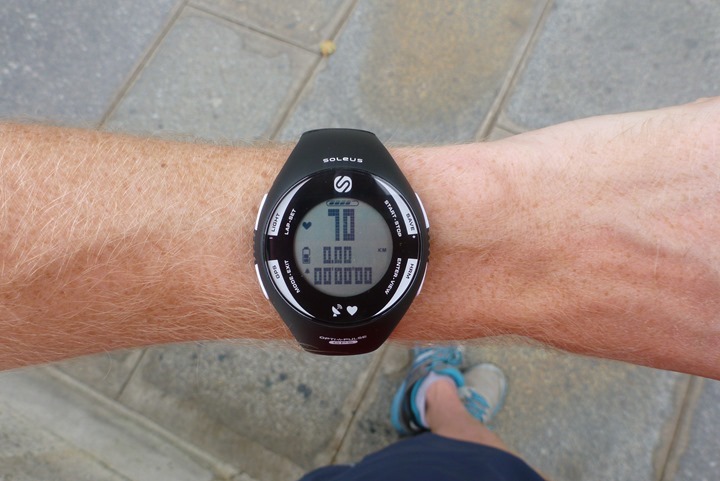 My route would take me up on the viaduct that 'floats' 2-3 stories over the city, occasionally cutting through buildings, but otherwise acting as a small elevated oasis in the city.  At the right time of day it's one of my favorite places to run.  At the wrong time of day, everyone else is there and it's a nightmare to run.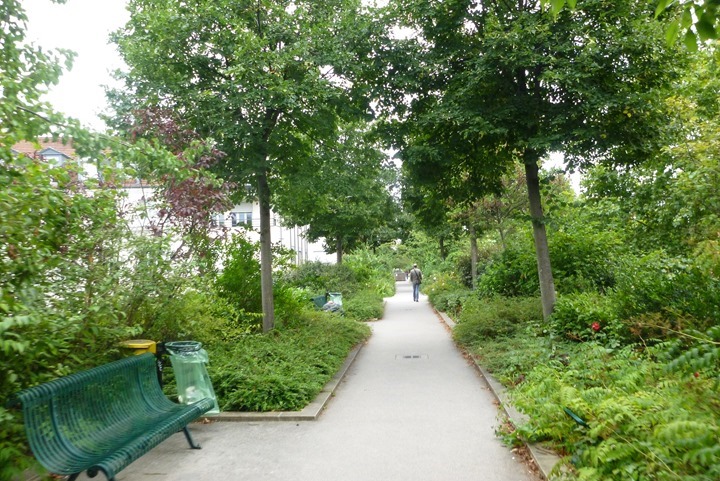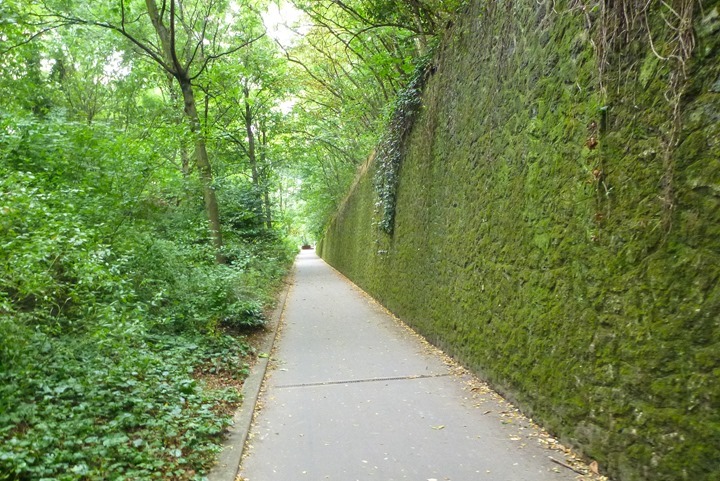 In general, I'm finding the Soleus watch isn't very awesome when it comes to optically measuring heart rate.  I'd say it's right about 10% of the time, and that's being generous.  I feel like the watch is just sticking it's finger in the air and taking a swag and calling it good if it's within 15-20BPM.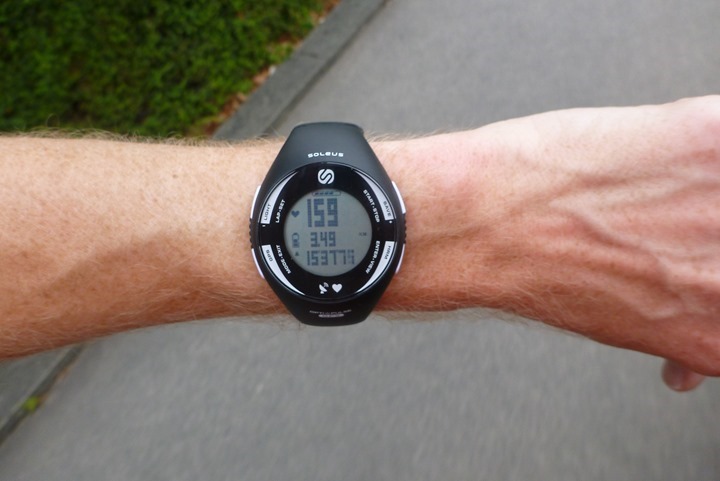 On the flip side, I haven't had any notable issues with GPS distance measurement yet from it.  For example, it was within .04 miles (on 10.01 miles) for this run.  16.17KM (display) = 10.05 miles.  That's about as good as you're realistically going to get – especially with a relatively tough urban/city environment.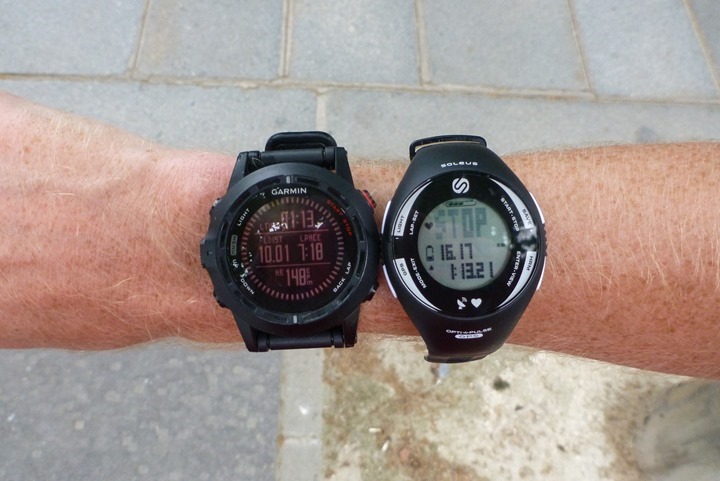 Unfortunately, just getting GPS distance right doesn't really justify a price tag over double that of units without optical (since optical doesn't seem to work anyway).  And, for those curious – as I noted a few days ago, the non-GPS variant of the optical HR measurement from them is just as bad, but with horrible distance accuracy using an accelerometer.  Finally, given my skin is apparently about the easiest in the world to read optically, it probably doesn't bode well for others.
I might knock out a full review of it next week, we'll see how much time I end up having, since I want to get out a few other cycling related things before Eurobike.
With that – thanks for reading and have a great week ahead!  I'll be first be back in Apeldoorn for a day or two, then a few days back home before ending up on the weekend in Saudi Arabia.