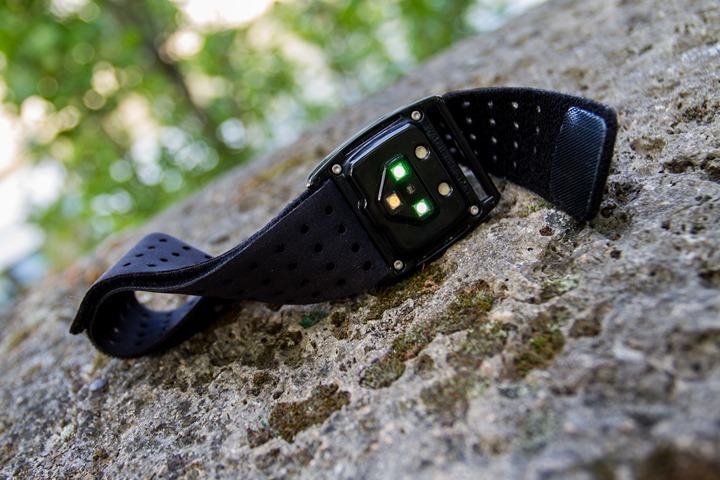 ***Update: The lastest generation is the Scosche 24, click the link for all the details!***
Back at CES 2014 in January Scosche introduced their first dual ANT+/Bluetooth Smart unit, the RHYTHM+.  This optical sensor armband would transmit both ANT+ and Bluetooth Smart concurrently to any compatible device.  Unlike most other units that were announced that week, this was aimed not for your wrist, but rather elsewhere on your arm – potentially out of sight under a shirt sleeve.
I've been testing the RHYTHM+ for the last month, and with the units landing at retailers next week now is a good time to run through my experiences with the product in my usual DCR-detailed way.  In this case, the Scosche folks sent me out a final production unit to poke at.  Once I'm done here I'll send it back to them just like I always do.  After that I'll go out and get my own unit via normal retail channels.  I keep nothing.
With that – let's dive into things!
Unboxing: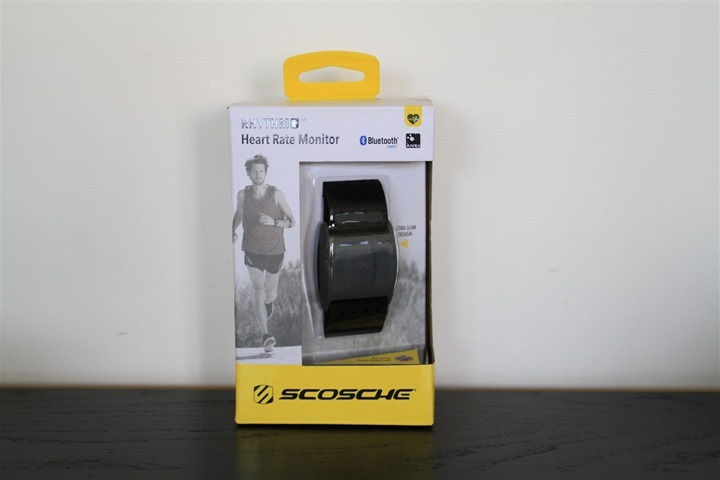 You know what? I like unpackaging things that have only a few items inside.  It makes my job easier.  And in this case, the RHYTHM+ definitely falls into that category.  But before we get to the insides I'll briefly note the outsides.  Specifically the inclusion of the ANT+ and Bluetooth Smart icons.  Note that Scosche makes a number of products that have heart rate capabilities, but only one product as of today that transmits on both frequencies concurrently.  So just be sure you get the right one.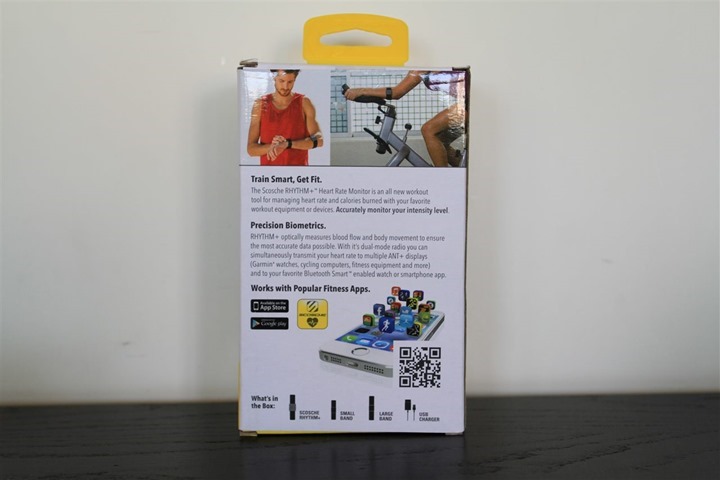 Inside the compact box you'll find precisely four items.  First is the paper stuffs.  Then you've got a USB charging cradle, the heart rate monitor itself, and then an extra band.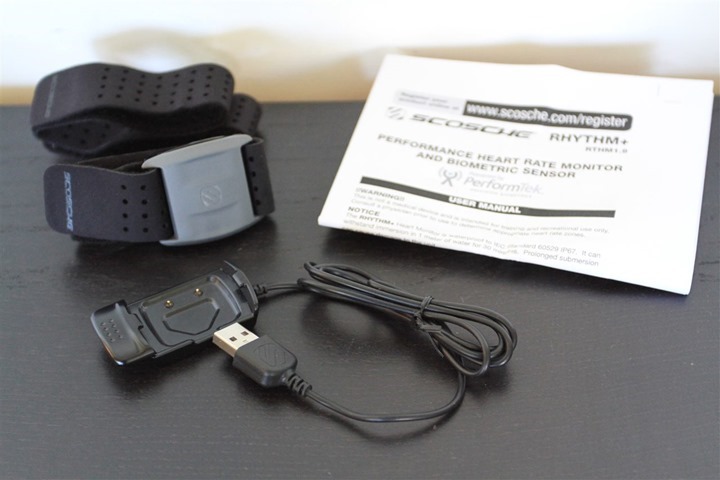 Here's the manual.  It explains how to put it on your arm.  We'll get to that in a moment, but it's really as simple as putting on a bracelet and pressing a button.  Assuming you can do both of those, you'll be good.  If you can't do both of those, I'd suggest taking up a sport that doesn't involve running/riding around in traffic with moving cars.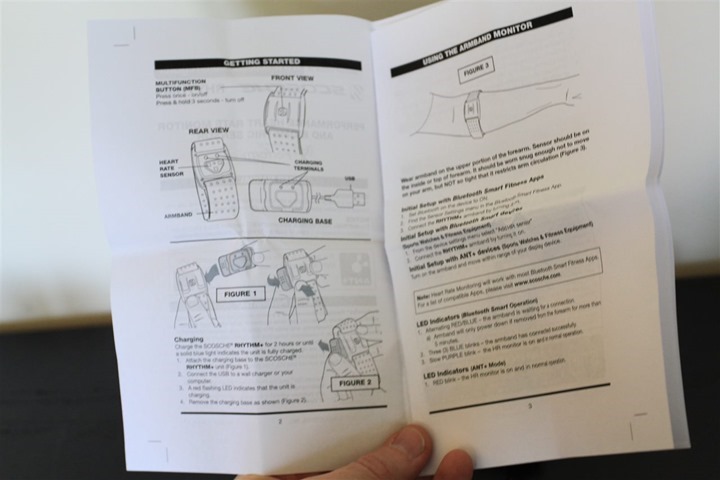 The package comes with two straps, the smaller of which will be on the sensor by default.  The larger one will be hanging out.  For me I was able to use the smaller strap while wearing the unit on my lower arm, but required the larger strap for my upper arm (obviously, because my muscles are just that riveting).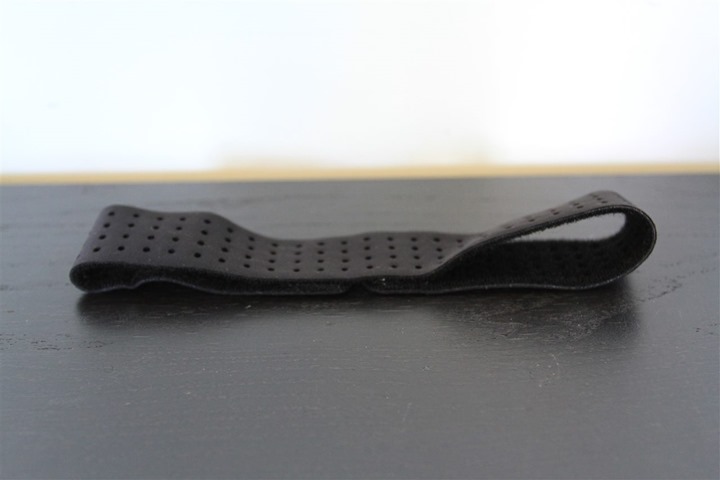 Here's the length of the longer band compared to a traditional GPS watch strap (and note that I have a fair chunk of the band folded back on itself):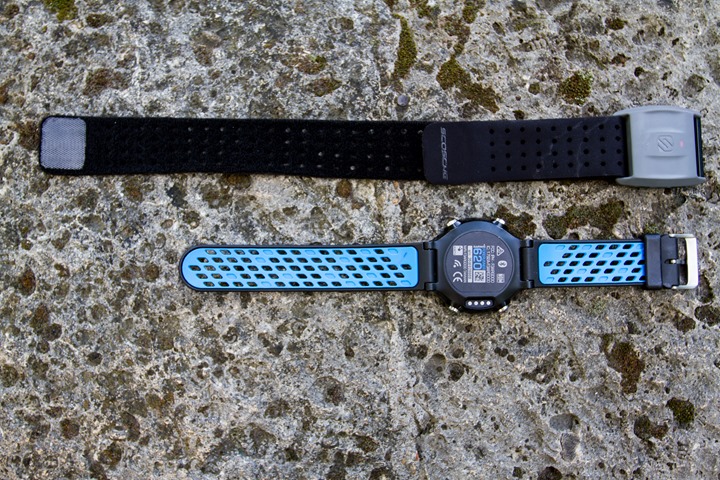 Here's the smaller band: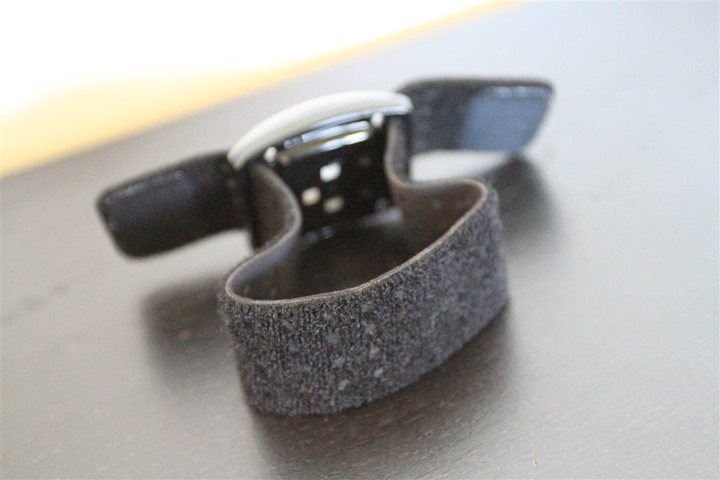 The strap attaches to the sensor via Velcro on both ends.  The sensor/transmitter is a small pod roughly the size and thickness of an oversized but skinny watch.  It has a single button on the front.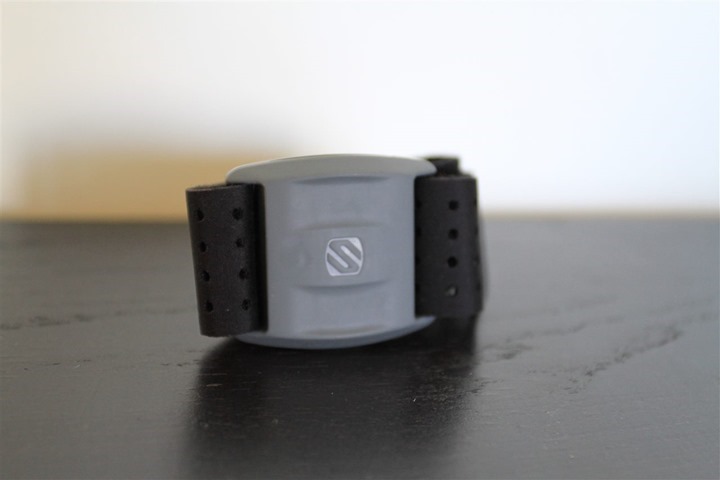 Meanwhile on the back it has three optical sensors (square items below in triangle pattern) and two charging connector ports (round items).  I'll dive into the sensor technology more in the next section.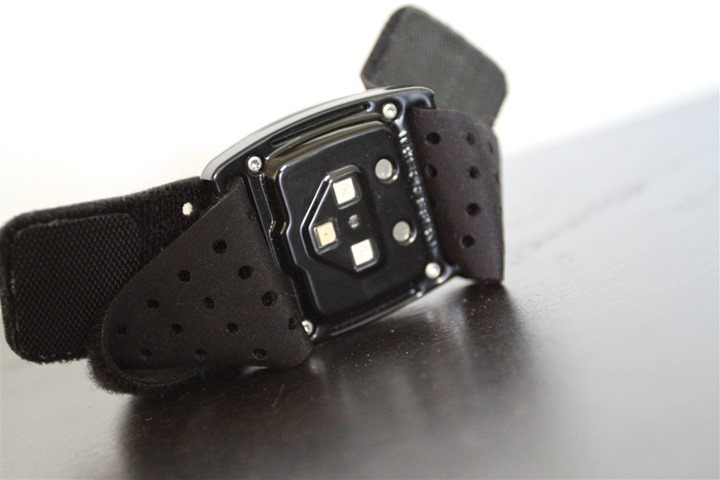 Finally, we've got the charging cradle.  That's all it does, charges the unit – it leads a simplistic life that way.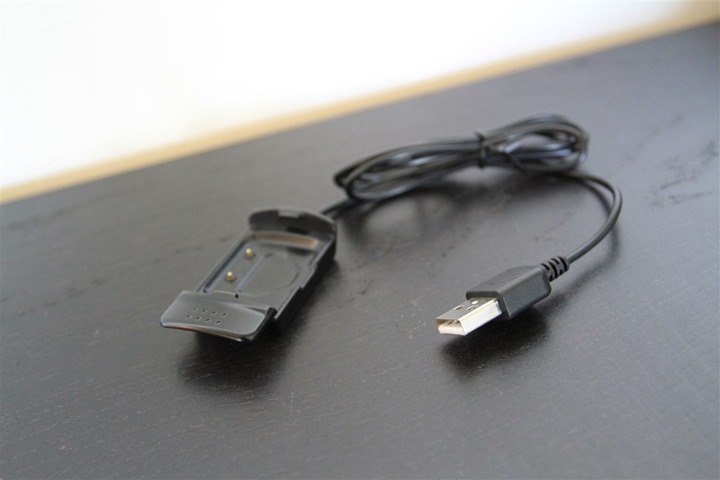 With all the pieces unboxed, let's walk through how things work.
Basic Operation: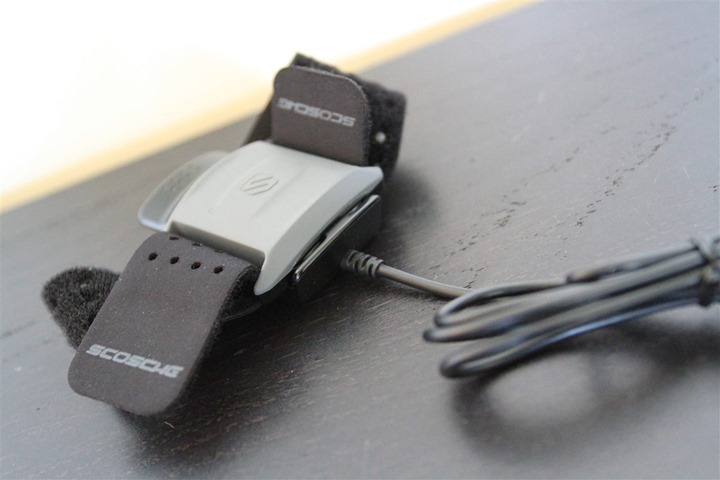 Like all optical heart rate monitors on the market today you do need to charge it from time to time.  In this case, the RHYTHM+ lasts 8 hours on a person with lighter skin, and about 7 hours and 15 minutes on a person with darker skin.  The reason for the difference based on skin type is simply because the optical sensor has to work harder with darker skin to penetrate it.
Optical sensors work by transmitting LED light into the skin to measure your heart rate via capillaries just below the surface.  This has been used on a number of devices over the past year with varying success.  There are a few companies that do so really successfully in athletic-focused devices, and then a few that are focused on getting resting heart rate while sitting around (but not really moving).
Historically speaking Mio has done a great job in this space with their sensor, which is on the Adidas Smart Run GPS and TomTom Cardio units (as well as their own HR monitors).  While at the same time another company named Valencell has done a bunch of work behind the scenes as well with companies, producing products such as the iRiver headphones and now this unit, the Scosche RHYTHM+.  Both Mio and Valencell (along with LifeBEAM in the helmet I reviewed last week) have shown very good results in the athletic space.  Whereas some of the sensors used by Samsung and Basis don't really work well once you start to do anything other than sit.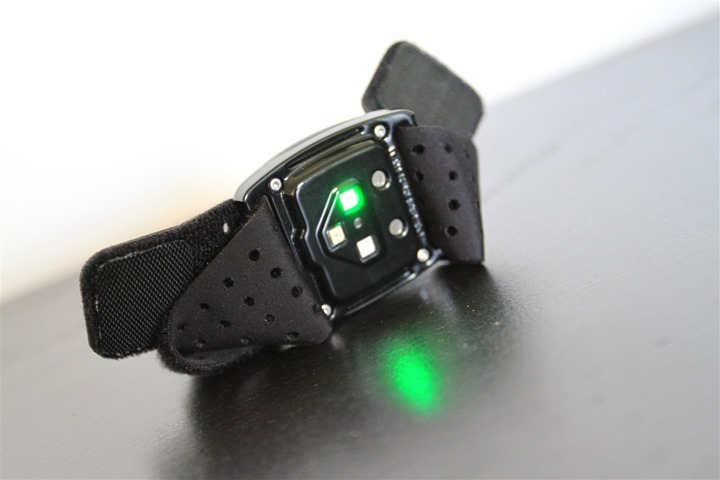 With respect to the RHYTHM+ (which uses Valencell), you can technically place it anywhere that has relatively easy access to blood flow.  For example, you could stick it on your forehead (seriously, it works).
But that's not really where Scosche recommends.  They specify the best spot for the unit is on the lower arm, near the elbow, on the inside – just like below: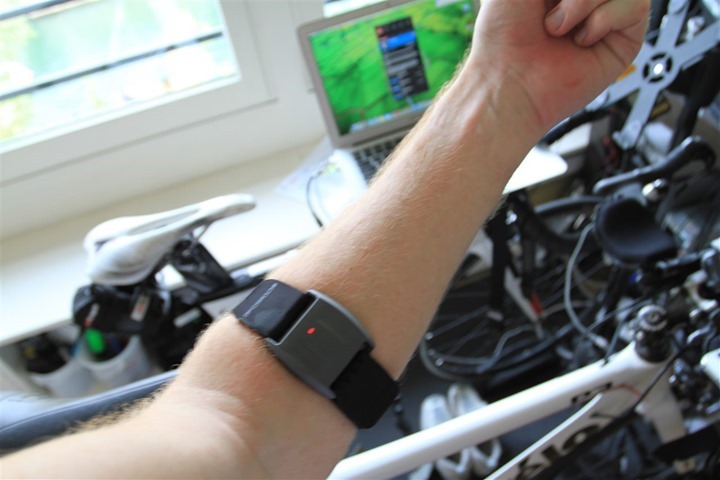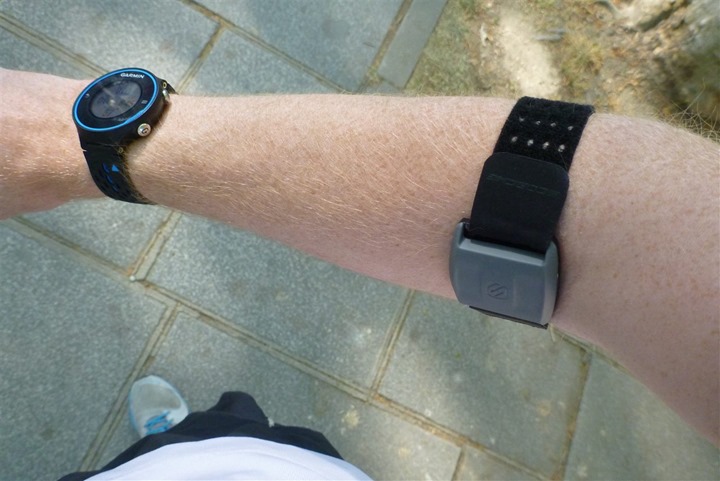 However, you can also wear it on your upper arm, like below.  I've done a mix of both over the past month.  In talking with them either location works, but it ends up being a person to person thing.  For some the upper arm will work better, and for others the lower arm.
I personally liked the upper arm because it 'hid' the sensor under the cuff of my t-shirt/cycling jersey.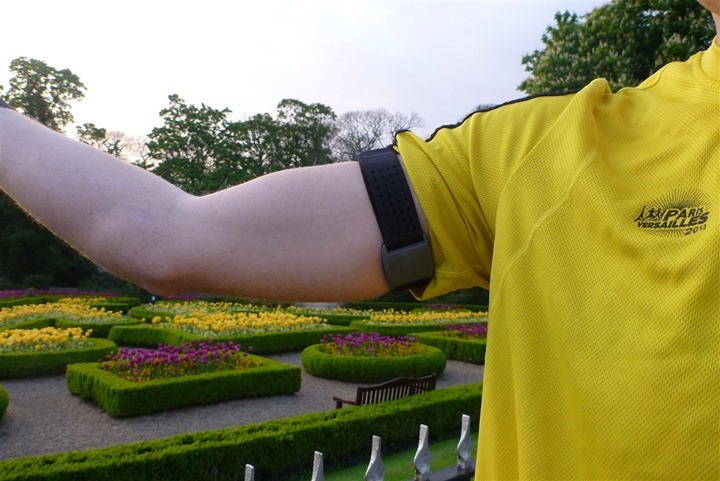 Now, you might have noticed it has three LED's – and you might have also noticed that two are green and one is yellow-ish.  This is different than most other products on the market that use just a pair of green LED's.  In talking with the engineers they added the yellow LED because it tends to get better readings on those with darker skin.  By using all three LED's together they can increase accuracy across a broader range of individuals.  And powering up that additional LED only causes about a 10-15 minute hit on total battery life, so it's a pretty easy trade-off.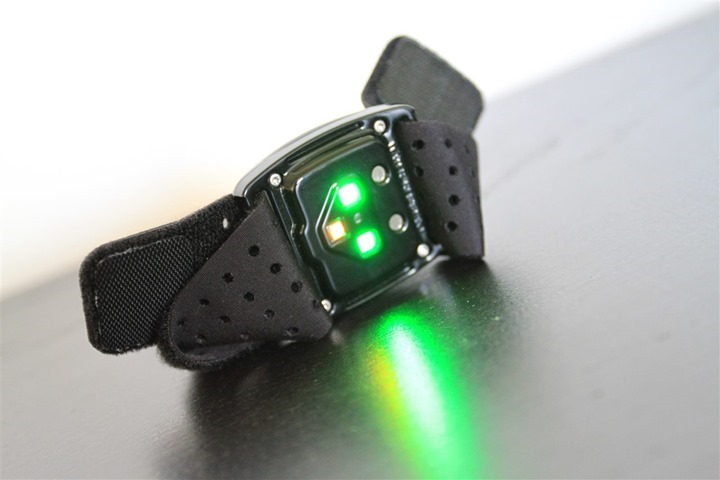 Finally, to turn on the unit you'll simply press the button.  This turns on the optical sensor as well as enables the transmission piece.   In theory, the unit will automatically shut-off if it doesn't detect a heart rate within 5-minutes.  Though Scosche admitted that might only happen about 60-70% of the time.  They erred on the side of being more cautious so it didn't turn off mid-activity.  In my experience, it never shuts off automatically.
Which, if I have any complaint about the unit at all, is that it too easily gets turned on.  For example, if I simply drop it on the carpet and it happens to land button-side down, it'll get turned on.  And in my suitcase?  Oh, it's getting its heart rate measured for the entire flight.  Thus just expect that you'll have to charge it whenever you get where you're going.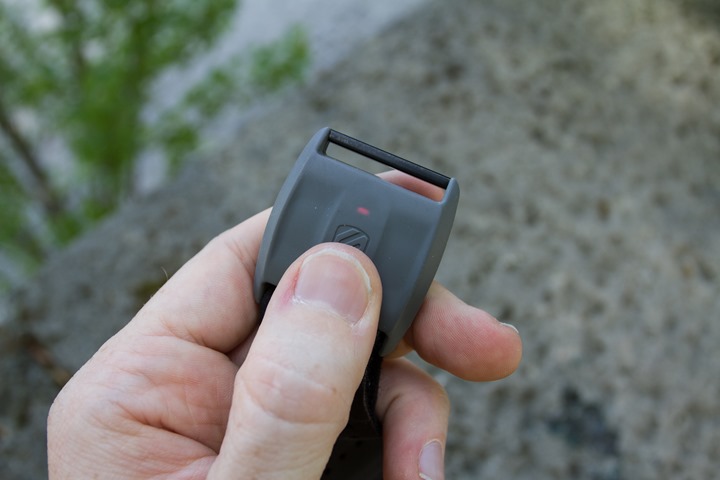 Now to be fair, my complaint there extends to the Mio Link as well – which has the same problem with the button too easily getting turned on.  So I suppose to that end it's kinda a wash in the complaint department.  Though, the charging clip on the RHYTHM+ is far better in that it 'locks' to the device, so there's no problems with it getting knocked off the charger.
Connected devices (Dual ANT+/Bluetooth Smart):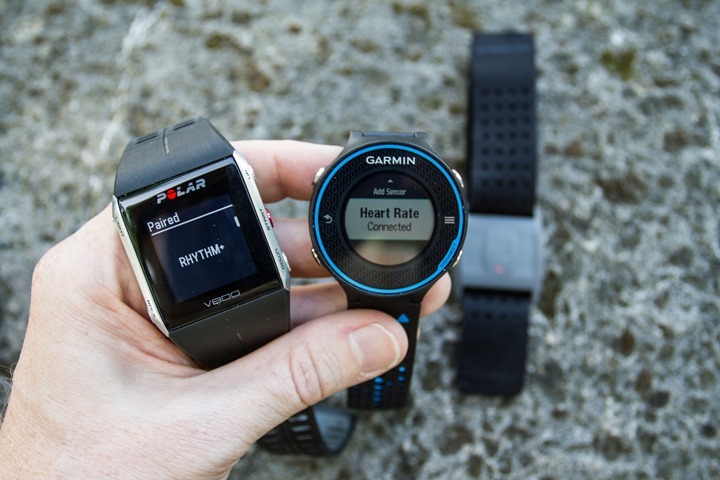 When it comes to connectivity, the world is your oyster with the RHYTHM+.  It transmits on both ANT+ and Bluetooth Smart concurrently.  This means that it can connect to any ANT+ device that supports heart rate data – like your Garmin watch.  It also means it can connect to any Bluetooth Smart enabled device that supports heart rate data, such as the new Polar V800 or your smartphone.
In the case of both ANT+ and Bluetooth Smart it uses the standard heart rate device profiles so it's able to transmit to any standard device – nothing funky/special required.
Interestingly enough, on the ANT+ side it goes into a super low power 24×7 beacon mode even when not powered on with the full sensor enabled – otherwise it'll broadcast at 4 times per second when fully powered on.  And on the Bluetooth Smart side, it'll 'save' battery power when a connection is not detected and only broadcast at a lower rate until a connection is found.
To briefly walk through pairing – it'll look just like any heart rate strap.  So on the FR620 I'd simply go in and find a new heart rate strap (well, technically you'd remove the old one first then find a new one):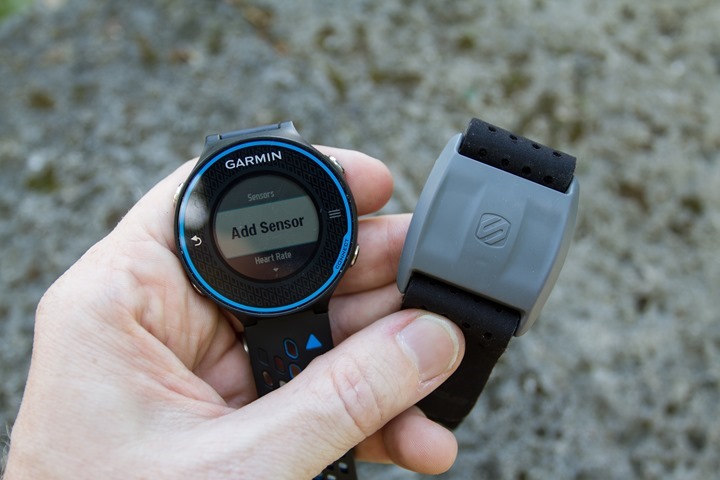 And on the Polar V800, it's nearly the same process.  You'll go in and pair a new device.  In doing so it'll find the device and add it to the database of saved sensors (one of my favorite features of the V800 – the ability to save a boatload of HR strap sensors).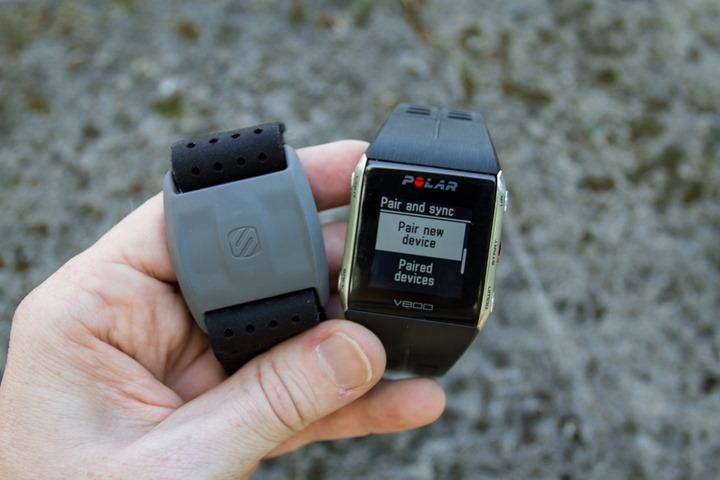 Once you've paired your device it'll simply transmit the heart rate value to your watch (or cycling head unit).  It's really that simple.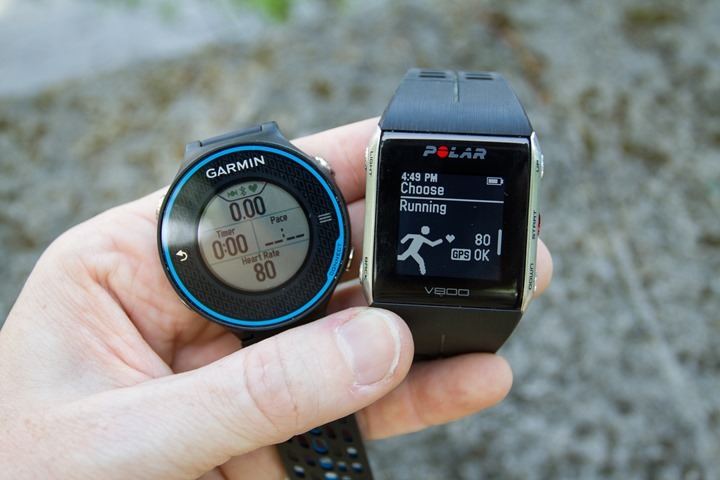 The same is true of phones as well.  As long as you have a Bluetooth Smart capable phone (on iOS that's any iPhone 4s or later, and on Android anything with Android 4.3 or later) you're good to go.  You'll need an app though as well, but there are hundreds that support Bluetooth Smart sensors.  I tend to use the Wahoo Fitness app since I like the data export options.
You can see below me searching for and finding the sensor, which shows my current heart rate (66bpm), and gives me the option to save it for later.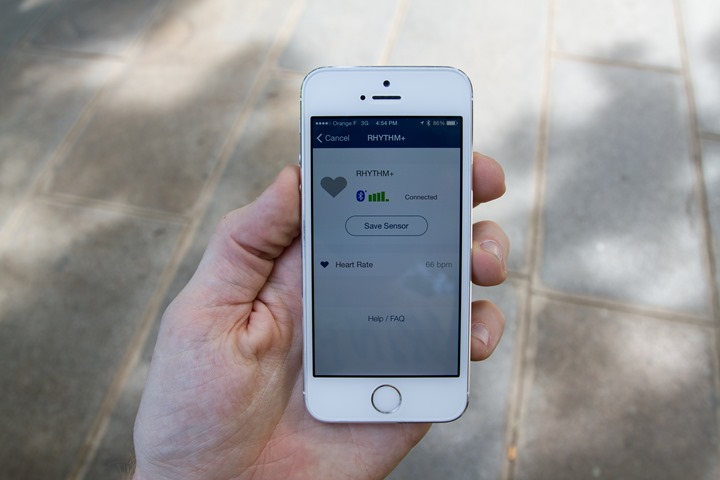 But it also works with other major apps like MapMyRun: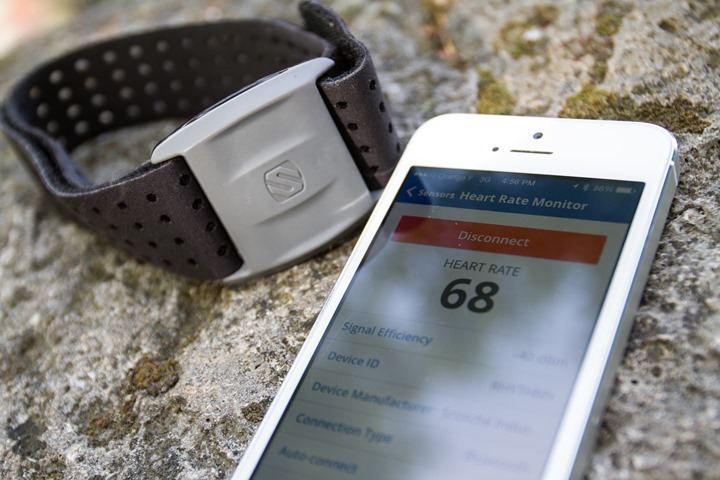 When it comes to the data recorded note that like all optical sensors on the market today it doesn't accurately transmit heart rate variability (HRV).  Some more expensive GPS watches (and apps) will use this information to determine recovery and how tired you are.  As it stands today, while many of the devices will transmit HRV/RR information, said information is basically fake.  The reason is that in order to pass certain protocol specifications they must send that information. Or rather, they must send at least something pretending to be that information.
This is easily manifested when I connect it to certain units (like the FR620 and Polar V800) and see wildly inaccurate recovery times suggested.  It can also affect some VO2Max estimates on some of the higher end watches as well.
Finally, note that the unit doesn't transmit to gym treadmills or the like.  Or at least, not 99.999% of them.  There's approximately .001% of treadmill's out there that accept either Bluetooth Smart or ANT+ connections.  Thus if you happen to find one of those two types – then you're golden.  But given you can simply connect it to your phone and put your phone on the treadmill to display heart rate – I wouldn't let that be a factor.
Optical HR Accuracy Geekfest:
I've done a LOT of activity with the RHYTHM+ over the last month.  From runs to rides and a bit of other randomness in between.  For all of these activities I wore multiple heart rate sensor devices.  Sometimes up to five different sensors to see how things compared from an accuracy standpoint.  All of this data was recorded by a small test device called a WASP, which ensures everything is recorded at the exact same second (or actually, even 1/4th of a second).  This allows me to see how quickly given sensors react and where they might stray from reality.  I also sent data to common devices like GPS watches (both Garmin and Polar) and smart phone apps, to validate there weren't any anomalies there either.
I've picked a random sampling of rides and runs in varying conditions.  Except as noted below, there really wasn't any variability that I saw.  So the below was pretty indicative of what I saw across the board.
Activity A: Running Mile Repeats & 20s Striders:
This activity is an interesting one to start with as it shows frequent increasing and decreasing of my heart rate, as well as how quickly the unit tracks.  The workout started with a warm-up of about 10-minutes, before I went into a series of what were effectively striders (technically they were more high-cadence drills).  Each one of those was only about 20-seconds, and thus my HR didn't spike too high.  You can see there was a bit of minor disagreement between the traditional HR strap and the Scosche, but I'd be hesitant to declare either one absolutely correct there.  Though, I suspect the HR strap is doing a bit more smoothing than reality.
After that I went into mile repeats, ten of them to be precise.  You can see things tracked very well there – really no concerns at all.  It's interesting to note just a tiny little bit of that HR chest strap smoothing at the end of the interval after I stop, whereas the Scosche near immediately drops the HR when I stop.

Activity B: 2hr 45min Long Run:
This was a very flat run on a cool and dry day, and thus my HR was very stable.  The first part is interesting though because it actually shows the strength of optical sensors where the traditional HR strap had some issues.
In this scenario you see the Scosche immediately follow my actual effort up to the 150's, while the HR strap took about 2 minutes more before things stabilized.  Typically stabilization happens with more sweat, though I had wet the strap already.  By the same token, you can see where the Mio Link struggled a bit in those first few minutes as well – before finally locking in and being good to go.
Once we got past that initial bit, the three were in complete harmony the remainder of the run.

Activity C – 1 hour ride:
This was a mixed city ride and park ride, thus with lots of stops and starts – with the middle section being loops around a park without any cars/traffic/stops/cobbles.  As you can see, things track very closely.  There appears to be one point about 1/3rd of the way through where there is some divergence – but it's a bit unclear who is right or wrong there for that few seconds.  But otherwise everything tracks my increases/decreases in intensity quite well.

Activity D – 2 hour and 30 minute long run:
This was a 2hr 30 minute ride on everything from pavement to trails, my long run this past weekend.  At the very beginning things were a bit divergent for a few minutes.  This is somewhat common for optical sensors actually – and I often recommend you simply look at the values and see if things have settled down.  It's during this initial phase that the sensor tends to get a 'lock' on your pulse.
Once it locked though, everything was pretty much spot-on.  You see a tiny bit more variation with the Scosche than the TICKR in the second half.  It's unclear though in this case which is right.  At this point I had cleared some hills that would have taken a bit out of me.  Thus, my HR would have been more fickle in the second half – more heavily impacted by shifts in terrain.

Activity E – 2 hour 30 minute long ride:
The below was a ride this past weekend that spent the first/last 25-30 minutes in the city, and then from there was mostly up and down quiet hills and country roads.
There was very little of note for almost the entire ride except a few minute segment.  What was interesting here was that looking at that segment all three units reported separation.  Typically when a unit goes off by itself, it's just one.  But in this case nobody agreed.  Looking at the data capture device, it reported that all three units were transmitting normally each second (well, 2-4 times a second), and the signal strength was common and normal across all three units.

So I looked more closely at the ride segment to try and figure out what might have been the trigger, and that's where I found out what it was: An 800m stretch of descending cobbles that threw everyone for a loop.  It's probably the gnarliest section of cobbles in Paris that I know about given you're either going up or going down a rather steep hill.  Here's what it looked like coming down: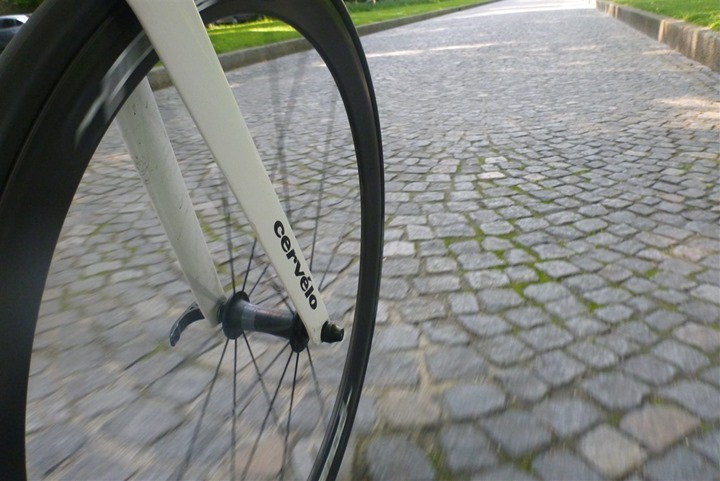 Interestingly, I hadn't seen this behavior elsewhere on flat cobbles that I routinely cross throughout the city.  Nor did I see it when I went up this same section earlier, nor during other rides across this section.  Looking at the three units, I genuinely have no idea which one is 'right'.  I'd probably lean a little bit more towards the helmet in this case looking at the HR profile, but that's just a random guess.
Activity F: 55 Minute Warm and Sunny Ride
This is an example I used last week in my helmet review.  I selected it again because I wanted to demonstrate that the optical sensor works well – even in the bright Florida sun.  Remember that the evil enemy of any optical sensor is light.  That's why you don't want a loose fit.
But, the reason I wanted to include this is actually for that blip you see at the end.  I did some Google Map poking around and figured out what that was: Steel grates on a causeway drawbridge.

Yup, seriously.  It's this little section right here that threw it off: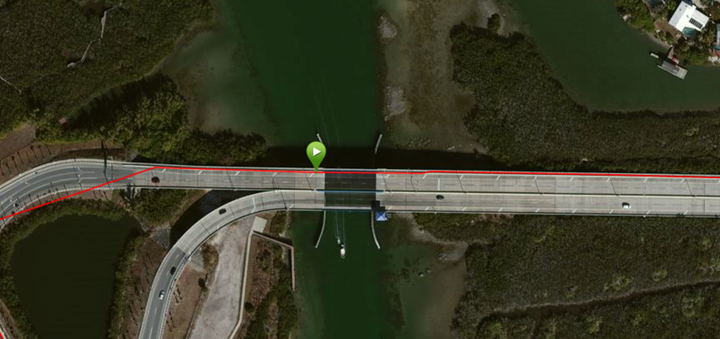 It appears like it very briefly struggled and then gave up temporarily before it was able to re-acquire things.  I only saw this on one bridge, not all of them that I crossed.  I don't have any of these bridges at home in Paris that I know of, so it's not something I'd otherwise have normally crossed.  In both the case of the Florida bridge and the prolonged cobbles section above – I wore the unit on my upper arm versus lower down.  Not sure that made a difference in this case, but worthwhile noting.
—
Overall, the accuracy over the vast majority of the the time is very solid.  There appears to be two fringe cases where it struggled, but in each of those cases it didn't struggle every time.  Meaning that I both crossed steel grates more than once without issue, and I crossed cobbles countless times without issue.  It's also of note that I didn't see any issues with rough roads, which is also common in Paris as oftentimes the road is just cobbles poorly paved over.
When it came to running, the same was true.  Assuming you got HR lock up front – you appeared to be completely good to go.  As with most optical systems, there tends to be a bit of trial and error on the part of the user as to where the best location is to get the best results.
Accessory Straps: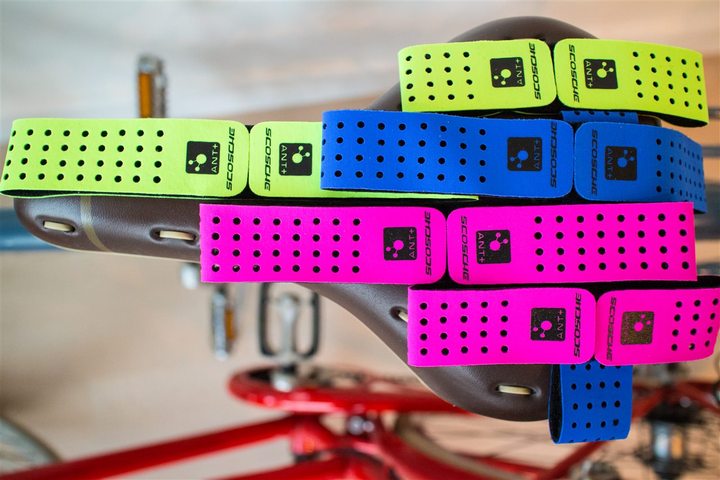 (Added January 2nd, 2015)
Scosche has started to make color accessory straps for the Rhythm+ unit, in three variants: Pink, blue and a neon green.  These straps made in both long and short sizes will be available later in January 2015, more pricing and availability details as soon as I have them.  Fwiw, The Girl does indeed like the pink one, I suspect it'll be mysteriously missing by the end of the week.
Comparison Charts:
Starting last week I introduced a new category into the product comparison chart – the heart rate sensor category.  This category includes a combination of leading edge heart rate devices that have some form of 'unique' aspect to them.  For example, an optical sensor or a helmet HR sensor.  Or HR straps that transmit underwater, or capture running metrics.
To that end, the below chart is only a handful of products I've added to that database.  Thus, if you want to mix and match other products you can use the full product comparison tool here to do so (it allows you to add more products than seen below).
Function/Feature

Scosche RHYTHM+
Wahoo TICKR (Original)
Mio Link
4iiii Viiiiva
Copyright DC Rainmaker - Updated November 26th, 2021 @ 4:39 am New Window
Price
$79
$49
$79
$79
Product Announce Date
Jan 6th, 2014
Jan 6th, 2014
Jan 6th, 2014
Jan 7th, 2013
Product Availability Date
Early May 2014
Apr 2014
Apr 11th, 2014
July 2013
Measurement Type
Optical
ECG
Optical
ECG
Typical Placement
Mid/Upper Arm
Chest Strap
Wrist Strap
Chest Strap
Battery Life
7-8 hours
350 hours
8-10 hrs
200 hours
Battery Type
USB rechargeable
Coin Cell CR2032
USB rechargeable
Coin Cell CR2032
NFC Capable
No
No

HR Transmission

Scosche RHYTHM+
Wahoo TICKR (Original)
Mio Link
4iiii Viiiiva
ANT+
Yes
Yes
Yes
Yes
Bluetooth Smart
Yes
Yes
Yes
Yes
Dual concurrent ANT+/BLE
Yes
Yes
Yes
Yes
Analog for gym equipment
No
No
No
No
Usable HR data underwater
Depends: If on same wrist, YMMV.
No
Depends: If on same wrist, YMMV.
No
Bridging ANT+ to Bluetooth Smart
No
No
No
Yes
Can record activity in memory
No
No
No
yes

Additional Data

Scosche RHYTHM+
Wahoo TICKR (Original)
Mio Link
4iiii Viiiiva
Run Pace
Yes (firmware 3.01 and above)
No
No
No
Run Cadence
Yes (firmware 3.01 and above)
No
No
No
Run Economy/Metrics
No
No
No
No
Cycling Cadence
No
No
Cycling Power Meter Estimation
No
No
No
Can pass through ANT+ PM's
Valid HRV/RR data
No
Yes
No
Yes
Configurable Sport Modes
No
Sorta
Displays HR Zones
No
No
Requires Bluetooth Smart Phone for Configuration
No
No
Yes (for HR zones)
Yes (for bridging only)
Firmware Updateable
Yes for newish units
Yes (iOS/Android)
Yes
Yes

App

Scosche RHYTHM+
Wahoo TICKR (Original)
Mio Link
4iiii Viiiiva
Can show workout afterwards
No
Yes
Can sync files/workout to 3rd party
No
Yes
More Info
Link
Link
Link
Link

Purchase

Scosche RHYTHM+
Wahoo TICKR (Original)
Mio Link
4iiii Viiiiva
Amazon
Link
Link
Link
Link
Backcountry.com
Link
Wiggle
Link
Again, remember you can mix and match and create your own comparison against additional HR products not shown above.  Think of it like going to the ice cream parlor and making your own sundae.
Summary:
Overall the RHYTHM+ performs very well on a day to day basis.  While at first I was hesitant about wearing it in a non-wrist location, I actually grew to not mind it on my lower arm. And once I moved it to my upper arm, I loved that it was completely out of the way and 'invisible'.
No doubt the optical sensor market is really just getting heated up.  There are a slew of recently introduced products out there – some of them doing well and some of them are struggling.  I do want to point out that the unit I had is a final-run production unit.  The only change between the units that arrive in 7 days are related to packaging.  Specifically:
A) On the fabric long band there will be an ANT+ logo added (it was on the short strap but was omitted on long strap)
B) A QR code was changed on the box to be in a different spot so it wouldn't cover the iPhone on the back of the box
C) The sensor lens will ship with a protective sticker to safeguard it during shipping (removed upon use)
D) The user manual will be printed on smaller paper and not from someone's desk inkjet printer
E) The charger and extra armband will be in a plastic bag
You may wonder why specifically I'm calling this out (or rather, made them detail out the exact differences between what I'm receiving and what you're receiving).  This is because on the recent Mio Link units I saw substantial accuracy differences between pre-prod and production units.  While I just last night received new units with updated firmware, I haven't had a chance to try it (new Mio).  Thus, the Scosche engineers have assured me in multiple cases that nothing has changed firmware or component wise on the unit, simply packaging.
With that – I'd have no problems recommending the RHYTHM+, based on the testing I did on my person.  Obviously anything that reads body responses may vary from person to person – especially optical sensors.  So your feedback and experiences with the units once they start shipping out next week is always welcomed in the comments below.  As are questions.  Thanks for reading!

Found This Post Useful? Support The Site!
Hopefully you found this review useful. At the end of the day, I'm an athlete just like you looking for the most detail possible on a new purchase – so my review is written from the standpoint of how I used the device. The reviews generally take a lot of hours to put together, so it's a fair bit of work (and labor of love). As you probably noticed by looking below, I also take time to answer all the questions posted in the comments – and there's quite a bit of detail in there as well.
If you're shopping for the Scosche RHYTHM+ or any other accessory items, please consider using the affiliate links below! As an Amazon Associate I earn from qualifying purchases. It doesn't cost you anything extra, but your purchases help support this website a lot. Even more, if you shop with TPC (The Pro's Closet), you'll save $40 on purchases over $200 with coupon code DCRAIN40! The Pro's Closet has been a long-time partner of the site here - including sponsoring videos like my cargo bike race, as well as just being an awesome Colorado-based company full of good humans. Check them out with the links below and the DCRAIN40 coupon!
Here's a few other variants or sibling products that are worth considering:
And of course – you can always sign-up to be a DCR Supporter! That gets you an ad-free DCR, access to the DCR Quarantine Corner video series packed with behind the scenes tidbits...and it also makes you awesome. And being awesome is what it's all about!
Thanks for reading! And as always, feel free to post comments or questions in the comments section below, I'll be happy to try and answer them as quickly as possible. And lastly, if you felt this review was useful – I always appreciate feedback in the comments below. Thanks!