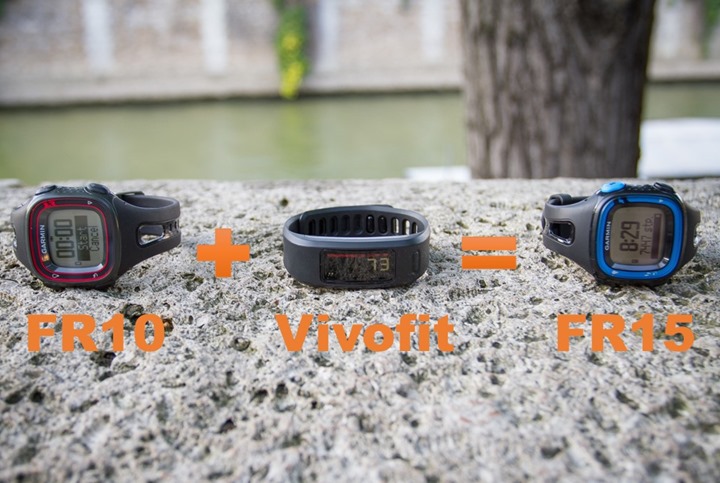 Please note that I've now published my full in-depth review of the FR15.  You should head over to that post to get all caught up.
Today Garmin has announced their newest product, the Garmin FR15.  The FR15 is the latest edition to the budget GPS range that Garmin initiated about 2 years ago with the Forerunner 10.  This new watch builds on the previous edition by incorporating many of the day to day activity monitoring features of the Vivofit activity tracker that was released earlier this year.
Before we get into the details, I'd like to briefly point out that I have only had brief hands-on time with the unit back a few weeks ago.  Unfortunately, as part of that I wasn't in a position to take any photos.  In theory that wouldn't really have been a problem as a unit was on the way for me to poke at.  Except, like my Mom's Christmas cookies – the package clearance system here in France knows no limits, nor plays by any announcement dates.  It beats to its own drum.  As a result, the package is caught somewhere, and that somewhere isn't here with me. (Update: Just added some photos now that I have the unit in-hand)
Nonetheless, between my brief previous hands-on time and now I've got good enough details to give you the low-down and provide some initial thoughts.  As the unit gets closer to release later this "spring" (aka May/June sometime), I'll have my usual full in-depth review.  Well, assuming French customs eventually cooperates anyway…
Background and the Hardware: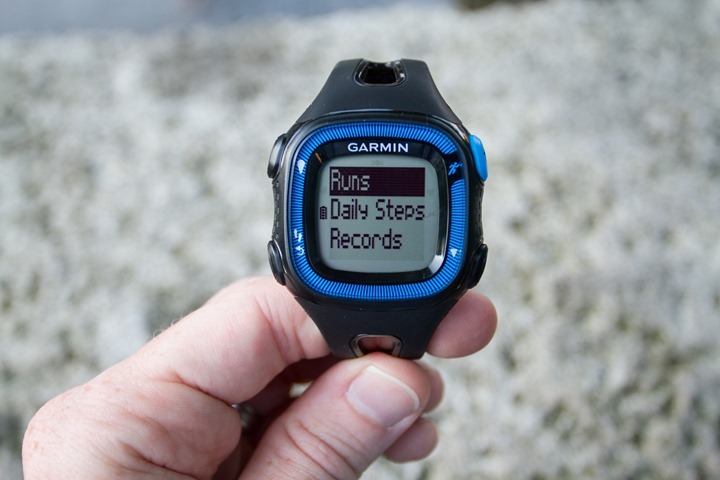 It's probably best to simply think of the FR15 as a FR10 that grew up and went to school.  The original FR10 was announced in August of 2012, and was the first budget GPS watch that Garmin introduced.  At the time there were a handful of sub-$100 GPS watches hitting the market, and Garmin's nearest offering was more than double that.  The FR10 landed in at $129US – a slight premium over the other units.
That premium came in the form of upload capabilities (the others didn't allow uploads/downloads), as well as a more well known brand.  There's no question that watch was a huge success.  One only needs to browse your comments of my FR10 review to see that nearing 600 comments and I think there's only a couple people who had any troubles.  It is simple, easy to use and had a really high 'just works' factor.  No heart rate support or anything fancy.  Just how far, how fast, and how long.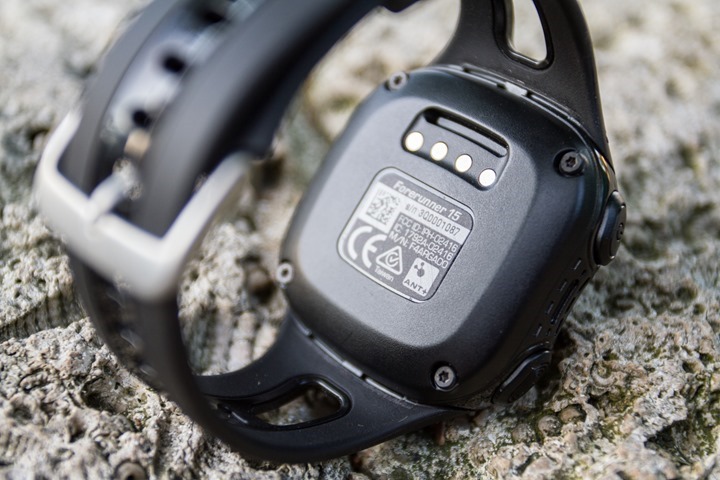 The unit came in two basic editions: Small and large.  Initially the small models were in more traditional feminine colors, while the larger models in less feminine colors.  About 8 months later Garmin introduced more colors and things evened out to more neutral options.
With that background in mind, let's talk about the FR15's hardware.  Here's the skinny:
– Same exact outer shell: Nothing has changed size-wise.  It's identical to before.
– Addition of ANT+ sensor support
– Addition of activity monitor functions
– Increased battery life
And that's it.  It's really rather simple.  It still has GPS, and it still tells you how far, how fast and how long.  And it still uploads via USB to your computer – ultimately spitting out data on Garmin Connect including the below: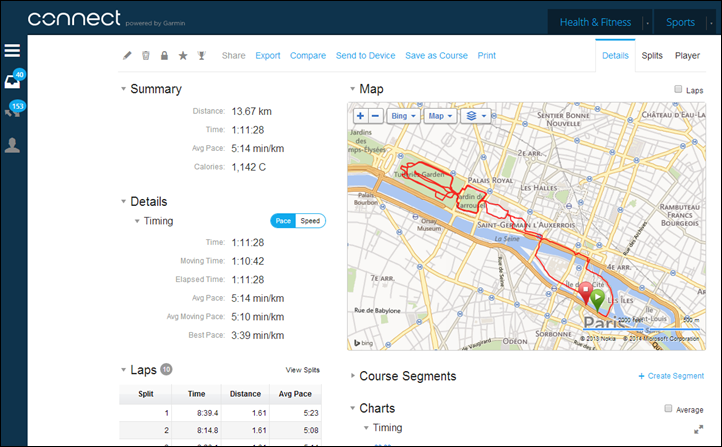 It follows what is a well established Garmin precedent for hardware evolution by the company: Take a hardware model, tweak the internals slightly – add a handful of new features, and release it as a new edition.  But the outer shell is always kept the same.  For example:
– Garmin FR110 > FR210
– Garmin FR405 > FR410
– Garmin Edge 500 > Edge 200
– Garmin Edge 800 > Edge 810
– Garmin Edge 800 > Edge Touring
And on and on… and that's just within the Fitness division.  Models are often used across divisions – like to the golfing side.
I'll cover both the ANT+ sensor piece as well as well as the activity monitor portion in a second.  That really just leaves the battery.  It's been upped from 5 hours to 8 hours in active GPS mode, and 5 weeks in standby/activity monitor mode.  This is key because many folks that were in the target market for the FR10 found that it didn't last for the length of a full marathon.  Or, at a minimum was cutting it really close after real-world battery usage pegged it at a bit less than 5 hours.  Going to 8 hours puts it in the same ballpark as most of Garmin's non-endurance running watches, in between 8 and 10 hours.
The ANT+ Sensors:
Probably the single biggest blocker for most people I heard that were looking at the FR10 was the lack of heart rate support.  The unit simply didn't connect to any ANT+ accessories.
The FR15 changes that by adding in both ANT+ heart rate sensor support, as well as ANT+ footpod support.  It'll connect to any ANT+ heart rate strap, be it Garmin branded or otherwise.  As long as it has an ANT+ logo on the back (which is all Garmin straps).  And, the same goes for footpods.  As long as it's an ANT+ footpod it doesn't matter if it was made by Garmin, Timex, or someone else.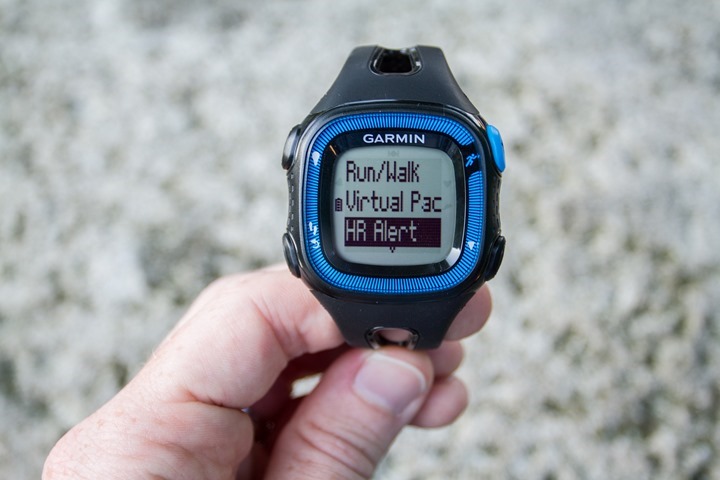 The ANT+ footpod is used indoors on a treadmill in order to gather pace/distance, as well as when passing through areas without GPS signal coverage – such as in a tunnel during a run.
In my opinion the interesting move here is actually the footpod support.  I say this because technically speaking the unit could likely do internal calculation of pace/distance just like the FR220 does today.  In fact, the unit does a variant of this while recording your daily walked steps and distance, but it's not set to do it for fitness activities like running inside or in a tunnel.
Finally, when it comes to display of data fields, the unit retains the previous variant of Panera Bread style "Pick 2" data fields that you can select from to view at any point in time, but otherwise offers minimal customization of any settings.  It can display both pace (i.e. minutes/mile or minutes/kilometer), as well as speed (i.e. MPH or KPH).  The FR15 simply adds the ability to show current heart rate.
Daily Activity Monitoring: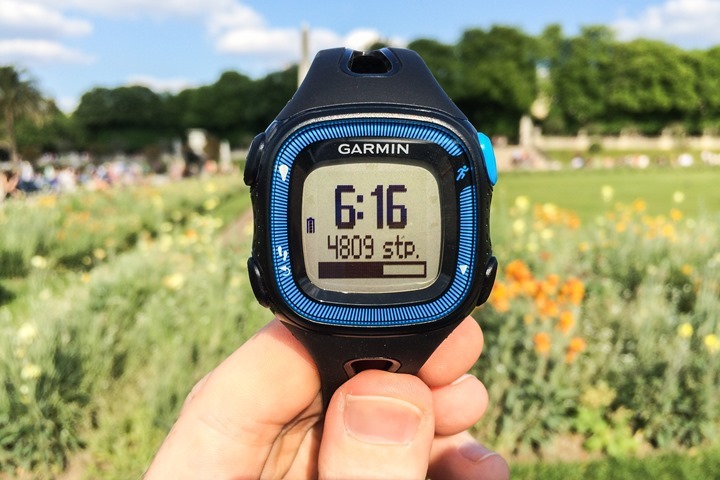 This past winter Polar became the first GPS watch maker to announce the addition of a daily activity monitor into a GPS watch footprint (while a connected web service) with their V800.  It seemed like a natural fit.  After all – many people who owned a GPS watch were also interested in the fast growing activity monitor products that tracked steps, distance walked, total calories, sleep and other metrics.
The only challenge there was that the V800 is aimed at the more serious endurance athlete – starting at $450US.  Well beyond the reach of those that were previously looking at $100 activity monitors and $100-200 GPS watches.  Still, it set a precedent.  And if Polar set the precedent, than Garmin is setting a very clear mandate: Any GPS watch from here on out will have built-in activity monitoring.
Which, it would have to.  After all, this is getting pretty close to the 'floor' of the GPS watch market price-wise.  So anything more expensive not having it would seem out of place (again, going forward).
To that end, the FR15 tracks almost all the things that the Vivofit does.  It does steps, calories, and distance – while also retaining a variant of the 'inactivity' bar that was found on the Vivofit.  In the case of the FR15, the watch visually displays that you that you need to 'Move!' if you haven't done so in the past hour.  Typically you'd have to walk about 100-200 steps to 'clear' the bar.  It also displays a total progress bar against your goal for the day.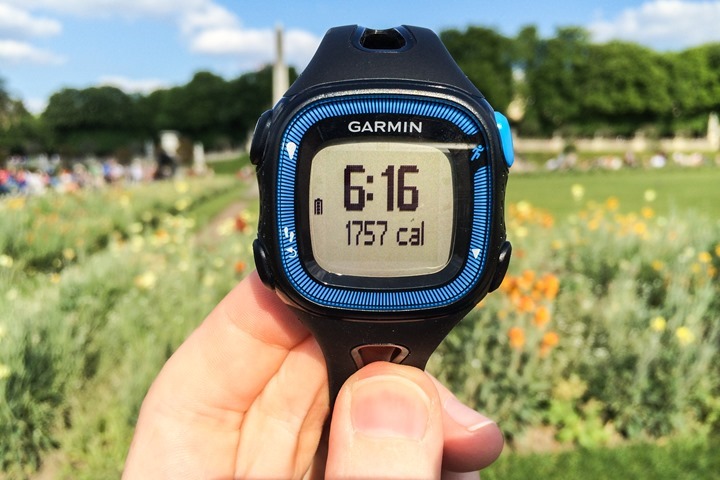 With the activity tracker functionality the unit will now upload to the updated Garmin Connect site, allowing you to see daily step totals for the "other 23 hours" of the day you're not exercising.  From there you can use various social connections on the Garmin Connect platform to 'compete' with friends or yourself in competitions on steps – ultimately motivating you to move more.  This information can be accessed either from your phone or your computer.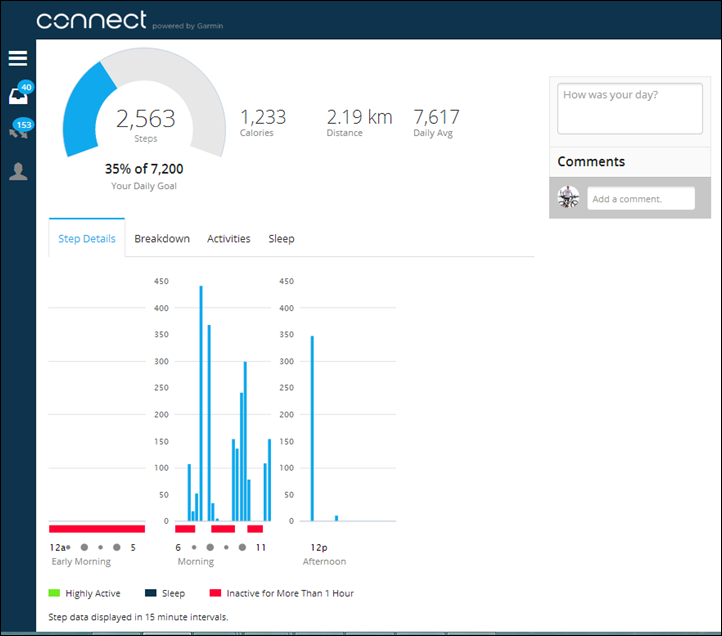 But there are some areas that it lacks compared to the Vivofit.  First is that the FR15 doesn't track sleep.  Personally I don't see that as a huge loss, as I feel that the Vivofit does a poor job of tracking that anyway.  Or rather, a poor job of displaying the results of that.  The data simply isn't detailed or actionable enough to be of any value. [Update May 22nd: Garmin has decided that Sleep will be added to the FR15 at some point in the Summer 2014]
Second, and most importantly – the FR15 doesn't contain a Bluetooth Smart enabled chipset.  As a result you'll have to plug it in via USB to upload any collected data – both daily steps/distance as well as completed fitness activities (GPS/indoors).  That's a pretty substantial downside, especially in the activity monitoring market where everything is uploaded these days wirelessly via Bluetooth Smart to your phone – often in real-time every few minutes without a single button being pushed.  That enables people to quickly check their weekly averages, goal tracking and most importantly – competition status.
Thus I'm not quite clear on why Garmin made such an obvious omission.  For most users of the FR10 they likely aren't exercising every single day, but rather, a portion of the days each week.  Therefor plugging the unit in each day to upload daily activity data seems a bit awkward.  Further, adding the functionality wouldn't have likely impacted sales of the higher end FR220 unit – since these probably weren't people that were going to spend an extra $80 anyway.  Most are folks looking at various $100-$120 activity monitors and GPS units and deciding which one to get, not which both to get.  Based on which product they selected, their phone and a free or $1 app probably would have filled the gap for the other.
Which isn't to say that the FR15 won't be popular.  I'm sure it will be, assuming no technical issues, as it strikes a good balance in every other area.  It's just that it seems an odd inability given the state of connected wearables today.
Comparison Tables:
The FR15 makes things a bit tricky in that I actually have two separate categories in the product comparison tool – one for GPS units, and one for activity trackers.  While the GPS unit category already had line-items for 24×7 activity tracking, I did need to expand activity monitor product type slightly to accommodate it.  That said, it's still two distinct product types for the meantime, thus there are two charts at play.
The first from the GPS product category is the FR10, FR15 and FR220.  I went with just showing Garmin-only units on this chart to show the progression of features more easily.  Of course, you can always make your own charts with any products in the product comparison tool here.
Function/Feature

Garmin Forerunner 10
Garmin Forerunner 15
Garmin Forerunner 220
Copyright DC Rainmaker - Updated May 9th, 2019 @ 3:09 amNew Window
Price
$129
$139
$249
Product Announcement Date
AUG 28, 2012
May 5, 2014
SEPT 16, 2013
Actual Availability/Shipping Date
SEP 2012
May/June 2014
OCT 31, 2013
GPS Recording Functionality
Yes
Yes
Yes
Data Transfer
USB
USB
USB, Bluetooth Smart
Waterproofing
50 meters
50 meters
50 Meters
Battery Life (GPS)
5 Hours
8 hours
10 hours
Recording Interval
Smart
SMART RECORDING (VARIABLE)
SMART RECORDING (VARIABLE)
Satellite Pre-Loading via Computer
No
YES, 7 DAYS
Yes, 7 days
Quick Satellite Reception
Great
Good
Great
Alerts
Sound/Visual
Sound/Visual
VIBRATE/SOUND/VISUAL
Backlight Greatness
OK
OK
Great
Ability to download custom apps to unit/device
No
No
No
Acts as daily activity monitor (steps, etc...)
No
Yes
No

Music

Garmin Forerunner 10
Garmin Forerunner 15
Garmin Forerunner 220
Can control phone music
No
No
Has music storage and playback
nO
No

Connectivity

Garmin Forerunner 10
Garmin Forerunner 15
Garmin Forerunner 220
Bluetooth Smart to Phone Uploading
No
No
Yes
Phone Notifications to unit (i.e. texts/calls/etc...)
No
No
No
Live Tracking (streaming location to website)
No
No
Yes
Emergency/SOS Message Notification (from watch to contacts)
No
No
No
Built-in cellular chip (no phone required)
No
No
No

Cycling

Garmin Forerunner 10
Garmin Forerunner 15
Garmin Forerunner 220
Designed for cycling
Barely
BARELY (SPEED MODE ONLY)
Barely (Speed mode only)
Power Meter Capable
No
No
No
Speed/Cadence Sensor Capable
No
No
No
Strava segments live on device
No
No

Running

Garmin Forerunner 10
Garmin Forerunner 15
Garmin Forerunner 220
Designed for running
Yes
Yes
Yes
Footpod Capable (For treadmills)
No
Yes
Yes (also has internal accelerometer)
Running Dynamics (vertical oscillation, ground contact time, etc...)
No
No
No
VO2Max Estimation
No
No
No
Race Predictor
No
No
No
Recovery Advisor
No
No
No
Run/Walk Mode
Yes
Yes
Yes

Swimming

Garmin Forerunner 10
Garmin Forerunner 15
Garmin Forerunner 220
Designed for swimming
NO (PROTECTED THOUGH JUST FINE)
NO (PROTECTED THOUGH JUST FINE)
No (protected though just fine)
Record HR underwater
N/A
N/A
No

Triathlon

Garmin Forerunner 10
Garmin Forerunner 15
Garmin Forerunner 220
Designed for triathlon
No
No
No
Multisport mode
N/A
N/A
No

Workouts

Garmin Forerunner 10
Garmin Forerunner 15
Garmin Forerunner 220
Create/Follow custom workouts
No
No
Yes
On-unit interval Feature
No
No
Yes
Training Calendar Functionality
No
No
Yes

Functions

Garmin Forerunner 10
Garmin Forerunner 15
Garmin Forerunner 220
Auto Start/Stop
Yes
Yes
Yes
Virtual Partner Feature
Pace Alerts
Pace Alerts
No
Virtual Racer Feature
No
No
No
Records PR's - Personal Records (diff than history)
Yes
Yes
Yes
Day to day watch ability
Yes
Yes
Yes
Hunting/Fishing/Ocean Data
No
No
No
Tidal Tables (Tide Information)
No
No
No
Jumpmaster mode (Parachuting)
No
No
No
Geocaching
No
No
No
Weather Display (live data)
No
No
No

Navigate

Garmin Forerunner 10
Garmin Forerunner 15
Garmin Forerunner 220
Follow GPS Track (Courses/Waypoints)
No
No
No
Markers/Waypoint Direction
No
No
No
Routable/Visual Maps (like car GPS)
No
No
No
Back to start
No
No
No
Impromptu Round Trip Route Creation
No
No
No
Download courses/routes from phone to unit
No
No
No

Sensors

Garmin Forerunner 10
Garmin Forerunner 15
Garmin Forerunner 220
Altimeter Type
None
None
GPS
Optical Heart Rate Sensor internally
No
No
Heart Rate Strap Compatible
No
Yes
Yes
ANT+ Heart Rate Strap Capable
No
Yes
Yes
ANT+ Speed/Cadence Capable
No
No
No
ANT+ Footpod Capable
No
Yes
Yes
ANT+ Power Meter Capable
No
No
No
ANT+ Weight Scale Capable
No
No
No
ANT+ Fitness Equipment (Gym)
No
No
No
ANT+ Lighting Control
No
No
ANT+ Bike Radar Integration
No
No
ANT+ Trainer Control (FE-C)
no
No
ANT+ Remote Control
No
No
No
ANT+ eBike Compatibility
No
No
No
Shimano Di2 Shifting
No
No
No
Bluetooth Smart HR Strap Capable
No
No
No
Bluetooth Smart Speed/Cadence Capable
No
No
No
Bluetooth Smart Footpod Capable
No
No
No
Bluetooth Smart Power Meter Capable
No
No
No
Temp Recording (internal sensor)
No
No
No
Temp Recording (external sensor)
No
No
No
Compatible with Firstbeat HR tools
No
No
No

Software

Garmin Forerunner 10
Garmin Forerunner 15
Garmin Forerunner 220
PC Application
GTC
Garmin Express
Garmin Express
Web Application
Garmin Connect
Garmin Connect
Garmin Connect
Phone App
Garmin Connect Mobile
Garmin Connect Mobile
iOS/Android
Ability to Export Settings
No
No
No

Purchase

Garmin Forerunner 10
Garmin Forerunner 15
Garmin Forerunner 220
Amazon Link
Link
Link
Link
Clever Training - Save with the VIP program
Link
Link
Link

DCRainmaker

Garmin Forerunner 10
Garmin Forerunner 15
Garmin Forerunner 220
Review Link
Link
Link
Link
Next, looking at the activity tracker category I went with the Vivofit, FR15, and Polar Loop.  All three of which support heart rate tracking during an activity.  Again, you can always mix and match your own products via the comparison table tool.
My thoughts: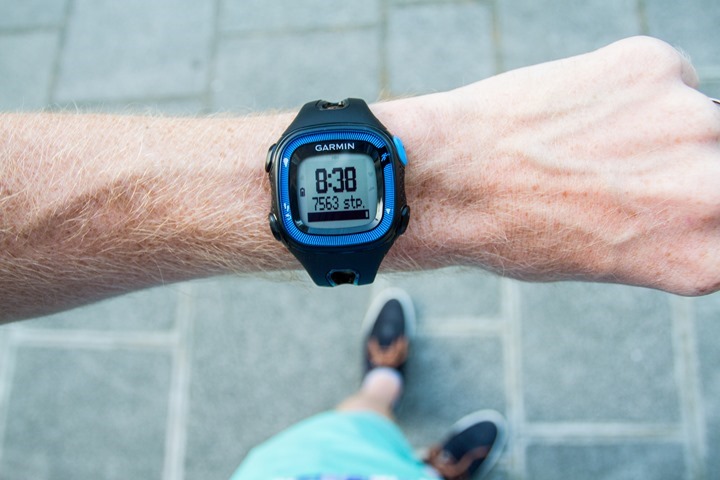 The FR15 definitely carves out a really interesting market segment.  Garmin went slightly lower than half-way between their mid-range running watch (the $250 FR220), and their least expensive GPS watch (the $129 FR10), effectively creating a new category.  By adding in both day to day activity tracking and ANT+ sensor support for heart rate and footpods, they've pretty much created a new category price point.
Or, at the least – redefined it.  It used to be that the price point in the GPS market was basically in three rough blocks:
– Budget GPS watch: $~100 (+/- $25)
– Mid-range GPS watch: $200 (+/- $50)
– High end GPS watch: $400 (+ $50)
Garmin would always push the upper end of the two lower tiers price-wise, while traditionally sticking to the $400 marker for the high-end units.
The FR15 will be an interesting driver in the market though.  That's because some of the currently $160-$200 GPS watches actually have the technical guts to do activity tracking.  For example, the TomTom units could technically do it if developed and enabled via firmware.  If they were to add that function they'd have an upper hand because the unit offers Bluetooth connectivity for mobile phone uploads, as well as having a host more features.
In the adjacent activity tracker segment, Garmin has basically taken the upper-end price range (i.e. the Nike Fuelband and other more expensive units) and plopped a GPS watch on top of it.  That's going to be very tempting for people that don't mind the difference between a band and a watch.  The only catch is, again, lack of mobile phone connectivity.
Still, I'm looking forward to seeing if it performs as well as a combined Vivofit and FR10 unit.  Given so many people are generally quite happy with the hardware on both of those products – it'll be interesting to see if the resultant offspring is just as successful.
With that – thanks for reading and feel free to drop any questions below!
—
Update: The FR15 is now available for pre-order from Clever Training (all colors/bundles).  You can support the site and still save a bundle via the Clever Training VIP Program (details on all the benefits at the link).  I expect my full in-depth review will be available towards the end of May, pending Garmin finalizing the FR15 software.