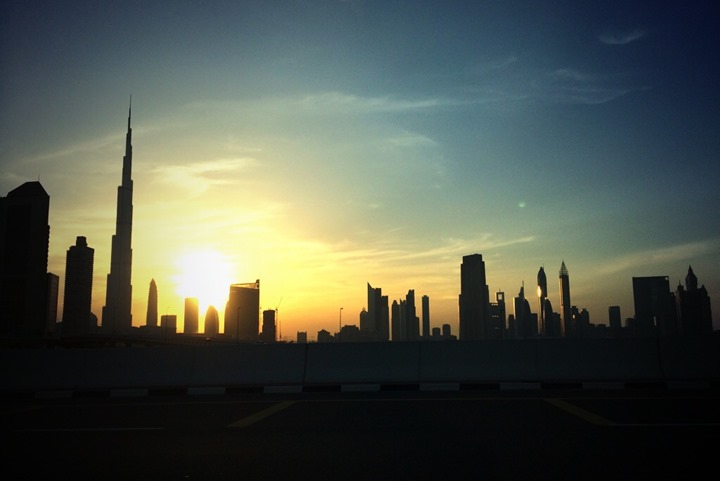 On Monday when I posted that I was heading to Dubai for a few days, a reader suggested I check out the Wednesday night 'open track' at the Autodrome.  Each week they open the track to just cyclists and runners (and any other non-motorized creation), allowing folks to go round and round on the race track.
So I headed down this evening (after a run…and a swim), to check things out.  You enter the facility by car via a tunnel that goes under the track – taking you directly into the infield.  It's here that you arrive at a long building that houses the garages for what would normally be cars.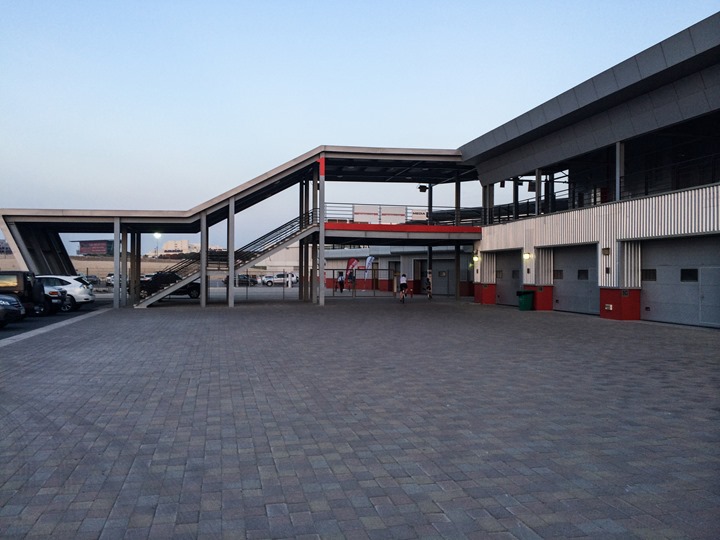 From there you head into an open bay that allows access to the track.  Here you'll find a local bike shop setup with every bit of gear you could possibly need (even Garmin Edge 510's and VIRB's).  And more importantly for me: Bike rentals.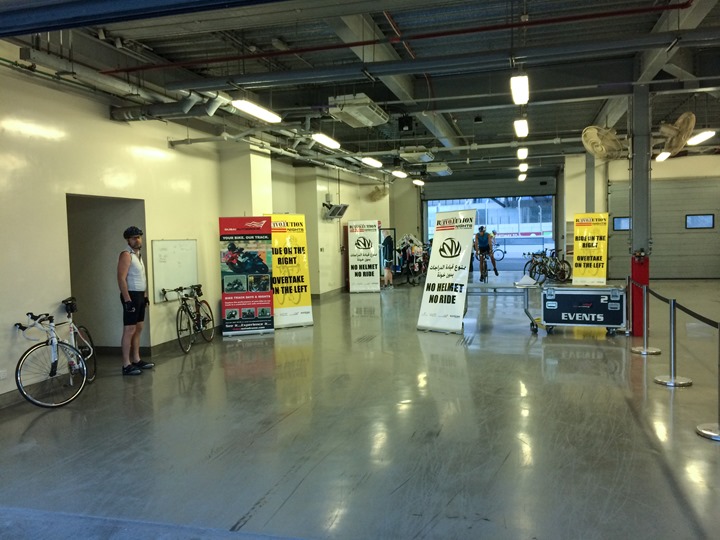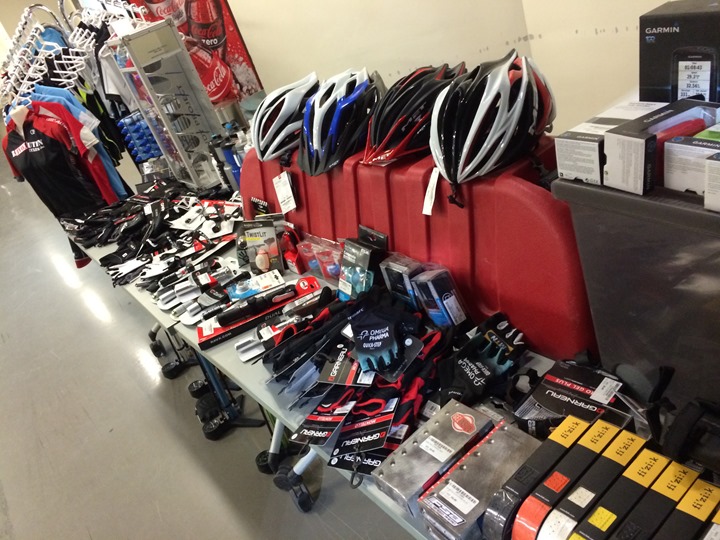 The company rents a range of carbon road bikes for what was almost nothing by bike rental standards: $5US/hour.  Thus, $10 for my evening there.  Here's my bumble-bee themed stallion: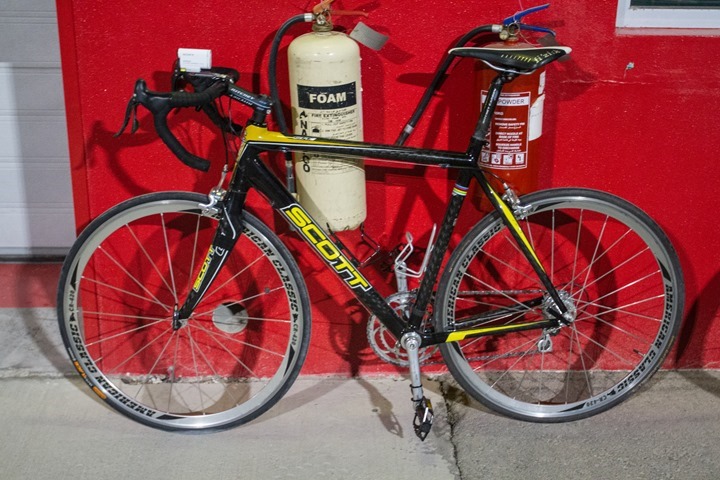 They would have happily installed pedals on the bike for me, but I didn't really have any more room in my carry-on luggage for both bike shoes and pedals.  So I just went with the flats and my running shoes.
After that I went down and found a spot along the long row of garages.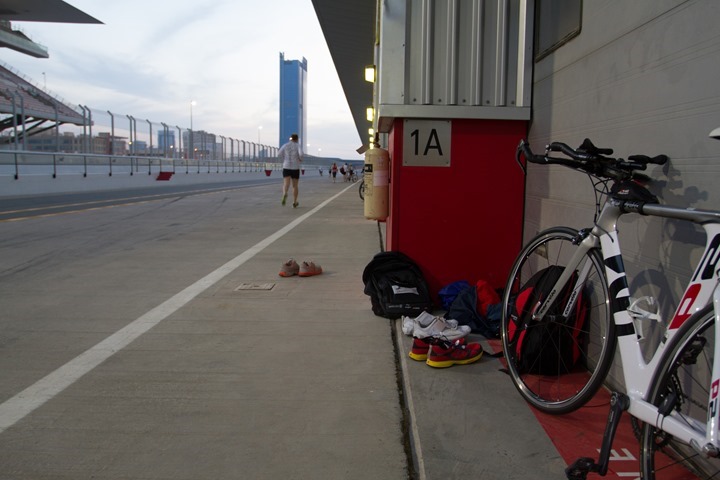 While I was certainly here to enjoy a bike workout – it wasn't entirely my focus.  I actually had brought a few mounts down, as well as a pile of action cameras that I wanted to test out.  The track was ideal because I didn't have to worry about cars, and, I was able to get some good low-light footage for my upcoming 'Spring 2014 Action Cam Recommendations'.  I'd end up doing 2-loops (5K) for each camera set.  Rinse and repeat.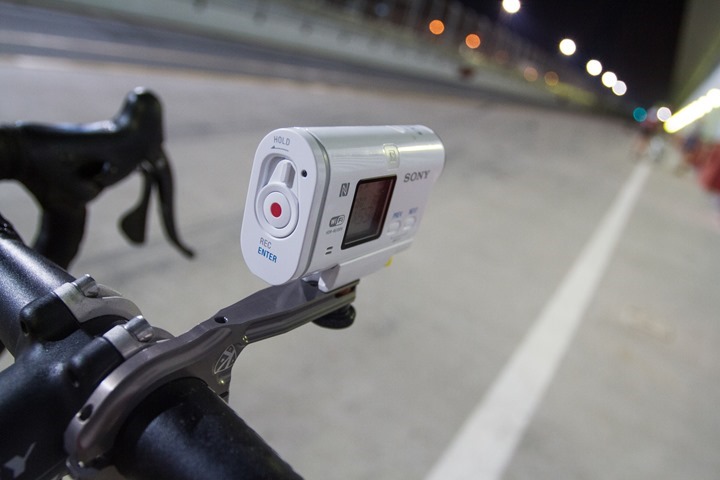 In addition, I brought along the Wahoo RPM cadence pod.  This is precisely the reason I like it – perfect to put on bikes I temporarily use.  I was able to quickly install it on the bike in the matter of about 60 seconds.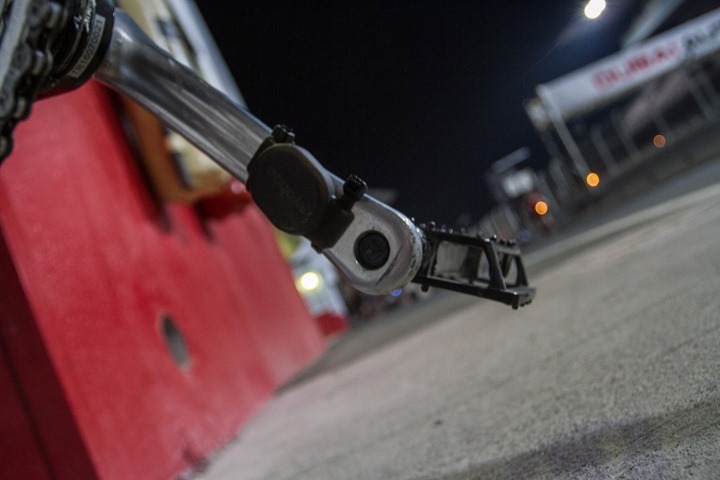 In case you're wondering how I got it off later, I had astoundingly remembered to bring along the little minibar tool from the hotel, which had a rather impressive saw.  I do suppose I wish there was a rubber-band way to install the pod though.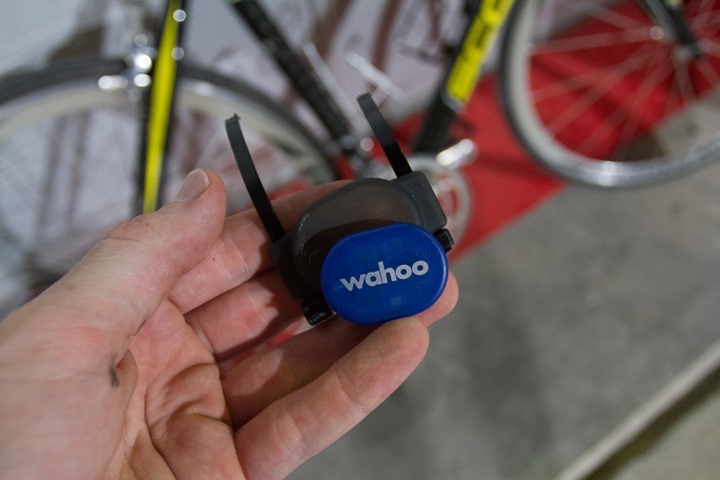 So after getting everything all settled camera/mount/cadence sensor-wise, I was ready to head out.  I made note of the following sign however.  See, even it wasn't paying attention – and look what happened to it.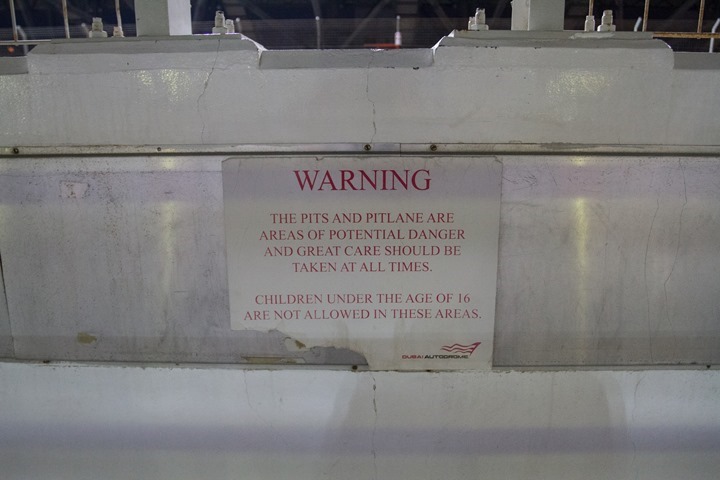 Once underway I pedaled probably a quarter of a mile to just get out of the pit area/lane and merge onto the track: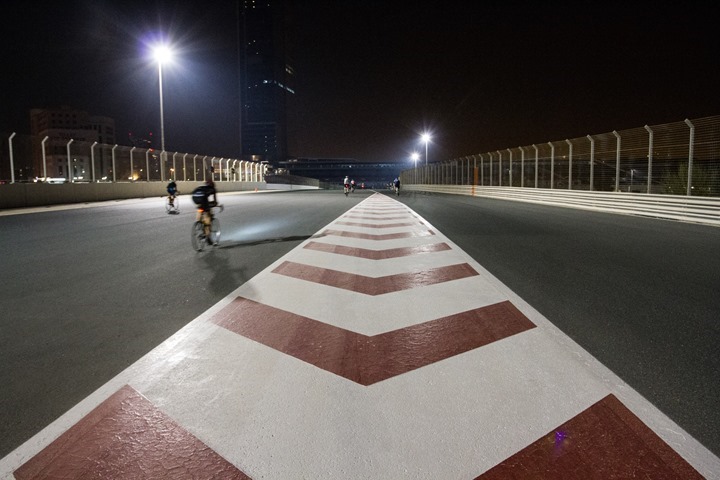 From there you make a large swooping downhill descent into your first corner.   The track is most definitely not flat.  You can see a runner in the below photo as well, working her way along the inside of the track.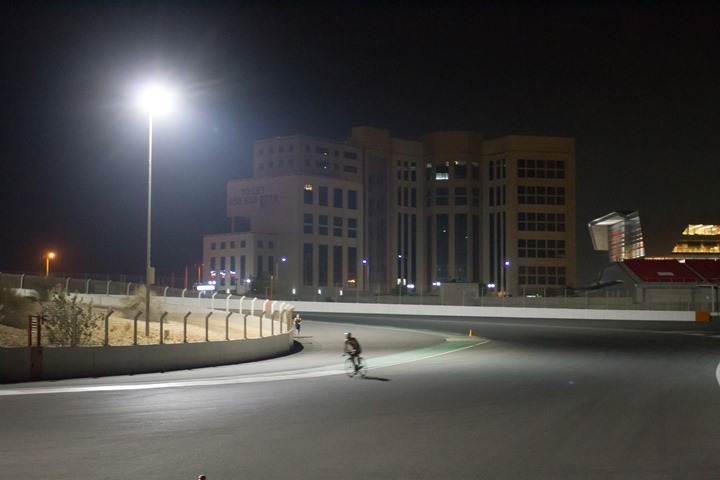 Along this side there's a new seating area that appears they're just putting the finishing touches on.  It's massive – extending out beyond both sides of the frame of the photo.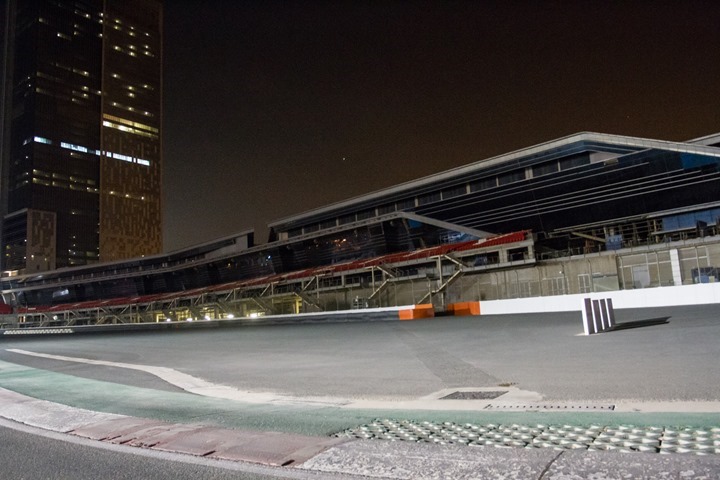 While the facility is open for cyclists on Wednesday nights, it's actually not the entire track that's available to cyclists.  The open portion of the track is 2.46KM (1.52mi) long.  Other portions normally used for other events are blocked off.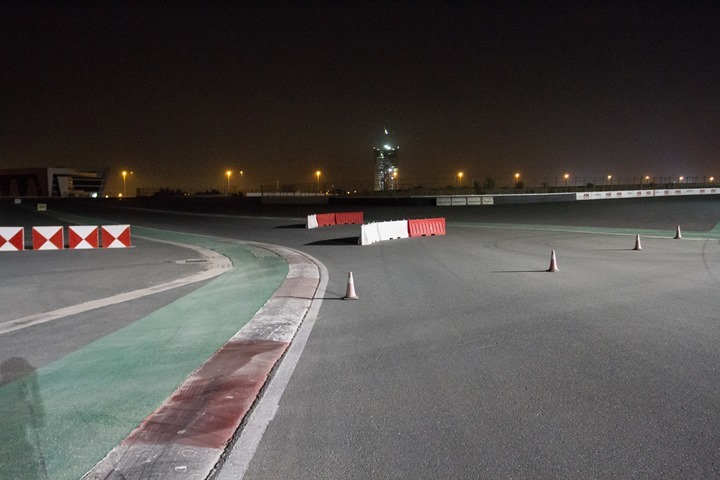 As you made your way around the track, there were markers counting down the distance until any turns.  Obviously as a cyclist this meant very little – given I wasn't going 100MPH.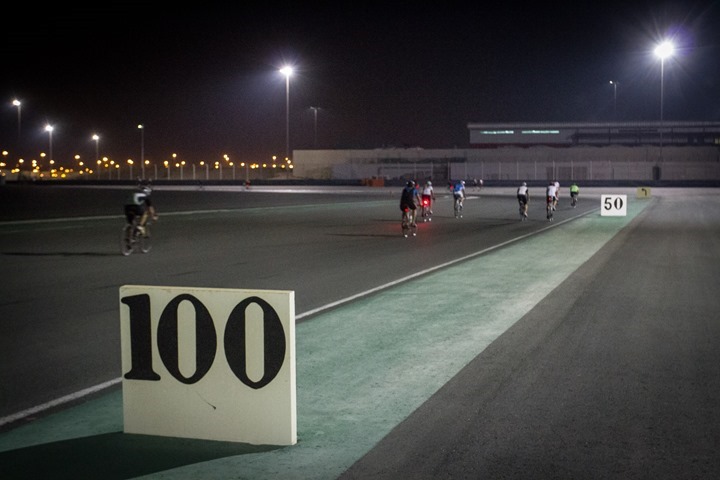 The below section had a bunch of sharp back and forth turns heading uphill for what was the only major climb of the course.  It's here I really wished I was riding my own bike that is fit to me, as the frame I was on was perhaps a touch small, and the seat about as high up as it was going to go.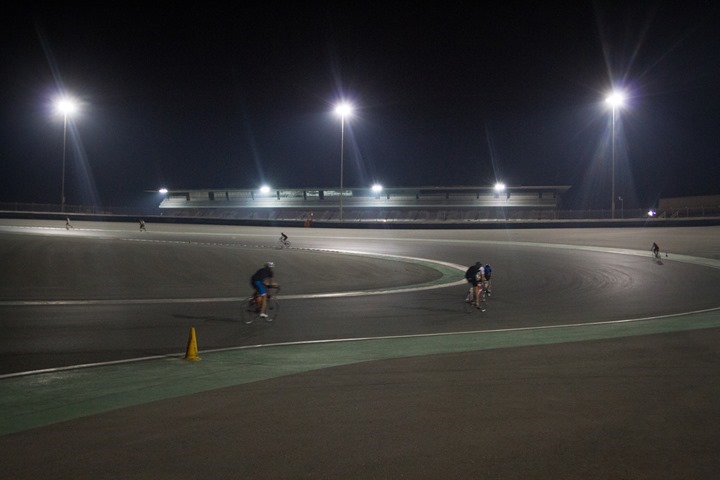 Upon cresting the hill you got the choice of heading down into the pits, or staying on the main track.
The pit area is completely isolated from the main track – so once you've made your decision you're pretty much stuck with it for a good half-mile, or rather, until the next time you come back around again.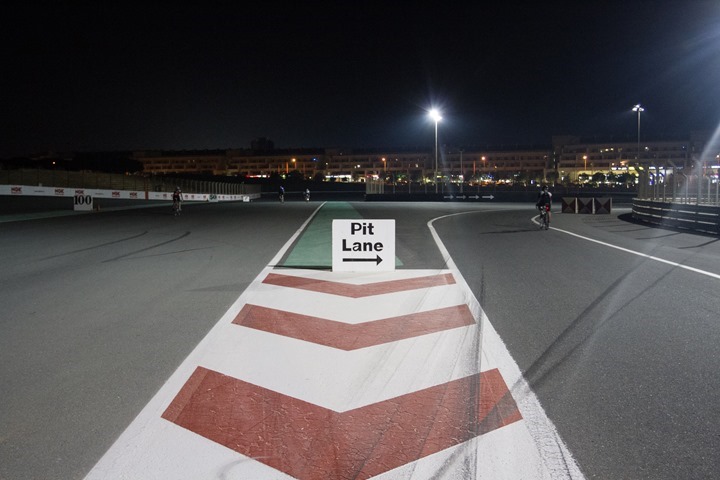 Assuming you didn't exit to the pits, you'll come down the home stretch under the start/finish banner and then to your right would be the pit area.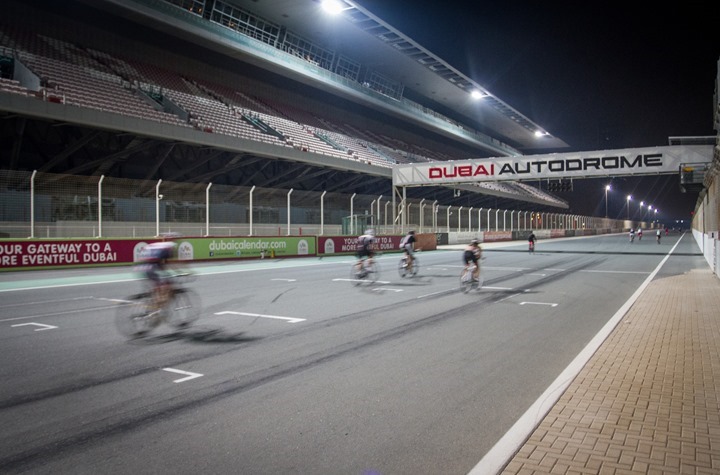 As a cycling facility – it's freakin' awesome.  It's perfect for workouts since there's nothing to worry about.  In my opinion it'd be ideal for any sort of sustained hard-effort type workout, or intervals.  For just straight long-rides, there's better options out into the desert that aren't quite as repetitive (or, time-limited at 3hrs).
I saw everyone from roller bladers to roadies and triathletes out there.  The vast majority were definitely more competitive than not.  But I did see both youth cyclists (with and without parents), and a small boy on a tricycle with his dad making his way slowly around the track on the inner running portion.
Here's a short time-lapse of the action I quickly put together with the VIRB.  I simply set it on the wall and hoped nobody would mess with it.  Given it's a white VIRB on a white wall hidden by a white-ish fence at a facility where most people seemed to have $2,000-$8,000 bikes – I figured I was probably OK.  And I was right, worked out just fine:
At its peak around 7:45PM, I'm guessing there were a few hundred people out cycling or running.  But, as you got closer to closing time (9PM), things got much quieter.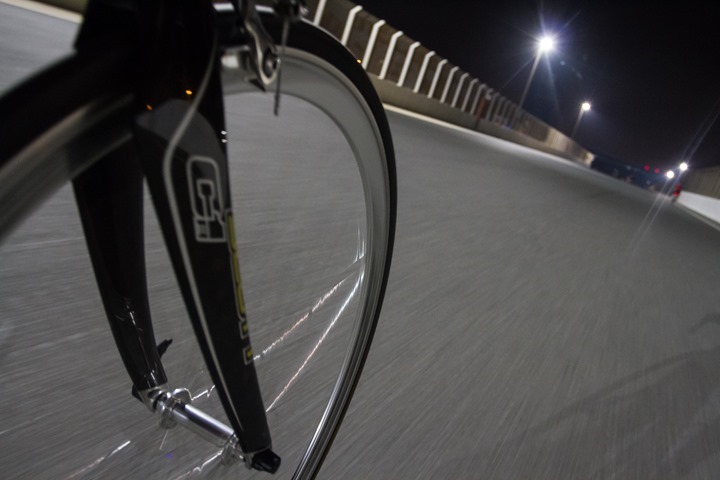 When you decided to come into the pit area, you'd approach down this road that passed the bike rental locale, as well as an ambulance standing by, and even a massage table.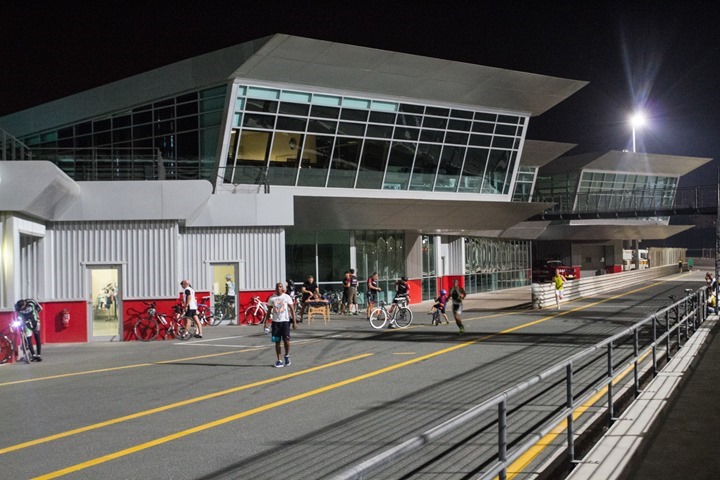 From there you hit the garages where triathletes had bikes and shoes lined up doing brick workouts.  Most appeared to be repeating bike/run over and over again.  Though some were just doing full bike periods followed by a finishing run.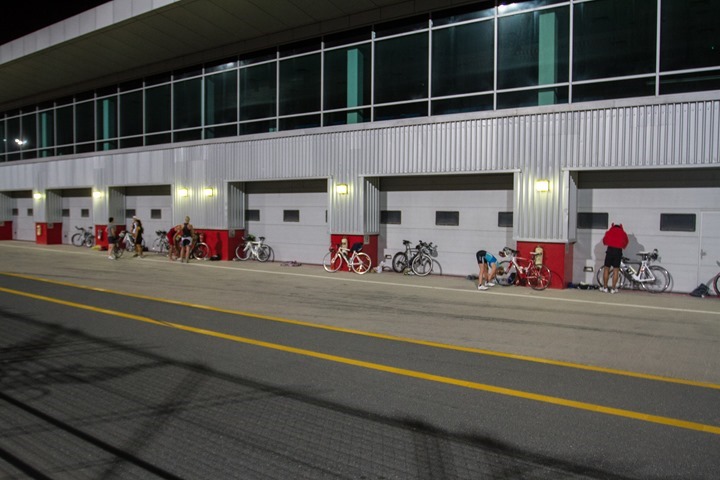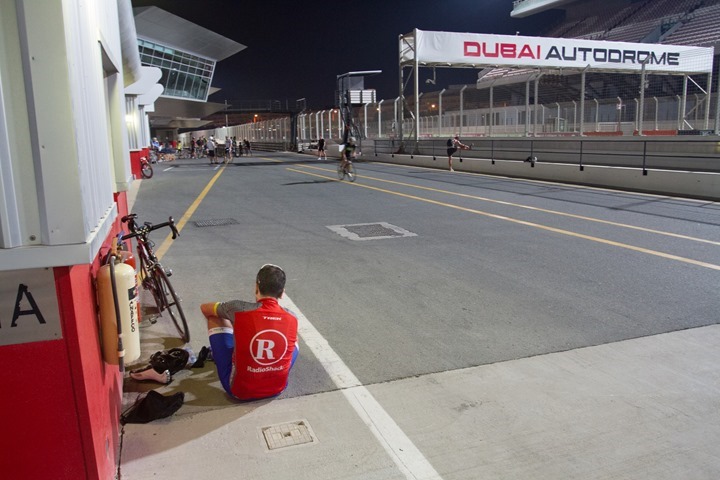 After getting my fill of loops in, and then taking care of a bunch of product shots – I disassembled everything and returned the bike.  Then I headed on back to the hotel to clean-up before bouncing off to the airport for my flight back home.
Thanks for reading (and a huge thanks to reader Stuart for the suggestion)!
—
Side note: You can view all my past Dubai adventures here.  Or, all my past Middle East adventures here.  Enjoy getting distracted!