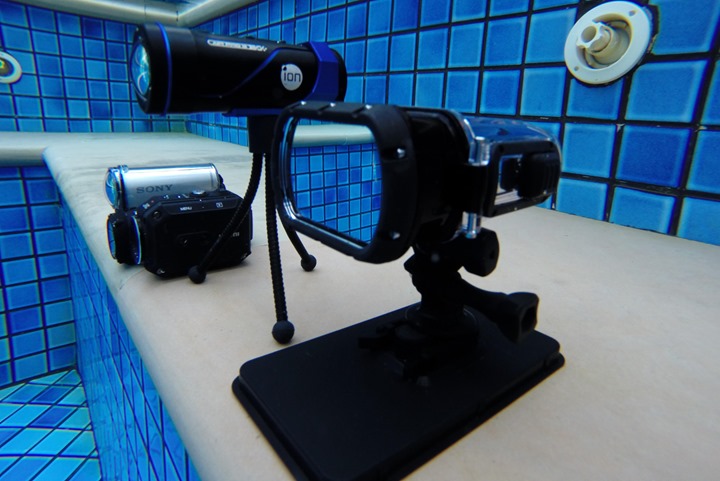 While meticulously lining up the above action cameras for some underwater tests this week I realized that somehow I missed April on the giveaway plan.  I'll blame the stingray for that, as clearly there's no other explanation.  But don't worry, I won't forget June…after all, we all know what happens in June!  And with a massive ton of hot new gadgets on the market, I promise it'll be EPIC!
And while it's not technically May Day anymore, it is a day in May, thus one could technically still call this a May Day Giveaway (and I am).  But no matter what I call it – it's still a giveaway, and that's what counts!
So in order to get folks all spring'd up, it's time to give some stuff away!  In this case, that'd be a $400 credit to Clever Training.  Which, is enough to cover any of the action cams above (including the GoPro that I took the photo with) – or, any other gadget they sell, like a new Garmin, Suunto or Polar unit.  Or you can use the credit towards a trainer or power meter.  Your choice.
To enter yourself in, simply leave a comment below with the following:
To Enter: Tell me your next planned race (location/rough date) and the goal for the race.  If you don't have any planned races this year, then let's go with the last race you competed and how it went.
Got it?  Go forth!
—
Entries will be accepted through Monday night, 11:59PM Eastern time (May 12th, 2014).  I'll be you giving one device worth up to $400US from Clever Training.   Winner will be chosen at random and announced on roughly Tuesday, depending on how sunburned I get at the beach on Monday.  One entry per person.  The winner can decide on which device after they win.  For devices/gadgets/gizmos over $400, the winner can pay the difference.
This giveaway is sponsored by Clever Training, which I've got a great partnership with.  As you probably remember, by picking up sports technology gadgets from Clever Training you support the site.  And on top of that, all DC Rainmaker readers get an exclusive 10% off all products they sell (basically every sports tech company/gadget/device) using coupon code DCR10BTF or now via the VIP program.  And most of all, you support the site in a big way – so I appreciate it!
Note, if you're US Active Duty Military – you can submit your entry via e-mail (now closed).   No Easter bunnies allowed via this method. Mmmkay?  Thanks all!