After getting back from Dubai on Thursday, here's a look at what I squeezed in over the weekend before getting back on another plane Sunday night.
1) Friday Night 800m Intervals
I started off the weekend with some late Friday night running intervals.  It wasn't exactly my intention to do these at 10PM.  But something happened around 6-7PM and I found myself face down on the couch asleep.  The Girl was kind enough to apparently take a photo somewhere along the way.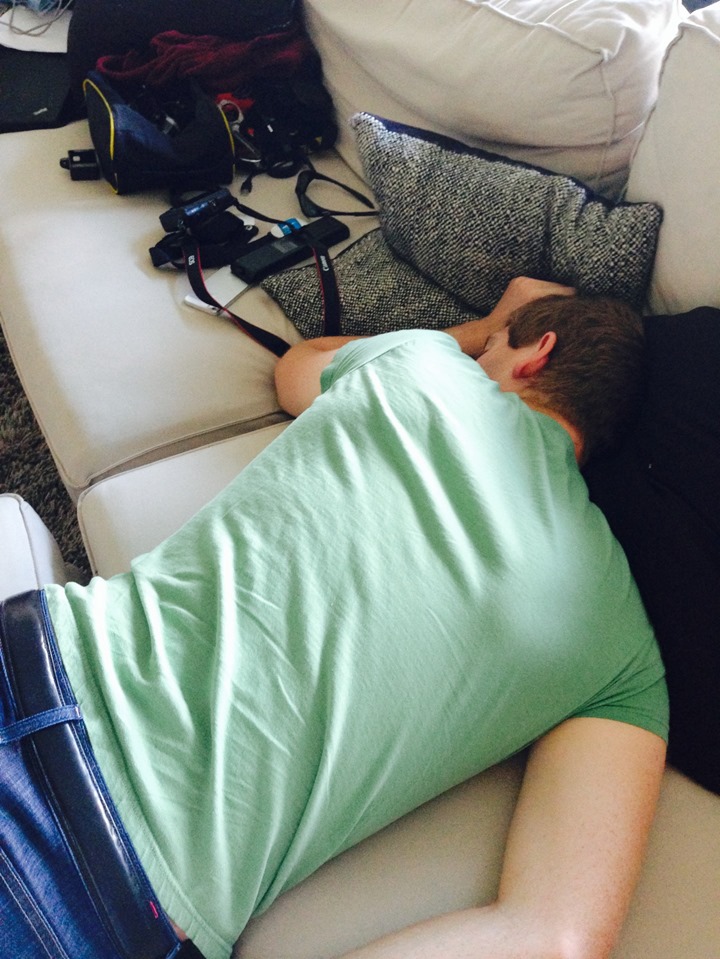 It wasn't till around 9:30PM that I woke up.  So…that's when I did my run.  One way or another, get 'er done.

These were my usual workout right now, currently at 10x800m at 2:50/800m.  I pretty much nailed them all except the last couple because I was trying to people-dodge along the water coming back home.  Being prime walking/drinking time, there were tons of folks out so it's sorta a game of run around the peeps (and dogs).
Once back I made an uber-quick transition via the shower and back out the door to one of our favorite little places all of 20-30 meters from our front door.  I had ran in before I started my intervals to let them know we'd be in around 11PM for dinner, and having "our usual":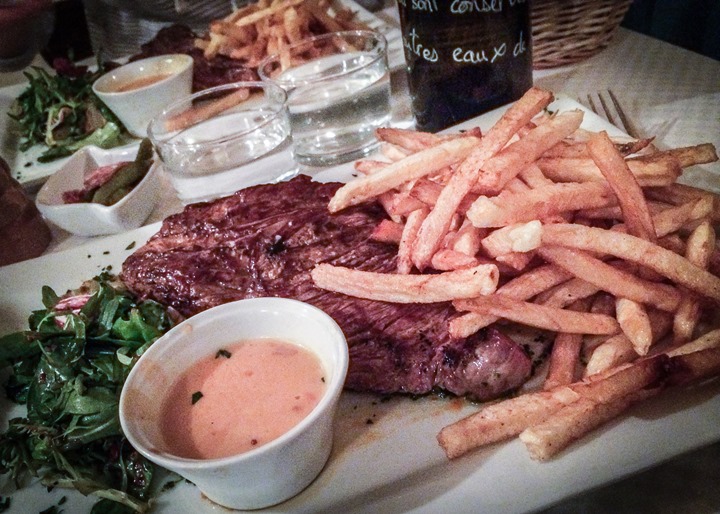 Mmm…so good!  That's a camembert sauce you see there.  Yes, pure awesome.
2) Pouring sweat on the trainer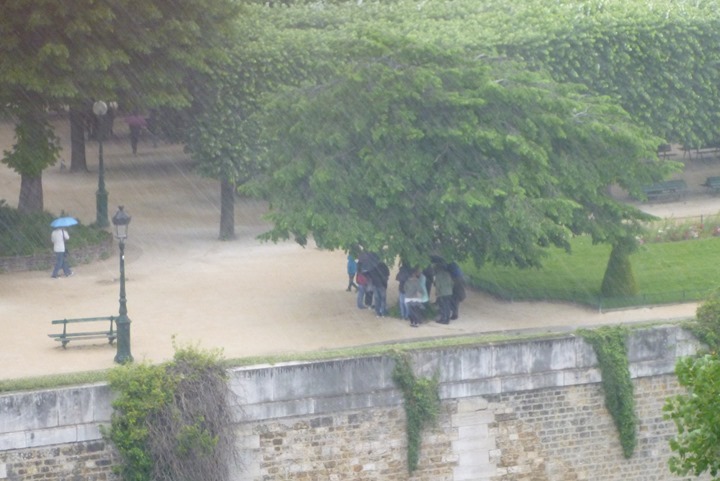 This weekend was on and off again pouring rain and hail, and bright sun (as seen a bit later).  Above, was what it was like both times I got anywhere near my bike.  It just dumped out.
So for Saturday I went ahead and just rode indoors.  This worked out though because I'm able to have a bit more controlled environment to start testing on a variety of things, including both the Edge 1000 but also their new magnet-less speed/cadence sensors.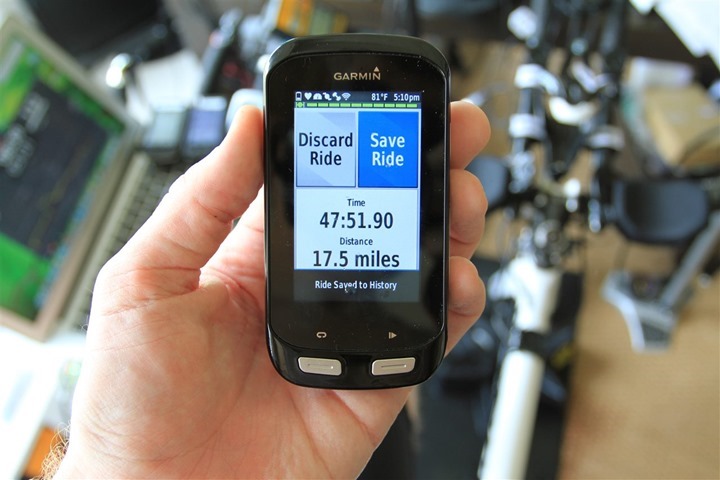 I'll be talking more about the speed & cadence sensors on Wednesday in a dedicated post with lots of fun data.  And I'll be diving into the Edge 1000 in a full in-depth review in about three weeks.
I also went out for a brief ride on Sunday to play around with the new Garmin Segments functionality.  I created a handful of segments around me (since there's approximately 5 segments created in all of Paris), and then cycled through them.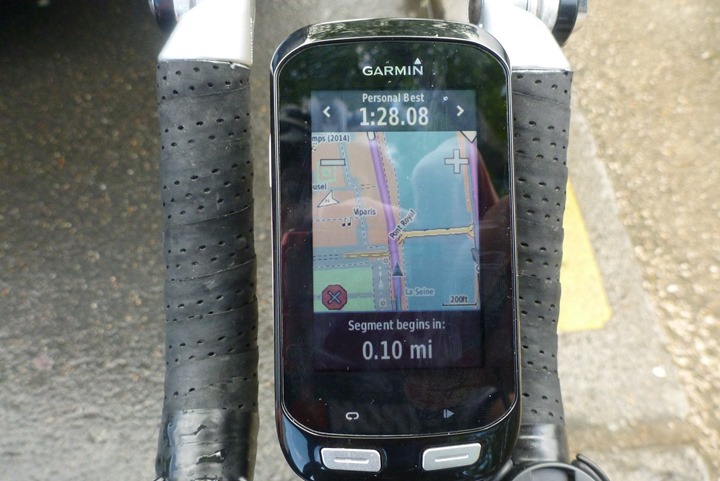 The experience was mixed.  The notification before a segment started worked very well.  As did routing to a segment, I could just pick a segment and have it route me there.  Once in the segment (started) it worked fairly well as far as showing me how far head/behind the leader I was.  Though I did receive a 'Virtual Partner Complete' notification mid-way through two segments, but that was only temporary and disappeared without any ill effect.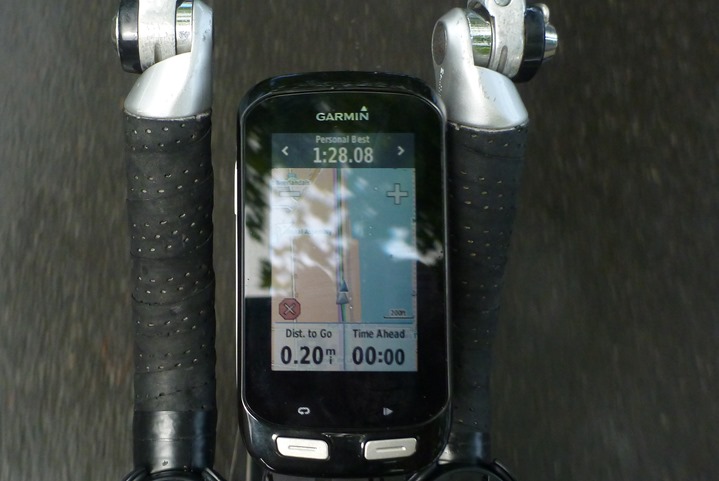 The transitions out of the segments were sometimes inconsistent with display changes. For example it randomly zoomed out to all of Europe, rather than the zoomed in street view I had going into the segment.  Though, about 10-15 seconds later it corrected itself, I believe only because I hit a turn.
Still, in general there's quite a bit I like about the unit.  There's a host of changes around how it does sensors and activity profiles (such as it does away with bike profiles).  On the whole I think that's a good change to simplify things.  Though there appears to be a side effect there of killing the ability to have a per-bike odometer.  So hopefully that gets straightened out.
And the upload via WiFi worked seamlessly for me, just like the FR620 does.  And while the Bluetooth setup is a bit more complex than other Garmin products (as you pair it both as a Bluetooth Smart sensor and as a legacy Bluetooth sensor), once you get past that, it seems fine.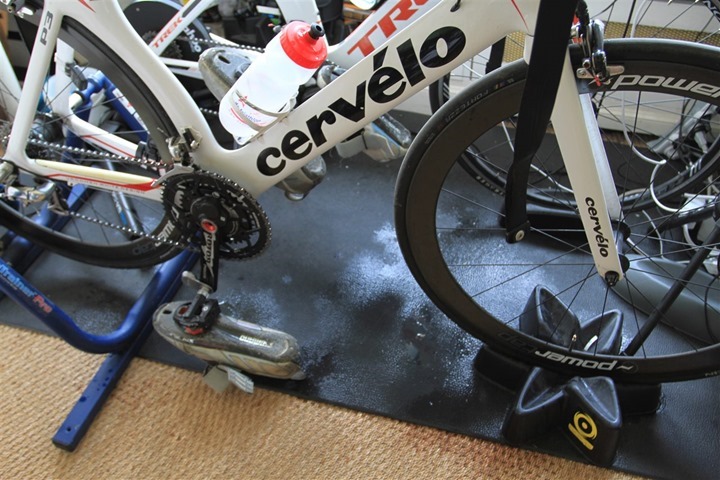 I won't be able to test out the Di2 functionality until next weekend when my LBS gets in all the parts to convert my bike over.  And of course, all of this ignores the larger question of whether or not the small bump in functionality is worth the $600 price tag.
3) CupCakery delivery-man and fix-er-up man
There are only a handful of things that The Girl does not enjoy doing – and one of them is driving in Paris.  Thus most of the time I get that duty.  I don't mind, I find the whole Parisian traffic situation like a giant arcade game.  If you treat it like that, it kinda works out.
As part of those driving duties, we had a wedding cake to deliver Saturday.  Actually, both a wedding cake and a ton of cupcakes.  So, The Girl, myself, and one of our employees all got into our little Autolib and zipped across the city to near the Tuileries gardens.  Typically we wouldn't need another employee for a delivery, but in this case the wedding location was actually Swedish in nature, and our employee is from Norway and speaks Swedish – so we thought it might be good to have back-up (just in case something goes awry).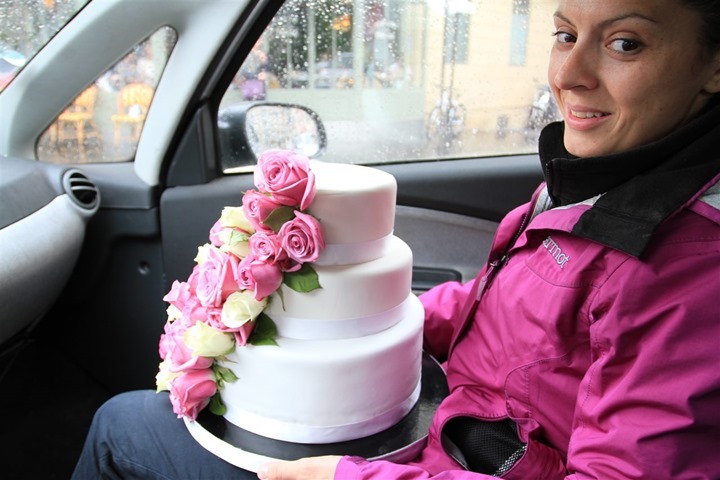 The deliverly was very simple, and we needed neither French nor Swedish (nor Norwegian) for the delivery.  Everyone ended up speaking English.
Later on Saturday evening post-delivery I spent a bit of time re-building some new chalkboard signs.  Our old ones had been through a rough winter and needed to be dismantled and then I'd paint some new ones up.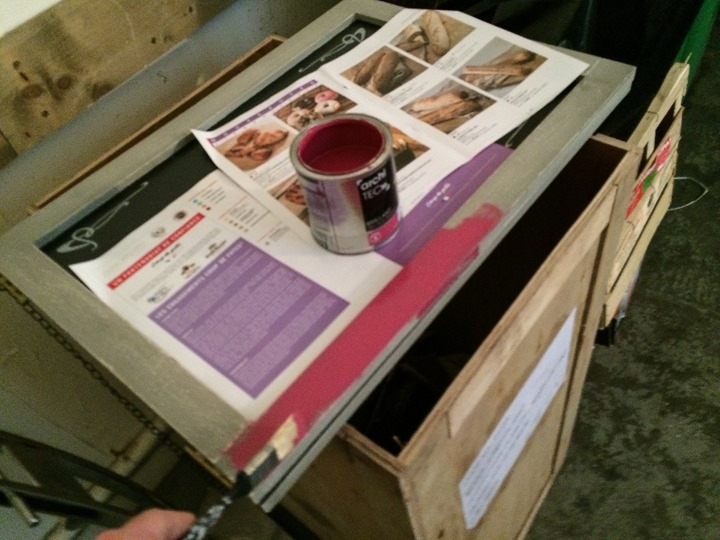 The bonus here is that I got to eat one of the handful of leftover cupcakes at the end of the day.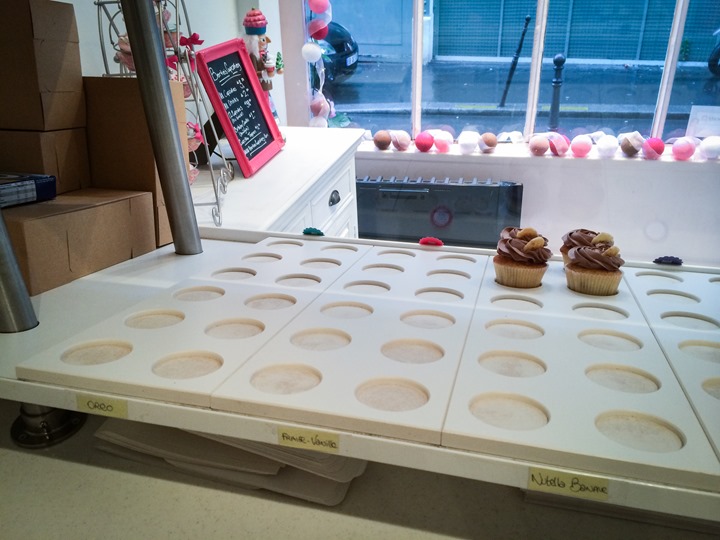 Despite what some might believe – 'selling out' of cupcakes it actually not our goal.  From a business standpoint it means that people that wanted cupcakes couldn't get them, and it also typically means a reduced selection – thus potentially turning some folks away if they couldn't find a flavor they like. So a few cupcakes left at the end of the day is a positive thing for both the "end of the day customers" AND my belly!
4) Checking out the Notre Dame bread expo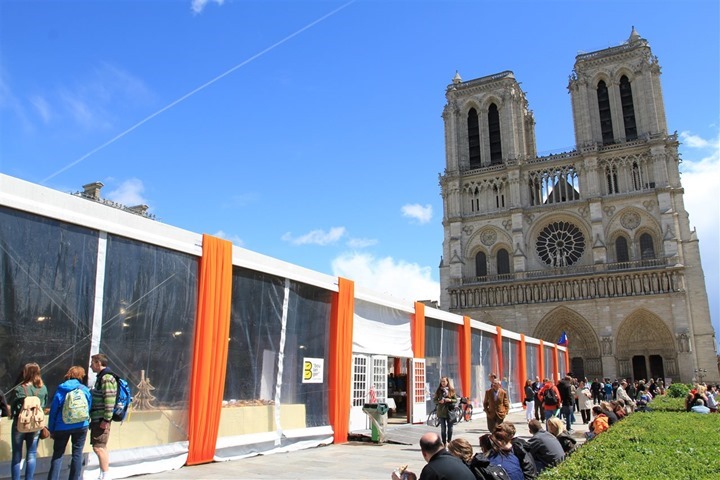 Every year about this time the plaza in front of Notre Dame becomes the epicenter of bread.  Last year due to the big messy structures the church had built, the bread expo tent was much smaller.  But this year it's back to full size!  There's also a smaller row of more sales focused stalls out of the frame to the left in the below image.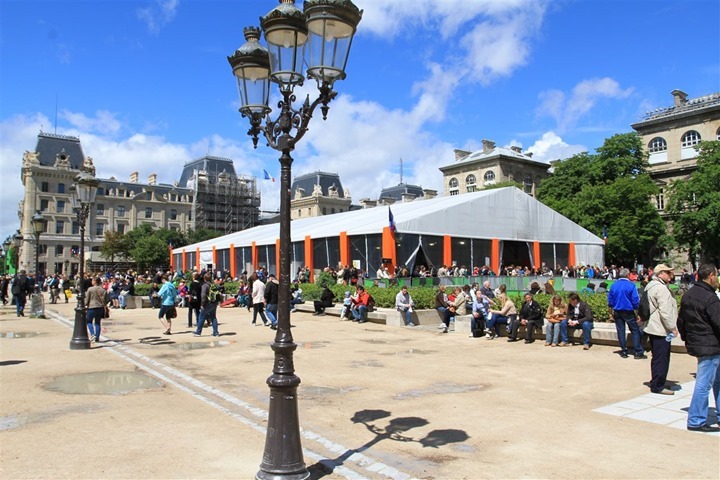 Inside they bake all assortment of boulangerie goods each day.  If you go early enough in the morning (well, just before noon), you'll catch them baking the baguettes fresh.  Most actual neighborhood boulangers do that almost all day long, just up till last call at closing time.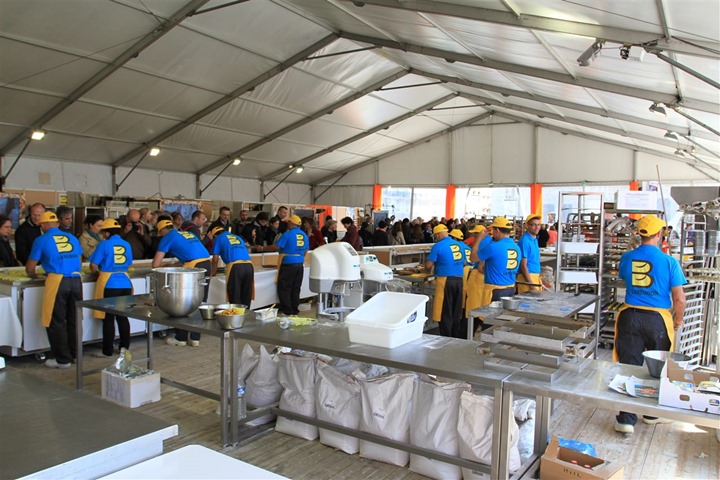 They've got a bunch of different breads on display for you to check out.  Most of these I see day to day, but there were some ones I haven't seen before.
They have some nice sized mixers too.  Being involved in the business at the cupcake shop, I'm quickly becoming familiar with commercial grade mixers.  Especially since tomorrow we have to order yet another one to keep up.  Tomorrow's order will be a 30-liter bowl-size.  Most of your standard residential KitchenAid ones are 5 Quarts which is pretty close to 5 liters.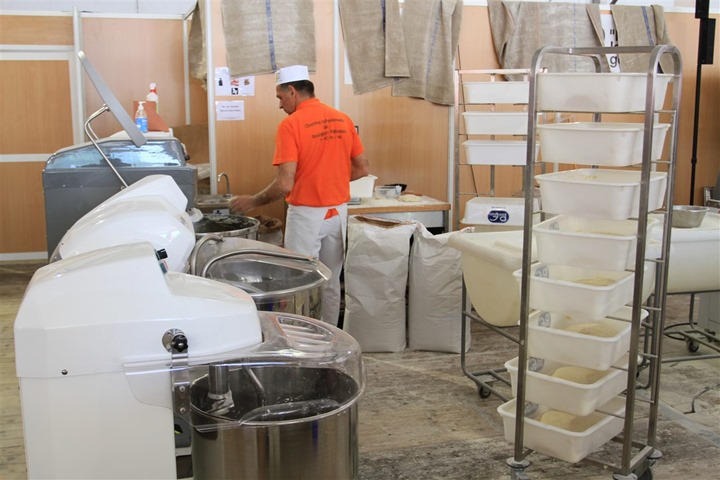 At the larger sizes the issue is actually being able to pickup a fully loaded bowl.  If you imagine 30 liters of batter, that's incredibly heavy – especially if you have to scrape down the inside of the bowl while holding it upside down (impossible as one person). No worries though, I told the Girl it's like any other training… she'll eventually build up the arms to lift a bowl her size!
In any case, the bread guys are cooking along all day long on all sorts of things: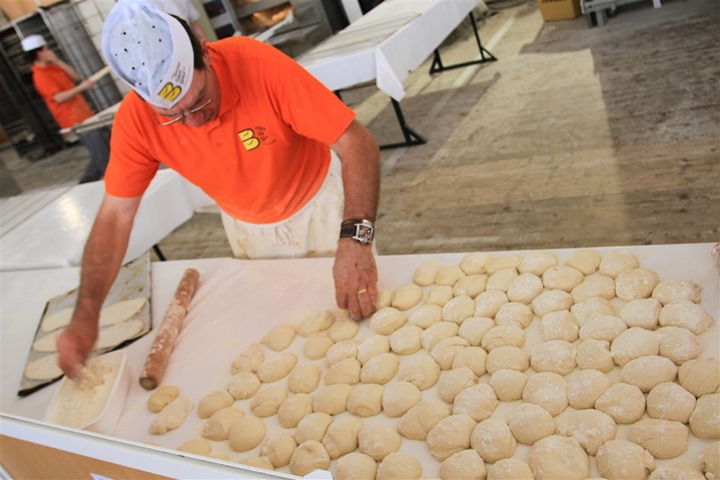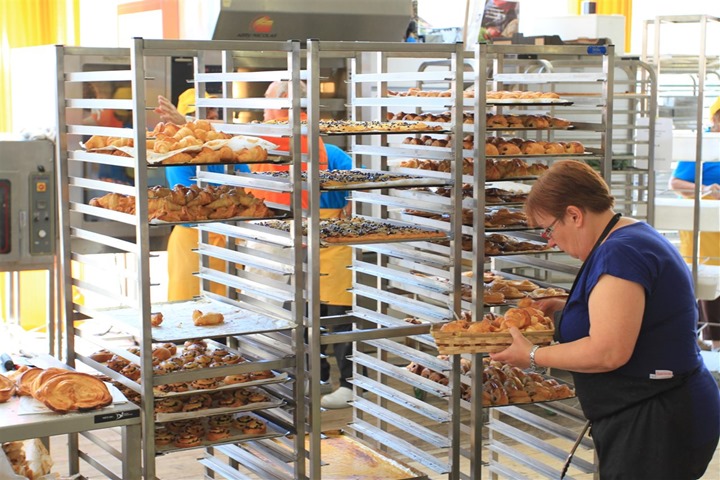 And at the end of the place you can buy lots of breads and some basic ham and cheese sandwiches.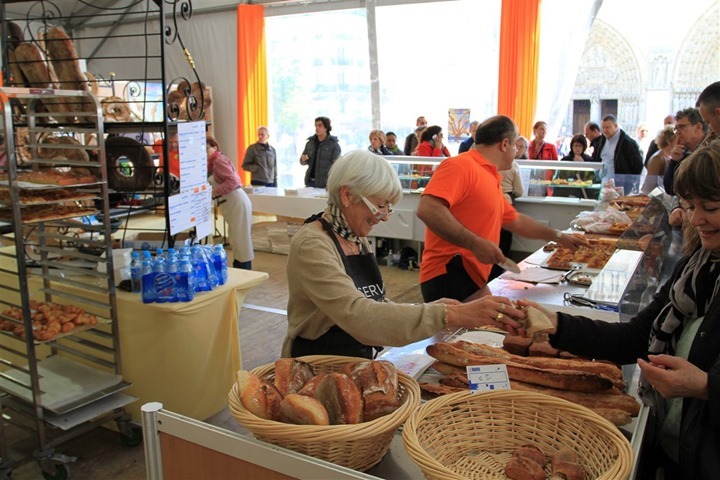 The whole setup is there about 10 days, which I believe is longer than it was last year.  Cool stuff though!
5) A flight down to Portugal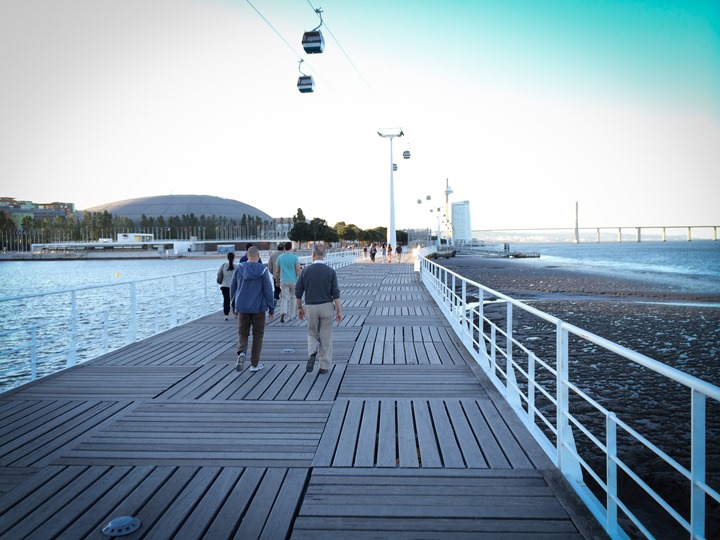 I've got meetings all week in Lisbon, Portugal – but since they don't start till Tuesday, The Girl and I headed down Sunday late afternoon after she finished up her busy morning at the shop.
We'll head out and wander the coast a bit on Monday before I dive into work.  She'll then explore the city over the next few days while I'm working.
So far for our few hours tonight at dusk – the weather is quite nice, and expected to get nicer!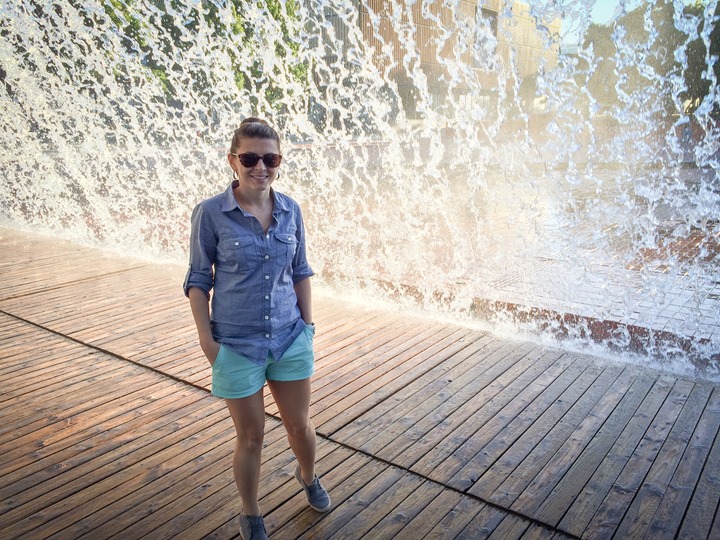 I had planned a late evening run, but I'll just knock it out first thing in the morning Monday morning.  A nice 13-mile tempo run, after completing a short warm-up. Reaching out on Twitter many of you suggested running along the river, which happens to be right near where we're staying.  So it's an easy 2-minute walk to the above areas.
With that – enjoy the week ahead and thanks for reading!
Oh, and PS – don't forget that the giveaway closes later tonight!