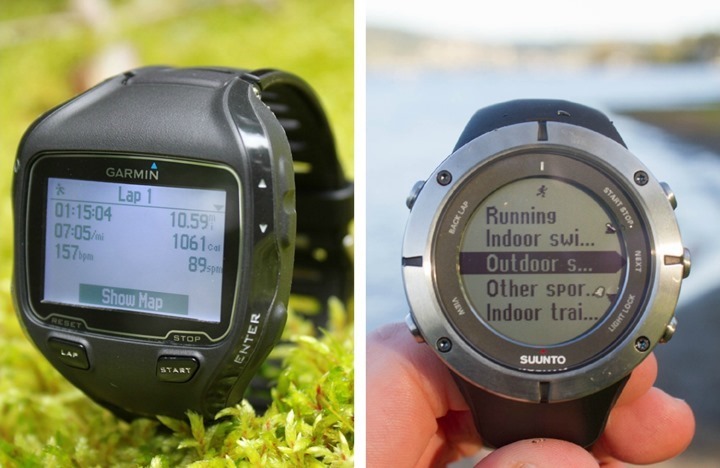 The Sale:
In what is becoming a bit of an annual mid-May sale, the Garmin FR910XT is now on sale for an end total price of $249.  The unit starts at $399, but is on sale for $299, and then there's a $50 mail-in rebate on top of that, bringing you to $249US.
Similarly, the bundled version of the unit with the premium HRM3 heart rate strap is normally $449, on sale for $336, and then also has the $50 rebate getting you to $287US.  Note that the 'Performance/Triathlon Bundle' with the speed/cadence sensor and quick release kit is not on sale, but the $50 rebate (PDF form here) is still valid for it (as is the DCR 10% discount).
Next, we've got the Suunto Ambit2 & 2S 25% off.  REI is discounting all models of them a blanket 25% off.  This means that the Ambit2 S goes from $350 to $263, while the Ambit2 goes down to $375 from $500.
Here's the quick and dirty:
– Garmin FR910XT now $249 (was $399 down to $299, then $50 rebate): Link here to Clever Training
– Garmin FR910XT HR bundle $287 (was $449, down to $336, then $50 rebate) : Link here to Clever Training (select HR bundle dropdown)
– Suunto Ambit2R now $187 (was $250): Link here to REI
– Suunto Ambit2S now $263 (was $350): Link here to REI
– Suunto Ambit2 now $375 (was $500): Link here to REI
– Other Ambit2 bundle/package variants (all 25% off): Link here to REI
Using any of the above links helps support the site.  In the case of both stores you'll get free shipping.  In the case of REI these don't qualify for additional 10% dividends at the end of the year (since they are sale products).  Likewise, with Clever Training these are considered deep-sale and don't qualify for the usual DCR 10% discount.  Note that if you buy from REI, it only supports the site if you click on the above link.
Finally, there are a few other things on sale at Clever, in the event you have a bike and need a bike rack:
– The vast majority of Thule bike racks are 20% off
– The Saris Freedom 2 & 4 bike, Superclamp 2 & 4 bike racks are 20% off
Some of these items (the racks) are on sale slightly longer than the 10-day period.  And the rebate extends beyond the 10-day period.  But for both the price-drops from the retailers themselves for the Ambit and FR910XT, you'll need to purchase things in the 10-day period, which ends May 26th.
So why the tri-focused sale?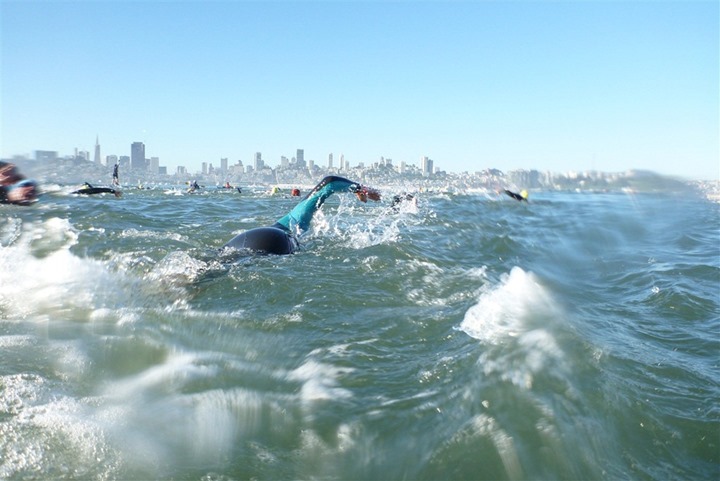 Well, I think a few things are in play here:
First, in part because Garmin and Suunto did it last year mid-May and I suspect it was quite successful sales-wise.  Thus, rinse-repeat.
Second, there's new competition on the market.  You've got the TomTom Cardio Multisport, and the Polar V800.  The Polar V800 is a more direct competitor to the FR910XT and Ambit 2/2S, as given it hits the market availability-wise in about 2-4 weeks.  This is a way for them to make people who might have been on the fence go for the immediately available and half the price unit, versus waiting.
Third, Garmin just introduced the Fenix2 at what is normally the same price as the FR910XT ($399).  In most quantifiable ways, the Fenix2 is a more capable watch than the FR910XT from a features standpoint – and certainly more capable than the Ambit2.  So perhaps this reflects things there a bit (though, I think this line of thinking is a distant third).  The Fenix2 is not a FR910XT successor, but rather a different product line from a different division of the company.  Sorta like a sibling or cousin product line.
To that end, I do not believe that Garmin is introducing a 910XT successor 'soon', nor is Suunto introducing an Ambit2 successor 'soon'.  Why's that?  Well, because they just aren't.  Thus, you won't see a new model successors this triathlon season.  Simple as that.  Garmin is also very predictable when it comes to product releases for different product segments.  They align to certain events and/or times of the year.  And mid-summer is not one of those times for running/triathlon products.  Suunto doesn't quite have the product history in this segment to be as predictive yet.
The Current Landscape: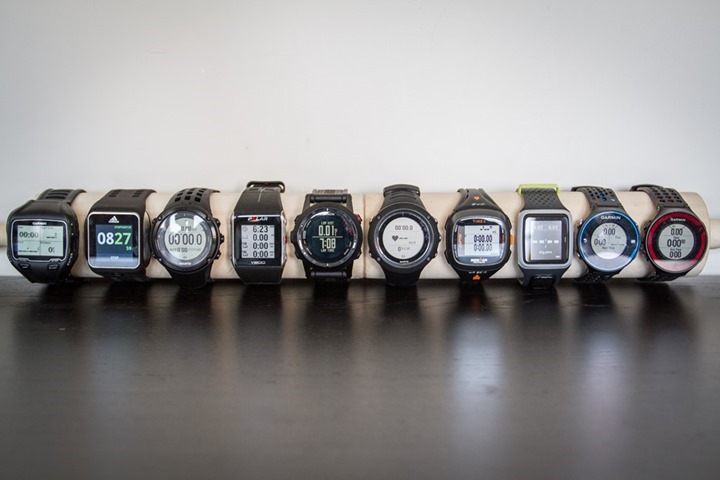 I often note that it's better to have a device to train with now, than to wait for the perfect unicorn.  As sometimes, you might not find that unicorn.  Said differently, if you're waiting for a new bunch of devices to come out, keep in mind that announcements are generally months ahead of availability.  Take for example Garmin cycling products.  Typically speaking they're announced at Eurobike/Interbike in the late-Aug/mid-Sept timeframe.  Those products though aren't actually in your hands until November-December though.  The same is often true of virtually all past running products announced in September/October, available approximately 45-90 days later.
So, to that end I look at the triathlon market with these major current-generation products and the prices as of Friday:
Garmin Fenix2 ($399)
Garmin FR910XT ($249)
Polar V800 ($449)
Suunto Ambit2 ($375)
Suunto Ambit2S ($263)
TomTom Multisport ($199)
TomTom Multisport Cardio ($299)
There are also a few others that are less current, such as some older Polar models, the Timex Global Trainer, or the Magellan Switch, but I think at this point the above would be my core recommendations to focus on.  The one exception there is the good ole FR310XT.  I didn't include it above, but it's still a solid unit and a great budget option at about $180US.
Thoughts on functionality:
Starting with the above units, the simplistic unit you've got are the TomTom Multisport watches.  The least expensive option starts at $199.  For that, you'll get a basic running mode, basic cycling mode, and then an indoor swimming mode.  It doesn't do openwater swimming, nor does it have a full triathlon/multisport mode to seamlessly track the entire race.  But, I don't think that's a core showstopper.  If you want optical heart rate data (so no HR strap), then simply get the Cardio version instead.  It's the only option out there today that's fully waterproof and has optical HR built into the watch.
Next, we've got the two 'navigational' watches (that are also tri watches) – the Fenix2 and the Ambit 2.  Both of these units do all the swim/bike/run stuff, but also can be used as hiking watches with more navigation focused aspects such as courses, waypoints and the like with barometric altimeters.  While the FR910XT can do some of the course basics there, it's not really designed for that.  And the V800 doesn't have that much navigational focus at this time (save waypoint and GPS-compass back to start/waypoint only).
So from a swim/bike/run tracking standpoint, the major four are the Fenix2, FR910XT, and the Suunto Ambit 2/2S.  The only core difference between the 2 and the 2S is that the 2S doesn't have a barometric altimeter, and thus uses GPS for elevation related metrics.  This can lead to slightly less accuracy, though I've been very impressed with the GPS altimeter in the 2S.
The V800 can't do any indoor or outdoor swim metric tracking (distance/pace/strokes etc…), but does track heart rate while swimming.  But it does allow you to upload your completed activities via your phone via Bluetooth Smart. And given the higher price right now, it's going to be hard for that unit to be heavily competitive at the moment.  Long term, likely, but for now it's more of an underdog.
So when it comes to the FR910XT and the Ambit2S, I'd really focus on a few things.  First, are you doing lots of hiking or navigational work?  If so, go with the Ambit 2S.  Do you have a power meter?  Go with the FR910XT, it offers more metrics and options there.  For swimmers either indoors or out, they're in basically the same league.  And for runners it's pretty much the same too.  Though, the FR910XT does have vibration alerts whereas the Ambit series does not, so that may be a consideration for some.
Suunto's recent addition roughly a week ago of adding in .FIT file export support to their online site is massive – and really makes it much more appealing as now it works with virtually every 3rd party training log and platform without issues (even including automatic sync to Strava).  On the flip side, Garmin includes more simplistic capabilities when it comes to creating intervals and custom workouts easily.
Overall at this point you aren't really going to go wrong with any of the units on sale.  Check out the in-depth reviews linked up top for plenty more details on all the products.
With that – go forth and enjoy!  As I said recently, everything that's going to be announced for the season has been announced.  So what's on the table is on the table.  About the only variable outstanding is what (if anything) Apple might announce at WWDC in 2 weeks.  Even if they did release a watch, I definitely wouldn't expect that to target the triathlon market immediately, and especially do so in a way that's competitive this summer.
Thanks for the support, and feel free to plop any questions down below and I'd be happy to try and answer them!