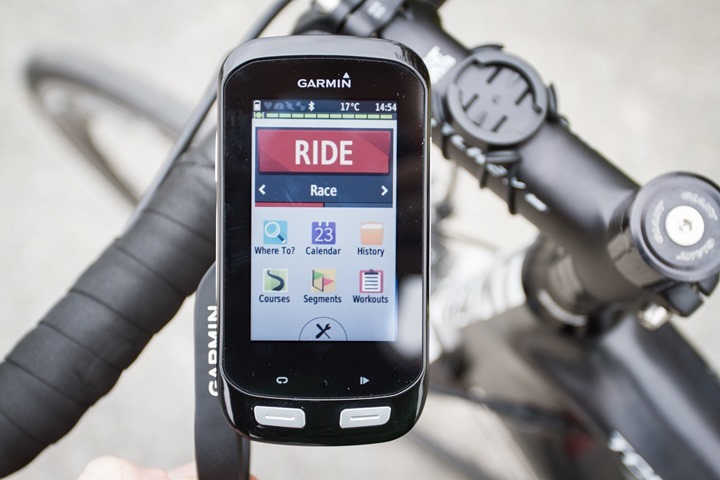 (Please Note: My Full In-Depth Review is now available and published here!)
Today, Garmin announced their latest cycling unit – the Garmin Edge 1000.  Unlike some expectations however, the Edge 1000 doesn't directly replace the 15-month old Edge 810, but rather, is meant to serve as a higher-end tier than the Edge 810 – given its price point of $599.
The unit adopts a new larger and higher resolution screen, first seen in other Garmin products over the past few months, as well as packs in communication technologies such as WiFi and full Bluetooth 4.0 capabilities.  Finally, on the pure cycling side, it adds in integration with Shimano Di2 shifting while also incorporating many of the features of the Garmin Touring from mapping to automated route generation.
Before we get into the details, note that I've had very limited time with the unit, essentially enough to walk through some of the functions for an hour or so by myself, but was not able to go out for a ride yet.  That'll happen in the following weeks.  As such, keep in mind that what you see is beta screens and subject to change. And further, I don't have any idea how well the unit will ultimately perform.  It might be great…or it might be as enjoyable as riding cobbles.  We'll have to see in May or so.  Therefore it should go without saying that this is *NOT* a review, in-depth or otherwise.
The Executive Summary Overview: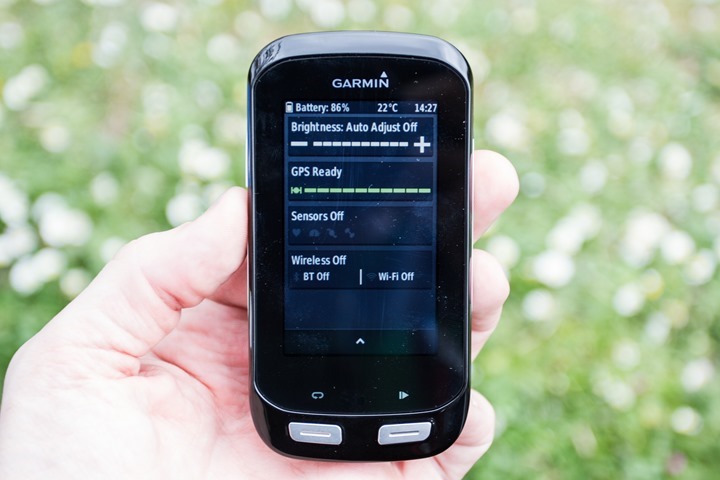 There's been a host of features introduced, both small and large.  So while I cover all of the major features in separate sections below, let me run through the biggies and the little ones in a quick bulleted form:
Major features:
– New larger high resolution full color screen
– Addition of Shimano Di2 gearing information
– Incoming Call and Text notifications
– Garmin Segment Real-Time Challenges (on device)
– WiFi added to device, full Bluetooth 4.0 chipset
– Full and detailed maps included now
– Added round trip routes (basically a 'give me a surprise route' option)
Minor Features:
– Ability to change display to a horizontal orientation
– Downloads satellite data ahead of time to speed acquisition to a few seconds
– Increases data fields to 10 fields per page, up to custom 5 pages (+ lap summary, compass page, map pages)
– Ability to edit saved workouts on the device itself
– Added training calendar support (for scheduled workouts)
– Added support for displaying PR's in a menu
Not really features per se, but core things of note:
– Edge 1000 price is a wee bit high at $599
– New speed/cadence combo sensors, standalone speed-only, cadence-only sensors
– New Edge Remote, for trigging laps/page changes
– New Edge out-front mount
– Unit now uses micro-USB (like cell phones), as opposed to mini-USB like past Edge units
Ok, with that all covered let's get through some quick sizing and overview things.  After all, one of the core things is the new size.  To start, let's take a look at how it compares to the previous high-end unit, the Edge 810: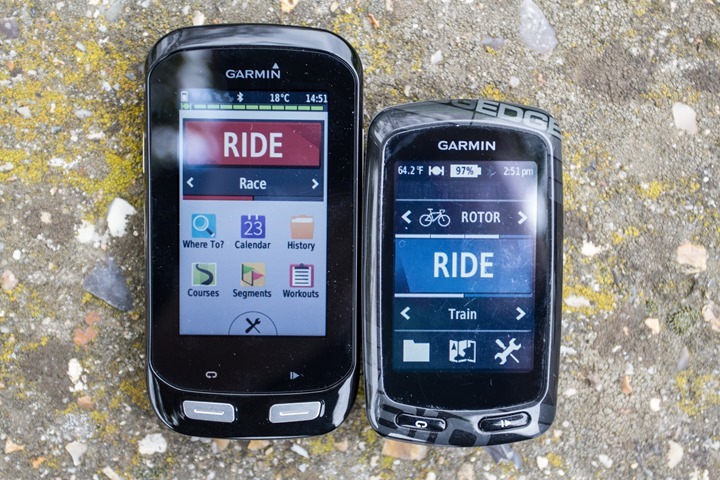 As you can see, it's a fair bit taller, but not really much wider.  The screen size is increased along with the resolution.  Additionally, the user interface home screen now takes on a bit of an Android home screen look, with a much cleaner icon (with labels) driven approach.
Looking at the depth, it's quite a bit thinner, though, that doesn't tend to matter to too many people at this point since the devices are already pretty thin.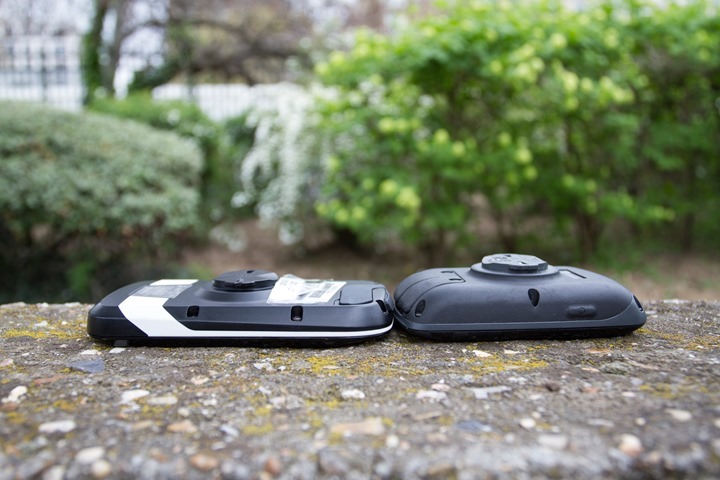 Here's a shot just holding it up: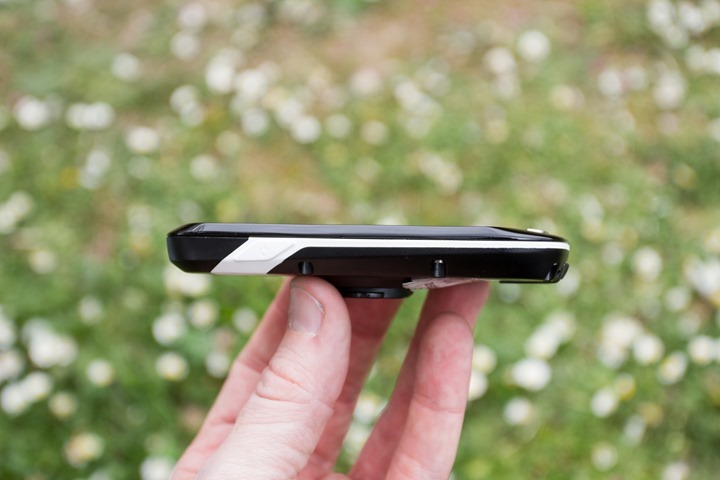 The bottom of the unit still retains the ability to add a MicroSD card for additional storage (generally used for additional maps).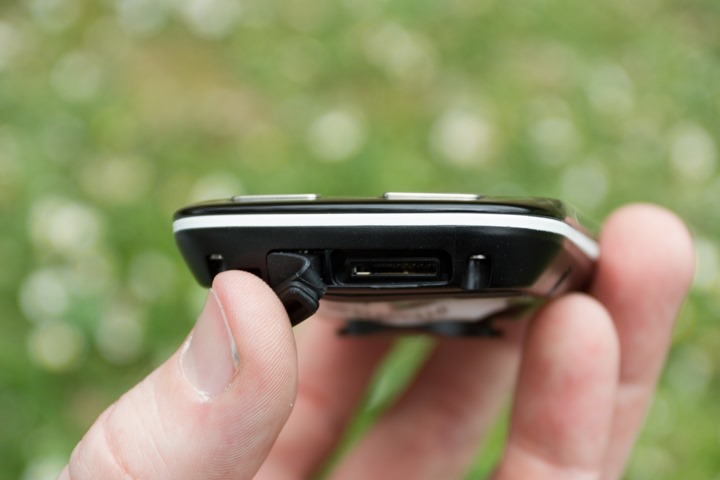 And as I noted above, they've changed from mini-USB to micro-USB for the charging and USB download.  You can also download via Bluetooth Smart to both iOS and Android, as well as to WiFi access points.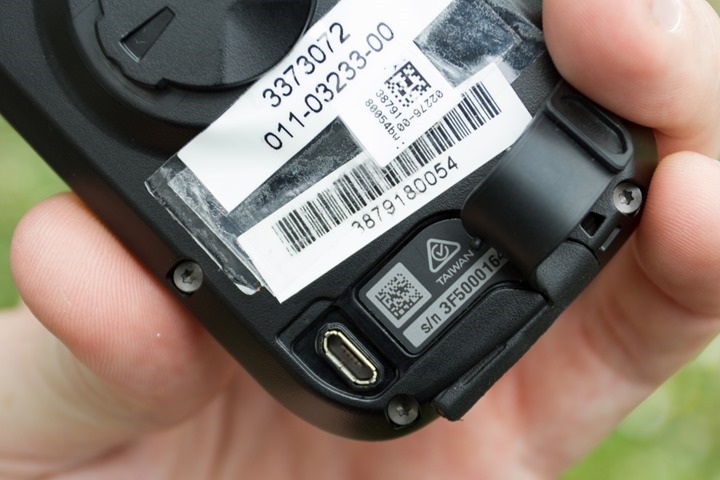 Like all Garmin Edge units it uses the quarter-turn mount system.  However, because of the slightly larger size, there might be some issues with certain mounts that were designed for smaller units.  As part of my in-depth review I'll cover which mounts do and don't work.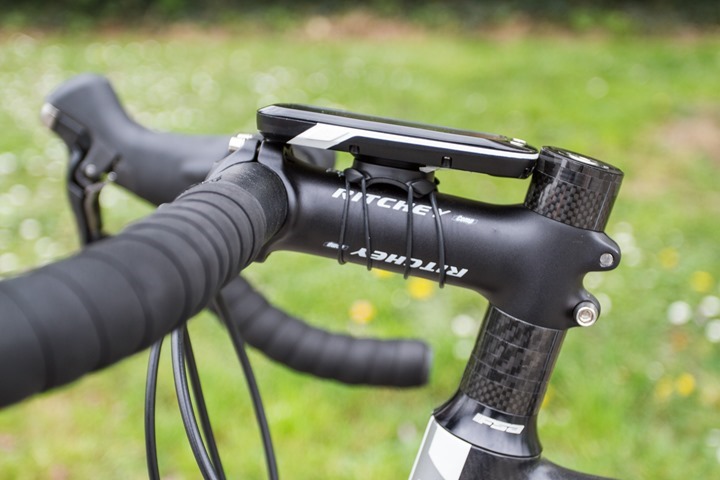 With all the basics covered, let's dive into some of the major features section by section.
Shimano Di2 Integration: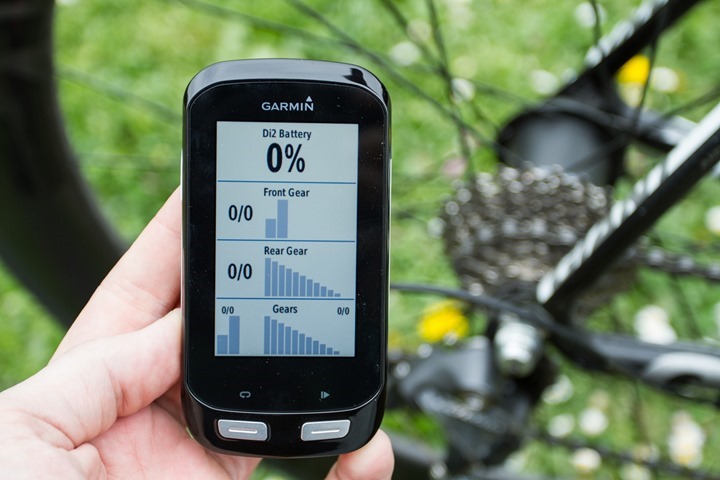 The Edge 1000 introduces support for reading gearing information from the Shimano Di2 platform.  This is similar to what was recently introduced two weeks ago by Mio in their 505 model update.
The Edge 1000 will communicate with the recently announced Shimano D-Fly Data Management function, that'll be available any day now.  Shimano's $80 accessory (SM-EWW01) will plug into your existing Di2 Dura-Ace 9070, Ultegra 6870 Di2 and Ultegra 6770 units.  In doing so, it'll transmit the gearing data via private ANT to the Garmin Edge 1000.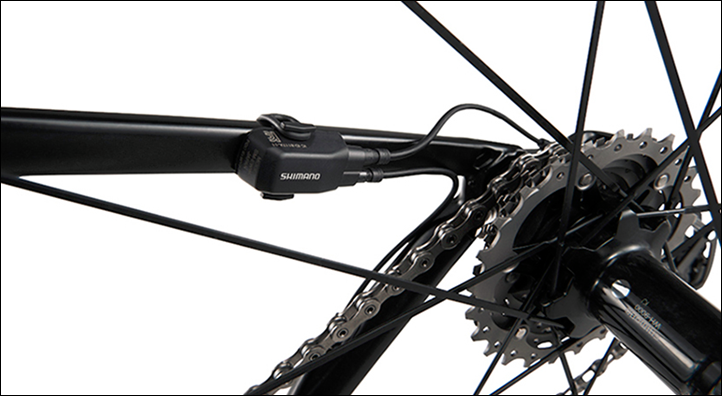 Once you've got that all setup and transmitting, you'll dive into your sensors menu and then pair the Di2 system to the Edge 1000 via ANT.  Note that it's not technically ANT+, as there's no public profile, but rather, it does this via private-ANT.  However, since Shimano is working with other companies beyond Garmin on implementations of the profile, I'd expect at some point to see it ratified into an official device profile of some sort.
Within the Edge unit you can then add the below data fields onto your display pages: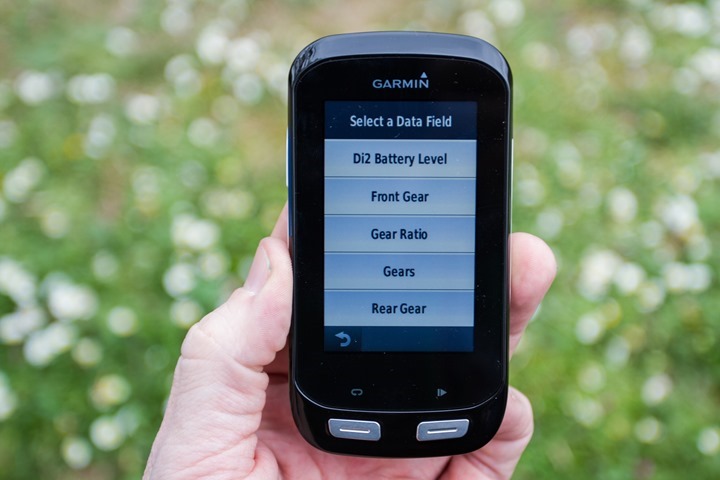 These fields will then display the state of your Di2 gearing.  Of course, I suspect for most folks the battery indicator will probably be the most useful field here, as most people already kinda know what their gearing is.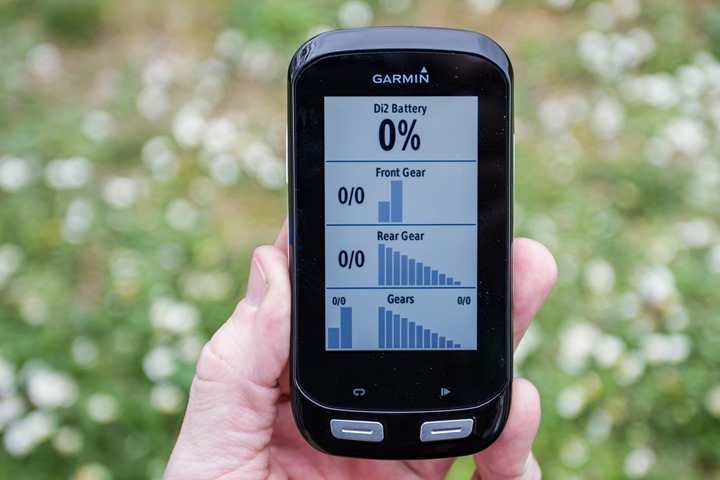 Longer term however, what will potentially be useful is the recording of this data, as well as the analysis of it.  As it stands today, Garmin will be recording this data to the .FIT file along with the rest of your activity data.  However, there won't be any way (initially) to view that on Garmin Connect.  Perhaps down the road.
It'll likely be up to 3rd party providers to find a way to enumerate that recorded data into something useful.  Some applications already do that today, to a degree.  For example, Sport Tracks through the addition of a plug-in has long shown estimated gearing data from cycling files: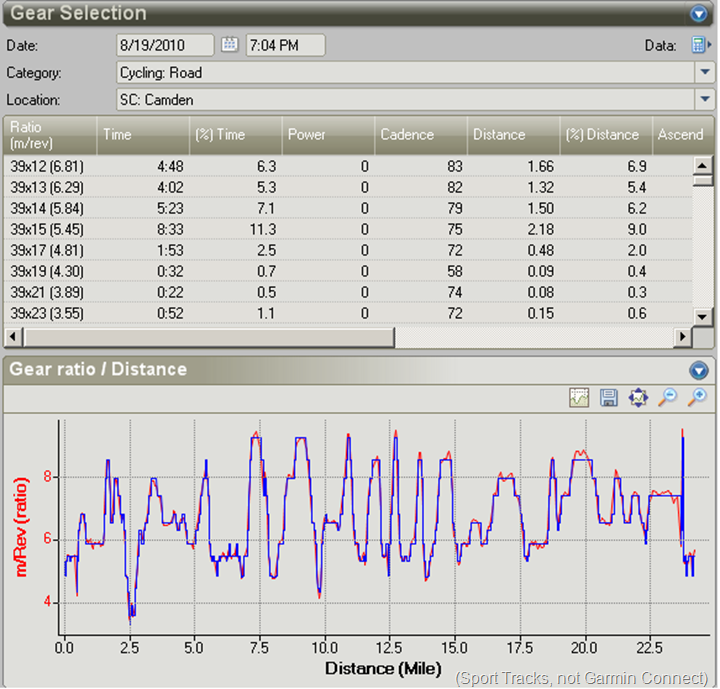 In this case, it's using some special math to determine it, versus with the Edge 1000 data file it would know the exact configuration and gearing.
Finally, note that the Edge 1000 does NOT control the Di2 shifting.  While the Shimano system could actually be enabled to do that down the road, today the Shimano platform is only permitting 'reporting' of data.  In order to enable control, there would have to be some precautions put in place around authentication and authorization of the platform.
However, to that end, the potential is there for example to specify a certain wattage level and then have the bike automatically shift to maintain that wattage.  Such a scenario would be of significant use to time-trialists as well as triathletes who tend to maintain specific effort levels for sustained periods of time.
Lastly, Garmin is considering adding Di2 support to both the Edge 510 as well as the Edge 810. They have not yet decided to, but are reviewing whether to add it, based on feedback.
Edge Remote Control: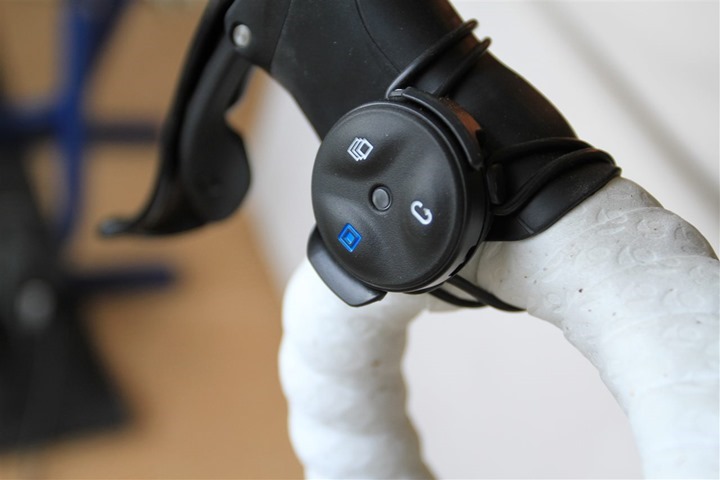 In addition to the actual Edge 1000 head unit, they've also introduced a new remote control that will trigger certain actions on the Edge unit.  The small pod is nearly identical to the Garmin VIRB remote control that was announced last fall and just recently made available.  Like the VIRB pod, it also features three buttons.
Two of the three buttons are hard-set for marking laps and scrolling forward/backwards between data pages while riding.  The third button is programmable from a predefined list of functions.
The unit includes a small LED light that illuminates red or green based on the button presses (and the lights are also used for pairing).  The pod runs on a CR2032 battery that should last a heck of a long time (well over a year), and is waterproofed to 50-meters.  Like the VIRB remote, it uses a simple rubber band-style system to connect to your handlebars.
Looking at both the Edge Remote and VIRB Remote, it's basically the same remote under the covers, just different labels for the buttons.  Note that while the menu does list the 'VIRB Remote Control' in it, this is actually for controlling the Garmin VIRB directly, and not for using the VIRB remote with the Garmin Edge cycling computer.
Finally, at this time the Edge remote isn't compatible with any other Garmin Edge units.  However, Garmin has stated to me that they are considering adding support for the Edge Remote to the Edge 510 and Edge 810.  Again, they have not actually yet decided to do so, but are open to listening to feedback there.
Astute readers will note however that Garmin isn't the first ones to introduce the remote concept.  Nope, that honor goes to O-Synce who introduced a remote with their Navi2Coach unit when it came out a year or so ago.
Call and Text Notifications: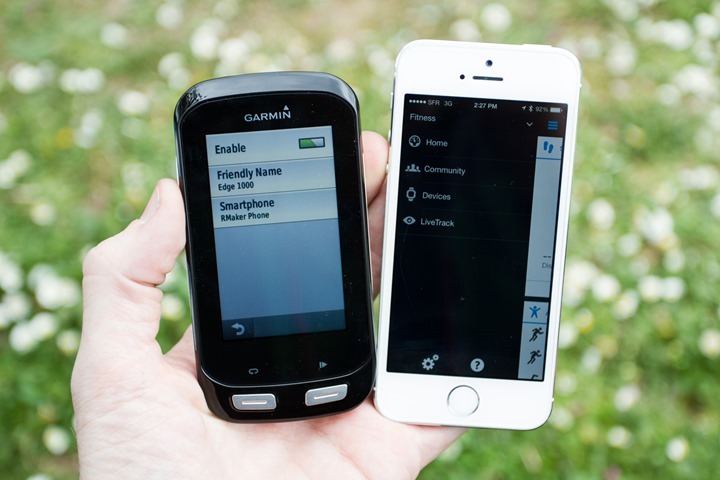 The Edge 1000 is the first cycling device that Garmin has introduced call and text notifications on.  The unit will display alerts coming from your iOS device (not Android at this time) for incoming calls and texts.  This will enable you to see that someone is calling or that a text has arrived, but it will not enable any scenario to answer the call or respond to the text.
Meaning, you can't just press a button and type a response, or answer the call.  That'll still have to happen within your phone.  And, it should be obvious but is worthwhile stating that you must have your phone on your person for these to work.  Meaning you won't get text notifications if you leave your phone at home.  This pairing is done via Bluetooth, not magic.
Above, you can see the two notifications being shown.  On the left, you see an incoming message showing an alert.  While on the right, you see an incoming call being shown.
Note again that at this time these are only offered on iOS devices.  They are planning to roll them out to Android down the road, but have no defined timeframe for doing so.
Garmin Segment Real Time Challenges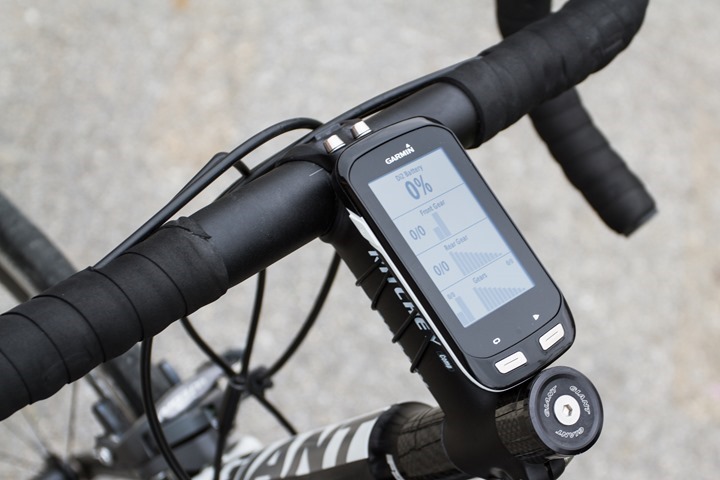 Garmin Connect will soon be introducing the ability to create segments, and with it, the ability to race those segments in real time.  Segments will work similar to Strava segments (but are not compatible with Strava segments), in that they typically define a short chunk of roadway that folks virtually compete on.  For example, a half-mile hill climb, or perhaps a short sprint segment.
As in Strava, these aren't typically entire courses (though, you can certainly make them longer), but on average range in the handful of seconds to couple minute category.
Within the Edge 1000, you'll initially need to pre-load segments from Garmin Connect and Garmin Connect Mobile ahead of the ride.  Meaning, you need to know what segments you want to crush.  Sometime this summer they'll be adding the ability to view nearby segments from the Garmin Connect Mobile app, and then downloading them to your Edge.
Once the segments are on your device, the segment will surface in a few ways.  First is just doing a quick check of it.  In this mode you can see where on the map the segment is, as well as the profile information.
Next, as you approach the segment it'll give you a count-down, as well as information about the segment leader's time (in this case, 4 minutes, 31.82 seconds).  It'll then trigger a 'Go!' alert as you cross into it.
While on the segment it'll show you how much distance is left, and whether you're slacking or about to become king of the mountain.
While racing the segment you can change the segment time shown at the top to be any of the three: Overall segment leader, your best segment time, any of your 'friends' best segment time.  In this case, Garmin calls your friends your 'Connections'.
This is handy because depending on where you live you may have hardcore riders that you'll never likely beat.  So you can adjust it to people that you're friends with and then race them specifically.
As it stands today, there are no segments available on Garmin Connect.  So once they open it up later this spring, it'll likely take some time before segments start showing up.
Of course, this is all very cool – but ultimately lacks the integration with Strava here that many people would kill for.  No doubt Garmin is trying to make a parallel ecosystem with Segments, Courses, Friends, Likes, Comments, and everything else most social platforms have – including Strava.
Time will tell a year or so from now what that picture looks like, and if folks will trend away from Strava or not.
Finally, at present this will only be supported on the Edge 1000.  However, Garmin is reviewing weather to add basic segment support to the Edge 510 and Edge 810.  It probably should go without saying that I'd suggest if they want segments to be even semi-successful, then increasing the number of devices that can support it would be sorta prudent.
WiFi Uploading, ANT+ Sensor Support, Bluetooth Capabilities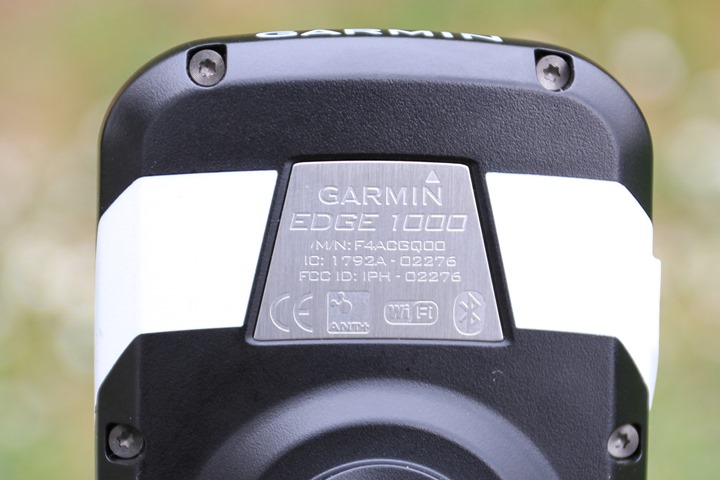 In addition to supporting mobile phone uploads and Live Tracking using Bluetooth to Android and iOS devices, the unit also supports uploading of completed activities via WiFi.  This is similar in functionality to what was introduced on the running-focused Forerunner 620 last fall.
You'll setup these WiFi networks using Garmin Express (which is the new desktop software for configuring all Garmin devices), and then the unit will automatically connect to them when within range of them.  You can save a ton of WiFi networks, and select up to three networks to be 'preferred'.
Note however that you won't be able to use WiFi at a locale like a Starbucks or most hotels, because those typically require some sort of authentication page that you have to agree too.  Thus, it's only for either fully unprotected WiFi access points, or protected WiFi access points with a known password (but not with some sort of 'I agree' checkbox).
Next, it should be noted that the Edge 1000 does include a full Bluetooth 4.0 chipset in it.  This means that down the road Garmin could potentially enable support for Bluetooth Smart sensors.  They aren't doing so today however, but that's a key difference over the Edge 510 and 810, which contain an older Bluetooth chipset that is not 4.0 compatible and would not be able to communicate with Bluetooth Smart sensors should Garmin decide to add support for them.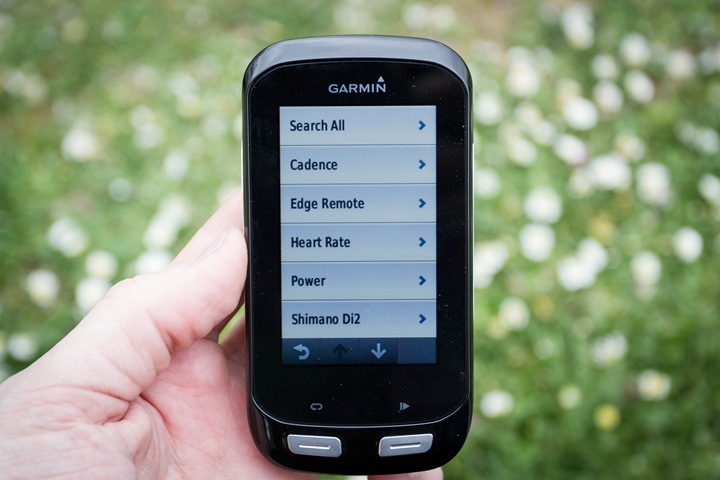 Lastly, the Bluetooth and ANT+ connectivity works in much the same manner as the FR220 and FR620, where you're able to have both enabled concurrently.  There are no limitations such as in the Garmin Fenix/Tactix lineup where you can only have one enabled at a time.
Basemap & Round Trip Routing/Planner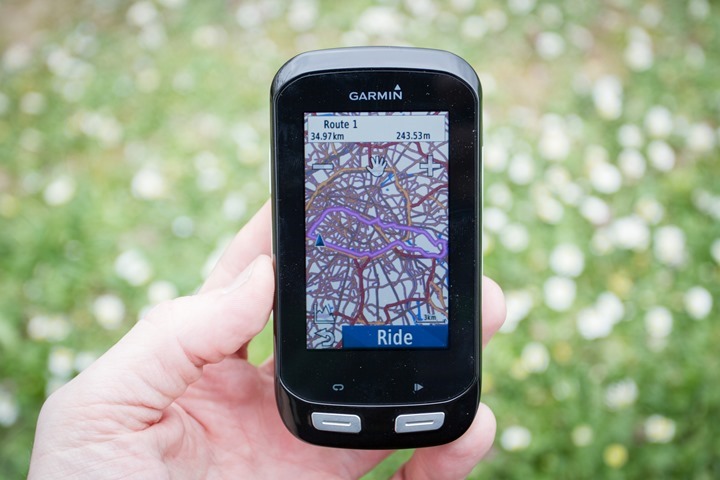 Last summer when Garmin introduced the Edge Touring cycling unit, it added a couple of key features not found on any other Garmin Edge units.  Specifically, the lower-end Touring gained the ability to create routes on the fly by just giving it a specific distance that you wanted to ride.  For example, you could tell it you wanted a 40KM ride, and it'd go out and find a ~40KM route.  Well, actually, it'd find a handful of routes and then let you choose which one you liked.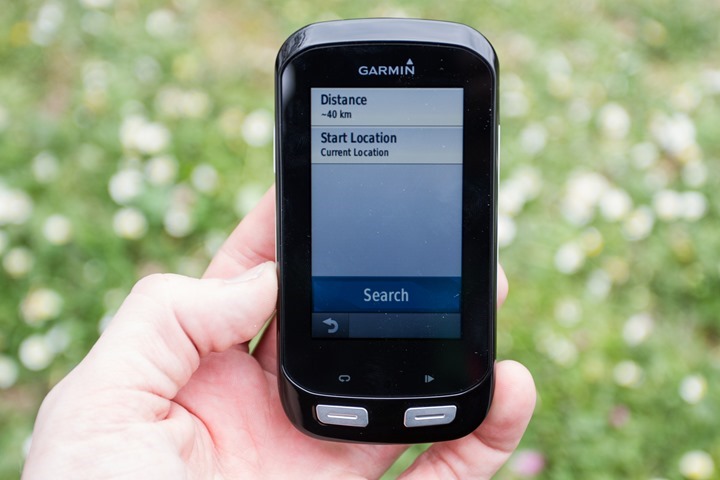 It was able to do this in part because they added a full map set to the unit.  Meaning, that unlike other more-expensive Garmin Edge units, the lower priced Touring actually included maps.  Albeit, maps from OpenStreetMap, but perfectly suitable maps nonetheless (as opposed to maps that cost $99 per region previously).
I give that all as background to note that the Edge 1000 gains not only all of the round-trip routing features and random course creation capabilities, but also the base map sets as well.  This means that you don't need to buy any additional maps to use the unit.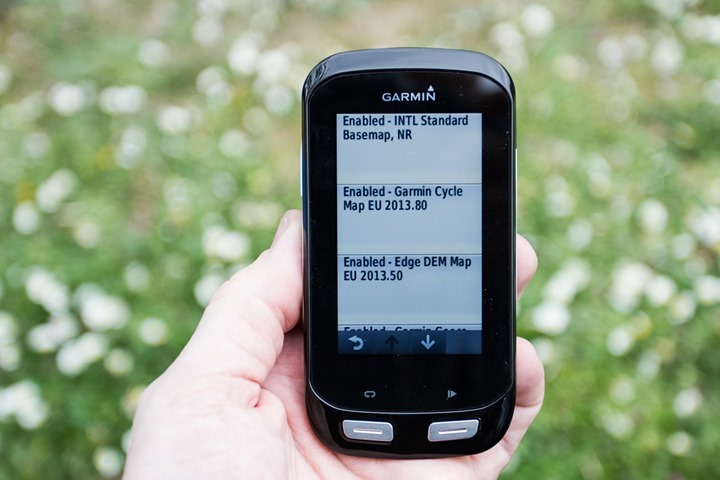 Now, I do find the round trip routing pretty cool.  I've been using it lately on the Touring unit (which lacks even a fraction of the features of a lower-end Edge 500, let alone the Edge 1000), and it's generally working out well.  However, I'd point out that the inclusion of maps on the Edge 1000 isn't something I'd 'pay for'.  Mostly because, you can do it for free yourself as I've outlined here.
Thus, be mindful that if you're looking at paying a premium for the Edge 1000 over one of the other Edge units – do it for reasons other than getting the maps themselves, since, you can do that yourself for free quite easily.
Note that like the Edge 810, you can still create routes online and then transfer them to the Edge 1000 via either Bluetooth or USB.  Below, you can see a route I just transferred via Bluetooth.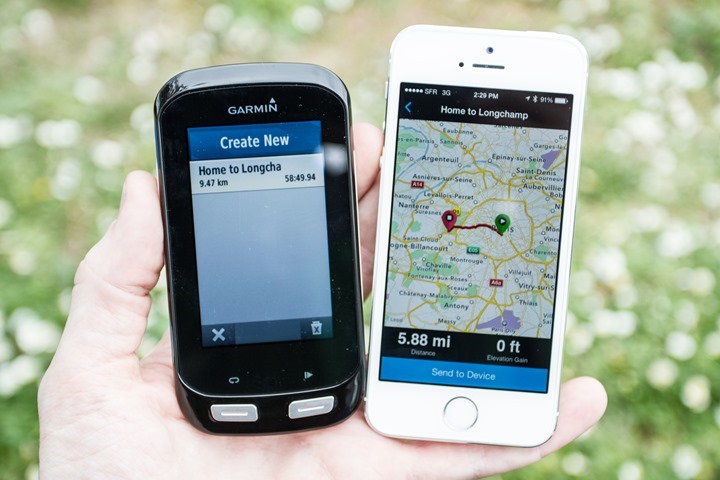 Finally, one new feature coming to the Edge 1000 a bit later in the spring (not immediately at launch) is the ability to put the device into landscape mode.  This is sometimes better for some touring situations, depending on the handlebar configuration.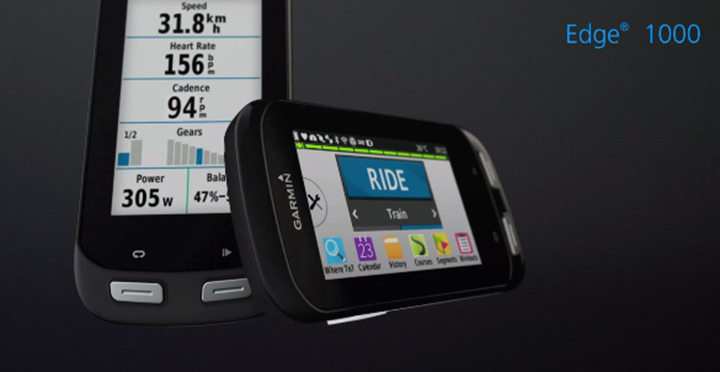 Because the firmware wasn't yet enabled on the device I had, the above shows how it'll look in a bit of a computer generated mockup.
New ANT+ Speed/Cadence Sensors; Out front mount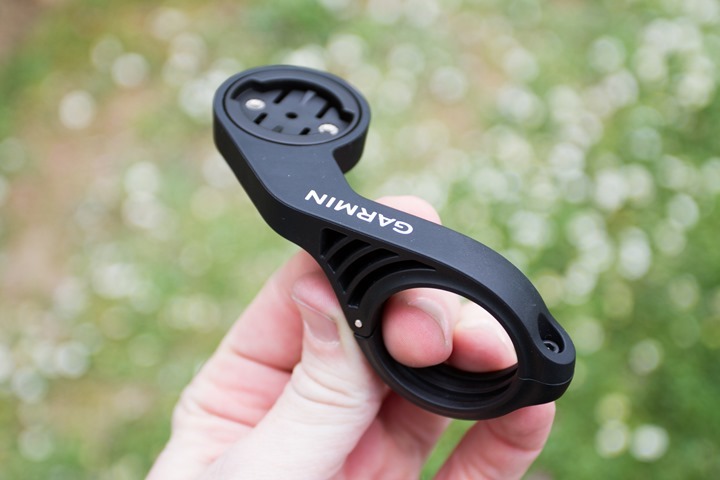 (Update: See my recent post on just the new Speed-only and Cadence-only sensors here)
Beyond the Edge 1000, Garmin has released a bunch of new accessories.  Two of which I find fairly interesting, and one of which falls into the 'ho-hum' category.
The most interesting are two new magnet-less speed & cadence sensors.  One is a speed-only sensor, and the other is a cadence-only sensor.  They are also selling however a speed/cadence combo package – but that's simply the two individual sensors packaged together.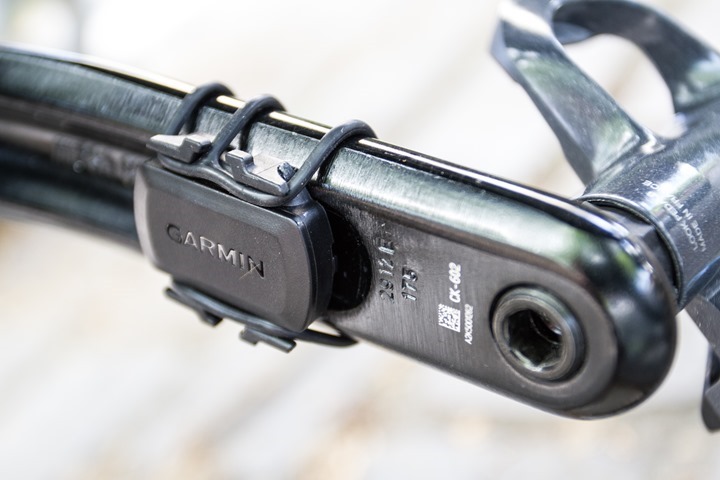 Traditional sensors have required magnets attached in addition to the sensors.  These however use accelerometers to measure cadence and distance.  Unfortunately, I didn't get a chance to poke at these in real life, so instead I have a bit of a confusing computer-generated image of how they look.  Obviously, as part of my in-depth review I'll be testing them, and in particular validating the accuracy of them against magnet based units as well.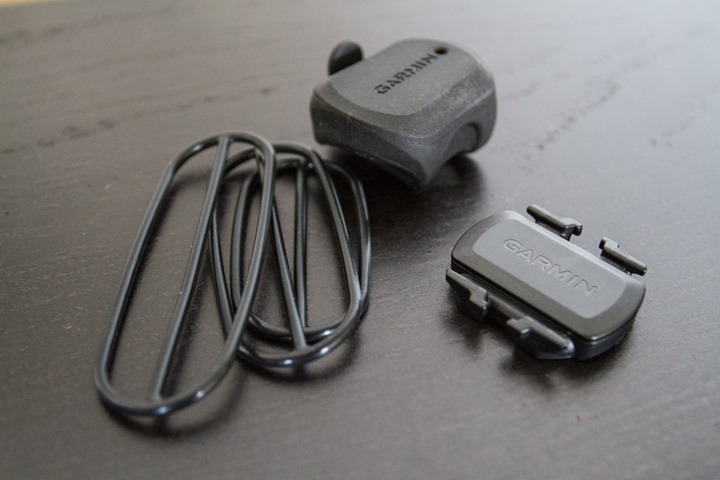 Now, these are cool sensors – no doubt.  Specifically the cadence one, as it's sorta modeled in the same vein as the Wahoo RPM (Bluetooth Smart only).
However, my concern with buying either unit (Garmin or the Wahoo RPM), is that you're kinda buying yesterday's technology here.  The reason being that by what is likely the fall there will be companies selling dual ANT+/Bluetooth Smart sensors in these same form factors.  Meaning, that if you wait a little bit longer you can get a sensor that'll last you many years no matter what device you want to connect to it, from your phone to an ANT+ head unit.  Obviously, if you need a sensor now – then get what's on the market.  But if you're just looking to upgrade, I'd probably hold off.
Next, there's a slightly new version of the quarter-turn mount.  This mount beefs up the existing mount a tiny bit, adding a bit more plastic to one section, as well it's a little bit longer.  The previous out-front was not compatible with the unit due to sizing issues (the quarter-turn part is still the same).  All Edge 1000's will get not only the usual bag of rubber quarter-turn mounts for your handlebars, but also the out-front mount.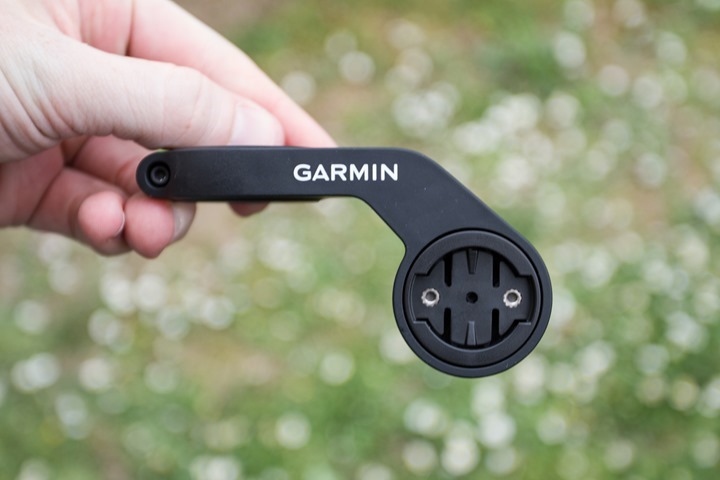 There's a bunch of other random accessories that I don't generally much care about – notably, the different colored rubber cases for the Edge units.  Like other recent Garmin Edge units, Garmin is making the rubber protective cases in a bunch of bright colors for the Edge 1000.  Just an FYI.
And, there's already some 3rd party accessories coming out.  For example, K-Edge has already released a new Edge 1000-specific mount (it works on all previous units too though), seen below: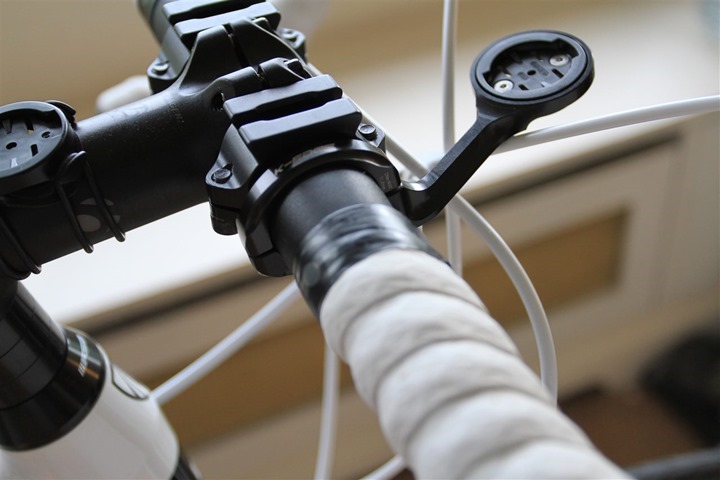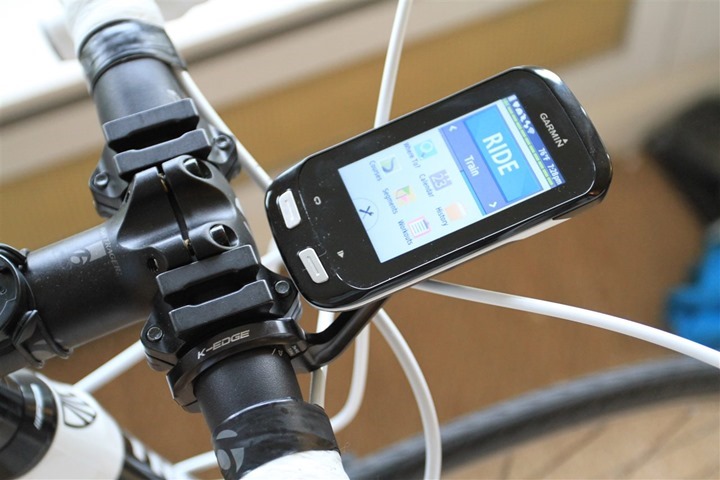 This mount is just a tiny bit larger to accommodate the length of the unit.
Product Comparison Charts:
I've gone ahead and added in the Edge 1000 into the product comparison tool database, enabling you to compare it against any other unit in the database.  For the purposes of keeping things tidy in this post, I've just compared it to the Garmin Edge 810, 510, and 500 – which I view as the major 'steps' with the Garmin cycling lineup for folks who might be evaluating the Edge 1000.  Obviously, there's the Edge 200 below that – but realistically nobody considering the Edge 1000 is also eyeing the Edge 200.
Of course, you can always mix and match any of the units by clicking this link.
And again, remember you can always mix and match any units from the database and compare them using this link.
My thoughts on the Edge 1000, product choices: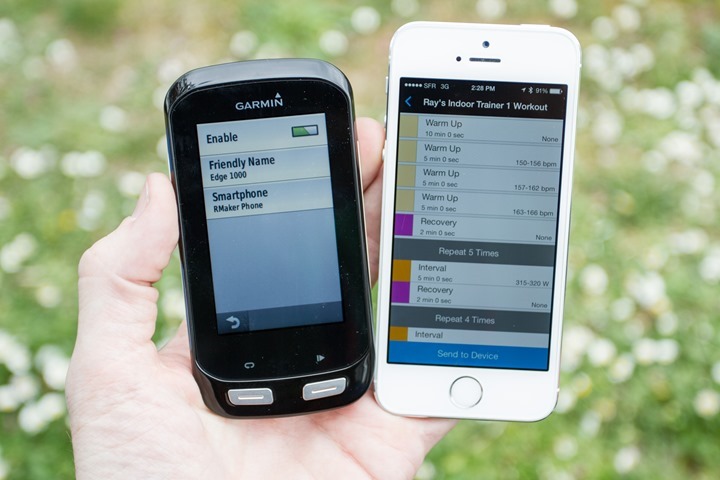 So, what do I think about the new Edge 1000 for my riding habits?
Well, first off, it's pretty darn pricey.  But I suppose that sorta aligns to the customers who would also likely have Di2 installed on their equally as pricey bikes.  There's a big venn-diagram overlap in available cash between those groups.
The screen is definitely crisper, and the unit is far faster than past Edge units I've used – simply very quick to respond, and even start up only took a few seconds (all of which could certainly change by final release of course).
The incoming call and text notifications are particularly handy.  Not so much because I care to text or call anyone while cycling, but simply to know if The Girl has texted me 28 times in the last hour trying to get ahold of me.  Typically the texts would just build-up in my back jersey pocket until I noticed (almost never), and the calls would also go unnoticed.  Perhaps every few hours I might do a quick check of my phone, but that's not always likely.  So this solves that.
Looking at the mapping/routing, while the addition of the maps is 'nice', it's hardly a deal-breaker for me.  I can do that for free.  What I can't easily do for free however is creating routes on the fly.  When I was back in Washington DC, that was of far less interest to me, since I knew just about every route there was in the area.  However, living in France now – I don't know jack when it comes to routes.  So that's definitely useful.  But, I can also get that for 1/3rd the price on the Edge Touring.  The challenge there being it doesn't have any of the ANT+ sensor support that I want.
Next, the Garmin Segments pieces isn't terribly interesting to me personally.  But, by the same token neither would have Strava Segments been (to me personally).  I just don't cycle to hit segment scores, it's not really a triathlete-focused thing to do (where steady and even pacing is more appropriate).  I do definitely understand it however, and definitely understand the appeal of it.  And I think the implementation appears well thought out with being able to target 'who' you want to try and beat.
But I question how useful the Garmin Segments feature will be at least in the short and medium term, and whether users will 'migrate' from Strava Segments to Garmin Segments.  After all, whether or not either company wants to admit it – it would be a migration.  Most people won't realistically track friends and segments on two different segment systems.  They'll end up on one or the other.
Next, we look at pricing.  Right now, at $600 it's the most expensive cycling computer on the market.  And, best I can tell, it's the most expensive athletic GPS device on the market.
If I were looking at really just wanting a cycling unit that did mapping, I'd probably pickup the Edge 810.  It has a $100 rebate on it right now for a bit longer.  If I didn't care about mapping, I'd probably go look at the Edge 500 instead.  The trusty little thing is down to $169 until Monday (temporary sale).  Making it pretty much the best deal in cycling right now.
Summary: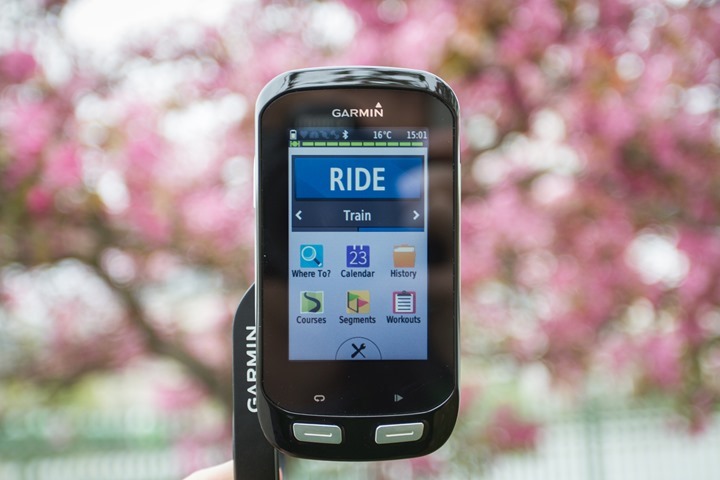 To start, this is not a review.  Not anywhere near it.  It's simply an overview of what's new.  A review will come, but likely not till May or so.  Thus, things could change.  New features could be announced, or I could find that stability isn't so awesome.  We'll see.
That said, there's a lot of interesting features today that I'm curious to see how they work in real-life out on the roads.  For example, how sensitive the Segments feature is to actual location on a route, and how well it's executed in Garmin Connect.  Or, how well the uptake is on it in general.
There are also areas that I think long term could prove really fascinating – like the Di2 shifting data being recorded.  But, that will ultimately take 3rd party companies supporting reading the files and making use of them.  Companies like Strava, Training Peaks, and Sport Tracks, among others.
I'm interested to see if Garmin will do anything with the full Bluetooth 4.0 chipset support.  Technically, they could add BT sensor support.  That would make it very compelling as a 'fully compliant' head unit that could easily go between ANT+ sensor or Bluetooth Smart sensors, enabling consumers to decide which sensor types they'd want to use.  Doing so would be a major blow to any company that developed a one-sensor-type only unit (of either standard).  After all, I'm firmly in the camp of letting consumers decide which sensor type to use.
Overall, it's definitely looking like an impressive device – especially if the company can bring all the features to market in a cohesive package that 'just works'.
—
Finally, as always, if you found this 'first look' interesting, you can
order the Edge 1000 via Clever Training
and benefit from all the usual exclusive
DCR reader benefits with the CT VIP program
such as a 10% discount on everything with Clever Training.  In addition, as I talked about the
Edge 810
is a solid alternative, especially with the current rebate through the end of May.
By purchasing through Clever Training you support the site and all the reviews and questions I answer down below in the comments section.  I'm currently planning a review the first week of June for the Edge 1000 – based on wrapping up some riding in the Pyrenees the last weekend of May to test out the barometric altimeter pieces.
At the end of the day, I'm an athlete just like you looking for the most detail possible on a new purchase – so my review is written from the standpoint of how I used the device. The reviews generally take a lot of hours to put together, so it's a fair bit of work (and labor of love).
Additionally, I've added in all the new sensor/remote accessories from Garmin into the below as well:
With that – thanks for reading.  As always, feel free to drop questions below and I'll try and track down the answers.  Enjoy!