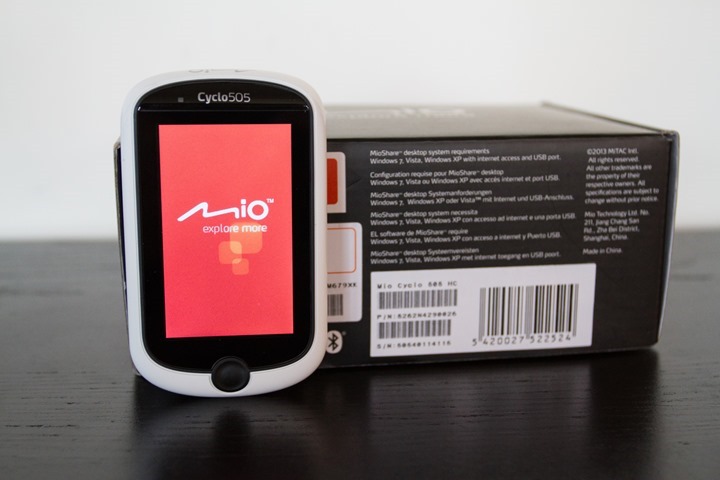 This past weekend I got a hands-on walk through of a host of new Mio features that are planned to be released as part of a firmware update for their existing units on the market.  Different units get different features, so it's not quite a one-size fits all approach.  But at the top end, the Cyclo 505 gets everything.
I've previously looked at the Cyclo units in the past, but the sheer size of them had always been a turn-off.  With the new 310 and 500 series however, the size is just a tiny bit bigger than the common Garmin Edge 800/810/Touring, so it's perfectly in the ballpark of acceptable for a full color mapping unit.
The main appeal historically of the Mio unit has been mostly in the touring space, where folks were using the units for navigation/routing, as the units included a map set.  However, there became increased demand for more performance oriented features, which we're seeing manifest itself below in a host of functionality not typically found on a touring bike computer.
The number of 'firsts' here are pretty astounding. For example:
– First 3rd party company to introduce wireless Di2 ANT support
– First head unit company to introduce ANT+ trainer control support
– First bike head unit to introduce direct Bluetooth Smart sensor support
– First bike head unit to add WiFi capabilities
– First bike head unit to add wireless music control (of your phone's music)
– First bike head unit to add text message notifications/alerts
You know, just your average spring cleaning update.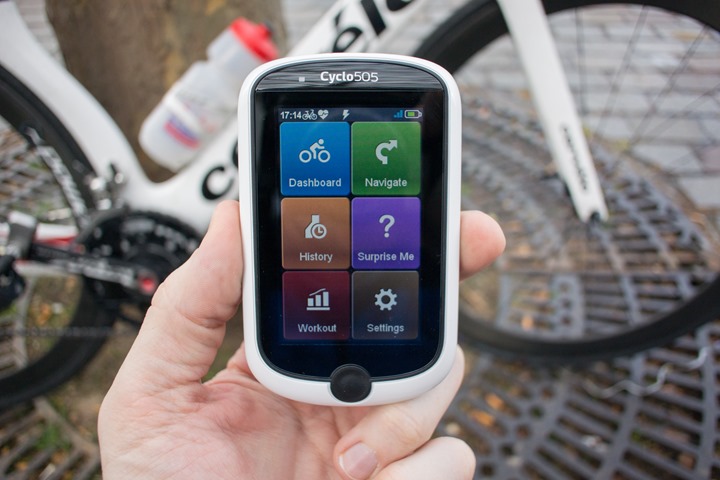 To provide some perspective on sizing, here's the Garmin Edge 510, then Edge Touring/800/810, then the Mio 505. As you can see, it's a tiny bit bigger than the Edge, but it fits nicely on the stem of a road bike.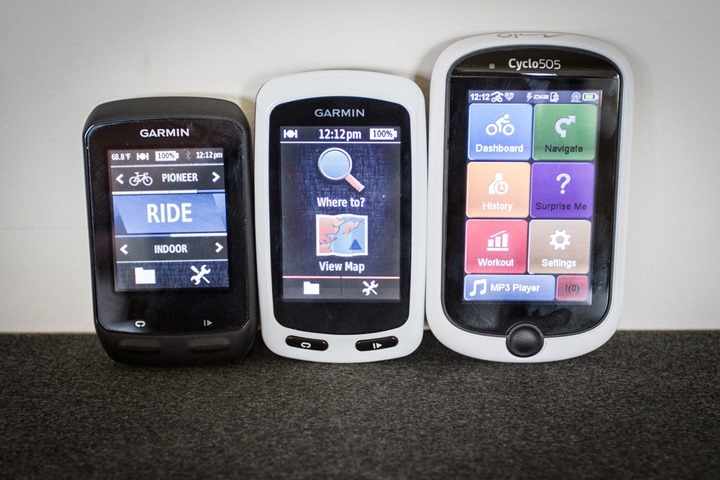 Finally, it should be noted that Mio is a sister company to Magellan, both being owned by MiTAC.  In general, Mio caters to the European crowd, while Magellan caters to the North American crowd.  While I'm discussing here the Mio branded options (since they are the ones announced), I've been told to expect to see this unit sold under Magellan branding (and thus, in the US) likely later this spring or early summer.  Between Mio and Magellan, one of the two companies covers all of the countries globally, so one way or another you're in good shape. [Update Apr 1, 2014: I got confirmation from Magellan US that the Cyclo unit will be available in the US in the May time frame (next month).  I'll definitely loop back once an exact date is established.]
With that, let's get on with it.
Adding support for Di2 ANT wireless integration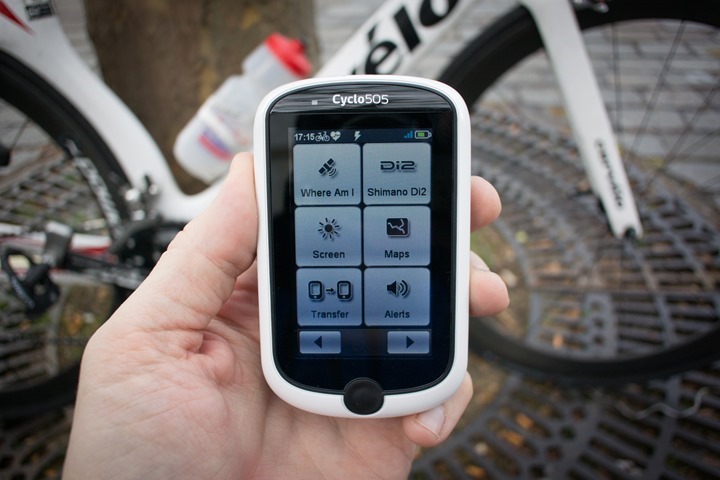 As part of the update, the Cyclo 305/310/500 series head units will now be able to read and record shifting information from compatible Di2 electronic shifting units.  Back in January, there was a sneak peak at the new ANT wireless transmitter, which aims to be an accessory for existing installation, and based on the pricing listed here, a rather cheap one in the $115US price range.
This is a natural progression from Shimano's first few attempts at Di2 shifting information being displayed (but none ever recorded).  Though strangely, since Interbike the device has gotten substantially larger than it was since shown there in my previous post.
In any event, I was able to get a walk-through of how it works in theory, but since my bike isn't Di2 capable at the moment, we'll have to go with just an academic discussion.  I'm working to rectify the theory part.
You'll first start by pairing the sensor using ANT.  Note that this isn't actually ANT+, but rather private-ANT.  As such, companies have to individually work with Shimano to get this implemented.  And it wouldn't carry over to other component manufacturers either.  So in this case, Mio worked directly with Shimano to make this happen.
Once paired, you'll go ahead and tell the unit what your bike configuration consists of.  This isn't transmitted automatically, so it needs to know what it's working with.  Below, you can see the main menu for this.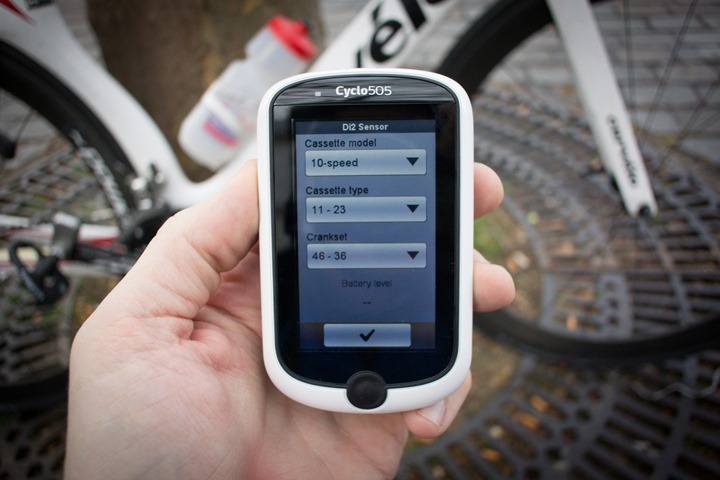 If I dig into the cassette menu, I'm given the option to choose from a slew of common configurations, but I can also just tap custom and build my own.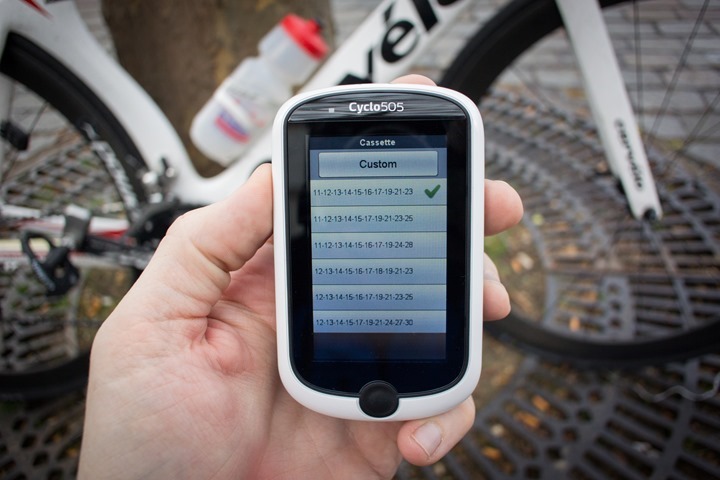 And it's a similar story on cranksets, where I'll go ahead and select which crankset I have.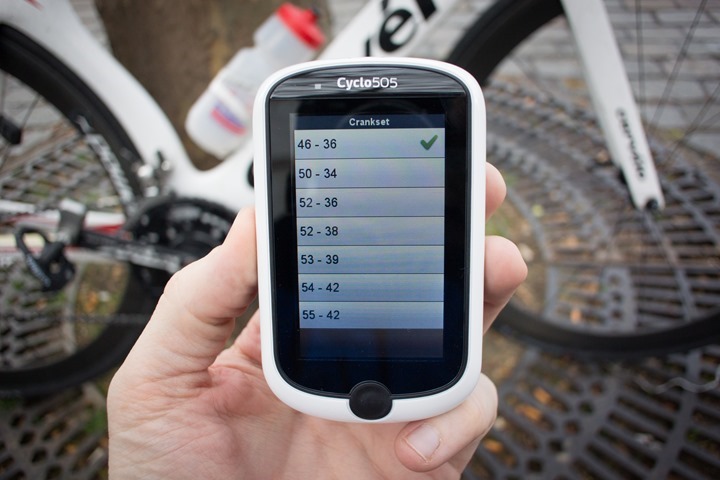 Once that's completed, the unit is ready to start displaying and recording gear information.  In the below screenshots, the Di2 relevant pieces are highlighted in red.  These are all simply data fields that I can configure on the unit, just as if I would configure speed or cadence, or any other metric I'd like.
To start, it'll show your current gearing on the display.  You can display this in either gear position, gear number, or visually in a little chart/graph.  For most, I suspect you'll go with visually if anything.

Most importantly though, you'll get Di2 battery status, as well as alerts/warnings that can be triggered below a certain level.
Now in many ways straight display of gearing information isn't super-useful.  What becomes more useful over time is the recording of that data, and then the analytical display of that data.  That's where you can start to understand where you may be shifting at an inopportune time, or being in a non-ideal gear position.  Or, even added to race videos, as part of Shimano's recently introduced action cam.
Of course the real question is what about control of Di2?  As it stands today, that's not part of the deal.  Technically it can be achieved, but it's not there today.  The challenge with control is ensuring security of the system.  Obviously, you don't want a competitor shifting you just before a sprint.
Looking at the technology, ANT+ as a protocol can indeed support encryption of data.  In some ANT+ medical devices today, they already do a less extensive form of that for validating handshake between two devices prior to transmission of data.
But why would someone want to control the gears from the head unit?  Well, not so much a human, but letting the computer do it for you.  This means you could potentially have a target wattage for a time trial, or Ironman triathlon, and have the unit automatically control the gearing to stay within a target wattage.  Basically, like an autopilot.  Of course, the target could theoretically be anything – wattage, heart rate, cadence, etc, and could be tied to a pre-programmed training plan. Thus huge potential for steady-state focused cyclists.
Ultimately, this is just the tip of the iceberg.  Especially if the companies can work together a bit, focus on building out a public ANT+ profile versus a private one, and then get the platform pieces in place to allow it to flourish.  Just like other sensor types such as power meters or speed/cadence sensors.
First head unit to support ANT+ trainer control profile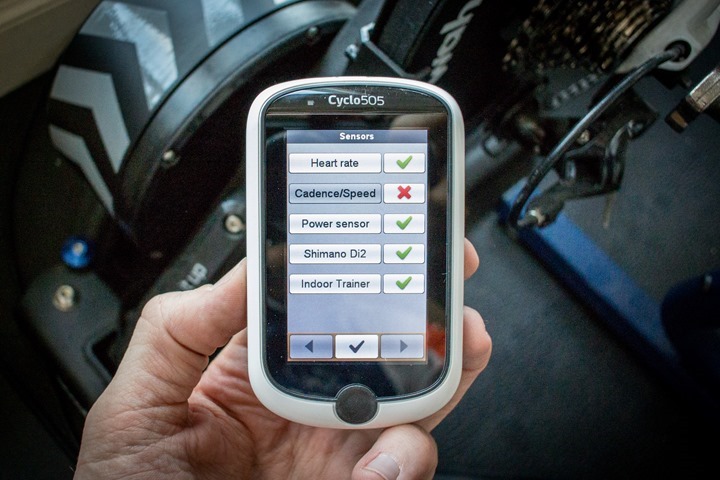 It's been a long time coming, but two weeks ago ANT+ released the bike trainer control profile, officially called the "Fitness Equipment – Controls (FE-C) Device Profile".  A profile allows devices to communicate seamlessly using a known language to talk between them.  For example, there's a heart rate profile, which is how all ANT+ heart rate straps work with any ANT+ capable watch or cycling head unit.
In the case of the trainer control profile, it enables an ANT+ device to control any trainer that implements the profile.  Up until this point, each company that builds a computerized trainer usually implements their own private way of controlling things.  While those companies often allowed control over private ANT, it was never actually ANT+, and each company did it differently.
So that meant that even though Tacx, Wahoo Fitness and CycleOps were all transmitting controls via ANT, they were effectively talking three different languages, so interoperability was non-existent.
The reason why this matters is that it'll allow more software developers to implement applications that can easily control trainers and report back speed, power, distance (as well as control it).  And sometimes, those software development efforts happen to be cycling head units.
Which, takes me to the point of this section: Mio is now the first cycling head unit on the market to implement the standard.
In April when the firmware is publicly released, you'll be able to create an indoor cycling profile, and then pair it up to an ANT+ capable trainer.  Below, you can see the pairing menu for trainers on the unit I have: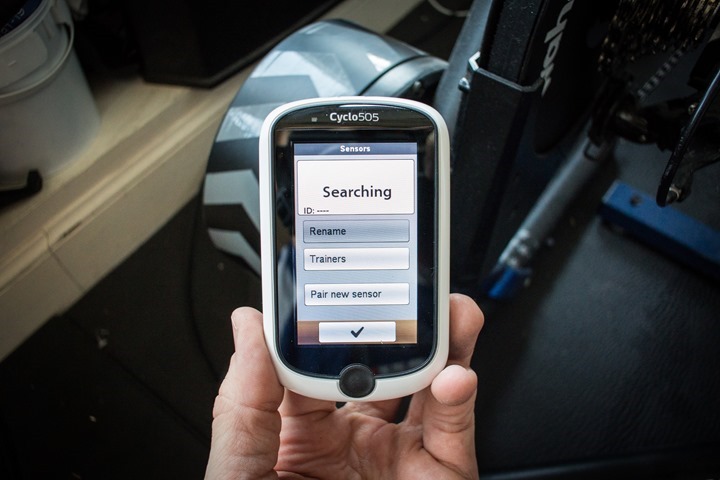 The unit will search for the trainer and then upon successful pairing can control attributes such as grade or resistance.  The ANT+ profile can also simulate wind and track/ground resistance, and can send calibration messages to the trainer, however, the Mio unit is just focusing on the first two pieces.
Of course, all of this depends on one tiny little detail: Having a trainer implement the profile.
As of now, almost nobody is communicating specific timelines.  But, they are committing to deployment.  Mio is working with both TACX and Elite on models right now.
Here's the run-down of where the majors stand on planned supported models (subject to change):
TACX: Support for ANT Bushido & Genius
Elite: Support for Digital Qubo
Wahoo Fitness: Support for Wahoo KICKR
CycleOps: Evaluating options
BKOOL: Support for BKOOL trainer
Now, the tricky part is release timing.  That's where everyone clams up.  BKOOL is likely the closest with their trainer, as they've shown off their ANT+ trainer control at a multitude of shows, including the ANT+ Symposium back in the fall, as well as CES 2014 in January.
Wahoo has long been in the camp of getting better open integration across the board. Regarding the profile and the Wahoo KICKR, they noted:
"We are extremely excited about the new ANT+ trainer profile. We've already seen several devices in beta implement this profile as a beta and believe it opens a brand new world for the KICKR – head unit direct to the trainer.

Over the next few months we will be working hard to implement into our devices and would invite any device manufacturer to reach out to us for testing. For Wahoo, this is probably the most exciting thing from ANT+ in the recent years and definitely a technology that consumers want." – Mike Stashak, Wahoo Fitness
Looking at others, TACX is investigating what it will take to get the profile adopted time-line wise, but as seen above, they're already working with Mio on that front – so that's definitely positive.
Neither Elite, nor CycleOps have provided timeline information. Though CycleOps was clear that they plan to implement it down the road, but figuring out the plan for existing units is the tricky part. CycleOps has however been very open in giving existing software development companies direct access to control the trainer.
Now the profile as it stands today is primarily designed for single-rider use, versus group-riding sessions.  Sure, software applications can use the single rider control and make it work in a pinch, but ultimately the group riding functionality is what's more ideal in that scenario.  ANT+ is working on that piece of the profile, which they hope to be able to roll out by the fall at latest.  At which point, it'd be up to companies to implement it.
Hopefully though, for at least the single-use piece, with at least one head unit company now in the market controlling them, others will follow as well, forcing quick adoption on the trainer front.
Everything Else:
ANT+ Power Meter Support: In addition to all the items above, the Mio unit now supports ANT+ enabled power meters.  Which means that you can display/record data from any ANT+ power meter, such as a PowerTap, Quarq, Power2Max, Stages, Garmin Vector, SRM, and on and on.  Lots of options there today to connect to.  (Note: Mio has clarified that they have only tested themselves PowerTap, Quarq, SRM and Stages).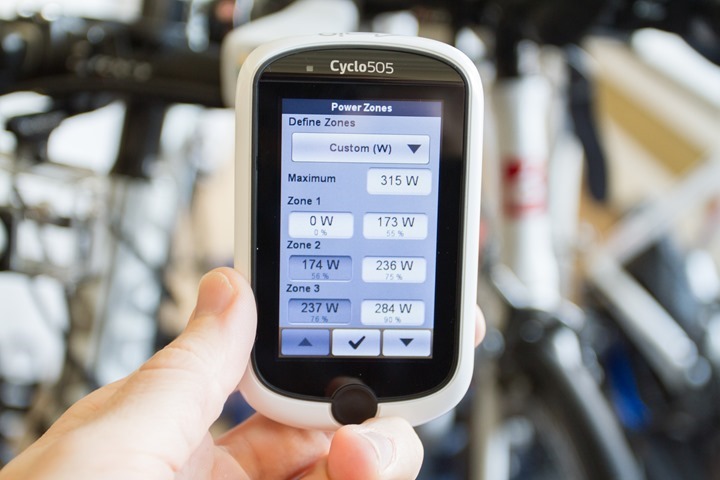 This is clearly a direct shot into the performance space, as the unit already supports the rest of the major ANT+ accessory types (such as speed/cadence/heart rate).  Further, you can setup multiple bike profiles and save sensors associated with each one.  One little feature I did notice that I particularly liked was that when it searched and found multiple sensors of a single type, it gave you the option to choose which sensor you wanted to pair to, and then select it.  Most other head units just get upset and say "Multiple Sensors Found", and make you either manually enter the ID in, or leave you in a pickle.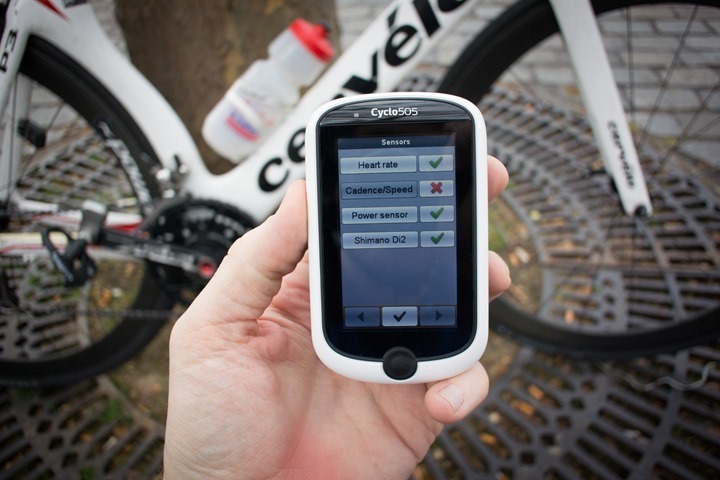 Bluetooth Connectivity for Text Messages, Music Control, Voice Alerts: The unit can now pair to your Android or iPhone device and display a host of information.  From your phone you'll now get text message alerts and call notification alerts, displayed on the unit itself.
These notifications can then enable you to actually answer a call via a Bluetooth headset (should you happen to be wearing one, albeit rather questionable).  For me, the the benefit here is not so much answering the phone call, but really just knowing a phone call came in.  Currently, my phone sits in my back pocket, thus The Girl could be trying to call me 28 times, and I'd likely never know.  Whereas with this, I'd see the alerts displayed.
You'll see MP3 player above.  In that case, the unit is controlling your phones MP3 player, which in turn is likely broadcasting via Bluetooth to some audio device.  But, it could be just as easily playing out the speaker.  For some of my long climbs where you're climbing for extended periods of time at 6-8MPH, I could easily hear the music in a back pocket without impacting my ability to hear the occasional car go by.  As always though, just don't do stupid stuff.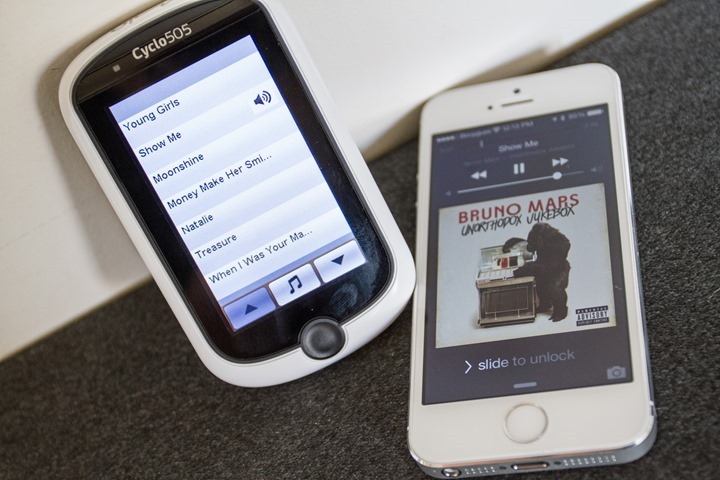 Lastly, there's an emergency contact function that will transmit your location to a defined emergency contact.  This isn't quite live tracking like on the Garmin units, so while I understand the appeal of the function on the Mio, ultimately, I would really much rather just have live tracking functionality.  Hopefully, they can bridge that gap.
Extension of Navigation Features: Mio was the first to introduce the automatic route creation concept, which automatically generated routes for you based on simply knowing how far you wanted to go (or how long you wanted to ride).  Going forward, they'll be extending that further, by enabling you to choose routes that are better suited for a certain type of riding.  For example, if I'm headed out for a sustained tempo ride, I don't really want a scenic twisty route.  Rather, I want something that is straight and uninterrupted.  So, the unit will be adding in options to allow you to get more specific on the routes it gets back.  This won't be the April update, but just beyond it.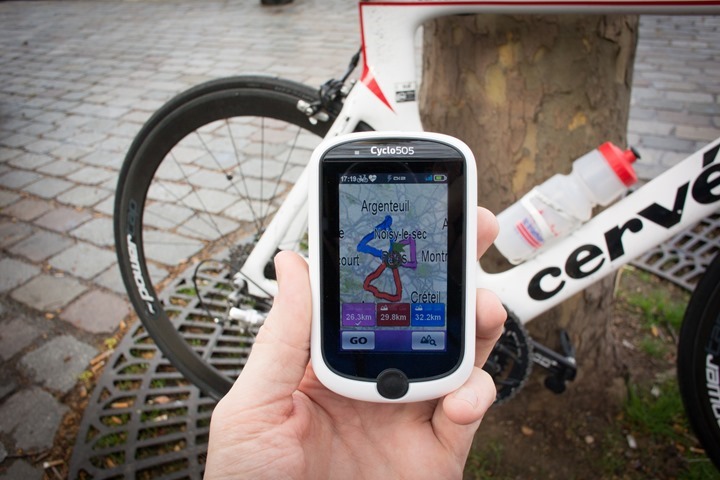 For mountain bikers they're adding into the April update the ability to list what percentage (%) of a given route is on dirt vs paved routes (when you select a mountain bike route).  Thus allowing you to choose which trail makes the most sense.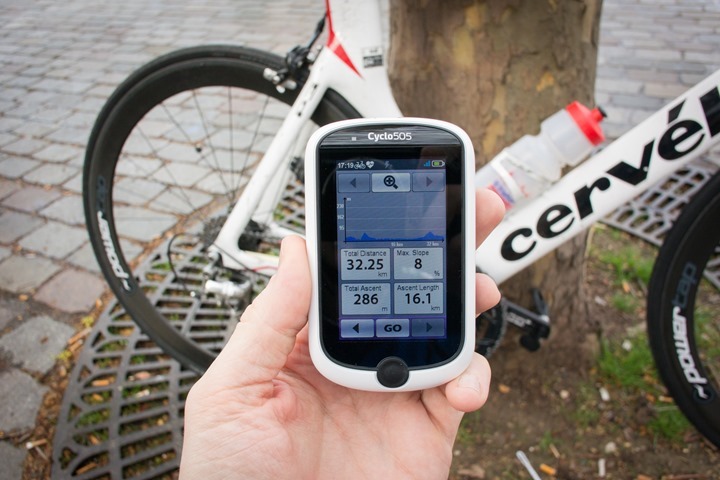 Finally, you can also select to avoid certain parts of roads.  For example, on one of the roads near me that I often used to ride out of the city, it's actually closed right now for construction.  So I can specify that particular section as closed to avoid it for routing.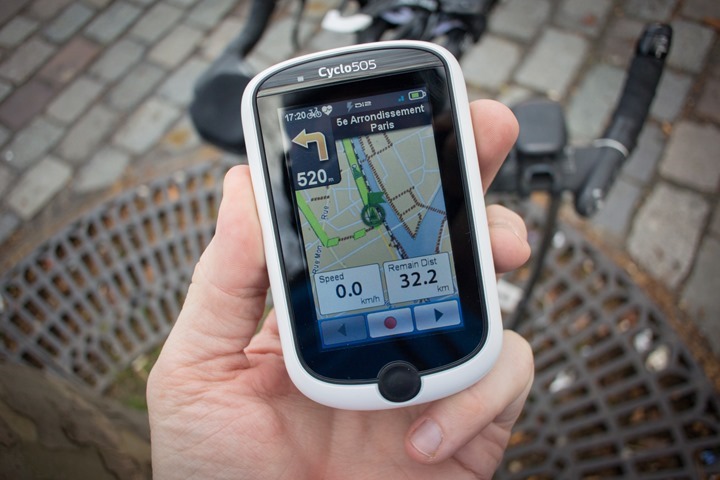 Lastly, they're introducing 8 different map color schemes, which can tweak the look of the maps to potentially provide more clarity, or, just to match your preference.
Summary: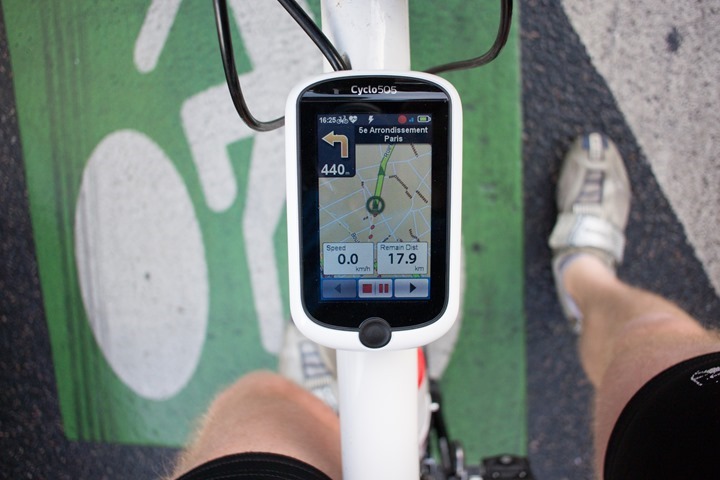 It's hard to say that the additions are anything but impressive.  There's so much new stuff, and thankfully, in the smaller form factor these days.  Of course, from a performance cyclist standpoint, the devil is in the details.  What are the recording rates for power meter data for example, or at a more basic level – how do you display the Di2 data, since no applications like Training Peaks support it.  Over time, those integration type puzzles will no doubt get solved.
Given I'm liking what I'm seeing based on my first ride thus far, I'm looking forward to testing out the unit with more depth in the coming months as they release in April for supported units, and then being able to hopefully leverage features such as Di2 integration and trainer control support for a review later this spring.
With that – thanks for reading!