Yet another weekend of beautiful weather here in the French capital.  Here's what I was up to for the last 72 hours.
1) Went for a one-way long run
I started off my long run mid-afternoon, set to go one-way out of the city.  I figured I'd eventually end up near a train station or somewhere else I could hitch a ride home on.  My goal was to explore some new ground.
About 5 miles away from the house I was mostly out of the city and along the semi-quiet sections of the river.  Here, a few guys had cycled out and were just lazing around in swimsuits on the dock…in the first weekend of April.  Yes, purely awesome weather.
I'd keep on going far beyond any distance I've headed this direction before.  Usually I turn around by now.  But I'm glad I headed this way.  The river got super-quiet, almost silent, with a little trail that just ambled along near the water.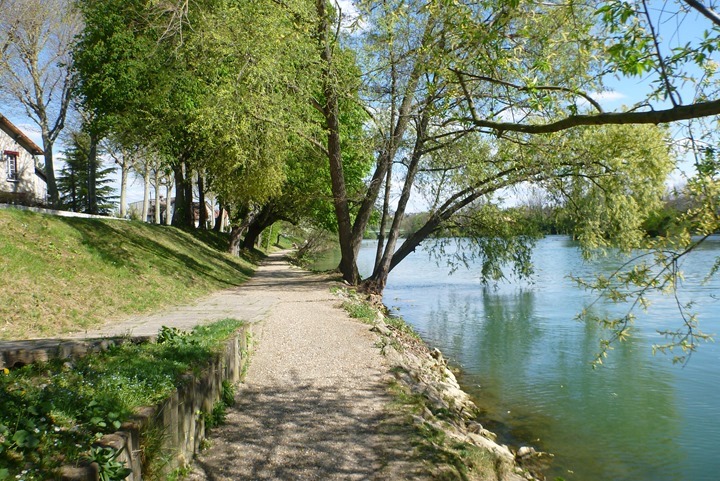 I'd ultimately end up actually looping back on myself a bit as the river does the same.  So ironically I only ended up about 8-9 miles from the house, versus the nearly 17 I ran.  My stopping point would be this track, though, I had intended to run further but ran out of edible nutrition (I just couldn't stomach the leftover stuff I had rummaged up from a bin in the house).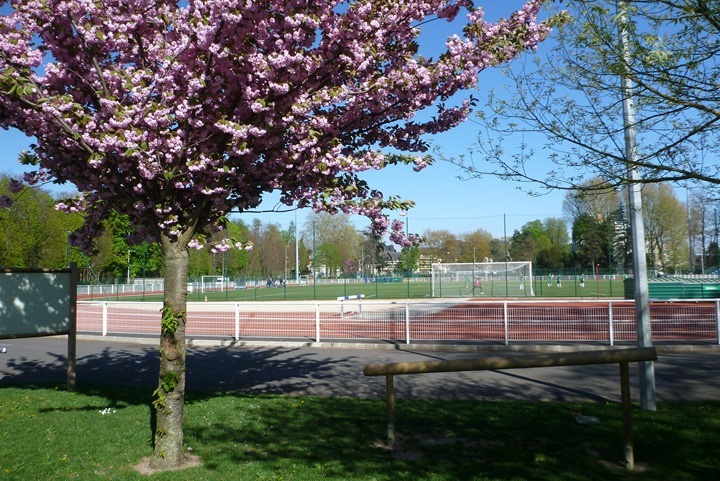 I grabbed what ended up being three trains to get home (not optimal).  But I did think it was interesting that in the first platform I boarded there was a sign for the Paris Marathon expo, open to all: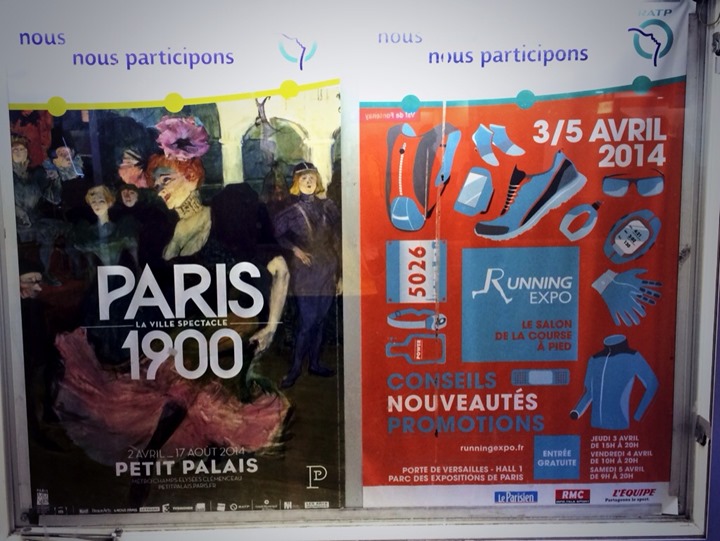 But, more on that Paris Marathon in a minute….
2) Watched a movie in English, except when it was in German or Dutch, as then it was in French.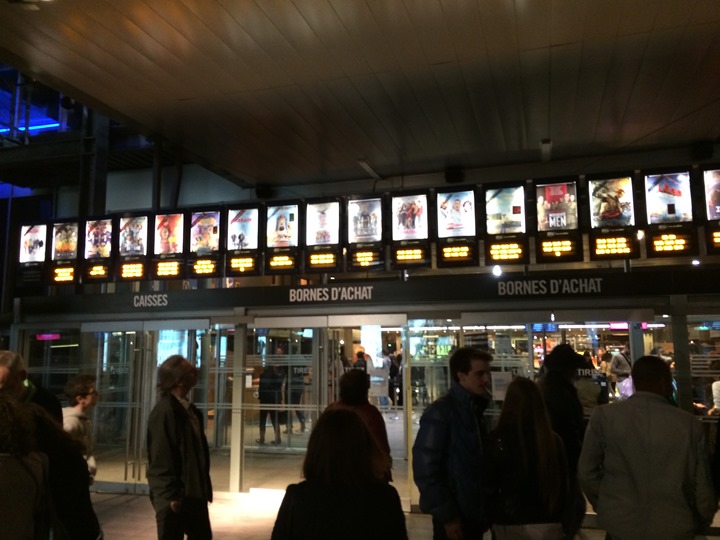 For the first time ever here, I actually went to a movie theatre.  Yes, almost two years living here – and no nights out at the movies.  It's funny though, without the constant radio or TV commercials that you'd get in the states, you actually kinda lose track of what's out in movies.
We do see tons of movie ads in the subway systems (large paper ads), but we have to always do a bit of looking up to figure out what the US name of the movie is, as often it's changed entirely when released in France.
For most expats living in France, you're generally going to seek out a US-produced movie shown as version originale, which means that the audio is in English (original version), while there are subtitles in French.  Obviously, for a US-produced movie, that's what we wanted as well.  In our case, we were going to see The Monuments Men.
Now, what's funny about this is that the movie actually starts off in German.  For those in the English speaking countries, your subtitles would have then been in English (with the speaking in German).  Except here, the subtitles were in French.  Which, was fine for us.
Then, the next scene was in Belgium, and again, the subtitles in French, this time for Dutch.  Which then culminated a scene or two a few minutes later being set in Paris, in French, with no subtitles at all…given the French audience.
Now, it's actually kinda funny comparing the spoken original English in the movie to what's translated into French on the screen.  There's an incredible amount of context and wording that was consistently lost in the translations to French, which were highly simplied.  Thus explaining why many of our French friends note how they very much prefer the original English versions, than the translated French versions.
Following the German-Dutch-French-but-not-English movie, we grabbed two Velib's for the 2-3 mile ride home.  With the temperatures in the mid-60's, it was a beautiful night for a slow ride home.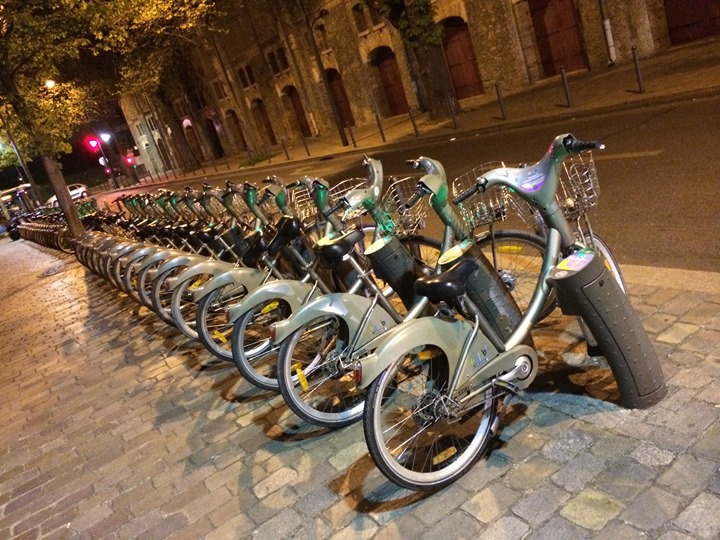 3) Watched the Paris Marathon
While last year we ran the Paris Marathon, this year we took on a spectator role.  The race started at 8:45AM, and by time it looped back around near us, it was the 14-mile marker.  So around 11AM we walked the few hundred meters away to watch the tens of thousands of runners cruise on by: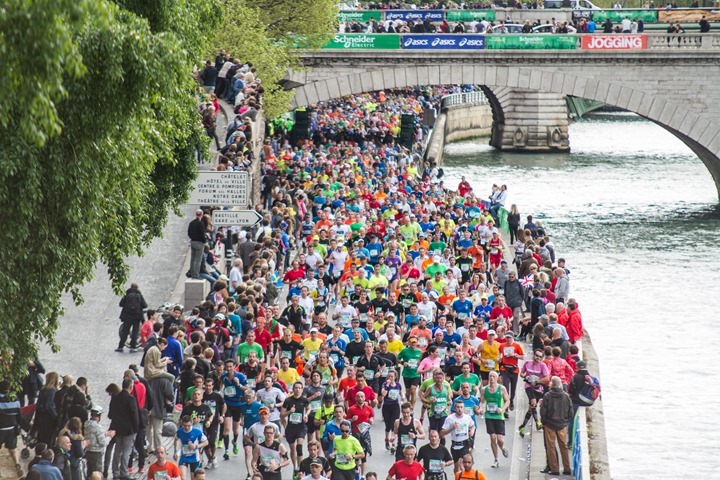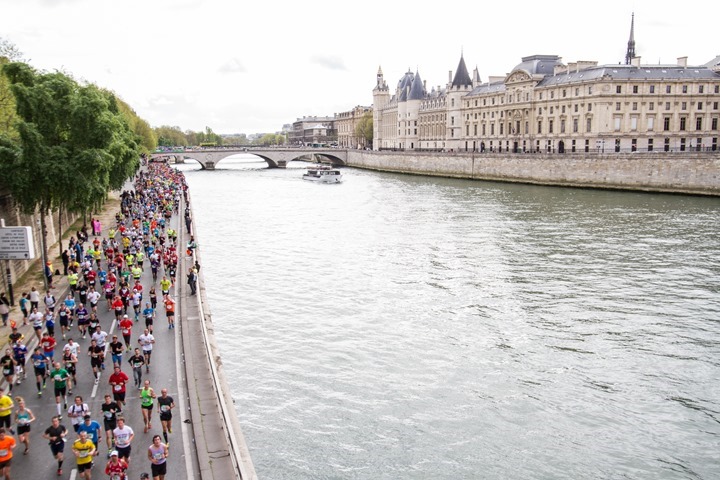 As is in the case in most of the European races I've taken part in here, there were plenty of musical bands along the route, including one right near us.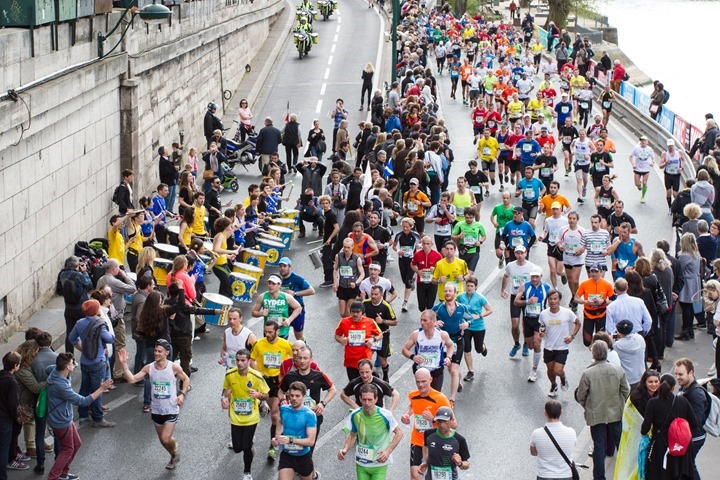 We ended up grabbing Velib's and following the route a little bit (albeit, on the other side of the river).  The course at this points dips below the roadway for about half a mile, into a long tunnel.  Eventually it emerges right next to the Louvre.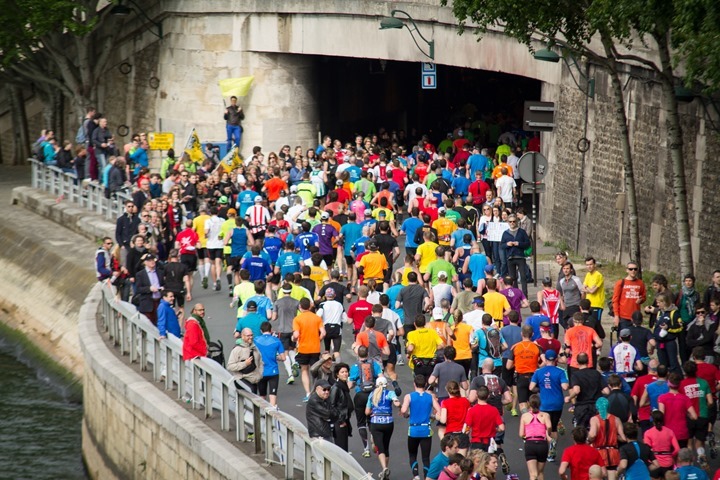 Meanwhile, we'd meet back up with it in front of the Eiffel Tower, at a water stop.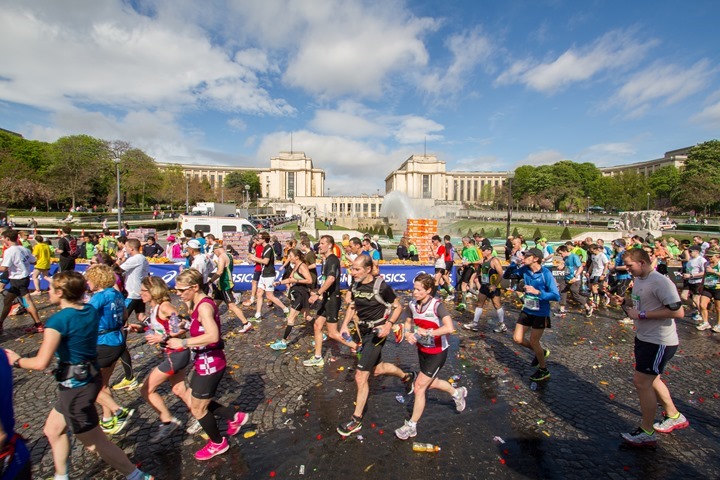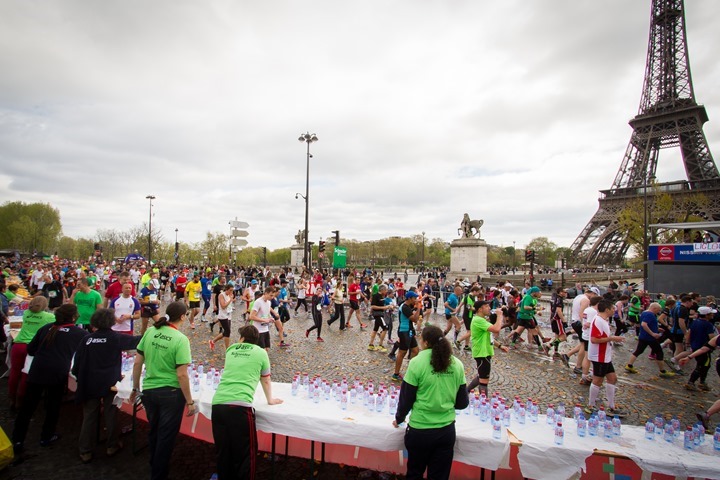 Directly after the water stop, it got pretty packed, with the crowds narrowing the gap to just about a single lane's worth by time it's under the bridge.  Though, it's hard to see it from this angle.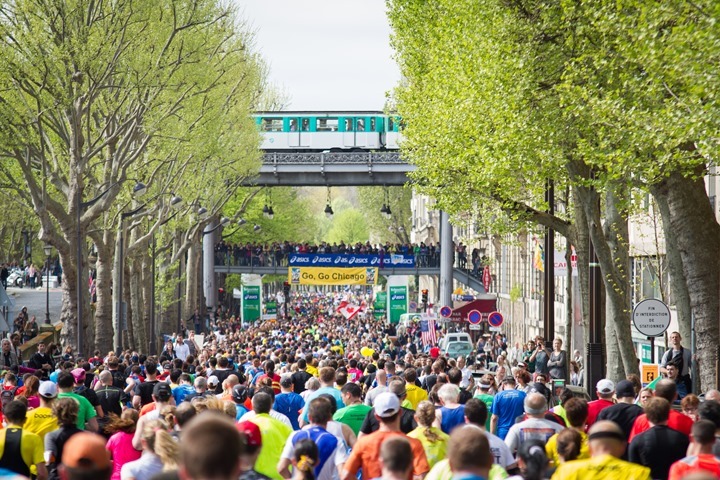 Up on said bridge, it was equally as packed: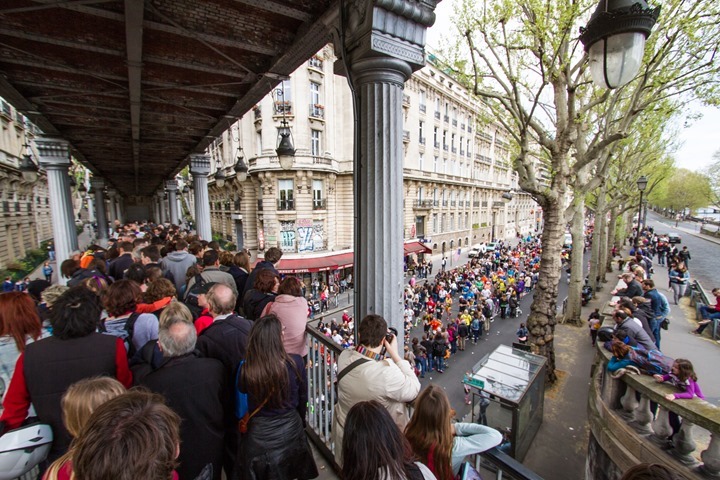 It was here we found a gentleman who not only brought out his own cymbals, but also his own jukebox.  Seriously, just look at it.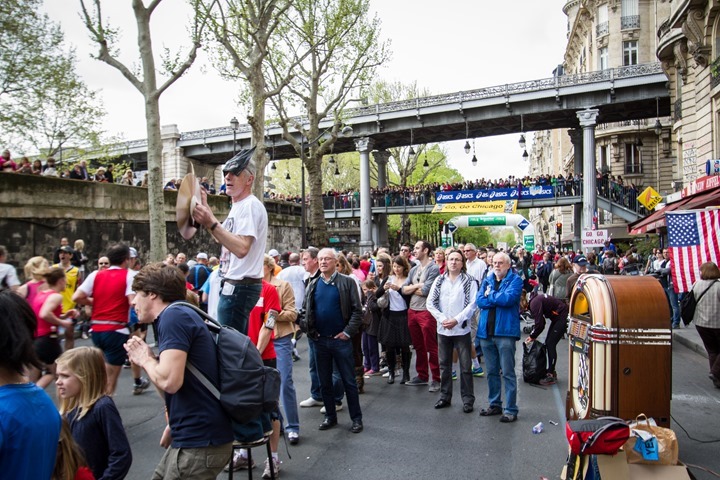 He found a friend though in this little girl, who only a few feet away rang that bell like nobody's business: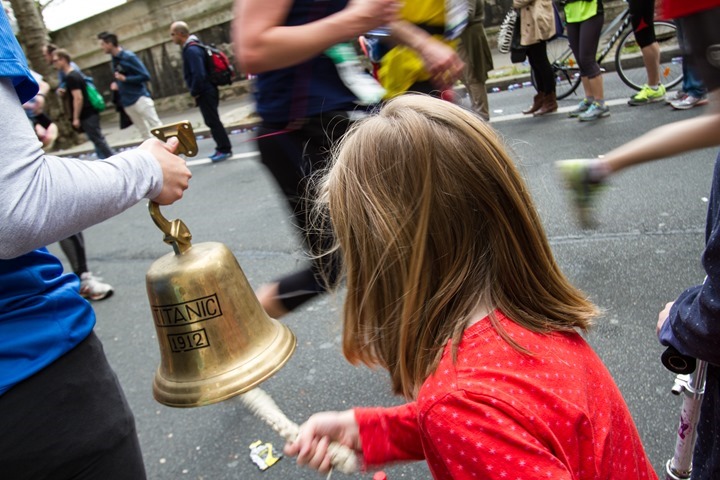 Here, a short video of the two of them going at it:
Meanwhile, the runners streamed on by: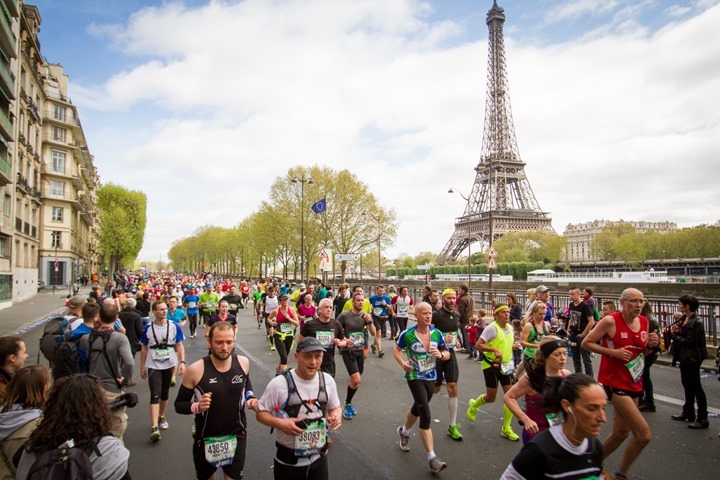 We'd eventually ditch our Velib bike share bikes and grab the Metro home.  The opposite side of the platform full of runners that had finished already…waddling their way back to homes and hotels.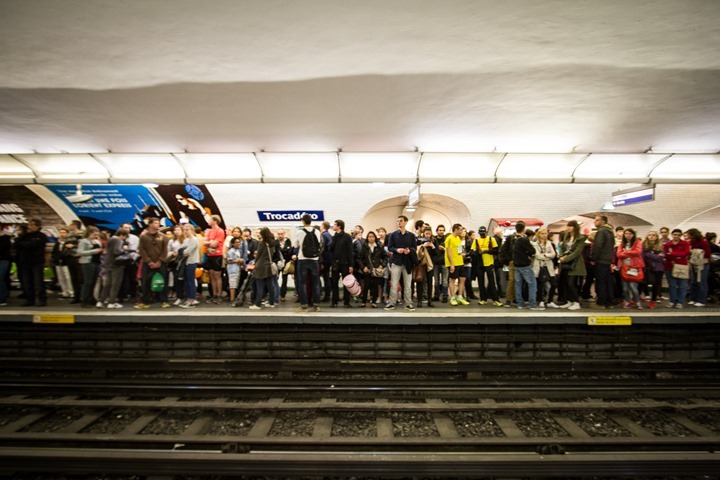 Congrats to everyone that ran the Paris Marathon yesterday!
4) Went to Ikea…and a few other stores…and then our car broke.
Post-marathon spectating we headed out to Ikea.  We had a few miscellaneous things to look at there, as well as some stores nearby.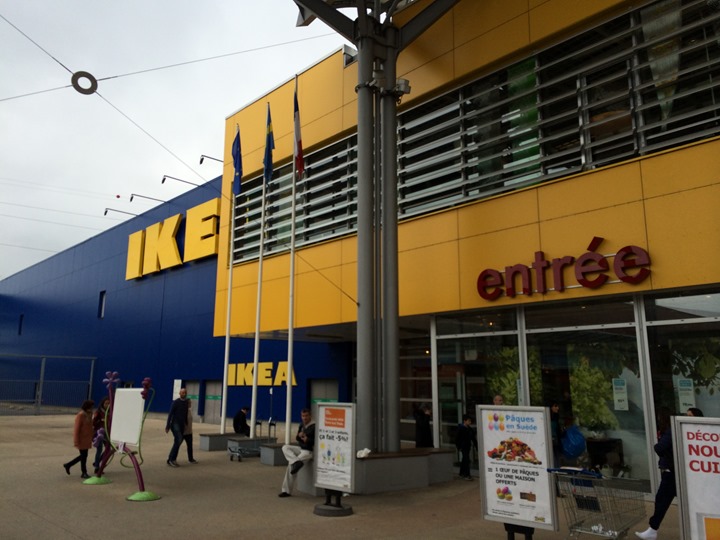 Obviously, once inside, we found the restaurant.  Who can go to Ikea and not get meatballs?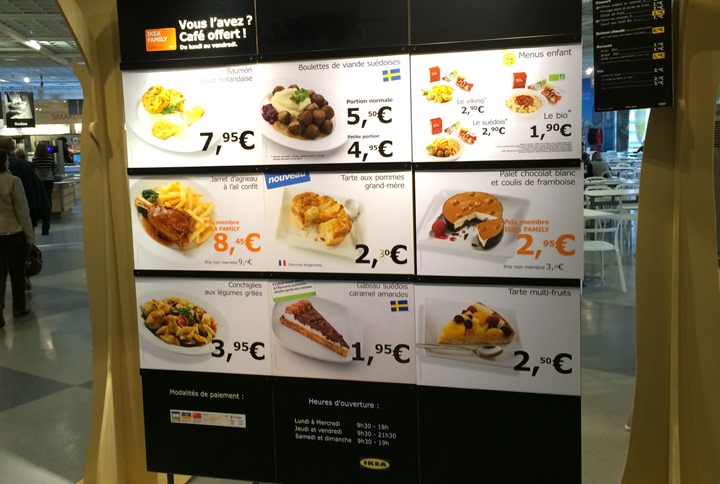 Clearly, not us.
Unfortunately, post-Ikea after driving away we made one more stop at a grocery store before heading home.  In doing so, we managed to break our little Autolib car-sharing car.  For reason we don't quite understand, the system somehow forgot we were renting the car mid-way through our rental, and thus considered our rental period expired.  The only way around that was apparently sending a technician to the car, which would take an hour.
So instead, we just left our car behind and got a taxi home.  Kinda a bummer as we ended up losing an hour of time between troubleshooting and phone calls and taxi waiting, but at least Autolib paid for the taxi.
5) Got surrounded by pink things
Lastly, the last week or so it got all pink around these parts.  For example, the trees on the side of Notre Dame have bloomed: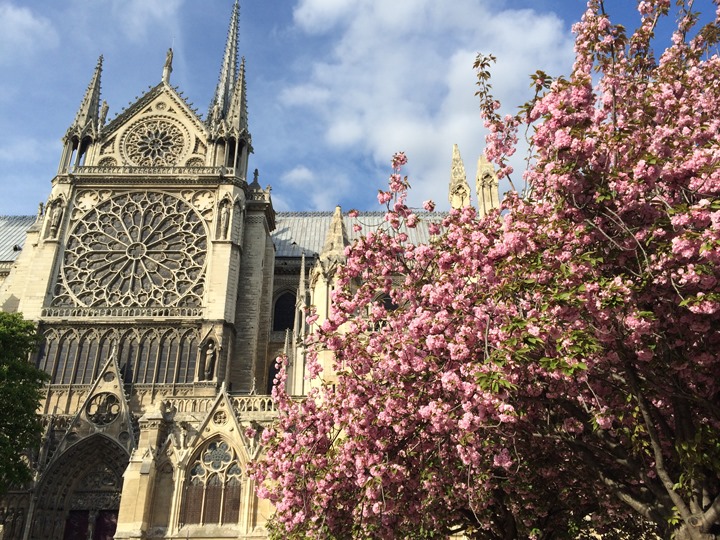 It's always interesting to watch how different folks interact with the trees.  Specifically, kids of different nationalities.  Sitting from my window I can watch at noon each day as the local school kids head into the church's gardens and 'interact' with the trees.  Specifically, jump up, grab the flowers, and shake the branches until the flowers fall off.  It happens every day, and happened last year as well.  Odd because the French adults don't bat an eye.  Yet, the other tourists in the area generally freak out when this occurs.  Anyway…noted.
Speaking of other pink things, we did our usual weekly run to the restaurant supply store for the CupCakery.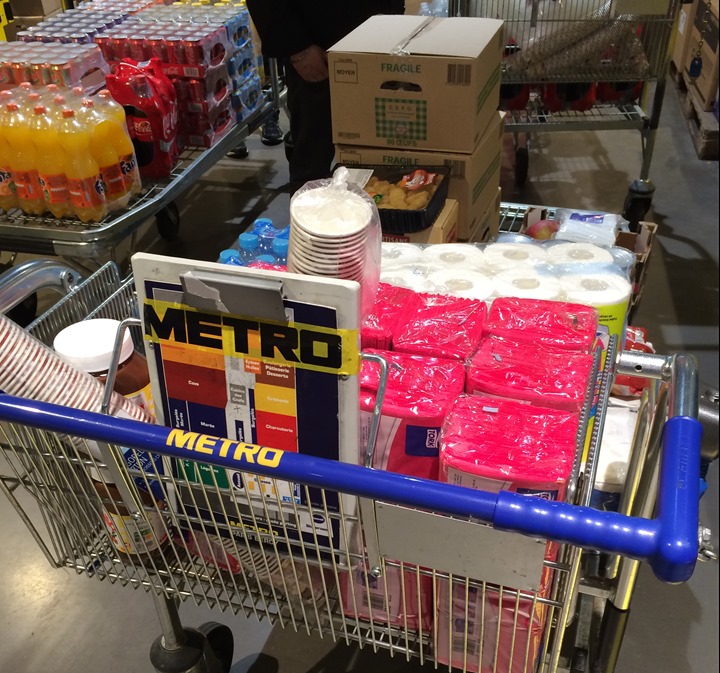 They had pink napkins in stock, which sounds funny, but it's not always dependable.  So, we bought all they had.  I think about 6-8 reams of them.  I think each one's a few hundred.  Either way, it's actually the single 'ingredient' we have a tough time staying in stock on.  Thus, sometimes folks get purple or grey napkins when the store goes on a pink napkin drought.
Outside of the pink napkins, it was mostly the usual for a week…270 eggs, enough Nutella jars to last most people a few years, and  a lot of flour…and a box of mangos for the house.
—
With that, thanks for reading, and have a great week ahead!