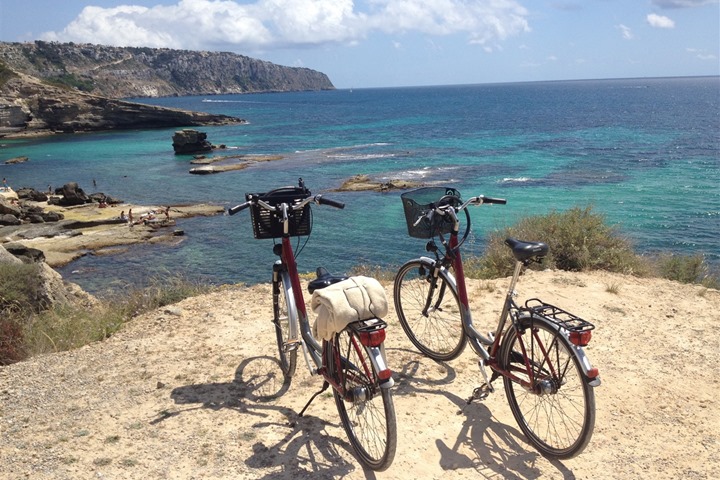 After zipping back from work meetings in New York City, The Girl and I caught a flight down to Palma de Mallorca (a Spanish island), via Barcelona.  They are two relatively quick flights from Paris.  The first about 80 minutes, and the second about 30 minutes.  Though on the way home it's a nice nonstop flight straight into Paris Orly (the smaller airport closer to the city).  The island is technically Mallorca, with Palma de Mallorca being the main city.
We had decided a few weeks ago to try and fit in a long weekend trip before it gets pretty busy around our place for the next 4-6 weeks.  We were roughly aiming for a beach, and did some looking down along the French coast, then the Spanish coast, and even some other islands like Corsica and Ibiza.  But ultimately, the cheap 209€ airfare round trip to Palma Mallorca seemed like the best deal.  You really can't even beat that on the TGV train down to Nice or elsewhere.  Plus, we like quiet places.
Especially ones with bikes: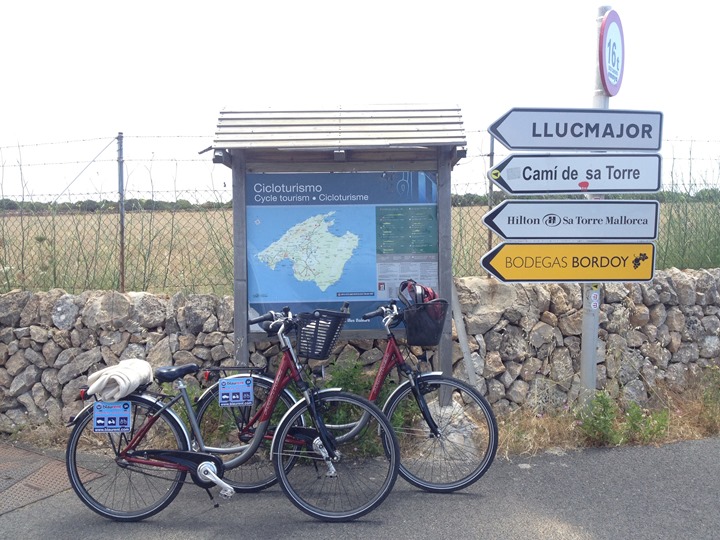 Our hotel is set up in farmland about 3 miles from the sea.  The grounds used to be an old monastery/church, but have since been converted into the hotel.  They've done an incredible job thus far.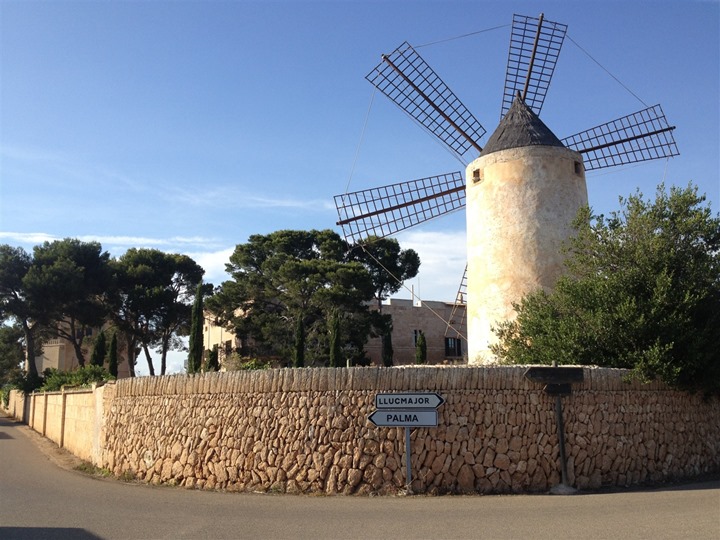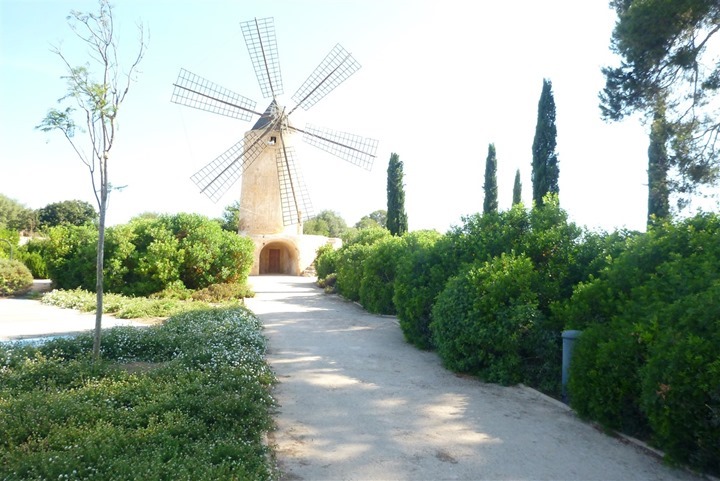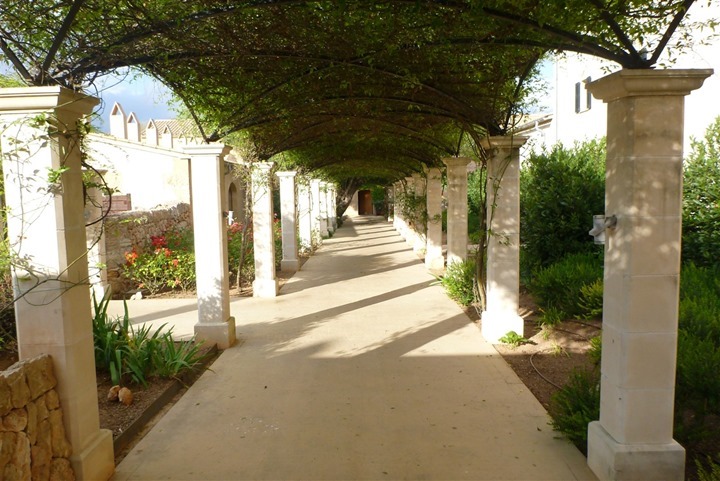 Most interestingly however is how much this entire area (hotel included) caters to cyclists.  Every couple of kilometers there are large maps with detailed cycling routes, and distances for each of the routes from that given point.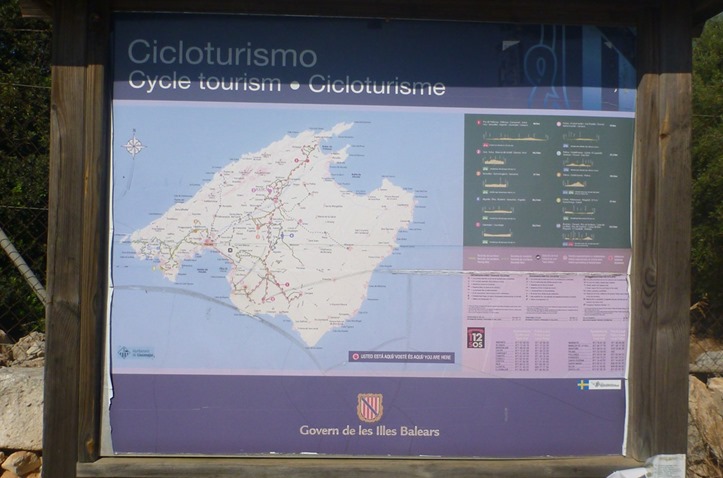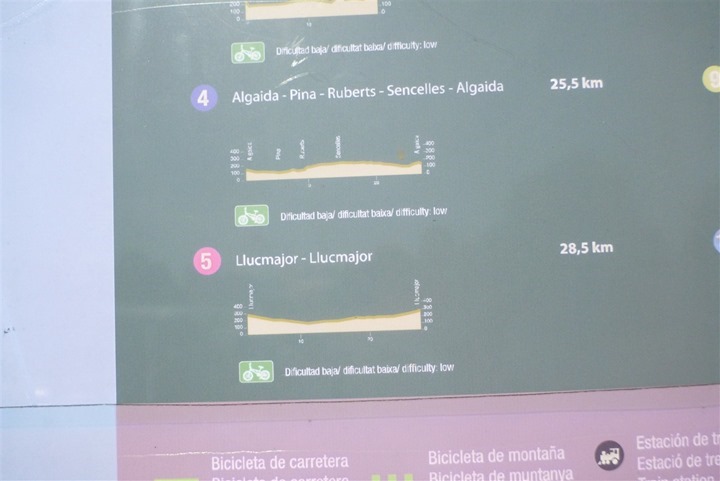 Many hotels (including ours) had various signage welcoming cyclists in.  The hotel itself has bicycles available to go wander with.  And can also upon request arrange performance road bikes too.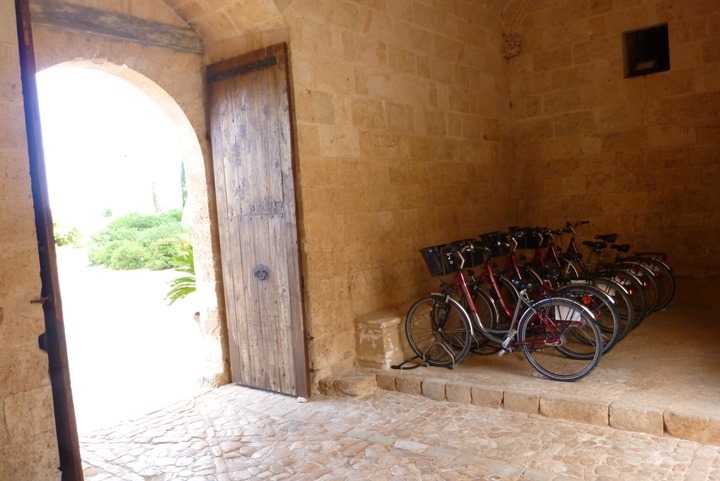 Which, is exactly what we did on Saturday (not the performance bikes, but the cruisers).  With the sea just a few miles away, we figured it'd be much easier to just bike down there.  Thus we packed up a couple of towels and headed on out.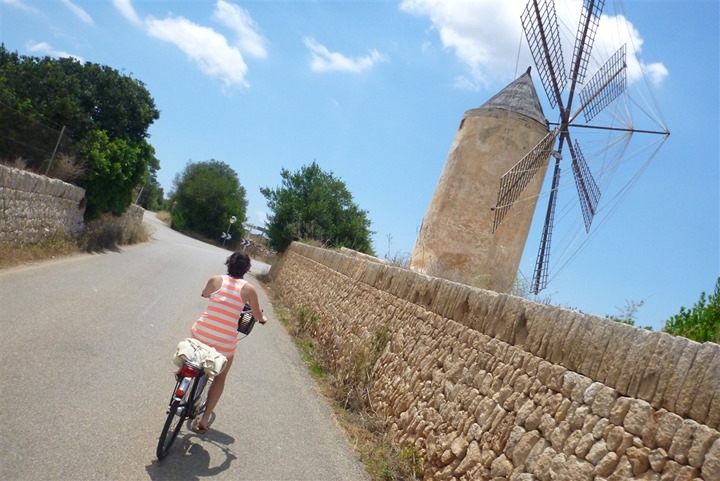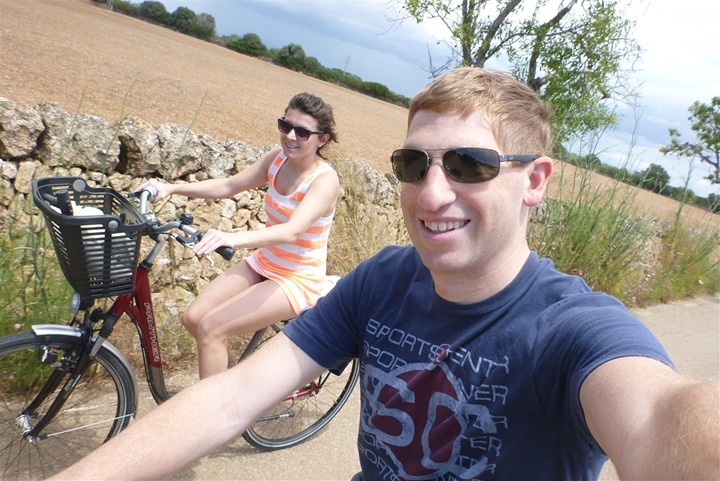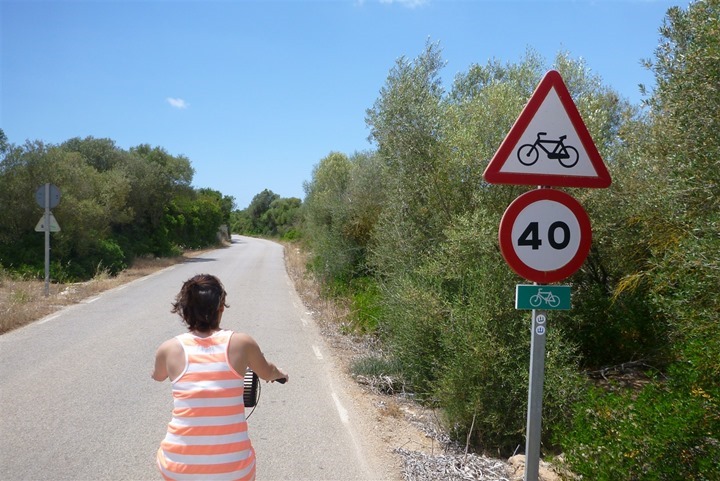 We stopped at a grocery store along the way (well, the only store we could find actually).  They had a vast selection of items, but I got caught up in the various hams.  But ultimately I decided that having a leg of pig sticking out of my bike basket might be a bit over the top.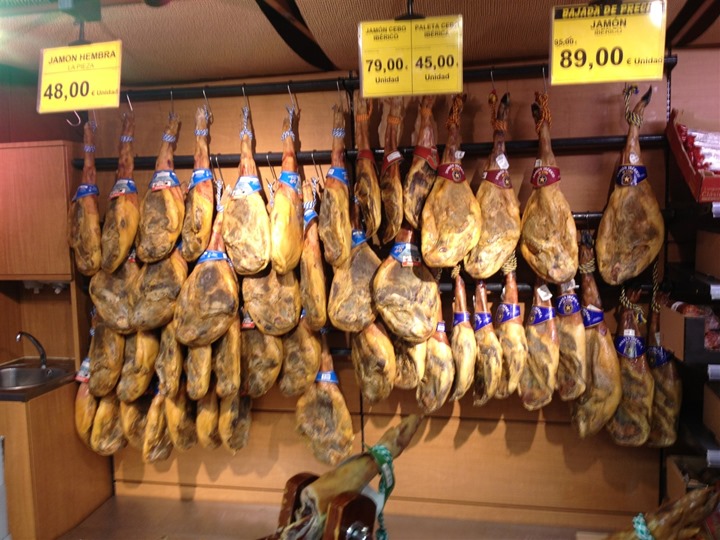 Also of note, juice-box containers of wine.  Straw does not appear to be included.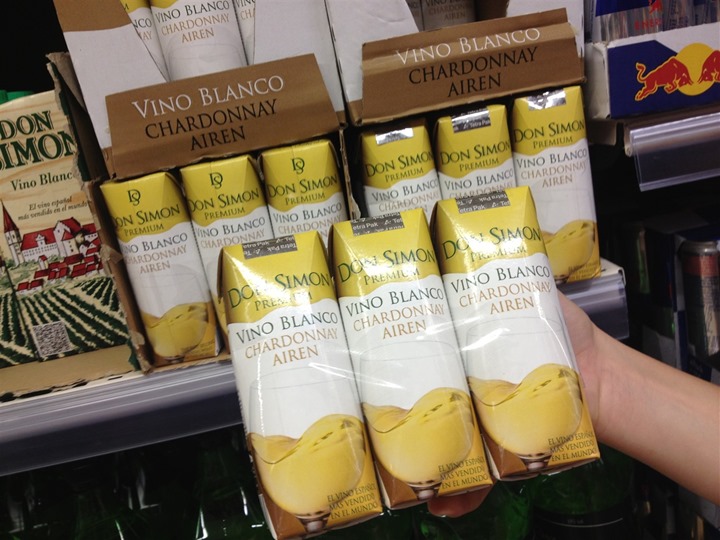 After leaving the store with sandwich making supplies, we descended down an incredibly steep road to the water.  I really wish this photo did it justice, if only to serve as a statement on how darn steep it was going back up.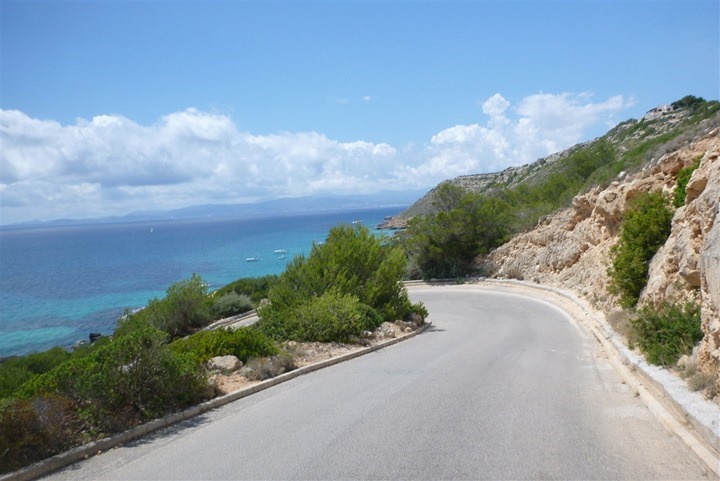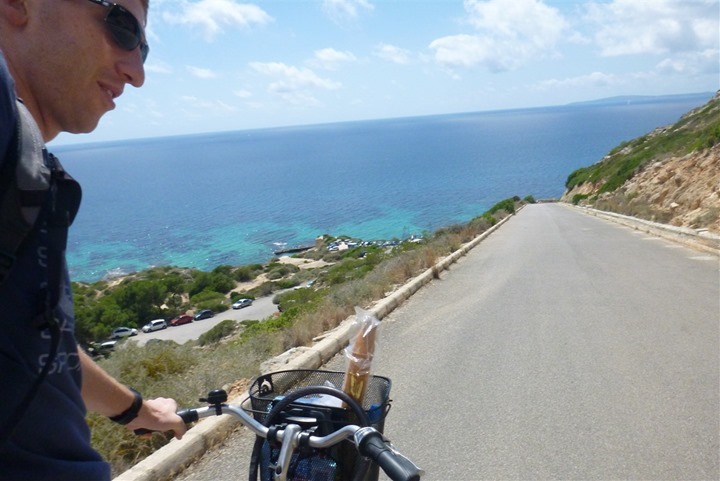 Keeping in mind that when going up, light road bikes these were not.  Our beastly bikes probably weighed in at close to, or exceeding 50 pounds (22kg+).  I'd guess the incline was around 13-18%.  Certainly steeper than any portion on the climb up Mount Ventoux, which I think the max there was 14%.  I was pretty much just going walking speed while riding on the way back up…in the easiest gear possible.
At any rate, we found our way down to the water.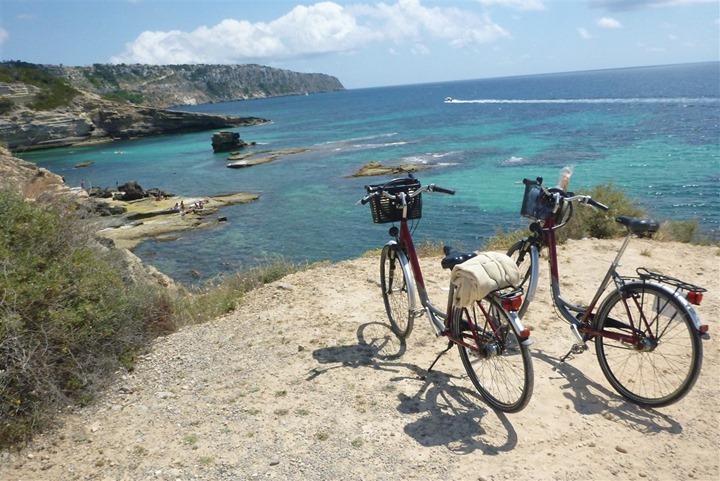 There's some sort of seaside club down there, but instead we just made our way down along the rocks like many others.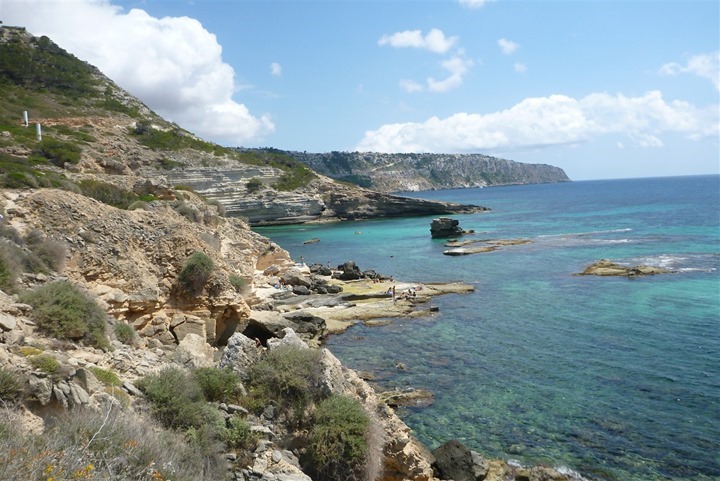 From there, we setup camp and relaxed for a good 5-6 hours.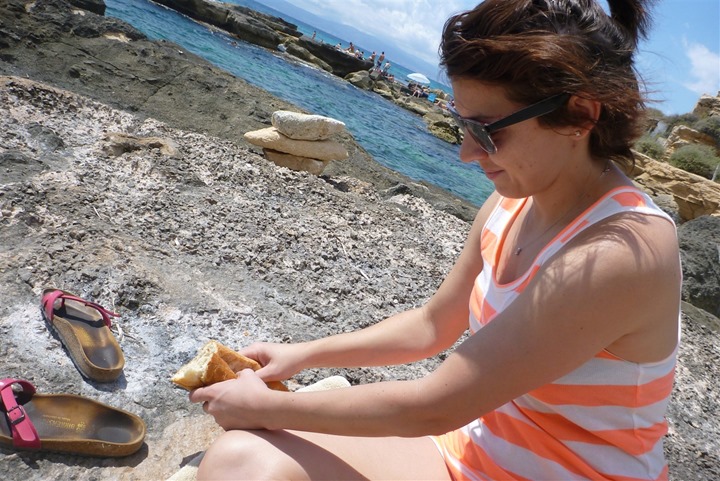 We were somewhat stationed in between the beach club (across a little cove), and the rest of the cliff area.  Which provided an endless stream of occupants from both sides.  We noted that the only differentiator tended to be clothing.  Those on the beach club side kept their bottoms on, while those on the opposite side went with the full-Monty experience.  Tops were largely optional, as tends to be consistent across much of Europe.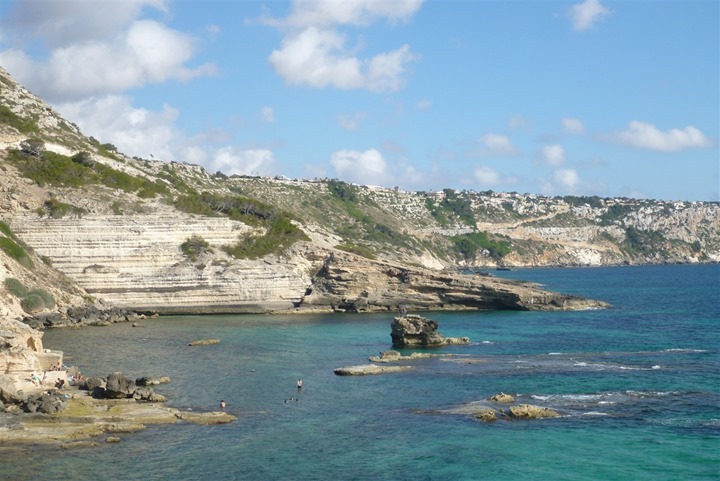 The water itself was rather chilly, though once you were in it for a couple minutes things were all good again.  We didn't notice until on our way out, but apparently hammer-head sharks visit the area.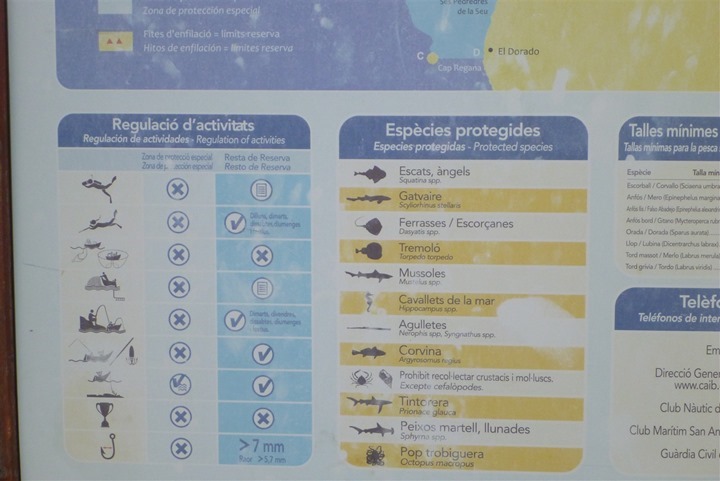 After our time down there, we made our way back up the hill and headed back to the hotel.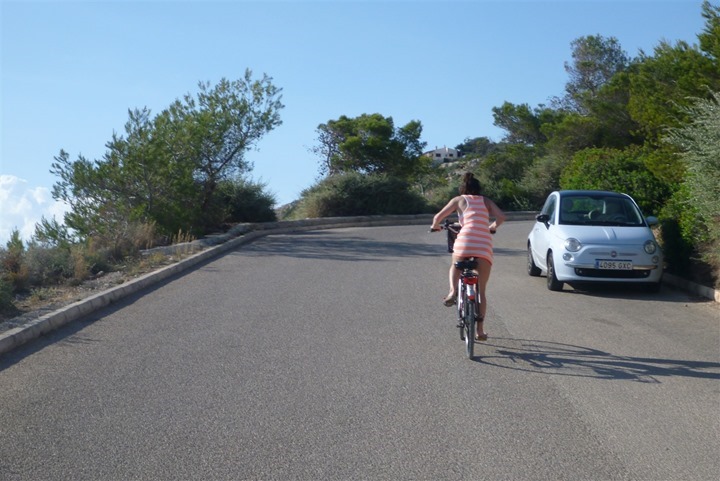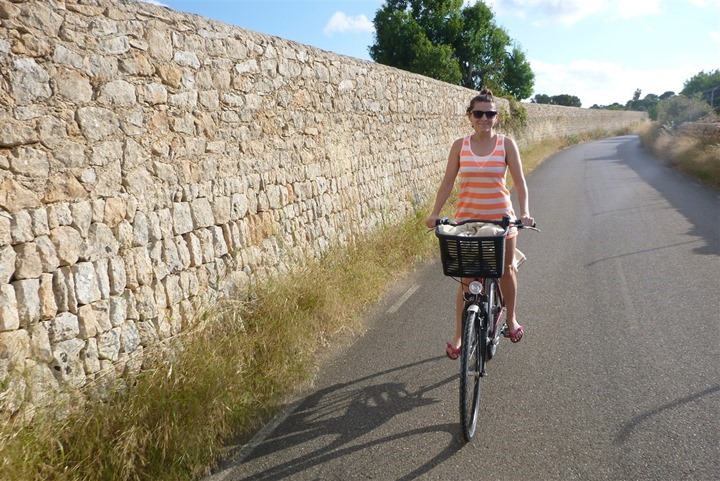 By time the ride was over, we were pretty jazzed to find an empty pool to cannonball into.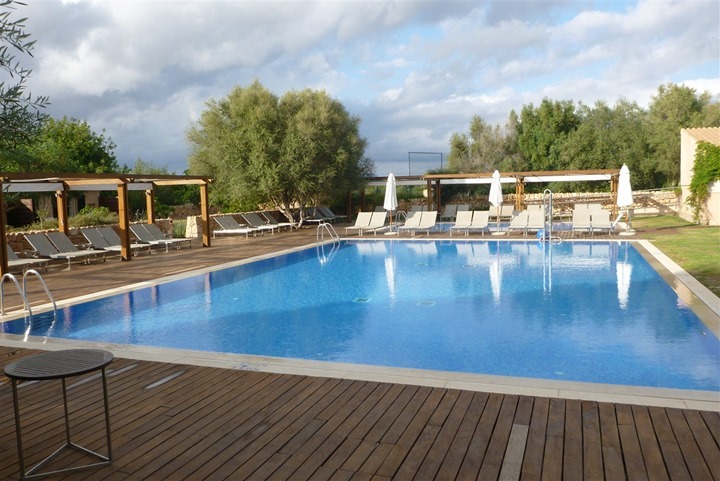 Sunday we had planned to take the hotel's free shuttle bus to an actual beach (one with sand, versus the DIY cliffs we went to on Saturday) – but apparently the bus doesn't run on Sundays.  So instead we just hung out at the pool most of the day.
Now logically you'd probably run pre-pool.  But logical this was not.  So post-pool we headed out on an hour long run.  My route would take me wandering across the farmlands on relatively small country roads.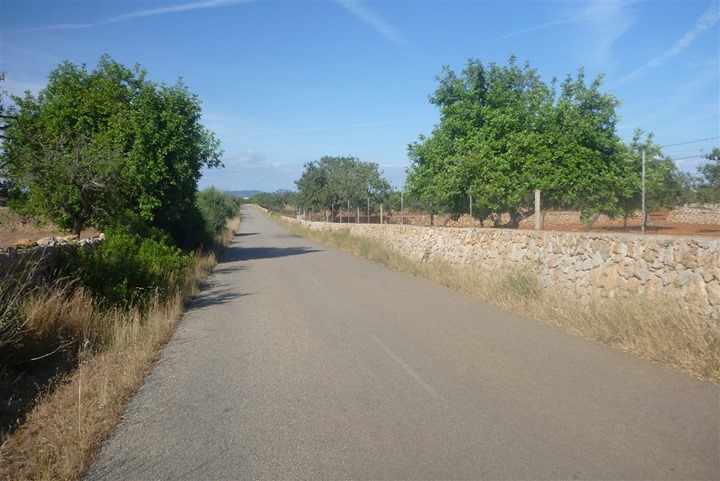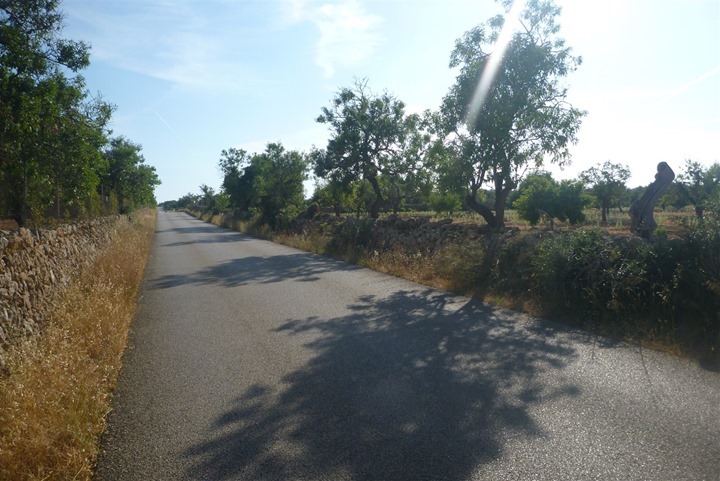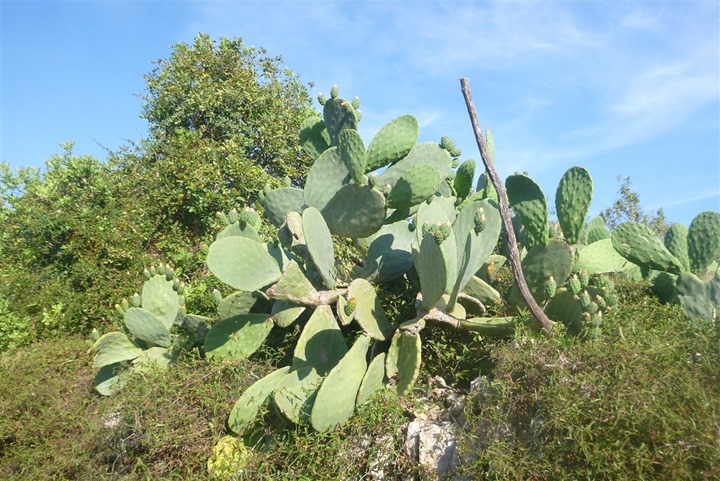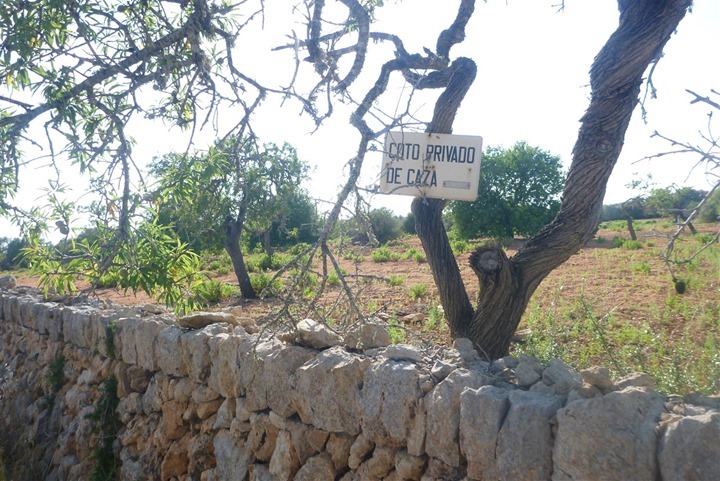 At least I brought a water bottle: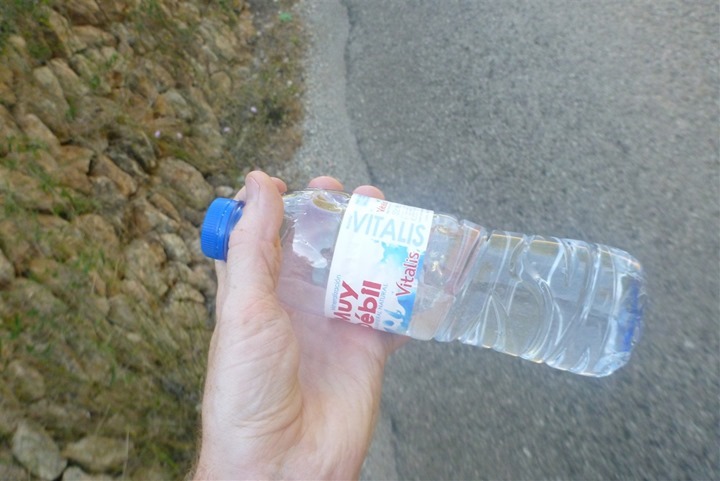 I believe much of the orchards in the area were olive trees, though they lacked anything on them at this point in the year.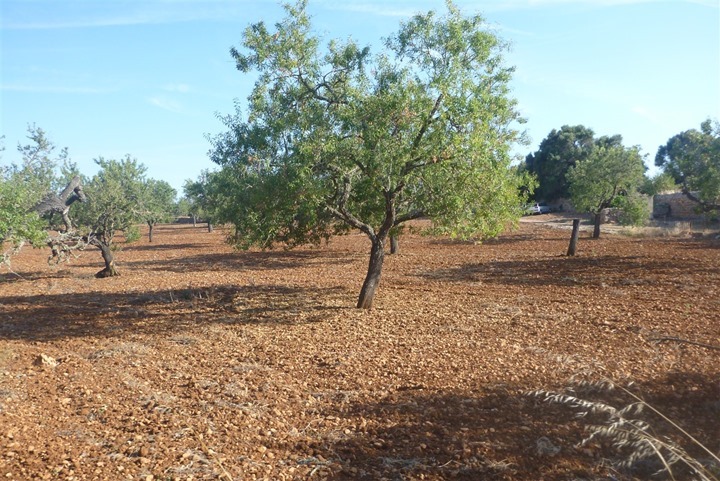 It was interesting that despite this being roughly in the middle of nowhere, virtually every farm had put in place large metal fences above the stone walls.  Even farms which had nothing but dirt or otherwise barren/brush lands behind the wall.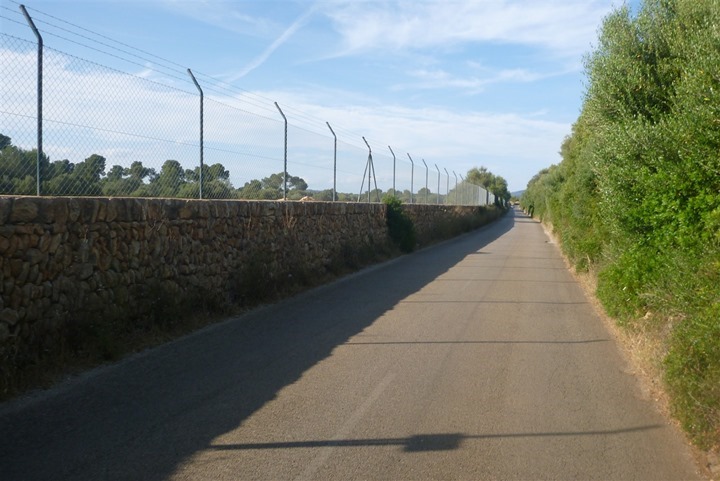 Eventually I ran into a highway, and figured that made a good turnaround point.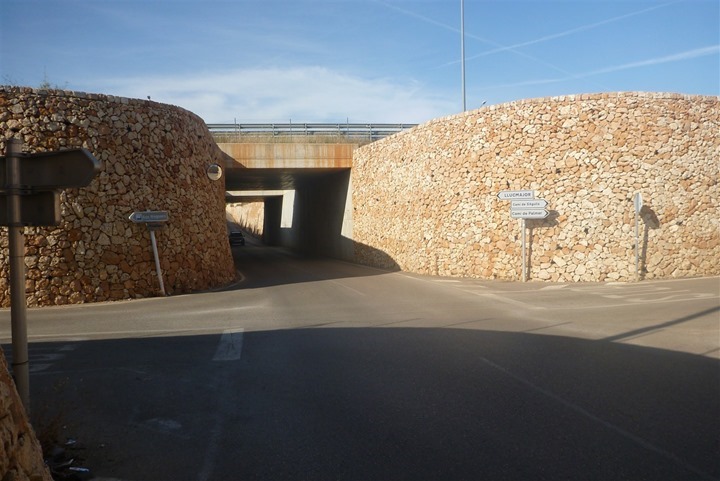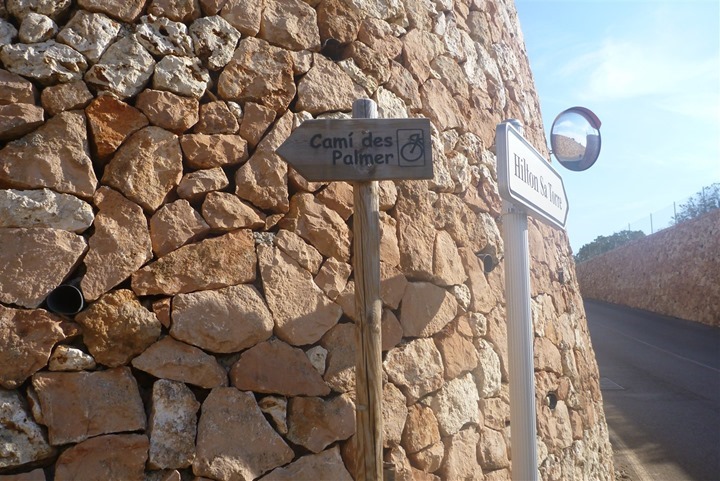 By time I got back, I was pretty well done from a running standpoint, given the sun.  Ended up just a bit short of 9 miles.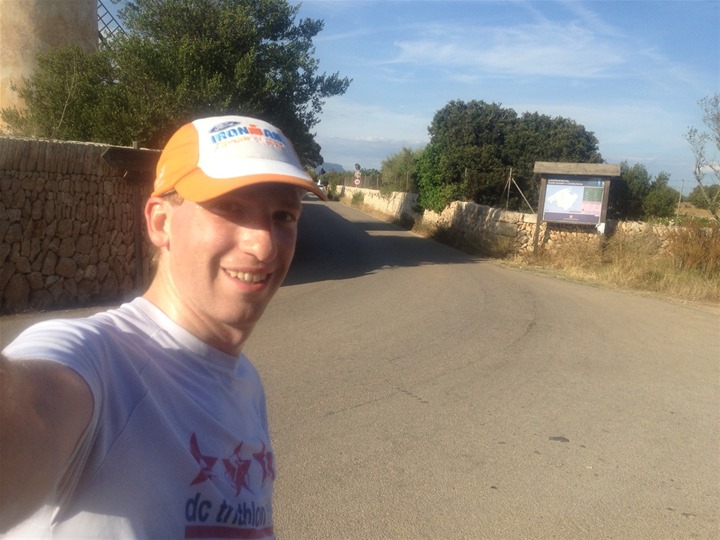 Another runner (likely a triathlete given his clothing selections) was finishing up at the same time, though he came from the opposite direction.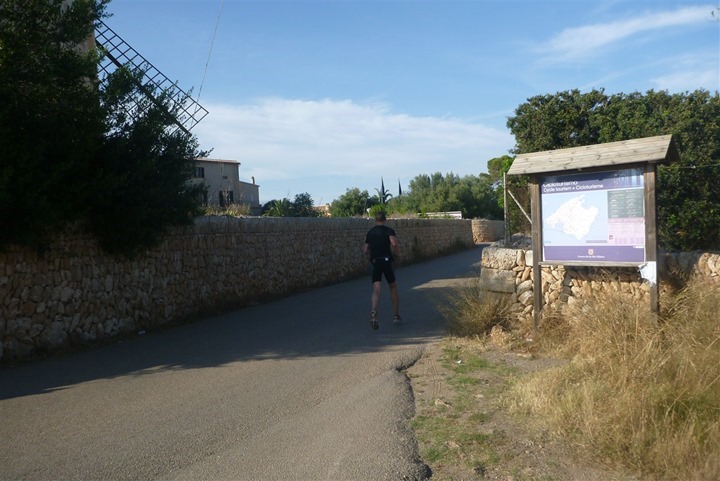 Following a bit of core work in the gym, we headed outside to play a bit of tennis.  Thankfully the sun was being blocked by some clouds, so it was actually pretty nice (it was about 7PM or so by then).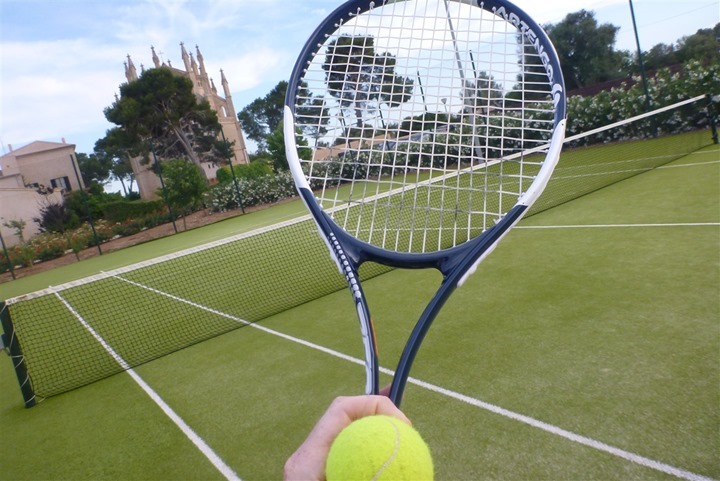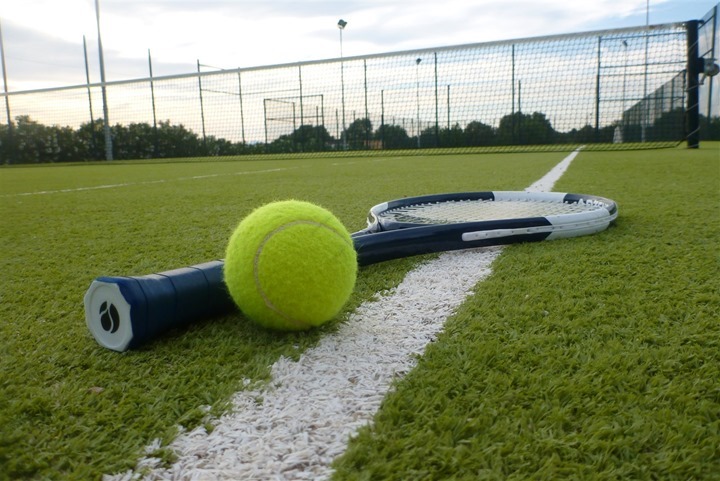 And after all that was said and done, it was finally time to get cleaned up and enjoy a nice relaxing multi-hour dinner.  Gotta love sunset here being beyond 10PMish (not quite as late as in Paris though).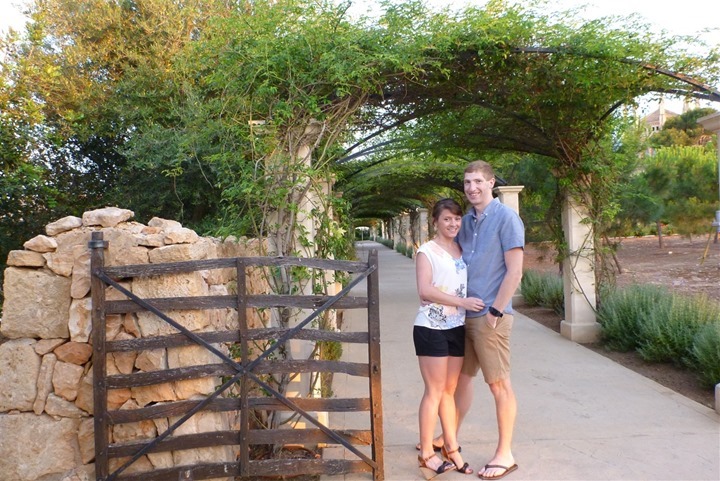 With that, time for another day in the sun before heading back home.  Tomorrow, the beach!