My journey started about 8:30AM from a small hotel in many miles below the peak of Mount Ventoux.  The summit is well known in the Tour de France – and probably has an even more visible reputation than any other stage in the race beyond the finish.  After gathering up everyone in the group (upwards of 30 people, support cars and more), we headed out on.
It didn't take long after leaving the hotel until we started to ascend. Maybe a minute or two. Clearly, I should have savored those two minutes more than I did. My wheels almost floating along, easily turning at a relatively quick pace.
That would soon end.
And the climbing would not soon end.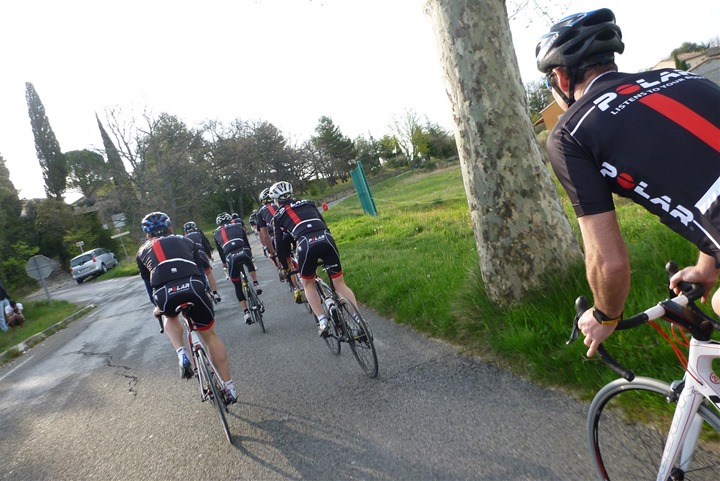 At this point, we had already gone 4KM (uphill) with only 18KM of climbing remaining (about 12 miles). No biggie, right?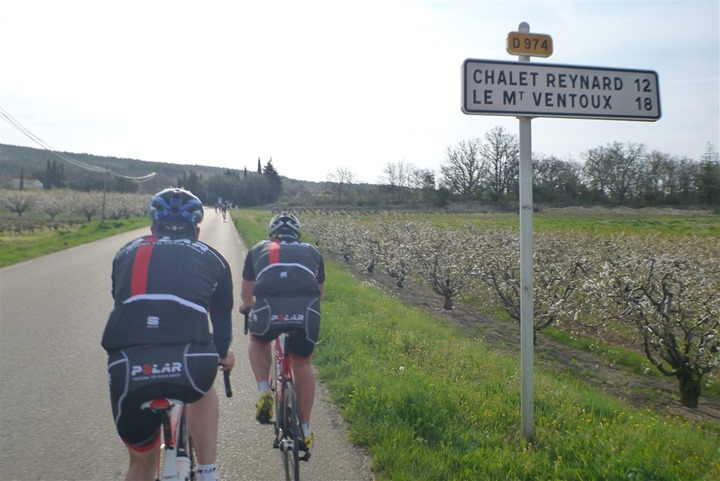 You can see off in the distance that little tiny smokestack looking thing on the mountain. That's where I'll get to stop pedaling. I figured it'd be totally OK to collapse at the top if required. After all, all the TdF riders collapse at the top of this famous mountain stage. Surely I could too.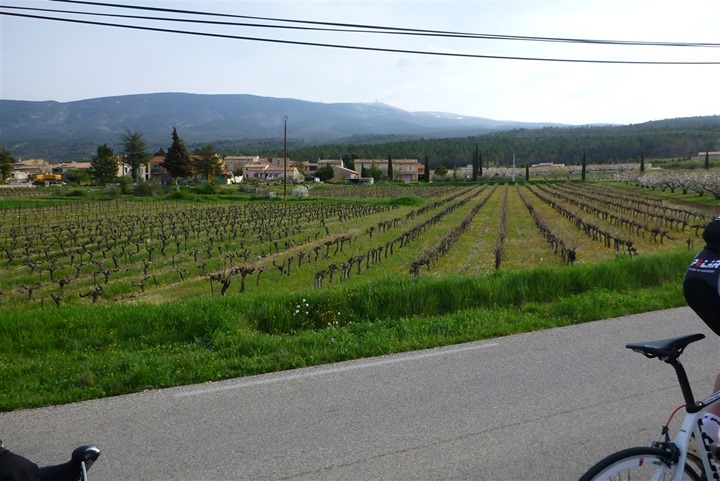 It didn't take too long for the gaggle of 20-30 riders to splinter into smaller groups. Probably about one minute after the climbing starting actually. And by about 10-15 minutes, there were only small groups left of 1-4 people. As is usually the case at media events, the journalists have a wide range of athletic capabilities from semi-pro (or former pro) to those more comfortably on a campus cruiser for a mile or two.
As I snaked my way up the roadway, you can see remnants of past year's encouragement to riders written on the ground. This spot that I took the photo below is actually amongst my favorites on the entire route. It swerves back and forth a bunch of times, like 'S' turns. Really cool (and pretty).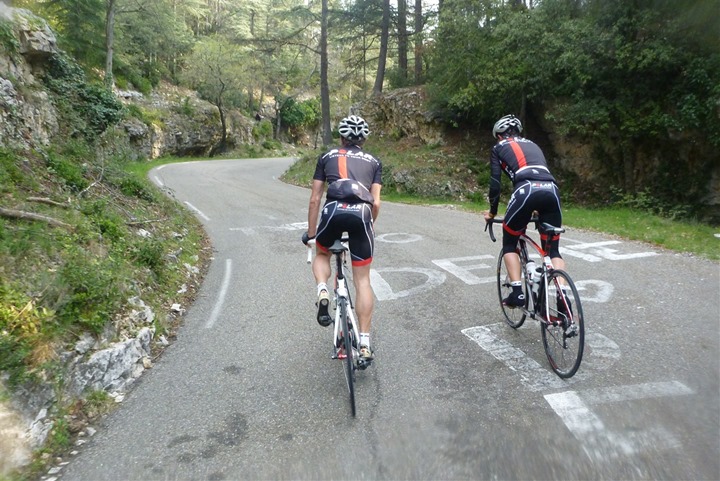 It was around this point I saw another one of the nuclear explosion signs (there's one in the park that I see often in Paris). It's actually a sign for not causing forest fires, but from far away it looks like a little atomic bomb went off.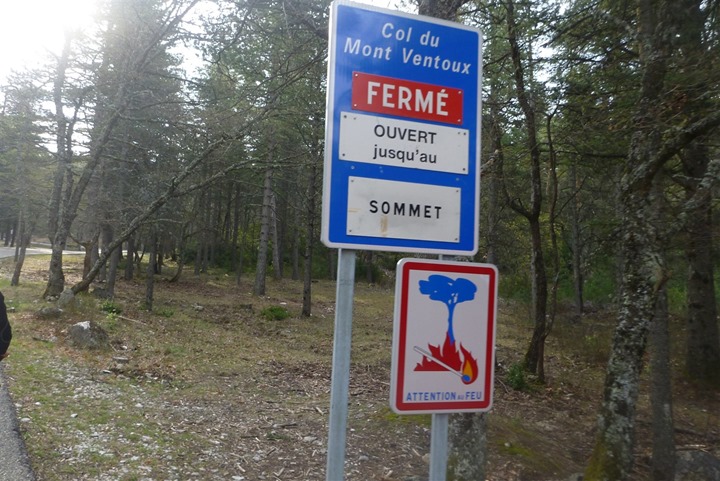 As we continued climbing you started to see the trees and vegetation lessen. Slowly but surely, each 100m in elevation would shrink the trees and surrounding shrubs.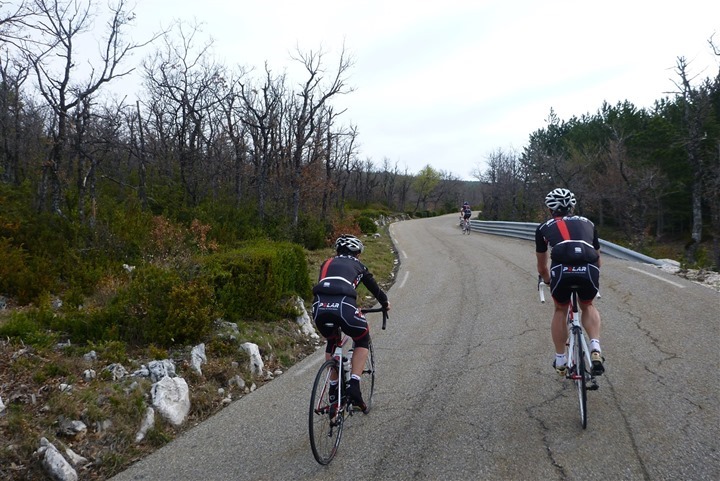 Perhaps my favorite item along the route was the every 1KM markers that listed the number of kilometers left (10KM below), the current altitude (1,077m), and the average grade for the next kilometer (9% in this case).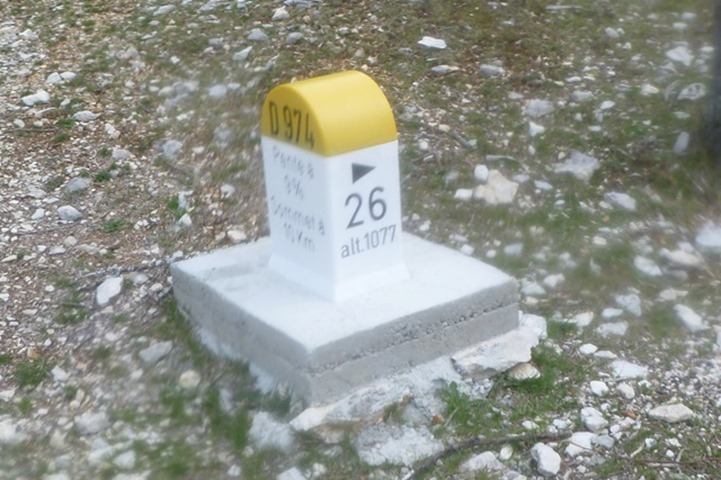 I'll point out I never saw less than 7% for the average for a single kilometer, and I think the highest average was either 11 or 12%. Of course, that's the average for that next section. Sometimes there would be sections within that which were steeper.
No amount of road painting would make the pain of a 12% grade go away: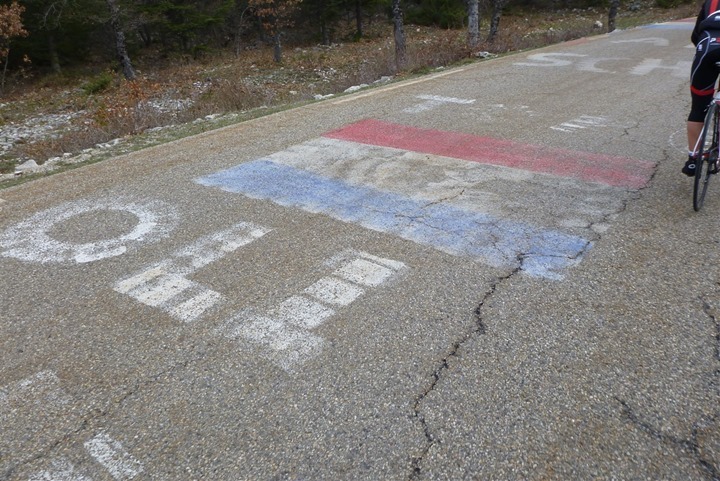 More up I went. It's a bit fuzzy, yes. Sorta like how I was feeling about then.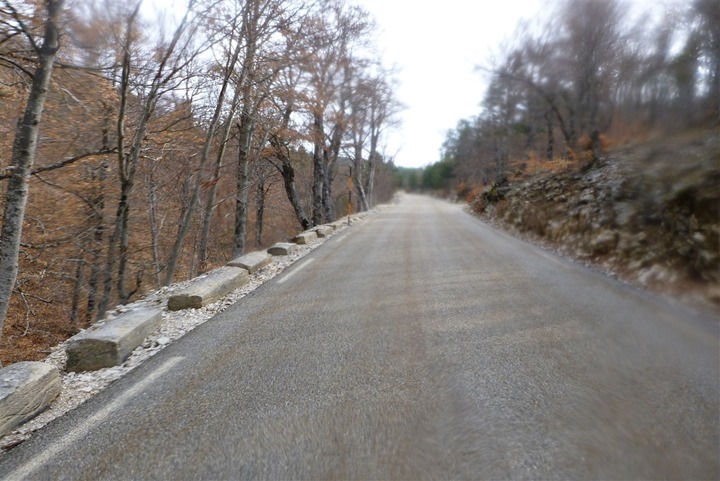 Actually, from an overall cycling fitness standpoint – I was in pretty good shape. Aerobically my lungs felt quite good, and my legs were having no issues. What was having issues however was my back. Holy cowbells this bike was different. My back was hurting by about 2-3 miles in, just a totally different fit than my triathlon bike (they provided us loaners). Not their fault, just the road bike had me much more stretched out. That was probably my primarily limiter in climbing. If I was on my bike, I suspect I would have been quite a bit faster.
I knew from discussions earlier that the restaurant meant we were at 6KM to go, so I was pretty jazzed to see the marker sign confirm it: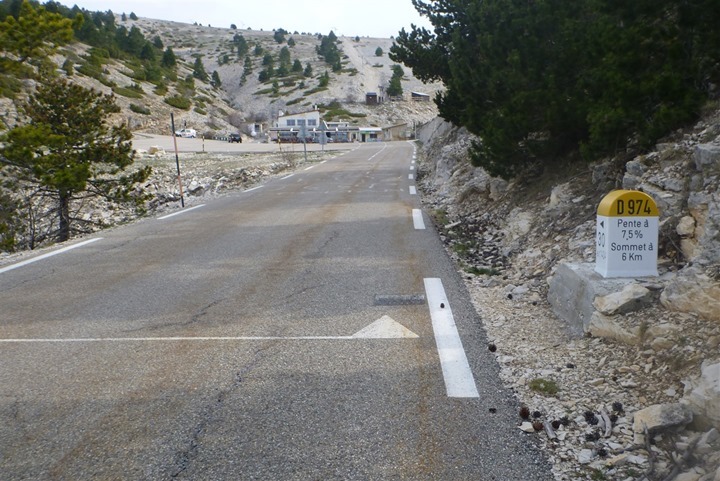 Then, after turning that bend and going up a few hundred meters, I see another 6KM sign: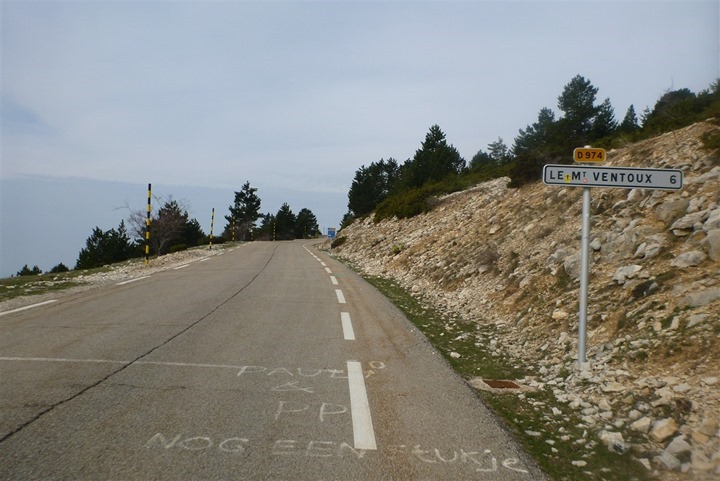 And then, even further up the hill at just about the next turn – I see yet ANOTHER 6KM to go sign.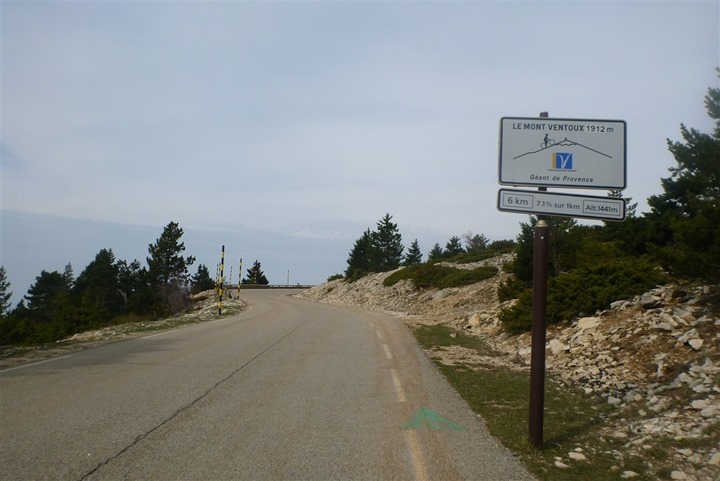 This was like those 'friendly' people who stand at the 24 mile marker of a marathon and say 'Only a mile to go!' Lies I tell you, lies!
At least the sheep sign was unassuming. Though, I spotted no sheep.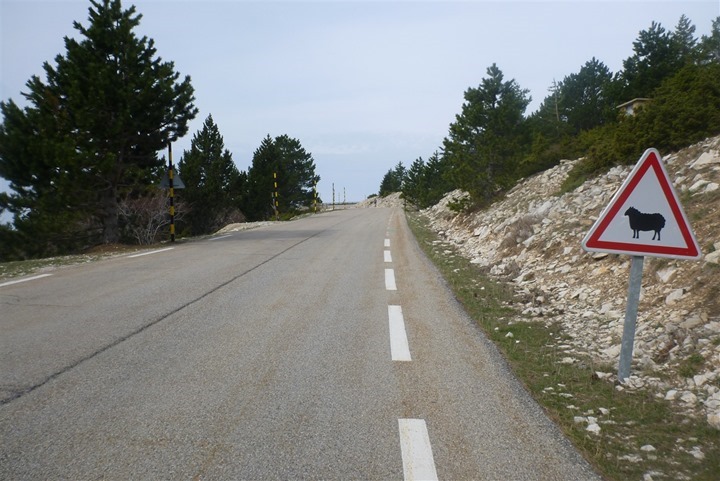 What was interesting was that once I turned this corner, I really started accelerating. The grade was a bit less steep than down lower (7-8% on average versus 10-11% earlier on). And I was really quickly flying past folks. What was surprising was that most folks I talked to thought the last 5K was the worst, whereas I thought it was the easiest. Go figure.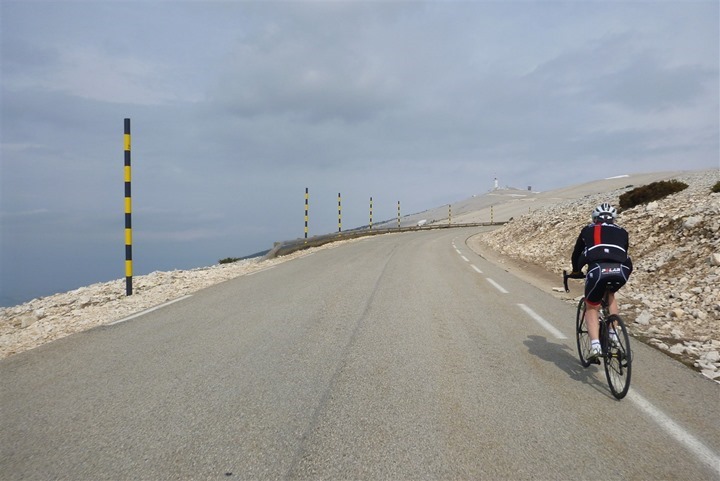 I think I passed 4-5 people in the last few kilometers. And there really weren't that many people up ahead of me to pass. Not that this was a race or anything.
And then I found the snow: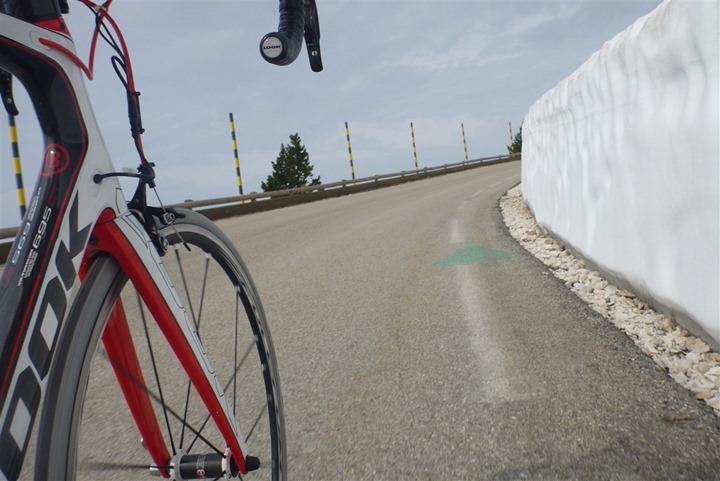 Oh, here's me and the snow: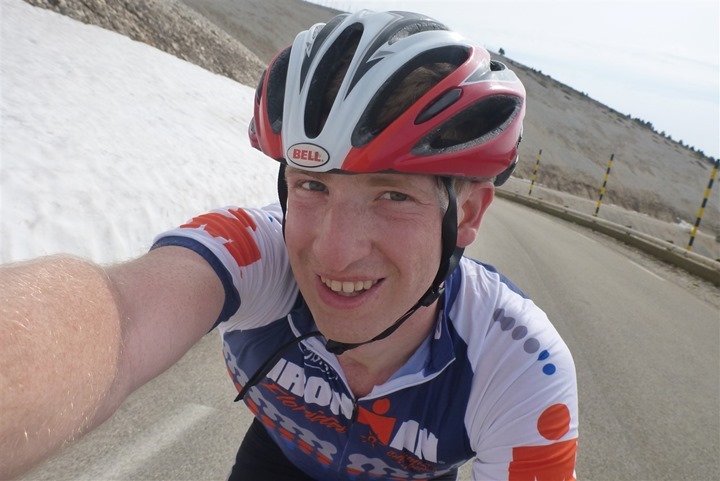 Even more importantly than the snow, or me+snow, was the 1KM to go marker. Dear cycling gods, let this sign be accurate.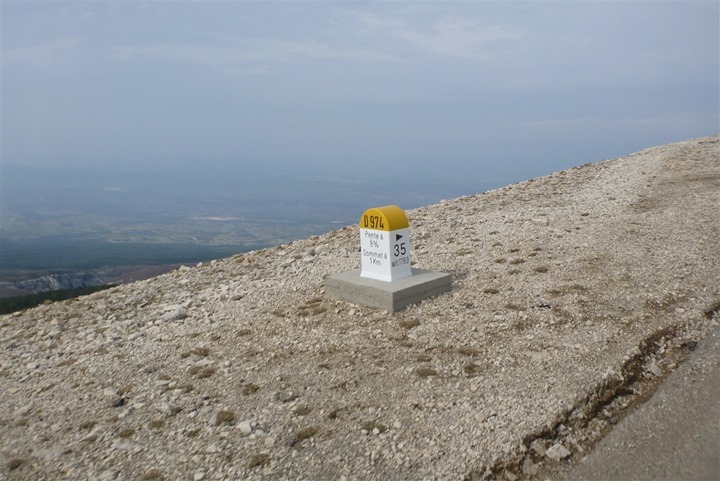 What was interesting is that this last 1KM was really split as two ~500's from a terrain standpoint. The first 423m was relatively flat. But the second 577m was not at all, averaging 11%. Yes, I said 577m, as there was actually a 577m to go marker just like the 1KM marker for reasons that are slightly unclear to me. Deep down inside, I think they just wanted a reason to post 11% again and make you cry. And 577m was apparently the spot to post it.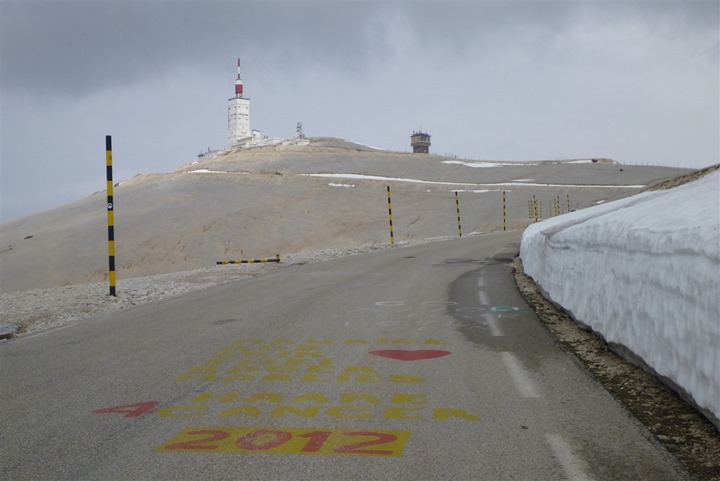 There were no additional photos once I hit the 577m marker. I saw no reason to end up accidentally crashing going a whopping 7MPH trying to take a selfie photo in front of a slew of photographers and other random people at the top watching. Thus, the next photo you get is the summit (err…Sommet) finish photo: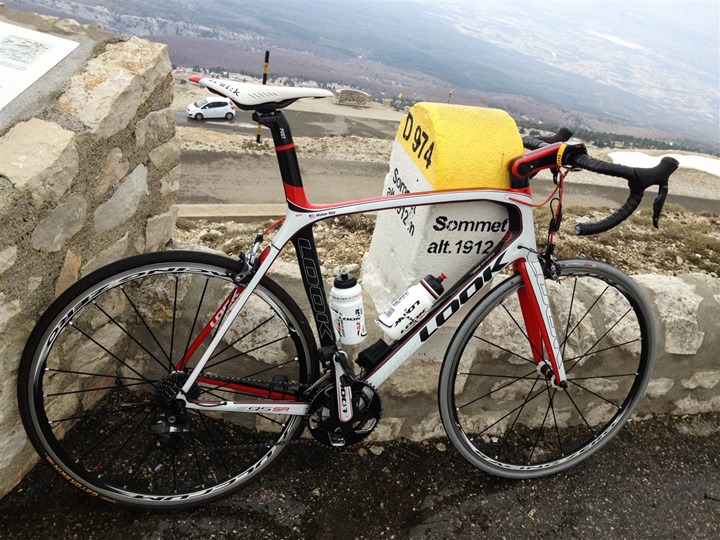 The view from up there was pretty astounding. For those attempting to do the math in their head – 1,912m is equivalent to 6,273ft.
Looking back, I could see folks slowly inching their way up that last 1KM: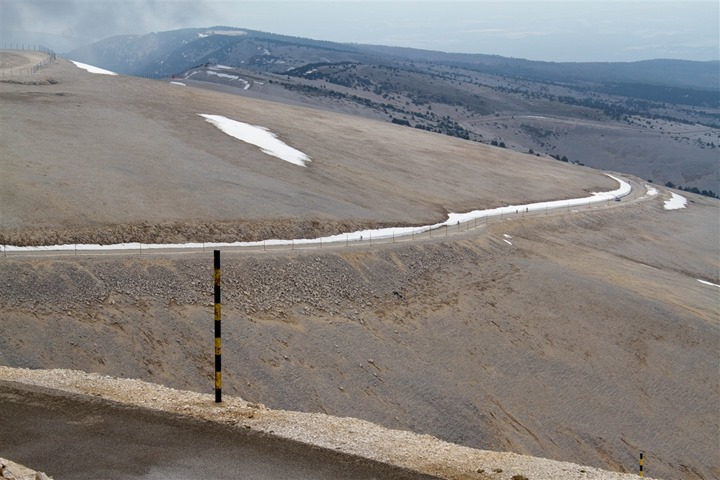 Here, let me zoom in that photo a bit: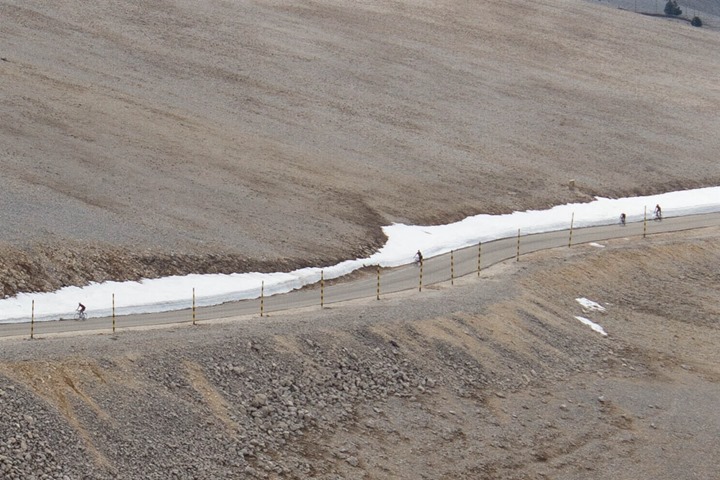 I lucked out in that I arrived in the sun, but within 10 minutes or so I was quickly in the fog: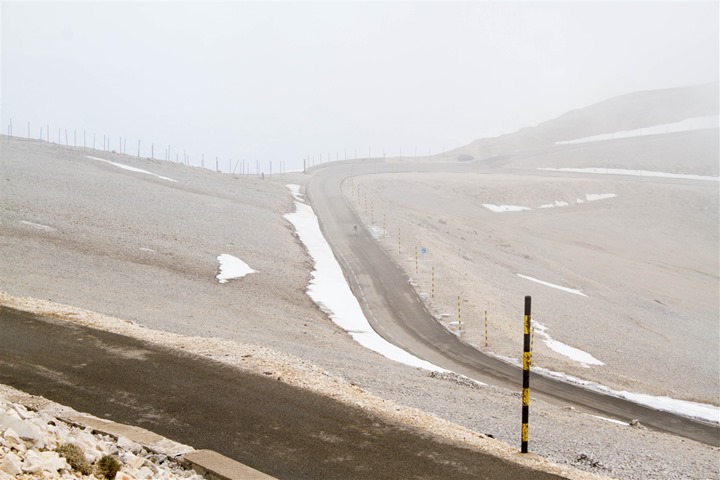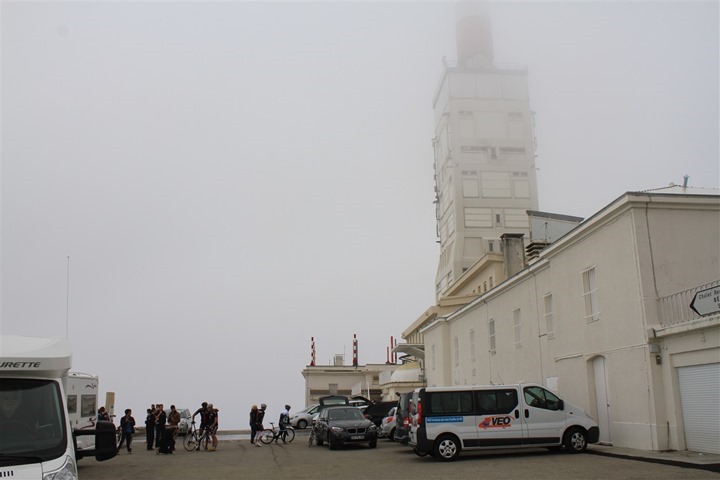 Given the incoming fog, I decided to get out of dodge. Rain was forecasted for later on, and the last thing I wanted to deal with was descending down 12% grades on winding wet roads. So, down I went.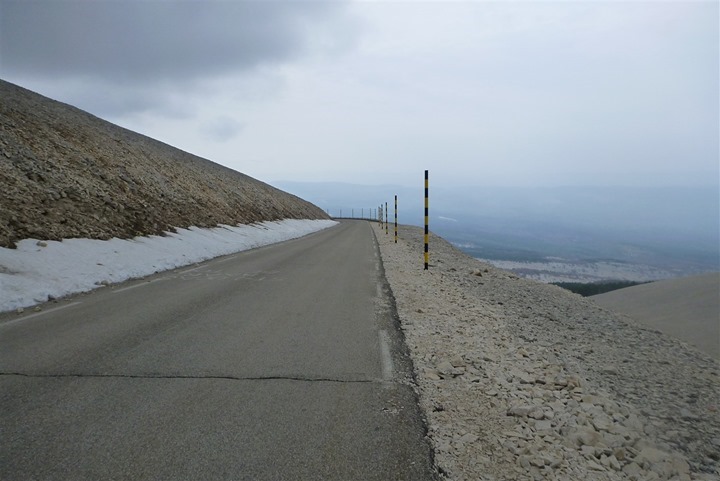 I only took about four photos on the way down. Mostly because it became really clear to me I was just barely outrunning the fog and rain, every once in a while I'd dip back into it. But I did stop to take this photo of the incline sign (in the downhill direction). I like how when it came to putting the grade on there, someone simply just said: "Ahh, fudge it. It's steep."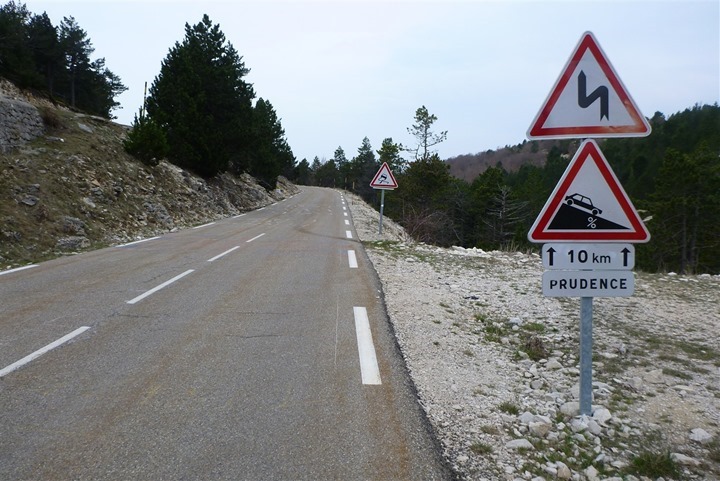 It took me about half an hour to descend. In general, I can be a quick descender once I know the road in question, and know the bike and its capabilities that I'm riding. Given I knew neither of these at a comfortable level, I tend to be a bit slower.
Once out of the mountains it was still a bit further down until you got to the village I was staying in, which was right at the base of the descent.
Speaking of which, here would be the crossroads of the end of the descent, and the village.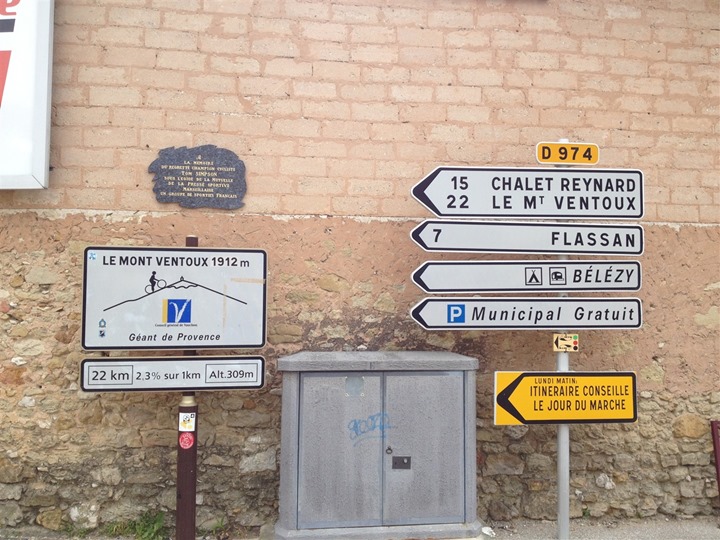 The little town I was in (Bédoin) was actually really cute. The hotel was a few hundred meters out of town, but in town there were numerous bike shops where you could rent a fairly darn nice carbon road bike for the day (or mountain bike for the numerous trails to the top). One could easily arrive here with no cycling stuff, and go ride up to the peak. If coming from outside the region, you'd take the TGV (high speed rail) train to Avignon TGV. There are two stations, one in the city center, and the TGV one outside. The TGV station is probably the prettiest train station grounds I've ever seen. Then from there you can rent a car from half a dozen car rental places onsite and drive the 45 minutes to Bédoin. There may be regional trains, but I haven't looked. A taxi is about 80€. Other folks also flew into Marseilles, which is about 90 minutes away by car from Bédoin. Once in Bédoin, the road to the top of the mountain literally starts right in the center of town at the sign above. You can't miss it, nor could you get lost if you tried as you just follow the markers (or paint on the ground). Additionally, once at the top of the mountain, you can actually descend down the other side and come back up (to make it longer). That road is currently covered in snow however.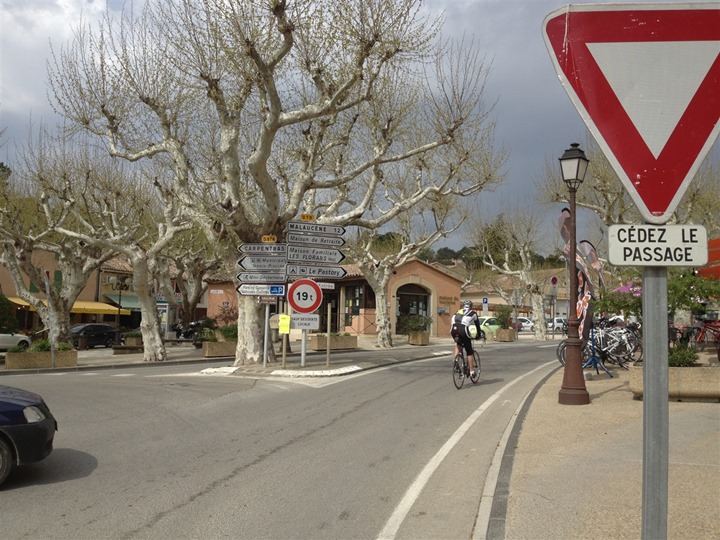 With that, I was back down at the hotel. Speaking of which, while there, they had even labeled my loaner bike for me.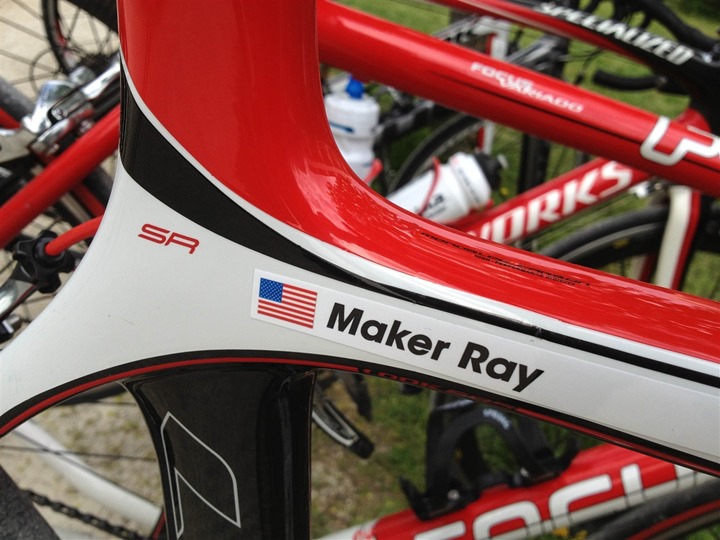 Because this post is already super-long, I'm going to skip writing about the midnight mountain bike ride that we did coming down from the mountain. Seriously, we ended at midnight – which is pure awesome. It was a blast, though I was holding on for dear life 99% of the time. A mountain bike descender I am not. Took about 2-2.5hrs in total to descend on a much longer mountain bike route starting from about 6KM from the top (about 40KM in total). I don't have many photos, as they mostly came out badly in the dark. Here's one for proof at the start though: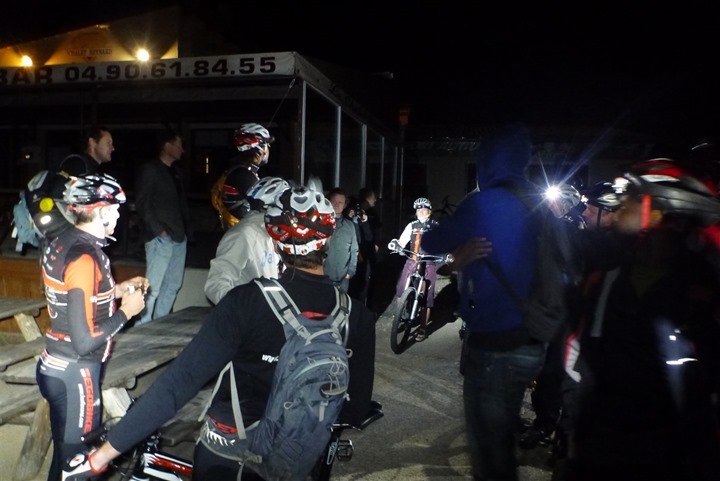 Now that we've covered the good stuff, some might be wondering why exactly is it that I would leave home on a Thursday night for 24 hours after just arriving back hours prior, take off a day of work when I was just getting ready to fly back out of the country again for more work 48 hours later – all to go cycling with a bunch of people I didn't know (without The Girl!).
Well…I had been invited to a Polar media event, which was to introduce a new cycling product. Like most sport company media events, they usually involve some sort of athletic activity to test the product being announced – hence the riding above. That's usually preceded by various PowerPoint slides and expert and/or invited speakers talking as well. The usual stuff. And as usual for these events, I pay my own travel expenses. In this case that was thankfully relatively inexpensive for me since it was just a 2.5 hour train ride away from Paris in Avignon, France.
Except there was one tiny itty bitty teensy weensy little problem.
As they started the presentation, it became clear there was no new product.
Instead, there was just a new colored strap for an existing product – the Polar RC3 GPS. The one I reviewed in-depth last summer. A number of other mainstream cycling publications noted this discrepancy as well.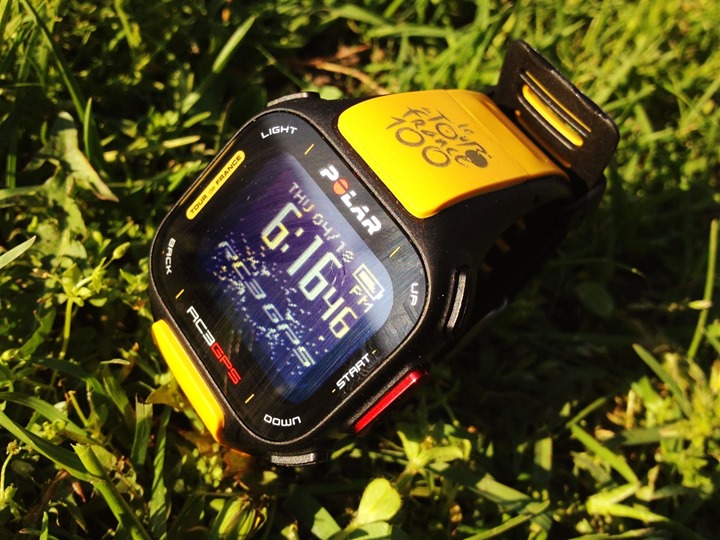 The Tour de France branded product did include the new altitude display firmware that's been previously released and announced to the RC3 GPS lineup. But that's GPS based, and not barometric based. Turning yellow lemons into lemonade, I went ahead and paid close attention to the altitude on the RC3 GPS as I climbed. Since there were altitude markers every 1KM, this made it easy.
Surprisingly, it actually tracked way better than I typically see GPS altimeters track. And in fact for the first 1000m or so of ascent, it was exactly spot-on each time, or within 1m (minimum resolution of data display). Somewhat astounding.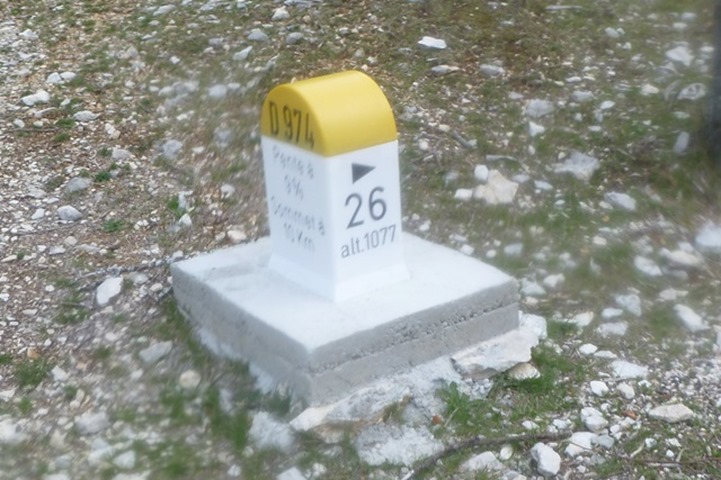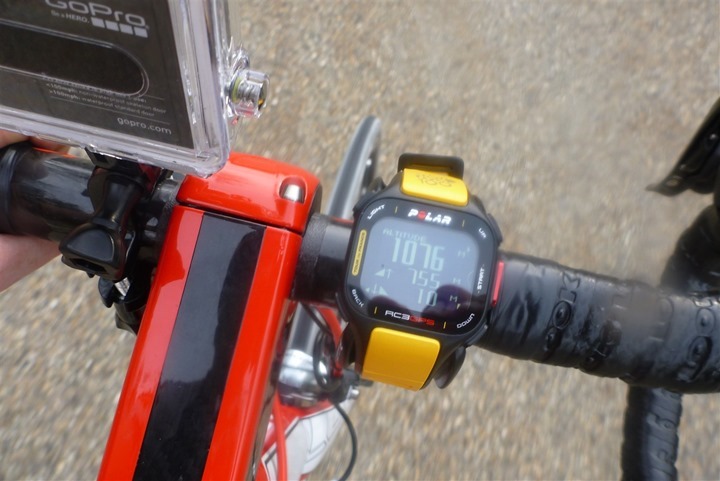 It did start to drift though as I went higher, and by 1,912m it had drifted about 8 meters in total. Not too bad actually for a GPS altimeter (compared to barometric). These two photos taken within 1-2s of each other as I climbed: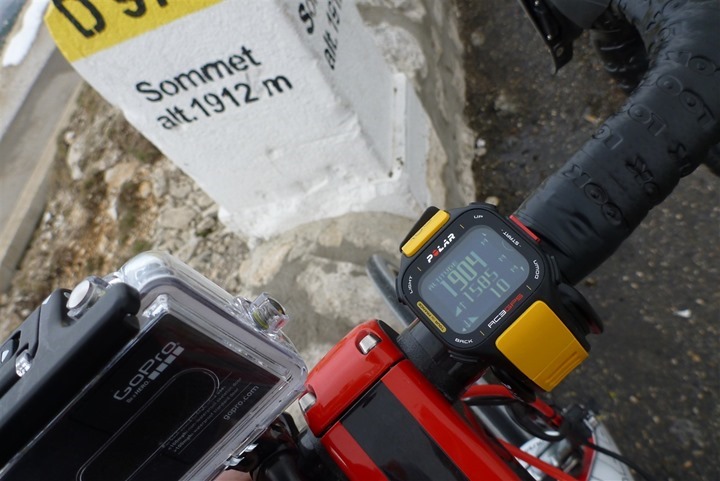 Here's the elevation chart (I took a slew of photos at the top for 15 minutes before descending).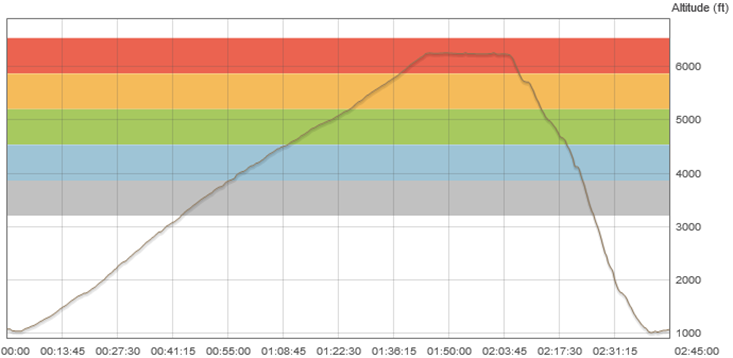 Update/Note: Polar has confirmed that for any existing Polar RC3 GPS users, you can send in your RC3 to Polar and they'll update the firmware with both the altitude functionality as well as the semi-new interval functionality (older RC3 units wouldn't have had that).  Just ring up your local country support and they'll get you sending in instructions.  There is no cost, it is free.
As you can see, the chart is quite good and pretty stable – no major jumps or issues on the way up or down. With that, that's all I've got!
So while I'm grateful for the opportunity to enjoy two awesome rides, I do really wish we'd see a cycling-specific product from Polar that's competitive with other units on the market.
Thanks for reading!