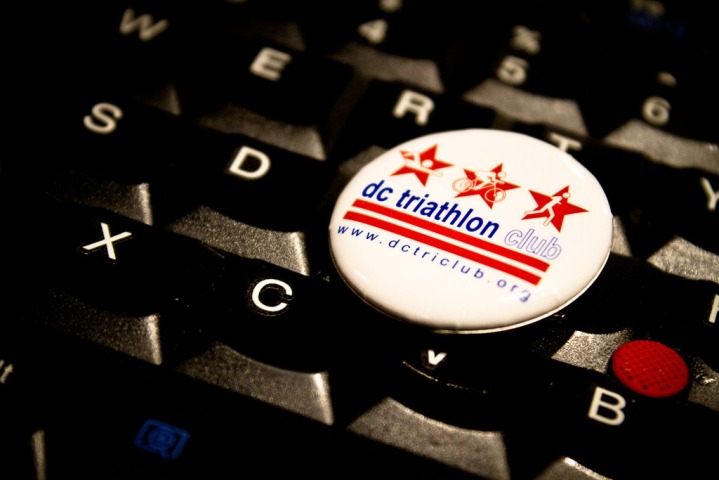 Tonight while cleaning the kitchen I stumbled upon a small DC Triathlon Club pin that I had picked up at the Multisport Expo a few weeks ago.  It got me thinking – how many of you belong (either officially or unofficially) to triathlon or running clubs?
For me, I officially belong to the DC Triathlon club in that I paid my dues (well, I think I paid them this year anyway), though, I rarely make it out to club events – primarily just due to scheduling reasons.  But, they do some amazing sessions/clinics and events – so if you were new to either the area or the sport, it'd be awesome.  Or, if you were looking for training partners and/or guidance.
On the running side, I used to running three times a week with a local running group (Pacers, no fee or official membership, just show up), though as my schedule shifted to a coached program I participated less and less.  I do still make it out for the occasional long run though.  That fits better with my training schedule, and forces me to get out in earlier the morning and knock the run out.  And – the biggest benefit is I get to hang out with a bunch of friends, usually eating baked goods afterwards.  Plus, this is where The Girl and I met.
I'm curious though – for those that take part in triathlon/running clubs – what's the biggest driver for your involvement?  And for those that don't, why not?  Or, what would increase your participation in them?  More clinics, deals with local shops, training races, cupcakes?  Purely a curiosity thing.
Also, I'd love to hear from the international folks as well – I know that I see quite a bit on triathlon clubs down in Australia and New Zealand, and Europe.  But what about the remainder of Asia, or Africa and the Middle East?
I would love to hear your thoughts! Have a great weekend all!