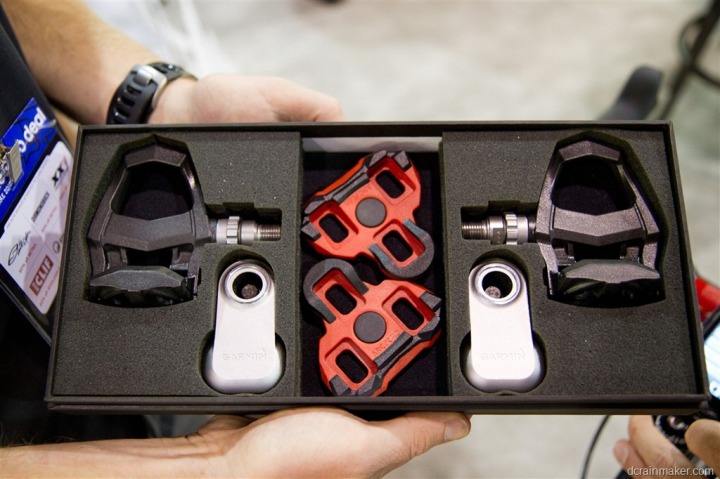 Just a quick bit of news from Garmin to start off your day:
"After testing our latest advanced prototypes of the Vector system, we are still not satisfied with the results. As you can imagine, Vector is a complex, precision measurement instrument and as of yet, we are unable to ensure that this device will meet the expectations of the cycling community. Presently, we cannot estimate a delivery date but we do not expect the product to be ready in the summer of 2012, as previously targeted. We understand that this is a highly anticipated product within the cycling community, but Garmin's commitment to quality necessitates this additional delay. We will update our customers when we have additional information to share. Thank you for your understanding."
In other words, Garmin Vector is delayed – and they are no longer setting any date for it.  This will now mark the second official Garmin delay for the product (there were previous delays prior to Metrigear being bought by Garmin back in August 2010).  Previously it was announced product would have been released back in March 2012, and then that was pushed to Summer 2012.  Now, that's effectively been taken off the table altogether.
[Update 9:45PM Eastern]: I was able to get a bit more info regarding a few aspects.  The first is that this delay does not impact the long-promised Edge 500 TSS/NP/IF update (similar to the previously released Edge 800 update).  The latest date has the Edge 500 update occurring soon, well within the 'spring' timeframe.  Though, given the history here, I'll believe it when I see it.  Similarly, the previously promised FR910XT update is also forthcoming for TSS/NP/IF, and the two device updates should be delivered at nearly the same time.  The teams working on the Edge/Forerunner firmware updates are not the same teams as Vector, and thus there's no impact to their work streams.
Garmin declined to comment on the specific reason for the delay, though, in general they were seeing items across their internal testers who are riding day to day with Vector.  It sounded like they've learned a bit from some of the recent stumbles with respect to releasing products with bugs that have caused user frustration.  As many of you noted in the comments, it's often better to get it right than try and fix a mess later.  At this point do not expect to see Team Garmin (Pro) utilizing Vector for any of the premier cycling races this summer.  They will continue to utilize the Garmin Vector branded pedal body, though no sensor data is being collected.  They have been riding this way since earlier this year (as previously noted they did use the full Vector system however at their Spain training camp back earlier this year).  Ultimately, as is often the case with pro teams, they need to focus on finished products once they get to the peak of the race season – and introducing development technology mid-stream just isn't feasible (something I've heard on multiple occasions from multiple companies dealing with Pro teams).
–
For those looking for advice on near-term power meter purchases – I think this would be a good time to look at other options.  For the vast majority of folks, I think the PowerTap series is the best bet.  More importantly – a steal of about $600-$700 including the wheelset (wireless ANT+ model).  After the price reductions last fall – you can easily justify two of them over the cost of other power meters.  Heck, three of them in some cases.
From there if you're looking for a crank-based system, I'd look at either the Power2Max or one of the Quarq's, which start at between $1500-$1800 depending on options (Quarq), and a bit below that (Power2Max – $975).  I received the Power2Max about two weeks ago and it should be going onto the bike in the next couple days – just had to finish up some other backlog items first.  But all indications that I've read point to a generally positive experience with it (though with some minor hiccups).  I've ridden a Quarq power meter for years (both The Girl and I both bought one) – and love it.  Lately, over the past month I had the chance to test out the new SRAM RED 2012 Quarq Power meter.  With the premium over the existing models (up to $2,000+), I find it hard to justify the extra cost over the existing models for the minimal extra benefits.  The newly added 'power balance' is not the same as left/right power, and the uses for it are fairly limited.  And while the remainder of the additions are nice (i.e. LED light for pairing, ANT+ ID on the outside, and additional compatibility) – for many, they just aren't worth the extra dough.
Of the non-ANT+ enabled variety you've got the Polar/Look KEO Power Pedal system.  Topping out at between $1,900 and $2,200 it's definitely an option.  In a twist of irony, the pedals are expected to arrive back at my place today – after a vacation in France getting their firmware updated.  For those looking for legit left/right power, this will remain the only option for the foreseeable future.
Finally, you've got SRM.  There's no question SRM is good, but I do question that for 95% of the users out there, they just don't need to spend that kind of money.  Most folks don't correctly calibrate their power meters every ride, and thus, any additional accuracy gains that come with the SRM are usually negated by ignoring calibration on their power meter anyway.  For certain applications (i.e. track), there are obvious benefits to the SRM around recording rates, etc… – but again, for most, it's just not applicable.
As always, if you've got any questions – feel free to toss them below in the comments and I'll try and get answers.
Thanks for reading!