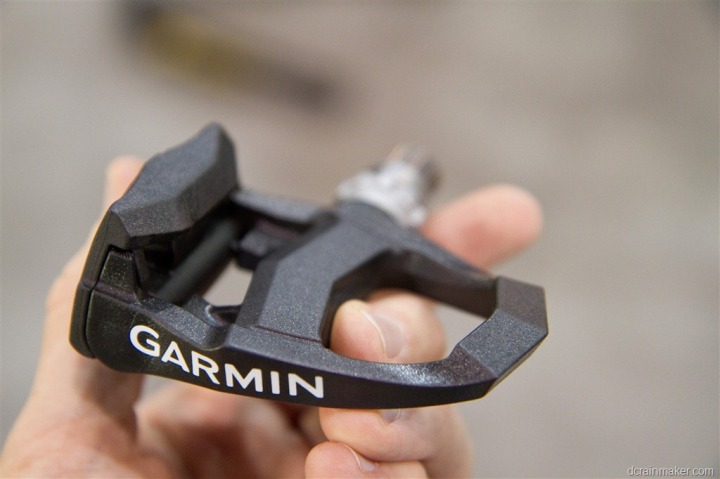 Garmin is proactively messaging this afternoon to various media outlets that there has been a delay to the Vector pedal-based power meter, which was previously planned to ship in March 2012 (next month).  The official release is as follows:
"As with any Garmin product it is always our attempt to ensure that it meets the highest standard of quality—such is the case with Vector. In doing so, it has taken longer than expected. We are 100% committed to bringing this highly anticipated power meter to cycling shops around the world and will be doing so this summer."
In a discussion with them, they noted that while they could have kept a moving timetable of dates (i.e. saying April, then May, etc…) – they selected to simply choose summer to allow them enough time to complete the outstanding tasks.  They did not want to repeat of the recent situation of promising dates on a more frequent and earlier basis only to miss those dates repeatedly.
I did ask whether or not the pro team was using the pedals during training and was able to confirm that they did use the full setup at their recent Spain training camp (transmitters and all).  In addition, as some have spotted recently at a few of the southern hemisphere events, the full pro team has switched to using the cleats and pedals on all bikes.  Though these are without the transmitter pod affixed to the back of them. The goal here in switching pedals is simply to get the team used to them from a pedal-standpoint, since many of them used other pedal platform types previously (i.e. Speedplay).
Otherwise all specific testing for Vector has largely been moved away from pro team at this time.  Their goal is to get the final product to the consumer at the same time as the pro team, and thus they want to focus their limited development efforts on detailed testing.  They noted that the product is not just being designed just for their cycling team, and that end-consumers are just as important, if not more important.
On a related note, the Edge 500 TSS/NP/IF update remains on the most recently announced date of March.
Also note that for all technical questions about Vector, I'd encourage you to check out this post here…it's a wee bit detailed.
Garmin FR910XT Updates:
Finally, another update on the FR910XT update to fix some of the outstanding bugs – notably the pace fluctuation issue.  This update will now be out prior to the end of February.  No specific date was committed to, beyond that it would not be delivered by Cupid today.  It did sound like there was a bit of wiggle room in their schedule to make the end of month date.