You know when you nail a weekend's worth of workouts and the numbers come out perfectly?  Yup, that was this weekend.  This past weekend had both a long (yet finishing hard) run and a hard bike on it.  The run continued to build on my previous week's worth of runs where I run the first 10 miles at an Z2 pace (long run conversational pace), then, finish the remainder of the miles at a 6:30/mile pace.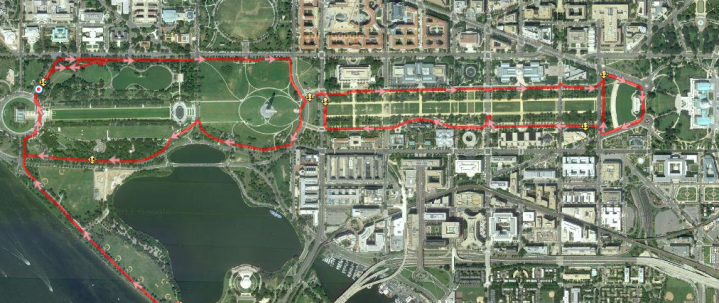 Like last week, I decided to run point to point – and selected virtually the same route from our house to downtown and a loop around the monuments.  Sorta like connect the dots – except with big marble structures.
I started after dark on Saturday evening, around 7PM actually, a bit later than I anticipated, but somehow I fell asleep on the touch Saturday afternoon watching TV and that's just when I happened to wake up.  Perhaps it was for the best though, as the run was solid.
The first 10-miles kept be cruising along at a 7:09/mile pace across relatively flat terrain.  A few little dips or rises here and there, mostly bridges, but for the most part it was good. 
I did have one initial scare at the beginning when I managed to lock the FR910XT's screen while trying to enable autolap (I use autolap for my long runs, but not my shorter interval runs).  It was immediately after enabling the screen lock (which prevents stray button presses) that I realized I had no idea how to disable it.  Funny, I know, but aside from validating this feature 5 months ago, I've never had a need to use it since.  Because I wasn't sure which buttons I had pressed at the time to enable it (I was running while setting auto-lap, so my hand position was a bit wonky), I spent the next 3/4ths of a mile trying to get it unlocked.  Otherwise, my only view would be of the autolap settings page – without any data at all.
Turns out, it's Mode + Up arrow.  I eventually just went into a 'figure out every possible key combination and press it' mode until it clicked.  It was just a bit finicky though, hence why my initial undo attempts didn't work.
At any rate, at the 10-mile marker nearly right in front of the Lincoln Memorial (and gigantic swaths of tourists) I switched gears and kicked it up to a 6:30/mile pace.  From there, I simply kept that pace for another 6 miles, holding it as I cruised down to the US Capitol and back.  I made a few little loops along the way, since otherwise I would have been a mile short by time I got back to Lincoln.  But ended really nailing the run, with some really good heart rates to go with it.
Sunday afternoon brought my bike workout, this time with my first outdoor trial of the bike that SRAM/Quarq sent me to try out their new SRAM Red 2012 group set (where my primary interest is the updated Quarq power meter).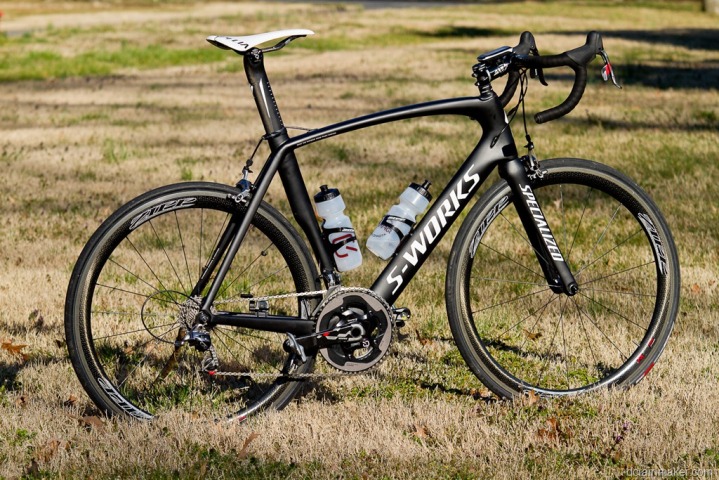 My workout this time was about 30 minutes of building warm-up before diving into 2x20m sets at about 280w.  The goal was to simply settle in and hold the power throughout each set.  Doing this outdoors in traffic is normally pretty difficult, so instead I went over to Ft. Hunt park and just did loops around the protected 1.25 mile loop.  It rolls up and down slightly, and has very few cars (all required to go one-way).  It's perfect for workouts like this.
My two major 20 minute chunks were absolutely spot on, nailing each set perfectly the same.  I was pretty excited by this, as I often have a harder time holding higher wattages outdoors than on a trainer.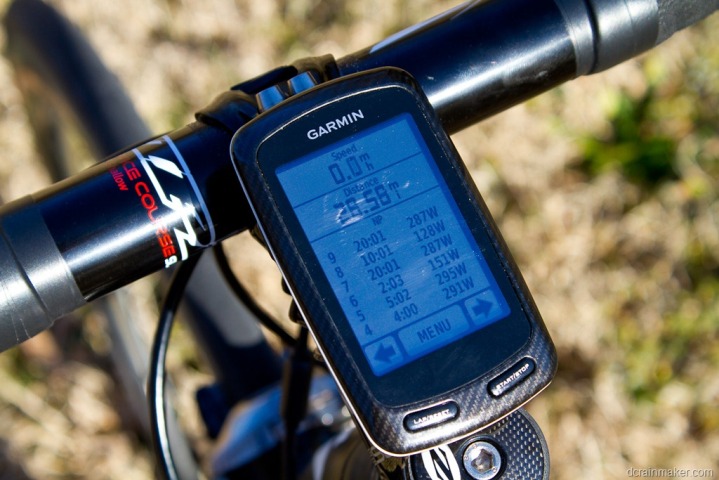 Since the new Quarq Cinqo includes power balance (again, not left/right, but instead splitting the stroke in half), I was able to get some good data from it.
Note that as of today, the only head unit that will display this power balance is still the Edge 800.  Hopefully at some point between now and forever Garmin will release the long-promised Edge 500 update, along with the FR910XT update to display power balance (and TSS/NP/IF).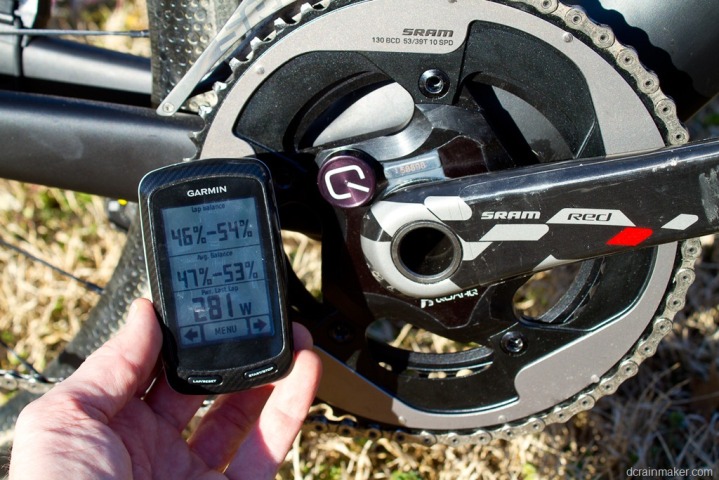 I noticed tonight that the Garmin Connect team has already updated the power balance chart from just last week (which was somewhat of a preview of that chart).  The new chart features a single line and is much easier to read: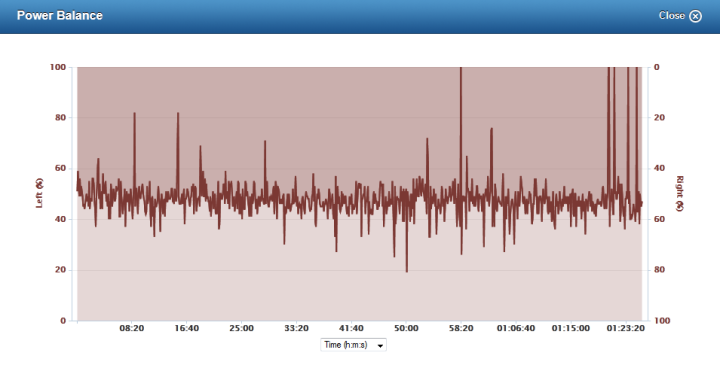 (For those that want to look at the actual ride, here's my Garmin Connect file)
Riding a road bike is a bit of a shift for me, since I'm normally on a triathlon (time trial) bike.  From a feel standpoint, the Venge is definitely a fairly stiff bike, but that was expected.  What was actually kinda funny to me was getting used to the SRAM shifting system.  Obviously on the triathlon bike I have levers, but my other road bike is Shimano shifting – so a bit different.  With the SRAM system when you shift you do something akin to a double-shift (sorta like 'following through'), which controls whether or not you shift up or down.  Whereas in Shimano, I have two specific shifters controlling shifting.
Silly, I know, but it's fun to try and master a new system.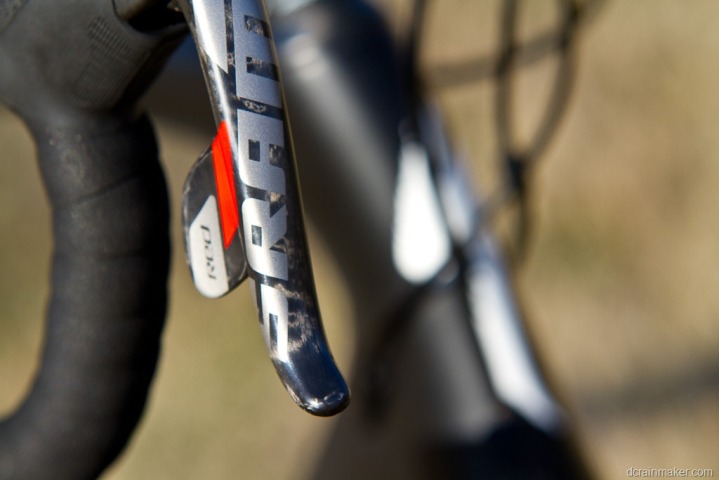 After riding, I took the chance to gather some pretty pictures of pieces of the bike – just for later use.  The weather was fantastic – being about 70*F and sunny, so it was a perfect day for not only a ride, but also photography.
And yes, I continue to love the simple addition of a ruler on the seat post.  I don't know why every bike company doesn't do this – but it's pure awesome.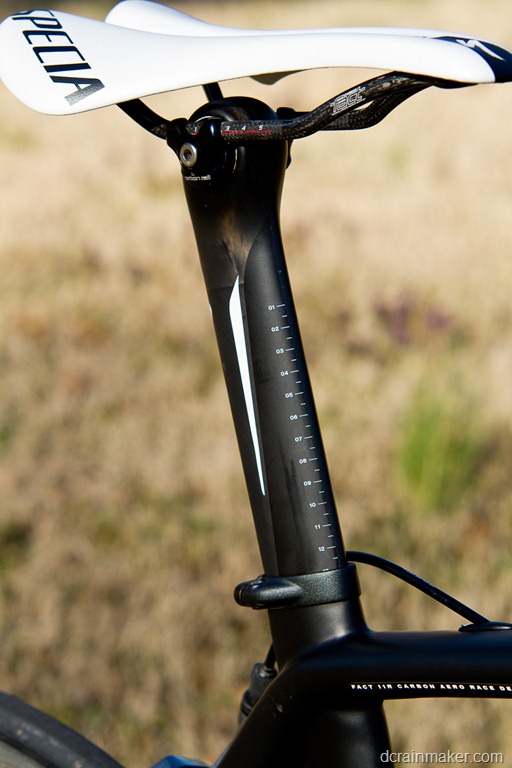 With my bike and photography done, it was time to pickup some goods for dinner and head on home.  For reasons unclear to me, I decided earlier in the day that tonight would definitely be fresh pasta night.  I felt it was like a calling of sorts.
So I got to work and made some awesome fettuccini.  I ended up going to a slightly higher setting (5) on the pasta maker, making it thinner than normal – which turned out great as it made it lighter.  Awesome.
Oh, and of course, there was fresh mozzarella to be had.  Why you ask?  Why not I say.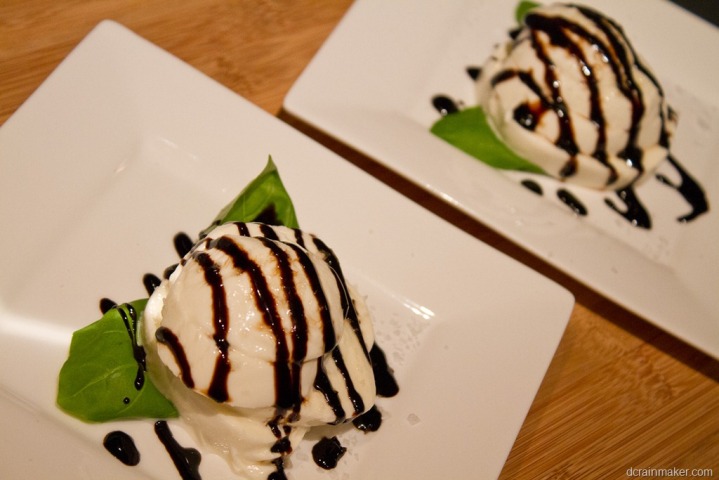 And while the balsamic reduction wasn't needed, it's just so darn good that the mozzarella served as an awesome transport mechanism for it.
So with that, we're off to another week.  It's gonna be a busy one, I can tell you that.  Tons of stuff of note this week that will keep me hustling to try and get it all out.  But you know what's my saving grace?  Light.
No, seriously, that extra hour we got today in the evening is magic.  Now at least when I get home from work around 6:30-7PM – there's still some light to work with – critical for pretty pictures of new products.
Have a great week ahead everyone!