Yup, while I've gotten all assortment of trainers (including some rather expensive ones) sent to me to try out, I've finally made it to the big leagues – a fully loaded bike has arrived in the house.  One that I didn't even pay for (though, don't get to keep either).
And no, it wasn't just a miniature tricycle.  Though, the box was a bit misleading: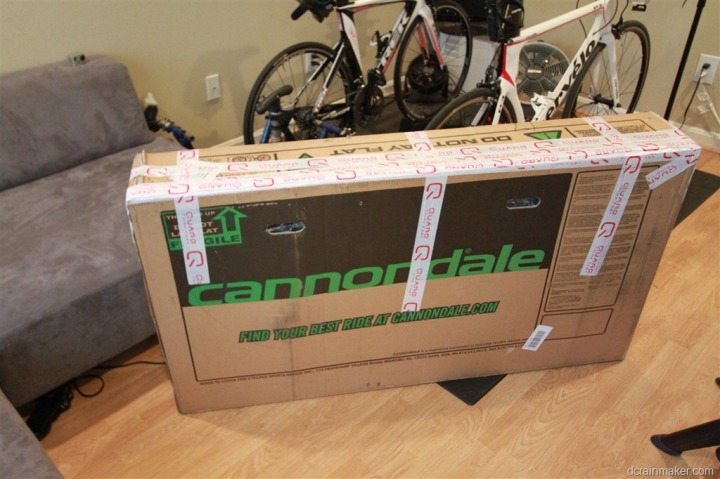 The shroud of mystery continued as I unwrapped it:
I noted that whoever boxed everything up was clearly a cyclist, and likely not a triathlete.  In fact, likely a cyclist who is very meticulous about perfection.  Lots of tiny little details that I virtually never see anyone do during normal bike shipping…like actually using the wheel spacers/protection caps: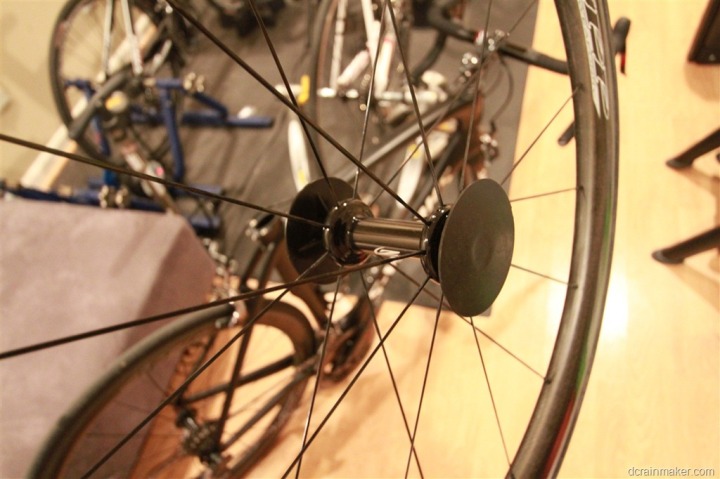 Nice!
Though, it's logical that when they send a fully loaded bike out to review – it look darn good upon arrival.  In fact, they spent considerable time upfront such that it was already sized and configured for my specifications – ready to ride.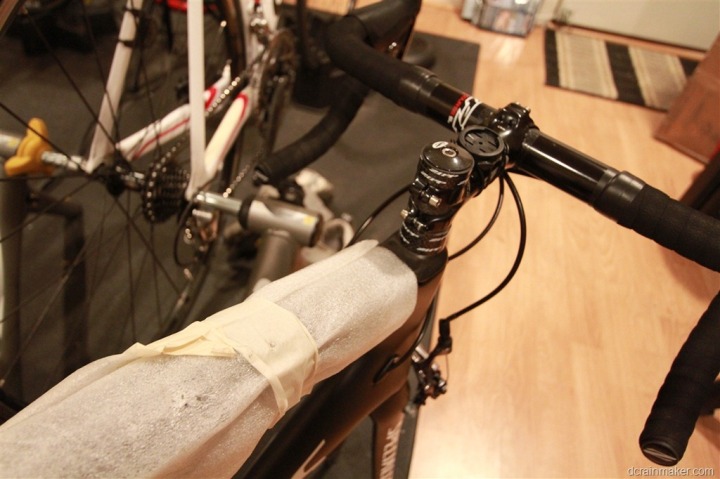 You might think it was a new Cannondale based on the box, but in fact, it was actually a Specialized.  More specifically, the Specialized Venge.  Here's the full bike as spec'd out:
Frame: Specialized Venge ($4,400US)
Handlebars: Zipp Service Course SL Short and Shallow Bars ($120)
Wheelset: Zipp 303 Carbon Clinchers (Front: $1,215US, Rear:$1,485US)
Waterbottles: Nifty Quarq design, standard edition (2x$4.50US)
Power Meter: Quarq RED 2012 ($1,995US)
Groupset: SRAM RED 2012 ($2,575US)
Yes, for those keeping track, that's roughly $11,800…including the water bottles.  Or roughly 10x the cost of my car, assuming there's a full tank of gas in there at the time.  Also of note is that the UPS lady FINALLY (for once) actually knocked and didn't leave it on my doorstep.  Well played UPS, well played.
The real reason for the bike is actually to try out the new 2012 SRAM RED Quarq setup.  This includes the full 2012 SRAM RED group set, though, of particular interest to me is really the power meter itself.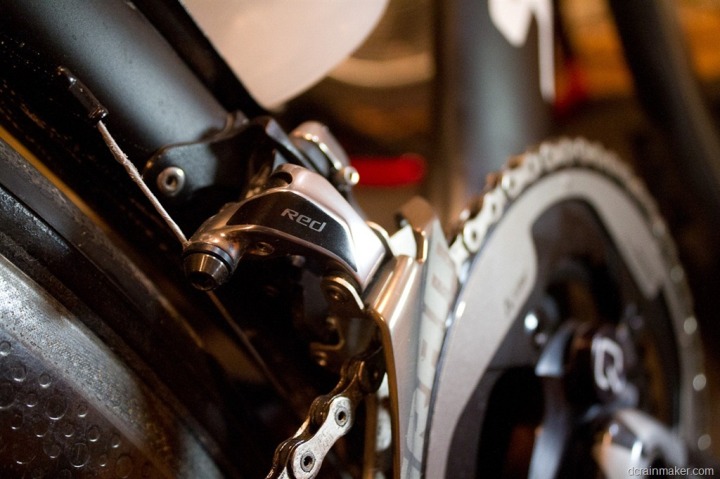 As many of you know, I'm already pretty familiar with the Quarq lineup of power meters, with our household having two of them that we bought years ago (one on my bike, and one on The Girl's).  So you may be wondering why I'd need to test this Quarq.
Well, they've made a few changes.  First are some of the minor changes – like simply sticking the ANT+ ID on the outside of the power meter.  Rather useful if you're in a multi-person pairing environment and just want to quickly set the ID in instead.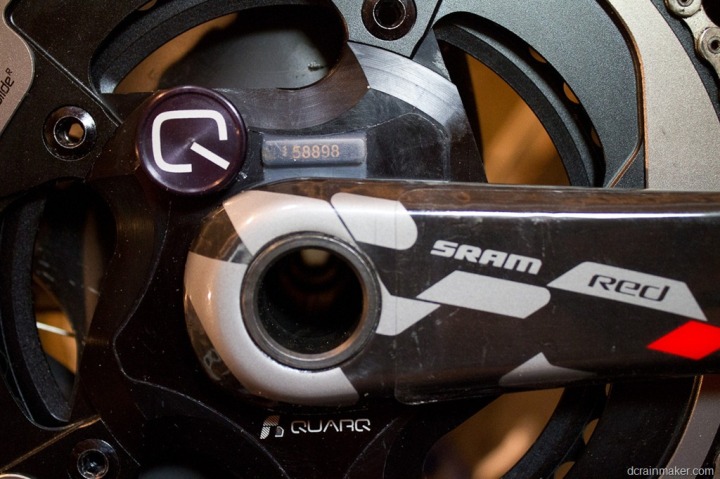 Additionally, they've changed to the more widely available CR2032 user replaceable battery.  Their previous battery was a bit difficult to find in the grocery store, whereas this one is easily found at any grocery/drug store (and the same as virtually every heart rate strap out there).  And finally, on the small changes list they've added an LED light that blinks when the unit is woken up, or when it's calibrated.
The biggest change though is the introduction of Power Balance.  Power Balance isn't actually pedal balance (like you'd get pedal based power meters), but rather the balance across the pedal stroke.  If you look at the Quarq materials, it specifically states this:
"Power Balance: Uses crankset torque to display the ratio of power generated in the right drive stroke (first half) versus the left drive stroke (second half) for each crank revolution."
Upon deep reflection, I asked for a bit of clarification on what that really meant in real life and non-technical terms.  None other than Jim (founder of Quarq), helped to break it down a bit for me.  Note that a 'revolution' is simply your foot working its way around the 'clock' once:
"It is a direct measurement of the torque produced in the first half of the revolution as compared to the second half.  So if you pull up with your right leg, that will show up as additional torque in the second half of the rev (which is dominated by the left leg driving).

We are intentional about the term Power Balance as opposed to pedal balance.   Pedal balance implies independent measurement.   We have only one measurement but can now partition it in two parts."
In other words, it's a way to measure how even your stroke it.  As some cyclists know, the more even your stroke it, the more power you get.  For example, most non-advanced cyclists force most power downwards onto the pedal – forgetting to also pull back, up, and over the top.  This is sometimes referred to as 'pedaling squares'.  The concept that you divide each revolution into four separate stroke elements.
But how is this data displayed?
Well, with the introduction of Left/Right power in the ANT+ specification a year ago (in preparation for pedal based power meters), they can leverage that venue to easily display.  Today, the only non-phone device that supports that is the Garmin Edge 800 (when it was added back in the fall).  In theory, the Edge 500 and FR910XT will get the update any day now (or week, or month, or year…).  It's likely that other companies will follow suit as well as we near summer.  Here's what it looked like tonight on my Edge 800 during my trainer ride:
You can see it shows it in percentage as Left/Right, though, you'll need to mentally convert that to stroke portions.  In my case, I had it configured to show my power balance with a 3-second smoothing and a 30-second smoothing, but you can also show a variety of other metrics around it.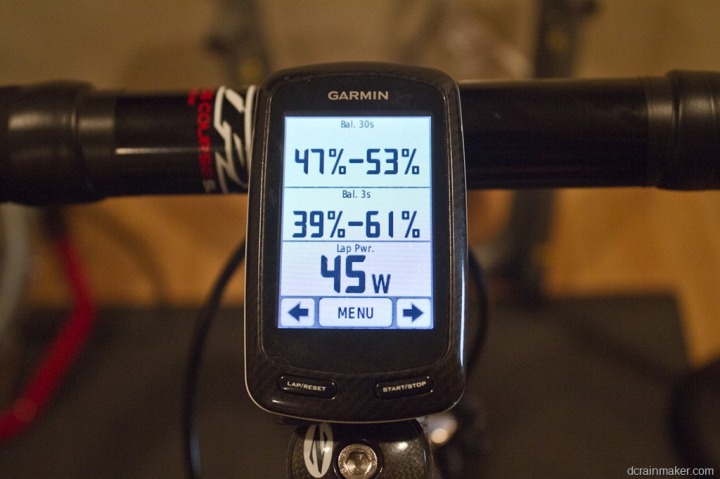 Finally, when it comes to displaying this power information, about the only game in town today supporting it is TrainingPeaks, which added support for Power Balance last month.  You can see it below from tonight's ride, highlighted in yellow: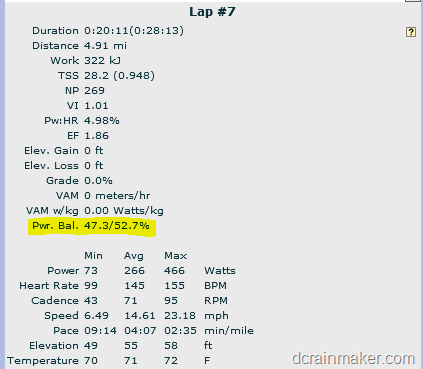 Again, I suspect we'll see others offer this – and may have some more news to share with you on this front specifically in the next 24 hours.
As for the new Quarq, I've got exactly 30 days to put it through its paces (along with the bike) before it heads back to South Dakota.  After which, I'll put something together.  I'm looking forward to seeing what the Power Balance data really means in day to day use, and how to make the most of it.  I have a funny feeling that my coach will find all sorts of interesting ways/drills/methods to put it to the test.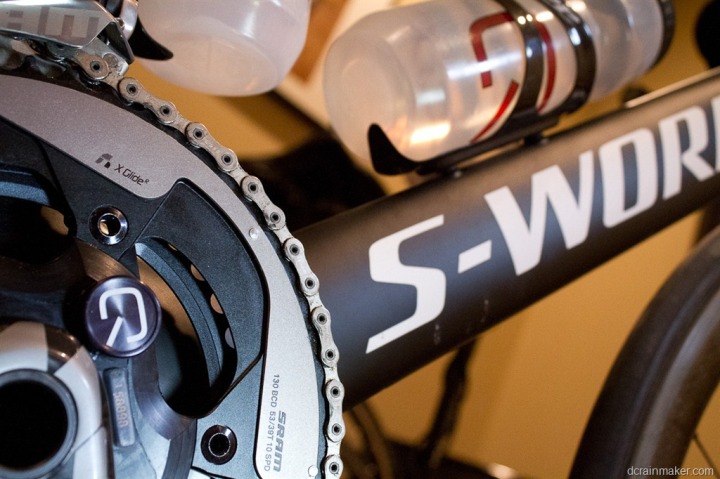 As always, if you've got any questions – feel free to drop them below.  Thanks!