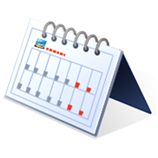 The Week in Review is a collection of both all the goodness I've written during the past week around the internet, as well as a small pile of links I found interesting – generally endurance sports related.  I've often wondered what to do with all of the coolness that people write, and while I share a lot of it on Twitter, this is a better forum for sending it on to y'all.
So with that, let's get into the action!
DCRainmaker.com posts this past week:
A wide variety of posts this week covering quite a range of stuff. Here's what made the main stage:
Tuesday: The Honeymoon- Part I
Wednesday: The Honeymoon- Part II
Wednesday Evening: Last Week in Review–July 17th, 2011
Thursday: Observations on training over the last month
Friday: Tip of the day- Exercise gyms inside airports
Slowtwitch.com Weekly Sports Gadget Mailbag this week:
This week I cover the following topics over at Slowtwitch as part of the mailbag series. Read all about it over here.
1) Cable Charging Mashup
2) Power Meter Head Unit Options
3) Best Triathlon Watch Bang for Buck
You can read all my past weekly mailbags at Slowtwitch here. Or the pre-Slowtwitch days here.
Men's Health/Gatorade/Urbanathlon Blog posts this past week:
In addition to all my writings here, I also cover a bunch of topics over on the Men's Health Urbanathlon blog. Here's the goods from the past week:
Tuesday: VOX2MAX Testing at Peak Performance
Thursday: How to keep your training on track in the heat
Note that I post over there roughly every Tuesday and Thursday, and Sarah posts on Monday and Wednesday. It's a tag-team event.
Stuff that I found interesting around the interwebs:
Here's a small smattering of all the random things that I stumbled on while doing my civic duty to find the end of the Internet:
1) Husband and Wife open new DC Tri Shop: I'm always happy to see more options to get triathlon goods in DC, and happy to see this shop open up a bit outside DC.
2) Don't rock the tower! Tae-bo shakes skyscraper: A funny story about a tae-bo class actually shook the massive skyscraper.
3) A cool look at the Tour de France Garmin-Cervelo bike mechanics: A nice couple minute video from the New York Times showing the behind the scenes work from the mechanics standpoint.  Surprisingly well put together and worth the watch.
4) Cycling on water?  No, this isn't my latest bike crash into a lake.  This British teen is raising money for charity by cycling on water…or rather, doing a rather interesting magic trick.  Check it out.
5) The costs and benefits of sponsoring a Tour de France Team: A great piece from the Wall Street Journal on just how much it all costs.  Interesting stuff.  (Via Jake)
6) A day in the life of a wind tunnel.  Do you constantly contemplate whether or not your aerobottle straw is really aero? Well, here's what it's like if you were the wind tunnel instead.
7) New nationwide triathlon series launched.  While they don't appear to have one in DC yet (unless the magic TBD is DC), this may be an interesting one to watch next year.
8) Random FYI: If you want 15% off anything on CycleOps website – from PowerTap power meters to wheelsets to trainers to probably even stickers, sponsored blogger Frayed Laces has got a 15% off deal going via coupon code FRAYEDLACES711, good till the end of the month (next Sunday).  I don't get anything from it, but it's a sweet deal since you rarely find their stuff on sale.
How to use your Garmin with Apple's new Lion OS:
If you've decided to take the plunge and upgrade to Lion, you'll find you might have a bit of issue uploading and access your workout files.  Fear not though, long time reader Ryan Downey has helped out and put this quick little guide together – for your reading pleasure:
Something that might help you answer the e-mails of fellow users in regards to the new Mac operating system (Lion). The operating system hides the Library folder that the Garmin ANT Agent keeps its data files in by default (~/Library/Application Support/Garmin/). When users install Lion, they will not be able to access data files from their Garmin's! To fix this, they must open up Terminal and enter the following command:

chflags nohidden ~/Library/

Then press enter. This will restore user access to the Library folder. Detailed instructions can be found here:

http://osxdaily.com/2011/07/04/show-library-directory-in-mac-os-x-lion/

Until next time, Cheers!
Thanks Ryan, when I get around to installing Lion next week this will certainly save me a pile of time – and I'm sure many others will be quite thankful as well!
Random Google+ and Travel Notes:
I've been experimenting with Google+ this past week.  I'm still in the poke it like a marshmallow on a stick stage, but it's interesting.  If you're all Google+'d up, wander over and check me out here.  I love being able to write more than the 140 characters on Twitter – since it's rare that my thoughts fit cleanly into the 'short writing' category.
I'll be sporting it in Seattle the next little while, starting with the weekend hanging out up in Whistler.  Really looking forward to the cooler weather compared to the blistering heat of the east coast.
Enjoy your weekend!  And good luck to all racing this weekend, especially the Ironman Lake Placid folks!