As you well know, I travel a lot.  And while it's relatively straight forward to train and travel with short flights up and down the coast in the US, it becomes much more difficult to travel and train when your day starts on a flight at dawn in East Africa, stops in the Middle East for a few hours, and then continues with a 14 hour nonstop flight back to DC.  I use Dubai a fair bit when going to Africa, India or the Middle East due to the nonstop United Airlines flight they have there that fits my normal body clock really well no matter which direction I travel.
Thus my excitement back a number a months ago, well actually late last year I think, when I found out that Dubai airport actually has a gym inside the airport itself.  No, not at a hotel across the street.  And not at a hotel built into/above the airport.  Nor even prior to the security lines.  Nope, it has it actually inside the airport – past security right next to the gates.
This is critical because in most cases you don't want to be landside (that's the part of the airport prior to security), you'd much rather be airside (beyond security near the gates) that way if changes in flight times occur, etc… it's easy to adapt.  It's also quick because you don't have to leave security to go in/out – thus it's literally no different than going through a bathroom door inside the terminal.
But here's the real kicker – the gym – only cost about $8US to use.  And that also includes access to your own little private shower stall with brand new little mini-bottles of shampoo and towels and other smelly stuffs.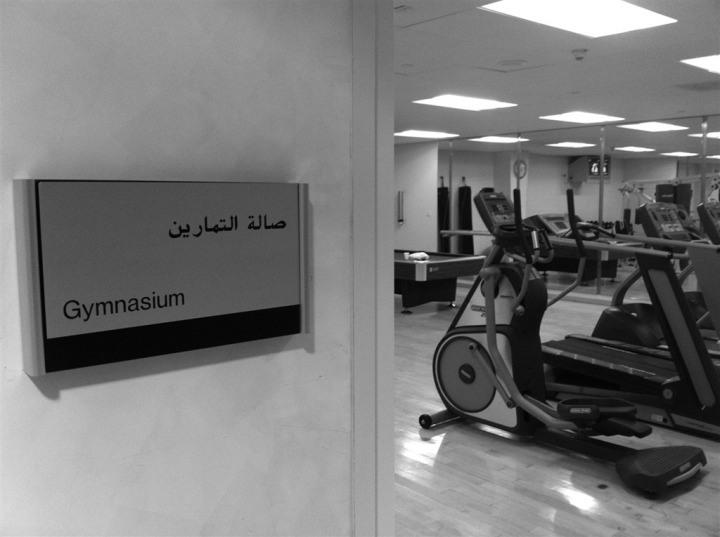 The above is a picture I took there earlier this year on a stopover.  Inside they've got a handful of treadmills, a few stationary bikes and a slew of other normal gym weights/equipment.  Oh, and a pool table.  I'm not sure why exactly…but it's there.
But you know what's even more important than all of the above?  The gym is centrally located right on top of McDonalds and across the hall from Cold Stone Creamery (yes, they have that in Dubai).  Why McDonalds you ask?  Well, McFlurries…duh. Though last time I was there they didn't have Recess, just Oreo.  This is critical for post-workout refueling.
So I'd be curious – what other airside gym's do you know about?  Any other airports internationally with gym's?  This site has a good listing of domestic ones, but not much overseas.  For me, the international ones are of most use, especially in the major hub airports.
Thanks for reading all!