There was no doubt when the Nike+ GPS Sportwatch was announced back at CES 2011 in January it caused many heads to turn.  After all, it triggered a bit of a departure from Nike's traditional role with Apple via the iPod/iPhone and the Nike+ experience based on those devices.  More importantly however, it sounded a bit of a warning call to the rest of the industry that they better wake up in the GPS fitness watch category.  But how would this new entrant compare to some of the existing powerhouses?  And would it meet all the fanfare associated with it?
Like all my reviews, they tend to be pretty in depth (perhaps overly so) – but that's just my trademark DC Rainmaker way of doing things.  Think of them more like reference guides than quick and easy summaries.  I try and cover every conceivable thing you might do with the device and then poke at it a bit more.  My goal is to leave no stone unturned – both the good and the bad.
Because I want to be transparent about my reviews, I want to be clear that I paid for the Nike+ Sportwatch GPS myself.  Though, after my initial paid unit arrived, another trial unit from Nike/Tom-Tom PR arrived.  However, that PR trial unit will be heading back shortly.  Simple as that.  Sorta like hiking in wilderness trails – leave only footprints.  If you find my review useful, you can use any of the Amazon links from this page to help support future reviews.
Lastly, at the end of the day keep in mind I'm just like any other regular triathlete out there.  I write these reviews because I'm inherently a curious person with a technology background (my day job), and thus I try and be as complete as I can.  But, if I've missed something or if you spot something that doesn't quite jive – just let me know and I'll be happy to get it all sorted out.  Also, because the technology world constantly changes, I try and go back and update these reviews as new features and functionality are added – or if bugs are fixed.
While Nike+ Sportwatch GPS is the new kid on the GPS athletic device block, how does it stand up to real world pounding and day to day use? For that…onto the review…
Unboxing:
When you first get ahold of the Nike+ Sportwatch GPS box, you'll find a very compact design cleverly packs everything inside like levels in an apartment.
In many ways you see Nike taking some cues from Apple on device packaging, with everything neatly organized and without layers upon layers of useless plastic: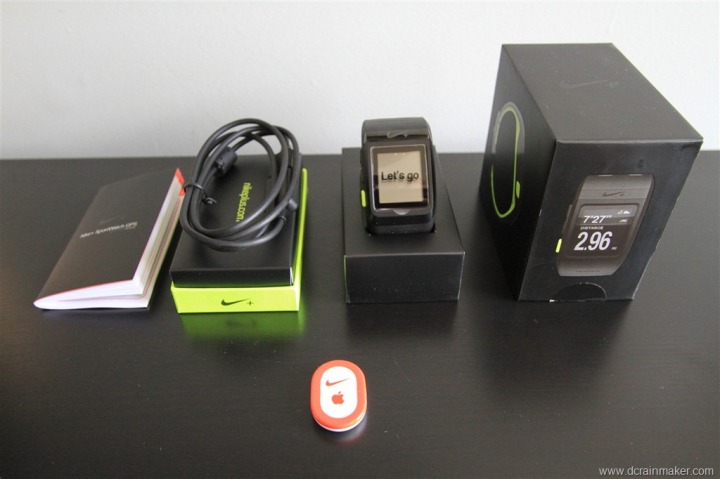 Once you've unboxed the unit the watch itself will be standing on a small platform, with the included footpod sitting snugly behind it: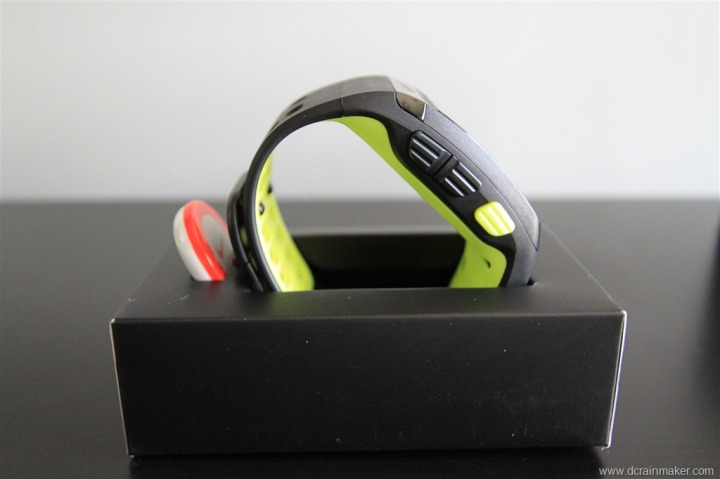 Below that level sits the USB extension cable: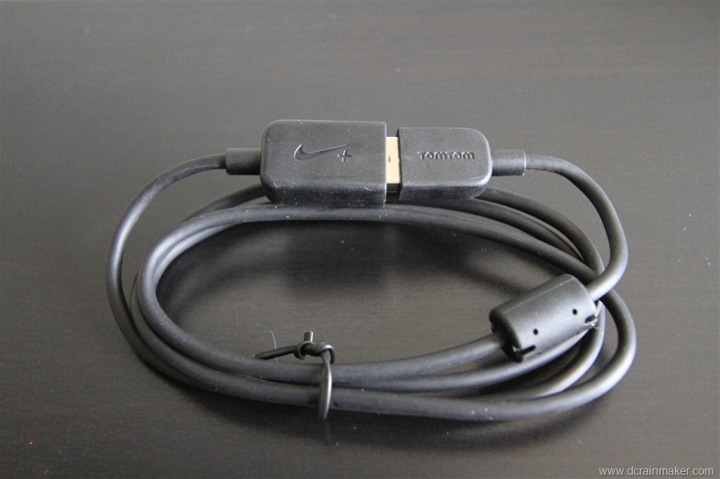 As I'll discuss later in more detail, the watch band itself is actually the USB plug, so the cable is merely for extension purposes.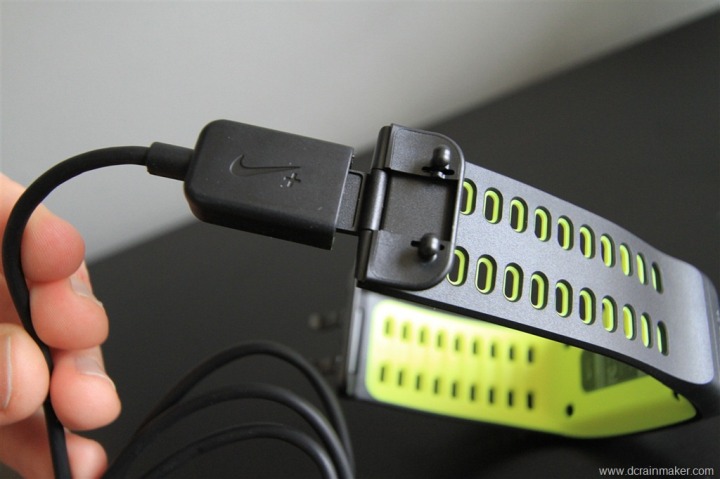 Next we have the small paper manual.  It's offered in approximately 925 different languages…and includes exactly four pages per language.
Finally, we have the watch itself:
Now that we've got it all unpacked, let's see how it sizes up.
Size comparison to other watch sizes:
The Nike+ Sportwatch is interesting size-wise in that it has a thinner width than most GPS watches today, but it makes up for it in its depth (thicker).  I've put together my trademark kitchen rolling pin comparison between a number of the most popular watches on the market today, to help you get a better view of them side by side: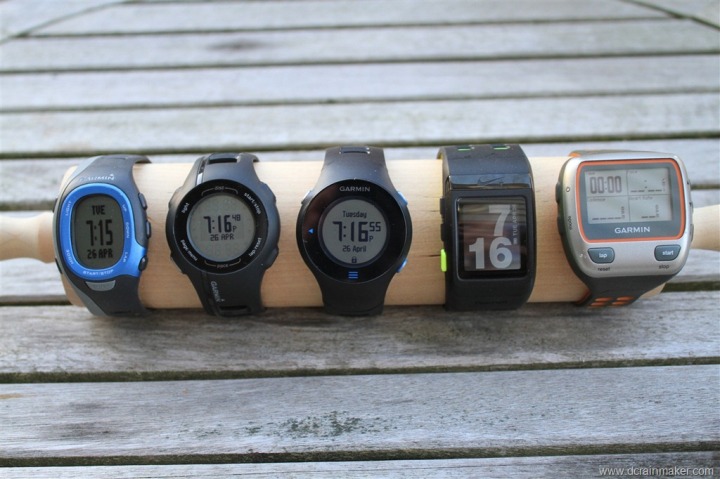 (Left to right: Garmin FR60, FR110/210, FR610, Nike+ Sportwatch, FR310XT)
One area of concern for many is how it fits on ones wrist.  For me as a guy with relatively small wrists (skinny runner dude), it actually fits pretty good: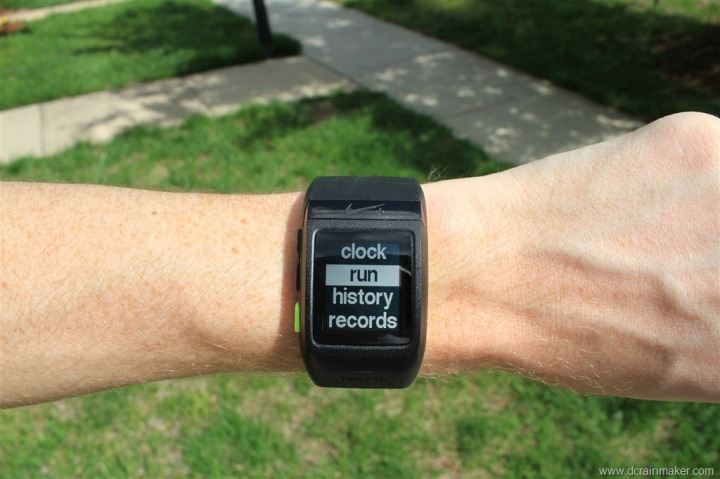 But for my fiancée, a 5'2" petite runner, she found it simply too big and uncomfortable.  It had to be on its very last setting to fit, and yet still had some room to float around:
That said, unlike many of the other watches out there, this one is quite functional as a day to day watch – and some might even say a bit more stylish than others.  Though I have found that it doesn't quite mesh with a business suit.  And yes, I tried.
Running:
Now that we've got it all unboxed, it's time to get it out for a run! Once you head outside you'll select to start a run…by pressing the run menu option: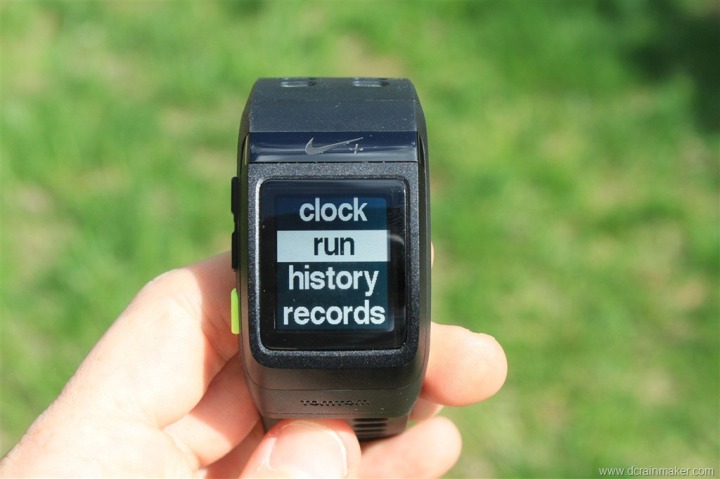 After thats complete it'll bring you to the run options page, which allows you to choose which sensors you'll be using for the run.  This includes GPS, Footpod and Heart Rate strap.  You simply tap to enable/disable each sensor for that run.  It'll remember these settings for next time: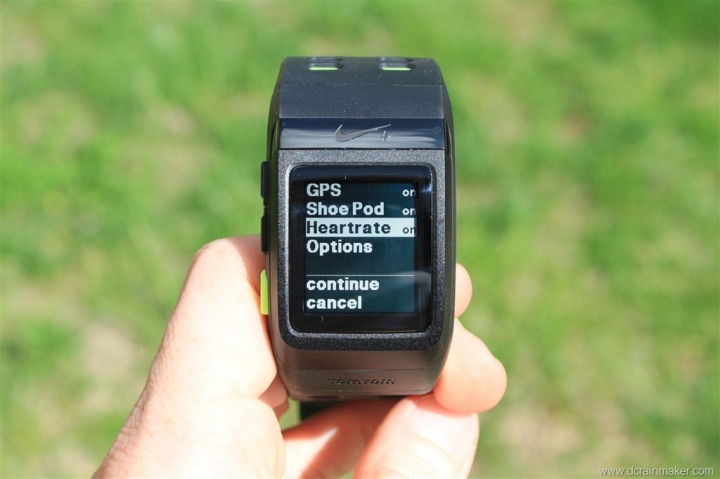 Additionally, if it's your first run with those sensors, you can select to 'Add sensors' and add a new footpod or heart rate strap: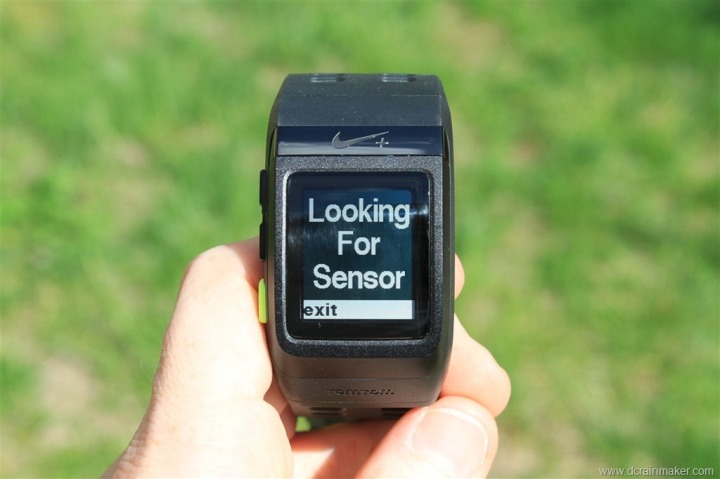 Once that's done you'll select to start searching for satellites.
This is sometimes pretty quick, but in general I found it takes 1-2 minutes to complete after its started searching.  This is a bit longer than most other watches take.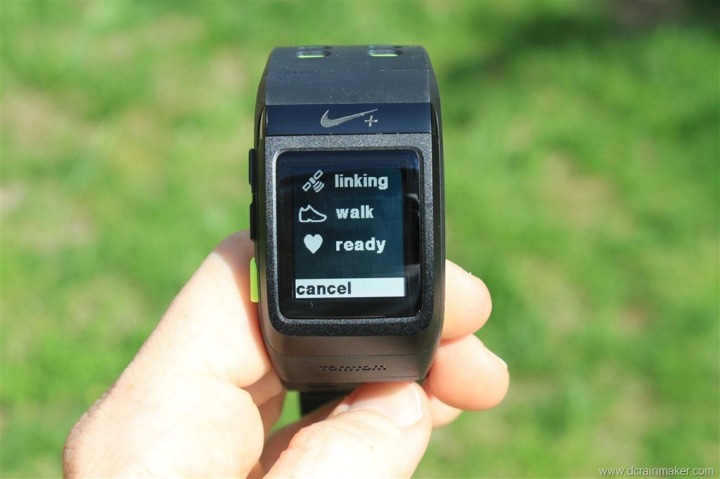 Once it has completed satellite acquisition (or linking, as it calls it), then you're ready to run!  So, off we go!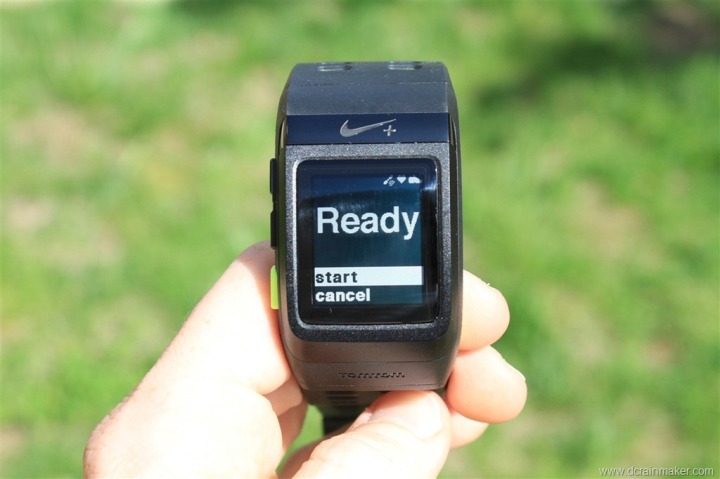 As you're running the main display will show the overall distance of the run. The upper display rotates through a list of data fields that include heart rate, distance, calories, clock, elapsed time and clock.  You can see this below during my run: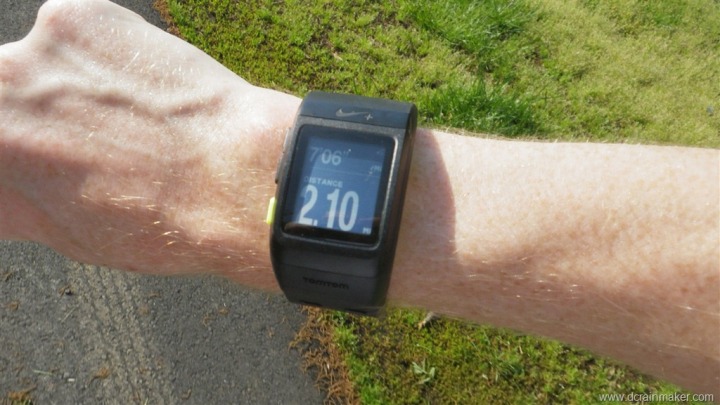 Depending on how you've configured the watch you can tap (or slap) to create a split/lap.  To do this, you simply tap/whack the top of the watch and it'll automatically demark a lap:
While in theory this is very cool, I've found that it's not quite perfected.  On the first Nike+ GPS Sportwatch I had it worked flawlessly.  However the second unit I have it's super-sensitive and often triggers while I'm running along and hit a bump – such as stepping down from a sidewalk to the road to cross a street. I'm optimistic this can be tweaked with a bit of firmware work, given it seems to work well on some units and not so well on others (though they are currently running the same firmware version).
If you want to pause, you can do so at any time by pressing the little neon green button, which temporarily stops the counter: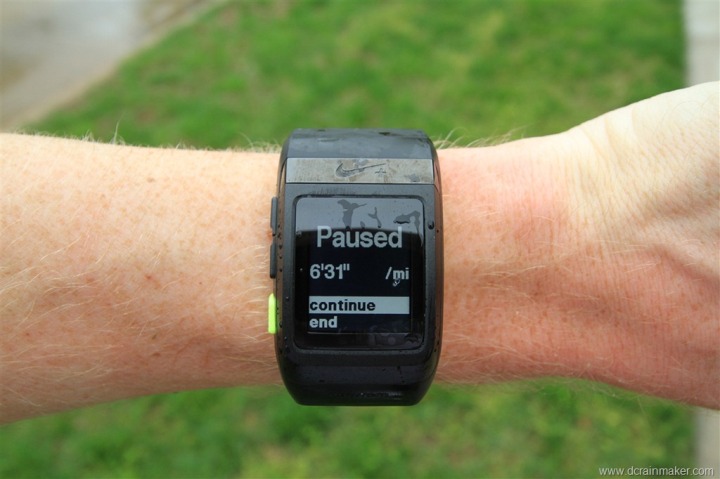 Once you're complete, you just tap 'end' to finish up the run.  At this point, it'll give you a bit of encouragement about the run – including if you hit a new record: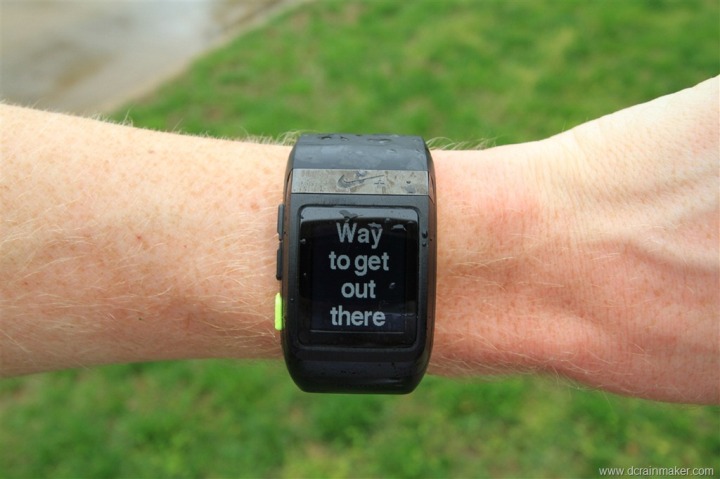 Following which, you'll get a summary page regarding the run: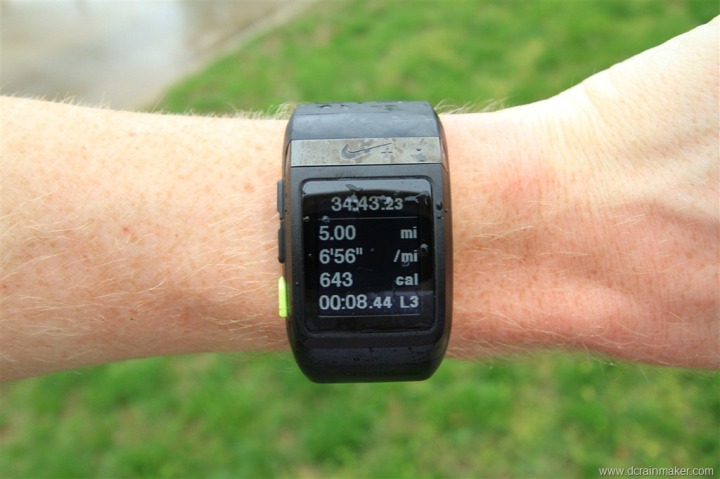 Accuracy:
This is a good time to discuss accuracy.  Based on my testing, after the first firmware update accuracy of the device is on par with the Garmin units I've tested, and on par with measured routes that I have.  Here's a few snippets of runs where I ran with the Nike+ Sportwatch and Garmin GPS unit to compare distances.  Due to the nature of GPS accuracy (usually allotted about 2.5%), I'd never expect them to exactly align – so I was happy that they were 'close enough':
I did find that my one longer run saw a bit more differential than I expected, but not beyond the 2.5% per mile: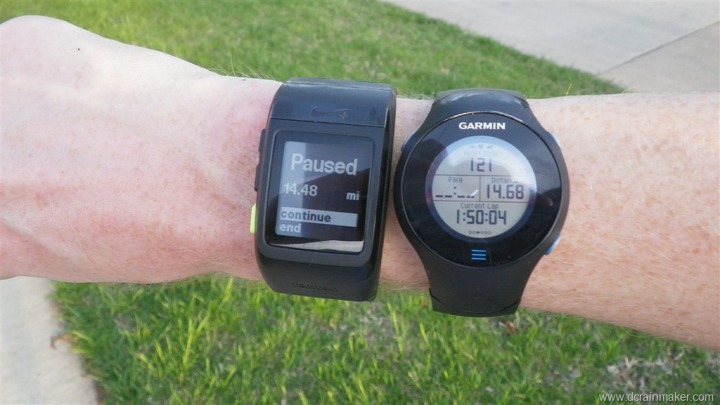 I've done running both in the trees and on the road, and it didn't seem to affect GPS accuracy compared to other devices that are considered 'known goods'.
If you're interested in some of the past GPS accuracy tests I've done, check out my two part series here.  I'll be testing the Nike+ Sportwatch GPS unit more in depth later this spring as part of a roundup of other new GPS devices on the market.
Breakage:
As you may have previously read around these parts – I had a bit of bad luck initially (Day 3) when the watch fell out of my bag and onto the floor.  Upon impact, the glass immediately cracked.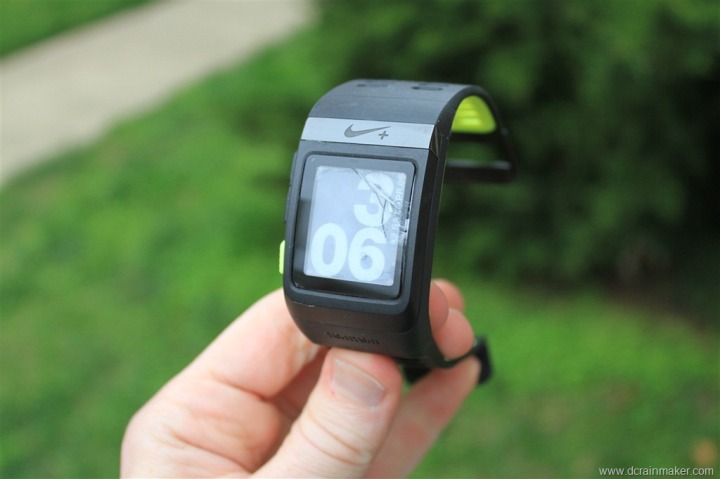 While the watch continued to work just fine, it did get a bit of fogging during some runs in the rain, but each time cleared out.
The good news here is that the Nike support folks were great and offered to let me return it, including the prepaid postage.  They had no idea who I was, as I just called the generic support line.  They were super friendly and apologetic as well.
Ideally a slightly raised rubber bezel would resolve the issue, which also affects the Garmin FR310XT as well, as it has a glass screen that's directly exposed to impact.
Cycling:
Like virtually any GPS unit, it can almost always be used for uses not originally intended.  And in the case of the Nike+ Sportwatch GPS, cycling is one of those activities.  While I've taken it out for some pretty long rides (50+ miles), you'll start to run into some issues in the first few hundred feet.
First up is that as of this writing the Sportwatch doesn't contain any cycling mode, which means it can't show you speed in MPH/KPH, but rather instead shows it in Minutes/Mile (or Minutes/Kilometer) – as if you were running [Update: This has been added in a firmware update, speed can now be shown].  I see this as an area that could be easily modified in a future firmware update, and doing so would make quite a bit of sense without taking significant effort.
The second area that's problematic is the lap function for creating splits.  As I've noted elsewhere, within the software you have two basic options for creating splits.  One is to have it automatically create laps/splits every X miles (such as every 1 mile).  The second is to allow you to manually create laps/splits by simply taping/whacking the unit.
The problem is that the second option is easily triggered by cracks and bumps in the road.  I found on a typical road ride that it was triggering as often as every few hundred feet – making the splits/laps essentially useless.  While I could certainly look to go back to auto-lap splits, that doesn't meet my typical objective – which is to demark parts of the ride.  I often use splits to later analyze a given portion of the ride such as the warm-up, main sets, or cool-down.
As the Sportwatch wasn't specifically marketed for cycling, it's hard to fully blame them for these oversights.  But at the same time, looking at competitive offerings in the market, all of them offer the ability to switch to a basic cycling mode that shows MPH/KPH.
Swimming/Waterproofing:
While the Nike+ Sportwatch wasn't designed with swimming in mind, it has no issues playing around in the water.  The unit itself is fully waterproofed to 5 ATM's.  Wait, you don't know what ATM's are?  No worries, neither does the rest of the world.
ATM's are simply Atmospheres, and it's one method of stating a specific waterproofing level.  Typically speaking 5ATM's is equivalent to about 50 meters, or about 165 feet (though I've found slightly varying calculations – but this puts it in the general ballpark).  Of course, they could have just simply stated that depth in feet or meters on the back of the unit, instead of stating '5 ATM's'.  No worries though, it just means its simply well waterproofed (and better than the IPX7 level typical of most Garmin units).
I've taken it swimming a few times doing a few thousands yards of laps each time without any issues at all in the waterproofing department.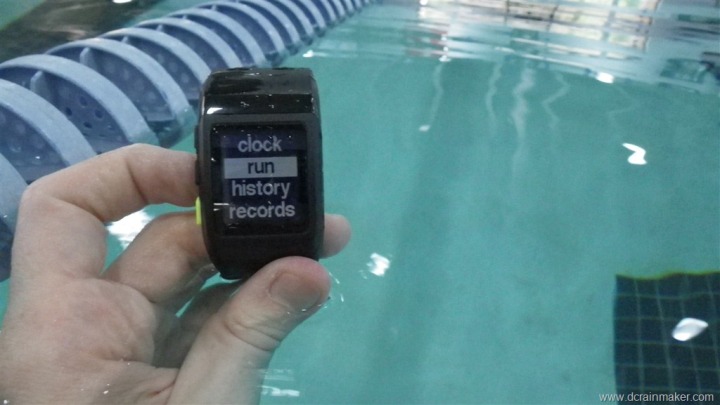 The only challenge to using it while swimming is that you can't engage any simple timer mode – like a normal stopwatch.  So you'd have to get it started in either GPS, Footpod or Heart Rate mode (with those accessories) before you used it as a standard stopwatch.
As for day to day water, I've got more than my fair share of wet runs in lately.  In fact, I think every time I wear it out for a run…it rains.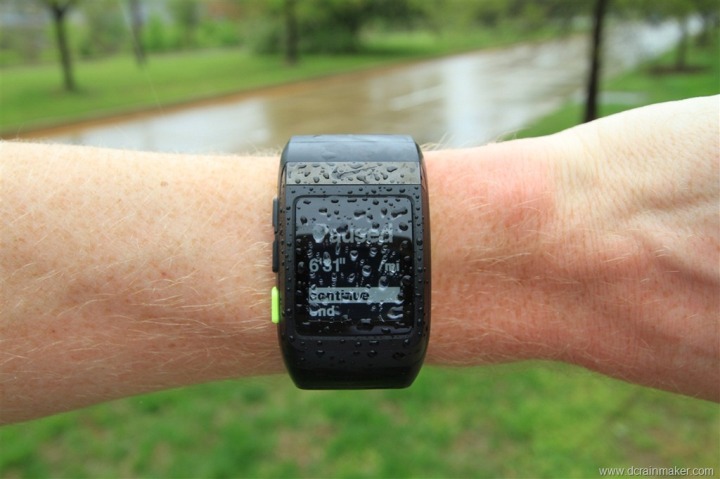 The good news is the unit performs without issue in the rain – no matter how light or hard the rain is.  And even better is that even if you do manage to crack the glass, I found that it still works just fine in the rain and didn't die despite being soaked.
Accessories:
The Nike+ Sportwatch offers two accessories that are compatible with it, both of which have previously been on the market and are compatible with existing Nike and Apple products.
Footpod
First up is the Nike+ footpod.  Within every Nike+ Sportwatch box is one footpod (you only need one per pair of shoes). The footpod enables you to track speed and distance indoors on a treadmill, or outdoors if you choose to turn GPS off.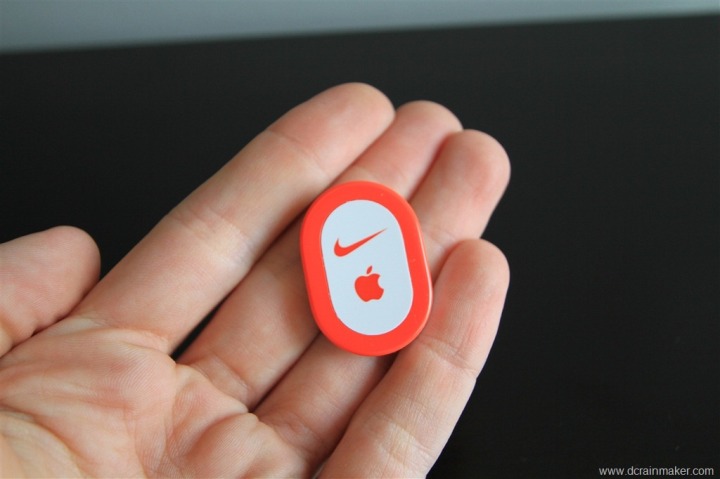 The footpod is easily paired by selecting to add a sensor through the menu on the watch.  Once you've linked the footpod it'll remember that particular sensor for future use.  You can choose to enable/disable a sensor prior to any given run, as it's the last display screen before starting the run.  This makes it easy to switch back and forth should you need to.
Because I lack a fancy Nike shoe, I just use this $5 footpod holder.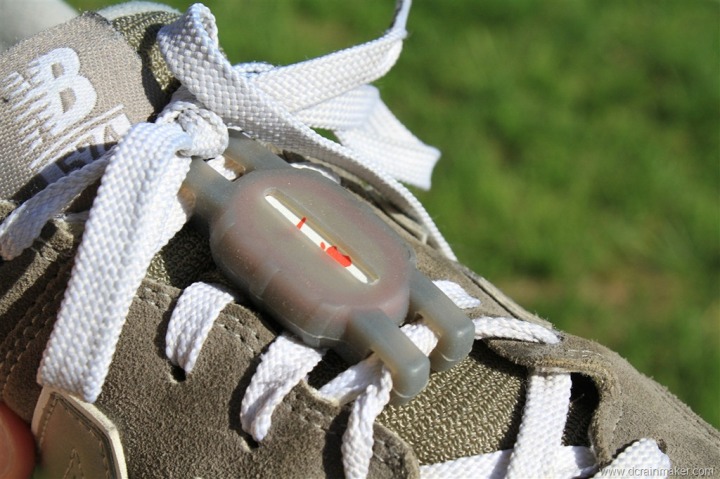 Additionally, if you're in a situation where you don't have time for the unit to locate the required satellites, you can utilize the footpod to start running in 'Quickstart' mode, which will use the speed from the footpod to determine distance.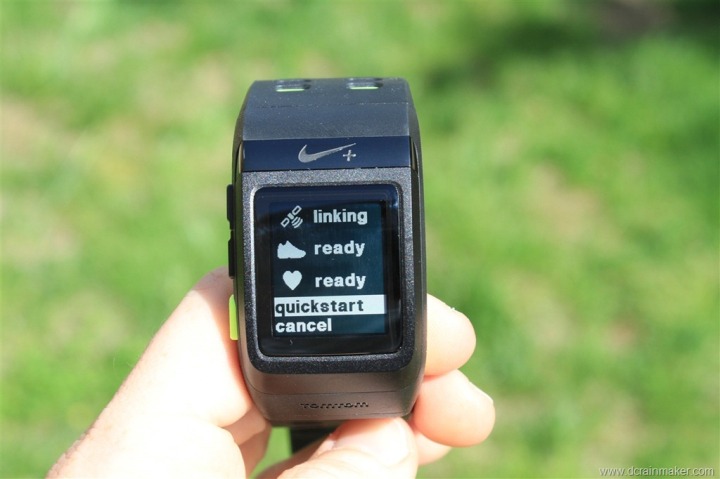 Once satellite reception is acquired, it'll switch back over to GPS speed/distance.
It should be noted that the footpod does not record or display foot cadence (turnover) in any user consumable method.
Heart Rate Strap
Nike has partnered with Polar to offer a heart rate strap that's compatible with the Nike+ Sportwatch.  The strap is dual-frequency, which is pretty cool.  On one channel they support standard 5kHz, for use with existing Polar watches and exercise equipment, and the other channel is for the Nike+ using Nike's proprietary 2.4gHz frequency.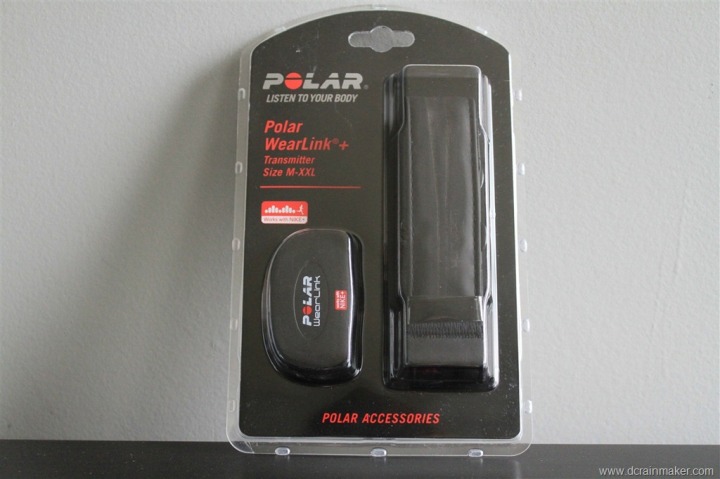 The strap itself is made out of a soft fabric, and contains a small plastic transmitter that you snap into place:
To pair the strap with the watch you simply go into the options menu and choose to add a new sensor.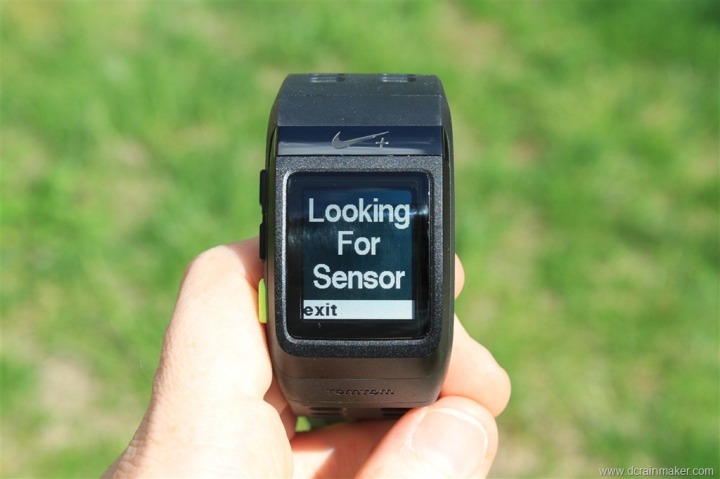 At this point it'll search for your heart rate strap and a few seconds later it'll find it and add it.  Like the footpod, you can choose to enable/disable it on a per run basis.
Once the strap is enabled and used on a run you'll have both heart rate data during the run on the display, as well as after the run on the site.  After you've uploaded the run you'll see heart rate graph depicting your heart rate during that activity: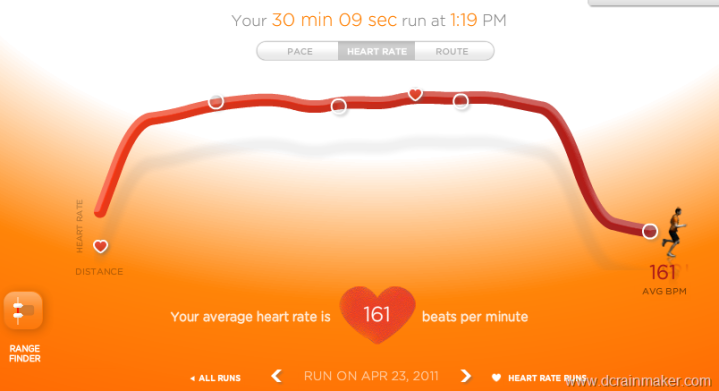 The only problem with the heart rate graph and data provided by the Sportwatch is that it heavily generalizes your heart rate data.  Most heart rate monitors will give you feedback in data blocks as frequent as one-second.  In the case of the Sportwatch, that data is averaged over longer time periods such as laps or entire runs.  As you can see, there isn't really that much detail offered compared to most heart rate monitors.
When the Polar Heart Rate strap is attached, the unit will utilize heart rate based calorie calculations to generate calorie numbers.  Otherwise, it will utilize weight/height/age based calorie calculations with simple distance/time formulas.
Downloading to your computer:
The Nike+ Sportwatch turns the typical athletic watch downloading experience upside-down on its head.  Normally most devices have a cradle or dock, something that sits in between it and the computer.  In the case of the Sportwatch though, the watch band itself is the connection straight into the computer.  Yup, the band is actually a USB plug.  Check it out: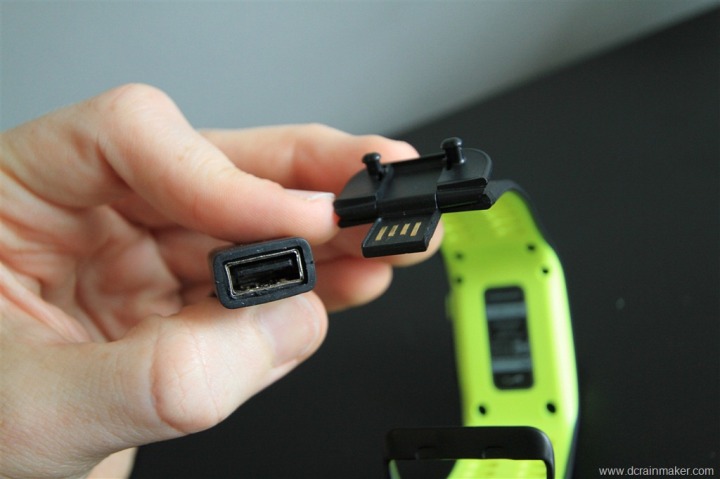 From there you literally just plug it into your computers USB port: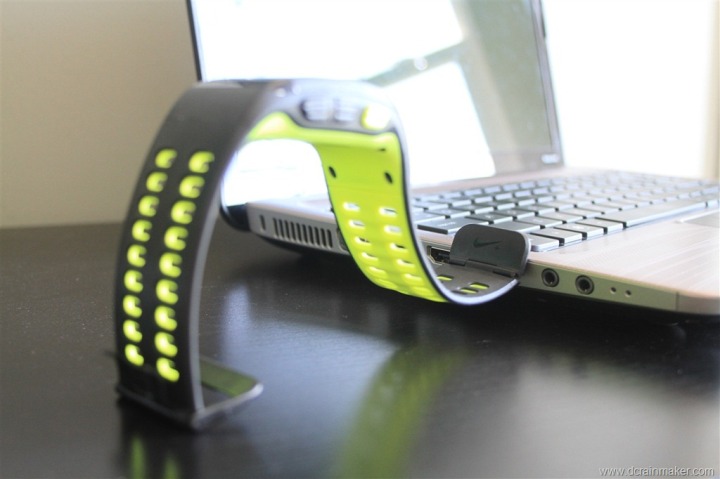 Of course, it's possible that your computer doesn't have an easily accessible port (such as behind a desktop computer deep under your desk), so in this case they've included a handy dandy little USB extender cable that you can plug the Sportwatch into instead:
Once the watch is plugged in, the Nike+ Connect software will automatically launch.  This software will immediately begin downloading your data from the watch to the computer, and then from the computer to the Nike+ site:

The whole process takes about 30-60 seconds for a typical run.  After it's done uploading your workout/run, it'll automatically check for any updates on the watch itself.  This is great, as it helps to ensure that your watch stays current:

In the event an update is available, it will only take a minute or two to download and install.  This includes both firmware updates as well as simple updates to device data such as satellite updates:

I've already seen that the firmware updates do indeed make a difference.  When the device was first made available I saw some initial issues with satellite accuracy in distance measurement, however the first firmware update fixed that up right away.
Changing Configuration Settings:
Now that you've got the watch plugged in, you can take this opportunity to modify a few of the devices configuration settings.  You do this directly within the Nike+ Connect desktop software, and the changes are made immediately on the watch.
The configuration options are divided into four pages.  The first page covers your profile, which allows you to modify things such as weight and height: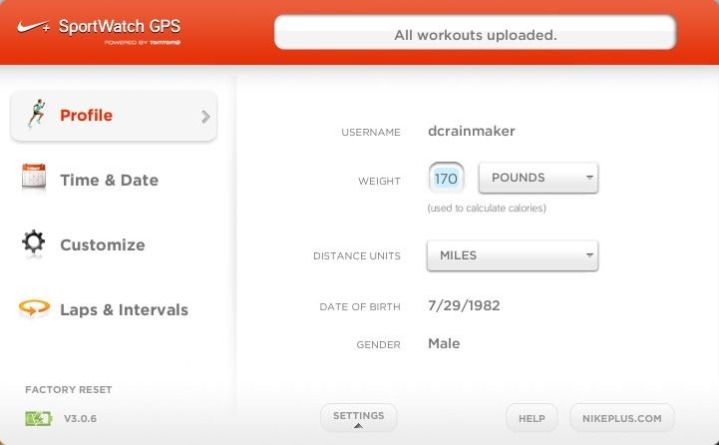 The second page covers time and date.  This enables you to either set a given time zone, or simply have the watch sync with your PC.  I love this second option as I travel constantly and can just update the time zone on my PC and the watch follows suit.  Very cool.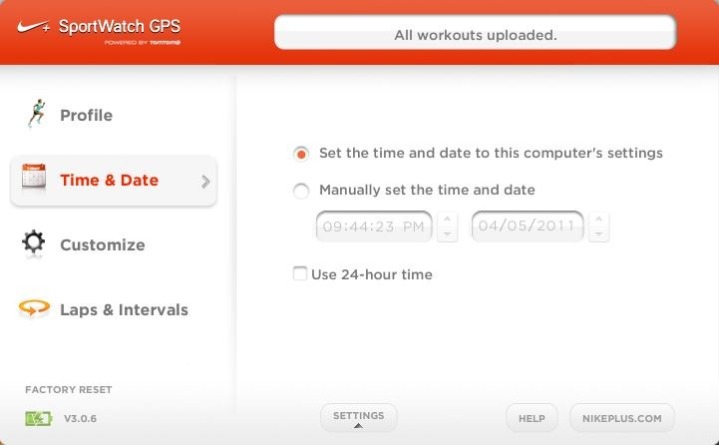 The third page covers display customization.  This controls the data displayed on the unit while you're running, sounds, as well as whether to enable run reminders.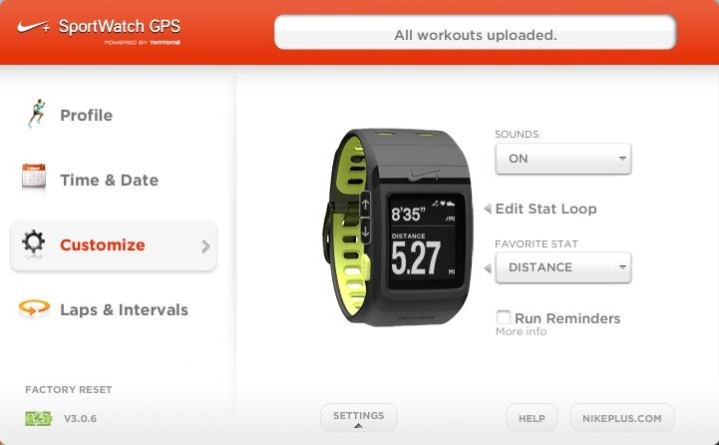 In addition to the display stats shown below (Pace, Distance, Time Elapsed, Calories and Clock), The Nike+ team tell me that Average Pace is on its way in a firmware update shortly – perhaps within a week or so.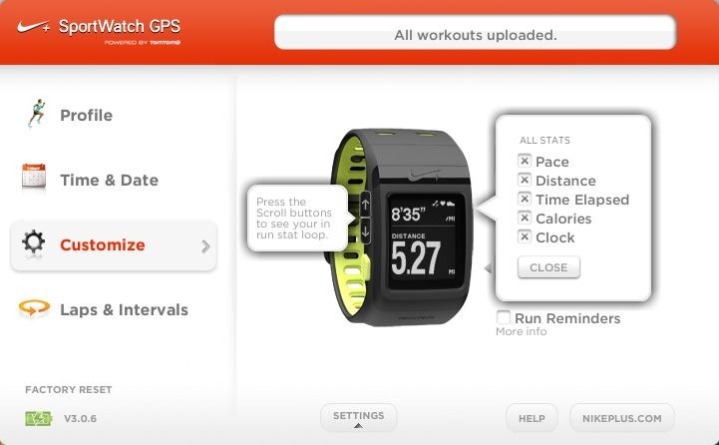 What are run reminders you ask?  Well, if you don't run for a few days the watch will remind you that it's time you start running.  Since I have a few of the Nike+ Sportwatch's around my place right now, I left the broken one off to the side for a few days and noticed it displaying a message telling me to 'Run again soon'!.
As for the fourth configuration page, it covers lap and interval configuration options.  This includes whether to use automatic laps on a pre-set mileage, or to instead use the automatic tap-to-lap capability (aka: Smack to lap).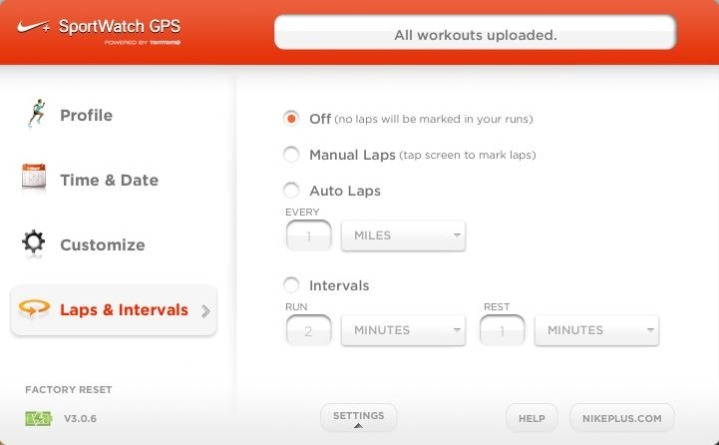 Additionally, you can setup a basic interval workout here with simple work (run) and rest (walk/lie on the ground) intervals.  You're unable however to configure a warm-up or cool down, should you want to include that.
Nike+ Website:
Once you've uploaded your run the software will automatically open up your Internet browser and display the run you've just completed: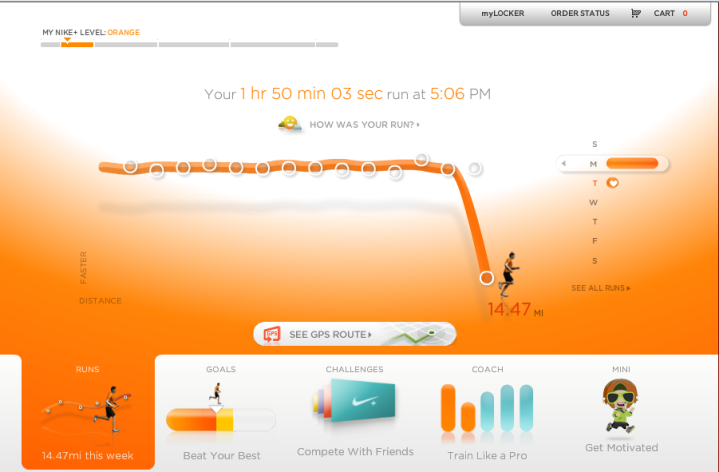 From here you can start to dig into the run by clicking on 'See GPS route', which will show you the below map of your run: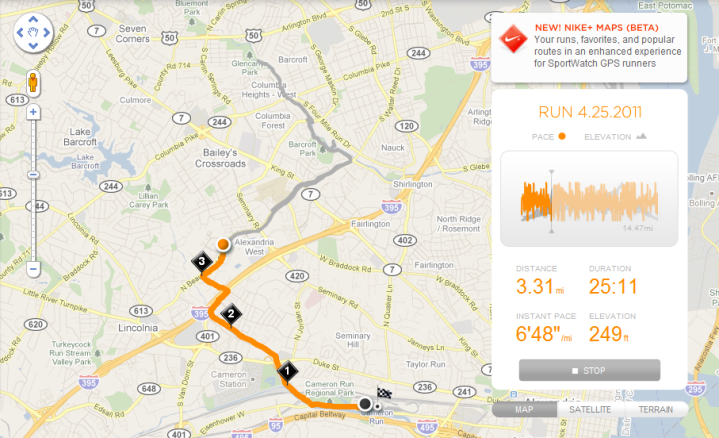 While it's showing your run route played back as a small animation, it'll show your instant pace, duration and distance on the right hand side, corresponding with the dot on the map at that point.
Down along the bottom you can choose to display more stats about the route, including splits for each mile – even if you didn't manually create them during the run: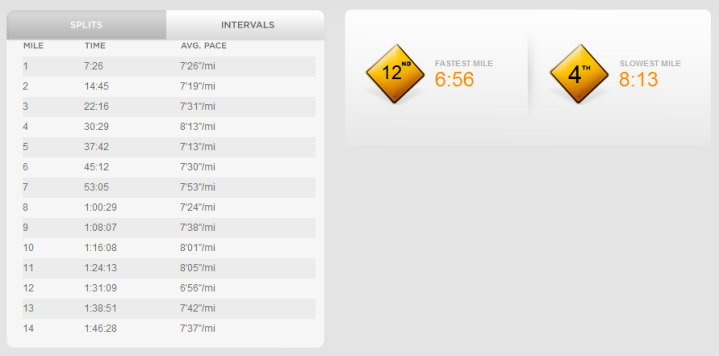 You may have noticed above that you can select to go into Nike+ Beta mode, which will launch a separate site that offers a bit more information about your run.  I've found the beta mode pretty cool, though it seems to still be a work in progress as it was occasionally unavailable (hence, the beta part).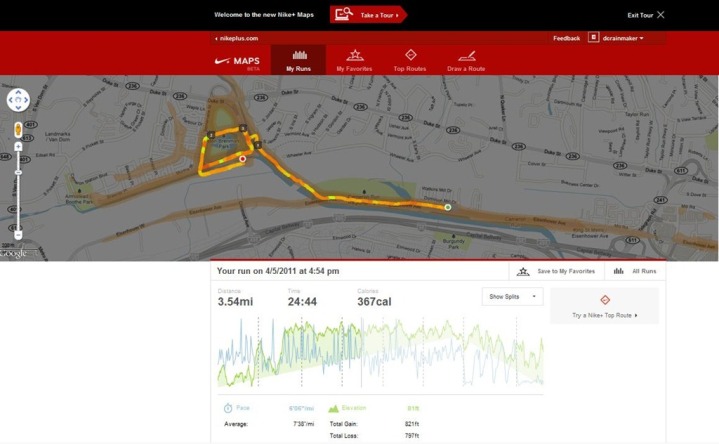 Once this releases I'll swing back to this section and update it accordingly.
The bigger draw of the Nike+ website for many though is the community features.  This includes everything from goal setting of run paces to calorie burn, allowing a way to motivate you to reach your goals: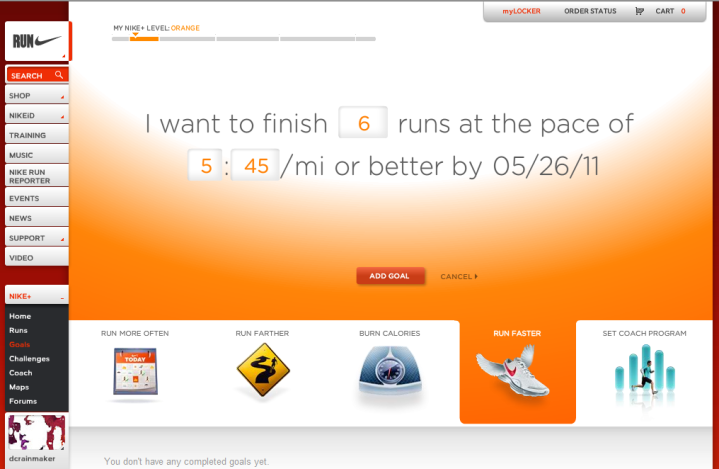 Meanwhile, the Challenges section gives you ways to encourage you to complete a given run or workout.  You can also create your own Challenge.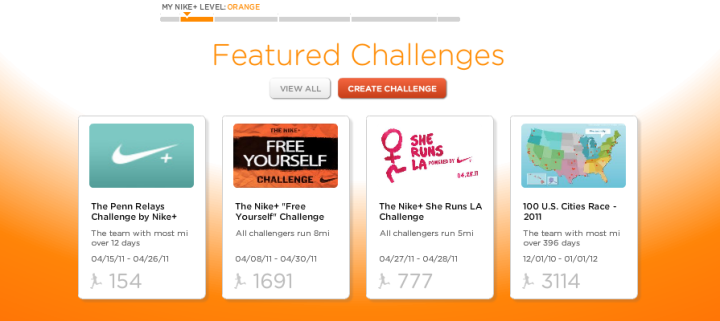 Additionally, there are built-in coaching plans to different events and distances  This part is really pretty cool, and unlike anything that any other sports device is including out of the box.  The below plan would take me from today until the New York Marathon in 15 weeks.  I also like that you can download the PDF for easy reference offline.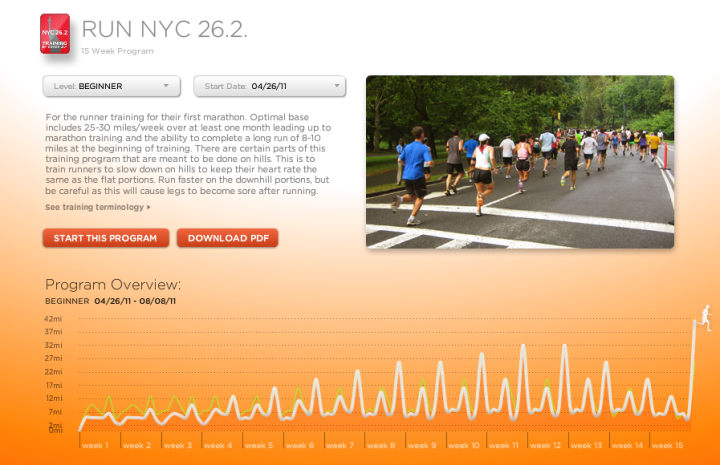 Finally, as you go along you reach different 'levels' within the Nike+ site, based on how much you run.

Each level has a different meaning, and as you cross levels you get small video messages of encouragement from various celebs: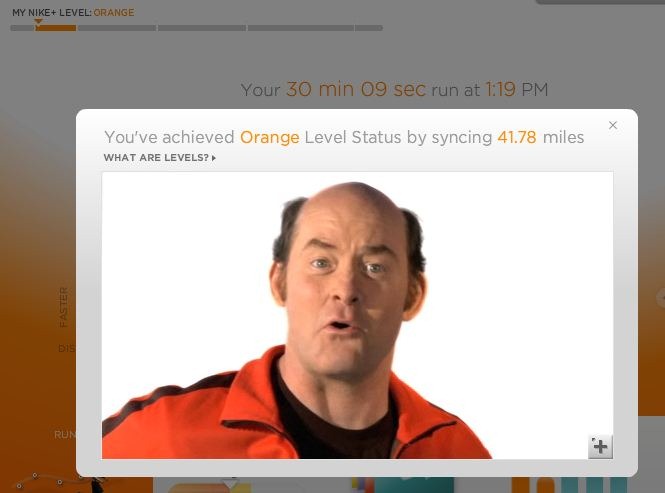 Now much of the websites infrastructure has been in place for quite some time supporting the various Apple driven Nike+ components such as those involving the footpod and the running app that's previously been so popular.  So it's important to keep in mind that they've been doing this for quite a while on the web front – and thus they do it really well.
The only complaint I have with the site is around data, and it's two fold.  Firstly is that the data displayed is very high level, and doesn't allow you to really zoom in to any detail.  It's pretty much at the mile-split data height.  Anything under that gets lost in the graphing.  So you can't zoom in and see minute by minute changes in pace or heart rate.  What's interesting here though is that Nike+ team has confirmed to me that the data is actually recorded at 1-second intervals – so the data's there at a deeper level, it's just not visible at at that level.  Nor do they have any plans to change that level of granularity shown.
The second is the lack of ability to export out the data.  There's no way to get my data out of the site and into either another program, or even a simple Excel sheet.  At the end of the day, it's my run and my data – and no matter how much I may love the site, I get fairly annoyed if my training log is completely locked up into Nike's site forever.  I'd highly encourage them to consider an export function, after all – every single other GPS sports device vendor out there – allows their users to export their run data.  Nike+ should too.
Feature Comparison Chart:
The Nike+ Sportwatch GPS is more comparable to the Garmin FR110 from a feature set standpoint, so I've decided to stack rank the two side by side to allow you to get a feel for how the two differ:
Function/Feature

Nike+ GPS Sportwatch
Garmin Venu 3
Garmin Forerunner 265
Apple Watch SE (2022)
COROS APEX 2 (Base)
Copyright DC Rainmaker - Updated September 18th, 2023 @ 6:13 pm New Window
Price
$165.00
$449
$449
$249/$299 (cellular)
$399
Product Announcement Date
JAN 7, 2011
August 30th, 2023
Mar 2nd, 2023
Sept 7th, 2022
Nov 3rd, 2022
Actual Availability/Shipping Date
APR 2011
August 30th, 2023
Mar 2nd, 2023
Sept 16th, 2022
Nov 3rd, 2022
GPS Recording Functionality
Yes
Yes
Yes
Yes
Yes
Data Transfer
USB
USB, BLUETOOTH SMART, WiFi
USB, Bluetooth Smart, WiFi
Bluetooth Smart
Bluetooth Smart (smartphone)
Waterproofing
50 Meters
50 meters
50 Meters
50m
50m
Dive/Snorkel Feature
No
No
No
Battery Life (GPS)
9 hours
26 hrs (just GPS), up to 11hrs GPS+Music
Up to 20 hours (FR265), and 24 hours (FR265S)
12 hours GPS
Up to 45 hours
Solar Charging
No
No
No
No
Recording Interval
1-second
1s or Smart Recording
1-second, Smart, UltraTrac
Varies
1-second
Dual-Frequency GNSS
No
Yes
No
No
Alerts
Audio/Visual
Vibrate/Visual/Speaker
VIBRATE/SOUND/VISUAL
Vibration/Audio/Visual
Audio/Visual/Vibration
Display Type
AMOLED
AMOLED
AMOLED
MIPS
Backlight Greatness
Good
Great
Great
Great
Great
Ability to download custom apps to unit/device
No
Yes
Yes
Yes
No
Acts as daily activity monitor (steps, etc...)
No
Yes
Yes
Yes
Yes

Voice Integration

Nike+ GPS Sportwatch
Garmin Venu 3
Garmin Forerunner 265
Apple Watch SE (2022)
COROS APEX 2 (Base)
Has Mic/Speaker
Yes
No
Yes
No
Can make/receive calls
With phone's cellular
No
Non-cellular editions with phone/Cellular Editions without phone
No
Voice Assistant
Apple Siri, Google Assistant, Samsung Bixby
No
Apple Siri
No

Music

Nike+ GPS Sportwatch
Garmin Venu 3
Garmin Forerunner 265
Apple Watch SE (2022)
COROS APEX 2 (Base)
Can control phone music
Yes
Yes
Yes
No
Has music storage and playback
Yes
Yes
Yes
Yes
Streaming Services
Spotify, Amazon Music, Deezer
Spotify, Amazon Music, Deezer
Apple Music
No (MP3 files only)

Payments

Nike+ GPS Sportwatch
Garmin Venu 3
Garmin Forerunner 265
Apple Watch SE (2022)
COROS APEX 2 (Base)
Contactless-NFC Payments
Yes
Yes
Yes
No

Connectivity

Nike+ GPS Sportwatch
Garmin Venu 3
Garmin Forerunner 265
Apple Watch SE (2022)
COROS APEX 2 (Base)
Bluetooth Smart to Phone Uploading
No
Yes
Yes
Yes
Yes
Phone Notifications to unit (i.e. texts/calls/etc...)
No
Yes
Yes (with connected phone)
Yes
Yes
Live Tracking (streaming location to website)
No
Yes
Yes (with connected phone)
With 3rd party apps
No
Group tracking
No
Yes (with connected phone)
No
No
Emergency/SOS Message Notification (from watch to contacts)
No
Yes
Yes (with connected phone)
Yes
No
Built-in cellular chip (no phone required)
No
No
No
Yes (with cellular version)
No

Cycling

Nike+ GPS Sportwatch
Garmin Venu 3
Garmin Forerunner 265
Apple Watch SE (2022)
COROS APEX 2 (Base)
Designed for cycling
No (Speed only mode)
Yes
Yes
Yes
Yes
Power Meter Capable
No
Yes
Yes
With 3rd party apps
Yes
Power Meter Configuration/Calibration Options
No
Yes
Yes
N/A
No
Power Meter TSS/NP/IF
No
No
Yes
N/A
NP only
Speed/Cadence Sensor Capable
No
Yes
Yes
No
Yes
Strava segments live on device
No
No
No
No
Crash detection
Yes
Yes
Yes
No

Running

Nike+ GPS Sportwatch
Garmin Venu 3
Garmin Forerunner 265
Apple Watch SE (2022)
COROS APEX 2 (Base)
Designed for running
Yes
Yes
Yes
Yes
Yes
Footpod Capable (For treadmills)
Yes
Yes
YES (Also has INTERNAL ACCELEROMETER)
With 3rd party apps
Yes
Running Dynamics (vertical oscillation, ground contact time, etc...)
No
No
Yes
Yes
Yes
Running Power
WITH 3RD PARTY APPS
Yes
Yes
Yes (Built-in)
VO2Max Estimation
No
Yes
Yes
Yes
Yes
Race Predictor
No
No
Yes
No
Yes
Recovery Advisor
No
Yes
Yes
No
Yes
Run/Walk Mode
No
Yes
Yes
With 3rd party apps
No
Track Recognition Mode
No
Yes
Coming Dec 2022
Yes

Swimming

Nike+ GPS Sportwatch
Garmin Venu 3
Garmin Forerunner 265
Apple Watch SE (2022)
COROS APEX 2 (Base)
Designed for swimming
No
Yes
Yes
Yes
Yes
Openwater swimming mode
N/A
Yes
Yes
YEs
Yes
Lap/Indoor Distance Tracking
N/A
Yes
Yes
Yes
Yes
Record HR underwater
No
Yes
Yes
Yes
Yes
Openwater Metrics (Stroke/etc.)
N/A
Yes
Yes
Basic stroke type only
Yes
Indoor Metrics (Stroke/etc.)
N/A
Yes
Yes
Basic stroke type only
Yes
Indoor Drill Mode
N/A
No
Yes
No
No
Indoor auto-pause feature
N/A
No
No
Yes
-
Change pool size
N/A
Yes
Yes
Yes
Yes
Indoor Min/Max Pool Lengths
N/A
13M/15Y TO 150Y/M
14M/15Y TO 150Y/M
1y/m to 1,500y/m+
15y/m-300y/m
Ability to customize data fields
N/A
Yes
Yes
Yes
Yes
Captures per length data - indoors
N/A
Yes
Yes
Yes
Indoor Alerts
N/A
Yes
Yes
Yes (goals)
Yes

Triathlon

Nike+ GPS Sportwatch
Garmin Venu 3
Garmin Forerunner 265
Apple Watch SE (2022)
COROS APEX 2 (Base)
Designed for triathlon
No
No
Yes
Not really
Yes
Multisport mode
N/A
No
Yes
Yes
Yes

Workouts

Nike+ GPS Sportwatch
Garmin Venu 3
Garmin Forerunner 265
Apple Watch SE (2022)
COROS APEX 2 (Base)
Create/Follow custom workouts
No
Yes
Yes
Yes
Yes
On-unit interval Feature
Yes
Yes
Yes
Yes
Yes
Training Calendar Functionality
No
Yes
Yes
With 3rd party apps
Yes

Functions

Nike+ GPS Sportwatch
Garmin Venu 3
Garmin Forerunner 265
Apple Watch SE (2022)
COROS APEX 2 (Base)
Auto Start/Stop
No
Yes
Yes
Yes
Yes
Virtual Partner Feature
No
No
Yes
Yes
No
Virtual Racer Feature
No
No
Yes
Coming Dec 2022
No
Records PR's - Personal Records (diff than history)
Yes
Yes
Yes
No
No
Tidal Tables (Tide Information)
No
No
No
No
No
Weather Display (live data)
No
Yes
YEs
Yes
No

Navigate

Nike+ GPS Sportwatch
Garmin Venu 3
Garmin Forerunner 265
Apple Watch SE (2022)
COROS APEX 2 (Base)
Follow GPS Track (Courses/Waypoints)
No
No (but some 3rd party apps can)
Yes
With 3rd party apps
Yes
Markers/Waypoint Direction
No
No
Yes (Up Ahead support)
Yes (Backtrack)
Yes
Routable/Visual Maps (like car GPS)
No
No
No
With 3rd party apps
Maps but not routable
Back to start
No
Yes
Yes
Yes (Backtrack)
Reverse course
Impromptu Round Trip Route Creation
No
No
No
With 3rd party apps
No
Download courses/routes from phone to unit
No
No
Yes
With 3rd party apps
Yes

Sensors

Nike+ GPS Sportwatch
Garmin Venu 3
Garmin Forerunner 265
Apple Watch SE (2022)
COROS APEX 2 (Base)
Altimeter Type
GPS
Barometric
Barometric
Barometric with real-time watch face
Barometric
Compass Type
N/A
Magnetic
Magnetic
Magnetic
Magnetic
Optical Heart Rate Sensor internally
Yes
YEs
Yes
Yes
SpO2 (aka Pulse Oximetry)
Yes
Yes
Yes
Yes
ECG Functionality
Yes
No
No
No
HRV Recording
Yes
Yes (nightly and on-demand)
Yes
Yes (Manual)
Heart Rate Strap Compatible
Yes
Yes
Yes
Yes
Yes
ANT+ Heart Rate Strap Capable
No
YEs
Yes
No
No
ANT+ Speed/Cadence Capable
No
Yes
Yes
no
No
ANT+ Footpod Capable
No
Yes
Yes
No
No
ANT+ Power Meter Capable
No
Yes
Yes
No
No
ANT+ Lighting Control
Yes
Yes
No
No
ANT+ Bike Radar Integration
Yes
Yes
No
No
ANT+ Trainer Control (FE-C)
Yes
Yes
No
FTMS (Bluetooth) only
ANT+ Remote Control
No
No
No
No
No
ANT+ eBike Compatibility
NO
Yes
Yes
No
No
ANT+ Gear Shifting (i.e. SRAM ETAP)
No
No
No
No
Shimano Di2 Shifting
No
No
No
No
Bluetooth Smart HR Strap Capable
No
YEs
Yes
Yes
Yes
Bluetooth Smart Speed/Cadence Capable
No
Yes
Yes
No
Yes
Bluetooth Smart Footpod Capable
No
Yes
Yes
No
Yes
Bluetooth Smart Power Meter Capable
No
Yes
Yes
No
Yes
Temp Recording (internal sensor)
No
No
Yes
No
Yes
Temp Recording (external sensor)
No
Yes
YES (TEMPE)
No
No

Software

Nike+ GPS Sportwatch
Garmin Venu 3
Garmin Forerunner 265
Apple Watch SE (2022)
COROS APEX 2 (Base)
PC Application
Nike+ Connect
Garmin Express
Garmin Express
None
No
Web Application
Nike+ Site
Garmin Connect
Garmin Connect
None
No
Phone App
Nike+ App
iOS/Android/Windows
iOS/Android
iOS only
iOS/Android
Ability to Export Settings
No
No
No
No
No

Purchase

Nike+ GPS Sportwatch
Garmin Venu 3
Garmin Forerunner 265
Apple Watch SE (2022)
COROS APEX 2 (Base)
Amazon
Link
Link
Link
Link
Link
Backcountry.com
Link
REI
Link
Link
TPC
Link
Wiggle
Link
Link

DCRainmaker

Nike+ GPS Sportwatch
Garmin Venu 3
Garmin Forerunner 265
Apple Watch SE (2022)
COROS APEX 2 (Base)
Review Link
Link
Link
Link
Link
Link
As you can see – both are very similar.  The areas they tend to differ are in the software components and the flexibility pieces.  Both offer heart rate, yet only the Nike+ watch offers footpod compatibility – and actually includes it in the box (the more expensive Garmin FR210 offers footpod compatibility).  On the flip side, the FR210 offers a cycling mode, whereas the Nike+ watch does not.  Both are $199.
Summary:
I think the Nike+ Sportwatch represents a great addition to the GPS-based runners watch market.  It differentiates itself by including some accessories that are usually extra (the footpod for treadmill use) and brings with it new ways of doing old tasks (the slap to lap feature).  The watch also steps up the game when it comes to style, offering a bit of edginess that many may find appealing.
At the same time, I felt like the watch is limiting when it comes to software options.  By restricting users to only using the Nike+ website, they are significantly limiting how we can use our own data.  After all, it is my run.  Like most new watches, it has some minor software bugs – but that's no different than most other devices out there in the first few firmware releases (Garmin and Timex units most definitely included here), so I'm not as worried about that as I feel these will be resolved pretty quickly.
I also see the potential for new features to be added as the product team gathers feedback from users, and understands better the direction of the product that the community wants it to go in.  As of today though, the Sportwatch GPS is primarily aimed at the runner wanting a very basic data experience in running – whereas over time I could see the watch broadening its reach to different market segments.
Pro's/Con's:
Finally, last but not least – here's the list of pro's and con's as I see them today.  If and when things change, I'll update this section accordingly.
Pro's:
– Easy to use GPS sports watch
– Fairly fashionable design
– Completely waterproof
– Tap to lap is pretty cool
– Nike+ website is great for new runners, and to keep you motivated with running
– Watch is very easy to configure, 'just works'
– Software is simply to install and allows configuration of the watch from the computer
Con's:
– Glass susceptible to breakage
– Limited data field display/selection
– Tap to lap occasionally misfires
– No cycling mode (MPH) [Update: Added in a later firmware update]
– Unable to export your own data from website in supported way
– Data views/graphing are very high level compared to most watches
Found this review useful?  Here's how you you can help support future reviews with just a single click!  Read on…
Hopefully you found this review useful.  At the end of the day, I'm an athlete just like you looking for the most detail possible on a new purchase – so my review is written from the standpoint of how I used the device.
The reviews generally take a lot of hours to put together, so it's a fair bit of work (and labor of love).  As you probably noticed by looking below, I also take time to answer all the questions posted in the comments – and there's quite a bit of detail in there as well.  If you found this review helpful in your purchasing decision, you can support future reviews like this by using any of the Amazon links (accessories above), or for the actual Nike+ GPS Sportwatch unit.
Alternatively (and a better deal), is to use the DCR10BTF discount with Clever Training for a 10% discount on your entire shopping cart.  Plus, within the US shipping is free on anything over $75.
– Nike+ Sportwatch GPS – Clever Training
Thanks for reading!  And as always, feel free to post comments or questions in the comments section below, I'll be happy to try and answer them as quickly as possible.  Further, you can always e-mail me at the address on the sidebar.  And lastly, if you felt this review was useful – I always appreciate feedback in the comments below.  Thanks!
Finally, I've written up a ton of helpful guides around using most of the major fitness devices, which you may find useful.  These guides are all listed on this page here.