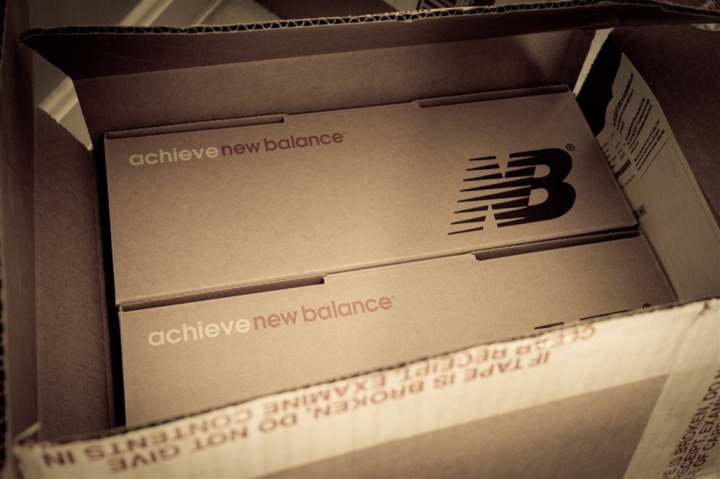 The other day I had a minor epiphany.  I realized that somehow along the way I had forgotten to retire my current pair of running shoes.  I normally try and aim for about 500 miles per pair before recycling them to the running gods and beating in a new pair.  Of course, one could be more technical about retirement decisions and look at wear and rubber depth on the shoes…but honestly I was never very good at the whole judging anything to do with shoes thing.  Be it running shoes or dress shoes.
So instead I just track mileage.  And since I track runs in a training log, it's super easy.  Virtually every log program out there has a 'equipment' option that allows you to create, assign and then track equipment.  Some are more full featured and even allow you to track components of the equipment, like specific mileage for tires on the bike.
The only problem is remembering to look at said odometer every once in a while.  And by 'while', I mean 'sometime this year'.  By default, Training Peaks keeps track of my shoes for me. That means that when I open a box of new shoes I simply go into Training Peaks, create a new shoe and assign it a number.  From there I then retire the old shoe both physically and virtually.  This ensure that any new runs are automatically assigned to the new shoes.  Pretty much all training log programs work the same ways.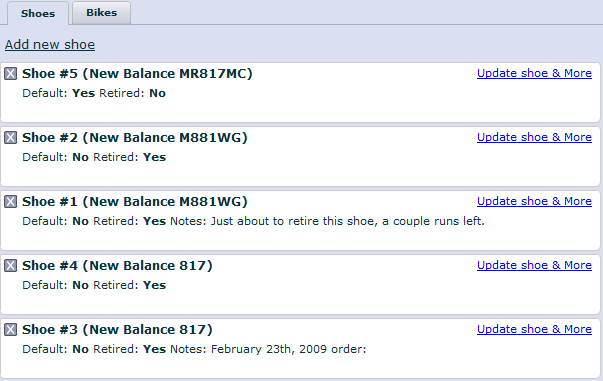 The issue being that this whole concept really only works if I actually remember to look at the counter.  And that's the situation that I found myself in recently.  Being it's now April, and being that the last time I had remembered to look was…oh…August, things couldn't have been good on the odometer front.
Luckily though, according to TP I'd only put in some 600 miles on this pair – which at first surprised me as I expected it to be closer to 1,000+ miles.  Then I realized that for better or worse with all the work travelling I did my running mileage was down quite a bit between October and January.
Finally, while I could use a two-shoe rotation system (which has many legit benefits, including reducing wear), that would require much more thinking.  It would also require me to swap back and forth my little Garmin footpod.  And require me to actually remember which shoe I used so I could update my new runs in the log appropriately.  So to me, that's just three times more work that my little brain wants to do.  I'm a keep it simple kinda person.  That's what my Dad taught me, it's all about the KISS principle.
Speaking of KISS, I just buy the same pair of shoes year in and year out – two pairs at a time.  They just arrived last week, and life is great again on the footwear front!
Enjoy your weekend all!
—
Quick Product Testing Note: The new Polar RCX5 arrived on my doorstep early yesterday morning.  This is Polar's latest running heart rate watch aimed at triathletes with GPS support.  Look for more details on that after my weekend training.  I'll be doing a full bike through (and a little run) of the Rev3 Quassy Half-Iron course tomorrow morning (not because I'm racing it, just because I'll be up there with family/friends and it's less than half a mile from their place), so I'll get a good bit of experience to jumpstart my review of it.  Look for a review in about 7-10 days or so.