Every time I head up to Skyline drive I'm reminded how much time can be gained or lost anytime hills are involved.  And every time I crest one of the endless peaks there I think to myself: 'I need to post about this sometime'…well…finally, this is that time.
There's a lot of interesting misconceptions around hills and how to handle them.  Some aim for pushing harder while descending, while others focus on the ascending portion.  Some take a break while they crest the hill and and some drive on through.  And some…well…they just avoid the hills altogether (these are the smart ones).
Out of all the things I do in triathlon, the one area of the bike I'm actually good at is climbing.  It probably has to do with the majority of my longer rides (50-110+ miles) over the past three years being up in the mountains.  So, by nature of adaption I had to get good at it.
But of course, on the opposite side – I suck at the flats.  Long courses that require me to get into a big gear and just turn for hours on end are not my forte.  Partly because I prefer variety, and partly because I lack the flexibility to sit in aero position uninterrupted for 5 hours.
In fact, to prove this point – if you compare my Ironman Canada bike split (some 7,000 feet of climbing) with my Ironman Florida bike split (approximately 1.8 feet of climbing) you'll find them nearly identical.  I'm relatively certain this is pretty much unheard of – thus cementing my desire to never do IMFL again.  The next Ironman race I do will be back in the mountains.
Climbing
The first thing to note about climbing is that you can't be afraid of the small ring…or even getting a smaller ring than you already have.  While there is a fairly substantial religious debate between high cadence (~90-95rpm) and lower cadence (usually between 70-85rpm), you probably won't find many folks climbing well at the slower cadences.  Yes, climbing at a lower cadence will result in a higher power output – but it also may result in a much higher heart rate, and likely also a lot of wasted energy.  It should be noted that there is also significant debate about 'self-selected' cadence – and how that ties in – essentially, you naturally end up at the most efficient cadence…though that can be heavily influenced by your training regime.
I've noted it in the past a few times, but I actually use a compact crank on my bike.  This affords me a bit more flexibility when it comes to cadence and staying higher up the hills, allowing me to spin pretty quickly.  You may remember my post last year outlining back to back rides with and without the compact crank.  Here's a little table from then:

(In this case, 'This week' was with a Compact Crank, while 'Two weeks ago' was without.  You can read that post to see my virtually identical HR's, etc and more details about the test)

But, cadence and crank aren't everything…in fact, they're actually one of the smaller pieces.
The biggest factor in racing well with hills is to quite frankly attack the smaller ones.  The reality is that a small bump in effort for shorter hills (say, under a 1KM to 1Mile) yields a pretty significant increase in pace.  I saw this strategy pay off heavily in Ironman Rhode Island 70.3 the first year I did it, where I hit almost all of the smaller hills fairly hard – netting me an average speed of 22.7MPH and a total bike split of 2:27.
Another way to think about this is that when you're climbing, the time spent on the hill is far longer than while descending.  There's a massive difference between climbing at 8MPH versus climbing at 12MPH – that's 50% faster!  Yet it rarely takes that much additional effort to bump your speed while climbing.  And with climbing, we're talking about a situation where as a head ref once noted – 'time and space slow down', thus – if you could do that hill with a bit extra effort and slice the time in half – that's huge.
Cresting
Now that I've climbed the hill, I'm coming to the one part where I unknowingly give away time – the very top.  No, I'm not talking about going downhill yet.  I'm referring to the point where the grade changes and starts to decrease in difficulty.  Here, the part in red on the below hill while climbing: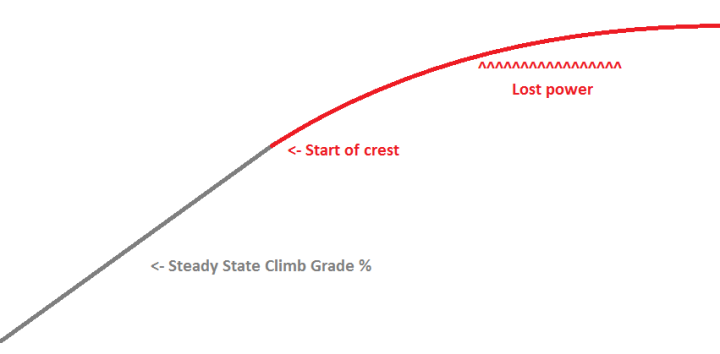 See, it's that part in red that you lose a fair bit of momentum if you're not careful.  This is because your body will naturally start to ease back because your mind will think that to maintain the same speed you get to exert less.  But in reality, if you kept on pushing during this section, you'd gain significant amounts of speed since the effort required is quickly becoming less.
The challenge here is that you'd never notice this drop if you didn't have a power meter, as the heart rate doesn't quite recover fast enough to make it visible before you descend again.
But, with a power meter showing your true work effort at 1-second intervals you can instantly pickup on the drop in power being put out.  For example, check out the below hill – you can see the initial drop as I start to crest, where I wasn't paying attention – and then as I note my HR drop, I start too kick it up – but by then, I've already lost a fair bit of extra time.  You can then see my extra effort bump before starting downhill: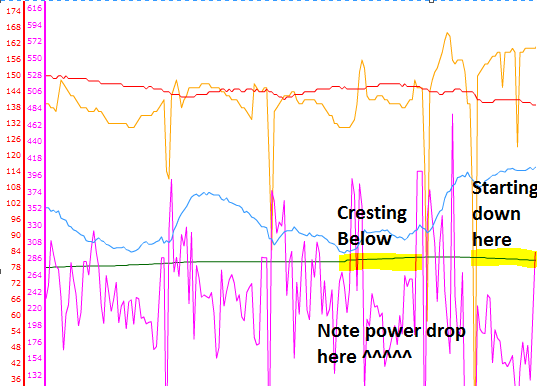 In the above – red is HR, green is elevation, pink is power (higher is better), yellow is cadence, and blue is MPH.
Note how my HR starts to drop pretty quickly as I hit the crest, but by then I've lost the momentum.  Also note that the above is heavily zoomed into just a small section representing about 3 minutes worth of time…but that first yellow highlighted section is some 24 seconds…of essentially lost time.
Cruising (Descending)
Now I would have named this post 'Climbing, Cresting and Descending', but that didn't sound as cool as 'Cruising'.  But make no mistake – this final section is about descending.
See, while a lot of folks really want to push it hard down the hill, this is actually the least beneficial time to do it.  The majority of your effort spent is overcoming wind resistance.  Beyond that, it takes significantly more effort to make virtually trivial gains in speed.  So, while it's certainly fun to try and push descents, it doesn't usually make a ton of sense.
Thus, hills are largely the best time in the world to recover (read: take a break).  You can generally soft-pedal to maintain speeds up to about 30-35MPH depending on the grade (more than 2-3%).  Anything beyond that is effort spent trying to overcome your own increased wind resistance – it's sorta a chicken and the egg scenario.
Also, it's important to note that if you take a mile long hill – the difference between 31MPH (1 minute 56 second per mile) and 35MPH (1 minute 43 seconds) is 13 seconds.  However, the difference between 2 minutes at Z1 recovering, versus 2 minutes at Z3-Z4A is massive.   I'll happily take the 13 second hit and get a 2 minute break that I can easily apply towards the next hill I charge up.  I can easily make back that 13 seconds and more on the next hill…but that's just my little opinion…well, mine and Joel Friel's.  He's far smarter than I am…given he wrote the book on triathlon training.  Technically the bible I suppose.
And as always, you have to judge the terrain around you as well.  In some cases, you may be setting up for another hill just beyond you, or you may be in such a short race that pushing it the entire time is of the utmost importance.  This is different from an Ironman race (or other long course race) where conservation of energy is the name of the game.
Wrap-up
So, next time you're out there conquering the hills (or overpasses for you folks in Florida), just remember to ride them smart, and you'll likely find your fastest splits.