You may remember back a few months ago when I published my Top Tips to reduce HR strap issues.  That's since become a pretty popular posts, especially amongst Garmin Premium Soft Strap HR users.
And for the vast majority of folks, those tips resolve their HR strap issues around erratic HR readings including drops, spikes and other funkiness.
But – there's a small segment of the population which has occasional (or continuous) issues with the soft strap.  From time to time, I see these issues myself – I'm certainly not immune to the challenges that sports technology sometimes throws at ya.  Recently I saw a bit of an uptick in heart rate reading spikes – in particular while wearing some of my DriFit type t-shirts while running.  It was getting to the point over the last few weeks where I couldn't even wear them because of the spikes.  I'm not clear on why the exact change, as the weather hasn't turned to fall (which is when the issues typically crop up).
So…that's when I remembered an e-mail thread with a reader in Australia asking if I'd tried out any of the Polar straps.  While I believe that Polar devices are currently lagging behind the competition – I've always agreed that their HR straps themselves are superior.  Unfortunately, the straps themselves aren't natively compatible with Garmin.  Garmin uses ANT+, and Polar uses their own protocol (depending on coded or non-coded).
After a bit more information he noted that some folks Down Under were actually utilizing the Wear Link straps which were compatible with the Garmin's.  So, up for a bit of experimentation, I ordered one off of Amazon and waited until Mr. FedEx arrived.
Luckily…he arrived the next day. 😉
I was pretty skeptical that it would work out of the box, given the transmitter differences.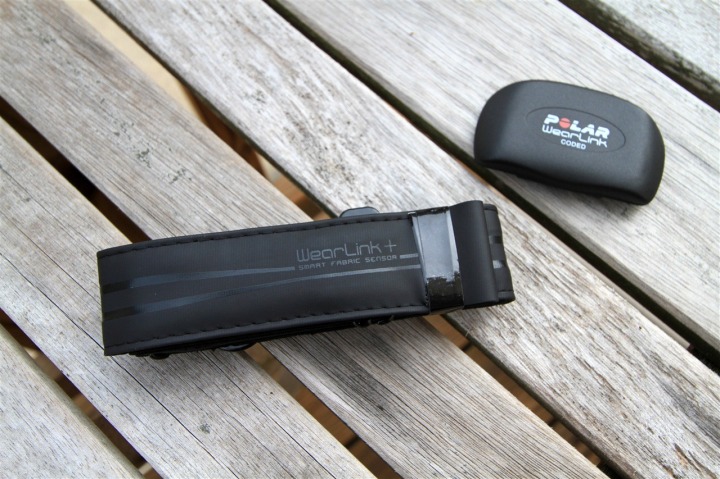 And, after a whole bunch of testing – I found it didn't.  No HR readings to be found. 🙁
So, back to the forums I went and did some more research.  Turns out…I was doing it wrong!  I needed to actually swap out the Garmin ANT+ transmitter (little button-on plastic piece) with the Polar Transmitter (same design plastic piece).  So, I popped them both off, which then looks like below: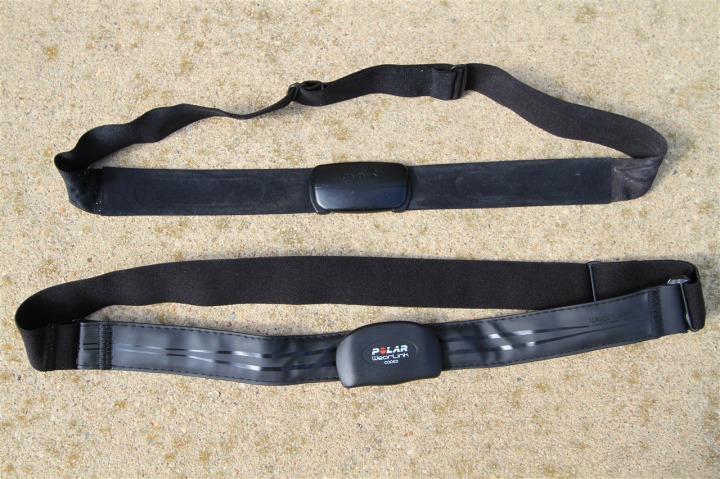 …after disconnecting the clip it then becomes…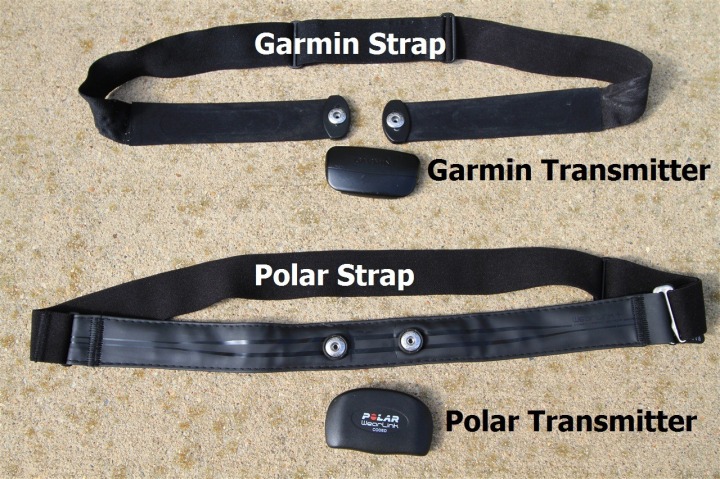 And then, I did the Indiana Jones Idol swap: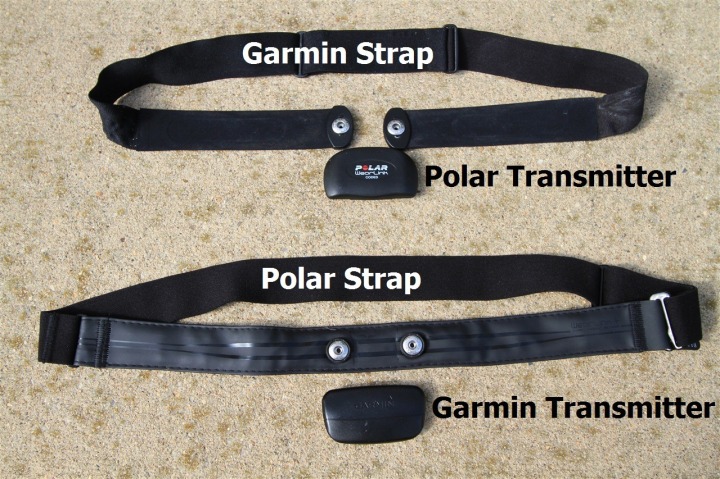 You'll now note that the Garmin ANT+ Transmitter is snapped into the Polar Soft Strap, and the Polar Transmitter is snapped into the Garmin Soft Strap.  At this point, we can take the Polar Transmitter/Garmin Strap combo and toss it to the side…its now sitting in the corner with the dunce cap on.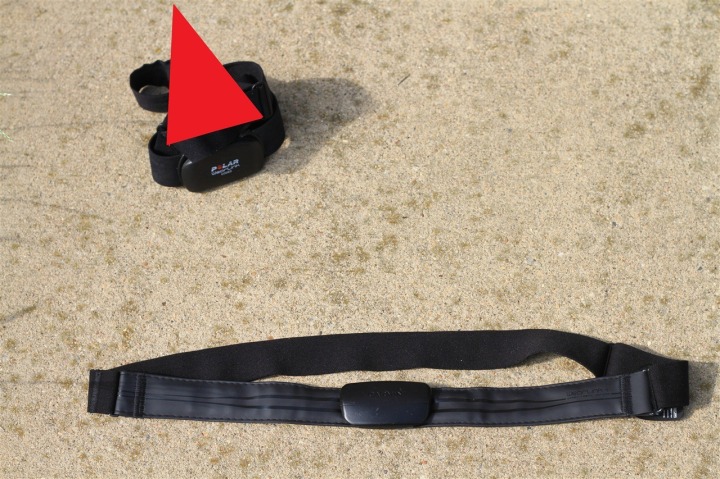 Meanwhile, we can take the golden Garmin Transmitter/Polar Soft Strap combo and go back to our ANT+ device: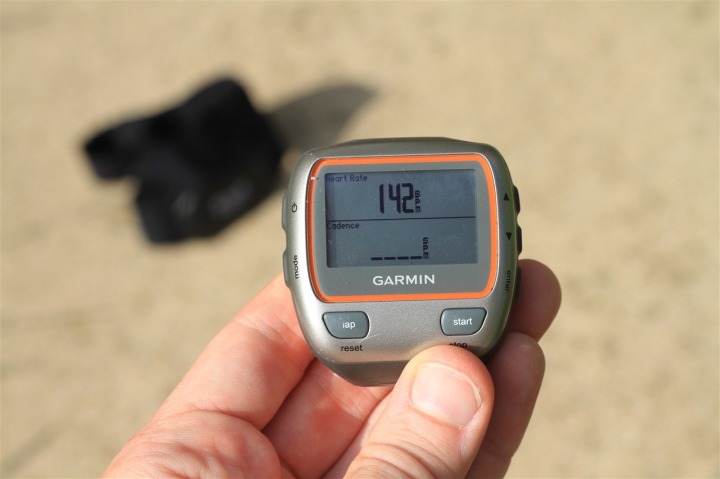 You'll notice we don't even need to re-pair the strap at all.  This is because it's our same good ole' transmitter.  See, the transmitter itself is almost never the problem (unless the battery is dead).  But it's the strap where the electrode sensors are that's the root of all evil.  The strap is what picks up the readings off your chest, whereas the transmitter just relays that information.
And, because the transmitter is ANT+ – it'll work with all existing ANT+ device, regardless of whether it's a Garmin Edge 500, a Timex Global Trainer, or an ANT+ enabled iPhone: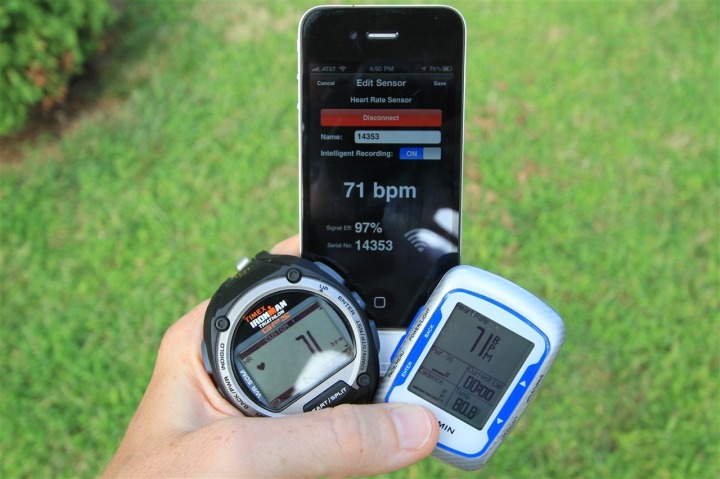 So, how would it fare in real world testing?  Well, if there was ever a place that gives me constant trouble – it's Skyline Drive on a bike.  This is because I'll easily hit 40MPH on the descents, which for me tends to cause high HR issues when the wind enters my jersey.  It's pretty much a known quantity for my rides there.
So…off I went, cycling for 44 miles.  And when I got back and took a look at my HR graphs?

Not a single erratic/unexpected reading.  In fact, during the whole ride the readings were exactly what I'd expect them to be.  No weird issues up front like usual, no issues during high speed descents, nor any problems with the buffeting winds that I also experienced.  Just perfection.  And my browsing of various forums is showing the same thing for others who have switched over.
But…what about the costs?
Well, cheap.  Super-cheap.
Now I actually incorrectly bought the entire Polar strap including the transmitter – but you don't need to.  You just simply need the replacement strap without the transmitter.
This replacement strap itself is available for just $17.  Pretty darn cheap.
It comes in two sizes:
XS-S (21"-38"): Amazon Link (simply choose size X-Small-Small)
M-XXL (27"-60"): Amazon Link (simply choose size M-XXL)
I ended up getting the M-XXL one as that seemed to easily cover me and works perfectly.  Note that it's important you get the WearLink one – which has the little snaps to place your Garmin transmitter.  Just any old Polar strap won't work.  Also note that you NEED the Garmin Soft Strap HR transmitter piece – meaning this won't work with the old school classic straps, nor will it work with just the Polar pieces.  Mmmk?  Good.
Hope this helps some!