During my day to day training antics, I normally swim in a simple 25 yard pool.  While the pool itself is actually a 50 meter full size pool, it's divided up into some 14+ lanes, each 25 yards across.  So that's just what I swim.  And I'm pretty good at swimming that particular configuration – you get into the swing of things, the rhythm of the distance and the wall.
But it was this past Monday night and things got changed up a bit.  I had hoped to be feet-wet shortly after 5PM.  But the day was not going particularly well work-wise.  It started earlier in the morning at the breakfast hour, and went from conference call to conference call resolving an issue.  Soon, 5 became 6, and 6 became 8, and 8 became 9PM.  Around that time I was e-mailing back and forth with my Coach and casually mentioned my impending swim-fail.  Given all my local pools close at 9:30PM, even if my call ended that minute, I'd only have about 3 minutes in the actual water.
A minute or so after sending the e-mail, I forgot about it and continued with the conference call.  A few minutes later though the sun shined through (well, actually, the moonlight I suppose) and the issue was deemed resolved – and at nearly that exact same moment I received an e-mail from Coach with the George Mason University Aquatics center schedule, which ever so kindly noted they were open to 10:30PM.  Even with a 20 minute drive, that would still give me about 45 minutes of swim time – well worth it!  Plus, I've swam at the facility before and really enjoy it.
So, I hopped in the car and scurried on over.  The facility actually has two pools.  A shorter 'recreation pool', which still is pretty nice: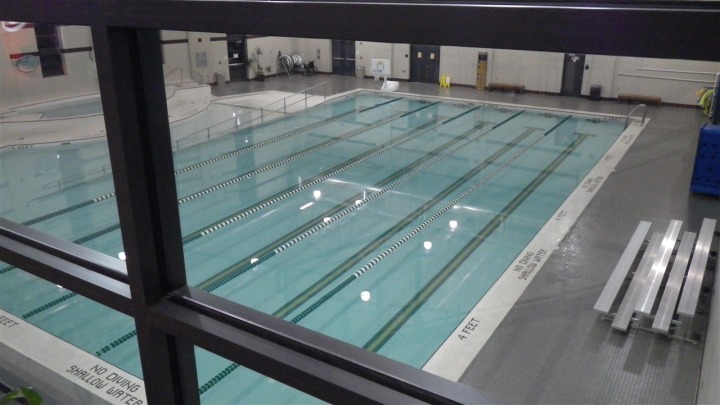 And then the larger 'competition pool'…which is pretty much downright awesome.

Now the competition pool has sorta funky hours to accommodate the various swim teams and competitions, and it's a bit of a drive for me with traffic, so I don't often go here since it requires a fair bit of time to get to during weekdays.  You can see the little schedule slip of paper I picked up: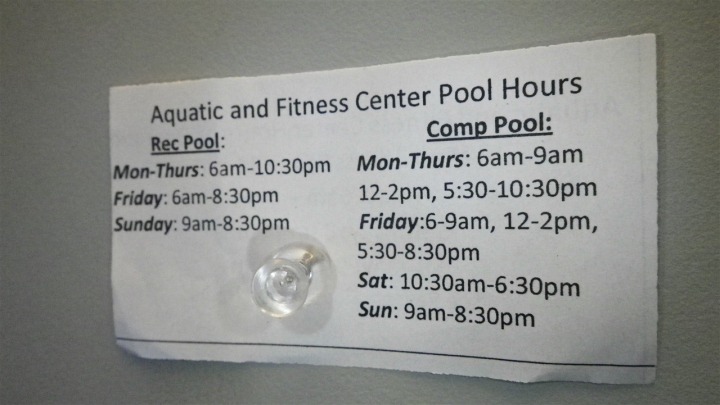 Given its competition stature, it means some fairly fast swimmers regularly drop in to grace its waters, as you can see below: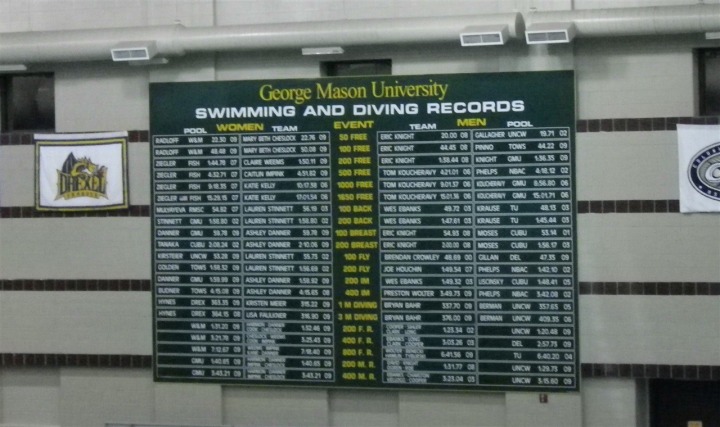 If you click to expand the picture, you'll probably note a few records from peeps like Phelps.  Thus naturally, I figured if they could swim fast here – then I would as well.  After all, not only had they blessed these waters (hopefully without adding any liquid), but they had fancy little synchronized digital clocks at all corners of the pool – making it super easy to pace by clock (something my pool doesn't have easily viewable).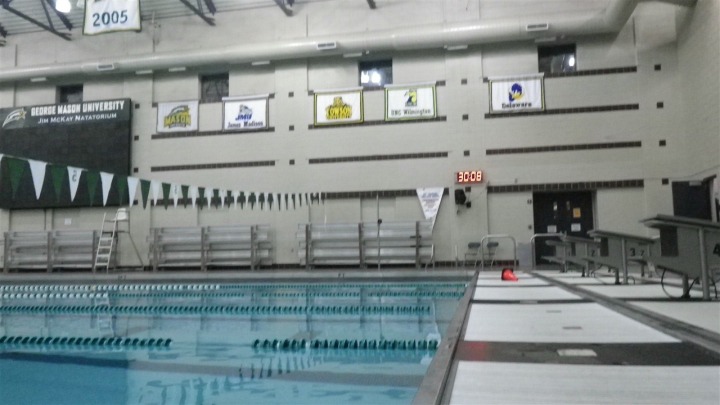 The good news is I was indeed swimming fast…er.  Faster than the guy in the lane next door who was doing a lazy backstroke down the lane like it was a summer afternoon floating down the river.  And I was moving significantly faster than the two dudes who were hanging out near the ladder at the other end of the pool.  Given their current pace – I should handily win any competition…mostly because they never really left the rim of the pool.
In fact, I was swimming so fast that I'm pretty confident that I could have beaten everyone in that competition pool that night.  You know…all three of them.  The way I saw it, they were going to soon add my name to the board as well with some records!  Now…technically the lifeguards weren't in the pool, which is good.  Because I'm pretty sure they could have swam circles around me.
If you don't often swim in a 50m pool the first thing you'll discover is that the other side is a really long ways away.  This may sound funny from someone who can go out and swim a 2.4 mile open water Ironman – but when you think about it, your body gets conditioned to the rhythm of the flip while following the black line.  Outdoors that little trigger system seems to correctly disengage, but indoors my brain is still conditioned to finding a wall every 25 yards.
On the flip side though (no pun intended), you have to swim less laps – so it does seem to go by faster (even though the wall clocks are very clearly telling me it's not).  Of course, I'm also keenly aware that for every 500 meters I'm swimming, I'm really swimming almost 50 extra yards over a 500y segment.
With all the clock watching going on before I knew it it was time to get out.  I went as long as I was allowed – until 10:29:43PM – figuring that since the wall said the 50m record was some 19 seconds, it was unlikely I'd be able to do 100m in 17 seconds…though one can always hope. 😉
I finally made it home shortly after 11PM…with a brief stop en route home to pickup Fourth Meal (which was oddly enough only second meal).
Speaking of meals – I was making fresh pasta Tuesday night and the kitchen got a bit hectic, so my usual hanging location was causing some airspace issues.  So I found a new location: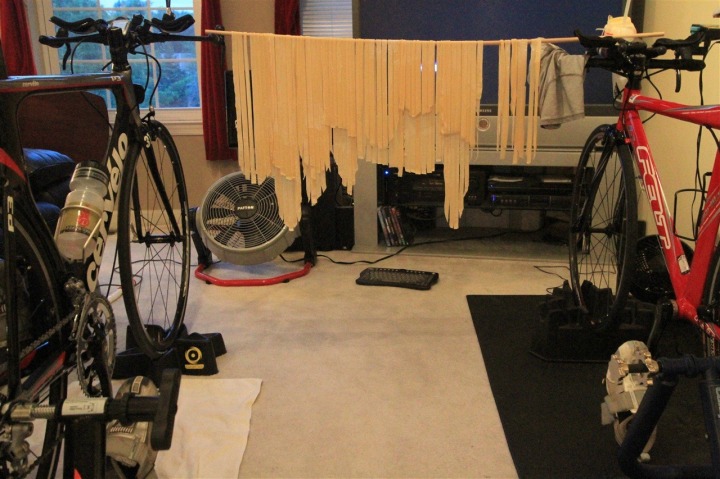 Side note: For those of you in Washington DC – remember tomorrow (Friday) is Bike to Work Day!  A lot of other cities are running it this week as well – so check your town!  While you wait for that story – you can read last year's story (or the year prior)…some entertaining bits in there as last year I was travelling out of town on Bike to Work day (about 5,000 miles away), so I did my own variation on it.  See ya out there tomorrow!