On Saturday a packet arrived from the Boston Marathon.  Kinda like getting word from colleges; big envelope is better than little envelope.  And this one had a WHOLE bunch of stuff inside.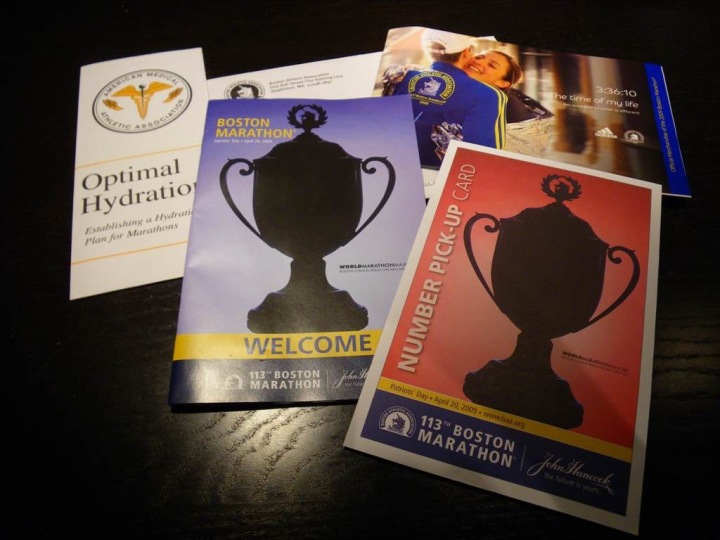 There was a bib pickup card, to allow me to pick up my stuff at the expo (below).  This also had my qualifying time listed.  Due to that time, I'll be in wave numero uno!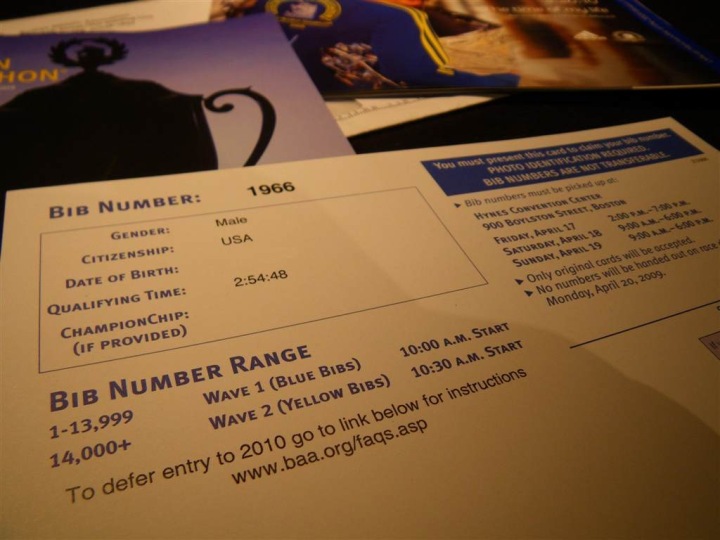 However – let's be clear now upfront.  I will not be running a PR or anywhere near a PR at Boston.  I'm there to enjoy the experience.  That may or may not include stopping at a Denny's around mile 14 or so if it seems like the prudent thing to do.  And I'll definitely have a camera with me on the run.  It will of course be a relatively quick run – but don't be looking for any sub-3 action…
Then there was this 'Optimal Hydration' packet with a TON of text in it about over and under hydrating.  I found it kinda funny because these sorts of things would be far more useful in normal marathons – but in the case of Boston – the vast majority of folks have run marathons before.  But, it's there for ya!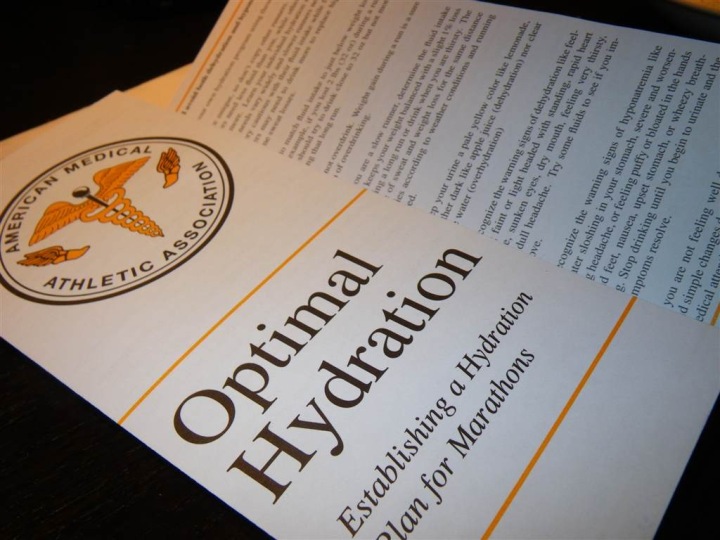 Then there was a big multi-page guide to the race, the transportation options and everything you'd expect in a big marathon race guide.  If anyone has any recommendations around this topic – I'm all ears.  I'm staying with family in the area and will have car with the girl (who's cheering) – so is the best option to take the provided buses, or to just get dropped off at the start by the girl and then have her wander via car?  Or is it better to simply take the busses form downtown and then have her access the course via the T (subway)?
Note how big this expo is!  Holy cow!  Think of all the free stickers I can get there!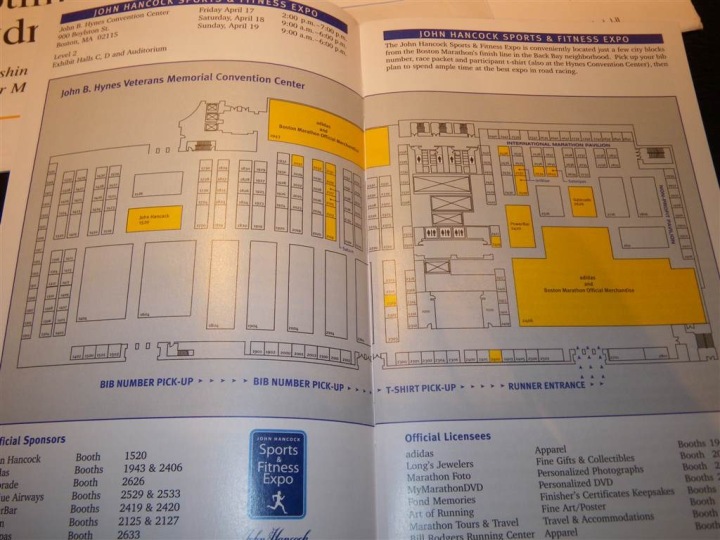 Of course, just for showing up I get this nifty bright yellow shirt.  Apparently I'm on a yellow-shirt-run lately with the National Marathon volunteer shirt.  I'm considering starting a road construction company soon, and these would come in handy.  Shovel-ready, right?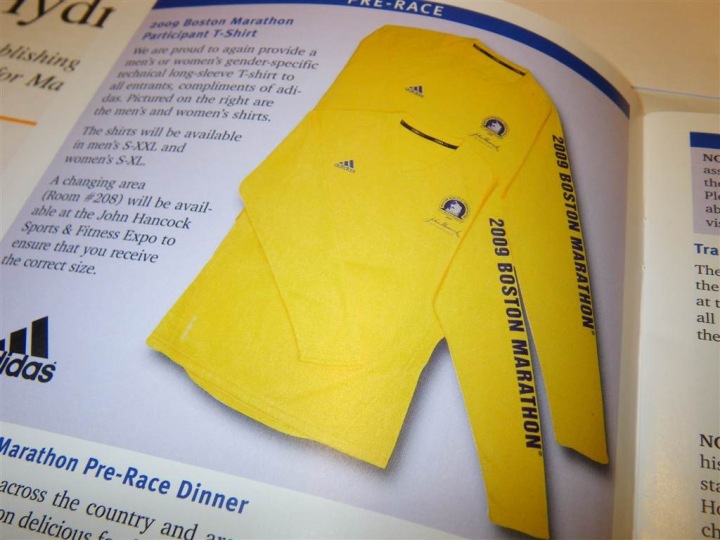 However, they know you'll probably want to buy some stuff to remember the occasion.  So they include a catalog in the bundle as well – complete with plenty of slightly over-priced items (not nearly as overpriced as the Ironman items though)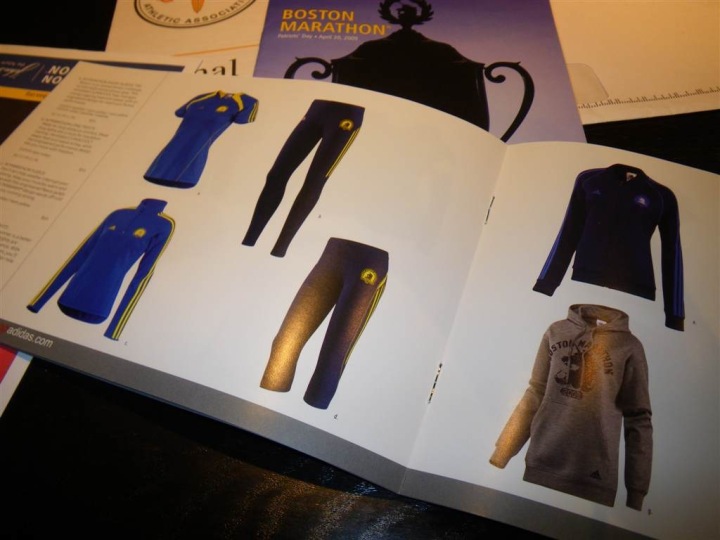 I did see these flip-flops though…they are tempting…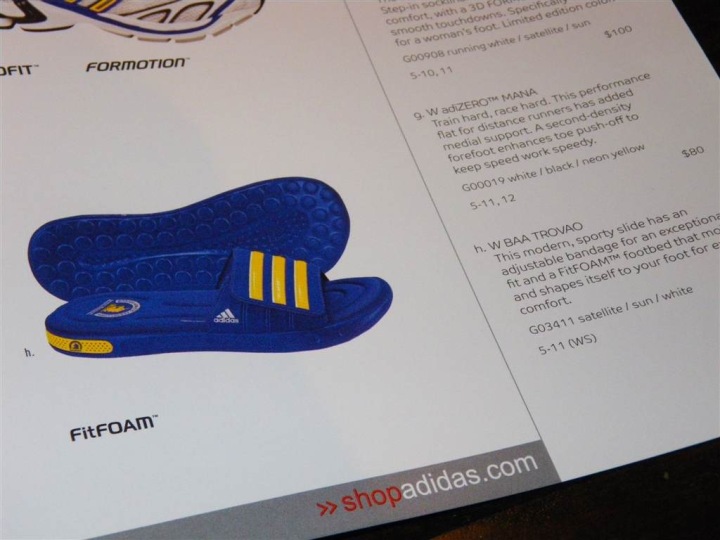 Finally, at the end of the athlete guide, there was this ad from Adidas.  I think it summed up marathon running pretty well – hopefully they'll have (free) posters of it at the expo.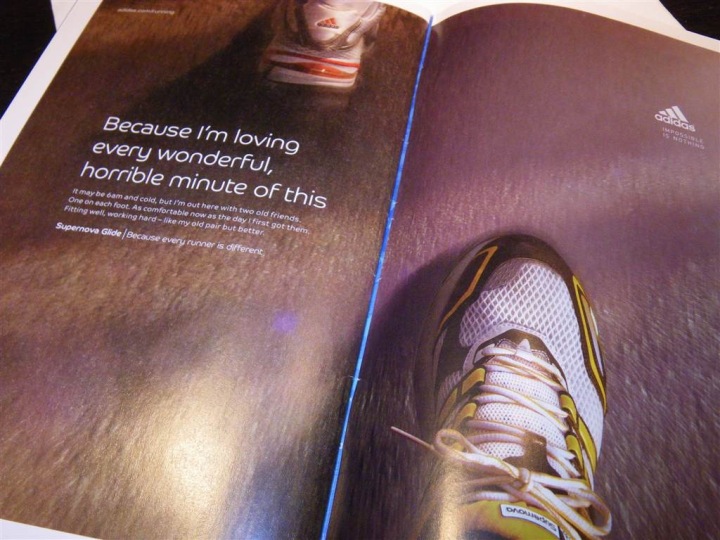 That's it – less than 20 days till the Boston Marathon (Monday – April 20th).  Don't worry, ya know I'll take lots of photos!