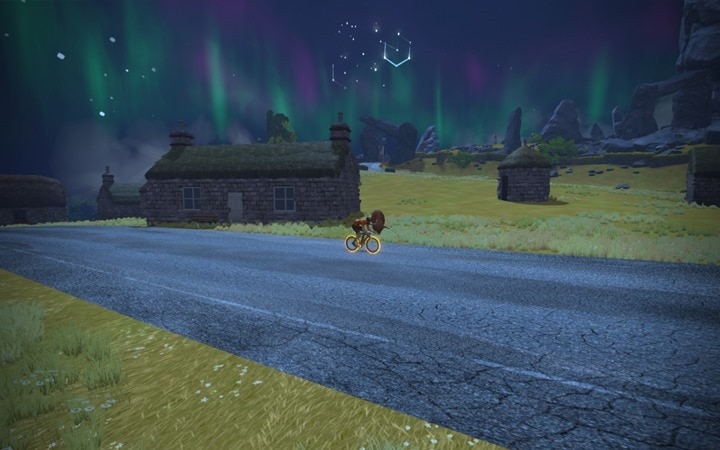 Ahead of February's UCI Esports World Championships, Zwift is launching a new world/map: Scotland. This follows in the footsteps of other historical UCI-driven maps, such as the always-loved Richmond (2015), Innsbruck (2018), Yorkshire (2019), and the little-remembered Bologna TT event map (2019 – for the Giro). In the case of Scotland, the map encompasses some 58.8km of roads, including five specific routes, and one Nessie. Zwift says the new world is "inspired by the city of Glasgow", which is also the site of the UCI Cycling World Championships in August.
Now for the month of February, the Scotland world will be so-called "event-only", which means you can only ride it on/with a specific scheduled event. And the first such event is February 3rd (Stage 8 of the Tour de Zwift). There's a slate of rides then taking place after that date, so it's pretty easy to find events from those dates onwards. Then in "early March", Zwift says it'll be available for free ride, club events, and meetups. This is a pretty typical pattern for Zwift rollouts of UCI event worlds. Also, if you complete a ZRacing or Ride Scotland event, you'll get a 'Zwift Tartan' cycling kit.
As noted earlier, there are five specific routes, which are as follows (descriptions direct from Zwift, because I lack enough flowery language to say much else besides 'you pass some more fuzzy cows as you go past some more rocks and fields'):
Rolling Highlands – 14.1 kilometers with 105 meters of climbing. This rollercoaster ride around the loch will have Zwifters constantly going up or downhill. In races, the punchy course provides lots of places to attack. In riding and training, the rolling hills are the perfect place to train quick bursts of power as you push yourself up the repeated short climbs.

City and the Sgurr – 8.6 kilometers with 161 meters of climbing. Sgurr means "rocky peak" in Scottish Gaelic, and this route tackles Zwift's newest hill from two directions. Roundabouts at the bottom of both sides of the climb mean that Zwifters can easily lap the climb, making it the perfect place for hill repeats, or very challenging racing!

Glasgow Crit Circuit – 3 kilometers with 33 meters of climbing. Zwift's newest crit course is set in the heart of Glasgow's city center and shows off the city's distinctive architecture. The short course has short, punchy climbs, tight, twisty roads, and two arches. The course provides options for any length of race on the easily lapable route that's sure to produce intense racing.

Loch Loop – 8 kilometers with 71 meters of climbing. This loop is a time trialists' paradise – the long, lapable course, is mostly flat and incorporates some of the Rolling Highlands, but skips the bigger climbs, giving Zwifters only a few gentle hills thrown in to break up their effort. The course measures 5 miles, making it the perfect place for 5-, 10-, 15-, or 20-mile time trials or team time trials. Or, keep riding for harder efforts! For traditional racing, exploring, and training, the Loch Loop also offers a flatter alternative to the Rolling Highlands.

The Muckle Yin – 25.1 kilometers with 279 meters of climbing. This is the big one – a single route that incorporates almost all of Scotland's roads in one single loop. The route starts in the heart of Glasgow city center and quickly takes riders out to the sheer cliffs on Scotland's west coast before rolling along north to the loch, and then to the sugar and its dramatic views. This challenging route lets you take in all of Scotland's most distinctive and engaging features in one ride or race.
Now in my case I set out on two different press/media group rides. Of course, 'group' would be a bit of a strong term. Turns out I was the only person on such ride. One route was the City and the Sgurr route, the other was the Loch Loop route. Albeit, as I'd find out, the City route basically duplicates the Loch Loop route, except it starts very briefly in the city.
The 8KM long City and the Sgurr route would be absolutely brutal as a multi-lap race, given it's essentially going over the top of a mountain and back down again over and over again. A yo-yo out-and-back route of sorts, but with 161m of climbing on it including some 14% grade. It's got a looped under/overpass thingy, kinda like the loop on Sa Calobra on Mallorca (Spain).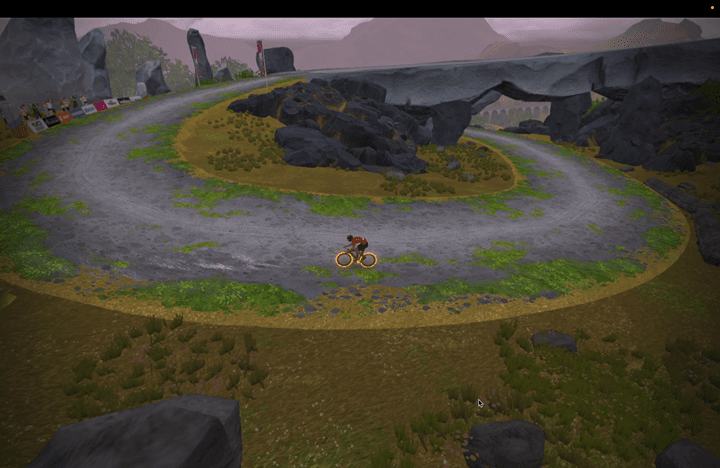 That was a fun week.
In any case, here are a few quick shots of that course/route:
You'll notice the Northern Lights, as well as some constellations. This was recorded on my M1 MacBook Pro, so nothing crazy in terms of graphics power (since sadly, Zwift has yet to optimize it for M1/M2 units).
Meanwhile, the Loch Loop is much tamer, but still involves the same climb (just not repeated). It meanders through the "rolling highlands" past many fields, lots of Highland Cows (or Fuzzy Cows as my daughters call them, they're also here in Amsterdam), and one Loch Ness monster.
Overall these are nice courses, reminding me a bit of the Yorkshire courses, but more interesting. I think the 'over the top' type touches work well here, as otherwise it's just a lot of fields/rocks. For example, this thing: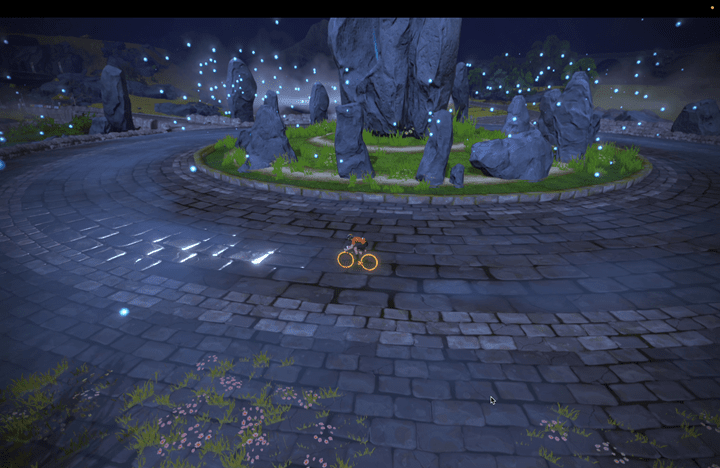 Now, one thing that'll be interesting to see is if Zwift expands this world any. Up until now, most UCI-driven world maps tend to be 'one and done'. They're built ahead of the UCI outdoors event in that host city, and then otherwise don't see any further expansion. However, this is the first time that Zwift has had the map ready for the Esports World Championship, which is held 6 months before the real-world-outdoors variants. Thus, in this case, Zwift would have 6 months of potential expansions of the Scotland map ahead of that August UCI event. If I were UCI and the Glasgow organizers, I'd be looking to find some way to maintain/increase interest between now and then. Given that was always the goal historically.
I asked Zwift what their plans were, and they said this:
"It's a simple but not-so-simple question. Yes, the Scotland map is different to other UCI courses as it's been designed from scratch whereas others have been road course replicas. There are no plans to add new tarmac between now and August but the door would be open to possible expansions in the future. Again though, nothing is planned at this point."
Also, totally unrelated but kinda related side note, I noticed on the schedule that while the Esports World Championship is being held shortly here in February, two other UCI indoor cycling championships are actually being held in August. These being the Artistic Cycling, and Cycle-Ball events. Seriously, one of these years I'm gonna see these events in person. I've seen the Tour, I've seen the Giro, I've seen the Olympics…now bring on some Cycle-ball!
Oh, finally note that there aren't any running-specific routes on Scotland, in terms of run paths or such different from the cycling roads. But you can still run these roads, and Zwift says there will be run-specific events coming up as part of the Scotland world launch.
With that, thanks for reading!