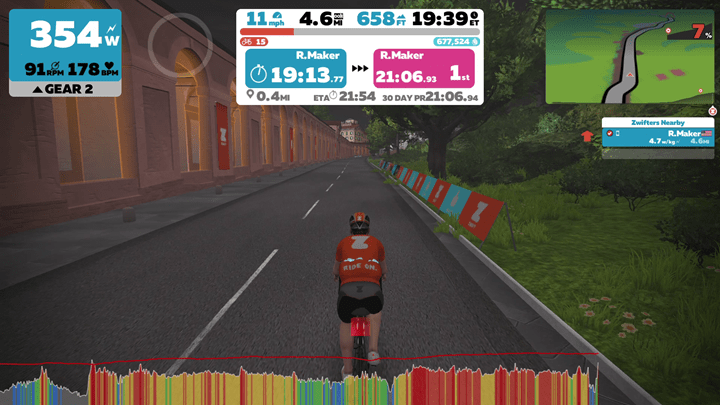 Earlier this week Zwift announced that their new course would be a short time trial route mirroring the 2019 Giro d'Italia Stage 1, which starts today with the pros riding the real thing in Bologna. But it wasn't until now that the course itself was actually available. As of now – you can go ahead and get your Zwift updated and subject yourself to 8KM of pain.
If however, you wish to avoid incurring such misery yourself, I've done it for you. Twice actually. In fact, you can watch the video below where I show off the full route, condensed down into a tidy 11 minutes of empty world riding.
If however, you're more of the textual type – then read on for all the details on the new course.
The Route: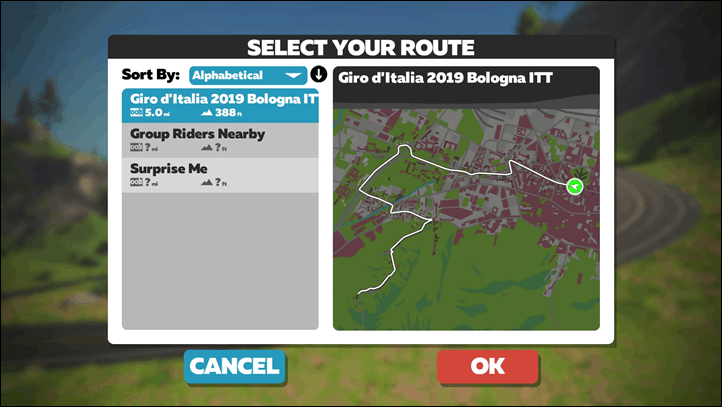 The new course definitely isn't long, but that doesn't mean it's not painful. It clocks in at 8KM (5mi), with the first 5KM being essentially flat. Then you've got a 1KM stretch of 1-3% gradual up, before the hammer drops for the last 2KM averaging some 9.7% during that section. Oh, and there's some nice crispy 16% chunks in there too – just for good measure. Here's the VeloViewer profile of the segment.
The Zwift stage starts just a few hundred meters prior to the official starting banner of the Giro stage, in a square near the Fountain of Neptune. And the tridents of the fountain were the inspiration behind the Maserati logo.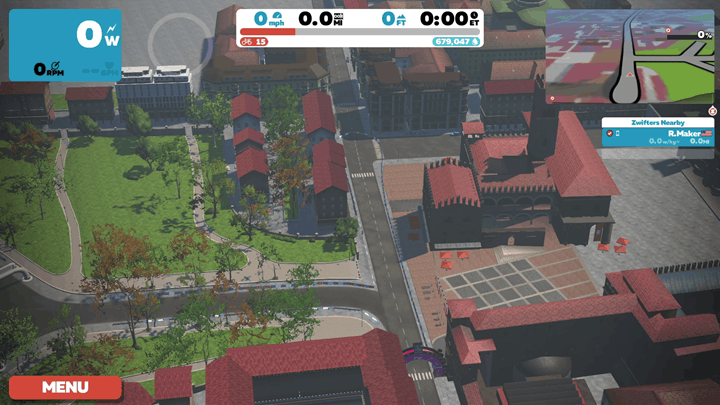 However, we ain't got no time for Rick Steves moments here – this is a time trial stage. So onwards through the banners we go: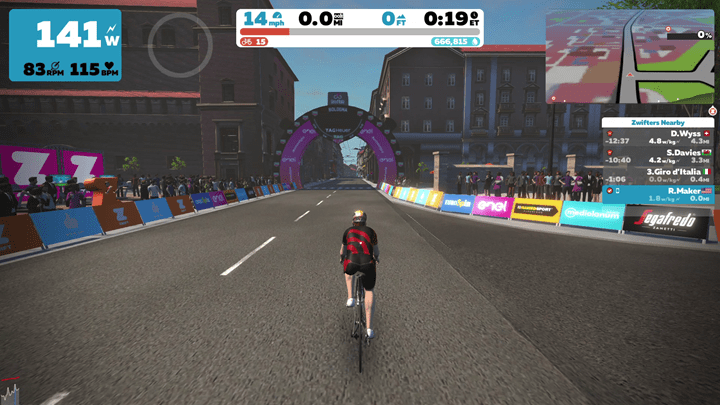 From there we head down the shop-lined Via Ugo Bassi, which in Zwift holds consistent with the flavor of what you'd find in real life. Or at least, so says Google Earth (more on that in a moment). Sure, there's racks of bicycles: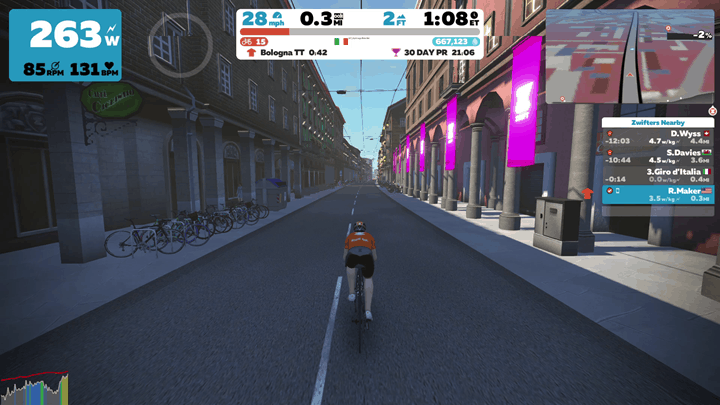 But there's also flotillas of Vespa's: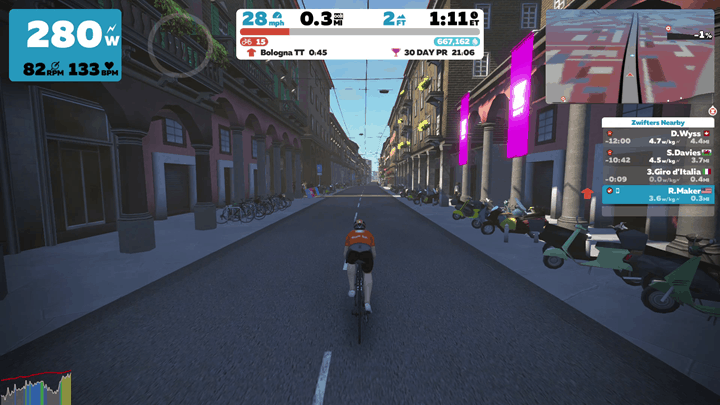 After about three kilometers, we leave the core of Bologna city center and head out through some greener areas. In real life the sprawling cemetery lies just over these walls, along with some sports complex and eventually we cross over a large highway: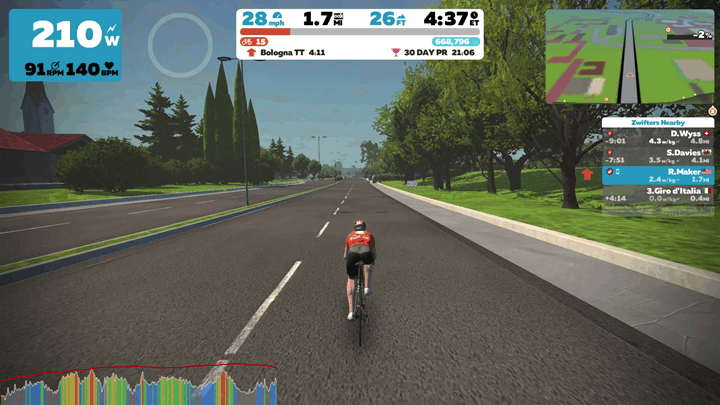 It's after this that we start our gradual initial climb of about a kilometer, passing the Arco Del Meloncello on a hairpin turn: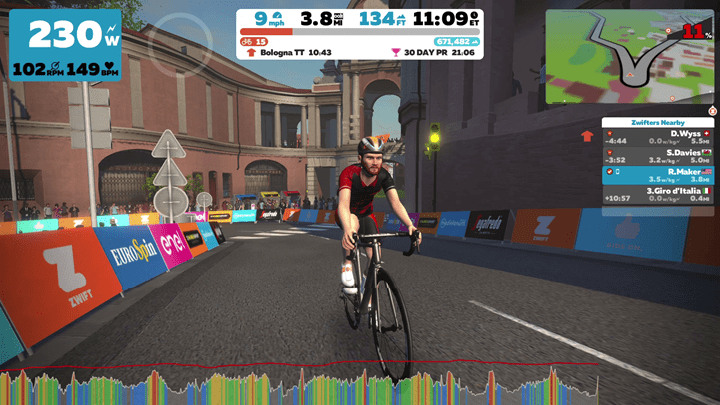 And it's immediately after that point at the 6.0KM marker that the incline monster awakens and you shoot up to 10%.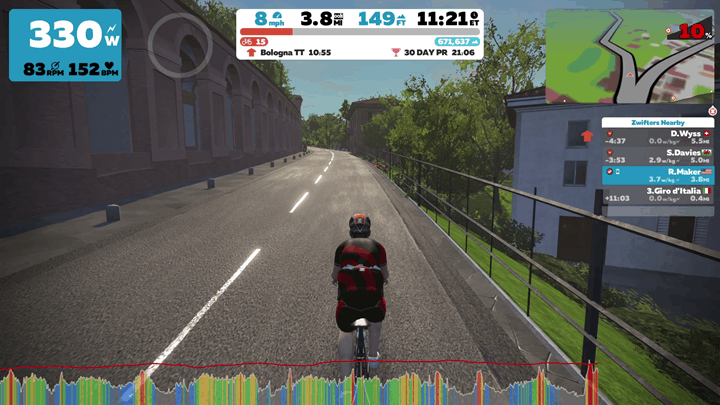 In fact, on the left side you'll find the Portico di San Luca, which now runs alongside for almost the entire remainder of your climb. This is the longest in the world, at some 3.8KM. Essentially, it's an incredible covered walkway from the 1600-1700's. Or, you can read a whole lot about it here.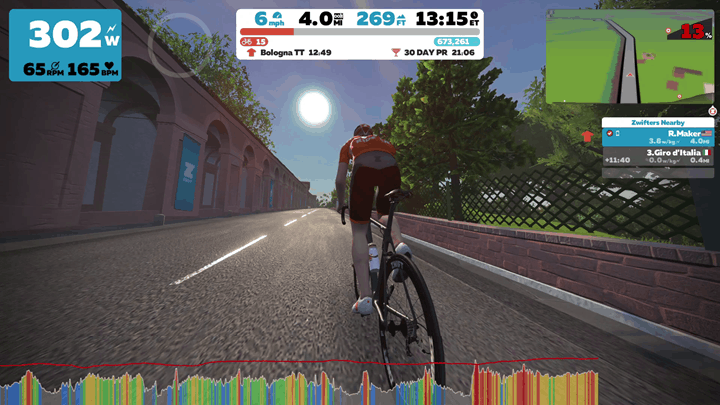 Realistically, you might not have much brainpower left to think about all that detail though, as during this climb the incline spikes at 16%. Eeks: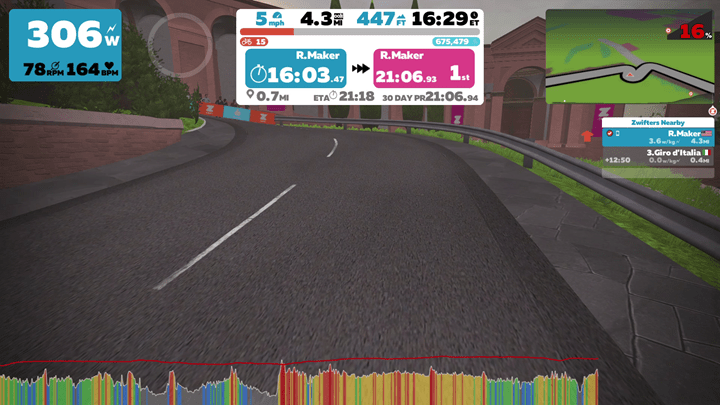 However, this might be a fun time to mention how the Zwift crew built parts of the course. When I visited Zwift about a month ago, they were cooking away on this stage, and the team of graphic artists were using Google Earth side by side with the development tools to mirror much of the real world.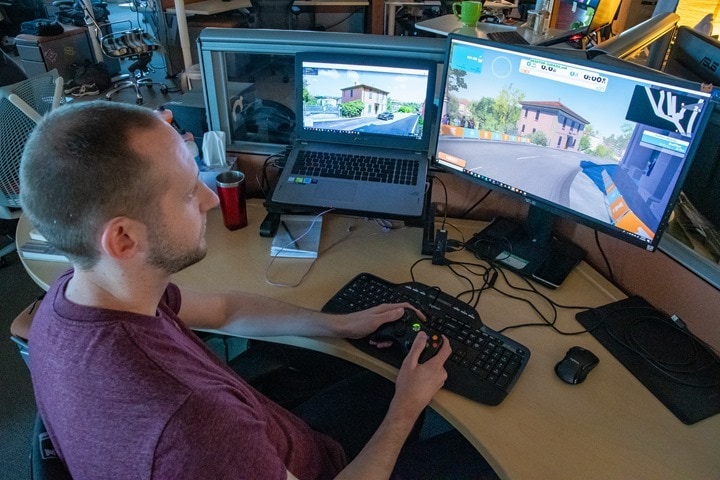 This little section was about a month ago – but you can see how closely it mirrored then. Now, much more of the detail around it is also complete. Cool stuff.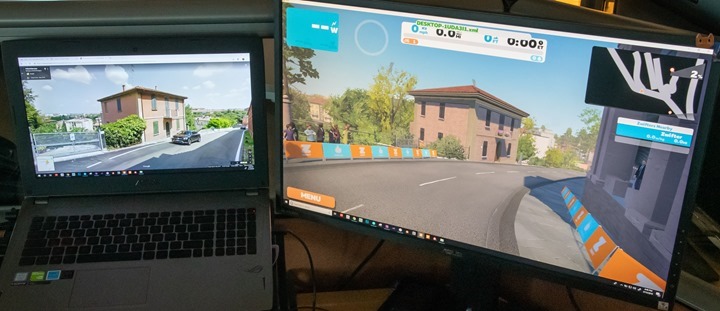 As you crest the top of the climb you've got about 200 meters of relative flats to get your sprint on as you try and nail your best finishing time.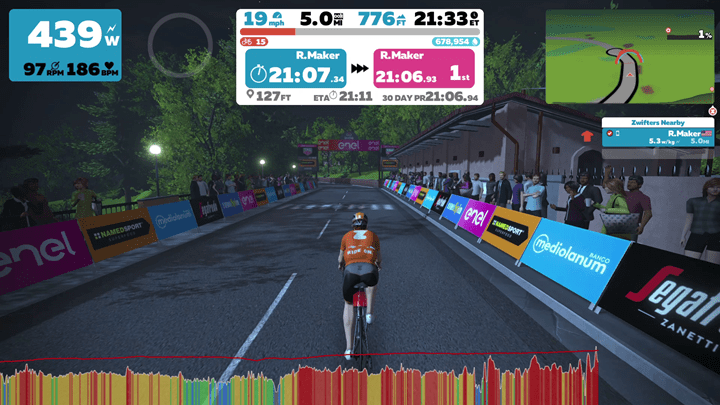 The top finishing corral features the most dense crowd area we've seen in Zwift yet, this course or otherwise. Though, that's really my only critique of the course: There just should be way more people on it (spectators). There are small pockets here and there, but I'd have loved Zwift to go a bit outside their comfort zone and added dense crowds as well as aspects like bands and the usual random spectacles that you'd see in real life. For the remainder of the course, this is about it: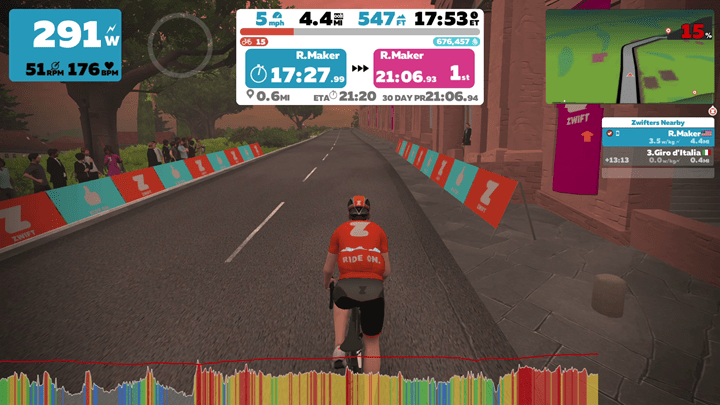 Given the purpose of this course is almost exclusively event based, it stands to reason that an event like the Giro (as its partnership is modeled after) would have lots of people on it.
In any case, after you've climbed to the top, you can go ahead and loop around in a parking lot if you so desire: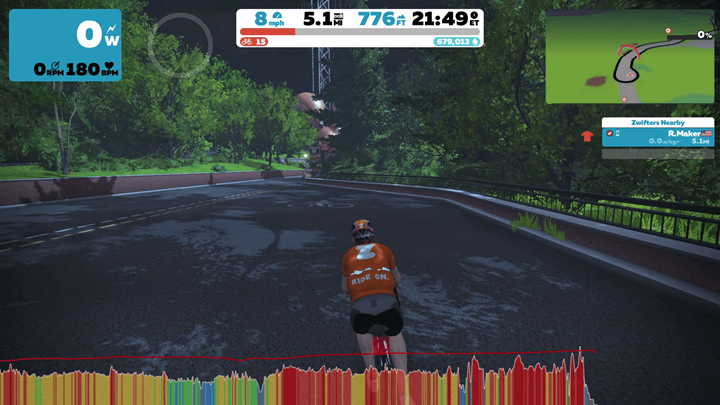 This will take you back down the hill where you can do it all over again, in the event you somehow want to do that twice. Or, three times in my case.
Going Forward: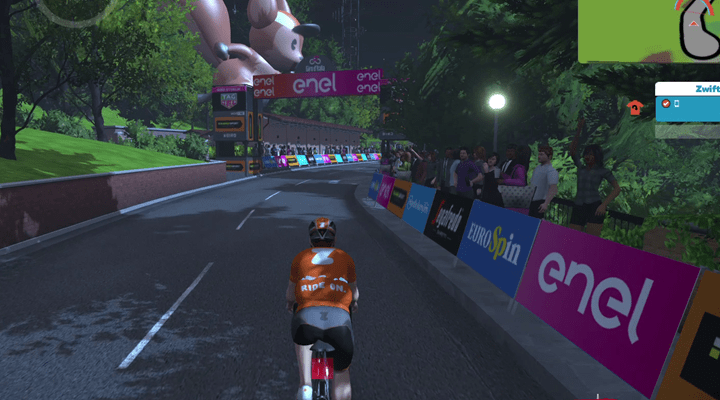 This certainly isn't Zwift's first race partnership. That honor was awarded to the much loved Richmond course for Worlds that year. After which we saw the London course come from a race partnership there, followed by the Innsbruck course last fall for Worlds. However, this is definitely Zwift's most visible and biggest partnership to date, at least in terms of dance partners.  And all of this was also tied to an event held on Thursday having pro teams race the stages in Zwift as well.
It stands to reason we'll continue to see such partnerships, and likely to see those relationships only get bigger. With Zwift's sights set on inclusion in the 2028 Olympics (or possibly even 2024 Olympics), they're going to continue to want to raise the profile of not just the brand, but indoor cycling in general.
In the case of this Giro stage though, the purpose is a bit different. Unlike the Richmond, London, or Innsbruck courses – this isn't slated to become a regular guest world in Zwift. Instead, it's going to be set aside for events. Primarily time trial (TT) style events, since that's what it's best suited for.  In fact, it'll be interesting to see how it holds up the next few days with so many people likely set to try out the course – though I believe Zwift does some thinning of the crowds anyway.
Zwift says the course will be available during the Giro, including at least this weekend – though the exact schedule beyond that remains a bit fuzzy.  So, if you want to get your PR on, this weekend is probably the time to do it.
With that – thanks for reading!
(P.S. – Yes, I will definitely discuss my tweet(s) about Zwift's Terms of Service change in the near future. I've had some good discussions with Zwift in the last 24-48 hours…so stay tuned on that front.)