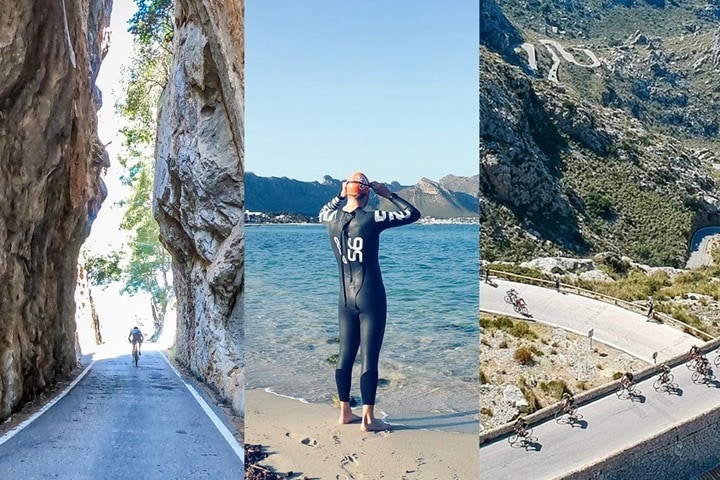 I've been down in Mallorca since earlier this week, for a jam-packed slate of daily swim/bike/run workouts, with a side boatload of photo and video shooting. This trip was almost exclusively about testing a slate of devices set for review in the April/May time-frame. Some of these have announced already – like the Samsung Galaxy Active GPS watch and Garmin MARQ Athlete watch.
I often escape to the Spanish island of Mallorca to test devices for a pile of reasons, notably:
A) It's cheap…really cheap
B) It's easy to get to
C) There's tons of great swim/bike/run locations, all directly at/from the hotel
D) There's a ton of climbs/mountains that are substantial, ideal for GPS/altimeter testing
E) The weather usually cooperates (actually, knock on wood, it's always been perfect for me)
Now I typically go in February, before the cycling/triathlon camp crowds hit. So things were quite a bit different here now in late March – it was kinda bat-crap crazy busy with cyclists. My guess is on a typical ride some 1,000-1,500 cyclists would go past. It's bonkers. In any case, here's the rundown – day by day of what I was up to.
Tuesday: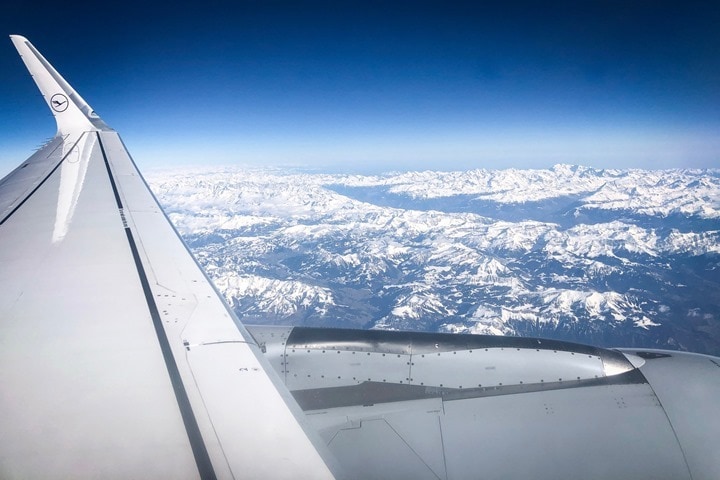 I flew down Tuesday afternoon, with a three-hour gummy bear eating connection in Frankfurt. It was almost sunset when I got to the hotel at the eastern end of Mallorca. I always stay in the same spot (PortBlue Pollentia). Mainly because it's the epicenter of triathlon/cycling camps. They've got 2 legit lap pools onsite, plus a pile of other pools for lounging. They have two bike shops onsite, plus an entire self-serve bike mechanics station. Food is buffet style, and inclusive for a minor surcharge. And the WiFi is free and reasonably fast.
I can swim/bike/run straight out the front of the resort. So after quickly ditching my baggage in the room I zipped right back out again to try and get a sunset run in. It wouldn't be long – only 5KM or so – as that's all the daylight I had (and I didn't want to get caught sans-reflectors/illumination on these roads – mostly because I'd probably get hit by cyclists more than drivers).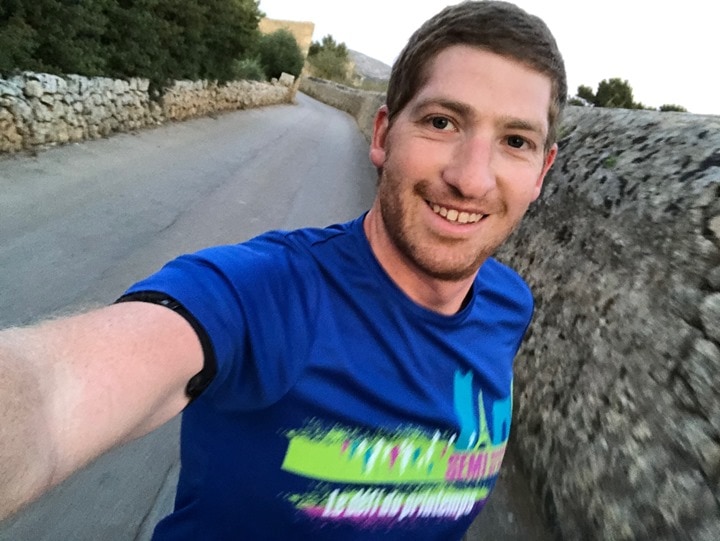 My route was simple, just an out and back past the kite surfers and the beach. I've swum at this beach many times before – such as for the swimming portions of my Forerunner 935 review (and this video). Though later in the week I made my openwater life easier and simply drove 5 minutes to a better beach for my non-pool adventures.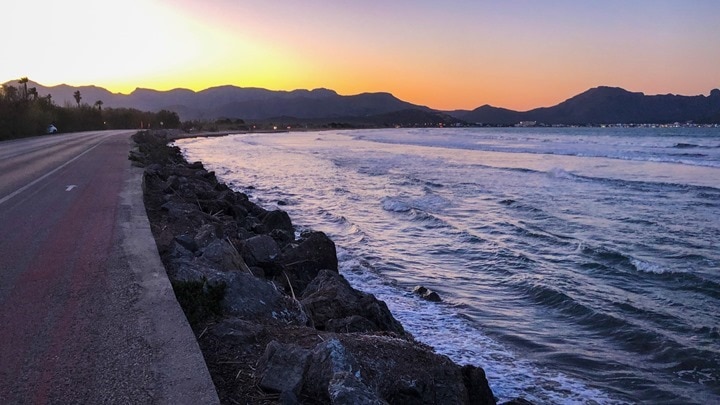 And of course, as always – DCR data collection was in full effect here. After the run, I had 7 devices to download data from. It probably took me longer to download all the data and get it sorted than the actual run.
Wednesday:
The more I think about it, the Cap de Formentor ride is probably my favorite ride in the world. Sure, there are longer rides out there. Ones with more elevation gain. And maybe even better scenery. But no ride packs as good a punch as this down in the roughly 2 hours round-trip from the hotel. About 90 minutes round-trip if doing it just from the official start of the cape.
So it's only natural my first ride on the island would be Formentor – as it almost always is every time I come here. Now as I mentioned earlier normally I come in early February, when it's basically desolate. For example, this video below I shot back in 2016 using a sport follow me drone Airdog (RIP?)– there was nobody out there that morning. Like, one-car the entire ride kinda nobody.
Whereas this week? Madness. On average if you picked a given point on the side of the road a cyclist would probably pass every 5-8 seconds – especially by mid-day. The earlier you go the quieter it is, and by early afternoon the car-based tourists start to ramp up and you kinda don't want to be on the road as much.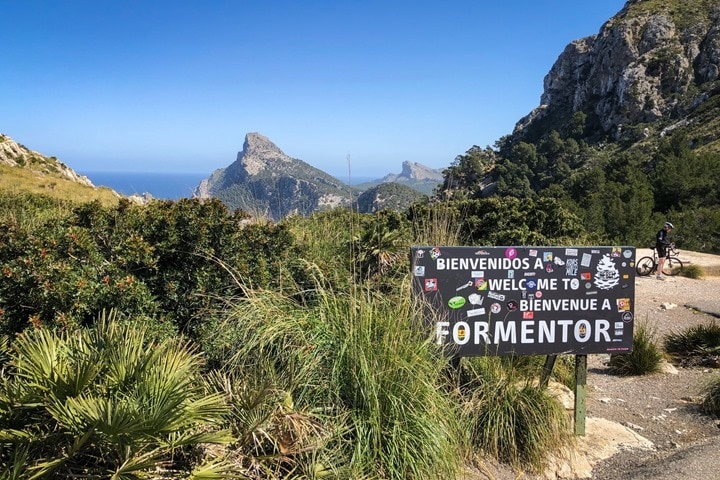 A number of DCR readers shouted Hi or asked for pics – here's a few selfies along the way with some of you. I'm getting better at remembering to get a selfie with others, after y'all ask me for a picture (which is of course, totally OK!):
The end point is, of course, one of the most scenic. I suppose most people take pictures of the lighthouse behind me, but I like the other direction instead.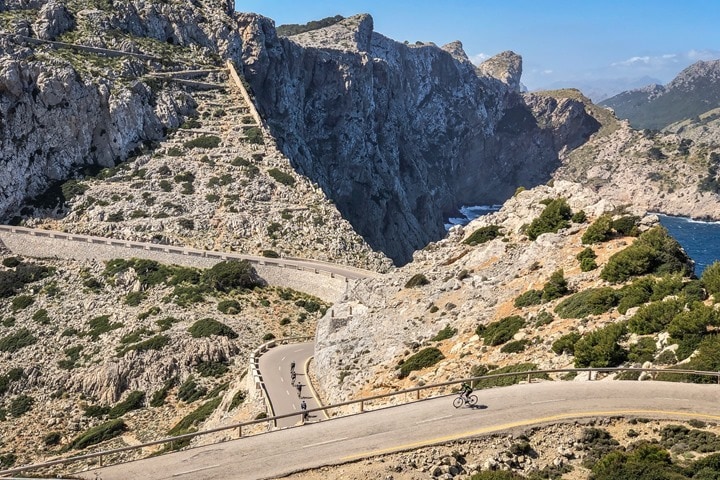 But my true favorite might actually be coming back down just before the tunnel, with the turquoise bay off to the right side, complete with some old boats washed up on the shoreline. With the mystique of the tunnel that lies ahead (and hey, it's getting lights by next year!).
I think why I like this route is that it's just a lot of rolling up and down. None of the climbs are particularly demanding individually. And the road plays games sliding in and out of rock canyons, forested areas, and spectacular coastal beach views. Oh, and you get to dodge and weave the wild goats as a bonus.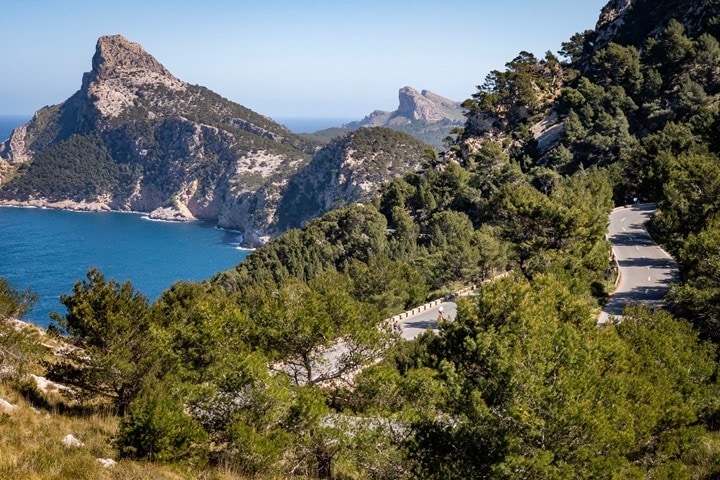 I got back mid-day and spent a number of hours on conference calls and writing posts. I suspect that's the biggest difference to my time here versus that of a typical training camp. I don't aim to throw down 4-6 hour rides while here. I aim for 2-3 hour rides (inclusive of some tourist/scenic photos), and then aim to do two workouts per day (bike + swim or run). My goal is to be a functional human being for all the other hours of the day I'm not swim/bike/running, so I can still write posts or what-not. Usually that works.
I swung by one of the outdoor pools late afternoon, but it was packed with people. Sure, I could have swam – but I preferred nobody see my aquatic flailing's. Thus I can maintain some misconception that I know how to swim.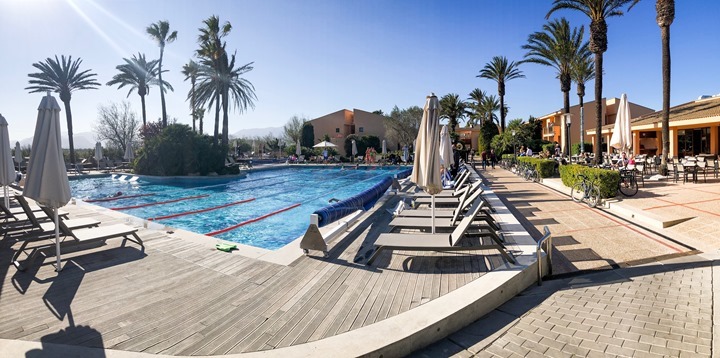 So I came back after dark. The pool's open till 8PM and is heated. I was all alone – and it was perfect: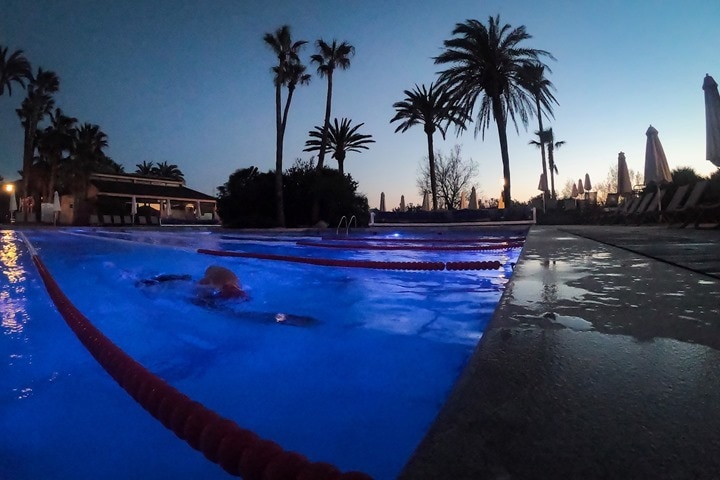 Seriously – I could swim like this every day at sunset if I had a warm and quiet pool all to myself.
Thursday:
While most cyclists here would make the beastly slog from the hotel up past the monastery at Lluc, and then tackle Sa Calobra, that would violate my 2-3hr ride rule by a fair chunk, adding some 50KM. It's a long climb up to there (realistically adding 50-80 minutes one-way). Plus, I've ridden it before. It's stunningly beautiful.
So instead, I started my Sa Calobra ride from the parking lot at the monastery. That worked surprisingly well. I first meandered on the slowly rising terrain for about 45 minutes or so before reaching the top of Sa Calobra.
But that's where it gets interesting. See, here you first must descend the famed Sa Calobra climb before you go back up it for realz. Yup – that's right – all the way down to the water. It's that blueish thing a gazillion feet lower.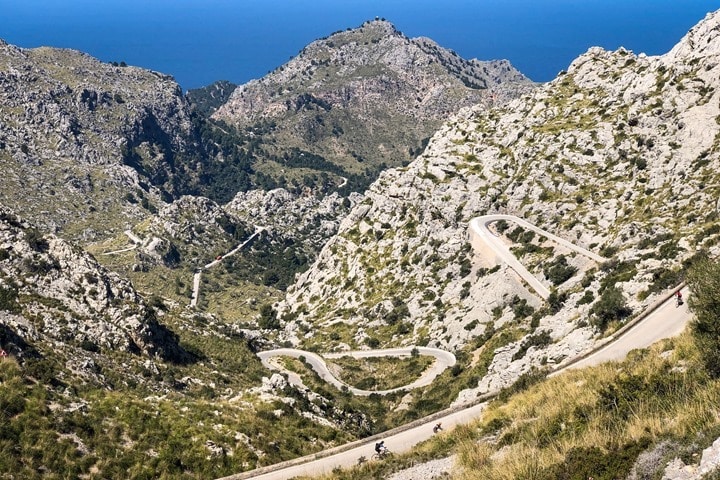 Once you finish going down the twisty dead-end road for about 20-25 minutes, you reach a small fishing village.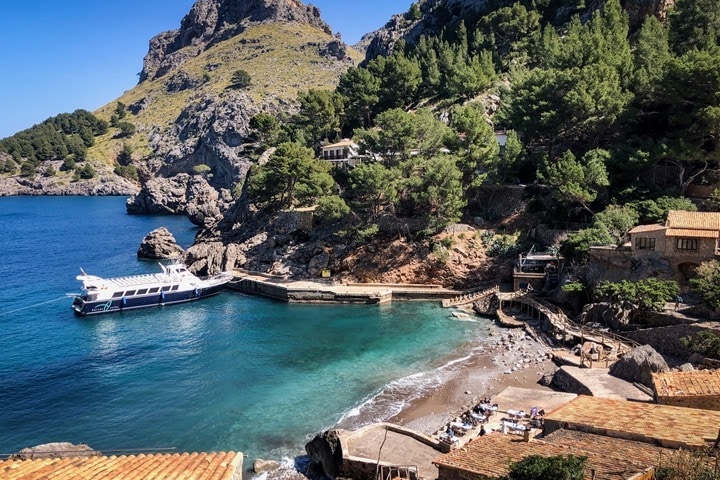 These days it's primary export is feeding cyclists bad tourist food. Of course, I too supported the local economy by picking up a sandwich that contained bread from 4 weeks ago. Calories are calories I guess.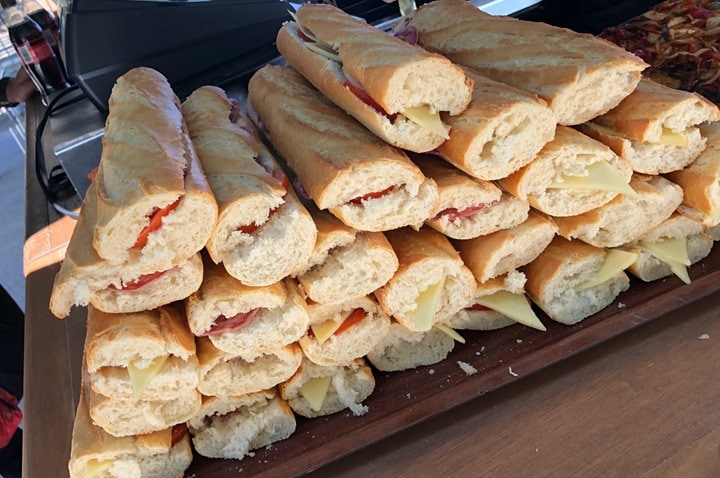 After that, you bid farewell to the sea and begin your ascent back up the same road you came down. Unlike most epic climbs where you don't really know exactly what lies ahead, in this case you know precisely what's coming up. After all, you just came down it. In some ways I think it actually makes the anticipation worse than it really is.
In the beginning you meander through some olive groves and then a bit of a forested section where two rocks have squished together: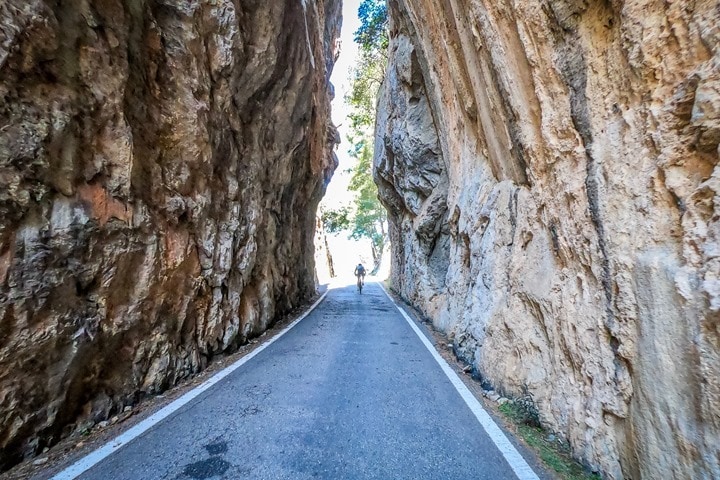 After that, it's up-up-up.
This will probably sound bad – but honestly, this wasn't that bad of a climb. After descending it to the fishing village, I thought going up would be much worse than it was. Perhaps, but it only averages 7% grade and only for 9.5KM (5.9 miles). Versus something like the Stelvio which averages 7.4% for 24.3KM (15.1 miles). Of course, the Alps are an entirely different beast. But I think given all the fanfare around this climb I was expecting to be curled up on the ground crying somewhere before I reached the top. In contrast, it kinda breezed by.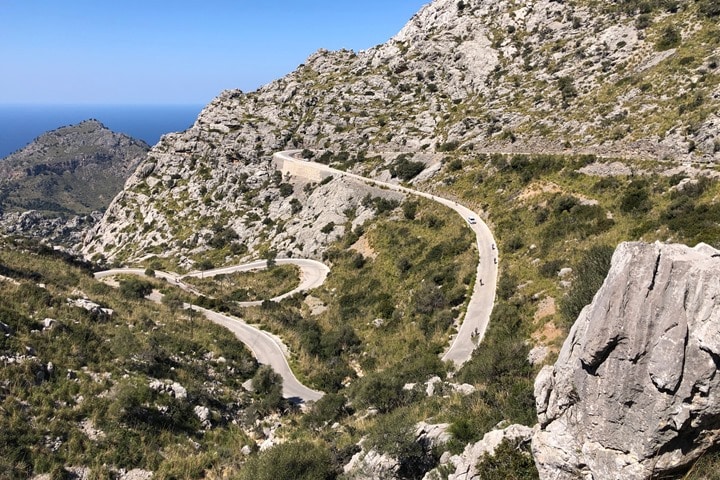 After I reached the top I went back down again. Yes, for realz.
I had to get the photo I wanted to take.
But as I went to the spot to get my prized photo of myself, there was a brightly wardrobed gentleman standing in the middle of the would-be frame. Unfortunately, I'm not a photoshop wizard when it comes to removal editing. After I waited about 10-15 minutes I gave up and went further down the mountain and got a different photo of myself. This one: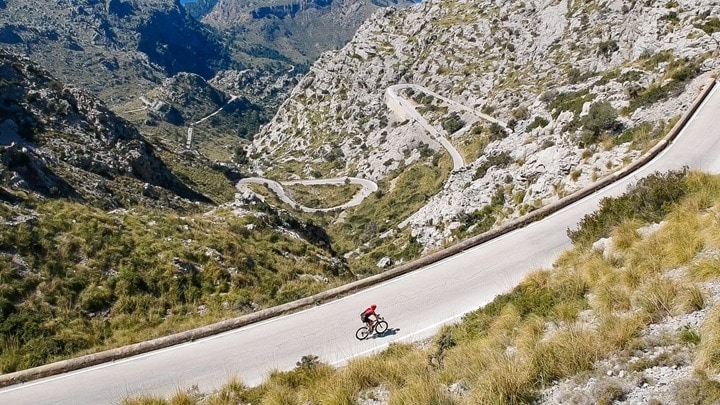 My process for both of these photos is super simple. I used the DJI Spark for both, with just my phone. I got it into position and then just started a video recording. I then rode through the frame (up and down) a few times, while holding the phone just out of view, or carefully in my back pocket (with the screen still on).
After doing the first photo, I decided to head up and see if my yellow-clothed man had moved on. Indeed, he had. So here's my second photo in the spot I originally wanted.
I actually got a few different photos here – some with me in it, and some not so much. And by 'photos', I mean I took the video and then snippet the exact frame out of it. However, I think the one with all the cyclists actually came out the best (at least from an interest standpoint).
You can see my multiple attempts on Strava if you zoom in enough:
After the Spark ran out of juice, I finished going back up to the summit one last time and then worked my way another 20-30 minutes back to the monastery.
Later that evening before sunset I headed to the beach to get in an openwater swim: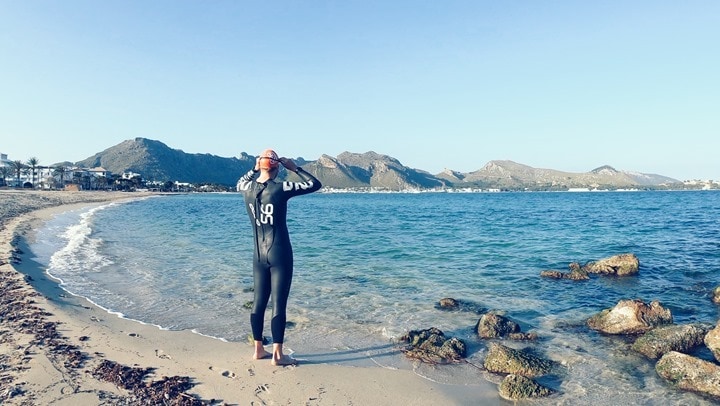 For this swim I had the Samsung Galaxy Active Watch on my left wrist, and the Garmin MARQ Athlete on my right wrist: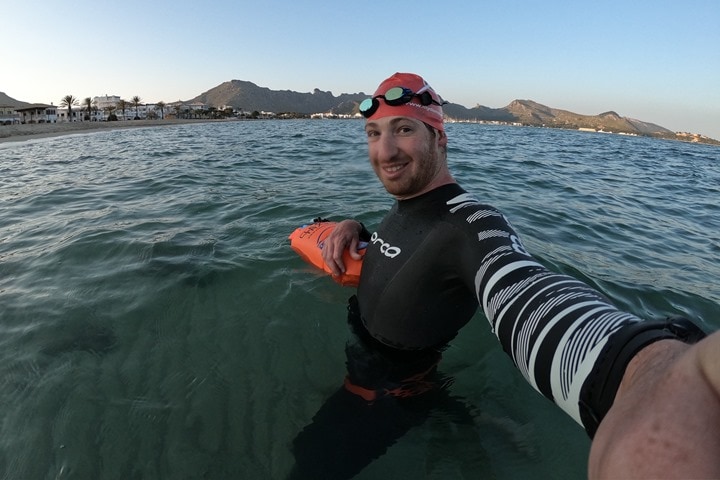 Plus a Garmin Forerunner 935 as a reference attached to the swim buoy: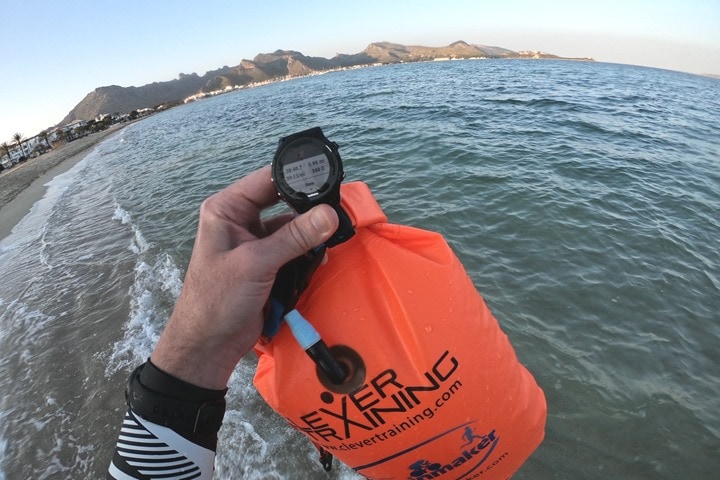 I was pleasantly surprised by the MARQ's swim track. I have felt like Garmin's swim tracks have gone down the toilet in the last 1-2 years. I wrote and made videos about that last summer a bit. But this one was arguably the best I've seen lately. Below compared to a reference track. Though, it did stumble slightly in the last 150 meters or so, as you can see from the #3 dot to the finish. Technically it's still non-final firmware though.
Meanwhile, the very much final Samsung…umm…yeah…below. I'll just leave that there…
In unrelated news, right after the swim, I Facetimed with the kiddos at home, while still wearing my wetsuit. Also, I used an Animoji during a portion of this conversation…naturally.
And then I drove back to the hotel in my wetsuit, because it was the warmest way I could think of getting back.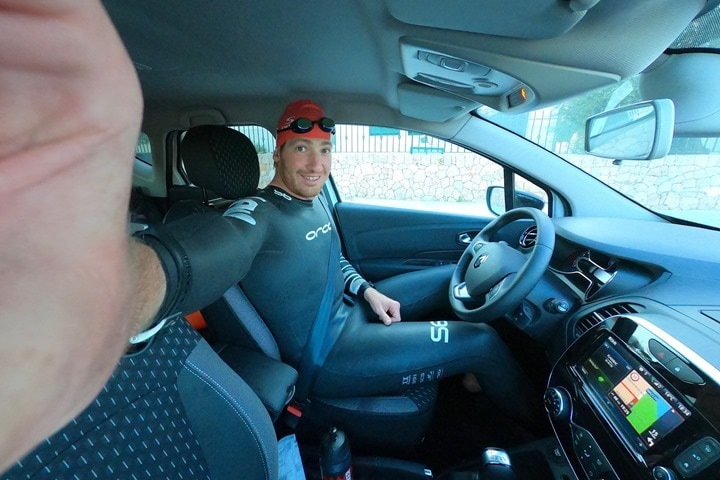 After that, there were more meetings, more writings, and more eatings. Not too shabby a day!
Friday:
I kicked off the day with recording the podcast with Shane/GPLAMA. You can now find that episode in all the usual places, including right here.
After podcast time it was out onto the road for a mostly photo/video focused ride. By that, I mean that the previous few days I'd mostly done normal workouts and taken various photos that were more scenic in nature, but less so setup shots of devices and such. Sure, I took plenty of video/photos of things while I was riding/swimming/running along – but I generally didn't stop to get photos/videos of devices.
Whereas for this ride, it was all about the imagery. Ultimately, that's what makes the posts and videos I do standout. As I usually do for these sorts of things, I declutter my handlebars down, so that I'm only showing off one given device at a time. Same for watches too, where I'd remove other things in the frame.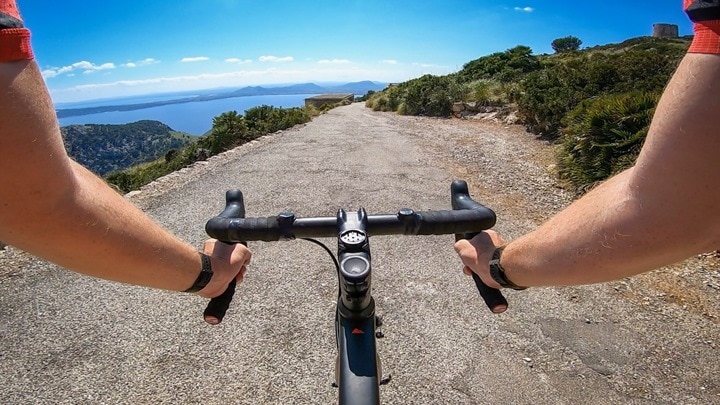 Of course, I've still gotta ride somewhere. So it was back to Formentor I went. It was a lot of stop and go. I'd mostly do the climbs non-stop, since I could easily swap out devices/mounts, change cameras and take shots/etc at low speed climbing. Whereas while descending I'd stop every 20-30 seconds and reset cameras/devices and go again. I was getting b-roll, explainer bits, and photos for 6 upcoming reviews. Repetition was the name of the game.
I made my turnaround at the beach. It was pretty there. Though actually, I didn't take any device shots there. I just carefully balanced my bike and hoped the wind wouldn't push it over into the water.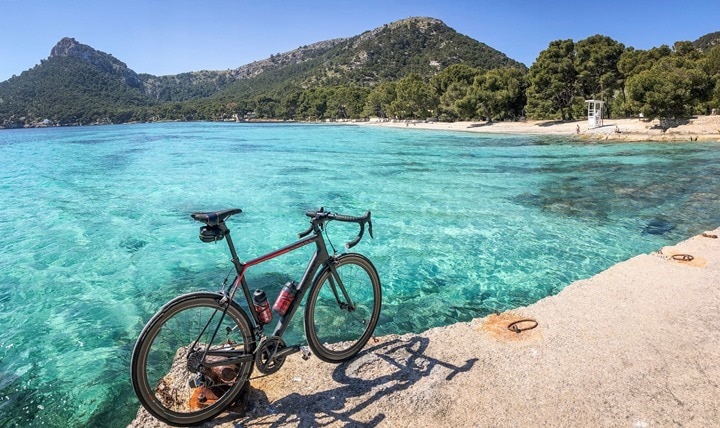 Then it was back up for more climbing and more photos/videos again. This time focusing on different things/features, or camera angles than last time. Oh, and a few DCR readers said Hi or got selfies along the way. Here's one where I managed  to remember to get a return selfie with while I was swapping gear. It was somewhat funny, because her kit was pretty cool and I had actually gotten a picture of it about 2 minutes prior – so that I could find it later online since I hadn't seen the brand before. So to have her then stop me moments later for a selfie was ironic.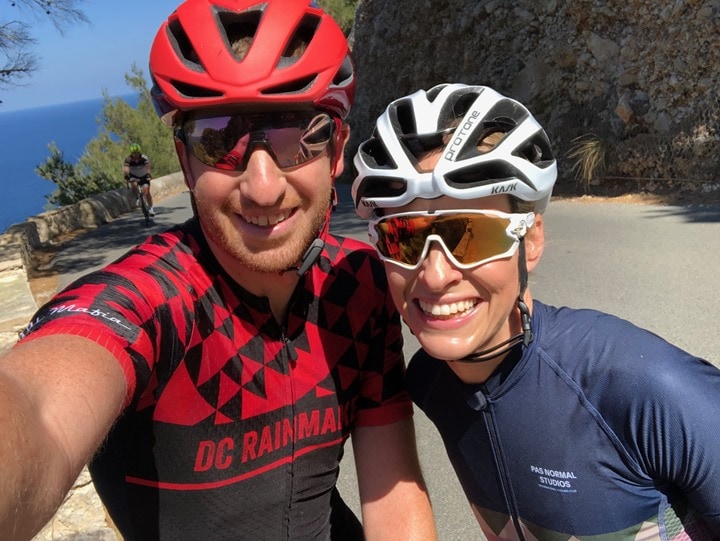 While working my way back to town I made a hard left turn up the oft-overlooked climb to the tower, and got a few more shots/sequences. You can actually see the previously noted beach in the lower left corner. I thought the shot would come out better than it did, but I wasn't quite far enough forward to get the beach above my arms versus below it.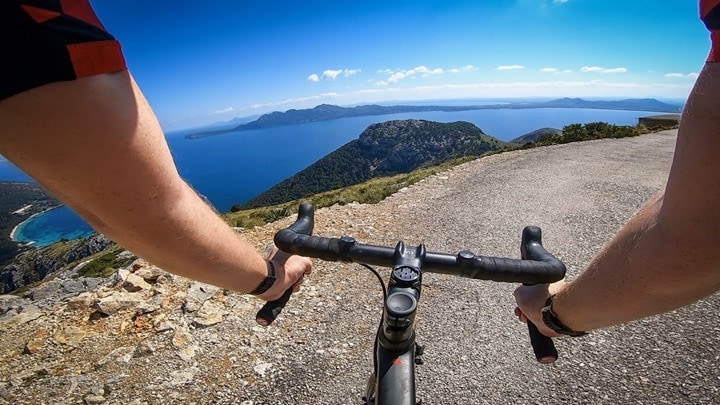 A bit later I positioned a camera up on the rocks and then did various loops/etc through it. You can see it roughly a meter or so above my handlebars.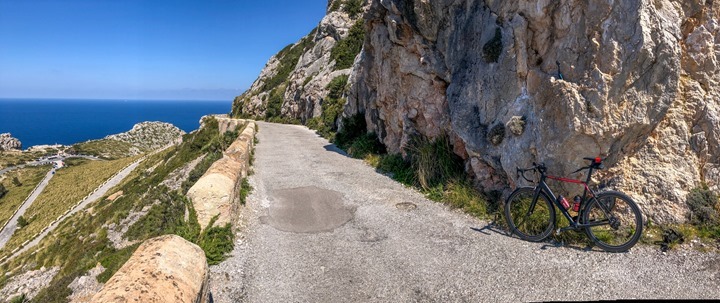 I used a blend of the GoPro Hero 7 Black and a DJI OSMO Pocket. For close-up video it was mostly OSMO Pocket, since the gimbal made it nice and smooth and it has better close-up sharpness of gadgets. Whereas for wider/situational type shots I used a GoPro Hero 7 Black mounted in a variety of ways, including a knock-off chesty and a knock-off GoPro shorty stick.
Finally, it was back down to town to get my bike all packed up and head off to the airport. Though, I did make one more stop by the pool first. Just cause: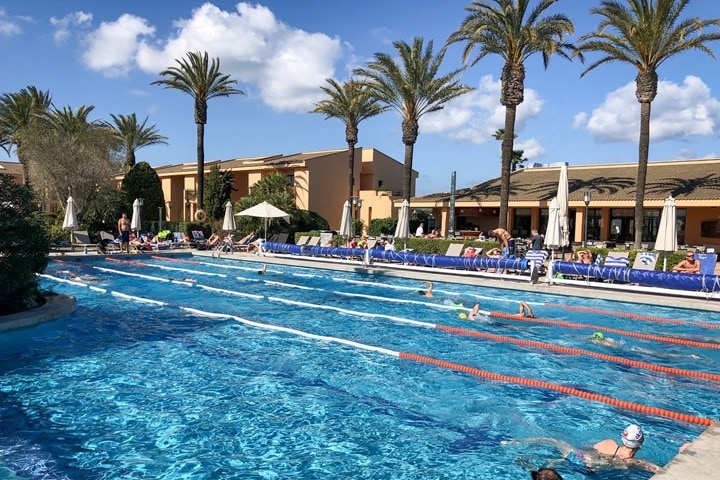 And with that, my flight is descending down to Zurich where I hope to have enough time to get all the photos added to this post before my next flight home to Amsterdam [Spoiler: Not quite fast enough, but now I'm descending to Amsterdam and this post is done!]. Looking forward to getting back to The Girl and The Peanuts.
With that – thanks for reading, and have a great weekend ahead!