When Garmin first announced the original Garmin Enduro about 1.5 years ago, it was met with mostly confusion. How could an ultra-running focused watch not have maps? Sure, it had amazing battery life, and even a nifty nylon strap. But instead of the device building atop the then popular Fenix 6 series, it actually removed features from it in order to achieve battery life. So in effect, it was a 'Fenix 6X Minus'.
Fast forward to the Enduro 2 though, and Garmin aims to fix that by bringing out what is essentially a 'Fenix 7X Plus'. It's got every single feature of the Fenix 7X series, but adds more, both in hardware and software. The new Enduro 2 has the longest battery life of any Garmin watch, and depending on how you tally the solar figures – any watch in the endurance sports market. It's got a flashlight that's twice as bright as the Fenix 7X, and it's got new trail-focused features to automatically identify trail junctions before you go down the wrong path (even if a course isn't loaded).
I've been testing the Enduro 2 over the course of the summer, putting it through its paces. Both day-to-day workouts and regular 24×7 activity tracking, but also the epic 170KM Tour du Mont Blanc, with the aim of trying to complete it on a single battery charge (while still using all the features at full-tilt). Which, is a great way to get this review cooking!
First though, note that this watch is a media loaner, and it'll go back to Garmin shortly. This review is not sponsored (nor does any company get to preview anything I review), and I don't take any advertiser money from any companies I review. And as regular readers know, if something is crap, I'm gonna tell it brutally like it is – no matter the brand. Once this unit goes back, I'll go out and get my own for any future testing needs. If you found this review useful, you can use the links at the bottom, or consider becoming a DCR Supporter which makes the site ad-free, while also getting access to a mostly weekly video series behind the scenes of the DCR Cave. And of course, it makes you awesome.
What's New & Different: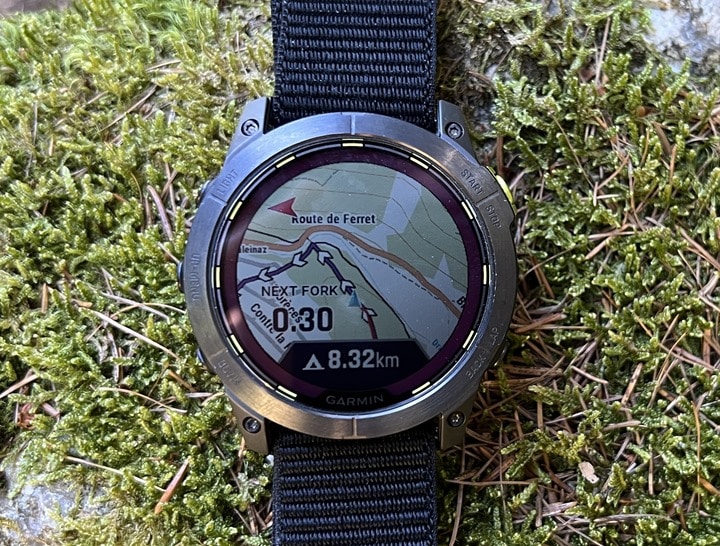 Trying to compare the Enduro 2 to the Enduro 1 in the newness category would produce a massive list of features, well beyond the list of features that are new in the Fenix 7 Series alone. That's because the Enduro 1 lacked many of the Fenix 6 features around mapping/music/navigation, so those too would have to be included. So instead, I'm going to simplify it. I'm going to group all that Fenix 6 to Fenix 7 stuff in a few bullet points, and then focus on what's unique about the Enduro 2 compared to a Fenix 7 here, as well as the new Forerunner 955 features added to the Enduro 2 that are also currently in public beta for the Fenix 7/Epix. A complete list of all Fenix 6 to Fenix 7 features is found here.
With that, the newness:
– It starts as a full-featured Fenix 7X: This means it has full downloadable maps, music, payments, WiFi, etc
– It's got longer battery life: Upwards of 150 hours in GPS-only mode, or up to 81 hours in Multi-Band mode (see chart below)
– Added new Next Fork feature: This automatically identifies trail/road junctions on the map
– Added SatIQ: This automatically changes GNSS types to give you the most accurate GPS for the tough conditions (deep mountain canyons), while then reducing battery burn when higher levels of GPS power aren't needed (e.g. open fields)
– Updated Flashlight: The flashlight on the Enduro 2 is 2X the brightness of the Fenix 7X series
– Slightly thicker than the Fenix 7X: While it's the same width/height footprint, the Enduro 2 case is 1mm thicker (17mm) than the 7X (16mm)
– Includes almost all new Forerunner 955 Features: This includes Training Readiness, Training Status 2.0, HRV Status, and Running Power (among others). It does not yet include Morning Report.
– Added Grade Adjusted Pace (GAP): This common training metric is finally on Garmin watches natively, and shows your pace adjusted for the gradient you're running on. This has been on platforms like TrainingPeaks and Strava for years
– Added Auto Rest Timer: This automatically tracks your rest/aid station time, without manually having to trigger it like in the Enduro 1.
– Added course arrows/chevrons: Finally, you can see the correct direction of travel on a course, useful on complex/overlapping routes
– Added a few extra sport modes: Beyond the Fenix 7 ones, it includes Sail, Sail Race, Hunt, and Duathlon
– Includes two straps in the box: The Enduro 2 includes both a nylon strap as well as a silicon strap.
– Price increases to $1,099: Essentially $100 more than the Fenix 7X Solar Sapphire for the extra battery & strap
Many of the software features here on the Enduro 2 have already made it to the Fenix 7 series in the beta over the last two months. In fact, the inclusion of features like SatIQ in the beta were mostly a means for Garmin to test this more widespread before it launched as a marquee feature of the Enduro 2. Of course, the Fenix 7 gets to keep that, and the Forerunner 955 will see it in beta very shortly as well. For the other software features (Next Fork, GAP, Auto Rest Timer), here's the plan for those:
SatIQ: In Fenix 7 Public Beta already, FR955 Public Beta very shortly
Next Fork: Fenix 7 quarterly release later this year
Grade Adjusted Pace: Fenix 7 quarterly release later this year
Auto Rest Timer: Fenix 7 quarterly release later this year
Course Arrows/Chevrons: In Fenix 7 Public Beta already, already on Forerunner 955 production
In terms of battery life, here's the complete chart for the Enduro 2, showing the battery life:

And here's how it stacks up against the Fenix 7X series: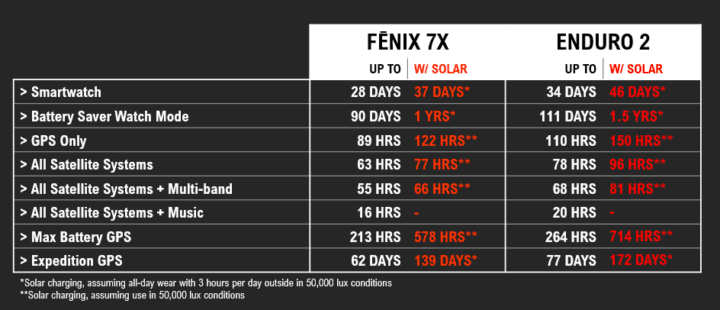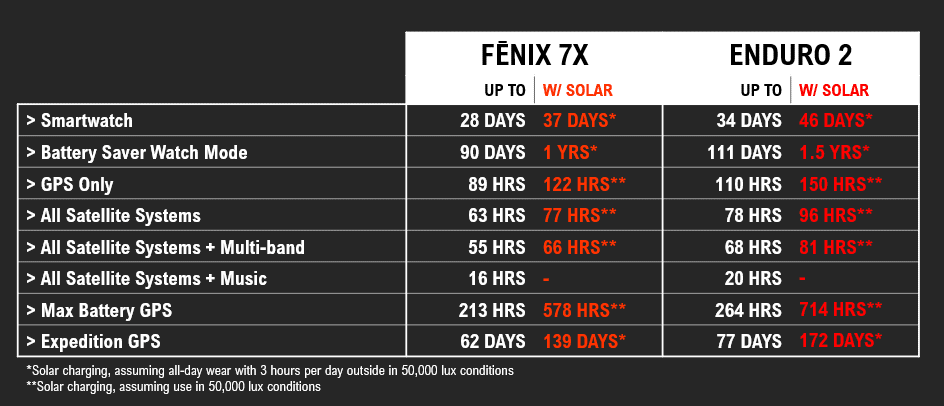 Of course, I dive into the battery aspects in much more geeky depth down below, along with everything else for that matter. So with that, let's get right into it.
What's in the Box:
Inside the box, you'll find it virtually identical to that of the Fenix 7 Series. So that means you've got the watch, the standard Garmin charging cable, and some paper stuffs. Except, the difference is the Enduro 2 comes with an extra strap. So you get both a silicon strap and a nylon strap.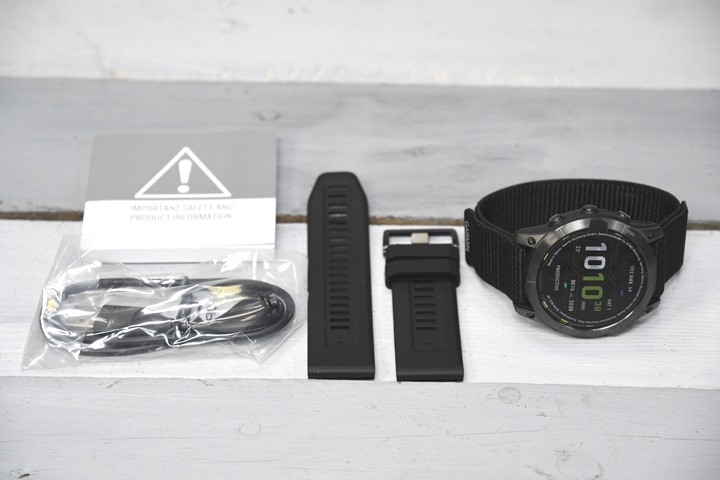 Here's a closer look at that fabric strap, which is the same as on the Enduro 1.
For size comparison, it's the exact same as the Fenix 7X, except just 1mm thicker (depth). But the case size width/height is the same, as is the display/solar strip/etc…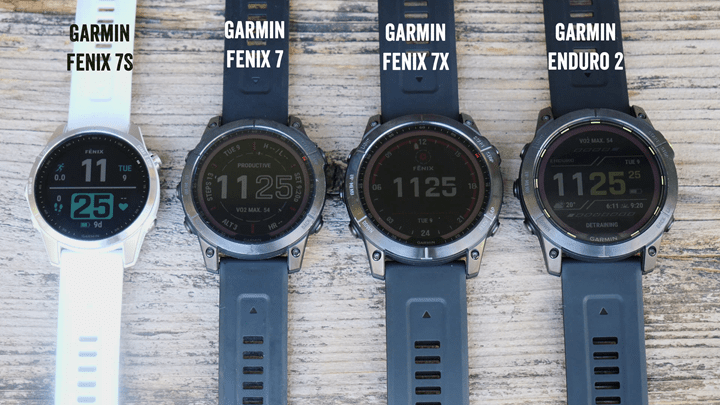 Above you can see the complete Fenix lineup from above, it's visually the same top-down as the Fenix 7X, but with titanium instead. Weight-wise, it's lighter though, coming in at just 70g with the nylon, or 92g with the silicon strap. The Fenix 7X Solar Sapphire (non-Titanium) is 96g.
The Basics: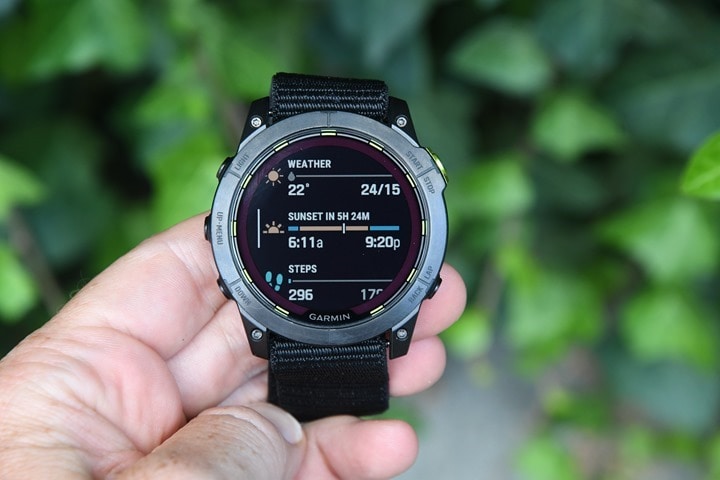 This section is going to be focused on all the non-sports features of the watch, things like basic usability, 24×7 activity/health tracking, phone integration, etc…. In other words, all the basic day-to-day features that don't (typically) involve sweat and suffering. If you're looking for even more details on daily usage, you can check out my full Fenix 7 Beginners Guide, mainly because that's the underpinnings of this watch, and everything is essentially the same here.
To begin, the Garmin Enduro 2 has five buttons, just like most Garmin fitness/outdoors watches. Three on the left, and then two on the right. In general, the upper right button is your confirmation button, and the lower right is your back/escape button. The left buttons are for navigating in the menu. And you can long-hold any of the buttons to either access different menu items, or assign quick-access buttons.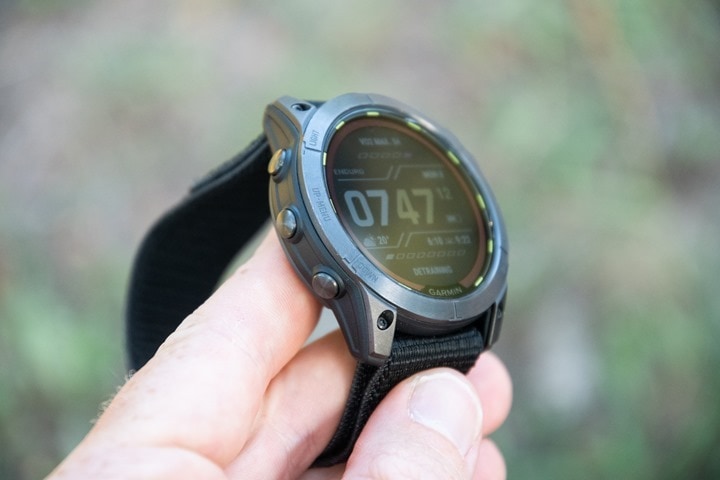 However, the Enduro 2 like the rest of the Fenix 7/Epix series is also a touchscreen that allows you to touch/tap/swipe items. Generally speaking, aside from trying to actively use the touchscreen in the shower with high-pressure water hitting it, I haven't had any normal rain/sweat issues using the touch portions. Obviously, you lose a bit of precision when it gets really wet – like any other touchscreen device. What's notable though with Garmin's approach is that there is *ZERO* dependency on using/requiring the touchscreen. You can use it when you want, or not use it at all. In my case, I mostly use buttons, except only occasionally touch in mapping (and I turn it on per-sport profile). It's just a personal preference in that I find button usage so much faster. But to each their own.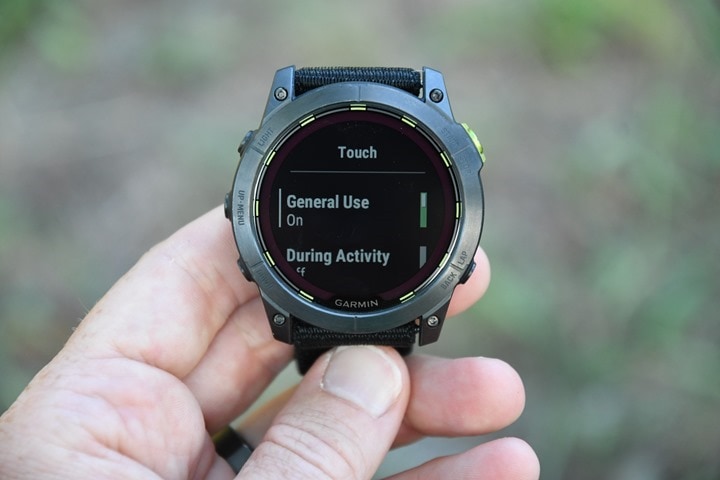 In Garmin's approach, virtually all of the sport profiles have touch disabled by default. This means you enable it on a per sport profile basis, or, across the board on all sports on the watch. Additionally, you can enable/disable it for sleep as well, though I've never had any errant sleep-induced touchscreen fails on the Enduro 2 or Fenix 7. In fact, there appears to be some clever coding that basically requires slightly more force to get 'away' from the watch face into the widgets/other areas, so that errant touches are ignored.
In any case, speaking of that watch face, it's fully customizable. You can pick from any number of default/stock watch faces, or download one of probably thousands from the Connect IQ Store. You can also make your own watch faces from photos/pictures. You can tweak each of the data elements on the watch face below, such as swapping out sunrise for steps, or Vo2max for altitude. The possibilities are pretty close to limitless.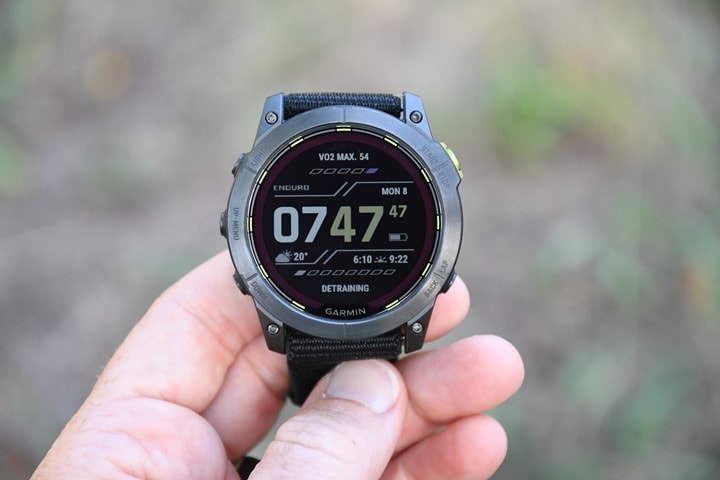 Or as noted, you can grab any other watch face from the Connect IQ Store. Essentially all Fenix 7X watch faces are compatible here:
As we swipe down from the watch face we've got the widgets. Or rather, the widget glances. Each of these widget glances can be expanded to show far more details about that specific topic area. You can re-arrange them, add other ones, remove ones you don't want, and generally customize it as you see fit. In fact, with the Enduro 2 you can even put widgets into folders, creating a widget house of cards:
As noted, you can tap on any widget to expand details about it. For example, here's the steps widget. That has both today-specific information, but also historical data in it as well:
All of the data that you see on the watch is synced into Garmin Connect, which is Garmin's web platform that has both a smartphone app and a website. You can access it from desktop (including a desktop sync app), as well as on your phone. Sync occurs automatically via Bluetooth and WiFi, as well as via USB cable if that's your jam. Here's that same step information, displayed from the smartphone app (Garmin Connect Mobile):
Ultimately this is true for every one of the different metrics Garmin tracks from 24×7 heart rate, to stairs, to breathing rate, and so on. Garmin continues to add a mind-boggling amount of health/fitness metrics. Some you might use, but many you may never look at again. Ultimately, Garmin's strategy here is that different folks want different things, and the data is there if you want it, or can be ignored/closed off if you don't.
Most of these metrics are driven by the optical heart rate sensor on the bottom of the Enduro 2. This sensor operates 24×7, capturing data at 1-second intervals. During workouts, Garmin increases power to the sensor to maintain accuracy despite the pounding of workouts (as all companies do). Metrics being logged from this sensor include heart rate, breathing rate, HRV, blood oxygen levels, and then all the downstream metrics of that like training load and recovery-related items. The Garmin Enduro 2 uses Garmin's Elevate V4 optical HR sensor, which is the same as on the Fenix 7/Epix/Forerunner 955/Forerunner 945 and Venu 2 series (among others). The green light is for regular heart rate recordings, while the red light is for blood oxygenation levels (Garmin calls this Pulse Ox):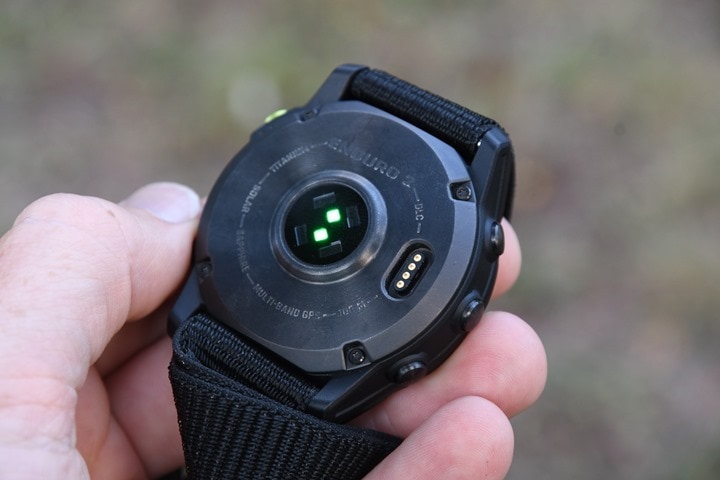 Beyond obvious metrics like heart rate or breathing rate, there's a slew of algorithmic metrics. These are things that are unique to Garmin (or, at least Firstbeat, the company which Garmin acquired that develops algorithms but still licenses them to other companies). For example, one is Body Battery. Body Battery is basically your energy level. You recharge it every night, and then decrease it during the day, or during periods of relaxation (like sitting on the couch watching TV). However, with the Enduro 2 there's also Training Readiness, which is aimed at figuring out if you should train (or, to what intensity).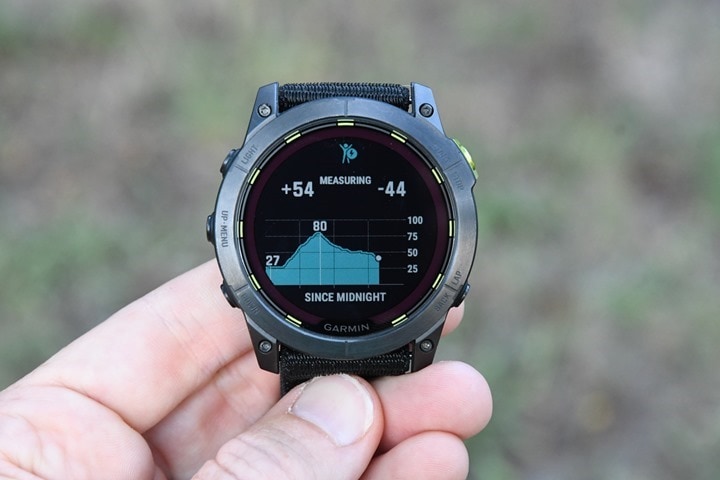 Think of it like this: Use Body Battery on vacation to see the impacts of your day when you don't care about training. Whereas, use Training Readiness when you are trying to get workouts in. Again, tons more later on this in the 'Training Readiness' section.
I've found Body Battery pretty solid at matching how I feel. Do note that it'll take a few weeks to nail your exact body (in fact, most of these metrics do), but once it does, it's pretty good at it. Of course, just because you go to sleep doesn't mean you refill the tank every day. As you can see above, some nights I get good sleep, and other nights less so. Like trying to charge an electric car, if you unplug it too soon, the tank isn't full. The areas where Body Battery tends to struggle is exceptionally long/hard days, like traveling overnight on a redeye without sleep – or simply working through the night. In those cases, usually Body Battery gets down to the single-digit numbers and just kinda creeps to a stop. It knows you are screwed, you know you are screwed, and everyone just looks at each other and says 'It is what it is'.
In terms of sleep, the Enduro 2 automatically tracks your sleep each night, and can be viewed on the watch or on Garmin Connect afterwards. This includes sleep times, and a guesstimate of sleep phases. At this time, the Enduro 2 does not yet have Garmin's new 'Morning Report' that was launched on the Forerunner 955. Though, that's coming in a near-term firmware update to the Enduro 2 as well as Fenix 7/Epix series watches.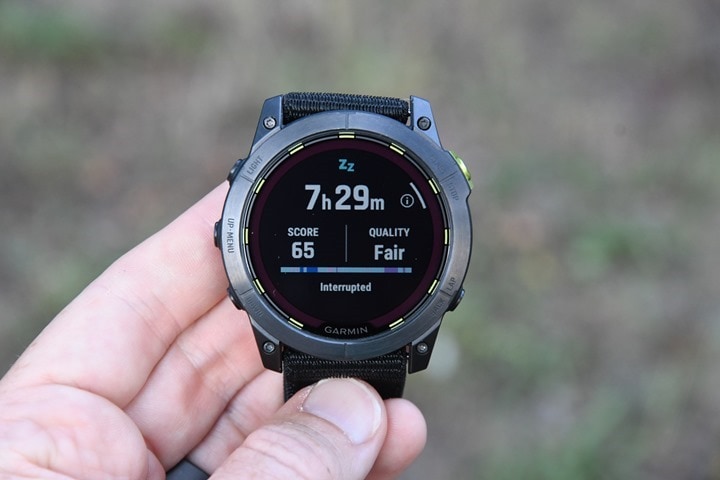 If you want to see details about your sleep itself, you can do that from the sleep widget:
As is usually the case with Garmin watches, it's pretty solid for me in terms of identifying the times I woke up/fell asleep (and was awake at night). These were all spot-on. However, I'm not evaluating sleep phases. If I look at the viable home options to compare sleep stages/phases in terms of accuracy, those devices aren't that accurate by themselves (only about 80% accurate). We'd never accept comparing other features like optical HR accuracy to an "80% accurate chest strap", so I won't accept doing so here. However, I also don't put much stock in the sleep phase/stage details anyways, so, I'm not too worried about it. I've found in general, if you're getting enough hours of sleep, and that's uninterrupted sleep, then that's the main thing to focus on. And the watch can/does at least tell you that correctly.
As part of your sleep-related information, you'll also see the new HRV Status widget. HRV is Heart Rate Variability, and I'll dig into it more in the Training Readiness section. HRV is measured on the Enduro 2 constantly through the night, and then Garmin displays that in 5-minute increments within the HRV timeline graph shown. That chart also shows your max values for the night. It's 100% normal that there's this much fluctuation in it, as your values are often tied to different sleep phases.
Again, I'll dig into this down in the Training Readiness section.
Next, we'll briefly touch on blood oxygenation levels, which Garmin calls PulseOx. You can configure this to be off, during sleep only, or 24×7. It has two basic purposes in a Garmin wearable, one is around sleep (as potentially an indicator of sleep-related issues), and two in high-altitude environments as an indicator that something is about to go horribly wrong. Two totally different use cases (note: medical folks and such also monitor blood oxygen levels too for other reasons). For the first one – sleep – you can track your Pulse Ox readings each night. It's the red LEDs that'll light up on the back of the watch.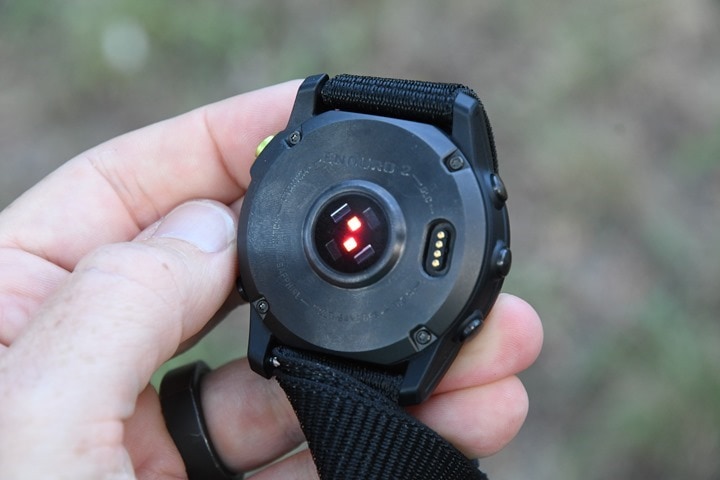 This will consume additional battery, lowering your overall battery a fair bit. Though, not as much as the 24×7 mode, which consumes a crapton of battery. I don't use either due to battery draw, but only utilize it in spot-checks with respect to Health Snapshot (more on that in a second). However, in terms of accuracy, I find that if you treat it the same way you'd do an actual blood oxygen test with an approved/medical-grade device, you'll get good results. Which is to say, sit still. And that's the exact same way the FDA certifies blood oxygen medical-grade devices: Sitting still. If you swing your arms around, you'll either not get good results, or Garmin these days won't even give a reading. They (and others) have gotten smarter with just giving you a warning that there's too much movement for a valid result.
Next, there's the smartphone-related notifications. These notifications automatically come in when paired to your smartphone, and depend on how you've configured the notifications on your phone. Meaning, which apps notify you on the watch are set on the phone, not the watch. Garmin just displays them per those settings. There is support for many, but not all emoji: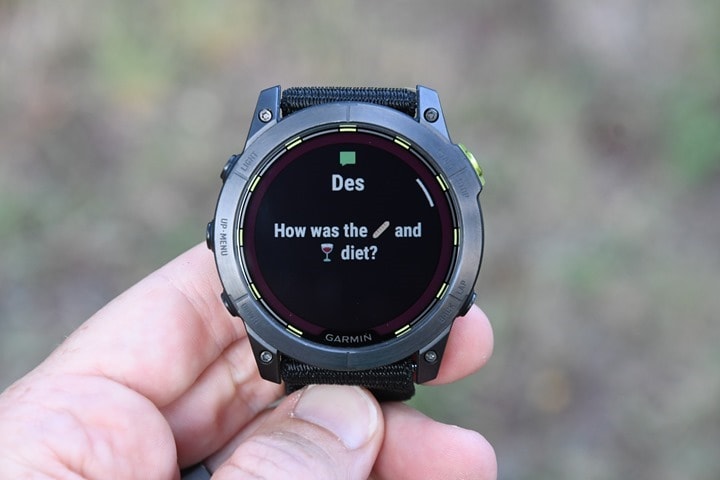 Note that you can't reply to any of these messages, at least not on iOS, because of limitations imposed by Apple and letting text message apps reply. But, you can dismiss them, which dismisses them on your phone as well.
Next, while ostensibly for any use, be it sports or non-sports, the flashlight on the Enduro 2 is twice as bright as the Fenix 7X. Garmin says they accomplished this by removing much of the filter on the Enduro 2, which makes the LEDs slightly more visible during the day, but a substantially brighter light. Here's the Enduro 2 and Fenix 7X side by side during the day: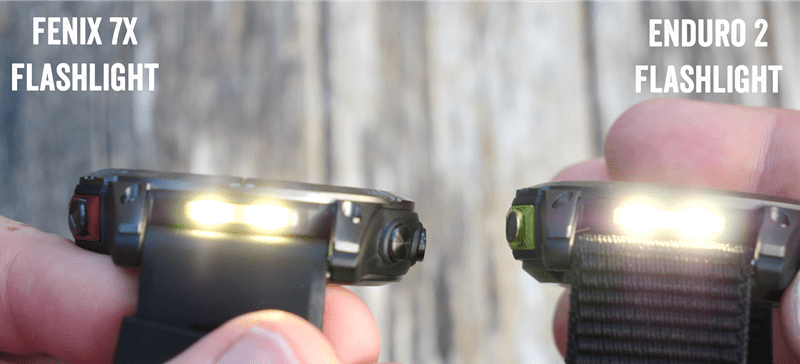 And here's the two lighting me up from the same distance, at full brightness setting. For more details on how the flashlight works in terms of features and different options, check out my Fenix 7 review flashlight section.
Finally, there's the Connect IQ App Store. For each watch/device that's had this since launch of it earlier this year, I've outlined it at the end of my review, hoping, praying, it gets better. And in the case of the Enduro 2, it's gotten marginally better than the last few watches to have it. But first, the two-second explainer. The idea is that Garmin has a curated list of apps to choose from, and you can easily tap to download/install them, all without having to dive into your phone, or the Garmin Connect IQ App Store on your phone. And yes, technically speaking it achieves that. This time around, it showed me 9 apps to download (better than the 2-4 most other devices have shown me).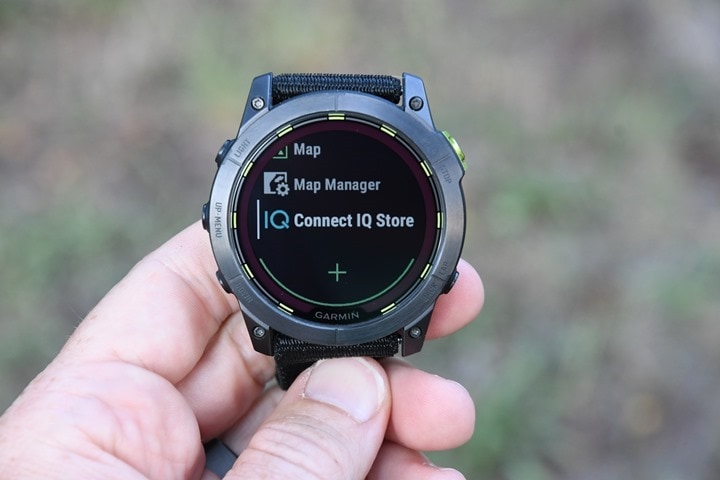 And this time around, 2 of 9 the apps were directly relevant to a trail/adventure watch like the Enduro 2 (WikiLoc and Komoot), with one app awarded half-credit (Hydration Tracking). The others were all generic (Deezer/Strava Relative Effort), or kinda out of left field (Surfline, and Supersapiens – which requires specific hardware).
I think I might make it my life goal here to try and get this section not to suck. There's so much opportunity and potential here to highlight amazing Connect IQ apps, especially ones focused on the watch's capabilities. A watch like the Enduro 2 should be packed with a list of 10-12 deep-adventure focused Connect IQ apps and data fields, and these should change often. Garmin has annual awards for Connect IQ apps – why aren't any of those award winners listed here? While I'm sure someone uses the Strava Relative Effort CIQ app, never once since it's come out has anyone asked about it here in the tens of thousands of comments posted each year. Which probably tells you nobody cares about it, so why is it highlighted to download?
Lastly, while it probably won't matter to many people, do note that in general, virtually all of the functions that involve the smartphone app require internet to function. Meaning that while the watch will happily collect data without internet (as I did for 8 days), and do so for a very long time (days/weeks/etc…), it won't sync that data to the phone without internet. That's because the Garmin Connect smartphone app itself is merely showing data from the Garmin Connect online platform.
The exception to this would be if you use the Garmin Explore app (also free), which then does allow syncing of data (namely tracks/routes) back and forth to a phone that doesn't have internet. And again, this has no impact on viewing any of these stats on your watch itself, but only if you were spending extended periods of time without internet, analyzing your stats on the smartphone Garmin Connect app would not be possible. You can however still plug in your watch to a computer, and download the workout file and analyze that.
Sports Usage: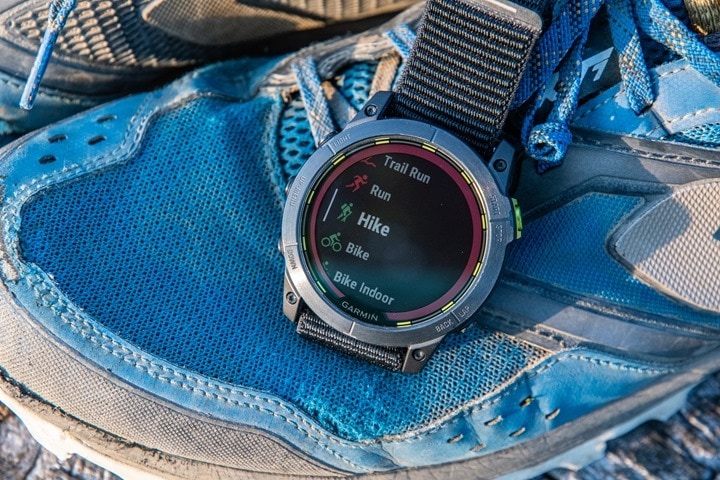 Undoubtedly, if you're buying the Enduro 2 watch, it's for sports usage. Though, I suppose some might just buy it for its ultra-long battery life. Either way, this section is all about the sports modes and how they work. The Enduro 2 has more sport modes than any other Garmin watch, save the Fenix 7 series, for which at present it matches. Keep in mind that sport profiles by themselves are really only a part of the Garmin sports picture.
Beyond the actual doing of the sport, there's all the training load & recovery bits, which I cover in the next section in more detail. And of course, if you're aiming to load a course or do other navigation/routing things, then that's also intertwined into these sport modes. However, I've also split out that into the 'Navigation and Routing' section lower down.
And finally, within all these areas, there are literally hundreds, if not thousands, of features. And there's a strong likelihood you'll never use 95% of them. But the reality is you'll use 1-5% of them, every single day. And which 1-5% you'll use will vary wildly from person to person. I use sports features every day that others never use, and vice versa. It's fundamentally why Garmin leads this category. And perhaps more importantly, over the last few years, the software quality has increased substantially, largely through open firmware beta programs that go on for months.
With that, to get started, you'll tap on the upper right button to open the sports profile listing: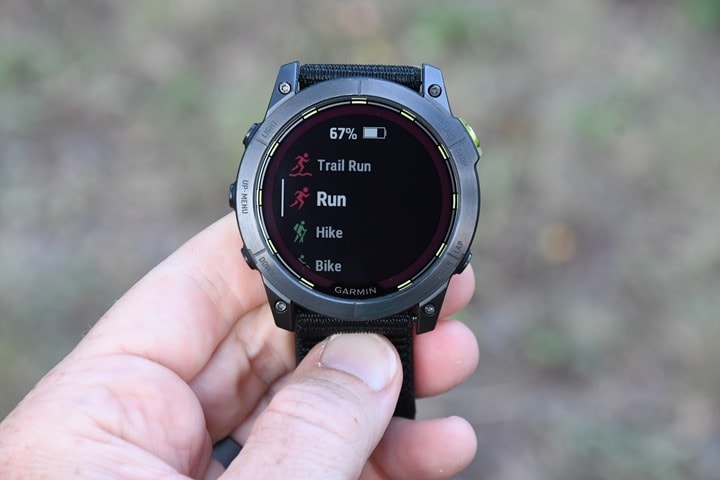 The sports modes available on the Enduro 2 are as listed below, albeit some of these aren't really sports per se, but fall under the sport mode section in the Garmin world, like the Map Manager or Connect IQ Store.
Run, Hike, HRV Stress, Health Snapshot, Bike Indoor, Treadmill, Bike, Open Water, Navigate, Expedition, Track Me, Map, Map Manager, Connect IQ Store, Multisport, Trail Run, Ultra Run, Virtual Run, Track Run, Indoor Track, Climb, MTB, eBike, eMTB, CycloCross, Gravel Bike, Bike Commute, Bike Tour, Road Bike, Pool Swim, Triathlon, Duathlon, Swimrun, Adventure Race, Strength, Climb Indoor, Bouldering, Ski, Snowboard, Backcountry Ski, XC Classic Ski, XC Skate Ski, Snowshoe, SUP, Surf, Kiteboard, Windsurf, Row, Row Indoor, Kayak, Golf, Tempo Training (Golf), Tennis, Pickleball, Padel, Project Waypoint, Walk, Cardio, HIIT, Yoga, Breathwork, Pilates, Floor Climb, Elliptical, Stair Stepper, Jumpmaster, Hunt, Fish, Tactical, Boat, Sail, Sail Race, Horseback, Tides, Reference Point, Clocks, Other
The handful of notable differences to a Fenix 7 at this point would be Hunt, Sail, Sail Race, and Duathlon.
Each of these sport profiles are fully customizable, be it things like the data pages and data fields, or the aspects like auto-lap or auto-pause, or even ancillary settings like ClimbPro (for hiking/running/cycling in the mountains/hills) or alert settings. Every sport has a slate of these that can be tweaked, and you've got two main ways you can tweak them. First, is on the watch itself, and second is on your smartphone.
The Enduro 2 keeps with the Fenix 7 series and allows phone-based configuration for virtually every setting on the watch, including not just sport modes, but all the watch settings too. From GPS/GNSS satellite modes to widgets, even generic settings – all can be configured from the phone. About the only thing that can be viewed but not configured on your phone is downloading maps or adding new sensors. Those you'll need to do from the watch itself.
If you crack open the Garmin Connect Mobile app, and then go into the settings, here's a tiny sampling of what you can tweak. This also includes built-in sensors like the altimeter, barometer, and optical HR sensor, but you can't add external sensors here (like a power meter):
The Enduro 2 allows up to 8 custom data fields per data page, and then atop that, allows essentially a limitless number of data pages that you can create. I mean, I'm sure there's a limit somewhere. But if you find it, you need to step back and seriously evaluate your data page habits. Beyond custom data pages there's also stock data pages with things like power gauges, heart rate graphs, and elevation pages.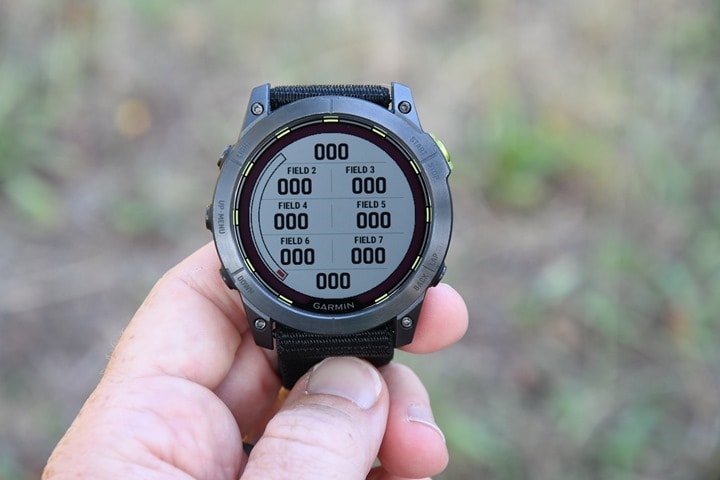 And again, remember each sport profile has its own data pages, that can also be specific to a sport profile. For example, cycling has cycling power, whereas something like swimming has stroke rate, and so on. By and large Garmin has done a good job at just making the defaults for all of these pretty solid, so it's not like you have to start from scratch on these.
With all your data field desires documented, it's time to start the activity. If it's an outdoor sport profile, it'll go off and find GPS, which usually only takes a second or two. If it's an indoor profile, then it only needs to lock your heart rate in (it'll largely have already done this). And then if you've got any external sensors, it'll connect to those automatically.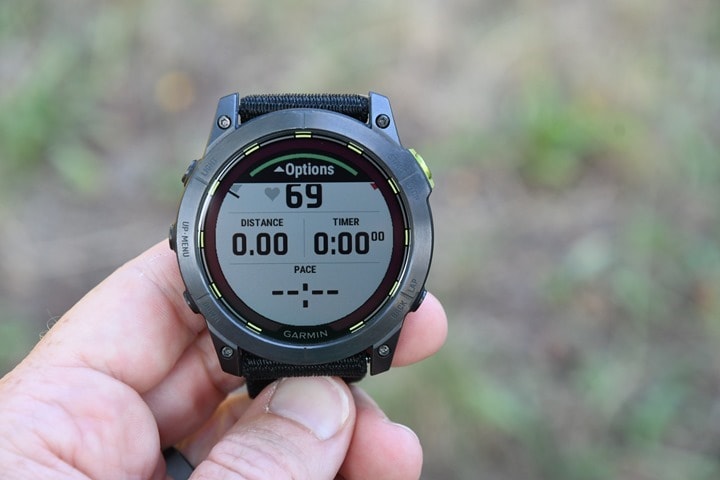 At this point you can load a custom structured workout, or a course. Or, navigate to something else entirely. The watch will give daily suggested workouts based on your recent training load, for both cycling and running. It'll also automatically display any workouts from platforms like TrainingPeaks, if you've connected those.
With all that set, we'll just start with a simple run, and get cookin'. This concept carries to pretty much all sport modes, so it's a good example. You can see as I start running I get my pace, distance, and other metrics as configured: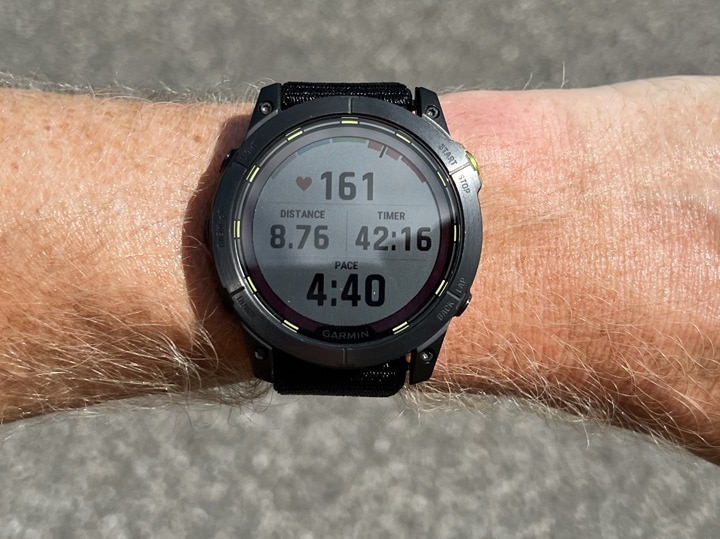 If you've got a Garmin Running Power-enabled accessory, such as an HRM-PRO/PRO-PLUS, HRM-RUN, HRM-TRI, or RD-POD, then you'll also get running power displayed too. Unfortunately, this does still require some sort of accessory, unlike Apple/Polar/COROS that just do it natively from the wrist.
Further, for running modes (but not hiking), you'll get Stamina, if you've enabled that, which will show how much time/distance your body theoretically has left at the current intensity. You can also view this after the fact in Garmin Connect. This can be used for pacing in both training and racing, but mainly racing – and mainly long-distance racing.
I dive into this in more depth in my Forerunner 955 In-Depth Review, within the sports section – showing how it works for both interval workouts as well as longer steady-state workouts and multi-hour efforts. Overall, I've found it reasonably close for most longer efforts, though a bit more wobbly for shorter efforts.
Most of the sport features are the same here as the Fenix 7 & Forerunner 955, so I won't rehash them over and over again. However, one of the new ones on the Enduro 2 is Grade Adjusted Pace. This formula has been used for many years by many companies to help you compare flat courses to hilly courses. Basically, it 'adjusts' your pace to account for gradients. Here, let me show you. First, on this page I've configured both Grade Adjusted Pace (GAP), and regular pace. And you can see when I'm running on flat ground, it's the same: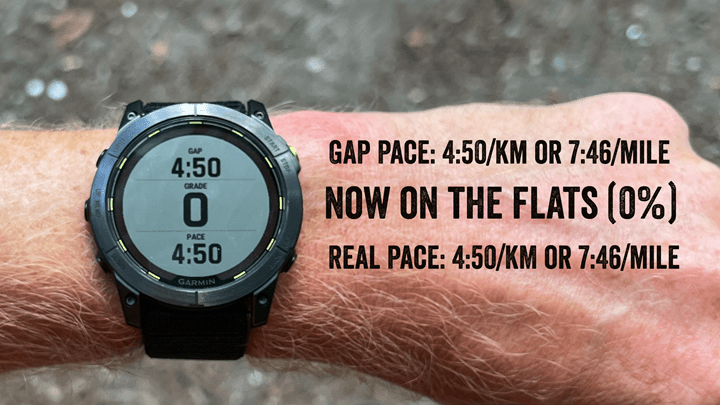 However, as I go up this 7% incline, it starts to separate. I'm roughly maintaining my real-world pace despite the difficulty in doing so, but as a result, the unit shows me a grade-adjusted pace that would be faster.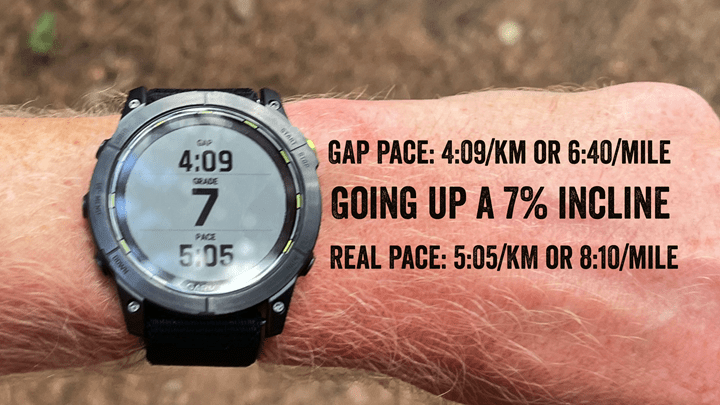 The inverse of this concept applies as I go downhill, where now it shows me that it's easier to run downhill than flat-ground: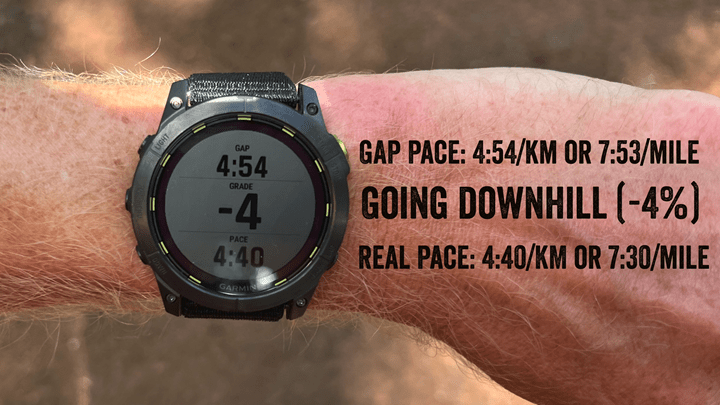 Of course, none of this changes your race time or finisher place. But it can be super useful if you train on hillier routes, but want to understand roughly how that would look on a flat course. Again, this isn't new in the running world, and has been used by coaches and athletes for many years. It's just the first time we're finally seeing it natively on Garmin watches. Also, note that the GAP data field is shown to the exact second, as opposed to rounded to the nearest 5-seconds like the rest of Garmin instant running paces. You can see GAP afterwards on both Garmin Connect (summary and charts), as well as on the watch itself (average).
The next new Enduro 2 feature is Auto Rest Timer. This mode is available in the Ultra Trail Run profile, and will automatically track your paused time when you stop running. This concept originated from the first Garmin Enduro watch, but required manual pressing when you (likely) went in/out of an aide station. The idea being that it'll track the rest time, but doesn't actually stop your watch recording. So even if you forgot to resume it, it wasn't the end of the world since your watch was still recording behind the scenes. With the Enduro 2, it now adds an Auto Rest/Pause timer to do it automatically, no buttons required. This option is within the Ultra Trail Run Profile: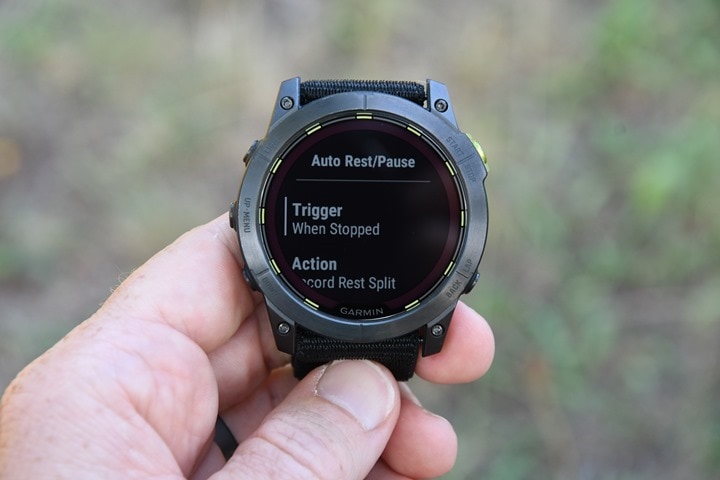 You can leave it on automatic, or, you can customize the speed threshold (just like you could on Auto Pause previously). But you'll notice that has two options: Start the Rest Timer, or Pause Activity. With starting the Rest Timer, it's that 'virtual pause' we talked about (but again, recording still continues). Whereas if you select "Pause Activity", it's a legit pause of the timer/data. I wouldn't recommend that.
So, if you leave the defaults, it'll go into the Rest Timer mode, and changes the screen to a black background. Note that it inverts the coloring on all your data pages, so you know that you're in Rest Timer mode.
And then, post-activity you'll get a summary of those times after the fact. Practically speaking, the main difference between this and 'Moving Time' is that you get more detail on where these pauses occurred.
Once your workout is completed, it'll show you the summary from that workout. Here's a simple run I did this weekend that illustrates that fairly well, with a gallery of what's shown on the watch:
Additionally, you'll get a slew of information in Garmin Connect (both mobile and website), so here's a quick gallery of some of those data pages as well:
Rounding home, the Enduro 2 supports the new Race Calendar and Race Widget, which lets you add a race to your Garmin Connect calendar, including the exact course and date/time, which in turn allows the race widget to look up weather conditions as it nears, as well as seasonal conditions when further out. But more importantly, using that course information, it'll figure out an estimated finish time based on your recent workouts:
Beyond that, it'll also actually change your structured workout recommendations (Daily Suggested Workouts) to account for that race. For example, longer runs for a marathon, and shorter but more intense workouts for a 5K or 10K race. It'll also automatically taper your workouts ahead of the race, and create training blocks as well. It's reasonably impressive the way it works for running races, though for cycling or triathlon events it doesn't do much right now.
Finally, we'll wrap up on some of the sensors bits. First up, the Garmin Enduro can connect to a slew of sensor types, both ANT+ & Bluetooth Smart. These sensors are used across a wide range of sports. Here's the full listing at present:
Club Sensors, Headphones, Heart Rate, Speed/Cadence, Foot Pod, Tempe, Lights, Radar, Power, VIRB, Shimano Di2, Shifting (e.g. eTAP), Extended Display, RD Pod, Muscle O2, Xero Laser Locations, inReach, DogTrack, Smart Trainer
Note that you can have multiple sensors of the same type, and give them names. Such as multiple power meters for multiple bikes, or perhaps multiple chest straps floating around.
Additionally, the Enduro 2 can broadcast your heart rate (and even running pace/cadence) to 3rd party apps and devices. This means you can broadcast your watch's heart rate (from the optical HR sensor) to your bike computer, or to apps like Peloton or Zwift. It does this on both ANT+ & Bluetooth Smart. You can configure this within the sensor settings, including to automatically broadcast when you open up/start a sport profile: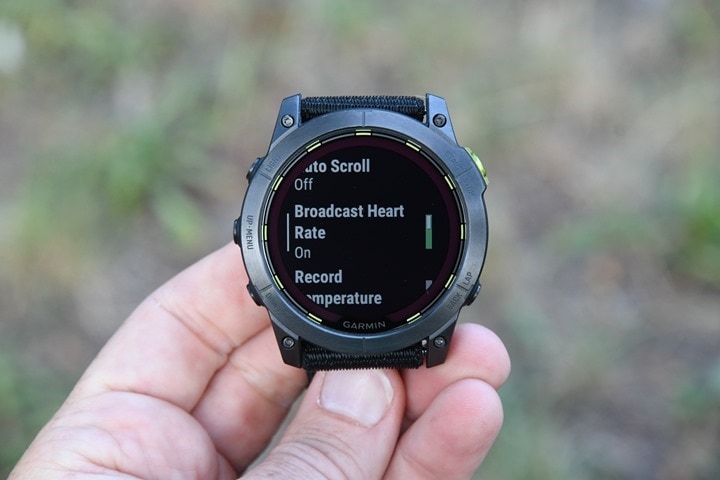 I find this useful in cases where the accuracy of the optical HR sensor is perfectly fine (such as indoor cycling), and I just need to broadcast it to Zwift or Peloton.
Now, I had planned to write an entire section about Training Readiness and Training Status 2.0, as the Enduro 2 launches with these features that came out on the Forerunner 955. And in fact, I have an entire section in that review on it. Training Readiness is an umbrella feature that basically does a far better job at telling you when to rest, and when to train – than just Training Status by itself:
This includes HRV status and basically every new training load/recovery feature of the Forerunner 955 except Morning Report, which is coming soonish to the Fenix 7/Epix series. And indeed, all these features were mostly working just fine over the course of the summer…until last week. The day I ended my 8-day trek (which was done as a single activity on the Enduro 2, paused each night with 'Resume later'), all that went to crap. I mean, it broke…hard.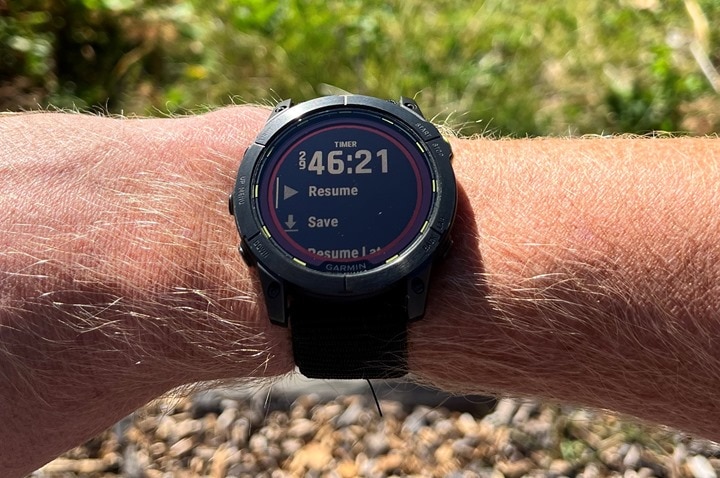 It retroactively zapped my nightly sleep and HRV values from the days I very much had them. It then flat-lined my Acute Load, putting it at '13'. It won't actually leave '13', despite more workouts since then. Like, the numbers are frozen there, almost a week later. And it back-ported my entire hike's training load to the start date of the hike (July 27th). In other words, it created a giant hole, and has put me deep into the 'Detraining' category, since it basically grouped 8 days of intense hiking onto a single day almost two weeks ago now, and then zero'd out everything after that.
Garmin has been doing some digging since this happened, and they believe they understand the cause, though I'm not getting the impression this is going to be an easy fix. And I can see why. Today, they assign training load to the start date of an activity. And in 99% of cases, that works perfectly fine. But, not in multi-day treks. And that ignores the legit bugs that involve retroactively deleting sleep/HRV data, and having my Acute Load just be frozen.
Ultimately, any activity that stretches over multiple days (using the 'Resume Later' feature) breaks all of the Training Status 2.0 features (including on a Forerunner 955, or a Fenix 7/Epix if you're running the beta). Specifically, it breaks it on any days that are part of that set. So in my case, July 27th to Aug 3rd. Even though it showed each night it was recording sleep/HRV data properly, it actually wasn't seeming to write/save it. Starting on August 4th it resumed writing/saving it, so I'm good on those pieces. But here on Aug 9th my acute load is still stuck hard on just '13'.
Now, I grant you that I've not had a reason to do a long trek like this before. So had it been any other review, I'd probably never have noticed this. But given this was an ultra-long battery watch, I figured hey, let's give it a whirl as one giant activity file. To which, I'm sure the Garmin Enduro team is like "Couldn't you have just gone for a pleasant day-hike or something instead?!?".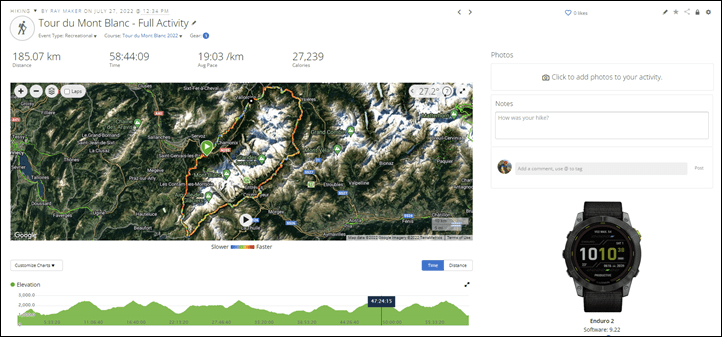 Setting my Training Status multi-day trek issues aside for the moment, there's no watch on the market that even comes remotely close in terms of sports features to the Garmin Enduro 2 (or it's Fenix/Epix siblings). And yes, like most Garmin watches, you're not likely to use all the features, or even a fraction of the features. But, that's kinda Garmin's point: Everyone uses different features, especially in sports. And in this case, they aim to cover everyone's favorite feature – even if it's something you yourself might never use. Because undoubtedly, your must-have sport feature is something that someone else never uses.
Mapping & Navigation: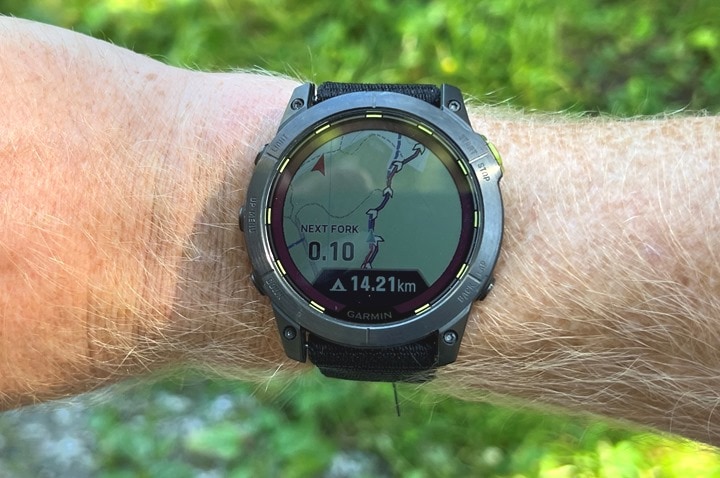 When it comes to navigation, the Enduro 2 includes all of the existing features of the Fenix 7 series, but actually adds some newness too – specifically, Next Fork. And we'll get to that in a moment. But first, let's quickly talk about mapping, then courses and navigation, and within all that, Next Fork.
The major feature change from the Enduro 1 to Enduro 2 is now the inclusion of maps, and everything that comes along with that. The Enduro 2 contains 32GB of map storage, like all Fenix 7 Sapphire units. This means that you've got maps for the region you bought it in pre-loaded, as well as the ability to download maps for any other region on earth, free. The maps included are what Garmin called TopoActive maps, which means they're a blend of topo maps and maps with all the underlying trail/street/POI data, plus Garmin's heatmap layer, called Popularity Routing.
You can see which maps are pre-downloaded on your unit under the Map Manager feature, as well as add other regions. You can also do this from a computer using a USB cable and Garmin Express. Within the Map Manager you can see/manage how much space you have, and how much space each map requires.
You can see above that the TopoActive Europe Maps about 11.5GB. And on the previous page it showed I had 15.8GB available. Remember, maps download sizes here are less about landmass size, and more about the amount of trails/roads/points of interest/etc… since that requires more data space.
For context, here's the current sizes of these maps as of August 10th, 2022. These will undoubtedly change slightly over time, but shouldn't change too dramatically over the years:
TopoActive North America: 9.4GB
TopoActive Europe: 11.5GB (*See update below for added Europe breakout)
TopoActive THID: 1.9GB
TopoActive MENA: 1.4GB
TopoActive Australia & New Zealand: 1.8GB
TopoActive Africa: 4.4GB
TopoActive Japan: 3.9GB
TopoActive Hong Kong & Macau: 17MB (yes, megabytes)
TopoActive South America: 6.1GB
TopoActive Taiwan: 96MB
TopoActive Korea: 213MB
TopoActive SGMYVNPH: 1.2GB
TopoActive China Mainland: 6.5GB
In addition, for Europe, Garmin has added the ability to download specific regions when you connect via computer instead. This is super helpful if you're a bit tight on space. They are as follows:
Europe Whole: 11.5GB
Europe West: 6.3GB
Europe Central: 6.4GB
Europe East: 6.2GB
In the case of the Europe map sub-regions, they overlap a bit, which is why if you add each component individually, it's far more than just downloading the main Europe one. I've added all of these regions below in a gallery, so you can see exactly which countries are part of which regions:
Note you can only toggle one of the Europe regions, or all of Europe. So it's either all of Europe, or just a single region. I suppose since two regions takes up more than the total download, I guess that's why.
Anyways, with that all settled, the next piece is how you want to navigate/route. For 99% of you, that's likely to be just from a pre-created course. That's something like a GPX/FIT file, or, from a course/route you've created with an online platform/service like Strava, Komoot, or otherwise. Frankly, it doesn't really matter – they all end up the same place here. If you create it on a platform like Strava or Komoot (and many others), it'll automatically sync to your watch upon creation. Whereas if you want to drag an actual .GPX file onto the watch (or up to Garmin Connect), you can do that too. Alternatively, you can create courses on Garmin Connect by just clicking around (both smartphone app or website).
For the purpose of this section, I'm going to walk through what I did for my 170KM Tour du Mont Blanc, which was an 8-day trek I finished up last week. In that case, I downloaded a .GPX file of the route from the official Mont Blanc site. I initially had many other copies of the route I'd downloaded from other sources, but all of them kept giving me 200 maximum course point errors on the Enduro 2. Frankly, it's annoying AF, and nobody at Garmin can give me (or even themselves) a good explanation on why a given course trips that TrackPoint threshold and others don't. After asking this question pretty consistently for about 9 months now, I'm reasonably confident they actually don't know either.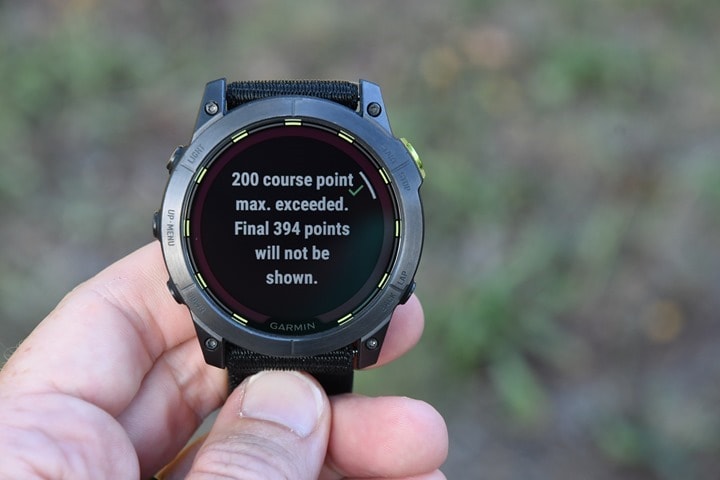 To illustrate this, the above Tour du Mont Blanc route failed, saying the final 394 course points won't be shown (2/3rds of the course). Yet, a virtually identical one (in terms of route and distance) succeeded, simply because…well…nobody knows. If you go beyond the course-point limit, then it'll still route just fine, but it won't give you turn-by-turn prompts. Honestly, if you're above 200 course points, you probably don't want to hear it chirp at you every single switchback anyways (I turn that off). Still, it's frustrating this is somehow still an issue for Garmin.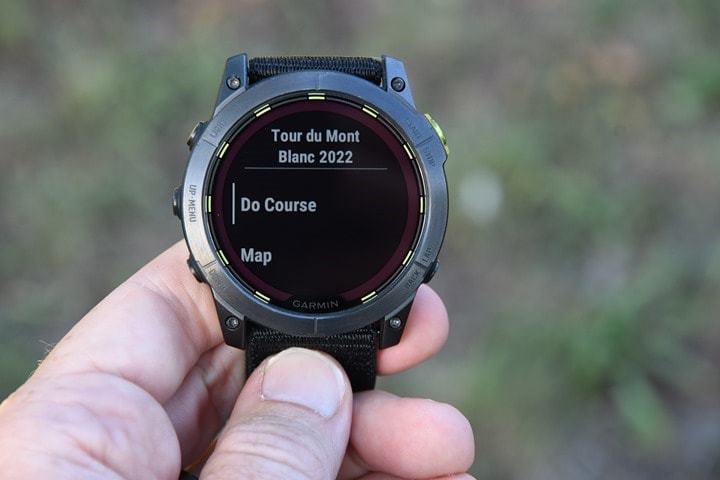 Now, the bit of good news with deciding on the official .GPX file is that their Mont Blanc site even lets you toggle on/off a slew of waypoints, life refuges, camping spots, etc… Which, is awesome, because those actually get consumed on the Garmin Enduro 2 as proper waypoints that show up in Up Ahead, super useful for later.
First though, we'll load up my final course, where I can see the elevation profile, map, and other top-line stats:
And with that, I pressed to start my course and begin my hike. As I'm hiking I can use the map page if I want to (though, it'll burn substantially more battery if you left it visually on that page), or, you can wait for any turn prompts. The Enduro 2 now shows your exact route with directional arrows, something that's super useful when you've got a course/route that may be a loop or such.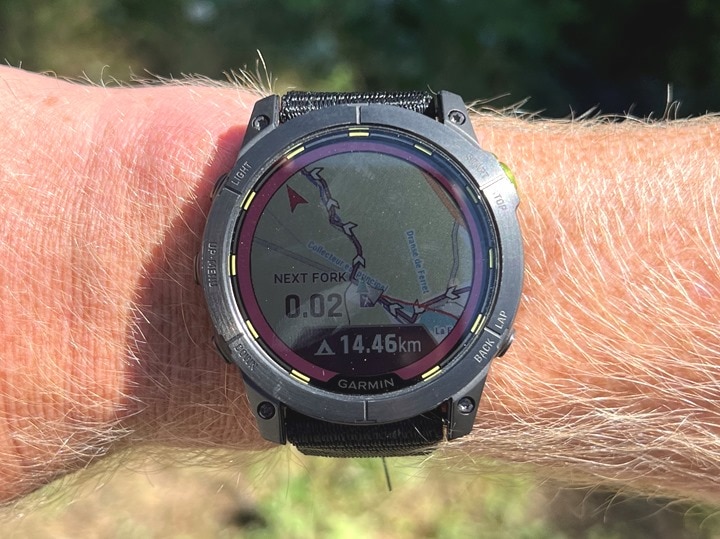 If you go off-course, it'll give you off-course warnings immediately. Depending on the situation, it'll be in as little as a few seconds, or as much as 10-15 seconds. You can use different pages to see where the course is, including the course page which has an off-course amount as well as compass heading of which way you're supposed to go.
As I mentioned earlier, one of the accidental benefits of ending up with the official course .GPX is the baking in of the waypoints. I had been previously trying to build out all my waypoints manually. But this means they all automatically showed up on what Garmin calls 'Up Ahead'. This lets you customize the icon and name for each waypoint, and then shows you the distance (per the trail, not as the crow flies) to each waypoint. It'll give you a small countdown when you get within about 50m of it.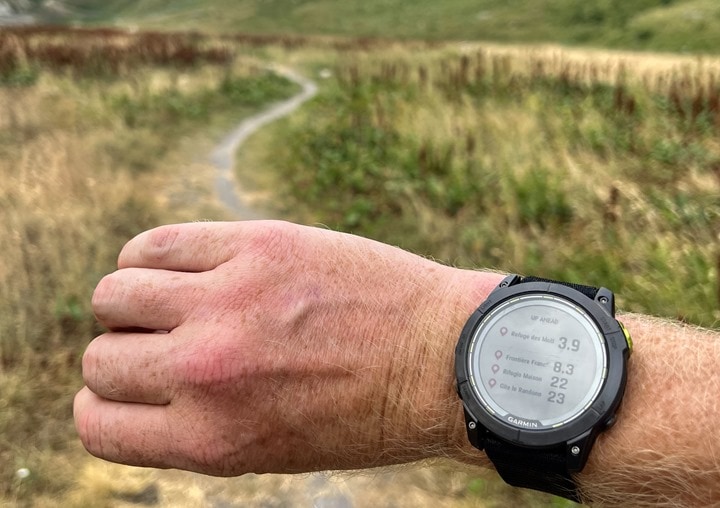 This page is/was hands-down one of my favorites. For long days on a mostly well-established trail, I don't really need the map page. I just want to know how long till the next refuge/col/campground/etc. And this did exactly that.
However, my actual favorite page is ClimbPro. ClimbPro requires a course be loaded (or, at least, an end-point be loaded). From there it'll automatically calculate each climb (and descent) and show your position on the climb. This includes the distance to the top, ascent remaining, ascent rate, and the climb profile. That bottom item (ascent rate), you can actually change to whatever data field you want.
And if you dig into the ClimbPro settings, you can turn this on for Descents as well (albeit not for cycling activities), which was super useful on some of my descents that lasted hours of rock-garden suffering.
Now's a good time to explain the new Next Fork feature. This feature automatically looks at the routable map information and figures out which trail/street/path you're on. Then, it shows the distance until the next junction in the trail. This feature DOES NOT REQUIRE a route be loaded at all. Nor does it require a trail be named. As long as the trail exists on the map, it'll show it (and even the tiniest of no-name mountain goat paths in the Alps seemed to show up for me). You can see here I'm 0.58km away from the next fork, even though I'm 174m away from the planned route (exemplifying that it doesn't depend on any routes).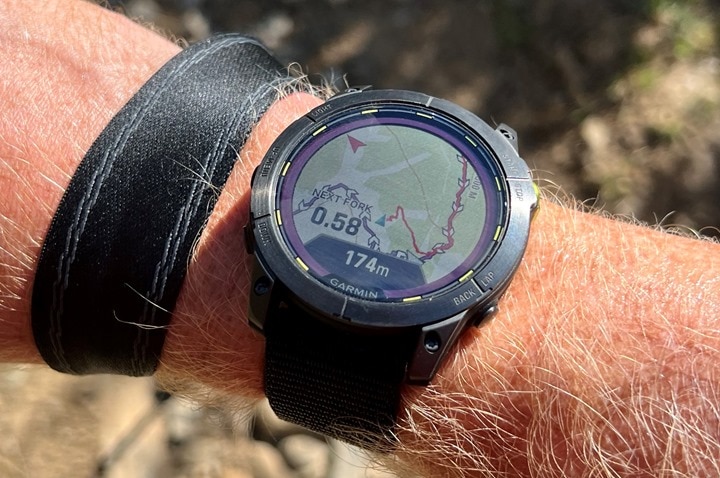 The main appeal here is mostly when you're not following a route/course, perhaps on either familiar territory, or even just out for a hike without having bothered to create/load a course. The idea being that it gives you a heads up when a junction is occurring, as sometimes those trail junctions could be overgrown and you'd never even know you passed the trail fork. I actually found it useful though even with a course loaded, specifically in cases where the trail had maintenance and I was pushed to an alternate trail for a short period. In this case I was able to roughly judge how long it was till the fork in the trail that merged me back again to my main trail.
Finally, it's worthwhile noting that by default the Enduro 2 won't try and re-route you onto different trails if you go off-course. It'll keep your original route as-is, with hints for you to get back on track. But, you can change that if you want it to recalculate on the fly, in which case you can change the setting from 'Follow Course' to 'Use Map'. I wouldn't recommend that though unless you only care about the end point. In my case, the journey (route) was the destination.
Lastly, it's worthwhile noting from a navigation/routing standpoint, there are other ways to route/navigate that don't require loading a course. They include the following navigation options:
– Point of Interest: Pick an item from the built-in POI database, such as a town/monument/service/etc…
– 'Around me': This lets you look at the map around you, and visually pick out where you want to go
– Back to Start: This will navigate back to the starting location using the route you came on
– Navigate Activities: This will treat a past activity as a course, basically repeating it
– Saved Locations: This lets you navigate to locations you've previously saved
– Sight 'N Go: This lets you utilize the compass and then lock a direction and have it keep you navigating in that direction
– Coordinates: You can manually enter in the exact GPS coordinates you want to go to
– Use Map: You can zoom in/out/around on the map, and pick the exact point you want to go to (such as the top of a mountain)
All of these items will navigate via routable trails/streets/etc. Meaning, if you pick the top of a mountain, it's not going to just draw a line to the top of the mountain and say 'Good luck!'. It'll figure out the trails to get you there.
It's this wide range of navigation methods where you really start to see the difference between something like a Fenix/Enduro/Epix series watch, and their competitors. Practically speaking though, once you set a GPS coordinate point though, most all of these work the same way as courses/routes. Also practically speaking, 99% of the time you'll probably be loading a pre-defined course.
Finally, it's worthwhile noting that the Enduro 2 supports the Garmin Explore app. This oft-forgotten app is designed for backcountry usage without cellular range. It lets you manage courses/waypoints/etc from your phone, and then sync them to the watch – all without internet. Whereas the Garmin Connect app requires internet for any sync at all.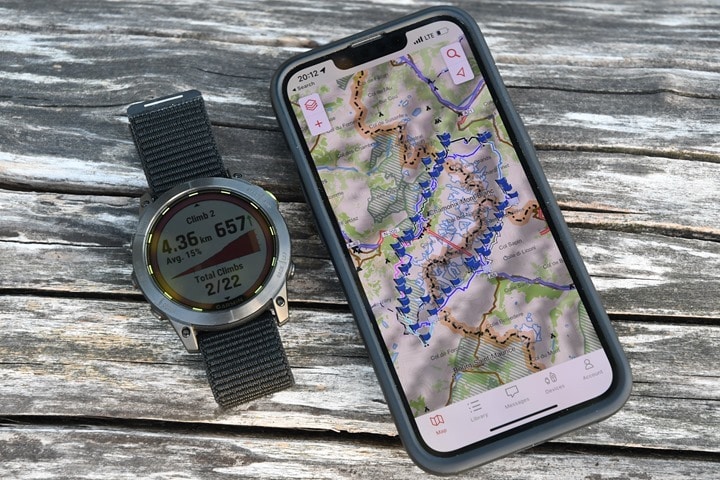 While I do appreciate this app exists, and also appreciate it's gotten a bit more attention lately with the Garmin inReach devices being integrated into it, I'd argue this app really needs some strong attention. It's got a massive amount of potential as the only off-line solution, but it seems clunky and often confusing to use. It mostly comes from Garmin's handheld device realm, and feels like they've been working to make it more compatible with wearables, but just haven't invested the time into the user interface to make it fully logical for this decade.
It's ironically an app feature area that none of their competitors comes close to, and Garmin should find a way of embracing that competitive difference with deeper features that cater to the outdoor/adventure realm. Ignoring all the organizational chaos for a second, from a feature standpoint I'd love to be able to see all of the ClimbPro climbs in a route on the Garmin Explore app, so I can game-plan the next day's worth of trekking when out of cell-phone range. Or, download stats about the trek/activity to date. Or, have clean/proper integration with Garmin Connect for syncing my Routes/Course library to Explore pre-trip, such that it doesn't become a complete dumpster fire on Garmin Explore (as it is now).
In any case, there are endless navigation-related options in the Enduro 2, and the above just touches on the most popular ones, and how I used it specifically both in the Tour du Mont Blanc trek, but also in other hikes/treks/courses over the course of the summer. Ultimately, despite my minor quirks with it, the power in Garmin's navigation/mapping platform is hard to beat.
Solar & Battery: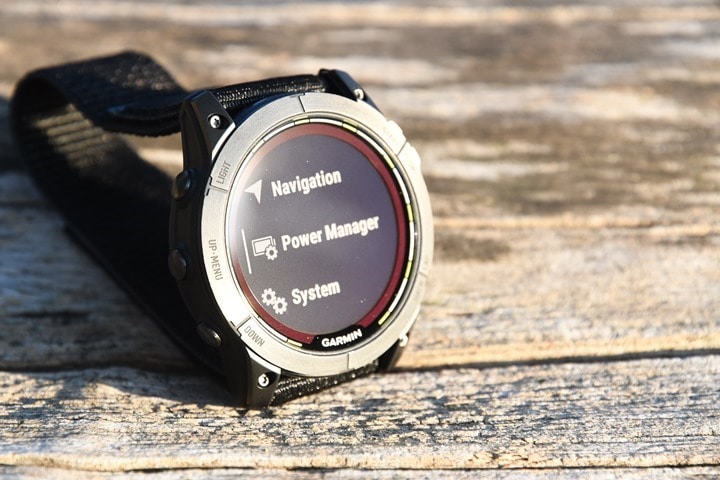 The main reason you'd likely buy the Enduro 2 is for the additional battery life over the Fenix 7. In the case of the Enduro 2, that's largely provided by the larger battery inside. However, there is some additional battery from solar power. The Enduro 2, like a number of other Garmin watches, has solar technology built into it. The company has been doing this since the Fenix 6 series, and it's now found on the Fenix 6, Fenix 7, Enduro 1, Instinct, Instinct 2, and Forerunner 955 watches – as well as the new Edge 1040 Solar for cycling.
The Enduro has two basic solar panels on it:
A) A thin rim surrounding the inside edge of the display, which is easily seen (red edge above)
B) A layer below the glass but above the display, that is essentially invisible to you (the rest of the display)
Note that the display sizes are *IDENTICAL* between the Fenix 7X and Enduro 2. The Solar band space is taken from the bezel, not from the display. In other words, you're not losing display size for the solar strip, you're losing bezel size. On the Enduro 2, you've got a few places you can see the solar intensity level. Depending on the watch face you choose, it can appear there. However, you can also see it within the solar widget glance, and then solar widget: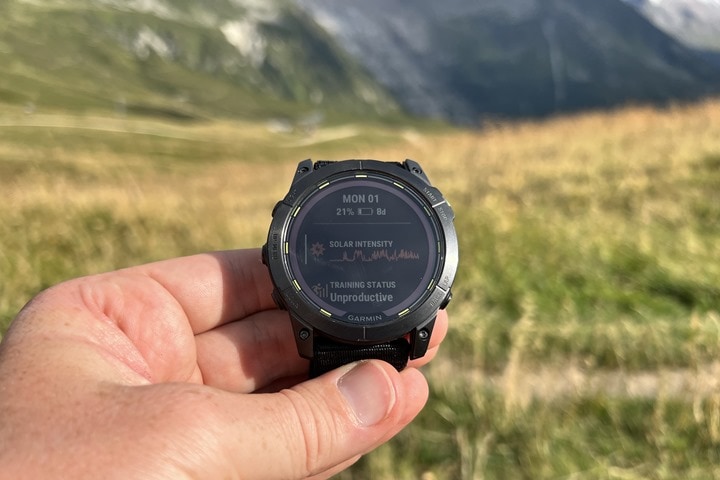 This shows you solar power over the last 6 hours, as well as a small sun icon at the top, which is broken out into 10 pieces, each indicating 10% of full intensity. Technically speaking, full intensity is considered 50,000 lux conditions. Once you get to 100%, then the full sun icon lights up, no matter how sunny/powerful it is outside.
However, 50K lux actually isn't crazy bright. For context, on a mildly sunny day in January in the Netherlands, it's 10-40K. Similarly, a summer day in the Alps and I was getting about 70K lux. All of Garmin's figures for watch solar battery assume 3 hours a day at 50K. So in the winter that might be tough for folks, whereas in the summer on vacation, that's probably trivial. Garmin notes that if you go beyond the 50K conditions, it'll leverage that power – even though the icon itself won't show more than the full sun indicator.
The Fenix 7 and Enduro 2 series also list exactly how many lux hours you've gotten that day, and for the past 7 days:
Though, unlike the Garmin Edge devices, it doesn't convert that to actual usable hours. Hopefully they do that at some point.
As a quick recap before we dive into usage, here's the official Enduro 2 solar battery specs:

So, let's look at battery burn across a few activities, in differing weather. Note that for all of these activities I used SatIQ, which automatically changes the GNSS (GPS) satellite systems to achieve the most accurate tracks for that specific environment. Meaning, if you're up in the mountains in dense trees, it'll go to dual-frequency/multi-band, which burns battery life faster. But, get yourself to a meadow/field with open skies, and it'll pair it back to GPS-only, with what is likely the same visual track accuracy level, just far less battery burn.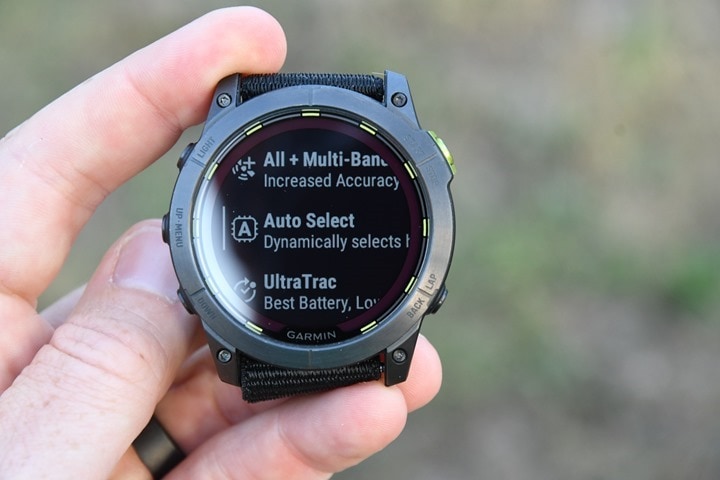 The option called 'Auto Select' is actually that SatIQ feature. SatIQ is the Garmin branding around it, but Auto Select is the option in the menu. It's kinda like the Garmin Outdoor team sat down, picked a great name for it (SatIQ), and then sent it to the dev team to implement. At which point whichever developer was tasked with implementing it just went "Nah, automatic selection is what it is, so that's what I'm putting in the user interface. Check…done…next!"
The SatIQ feature essentially rotates through these three GNSS modes:
Least Battery: GPS-Only
Middle Option: All Systems
All the powers: All Systems + Multi-band (aka dual-frequency)
It does not use the 'UltraTrac' option in the rotation, since that dramatically reduces the GPS recording rate. In the case of the above, they're all still every second. Whereas UltraTrac basically goes to a once per minute-ish configuration (it's complicated).
First up, here's the battery on a trail run I did, which is a bit on the shorter end of things. All of these battery burn charts are done with the DCR Analyzer, which displayed the recorded battery levels in the files. Note that in general, the longer the activity, the more accurate the data (since the battery level is only updated when it changes digits – e.g. 82% to 81%). First is that trail run though, about an hour, so right on the fringe of showing up correctly here. This time with a chest strap, so we'll get more battery out of it than using optical. You can see it trends at 91 hours (estimated) based on that trajectory, though again, it's a bit shorter than I would want for deep analysis.

Then, we've got an almost 2-hour ride. You can see it trends toward about 61 hours, but this is including having external sensors connected (Garmin Rally power meter with Cycling Dynamics, and Shimano Di2).

Then a 3-hour hike through a blend of dense trees and then open sand dunes. This was with SatIQ enabled on the Enduro 2, versus multi-band on the Forerunner 955. This was ending in the dark of night, with the navigation page too, so I burned a bit more battery here with backlight and such on the Enduro 2.

And finally, the 8-day Tour du Mont Blanc. In this one, doing it as a single activity I'm able to see not just how the battery burned during the day with GPS during the hike, but also the battery burn each night between when I ended my hike and woke up (in fact, the watch appears to quietly wake-up and write the battery levels into the file at 10PM, 12AM, and 6AM each day).
With SatIQ left on, it would automatically shift between the different GNSS modes depending on the environment. So when I was atop a ridgeline with open skies, it'd be burning less battery. And then when I was deep in the trees (like on day 6), it'd be hard at work keeping it accurate. And indeed, there's very clearly alignment between these:
Garmin was able to pull the exact time spent within each GNSS mode for this activity, and it broke out as follows:
All Systems : 79.18 %
All Systems + Multi-band (aka dual-frequency): 20.82 %
Napkin-wise, that makes sense to me – the vast chunk of my time had largely good sky visibility. Though, I would have expected some GPS-Only time.
Keep in mind a few things. First, I didn't pause GPS during any of my stops (including lunch stops inside a refuge, which would spike the GPS power draw to overcome being inside). The only exception being the last day when I realized I was getting tight on battery, and then the 2nd to last day when I took a 2-hour detour off the route to a nearby town for food. Second, the lengths of each day above (in hours/distance) varied, but were generally 6-9 hours each day of GPS time. But that'll impact things quite a bit, the point of the above is mostly just quick illustration. I did not see any obvious/meaningful connection between solar time each day, and battery life.
But ultimately, I managed to complete the entire 170km/8-day trek on a single Enduro 2 battery, without re-charging…just barely.  I came running into town with it showing a predicted under "2 hours" of Hiking GPS battery remaining, and just 3%, which changed to 2% by the time I finished saving the file.
These numbers are pretty much in alignment with what Garmin lists on their specs. In fact, better in some cases, since Garmin assumes you don't stop. Meaning, it assumes with a 78-hour 'All Systems' GPS activity that you press start, and don't stop until hour 78. In my case, I did stop, but then burn battery in regular watch mode (with optical HR for sleeping/etc…). Certainly, if I had been smart enough earlier in my trip, I could have gone quite a bit more, since it lists moving time at 44 hours (out of the 58 hours recorded GPS on time, again, likely due to food breaks). Still, I'm pretty impressed by it.
Accuracy (GPS/HR/Elevation):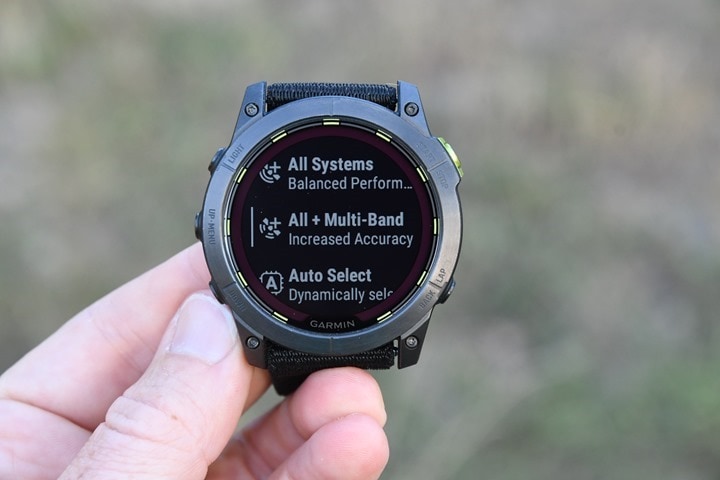 For this section I'm going to take a look at accuracy in three core areas: GPS (or GNSS), Heart Rate (optical), and barometric altimeter (elevation). I'll do this compared to either known-good data sources (a sign-post for elevation), or other chest straps (Polar H10 or Garmin HRM-PRO Plus). And for GPS tracks, I'll be looking primarily at where I actually went, or where the trail went on the map. Meaning, if a unit has me floating across a river and I didn't swim across it, then I'm reasonably confident it's incorrect.
We'll start easy, and then get more and more difficult with more and more units. First, if we look at a hike I did through forests and then sand dunes here in the Netherlands, you can see it's virtually identical to the Forerunner 955, despite the Forerunner 955 being in multi-band/dual frequency mode. In this case, the Enduro 2 was in 'Auto Select', so it could pick its best chance for GPS success.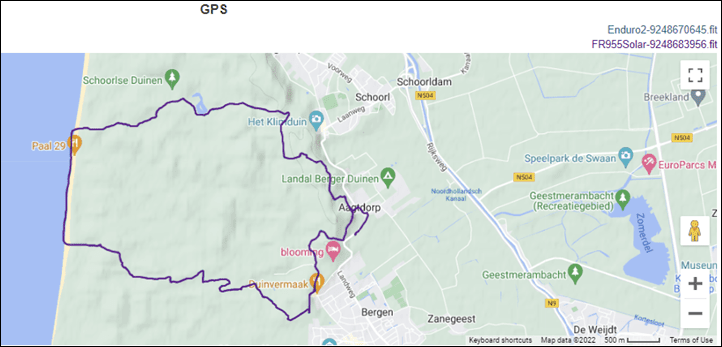 As I zoom in on a particularly deep tree section, there's virtually no difference, as the Enduro 2 has likely ramped up the GNSS type to multi-band to compensate. And, the trails are spot-on with where I ran.

So next, stepping it up one little notch at a time, here's a trail run loop I did this weekend. Basically, I did repeats of a hill on trails in reasonably solid tree cover, circling over and over again. I was in particular looking for how close each loop was.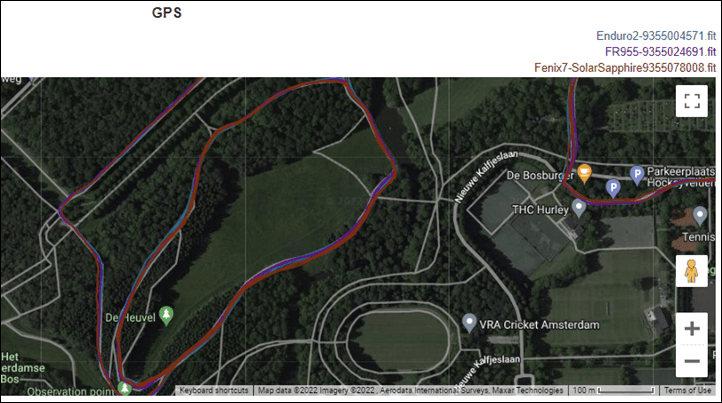 There's the broader loops above, but if we look at them more tightly, you'll see it's virtually identical, again using Auto Select (SatIQ). Albeit, you can see little sections where, on the most recent firmware update a few hours prior, it reset my 1-second recording to Smart Recording, so the data fidelity isn't quite where I had configured it. Sigh.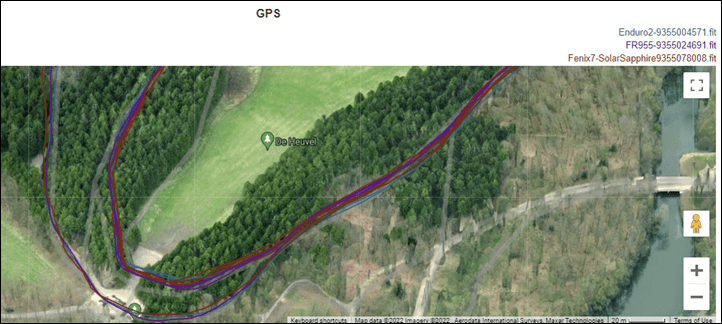 Next, I did a trail run in the woods south of Paris, for an area known well for trail running. Lots of ups and downs.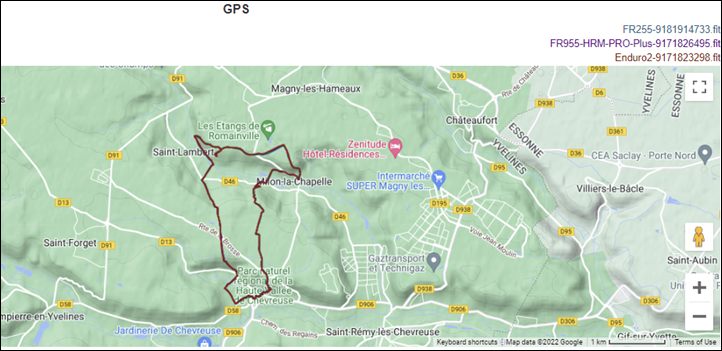 This is with the Forerunner 955 forced on multi-band, whereas the Enduro 2 is allowed to roam via SatIQ for whatever it feels is best. Virtually identical, and exactly where I ran, even including going down the wrong path and back up again.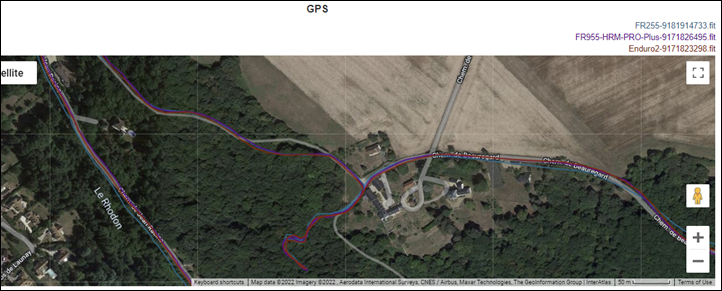 Here's me about to cause some trouble. I'm aiming to go back and forth up and down the city/downtown district of Amsterdam, with tall buildings, all very tightly spaced together (closer than NYC streets actually).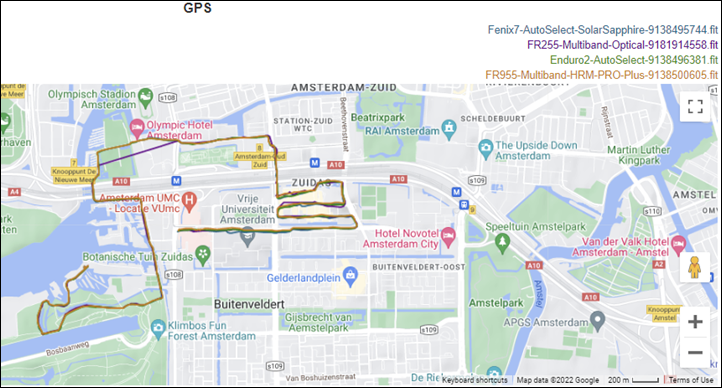 Here's what I'm running in between: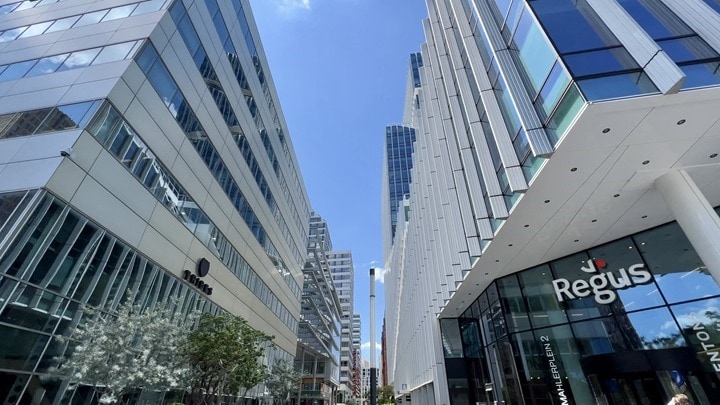 For the most part, on the bottom section, all the units were very close, with the Enduro 2 setting down the best track (on the roadway). As I made the turn, to come back up the middle section the FR255 got a bit perplexed, and then everyone went slightly askew as I crossed the street. Undoubtedly, their signals reflecting off the buildings as GPS signals do in these environments. Still, we're only talking perhaps a dozen meters off the route. I wrapped around again for another pass on the top section, and the Enduro 2 absolutely nailed it. The FR955 and FR255 were offset, but they were also on the side of my body, so that might have just been dumb (bad) luck.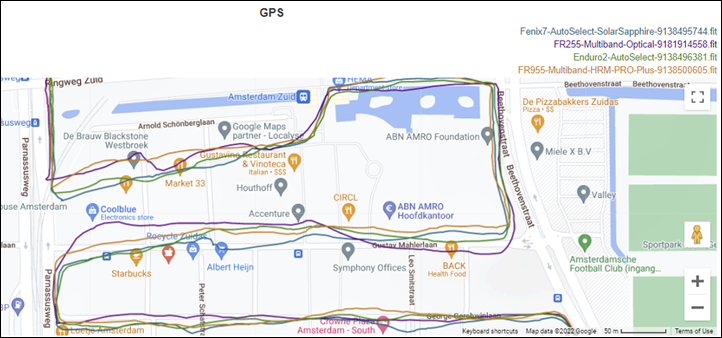 Finally, let's look at some Tour du Mont Blanc sections. I haven't had time to fully analyze all these files yet. I carried four watches with me, including the Enduro 2, and most of those watches created daily files. So it's a big chunk of stuff. However, let's focus on just one day of it, arguably one of the most difficult GPS days as I make my way back from Switzerland into France.
Note that the Enduro 2 was on my right wrist, while the Forerunner 955 was on my left wrist. The Fenix 7 Solar Sapphire was on my upper right backpack strap, while the COROS Vertix 2 was on my upper left backpack strap. There's no perfect way to keep four watches equal over the course of 8 days. Just in the same way that different body types will block signals differently.
Here we can see all the units are very closely aligned, though, the COROS is a bit more wobbly than the rest. This is what I tend to see across the board from the Vertix 2, which was in an All Systems configuration (not in multi-band, because it'd have burned too much battery). The Garmin units were all in SatIQ/Auto Select, so they could ramp up/down the GPS types as required.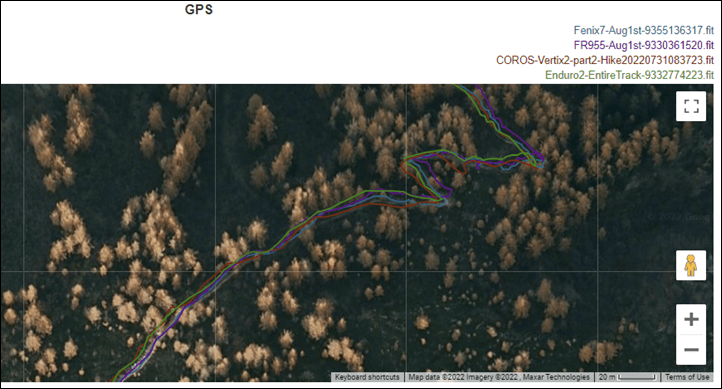 Another similar example here is where the COROS Vertix 2 cuts across a river randomly, rather than following where I actually went on the crossing/path (that you can see on the map below). The Enduro 2 pretty much nails this here.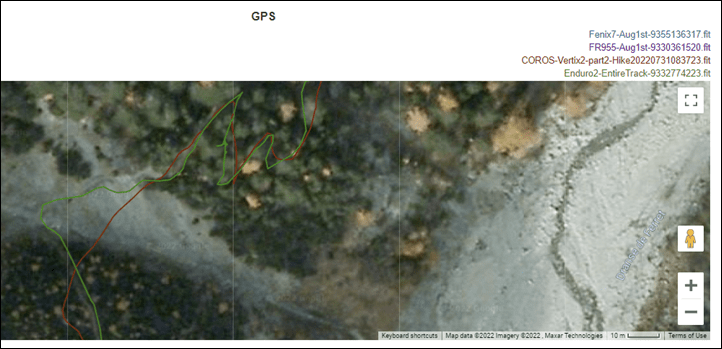 And again, at a high level, things tend to look similar between the COROS Vertix 2 and the Enduro 2. But as you zoom in you see more and more of the nuanced differences, where COROS tends to be more wobbly. This is exactly what I've seen over the past near-year, comparing the COROS Vertix 2 to Garmin's newer multi-band/dual-frequency offerings (e.g. Fenix 7/Forerunner 955/etc…). And this matches what virtually every other reviewer is seeing as well: Despite using the same GPS chipsets, Garmin just seems to get the edge almost every time when it comes to trail accuracy, be it in regular or multi-band mode.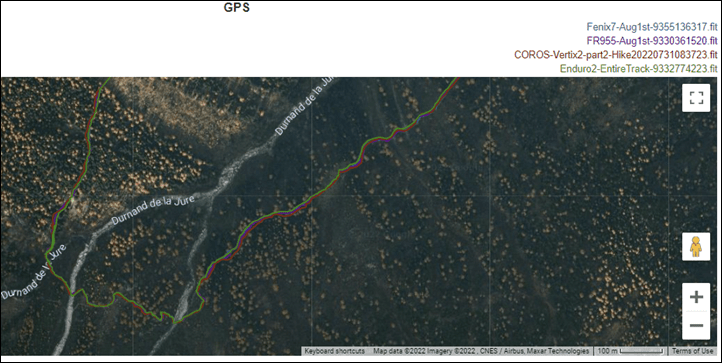 And finally, one more time here where you see little wobbles from that red line of the Vertix 2, whereas the Enduro is much smoother through this. Which isn't to say the Enduro 2 is always perfect. There were a handful of times where it'd be on the wrong side of a small one-lane country road or such. The challenge in those cases is I'm not sure which mode (GNSS) the unit's in, while in Auto Select. I'd love to see a graph overlay on Garmin's site that shows which mode it's using. While that feature has geek-appeal, I think it also actually has significant marketing appeal, as it illustrates just how powerful Garmin's SatIQ algorithm seems to be.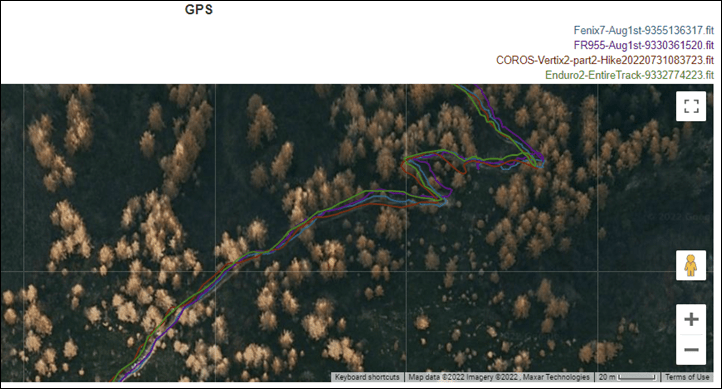 When it comes to elevation, most of my validation was throughout the 26 climbs that I had to do, validating that the number displayed on the watch matched the one shown on a signpost at the top of each pass. Of course, that always begs the question – is the measurement for that post at the base of the post? At the top of the post? Somewhere in between? So many questions!
I'm going to add in a bunch more elevation comparisons as I sift through my 1,200 photos and hours of videos. But this one was notable, because I could easily find the photo that showed 1,527m, while the Garmin Enduro 2 showed 1,530m. The Fenix 7 showed 1,532m, the Forerunner 955 showed 1,550m, and the COROS Vertix 2 showed 1,543. All of these were self-calibrating their altimeters.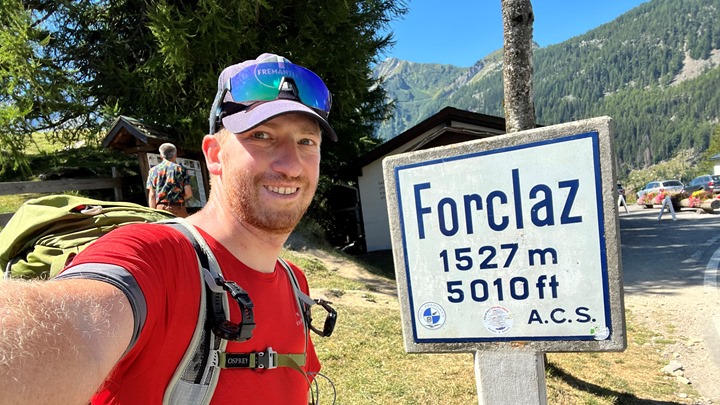 Finally, a couple of brief optical HR notables. This is the same optical HR sensor as the Fenix 7 series. Keep in mind that with a Nylon strap Enduro 2, you're substantially lighter than a Fenix 7X (of any variety). And in general, the lighter a watch is, the less it'll bounce around, which means it'll usually be more accurate.
First, a trainer ride with some intervals compared to the Forerunner 955 (optical) on the other wrist, and a somewhat jumpy looking Garmin HRM-PRO Plus on my chest:

You see some slight lag coming off the intervals for a couple of seconds, but pretty much the norm for intervals and optical HR. Nothing that you'd likely notice by itself.
Next, some hill repeats I did, again, compared to the Garmin HRM-PRO Plus. In this case we see one odd spike on the HRM-PRO Plus on the 2nd interval when I actually tripped but managed to catch myself in an epic face-plant avoidance move. I don't think my HR spiked that high like the HRM-PRO Plus says, but it's hard to know for certain. But otherwise, the rest of the intervals were very close between the Enduro 2, with only the usual couple seconds of lag on the optical HR side.

You can see this lag here: more easily, where the HRM-PRO Plus strap goes up and down quicker than the optical HR, by a handful of seconds (both the ups and the downs).

I'll be adding more data sets to this, including some rather intense sections of the Tour du Mont Blanc, once I finish organizing/consolidating all the files.
Ultimately though from a GPS accuracy standpoint, not only does the Enduro 2 continue some of the best GPS accuracy we've seen in the industry, but with SatIQ now, it does away with the need to always leave it in multi-band/dual-frequency mode, which otherwise burns significant battery life. The fact that I could use Auto Select/SatIQ for the entire 8-day hike on a single battery, yet still maintain crazy good GPS accuracy is a testament to that. I suspect it won't be long before SatIQ becomes the default mode across the board, given how well it seems to do at switching between those modes.
(Note: All of the charts in these accuracy portions were created using the DCR Analyzer tool.  It allows you to compare power meters/trainers, heart rate, cadence, speed/pace, running power, GPS tracks, and plenty more. You can use it as well for your own gadget comparisons, more details here.)
Wrap-Up: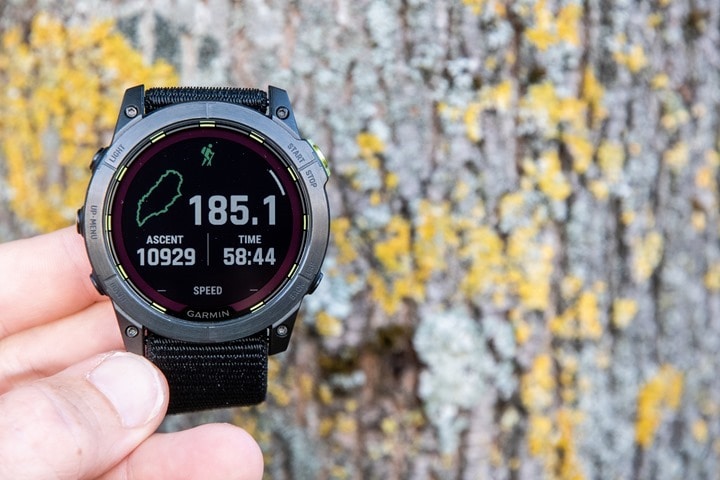 The Enduro 2 is at this point the best watch that Garmin makes. At least if 'best' is measured in terms of features, battery life, accuracy, and overall capabilities. It's not perfect (more on that in a second), but in terms of where it ranks, it's effectively Garmin's Fenix 7X Plus. It's everything a Fenix 7X is, but with just a bit more. A bit more battery life, a bit more flashlight illumination, a bit more bands, and a bit more features. All for just a bit more money ($100). It's a smart decision on Garmin's part, as I suspect most people that were looking at the Fenix 7X Solar Sapphire, would probably give reasonable pause to spending an extra $100 to get an extra nylon strap, more battery life, and more flashlight power. Whether or not the handful of software features unique to the Enduro 2 remain that way, we'll have to see.
Overall, I've had a solid experience with the Enduro 2. While I'm not usually a big-watch kinda guy, it's worked well for me, and was easy to see out on the trail. I'm super happy with the GPS accuracy (as well as optical HR accuracy), and the new features, specifically the Next Fork and Grade Adjusted Pace are handy. I don't think I'll have much reason to use the Sail or Sail Racing sport profiles, but hey, maybe someone wants to get me a boat.
The singular area that the Enduro 2 failed on me was Training Status 2.0 features, upon finishing my 8-day hike. Up until that point, it was working great. But as outlined in the sports section above (towards the end), a significant bug related to the "Resume Later" feature, meant most of the Training Status functions on the watch become useless. While Training Readiness scores are still good and happy, the training-focused recommendations/guidance is broken. I get that many will say this is a niche edge case, and I'd agree, if not for the fact that the Enduro 2 as a watch is arguably a niche edge case. The entire purpose of this watch is long battery life for multi-day activities. That's explicitly how Garmin markets it. But the new features Garmin has introduced simply don't support that niche. Hopefully, Garmin can implement fixes to address that.
Still, setting aside my decision to do an 8-day trek on one single activity, the Enduro 2 is everything a Fenix 7 is but more. And for those that need that little bit more, it seems to deliver. And does so in a lightweight package that I've demonstrated can manage to go the distance on a single battery. Just maybe, for now, consider pressing save each day instead. With that, thanks for reading!
Found This Post Useful? Support The Site!
Hopefully you found this review useful. At the end of the day, I'm an athlete just like you looking for the most detail possible on a new purchase – so my review is written from the standpoint of how I used the device. The reviews generally take a lot of hours to put together, so it's a fair bit of work (and labor of love). As you probably noticed by looking below, I also take time to answer all the questions posted in the comments – and there's quite a bit of detail in there as well.
If you're shopping for the Garmin Enduro 2 or any other accessory items, please consider using the affiliate links below! As an Amazon Associate I earn from qualifying purchases. It doesn't cost you anything extra, but your purchases help support this website a lot. Even more, if you shop with TPC (The Pro's Closet), you'll save $40 on purchases over $200 with coupon code DCRAIN40! The Pro's Closet has been a long-time partner of the site here - including sponsoring videos like my cargo bike race, as well as just being an awesome Colorado-based company full of good humans. Check them out with the links below and the DCRAIN40 coupon!
Here's a few other variants or sibling products that are worth considering:
And finally, here's a handy list of accessories that work well with this unit (and some that I showed in the review). Given the unit pairs with ANT+ & Bluetooth Smart sensors, you can use just about anything though.
And of course – you can always sign-up to be a DCR Supporter! That gets you an ad-free DCR, access to the DCR Quarantine Corner video series packed with behind the scenes tidbits...and it also makes you awesome. And being awesome is what it's all about!
Thanks for reading! And as always, feel free to post comments or questions in the comments section below, I'll be happy to try and answer them as quickly as possible. And lastly, if you felt this review was useful – I always appreciate feedback in the comments below. Thanks!