Over the last few weeks Garmin has been rolling out a new beta program, which aims to streamline the process of trying out beta features, while also making it easier to file bug reports for issues that you find. Public beta programs at Garmin are nothing new, they've been in place for years, and since their introduction they've dramatically improved the software quality level of the final production software. As their watches continue to get more and more complex, the ability for Garmin to test every combination of every feature in every scenario or edge case is simply impossible, even with test case automation.
But the goal of any beta program serves two purposes. First, is for the product maker to catch bugs in pre-release software. But second, is to shape the product based on feedback. And we've seen countless instances of Garmin changing features based on that product feedback. Garmin's Fenix division was among the first to do public beta firmware downloads many years ago. But these days most Garmin sports-related groups have public beta programs to varying degrees. We tend to see Garmin's Fenix & Edge programs have a longer beta cycle than other groups, but ultimately, most divisions have some beta program in place.
With the new changes, you can now enroll your device for continued beta software updates, which it'll receive automatically via WiFi/Bluetooth/USB. Whereas previously you had to manually download each beta update file with your computer, copying files manually to directories on your watch. Now it's simply enroll, and automagic install stuff happens.
Garmin has carved out new forums specifically for beta builds, with a new bug reporting section, and even secure upload of files (like your personal fitness/activity files), in case you need to send those in. And atop all that, your watch gets a nifty beta logo when using a beta version. It's like the excitement of unlocking a video game level, except that your watch might reboot or crash. But hey, nobody ever said rewards were without risk.
Speaking of which, I'm pretty sure as a citizen of 2022 you understand that beta software is incomplete, and thus may contain bugs. I wouldn't recommend using an Alpha build on a race day, nor using a beta/release candidate build for an Ironman. But a release candidate build for a just-for-fun sprint triathlon or 5K? Sure, probably safe. Point being, manage your risk as you do any other beta software.
Getting Signed Up:
At present, the Garmin beta programs are available for the following watches:
– Garmin Fenix 6 Series/Enduro/MARQ/Tactix Delta/Quatix 6
– Garmin Fenix 7 Series/Epix/Quatix 7
– Garmin Instinct 2 Series
– Garmin Forerunner 245
– Garmin Forerunner 745
– Garmin Forerunner 945
Garmin says to expect this to continue to expand. For example, just this weekend they added the Instinct 2 series to the list. We know full well that other product groups (like the Edge series) have heavily used public beta releases over the years. Also of note is that just because a beta program exists, doesn't mean there's an active beta build to test. Last night Garmin added Alpha builds for the Fenix 6/7/Epix, and later today an Instinct 2 series Alpha build is planned.
The first thing to do is go to the upper right corner of Garmin Connect (web), and click the devices option. From there you'll scroll through a few devices until you find your specific device: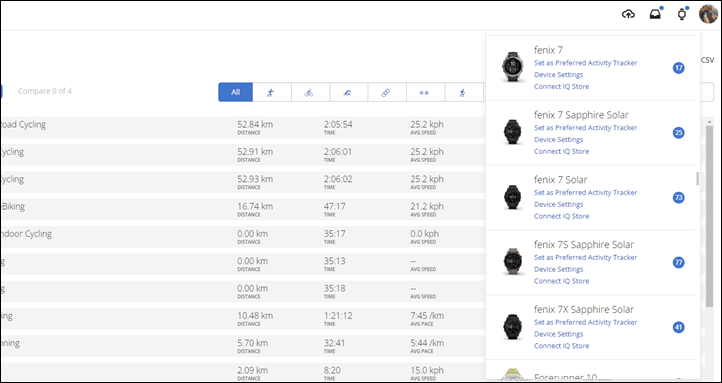 Click on the device settings option, to open up the page for that device. Here you'll see the new 'Join Beta Software Program' option: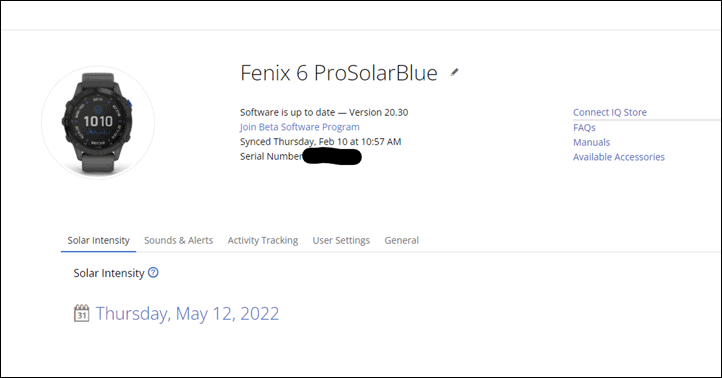 After tapping that, you'll get a confirmation that you agree to the terms: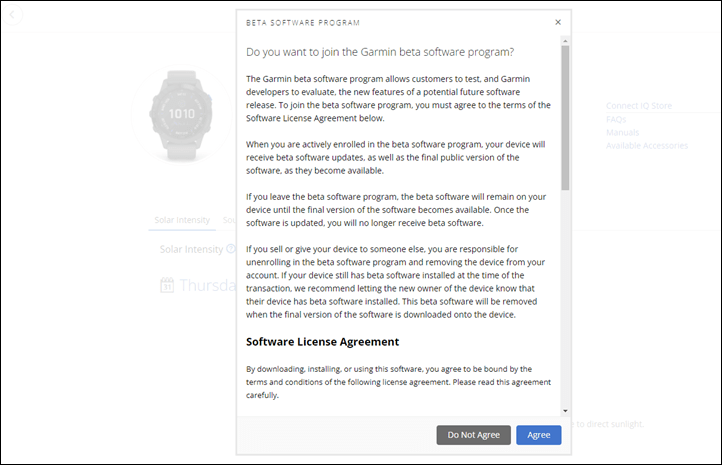 I didn't see anything of concern in there. The second half is just a normal software licensing agreement. There are no terms that say you can't discuss things or NDA's or such:
"The Garmin beta software program allows customers to test, and Garmin developers to evaluate, the new features of a potential future software release. To join the beta software program, you must agree to the terms of the Software License Agreement below.

When you are actively enrolled in the beta software program, your device will receive beta software updates, as well as the final public version of the software, as they become available.

If you leave the beta software program, the beta software will remain on your device until the final version of the software becomes available. Once the software is updated, you will no longer receive beta software.

If you sell or give your device to someone else, you are responsible for unenrolling in the beta software program and removing the device from your account. If your device still has beta software installed at the time of the transaction, we recommend letting the new owner of the device know that their device has beta software installed. This beta software will be removed when the final version of the software is downloaded onto the device."
You'll notice that if you leave the beta program, the beta version will remain on your device till the next production version is released, and then it'll be updated back to production.
Next, it'll show that you're enrolled, and links to report a beta issue as well as leave the program: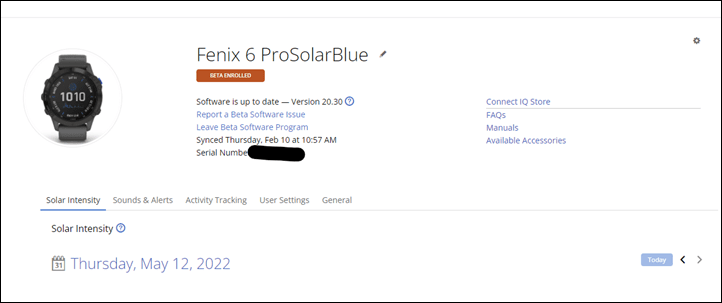 Garmin has split its beta program into what are effectively two chunks. First is what they call 'Alpha' releases, which are effectively what the old beta program was (and still requires manual download). While the new 'Beta' releases are using Release Candidate builds, which means they're almost ready to be released as product builds.
Your watch will automatically get Beta (aka Release Candidate) updates behind the scenes via WiFi/Bluetooth/USB. Generally speaking, your watch will download these overnight, but the newer Garmin devices won't install these updates until it finds a quiet time in your day. One little quirky tidbit is that when Garmin's smartphone app checks for updates on behalf of the watch, it only does so once per day (and then marks the watch as 'checked for the day', future attempts are basically ignored). On WiFi it's limited to every 12 hours. Whereas if you sync via USB cable, it'll always check for the latest version and download appropriately.
For me, that subsequent install offering tends to be when I sit down at my desk mid-morning. It'll then prompt you to install the update: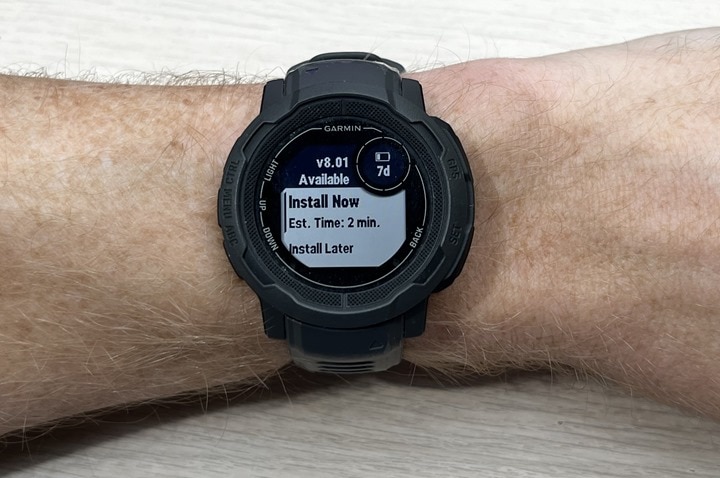 Note that 'Alpha' updates (using the newer Garmin verbiage), won't automatically install on your watch. These you'll have to download manually still, like before. This is a bit of a bummer, and I really wish Garmin would consider a secondary option to allow folks to get these delivered wirelessly as well. Plugging in the cable, for many people, is the difference between bothering to join a beta program or not. Hopefully, we'll see this changed in the future (there's no technical issue here, it's purely a policy one).
In any case, for Beta releases, you'll notice they cleverly add a Greek beta symbol (β) to the firmware version in the watch: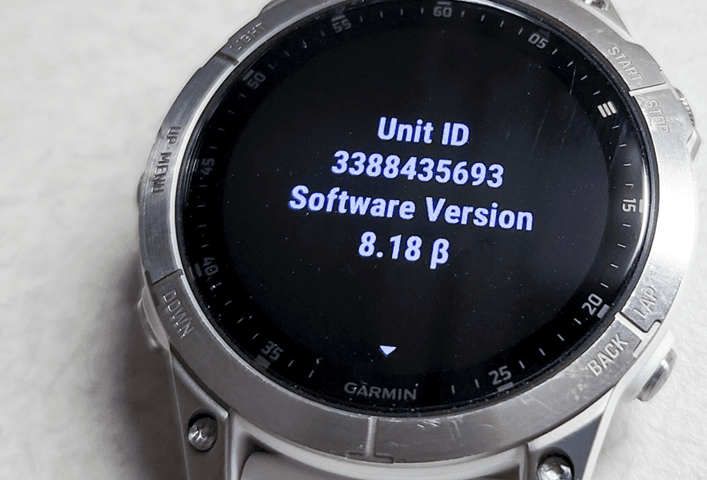 However, what's *really* clever about this is the fact that it's done dynamically by the server when your watch connects to Garmin Connect. This means that if you've got a release candidate version, and it ends up being the final production, you don't need to re-install it. Neat, huh? Though currently, this doesn't show for Alpha releases, and additionally, once the beta cycle ends, the symbol disappears. That's kinda odd, because then you've actually got no context that you're still on beta firmware or not (since you might think it's production, when in reality, it's just stale/old). In my mind, a beta build stays a beta build forever (unless it's the final "chosen one").
In any case, Garmin can now control the precise features that are visible/enabled on your watch by both your enrollment status as well as server-side switches. This gives them flexibility to instantly turn-on a feature that's been quietly invisible on your watch for months, mirroring a capability that's been seen in other non-Garmin product types for years.
To report a bug, you'll swing back into the Garmin Forums, find your product, and then find the specific version your watch is on. This is a solid upgrade over the past, because it helps everyone figure out whether or not your issue is fixed on later builds.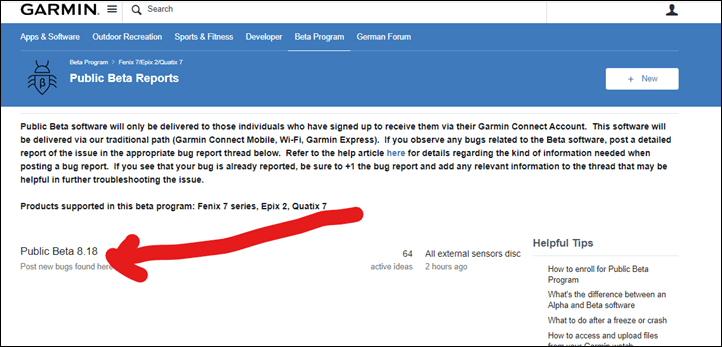 Then at the top, tap the '+New' button to create a new bug report.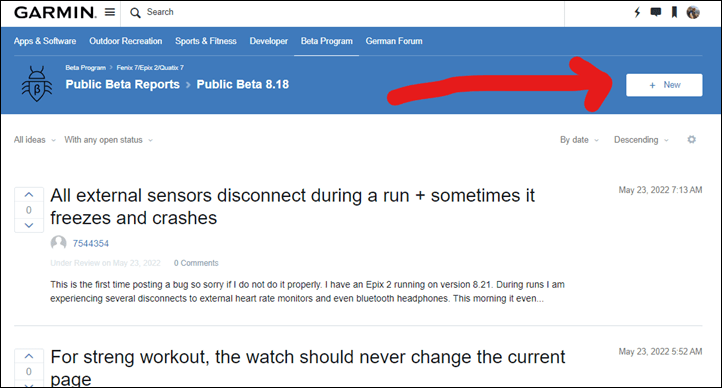 From there, type up your issue. There's also a place afterward to send private files (such as track/workout logs or such, that you don't want public).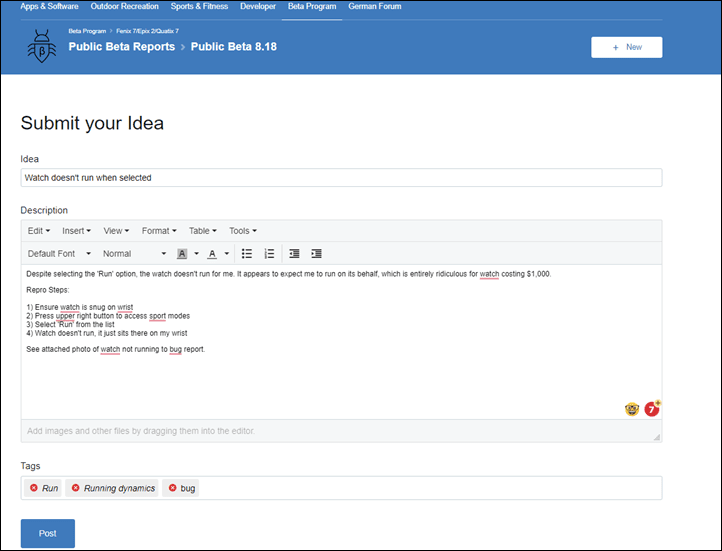 Simply tap post, and off it goes. Like before, Garmin has a specific team of people that handle bug reports and sorting them out. In general, based on years of experience in watching Garmin's beta programs, you'll find bugs in beta products have a far-far-far higher likelihood of getting fixed than bugs in production firmware.
Finally, you can always un-enroll yourself, however, you'll remain on the beta track/flight until the next production release. You can manually roll yourself back at any time though, by going to the Garmin forums and there's a link within the announcements page that lets you download the latest production/released version.
Wrap-Up:
For non-geeks/techie folks, this will seem like a relatively boring and benign thing. But for more tech-oriented folks, you'll probably understand the power and implication of this. No other fitness companies in the space except Apple have a public sign-up page for their beta programs that allow you to quickly enroll yourself and get beta updates automatically applied when new releases come out. While that's handy for techie folks that want to always check out the latest versions, it's also incredibly useful (arguably more useful) for Garmin to increase software stability.
We've clearly seen the benefit of Garmin's public beta program over the last few years. Undoubtedly, it's increased software stability of their devices. One only need to look at any forum/post/page/etc that you want to see that more recent devices have far fewer complaints than devices from 3-4 years ago.
In talking to Garmin, they said they felt like they had done a good job over the past few years with the public beta program, and that their opening things up in this way makes it easier to get, but they also hope it helps grow the beta tester base. And from there they said they hope larger numbers will continue to improve quality, and also to "help build that community".
Up until last week, Garmin did actually show the total signed-up beta participants within the beta portal, which numbered nearly 7,000 people across all supported device types. That counter has quietly disappeared, but given that this program hasn't been promoted yet, it shows Garmin has massive reach on these sorts of efforts, even with that already existing dedicated forum community.
Hopefully, we continue to see them expand this to virtually all product groups, as well as expand the ease of access to the Alpha builds, and maybe even things like automated crash/diagnostic log gathering.
With that – thanks for reading!