Today's update begins the first wave of firmware updates stemming from the Forerunner 955 & Forerunner 255 models, which include new features like Training Readiness, Running Power, HRV Status, as well as a slate of Race Calendar/Event-related features, and even some features from the Edge 1040.  And atop that, some totally new features not seen at all on Garmin devices. Now, I suppose technically speaking it's the Public Alpha Test Rollout, but that's more of a nuanced recent nomenclature change for Garmin. Practically speaking, these are beta builds, now available for the public as part of their recent public beta program.
In any case, Garmin had previously committed to bringing the following features to their Fenix 7 Series, Epix Series, and Forerunner 945 LTE watches:
A) HRV Status**
B) Daily Training Readiness
C) Acute Training Load**
D) Morning Report
E) Native Running Power**
F) Race Calendar & Race Event Widgets
G) Daily Suggested Workouts now accounting for races on the calendar
In addition, the ones above marked ** are also coming to the Instinct 2 series watches, as they align with those features found on the similarly priced Garmin Forerunner 255.
Update July 6th: Instinct 2 Alpha has been released here, this first one adding the running power component.
Now, while Garmin committed to those 7 features above, in reality, this first firmware update includes faaaaaaar more features than that. That's because many of the features outlined above are tied to numerous other features. For example, Race Calendar/Race Event widgets in turn drives things like revamped Daily Suggested Workouts (including dynamic build/taper/peak phases). And then that in turn also impacts areas like the updated Race Predictor features. Meanwhile, features like Native Running power means it also now supports running power structured workouts, and running power alerts, and so on.
Point being, if you look at the slate of changes for today's firmware update, it's considerably larger than just those features above. Do note that there are some substantial bugs with this alpha firmware, which are outlined on Garmin's site. Here's the full list of both new features/updates:
– Added SatIQ support
– Added eBike support
– Added Race Day features (FR955 Feature)
– Added Stocks widget glance
– Added a Reference Point app
– Added widget glance folders
– Added Cycling Ability feature (Edge 1040 Feature)
– Added Golf Virtual Caddie support
– Added categorization to Activity setup
– Added Training Readiness widget glance (FR955 Feature, includes HRV Status)
– Added a power key control menu item for RCT (For new Varia RCT715)
– Added Golf wind speed and direction support
– Added ability to disable temperature recording for an activity
– Added support for Run Power when paired with a compatible accessory (FR955 Feature)
– Added multicolor support to Climb Pro graphs for non-biking activities
– Added a "What's New" screen to call out new features in software updates
– Added a watch face chart data fields for battery level and floors climbed
+++ Another 27 lines of bug fixes and feature improvements/tweaks
One feature missing is the Morning Report, hopefully that's still on the list, since that's one of my favorite features of the new Forerunner 955. Additionally, Acute Load doesn't seem to be here yet. It's named 'Load Trend' here, but is missing the green 'tunnel' that shows if you're in range. On the flip side, there's the SatIQ support, which dynamically switches between satellite types (multiband vs all-systems) based on satellite reception, as well as the new widget glance folders, which allow you to stick widget glances in folders. In fact, in general, the following bigger ticket features are entirely new here:
– Added SatIQ support
– Added categorization to Activity setup
– Added a "What's New" screen to call out new features in software updates
– Added widget glance folders
I cover all those features within the video up above, so definitely check that out!
Now, as a reminder, this launches today in what Garmin calls their public Alpha program. Which means that you'll need to side-load the pre-release firmware onto your watch using a computer. Whereas if you join the public Beta program, then it'll automatically arrive wirelessly on your watch once it reaches public beta stage (probably a few weeks away, if things go smoothly).
I've detailed how to join the public Alpha & Beta programs here. Or, you can skip right to Garmin's site and do it yourself here.
Quick New Feature Tips: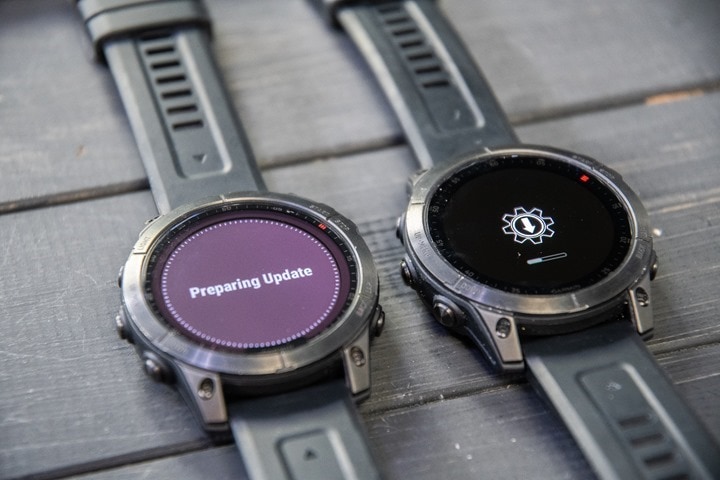 Now, a couple of super quick things to keep in mind about some of these newer features:
A) HRV Status Is a 19-day onboarding process. Meaning, you'll get your HRV stats each morning when you wake up, but you won't get the textual status/color-coding until 19 sleep-filled nights later, since it has to build that baseline. HRV Status does not currently Physio True-Up from other Garmin devices, so even if you have a FR955/FR255 with that data, it's currently on a per-device basis (it sends all the data to Garmin Connect, but isn't yet set up to send it back to your watch).
B) Understand the HRV Nightly Average Timeframe: Remember that in Garmin's case, the nightly HRV values are the entire night's average. Whereas if you've come from a longer history of taking HRV values, those will likely have been taken first thing in the morning. Simply put, these two won't match. As you can see easily, your HRV values tend to recover over the course of the night (that's sorta the point). As such, by averaging the lows and highs over a 6-8hr period, you'll have a lower value than doing the morning wake-up thing. Frankly, it doesn't really matter which approach you use, since the point is relative long-term trending. Generally speaking, it's harder to have consistency in taking morning readings at the exact same circumstances daily for weeks/months on end, than it is to do nothing. But to each their own.
C) Daily Training Readiness: Much of this can take up to a week before they start enumerating in. Remember the two biggest components of Daily Readiness are last night's sleep, and current recovery hours from your workouts. All the other factors matter, but those two *really* matter. Check out my video below where I dive into those nuances.
D) Native Running Power: This requires the Garmin HRM-TRI, HRM-PRO, HRM-RUN, or RD-POD. It does not work with Stryd or other 3rd party running sensors yet. So while Garmin considers it 'native', I'd say it's more 'Kinda-native' in that it needs an external sensor. Hopefully we'll see them join Apple/COROS/Polar in using just wrist data.
E) Race Calendar & Dynamic Training Plans: This primarily supports running today. So you'll add your race to your Garmin Connect calendar using your phone/website (including your distance/course). However, while it vaguely supports cycling, it's not super built-out there today. For example, you won't get predicted finish times like you would on running. Note that while it builds out the training calendar on your watch, you won't see it shown on your Garmin Connect calendar.
Finally, if you're looking for a deep-dive into how all these features work, check out my Forerunner 955 Complete Guide video, specifically, the sections for Training Readiness and Training Load, which includes showing how Training Readiness works (and I even go out mid-video and do a hard interval session to show the impacts of it before/after).
Phew – got all that? Good. Go forth and enjoy!
Found This Post Useful? Support The Site!
Hopefully you found this review useful. At the end of the day, I'm an athlete just like you looking for the most detail possible on a new purchase – so my review is written from the standpoint of how I used the device. The reviews generally take a lot of hours to put together, so it's a fair bit of work (and labor of love). As you probably noticed by looking below, I also take time to answer all the questions posted in the comments – and there's quite a bit of detail in there as well.
If you're shopping for the Garmin Fenix 7 Solar Sapphire, Garmin Epix Sapphire Black Titanium (Gen 2) or Garmin Forerunner 955 Base or any other accessory items, please consider using the affiliate links below! As an Amazon Associate I earn from qualifying purchases. It doesn't cost you anything extra, but your purchases help support this website a lot. Even more, if you shop with TPC (The Pro's Closet), you'll save $40 on purchases over $200 with coupon code DCRAIN40! The Pro's Closet has been a long-time partner of the site here - including sponsoring videos like my cargo bike race, as well as just being an awesome Colorado-based company full of good humans. Check them out with the links below and the DCRAIN40 coupon!
And of course – you can always sign-up to be a DCR Supporter! That gets you an ad-free DCR, access to the DCR Quarantine Corner video series packed with behind the scenes tidbits...and it also makes you awesome. And being awesome is what it's all about!
Thanks for reading! And as always, feel free to post comments or questions in the comments section below, I'll be happy to try and answer them as quickly as possible. And lastly, if you felt this review was useful – I always appreciate feedback in the comments below. Thanks!