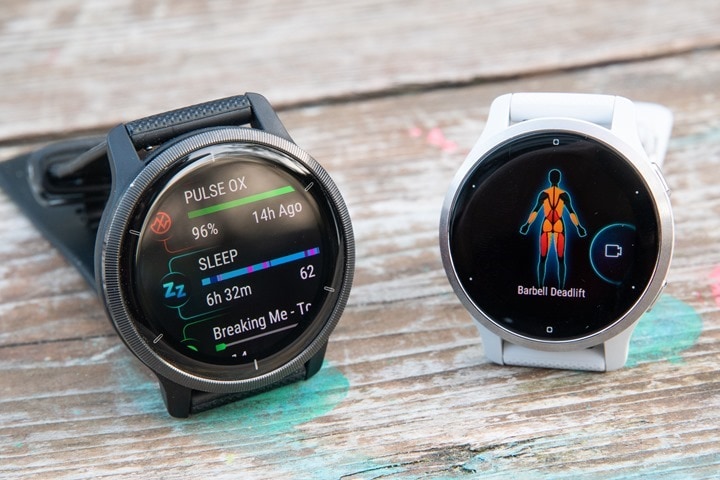 Today Garmin announced the new Venu 2 & Venu 2S watches, the AMOLED display successors to the original Garmin Venu watch. The Venu 2 series sports two sizes now (45mm and 40mm), as well as a slew of updated health and sports features. Under the covers though are arguably some of the biggest changes. A new integrated processor and GPU increase graphic power, making it the first watch to support Garmin's Connect IQ 4.0 app platform – as well as a significantly revamped user interface that feels a bit more modern and polished. A new generation optical heart rate sensor also brings with it infrared sensors for increased PulseOx accuracy.
I've been using the Venu 2 for a number of weeks now 24×7, as well as on all my recent workouts. While my wife uses the Venu 2S on her workouts and 24×7. So I've got a pretty good feel on how well the Venu 2 works, and where its quirks are. I'll also sprinkle some of her thoughts throughout the review from her usage as well.
Note that for this review I'm using a media loaner from Garmin. Once this review is done, I'll get it boxed back up and sent back to them. After which I'll likely go out and buy my own for future use. If you found this review useful, you can use the links at the bottom, or consider becoming a DCR Supporter which makes the site ad-free, while also getting access to a mostly weekly video series behind the scenes of the DCR Cave. And of course, it makes you awesome.
With that, let's get into it.
What's new:
If you're looking for the Top 11 new features and a review in one tidy video – click no further than the play button above. Quick and easy.
The Garmin Venu 2 series adds a slate of features, some of which have been seen on other Garmin watches over the last year or two (like widget glances), but some of which are entirely new. For example, this is the first watch with Garmin's new Elevate V4 optical heart rate sensor package, and it's the first watch with Connect IQ 4.0. It's also the first with many of the new health-related functions listed below.
But to consolidate it all, there's no better way than a simple bulleted list of all the newness I can find:
– Two size versions now: Venu 2 (45mm) & Venu 2S (40mm)
– New Garmin Elevate V4 optical heart rate sensor
– Increased IR sensors from 1 to 2 for increased PulseOx accuracy
– New integrated processor & GPU for significantly increased graphic power (mainly for apps)
– Updated AMOLED display (slight behind the scenes tweak to merge the touchscreen and display together, Corning Gorilla Glass 3)
– Slightly increased display size. Venu 2 is 416x416px, 2S is 360x360px, the original Venu was 390×390
– Slightly increased GPS battery life from 20hrs to 22hrs (GPS-only), and 6hrs to 8hrs (GPS+Music)
– Increased storage space from ~3GB to ~7GB of music storage
– Introduced Connect IQ 4.0 support (first Garmin devices to do so)
– Added widget glances, but with a more modern twist
– Added support for extra data on always-on display mode (e.g. steps/HR/etc)
– Added new rapid charging mode, charges watch 1 day's worth (or 1hr of GPS time) in 10 mins
– Added new battery saver mode up to 12 days for the Venu 2 or 11 days for Venu 2S
– Added Firstbeat advanced sleep tracking/analytics (like Fenix 6)
– Added new Sleep Score each night
– New body battery algorithm accounts for crappy sleep better (or worse, depending on your point of view)
– Added new Health Snapshot feature (one-off recording of HR-driven metrics)
– Added Fitness Age estimate: Uses various 24×7 metrics + Garmin Index or BMI data to determine
– Added strength training profile with muscle map graphics for each workout
– Added new activity profiles for Hiking, HIIT, Indoor Climbing, and Bouldering
– Added HIIT workouts with animated instructions/steps (including Tabata, AMRAP, EMOM, and custom timers)
– Added ability to see challenges on the watch itself
– Significant revamp of the user interface, primarily making it look more modern/fluid
As far as things that have stayed the same, that's all the essentials. So in short, it still does all the following (this isn't an extensive list, just a quick overview):
– Optical HR sensor with PulseOx (SpO2 tracking)
– GPS with GLONASS & Galileo options for workout tracking (no reliance on phone)
– Downloadable structured workout support
– Music storage and streaming with Spotify/Deezer/Amazon Music
– Contactless Payments with Garmin Pay
– PulseOx, Respiration rate, 24×7 HR, stress tracking, body battery
– Sleep tracking, stairs step/activity tracking, Oreo consumption tracking
– Female menstrual cycle tracking
– Connecting to ANT+ & Bluetooth Smart sensors
– Smartphone notifications
– LiveTrack for workouts & safety alerts for day to day usage
When it comes to pricing, both models are $399USD and 399EUR. Both are available to start shipping today.
And officially, here's all the color and sizing variants they've got:

Phew, got all that? Good, let's get it unboxed.
Unboxing: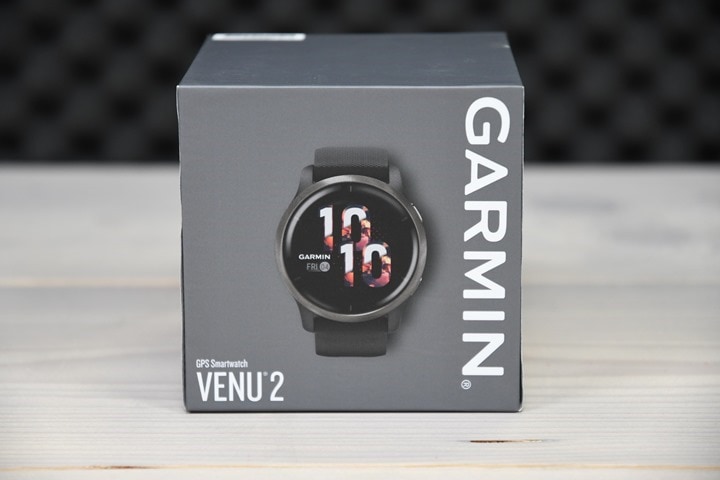 With the Venu 2 coming in two variants (2 & 2S) there's obviously slightly different boxes. However, the contents are identical between them. I'll show a more detailed Venu 2 unboxing, followed by a shortened Venu 2S gallery.
Cracking it open you've got the watch looking up at you as you slide the top of the box off: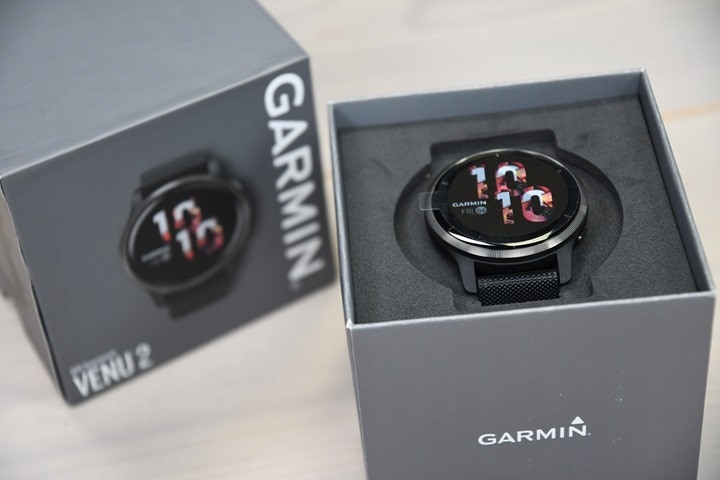 Inside there's simply a small pile of paper manuals, a standard Garmin USB charger (and sync cable), as well as the watch itself.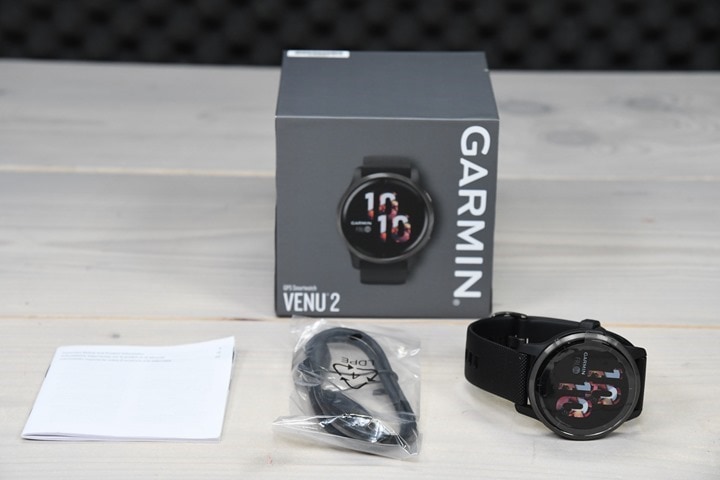 Here's a closer look at that ever-so-exciting USB cable: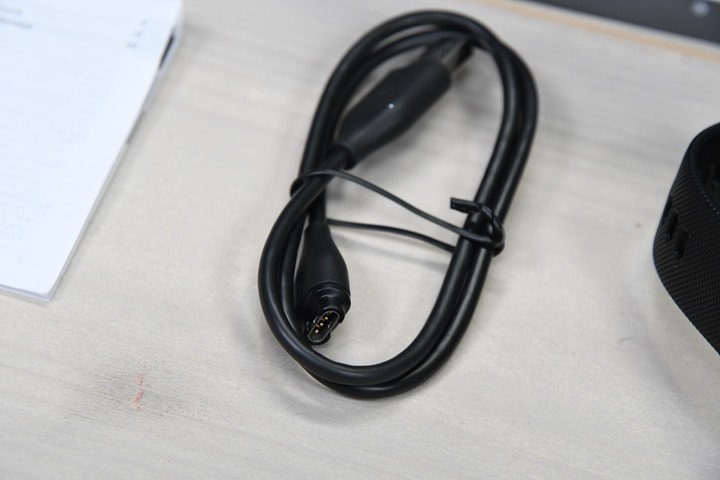 It works fine, but, I still prefer the cheap puck charger instead, which also works quite well on the Venu 2 but with a bit more stability.
Meanwhile, we've got the front of the watch here – protective sticker and all: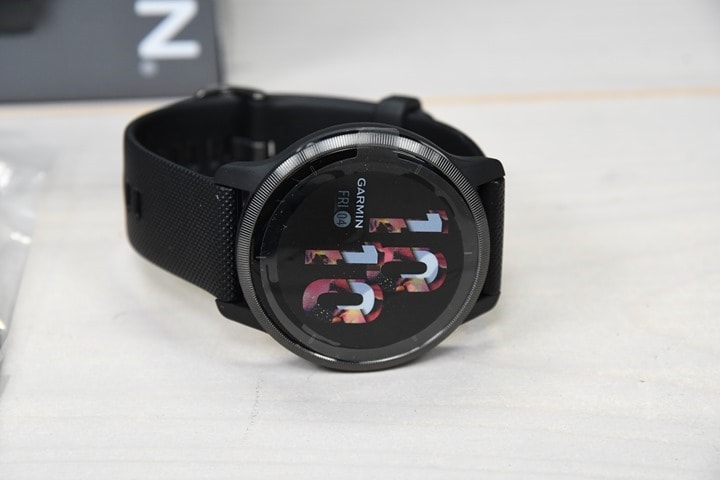 And then the back of the watch, with the new optical HR sensor that we'll talk about later. That multi-GNSS text is referring to GPS/GLONASS/Galileo, not dual-frequency GPS (yes, I confirmed).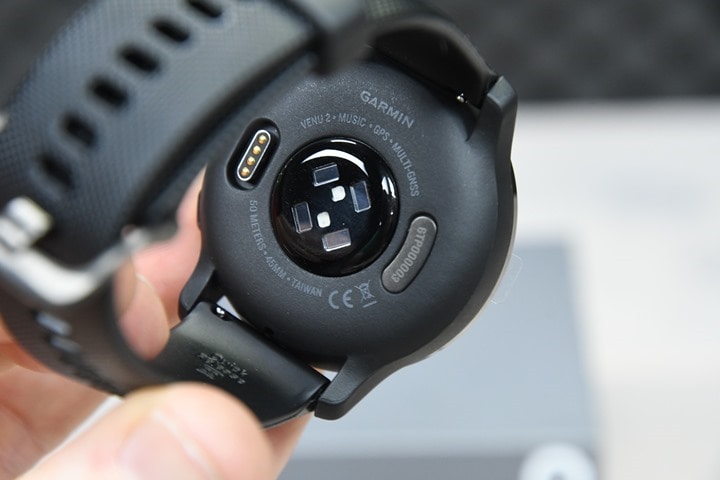 And that's it. So, here's a consolidated unboxing of the Venu 2S:
From a weight standpoint, they've come in at 49g (Venu 2) and 39g (Venu 2S):
Here's the two Venu 2 units side by side tilted up: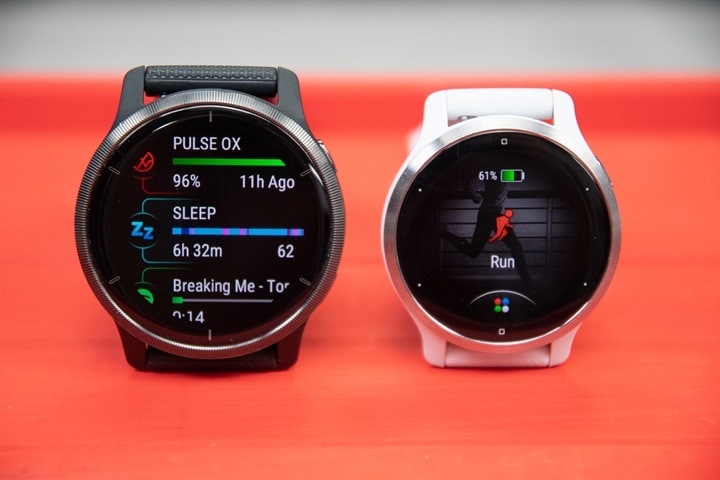 And compared to the original Venu, and Vivoactive 4 & 4S: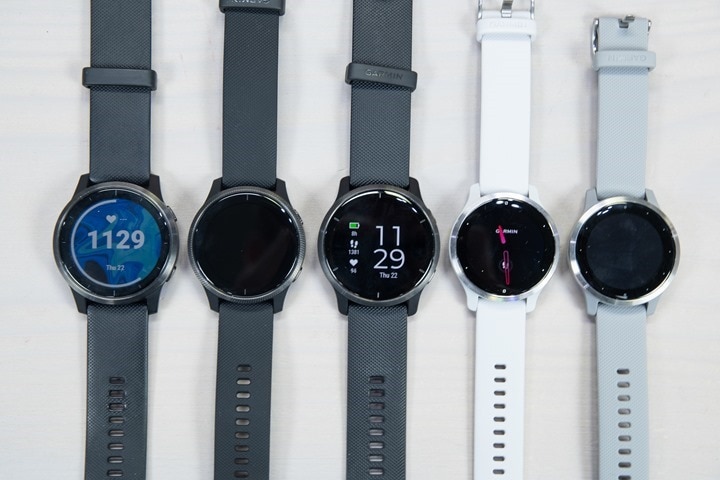 Left to right: Garmin Vivoactive 4, Garmin Venu (original), Garmin Venu 2 (middle), Garmin Venu 2S, Garmin Vivoactive 4S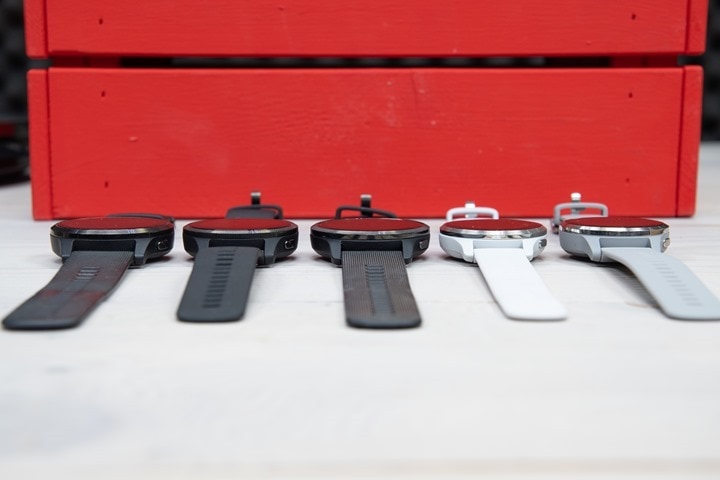 Here's some photos of the Venu 2 (black) and 2S (white) on my wife's small wrists. She's pretty small at 5'2".
And the Venu 2 on my wrist: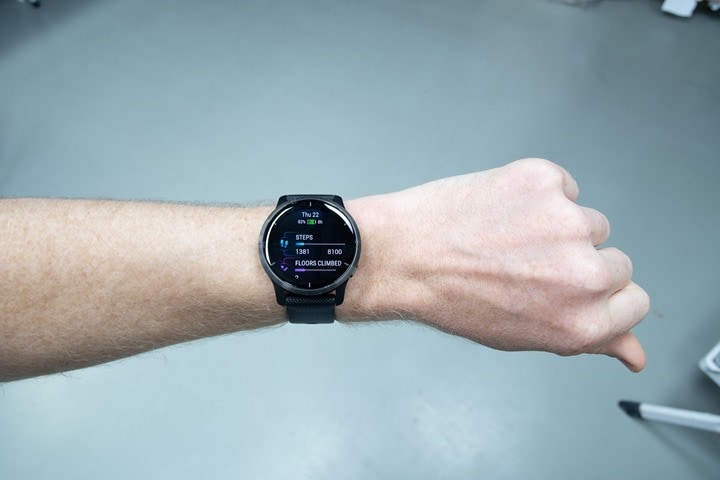 Note that the Venu 2 uses a 22mm band, while the Venu 2S uses an 18mm band. These are universal bands, so you can jog on over to Amazon and find the most expressive band you can think of. I've got my eye on this 22mm one that literally has unicorns, ice cream, and rainbows. I crap you not – don't tempt me further.
The Basics:
If you'd like a complete user interface tour of all the features – both sport and non-sport, just tap above. It essentially walks through these next two sections, but in live video form with lots of little tips and tricks along the way.
The Venu series watches are full-color touchscreen devices. The display is an AMOLED display, which means that while it looks brilliant, it does burn more battery. You'll have some options we'll talk about in a second to balance that out for longer battery life.
Still, despite being a touchscreen, it's still got two buttons on the right side, which are used for confirmations (like Yes or Escape) as well as within workouts for stopping and lapping. Once in a workout, the only thing you need the touchscreen for is changing data pages, core stop/start can be done via buttons. For the most part, I've had moderate success with the touchscreen and gloves. On my outdoor ride yesterday, I was able to swipe a bit, though trying to navigate the menus was occasionally difficult. In terms of sweat and/or rain and the touchscreen, no issues there for the most part. Or at least, no more than any other device – usable, but not always perfect.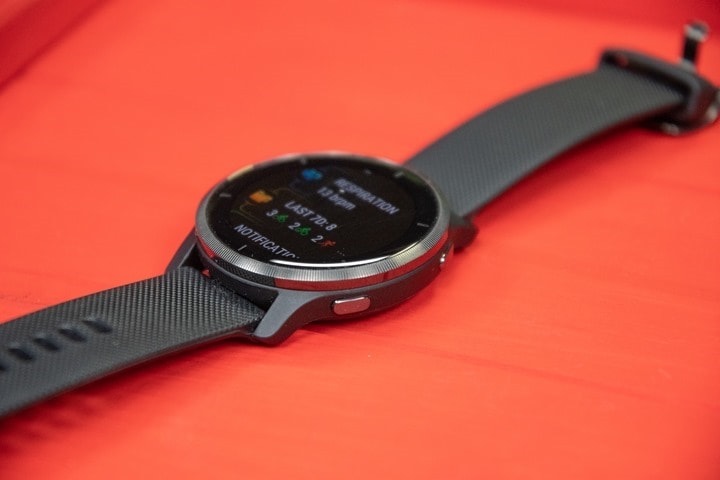 Since the screen is AMOLED (like the original Venu, though slightly different than the Venu SQ which uses LCD), it means they're trading battery life for powering that brilliant display. By default, the Venu 2 is configured in a 'raise to wake' mode, meaning that the display automatically turns off when you're not looking at it. This is similar to most other AMOLED/LCD watches, though the Apple Watch Series 5 & 6 are always-on all the time. The Apple Watch SE is still raise to wake. The main difference here is that Garmin claims 11-12 days of battery life versus Apple's 1-day. And largely speaking, Garmin hits that claim. I was getting about 5-6 days per charge, but with 4-6 hours of GPS battery time each week, sometimes more.
However, the Venu 2 also supports always-on mode too. In that configuration the display is always on, but your battery life shrinks substantially. Garmin says 2 days, but I think that's a bit conservative. I'm cooking through exactly 24hrs since I took it off the charger, and I'm at 62% right now – but that's *including a 2-hour outdoor GPS bike ride today*. Not shabby at all!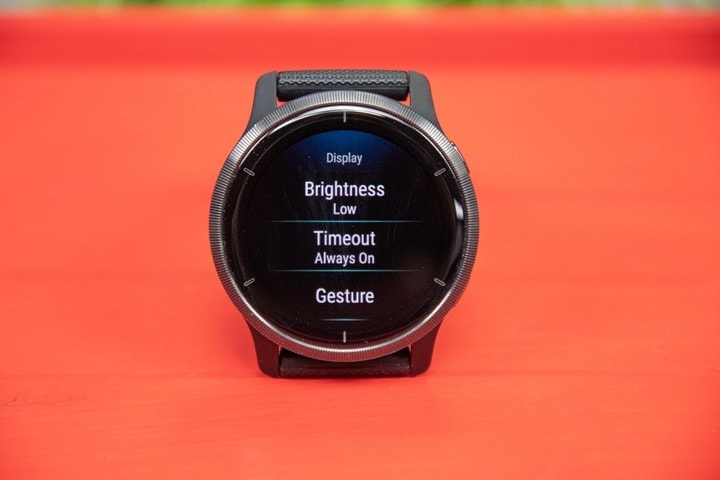 Note that when you enable the always-on mode, it'll turn of the 'Live' watch faces. Those are the faces that display a small animation each time you raise your wrist to wake the watch. Instead, you'll need to choose one of their specific always-on watch faces. You can't put your dog or kids as a watch face in this mode, because Garmin's watch faces are specifically designed for lower battery mode. More exactly, they have large areas of 'black' that the display doesn't even render, so it saves power by not illuminating that chunk of the display.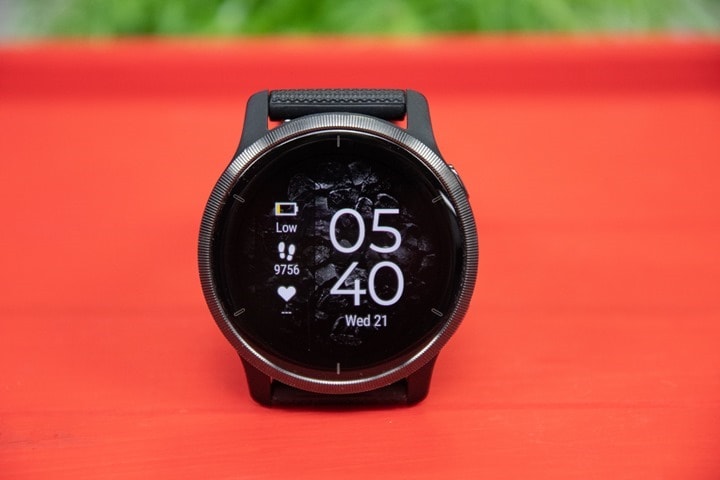 However, interestingly, in an upgrade from the original Venu, the new Venu 2 does allow you to have so-called 'complications' on these watch faces, things like your live heart rate, steps, or calories. These are customizable. Previously, it was just the time.
Now – if you don't care about always-on mode, then you can choose from the live watch aces as well as make your own with photos, or download 3rd party ones too via the Connect IQ app.
Speaking of which, the Venu 2 is now compatible with Connect IQ 4.0 – the first Garmin watch to do so. The main consumer-focused thing that CIQ gives developers is greater graphical power for more creative apps. There's an entire developer-focused overview of those capabilities here. However, for consumers, the main thing you probably need to know about Connect IQ in general is that on the Venu 2 it still supports watch faces, widget glances, data fields and apps, except now widget glances are the norm within a 'super-app', as opposed to full-sized widgets (explainer on that here).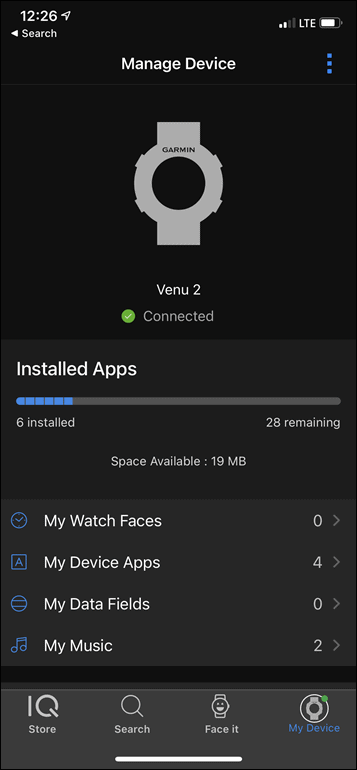 Sliding back away from the hardware for a second, let's just talk basics. If you swipe down on your watch face, you'll see the new Widget Glances. This was introduced on the Fenix 6 series, and has been slowly working its way through other more recent Garmin watches. Essentially each line is a snippet of information for an app or metric that you can then expand further.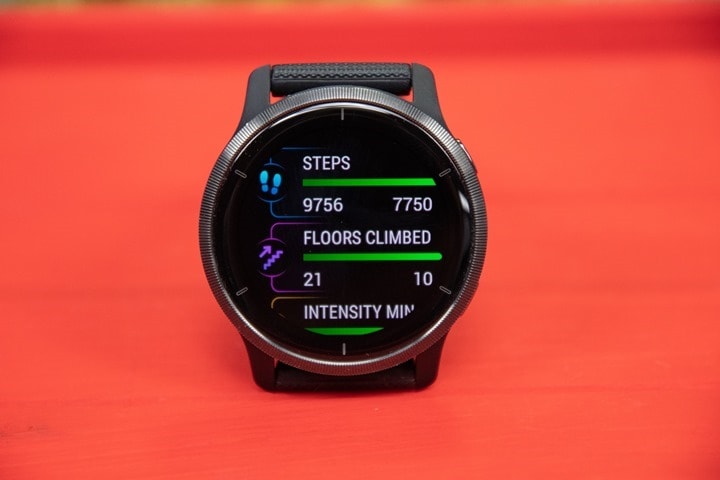 For example, if I tap the steps one I'll see all my steps data for the day, including a newly designed steps user interface that lets me slide my finger left and right and go forwards and backwards in time. I can also see my daily steps and distances on a chart too.
All of this information is then recorded to the watch of course, but also then synced to Garmin Connect via your phone (or USB on computer, or WiFi), where it's accessible via the Garmin Connect Mobile app, or desktop apps. Here's the steps charts:
Within steps, as well as other areas of the platform, you can create challenges. For example, DesFit challenged me to a step challenge. With him primarily being a cyclist, that was a poor life choice for him. I won last week, and was rewarded as such. Also, I'm on track to win this week too: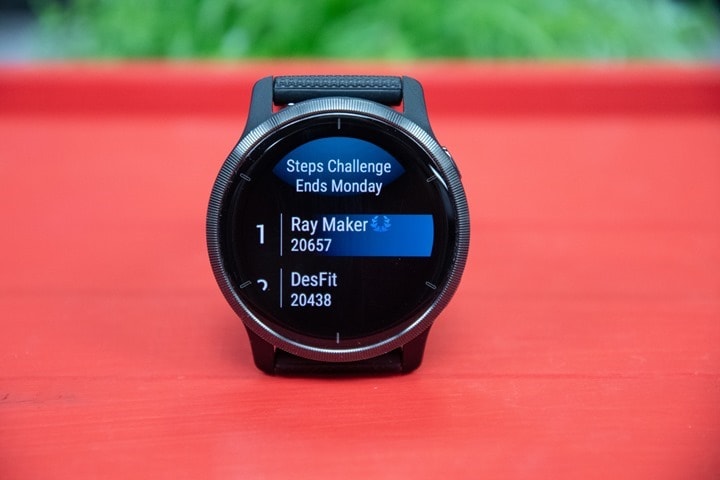 These sorts of widgets and data are available for all of the health metrics. Whether it's stairs/floor climbed, calories, stress, body battery, respiration rate, PulseOx, or others, they're all here. And all of them have re-designed user interfaces.
A notable new shift in the Venu 2 is the new Health Snapshot. This aims to take five core metrics and distill them down into a single 2-minute 'test'. By test, I mean, you do nothing. Literally, you sit there: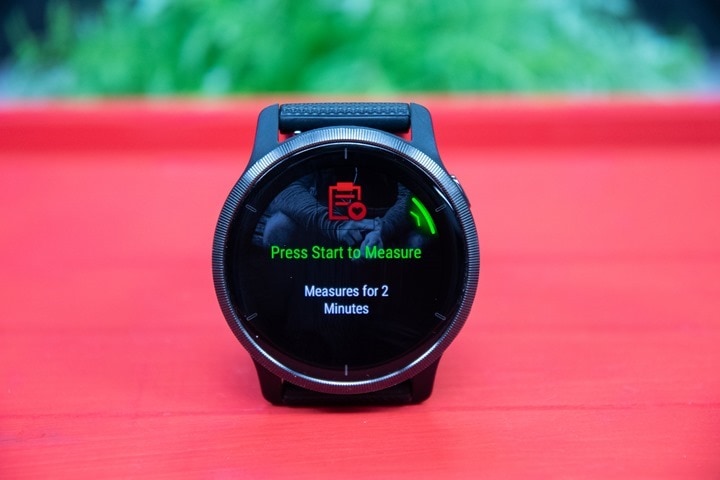 During the 2-minute period it'll measure your heart rate, blood oxygen level, respiration rate, stress, and HRV (heart rate variability). The idea being you can consistently do this, ideally at the same time each day, and start to get a bit of a snapshot of how things are trending. All of these metrics are already tracked by Garmin more deeply in the app/platform, but this aims to put it on a single plate (so to speak). In the near-term, they'll also enable PDF exporting of this data as well.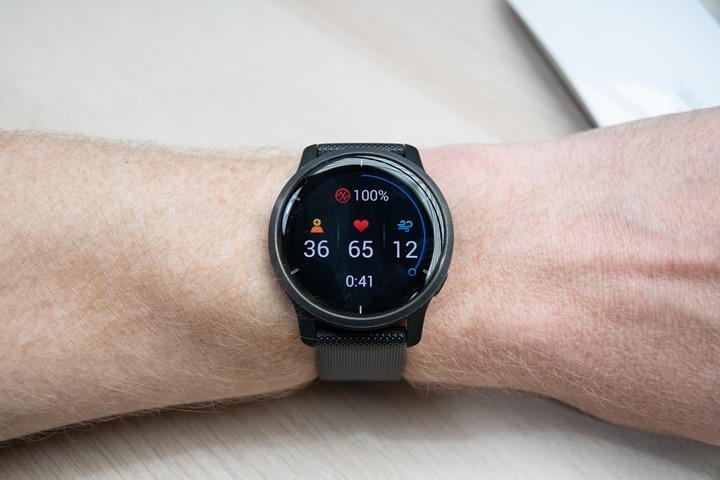 Once the two-minute period is over, it'll give you a summary of that info: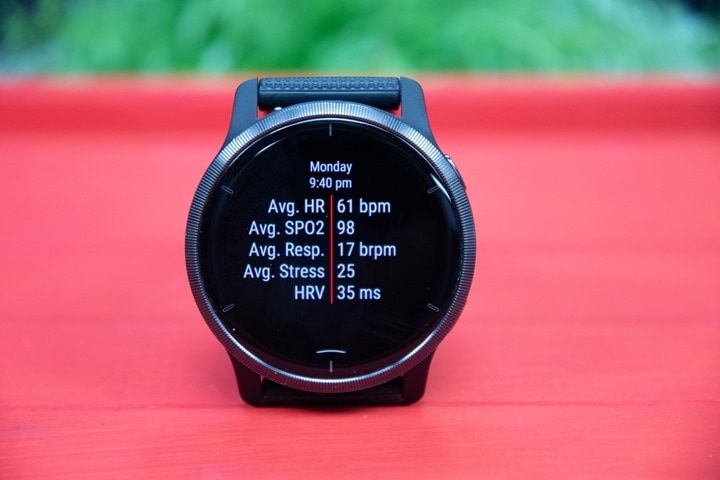 This is also then tracked in Garmin Connect Mobile too:
Somewhat adjacent to that feature is Body Battery. This tracks your energy levels throughout the day, accounting for stress, sleep, workouts, and just general life. Overall, having used it for the past few years, I find it a pretty good proxy for how my day went. It's not perfect, but it's generally pretty close. In theory you start off your day close to 100% energy level, and then depending on your day you might end in the 20-30% range.
However, the Venu 2 has new changes in the algorithm around sleep specifically. Essentially, if you have a craptastically bad night of sleep, it's going to be more difficult to get to 100% 're-charge' (which, is logical). And indeed, if I compared my Venu 2 nightly recharge attempts to my stuff from a month ago on the FR745, and indeed, on average, it's near impossible for me to get to 100% (with three toddlers/babies) compared to the FR745 I was able to more frequently (though, not always).
And again, all of this is shown in the app too. Here's a nifty 'before' Venu 2 updated algorithms on the FR745 and 'after' with the Venu 2 on two different weeks with relatively similar sleep (not exact of course, but you can very clearly see the trend differences – notably how much higher the peaks are, hitting 100% more times before):
Now, most of these metrics are powered by the optical heart rate sensor on the watch. That technically has two pieces to it, the portion that measures your heart rate (using green LED's), and the portion that measures PulseOx (red lights). And with the Venu 2 using the new Elevate V4 sensor package (the first watch to do so), that includes an expanded infrared (IR) sensor (now with two red/IR LED's sets as opposed to one previously, as well as four signal paths). That sensor piece is the four little black rectangles on the back around the middle sensor. Those are exclusively used for PulseOx assistance.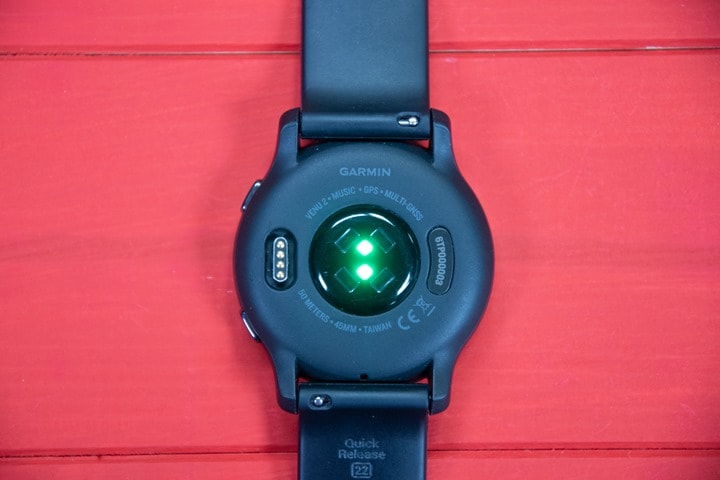 The optical sensor is on 24×7 to measure and record your resting heart rate. Then in workout mode more power is supplied to it, to handle the challenges of tracking your body bouncing around. We'll get into that later in the review.
On the PulseOx side of life, I've historically found mixed accuracy on Garmin's sleep readings (it can also be turned on 24×7 too). Whereas if I'm sitting still (as a proper test at a medical facility would be), then I get good accuracy. However, it's clear that there are improvements on the PulseOx IR sensor. Again, if I compare my Gen 4 sensor recent nightly data to that of a Gen 3 sensor, overwhelmingly I see higher values like I'd expect for a healthy person at sea level.
Yes, they're different nights, but in general you can see far more data on Venu 2, and the averages are higher (still not perfect, but higher). Here's the two side by side:
And when I do a few one-off tests using an medical certified (EU) pulse oximetry device, I also get near-identical results consistently (within 1% as shown below – 97% vs 98%: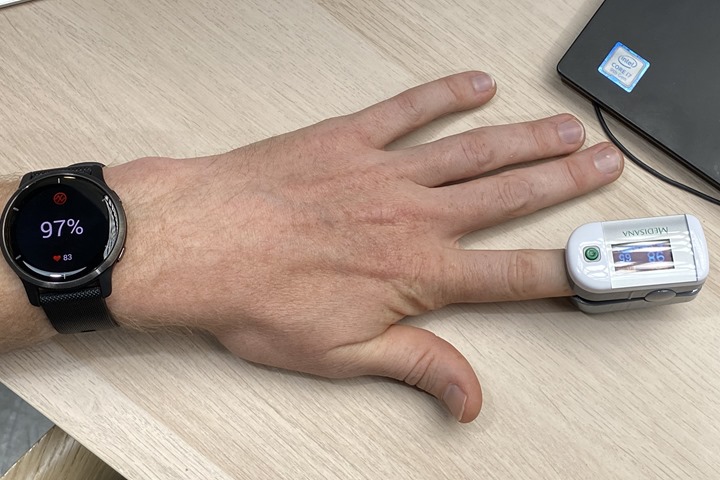 Now, whether or not all that data is actionable is totally different. There were lots of people that felt that pulse oximetry data could be used in relation to COVID-19 tracking, though, more data seemed to find respiration rate as a better predictor for onset of COVID-19. Again, everything is a bit fuzzy. But, the data is there for you to use how you'd like. Respiration rate data is also tracked on the watch as well as on the app: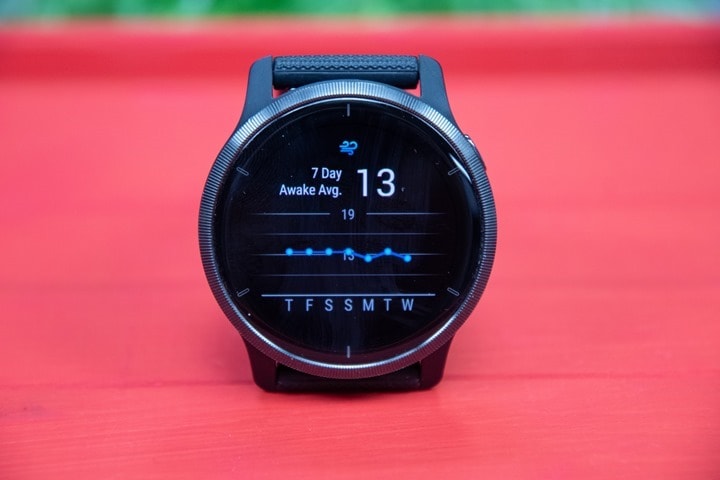 Rounding home here there's the updated sleep tracking. Previously Garmin only showed sleep tracking on their app, and not on the watch itself. Last fall Garmin introduced on-device sleep tracking to the Fenix 6, but then paused roll-out after running into some issues. Things resumed again with the Garmin Enduro about two months ago, and the train appears fully back on the tracks now with the Venu 2/2S. It sounds like Garmin is pretty confident in where they've got the algorithms to at this point to get the broader roll-out plans back on track (namely for the FR745/945).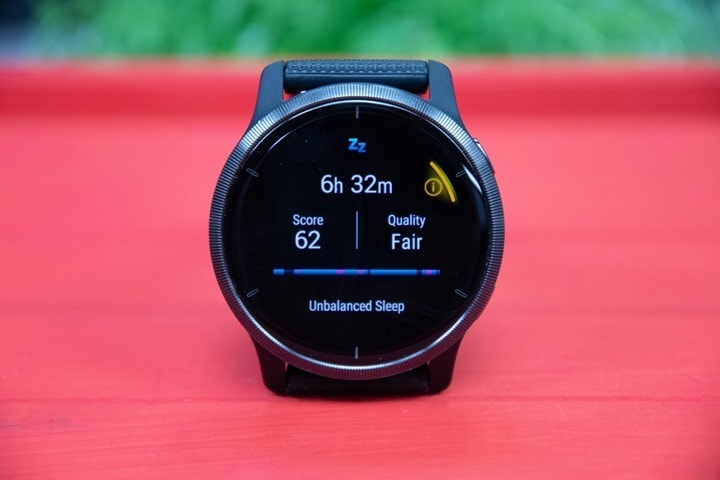 In any event, you'll see your sleep status each day on the watch, first in the widget glances, and then by tapping on that widget glance for full information:
This can also be viewed on Garmin Connect Mobile/web for more detailed longer-term tracking/analysis, along with the sleep score you're given every night:
Last but not least there's smartphone notifications. On iOS these are one-way notifications (due to limitations by Apple), so you'll see the contents of the message and then you can clear them once completed. The number of emojis supported here has slowly increased as well. So while you can see the emojis on the watch at left, the masterpiece of artwork itself doesn't come through (only on the phone).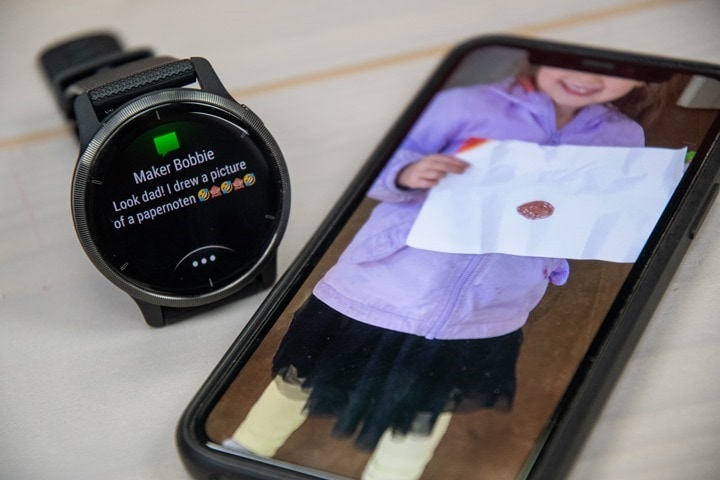 In wearing an Apple Watch often, notifications is one of the biggest areas you see differences between smartwatch vendors. Some of that is due to Apple limitations (for example, not allowing 3rd parties to reply to texts), but some of it not. For example, I was curious whether or not it was even possible for Garmin to display things like photos sent in a text message (as an Apple Watch does). They said that "images from notifications is absolutely something we are investigating", and went on to say they're trying to figure out what's viable, but also viable in a consistent manner across multiple phone models/vendors.
Finally, the Venu 2 has an increased battery, and in my testing, it's definitely hitting the timeframes and battery estimates that Garmin has stated (and even going beyond them). Here's the official chart:

For example, Monday night at 11PM I took the Venu 2 off the charger, and had it in 'Always-on' mode. Tuesday I did a 2hr ride, plus a bunch of dorking with the watch checking settings and such for this review for a few hours. Wednesday I then listened to music for 2.5 hours at my desk, and then did a 1 hour run. I then shot 2 hours of video and photo of the watch. By time all that was done, I was at 18% battery remaining (some 44 hours since charging). Oh, and with PulseOx enabled for sleep too!
In other words, I could have easily gone well beyond the 2 days had I not done 3 hours of GPS activities and video/photo work on it.
However, the new thing in the Venu 2 is the new Battery Manager and Battery Saver. Battery manager is essentially where you can toggle battery life estimates on/off (showing you how many days are remaining), and then it's also where you toggle on Battery Saver: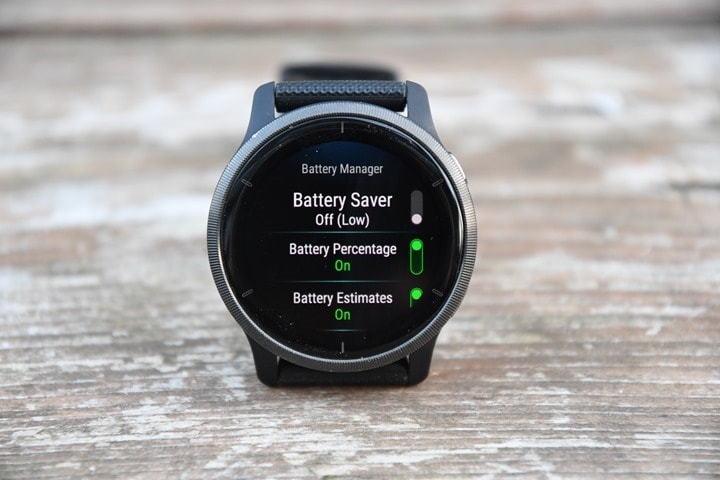 When you turn on Battery Saver, it gives you an incredibly long list of things it's about to shut off, in order to geek out more battery life. That 18% battery life turns into basically 3 days of standby watch time, with the following settings toggled in battery saver mode: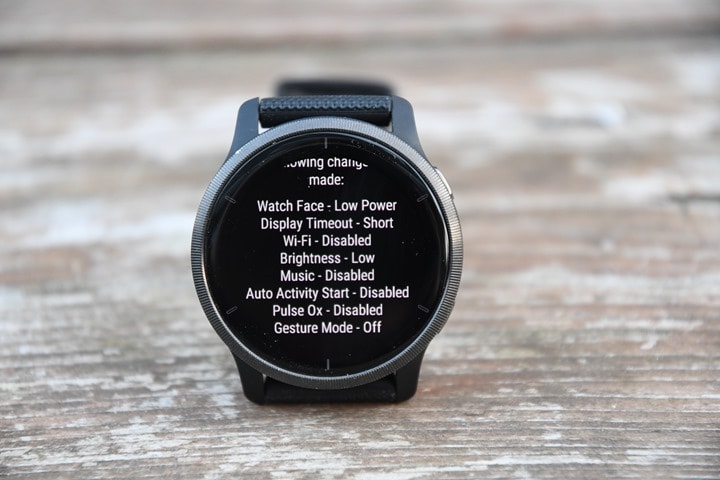 In addition, tied in with that there's the new rapid charging mode, which essentially guarantees that if you have a watch with no charge, that in 10 minutes you'll have enough battery for a 1-hour GPS run, or 1 day in smartwatch mode. I don't have exact stats of how that differs from other watches though, but Garmin says it's a little bit faster.
With that, let's dive into the sports usage.
Sports Usage: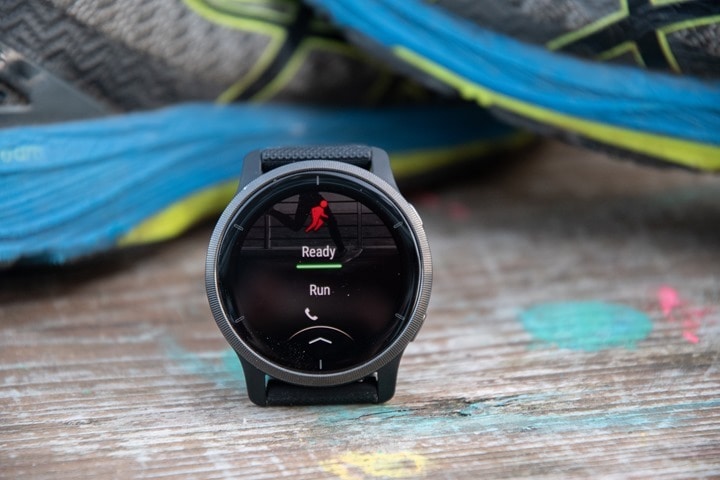 Of course, the main reason you pick a Garmin watch over most other smartwatches is for its sports features (or perhaps, the longer battery life). It's ultimately its main jam, and the Venu 2 expands that with more workout types and more detailed instruction.
For perspective however, the Venu 2 is part of the larger Vivo family of devices, which means it tries to be a more mainstream version of their Forerunner series devices that target runners and endurance athletes. Thus, Garmin will often introduce features with wider appeal in these devices (like the Health Snapshot feature on the Venu 2) before pushing it to higher-end Forerunner or Fenix devices. Inversely, some features that are more sport-specific aren't here, despite being on lower-priced Forerunner watches from Garmin. For example, you won't find an outdoor track running mode or basic training load, like you would on a Forerunner 245 that costs $100 less. Don't worry, it'll be slightly more clear by the end of this section.
To start any workout on the Venu 2, you'll tap the upper right button, which opens the sport selection menu. This is where you'll pick which type of workout to suffer on: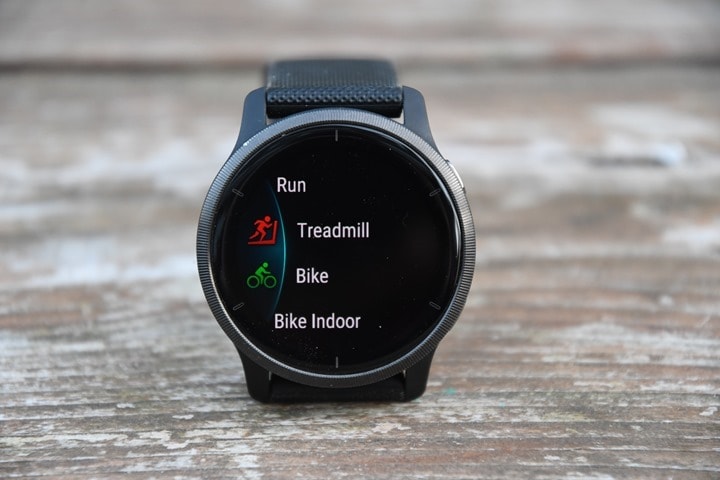 You can select/append favorites, but there's a huge list of sports in there.
In total there's: Run, Treadmill, Bike, Bike Indoor, Strength, Cardio, Navigate, Breathwork, Health Snapshot, Walk, Walk Indoor, Indoor Track, Floor Climb, Pool Swim, HIIT, Hike, Yoga, Pilates, Elliptical, Stair Stepper, Climb Indoor, Bouldering, Row Indoor, Row, SUP, Golf, Ski, Snowboard, XC Ski, Hydration, Challenges, Other.
(Yes, technically Hydration, Challenges, and Health Snapshot fall under the sports menu. Kinda weird, but whatever.)
If you've got any sensors you want to pair, like a heart rate sensor, you can do that in the sensors menu. This includes both ANT+ & Bluetooth Smart sensors. The Venu 2 supports Headphones, Heart Rate Sensors, Speed/Cadence, Foot Pod, Tempe (Temperature), ANT+ Cycling Lights, ANT+ Radar, and golf club sensors. As with other Venu/Vivoactive devices, Running Dynamics sensors are not supported here either.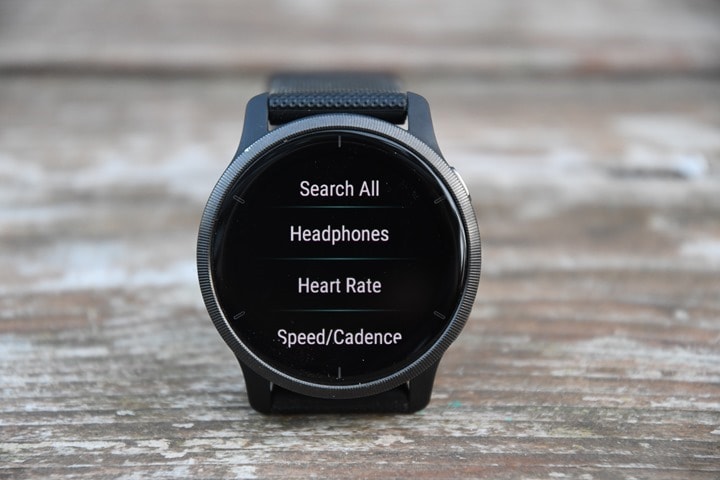 While the Venu 2 supports re-broadcasting your heart rate as an ANT+ signal, it doesn't yet support Bluetooth Smart broadcasting, which is kinda bizarre in 2021. After all, many of Garmin's other newer watches support this. Garmin says it's working on adding it for the Venu 2 series, but doesn't have a timeframe for when exactly that'll happen. For something like a Peloton Bike/Bike+, it actually supports ANT+ heart rate straps, so you're fine there as it'll show up by the ANT+ ID listed (10435):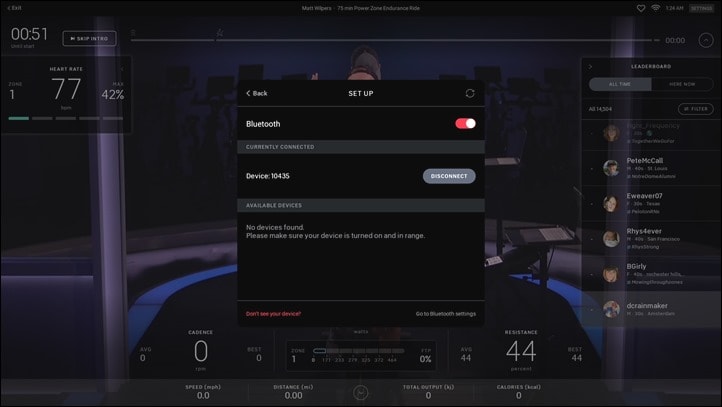 However, the Peloton App (such as on an iPad) doesn't support ANT+ sensors, so you're outta luck there using the Venu 2.
Heading back to our workout though, I'll choose a run. You'll see the GPS wait screen, which normally only takes a few seconds to find GPS, as well as the heart rate lock icon (indicating it's got your heart rate locked). If you had any sensors paired, it'll try and connect to those automatically too.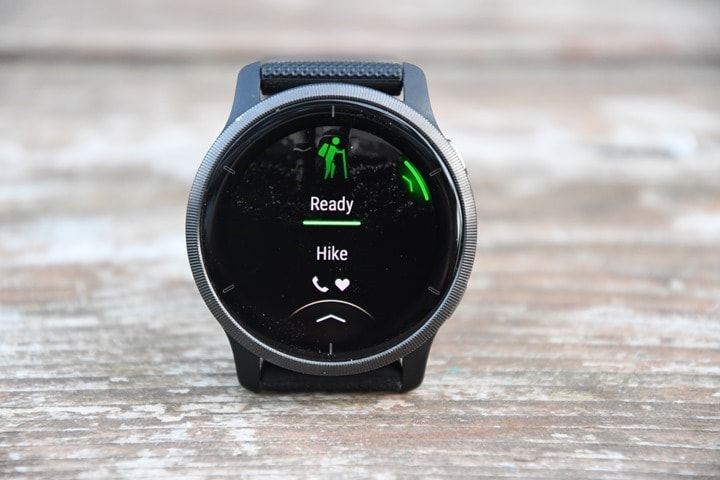 You could press start to begin recording your workout, or you can swipe up to access structured workouts. Garmin pre-loads a couple run iterval workouts, or you can easily create your own on Garmin Connect, or download various training plans too.
Though, Garmin lacks one-off workouts on the Venu series like we've seen in their higher-end watches with the 'Workout Suggestion' feature, or, like Polar has in their lower end Ignite/Ignite 2 series. I found it odd that I can easily grab a strength workout pre-loaded on the Venu 2, but couldn't grab a simple running interval workout to do (without making your own, or loading a full calendar plan).
In any case, if you do a training plan, those workouts will automatically appear here based on their correct calendar day. As well as any 3rd party platforms (like TrainingPeaks or TrainerRoad) that push workouts to your Garmin account.
When it comes to customization of data screens mid-workout, there are three customizable data screens, each with up to four data fields. In addition there's an HR zone gauge. This is on a per-sport profile basis. Meaning your running data page would look different than your strength or yoga data pages.
You can also configure alerts for heart rate, run/walk, pace, time, distance, cadence, and calories. Which is different than auto-lap, which can be configured for a distance of your choosing, all the way down to 0.10 miles to 99.99 miles. Most of us probably just leave it on 1mi/1km. Or, simply turn it off altogether and manual lap instead (or, do both). There's also auto-pause and auto-scroll (which automatically iterates through your data pages).
Also, you can enable LiveTrack to automatically notify a predefined list of recipients every time you start a workout, which sends them an e-mailed link with your exact position and historical data for that workout (including heart rate/pace/speed/etc…). Note that the Venu doesn't support courses, so it doesn't send them that.
With all that set, we'll tap start to begin, and then we'll get data displayed on our wrist updated every second. This is also recorded of course for later access. You can swipe up/down to iterate through the data pages: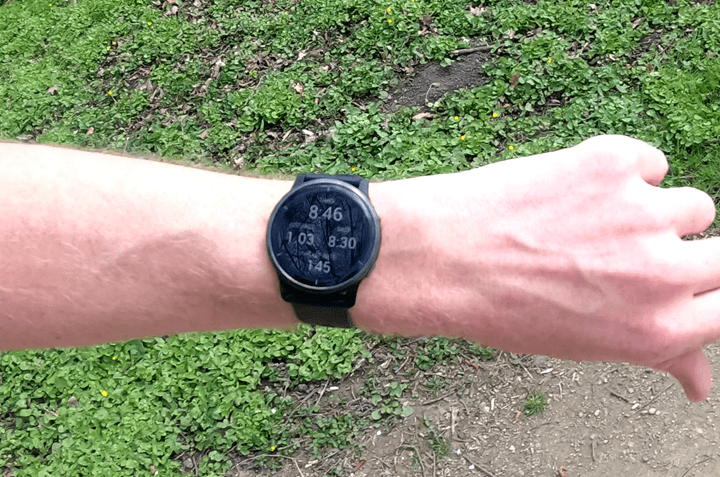 For pace stability, things seemed pretty reasonable on my track interval workout, despite not having an official track workout mode. If you had loaded a structured workout into the watch, it'll iterate through each of those steps for you, telling you what to do step by step.
In terms of display viewability, it was pretty good. The one item that both myself and my wife agreed upon was the slight delay, even in always-on mode, for the display to get to full brightness when you raised your wrist could be annoying in interval situations outside on a bright day. For example, yesterday we were in the trees running together a bit, and it was super sunny out. But the trees ended up filtering that sun, so when it hit the display as you raised your wrist, the backlight hadn't kicked in, and it was hard to see. It takes about 1 second for it to kick in, once the wrist is raised. It's viewable prior to that, just a bit dim (see below). In overcast scenarios you'd never notice it, but with the full sun, it's more noticeable.
(Ignore the lack of focus here, these were taken on a GoPro while running, focus on the visibility of the numbers)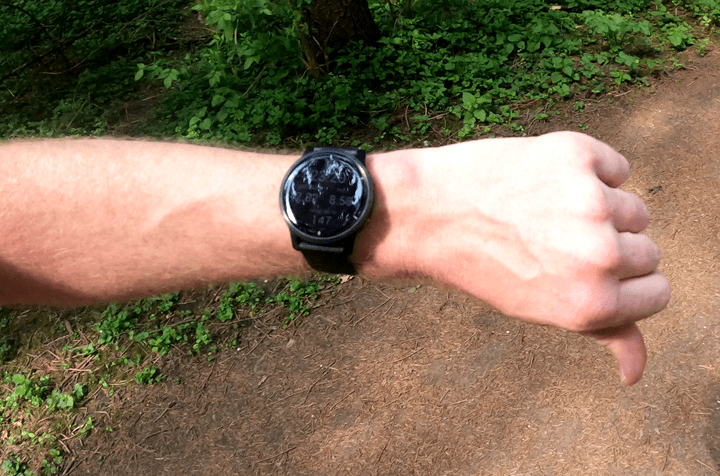 Once that 1-second kicks in, it's far more easily read: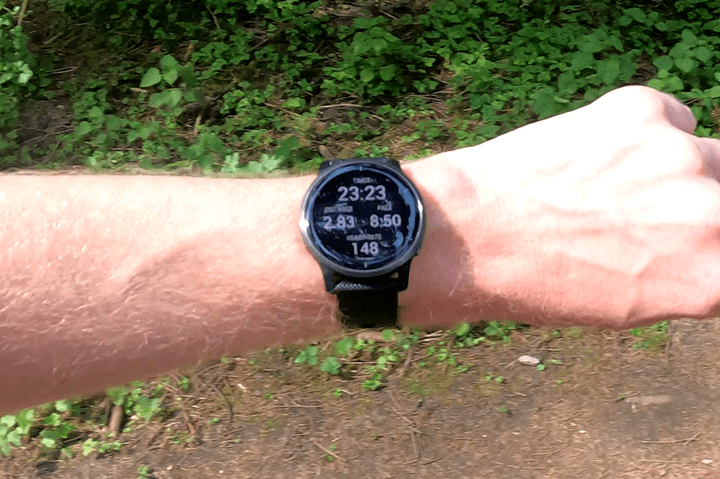 In fact, now's a good time to switch modes a bit, over to the Strength and HIIT workouts. For that, I'll scroll into the menus and choose Strength (like before), however, when I swipe up I've got pre-loaded strength workouts with specific muscle focus areas. As with above, there's tons more I can load from the Garmin Connect app. But these three are pre-loaded:
When I choose that workout it shows me which muscles will be sore later, which they call a muscle map. I call it a pain map: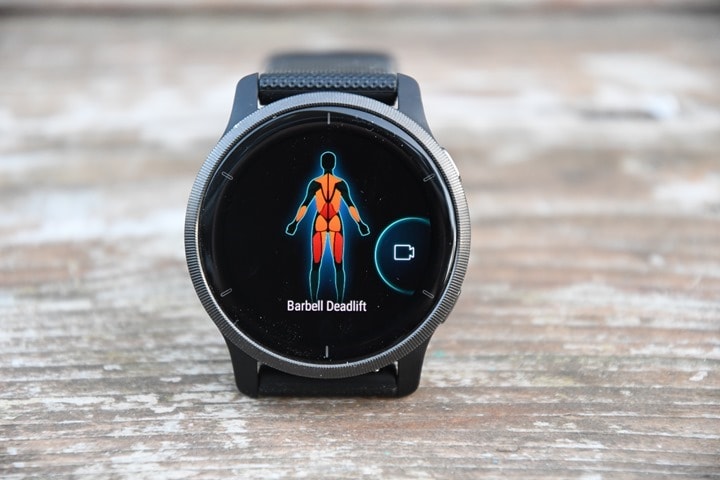 I'll then see a complete listing of all the steps of the workout: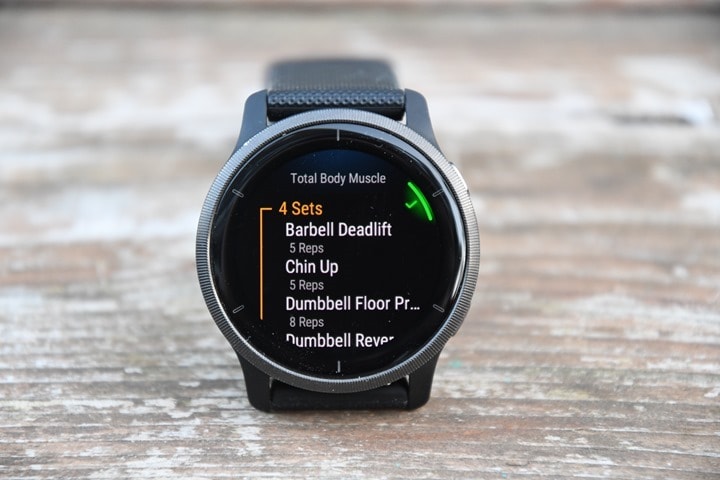 As I begin the workout it'll list off each step. You can swipe up a few pages to see the exact animation for what you're supposed to be doing. And the green circle around the outside is counting each rep for you: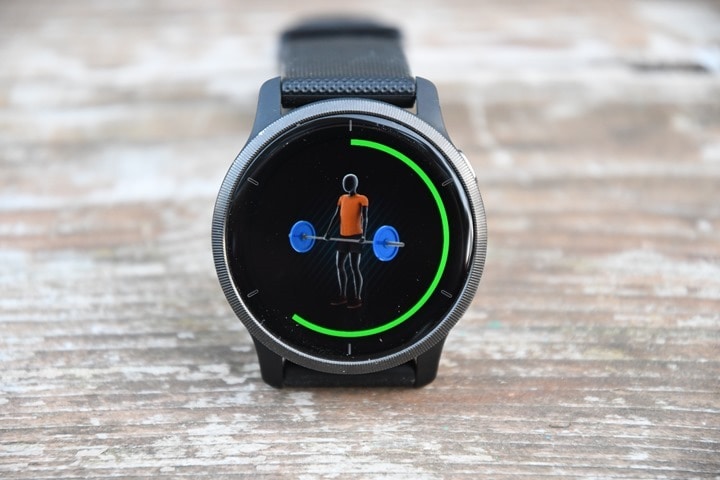 You can see the next step in the workout, as well as the full workout and groupings, and you can skip entire steps or groups if you want to, by pressing the lower right button.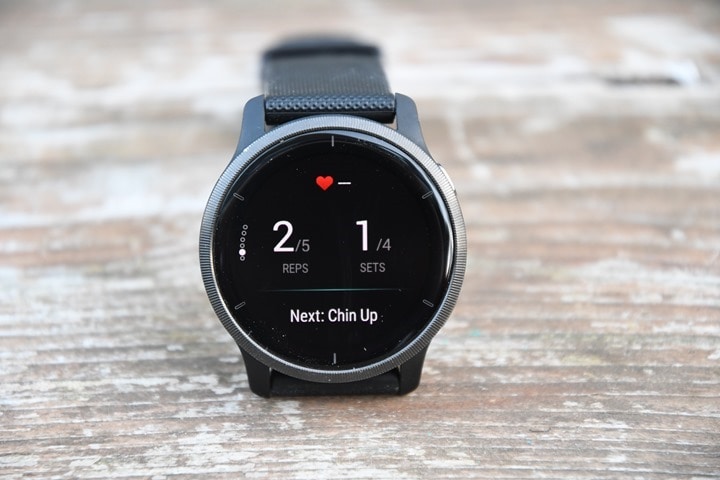 If you tap on any given step, it'll show you the exact muscle area it's focusing on, and then you can hit the camera icon to see an animation of it (before you get to the step, you can also see it during the step).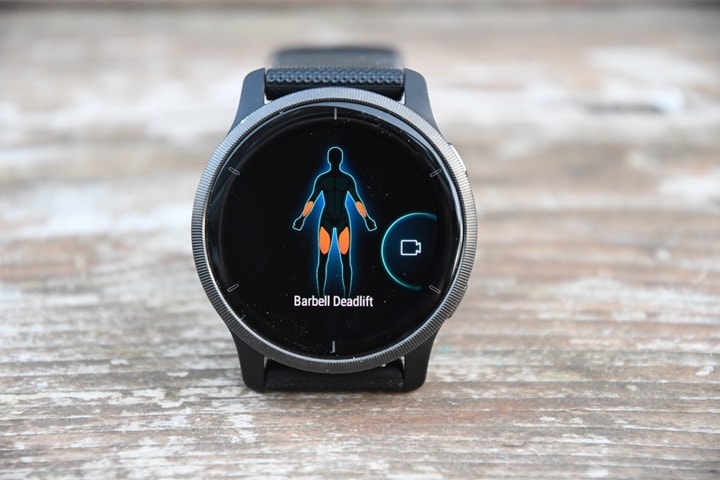 Once done with the entire workout, it'll save the full rep details and you can specify exactly how much weight you used.
This same animation concept was used previously on the original Venu watch for Yoga, Strength, and Pilates. And now with the Venu 2 it's got it for HIIT workouts too. For example, in HIIT workouts you first choose if you want a free workout, a HIIT timer, or a structured workout: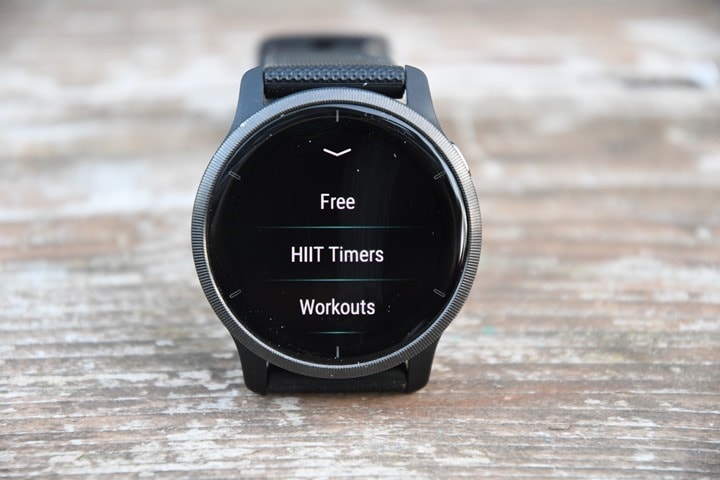 The HIIT Timer option then lets me pick from AMRAP (As Many Rounds as Possible), EMOM (Every Minute on the Minute), Tabata (20s on, 20s off), or Custom. Once you select one of those, it'll ask for how many rounds you want, or the total time.
If I choose the structured workout, I'm given a few choices to pick from: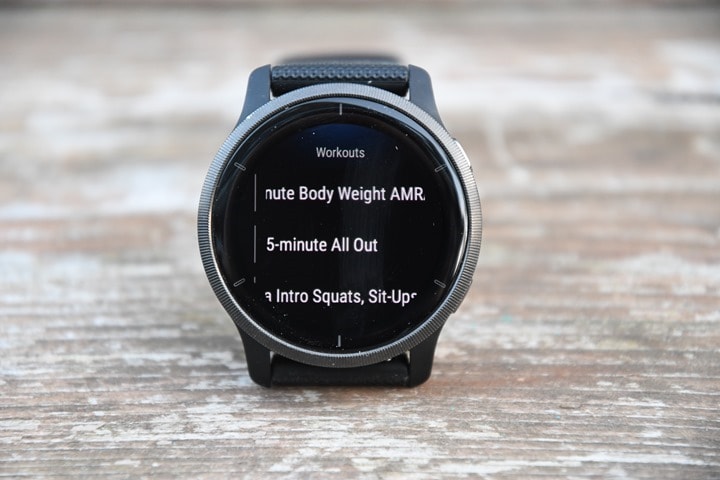 There's also plenty on Garmin Connect Mobile to choose as well:
Like with before there's groupings of steps, and I can then iterate through each step to understand the exact move I'm supposed to do, and in some cases, there's notes available too (the little notepad at the bottom):
Beyond that, it executes in exactly the same manner as the structured workouts for strength.
Finally, no matter which workout type you complete, you'll get a summary screen at the end. For outdoor workouts you'll get a bit more details on where you went, including a tiny breadcrumb style map profile: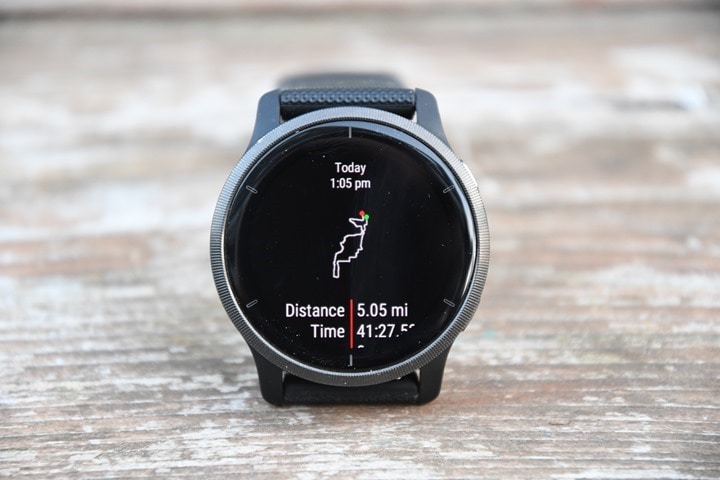 You can see the overall workout summary (very basic stats), lap summary, and heart rate zone information too:
The real detail is available on the Garmin Connect App, or desktop website. Here's a look at one of my track workouts from a few days ago, with all the detail pages:
And of course, all this will sync off to 3rd parties like Strava, TrainingPeaks, and plenty more, automatically. That usually happens a few seconds after the workout uploads, which usually happens a few seconds after I press save.
Music & Contactless Payments: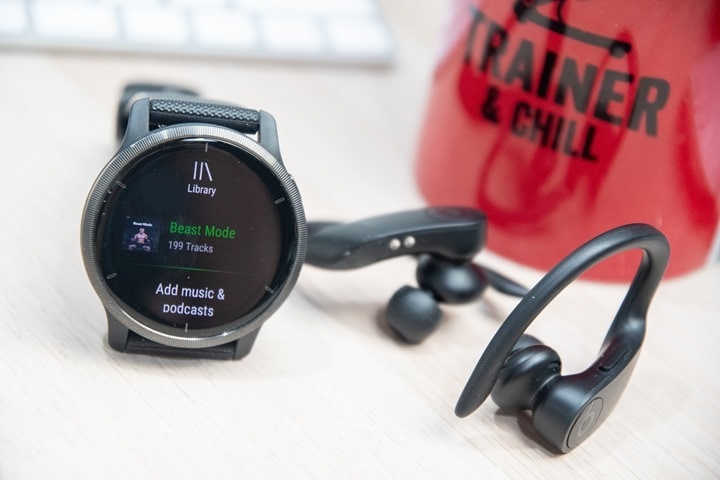 With onboard storage and NFC, the Venu 2/2S supports offline music (including Spotify, Deezer, and Amazon Music), as well as paying for things using contactless payments. For music, it'll connect to Bluetooth audio devices (like headphones, or even portable speakers). And for contactless payments, it'll use Garmin Pay, where you can connect your bank cards to tap and pay for things (well, if it's supported).
Starting with music, the process here is virtually identical to existing Garmin devices with music support, however the Venu 2 series has cleaned up the user interface, like all other areas of the watch. To begin you'll open up the music widget, and then it'll ask you which streaming service you want to use. That can be Amazon Music, Spotify, or Deezer. You can also simply load your own music (e.g. MP3's) onto the device too, but I'm all-in on Spotify and Amazon Music, so that's what I'll show. Once you select a music service it'll prompt you to login on your phone and authorize that platform. A few seconds later the watch is logged in, allowing you to pick playlists to sync: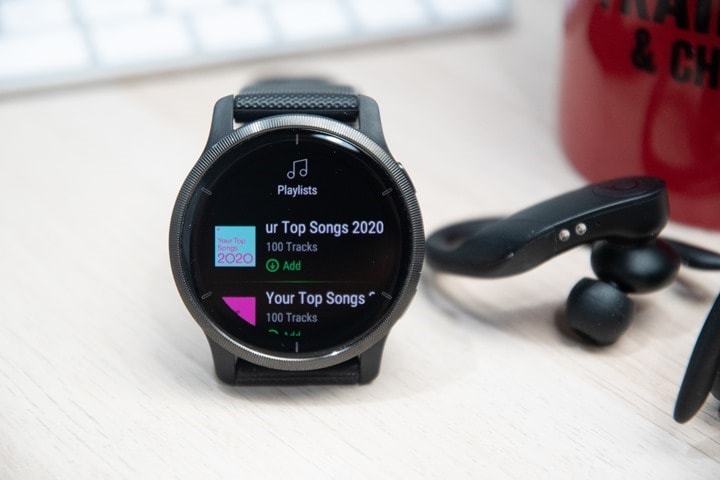 These are organized in a similar manner to those on Spotify and Amazon Music itself, so I see my playlists, but also a pile of Workouts and Podcasts too. While the Venu 2 can directly load podcasts without Spotify/etc, that requires using the Garmin desktop app to sync manually, which is clunky AF. It's far better to use one of these streaming platforms to handle the podcast sync.
Once you've picked a playlist, it'll go off and sync it via WiFi (WiFi is required here for music sync). It also recommends plugging in your watch. If you ever had reason to want to burn the Venu 2 battery quickly, syncing music is by far the best way to do it. The music sync isn't crazy fast, but it's fine. The simple math is 5-10 seconds per song to download, or about 10 or so songs per minute (speed varies based on length and a slew of other factors).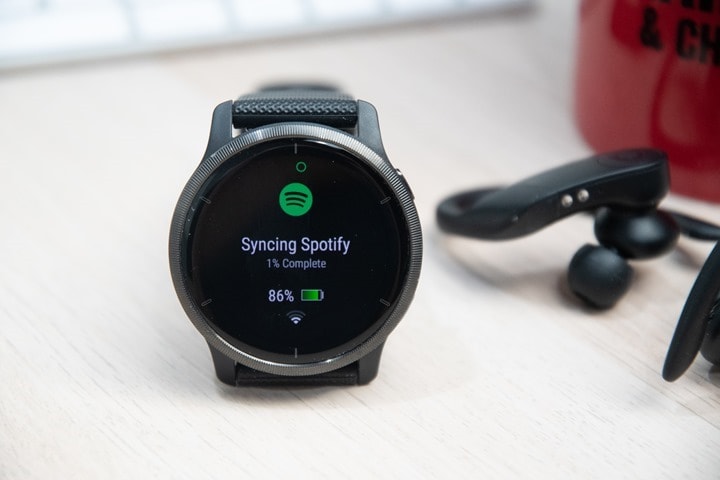 Anytime you attach your Venu to a charge, it'll start sync almost immediately. This is notable because most online streaming platforms have dynamic playlists, so it'll simply update with any song changes. Thus, your playlists are always up to date. You can download multiple playlists, the Venu 2 has 7GB of storage space, with slightly less than that usable once you consider operating system bits.
Once your music is on the Venu 2, you'll want to pair your headphones (or other audio device). You can pair/save multiple headphones if you want, such as a pair of sporty headphones and then non-sporty ones. The music menu will automatically prompt you to do this, or you can always manage headphones in the sensors menu (the same place you'd manage heart rate straps).
To play music simply tap the music controls widget, and then choose the playlist that you want to start playing. You'll have some basic controls like skipping a song, play/pause, and changing volume. You can access this both within a workout, as well as outside it.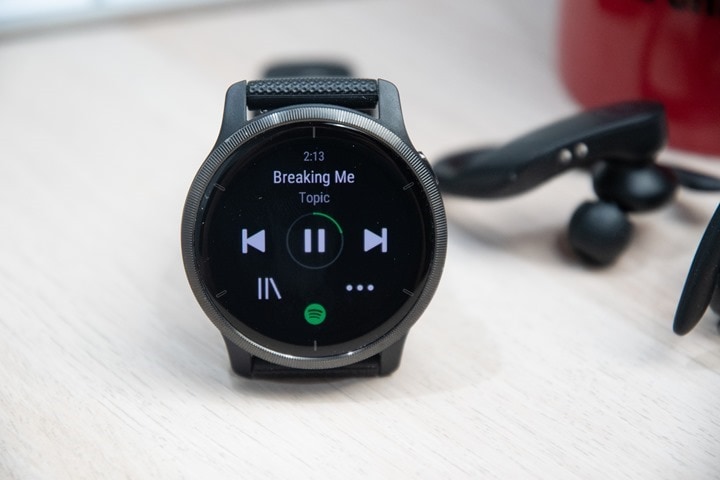 Note that the music streaming platforms do require you to 'check-in' at least once per month to validate your subscription. Meaning, you just need to sync once per month. Given anytime you put it on a regular charger (not connected to a computer), it'll automatically do a sync, this isn't much an issue as long as you've got WiFi set up.
Switching gears, there's the contactless payments bits. This uses NFC, and more specifically, Garmin Pay, which is Garmin's payment platform. It's like Apple Pay, minus the fruit. For this, you'll need your bank to be supported by Garmin. That's many of the big banks in the US, but beyond that it varies quite a bit. It's hit or miss. A full list is here.
In my case, my Netherlands bank (ING) isn't supported (still). However, my US Visa credit cards (Chase) are supported. My French Bank account (HSBC) isn't supported, nor are some of my US local banks. Ultimately, this requires Garmin go to every single bank worldwide and get them onboarded. It's not just a blank Visa/AMEX/Mastercard type thing. Hence why it's hit or miss.
In any case, adding a bank takes about 2-3 minutes. Here I've added my Chase card to it:
As part of the setup it'll ask you to create a pin code to use when making payments. This is only used when making a payment, and as long as you haven't removed the watch from your wrist in the last 24 hours, it'll only ask you the pin code once per 24 hours. Also, you can save multiple cards to the watch too. To access your wallet, long-hold the upper right button, and tap the wallet cards icon, then enter your pin code in:
At this point you've got about 60 seconds to complete the transaction, by taping it on a NFC card reader. For example, say you wanted to buy this awesome Trainer & Chill mug, just simply tap the card reader (in my case, with a Friends & Family discount):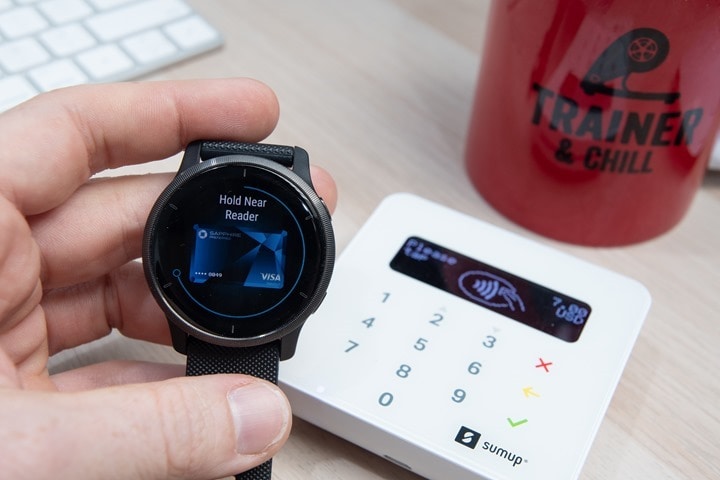 And then when it's successful it'll show a green ring briefly: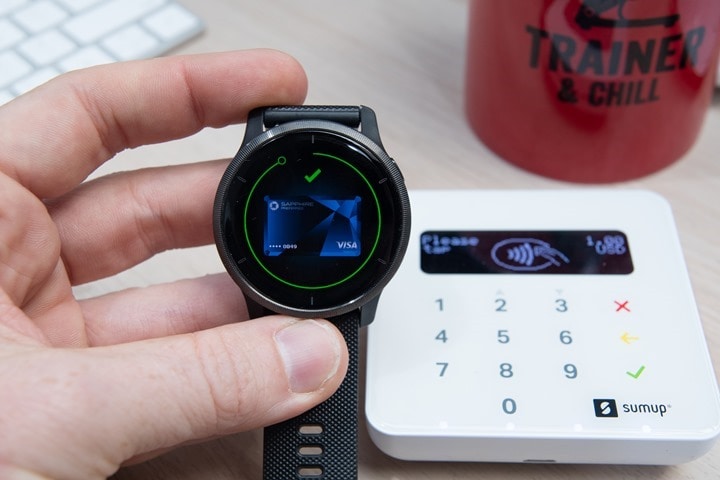 You won't get any payment receipt on the watch unfortunately, though, you can see it later in the Garmin Connect app under 'Recent transactions' within the Garmin Pay details.
As always with contactless payments, you'll want to know for sure the store/merchant you're going to supports contactless payments and the card you plan to use, before relying on it 100%. So for example, for me since I can't load ING debit cards on it, I can't go to one chain of grocery stores here in the Netherlands that don't accept my US Visa cards, if I'm out for a run. Thus, I know I have to go to a different chain that does accept them. So, it's useful if you know your favorite places and what they do or don't accept, but less useful for wild tapping with abandon.
Which, is ultimately no different than your phone tap payments – you simply have to know what does and doesn't work, and have a backup plan accordingly.
GPS & Heart Rate Accuracy: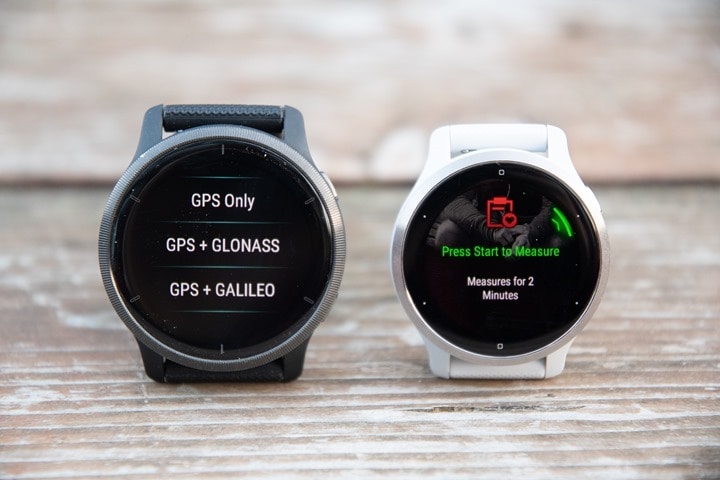 In this section I'm going to look at the accuracy of the optical sensor, as well as the accuracy of the GPS. The optical sensor here is of course new, as outlined earlier – Garmin's Elevate V4 sensor. The GPS chipset is still Sony, though Garmin has implied in conversations it's a very slightly updated version over what was in the original Venu.
For all these tests I've got multiple other recording devices and sensors. As always, no two watches are on the same wrist as to not interfere with each other. Extra watches are either worn elsewhere on the body (like a running pack) or bike (handlebars), or sometimes hand-carried. Those watches not on the wrist are collecting heart rate data from connected HR sensors/straps.
With that, let's dive straight into a track workout. No better way to throw a watch under a bus than throw it on the track for a slate of intervals. In this case, I actually started away from the track about 1.5mi/2.2km, and then ran to the track. This is compared to a Wahoo RIVAL & Garmin FR745 from a GPS standpoint, and then I also had a Garmin HRM-PRO chest strap, Polar Verity Sense optical sensor, and Whoop band for HR comparisons. First up, the heart rate chart. Here's that data set (you can open these links and dig-in, in more detail or do your own analysis if you want):

As you can see, the Wahoo RIVAL in purple apparently decided that Sunday evening was a poor time for any sort of exercise, and totally gave up on trying to track my heart rate. The Garmin Venu 2 is near perfectly aligned with the Polar Verity Sense and HRM-PRO for the warm-up phases, and frankly, even much of the intervals themselves. For that, let's zoom into those intervals, and also get rid of the Wahoo RIVAL – it's too distracting here.

As you can see, compared to both the HRM-PRO chest strap and Polar Verity Sense band, the Venu 2 only made two mistakes on the intervals, for about 30 or so seconds each. Not major mistakes in this context, but a hair bit longer/over/under than I'd wanted. Though, you can see the Whoop strap devaluing the workout intervals by some 10bpm on every interval – thus throwing off all its training load metrics. The Polar Verity Sense band did have one brief weird drop-out of sorts (and another a bit later under the yellow text) that I've highlighted there, but otherwise it was pretty good.
Next, let's look at a theoretically easy run from yesterday with my wife. Warm-day, steady-state run, relatively soft terrain. Should have been a shoe-in. Yet oddly, the Venu 2 actually struggled at the beginning of the workout for 5-7 mins. My guess is the far lower cadence than normal for me due to the differing paces probably caused this, but still, it shouldn't happen. Interestingly, this is the only case of this happening I have – and ironically, for it to happen on an easy run is sorta quirky. My track workouts and interval workouts were all fine. Of course, as you can see, after that point it snapped to the rest just fine.

Next, let's look at a Peloton Bike indoor workout. This as 9-minute long joyous intervals, and is compared to a Polar H10 chest strap, Apple Watch SE and Whoop strap:

Aside from the first 60-seconds at low-intensity while getting stuff settled on the bike, the units were virtually identical across the board. Whoop was lower of course, but otherwise, there's really nothing to analyze here. It's near perfect.
Let's take things outdoors then on a ride and see how they handle. The middle of this two hour ride was me filming some stuff on the side of the road, so ignore that chunk of time. Instead, focus on the before & after, which is pretty darn steady-state riding.
Ok, I changed the colors on the below zoomed in graph, because there were duplicate colors in the chart with all the sensors. But, what you can see here is that Venu 2 gets off to a rough start for some reason. However, after that, it pretty much locks in place.
And it's actually interesting, because after that point, the HR accuracy is surprisingly good for it in outdoor cycling. I rarely see this kind of accuracy there. I don't know if perhaps it was me warming up, or what-not (I didn't bother to take a coat this day…probably should have). You see one more brief dip after a stop-light where it takes a second to get locked back-on, but not horrible.
However, the 2nd half isn't as good as the first half. In fact, the general pattern here seems to be that when I stop, things go a bit skew for a short duration before resuming back to happy-land.

Ultimately I'd say that for outdoor cycling specifically, I'd still probably go with another HR sensor paired up of some sort as opposed to the onboard optical sensor within the Venu 2. At least if you need more precise data than the above illustrates. Indoor cycling and running seem perfectly fine though.
Now, switching gears to look at GPS tracks, well start with that track workout I did, where I started away from the track and then ran to it. At a high level, things look pretty aligned to the FR745 and Wahoo RIVAL: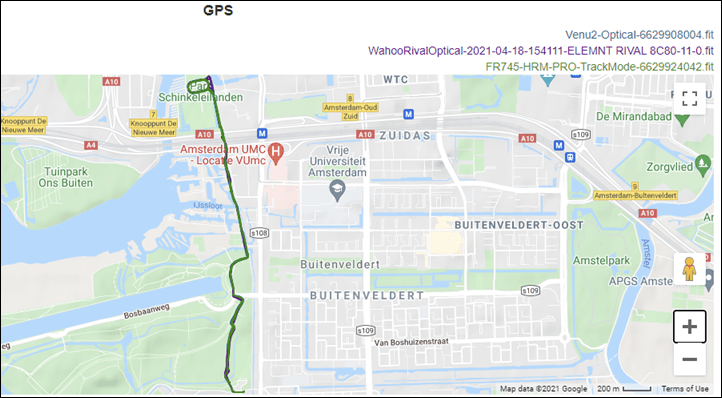 If we look at the paths to/from, it's pretty close. I'd say the FR745 has the slight edge on exactly where I went each time, though the Venu 2 was close. The RIVAL seems a bit offset on many of the turns, having me off in the woods (sans-path):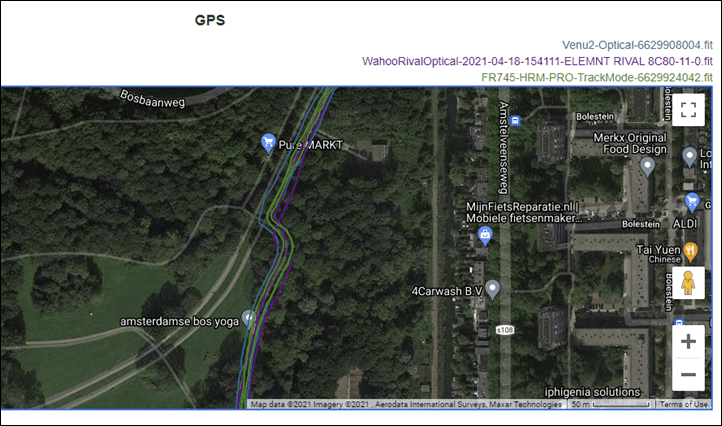 Going under the gigantic set of highway/train-track overpasses, none was perfect (meaning, no weird jagged lines or such), but none was crazy wrong either: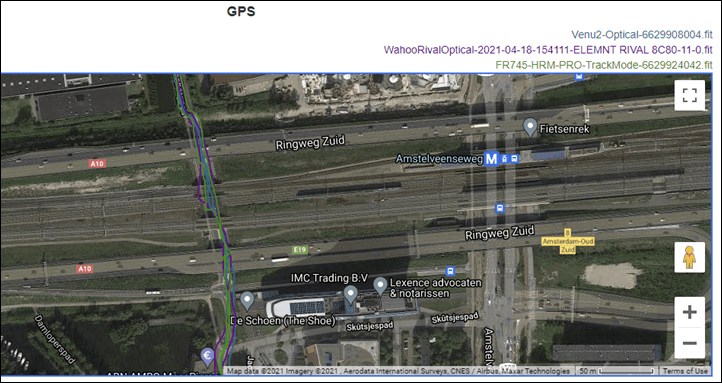 Now the running track bit is interesting. I was using the FR745 & Wahoo RIVAL track mode here, which means they lock onto the track as they get on it, allowing for perfect loops each time (distance and pacing). The Venu 2 doesn't have that mode. However, my arrival to the track has me coming up that path on the right side near the hotel, and you can see that both the Wahoo RIVAL & Garmin FR745 that I was already at the track and snapped me to it early, resulting in those weird lines. Whereas the Venu 2, being oblivious to this nifty technology, actually tracked my route correctly up to the top, and then back down into the track.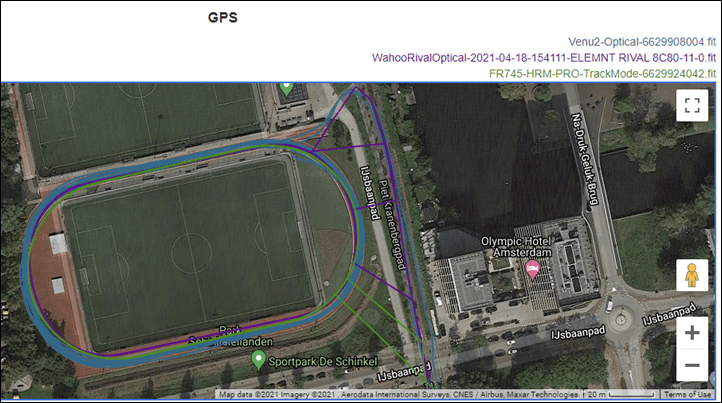 Once on the track itself, you'd be hard pressed from this view to not think this was actually in track mode. It's really really sharp, one of the best non-track-mode GPS tracks I've seen on a running track. Props!
Next we've got a run almost entirely in the woods, mostly big trees too. This is compared to an Apple Watch Series 6, and a Garmin FR745 for GPS. Here's the data at a high level, which looks mostly similar: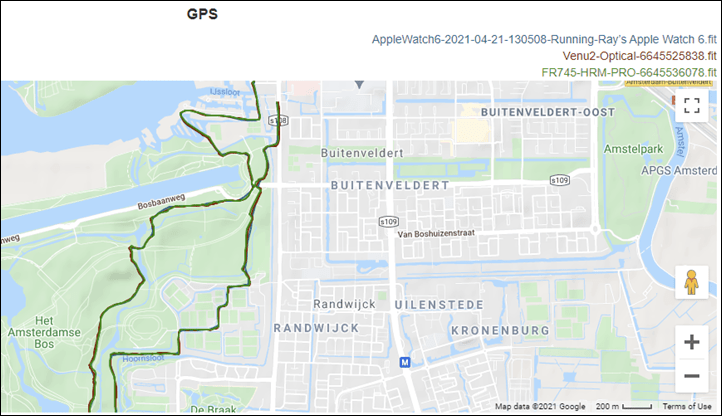 For the most part, the track throughout the forest is best exemplified in this one screenshot.  In this case, the Apple Watch Series 6 in blue basically cut or ignored all the corners (something I haven't seen at faster paces). The Venu 2 was slightly offset on some, but spot-on on others. In general, the differences weren't major, but they were visible nonetheless: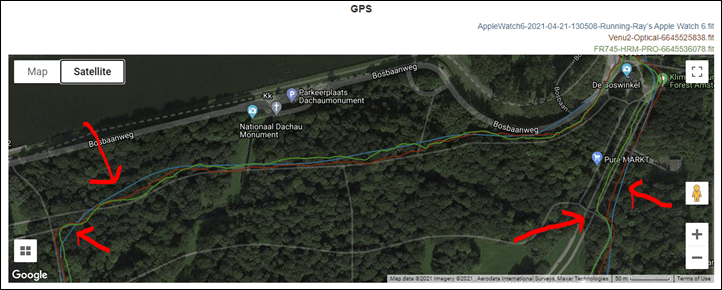 Still, on many of them, the FR745 & Venu 2 were lockstep around the turns properly. Whereas the Apple Watch was being…well…old school Apple Watch again. Mario-karting corners here I come!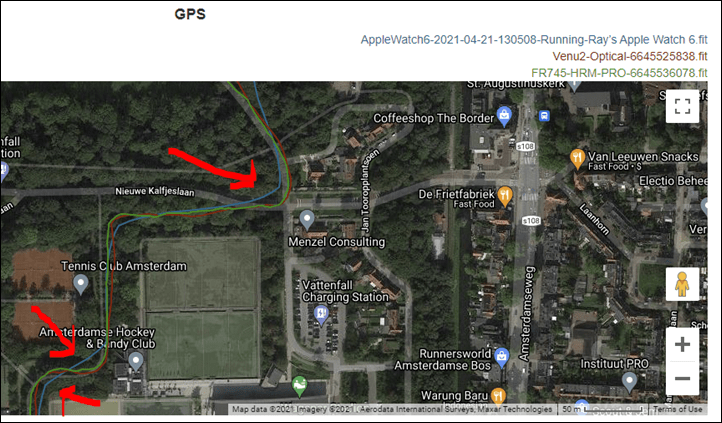 The Venu perhaps seemed a touch bit wobbly in places, but again, it generally wasn't cutting every corner like someone else: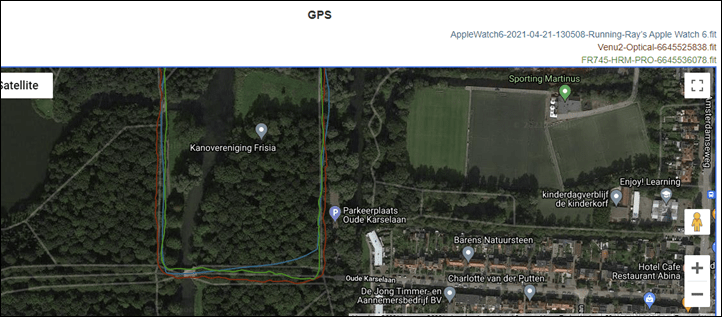 Ok, let's switch over to an outdoor ride for our last set. I've got lots of these, but frankly they're all the same looking accuracy-wise, and all pretty darn boring Here it is compared to an Apple Watch Series 6 and Edge 1030 Plus: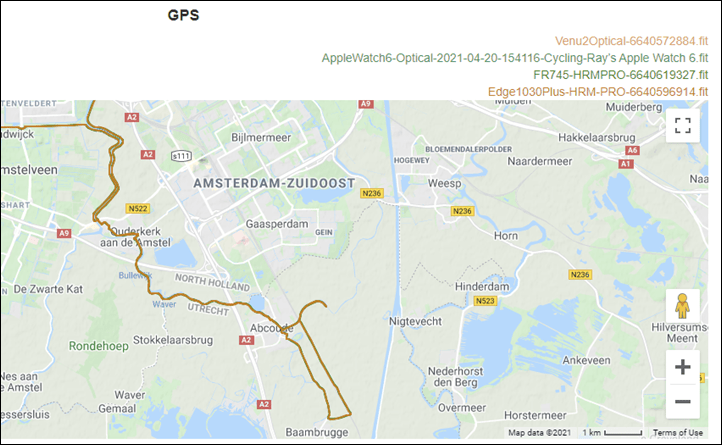 If I zoom in on some random spots here, you'll see these are all spot-on perfect: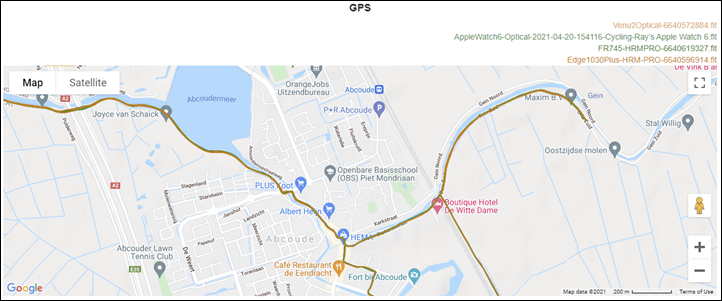 They're all within about a meter of each other and looking pretty crispy: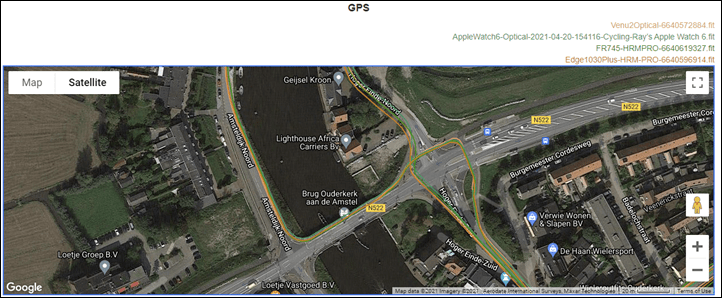 This is pretty common/normal for road cycling, where the higher speeds means it's a bit easier for GPS to produce prettier tracks.
Ok, so overall I'd say that optical HR accuracy is pretty good for almost everything I tested except for outdoor cycling, where it seems a bit more variable. Also, as noted I saw a few cases where in the first few mins of a workout it was a bit wobbly, but then usually sorted itself out pretty quickly.
From a GPS standpoint, no issues at all of any real concern – and on-par with other units at or higher to it in price point (such as the Garmin FR745). As always, I'm sure given enough runs/rides/etc in differing locations around the world people will see quirks with GPS (like any device), but overall for me over the last while, it's been pretty stable and dependable there.
(Note: All of the charts in these accuracy sections were created using the DCR Analyzer tool.  It allows you to compare power meters/trainers, heart rate, cadence, speed/pace, GPS tracks and plenty more. You can use it as well for your own gadget comparisons, more details here.)
Product Comparison:
I've added the Garmin Venu 2/2S into the product comparison database, allowing you to compare it against other products that I've reviewed in the past.
For the purposes of below I've compared it against the Fitbit Sense, Apple Watch Series 6, and Polar Ignite 2 –  which are probably the ones most people will be comparing it against from a sports/fitness standpoint.
Note that many smartwatches – but especially the Apple and Samsung watches have cases where 3rd party can be used to fill gaps. But figuring out which apps are here today and gone tomorrow is tricky, and ultimately, companies are selling their offering with the features they have at certain price points, so anything beyond that requires either time or money (or both) to bridge those gaps. That probably favors Garmin in fitness features, but inversely disadvantages them in non-fitness features. In any event, use this as a starting point on the devices themselves:
Function/Feature

Garmin Venu 2
Apple Watch Series 6
Fitbit Sense
Polar Ignite 2
Copyright DC Rainmaker - Updated May 14th, 2023 @ 2:34 pm New Window
Price
$399
$399/$499 (cellular)
$329
$229
Product Announcement Date
Apr 22nd, 2021
Sept 15th, 2020
Sept 2020
Mar 24th, 2021
Actual Availability/Shipping Date
Apr 22nd, 2021
Sept 18th, 2020
Sept 23rd, 2020
Mar 2021
GPS Recording Functionality
Yes
Yes
Yes
Yes
Data Transfer
USB, BLUETOOTH SMART, WiFi
Bluetooth Smart
Bluetooth Smart/WiFi for music
USB, BLUETOOTH SMART
Waterproofing
50 meters
50m
50m
Yes - 30m
Battery Life (GPS)
22 hrs (just GPS), up to 8hrs GPS+Music (2S: 19hrs GPS/7hrs with music)
7hrs GPS on time (18hrs standby)
12 hours
Up to 20 hours
Recording Interval
1s or Smart Recording
Varies
1-second
1s
Dual-Frequency GNSS
No
No
Alerts
Vibrate/Visual
Vibration/Audio/Visual
Visual/Vibrate
Vibrate/Visual
Backlight Greatness
Great
Great
Great
Great
Ability to download custom apps to unit/device
Yes
Yes
Yes
No
Acts as daily activity monitor (steps, etc...)
Yes
Yes
Yes
Yes

Voice Integration

Garmin Venu 2
Apple Watch Series 6
Fitbit Sense
Polar Ignite 2
Has Mic/Speaker
No
Yes
Yes
Can make/receive calls
No
NON-CELLULAR EDITIONS WITH PHONE/CELLULAR EDITIONS WITHOUT PHONE
With phone's cellular
Voice Assistant
No
Apple Siri
Amazon Alexa

Music

Garmin Venu 2
Apple Watch Series 6
Fitbit Sense
Polar Ignite 2
Can control phone music
Yes
Yes
Yes
Yes
Has music storage and playback
Yes
Yes
Yes
No
Streaming Services
Spotify, Amazon Music, Deezer
Apple Music
Pandora, Deezer
No

Payments

Garmin Venu 2
Apple Watch Series 6
Fitbit Sense
Polar Ignite 2
Contactless-NFC Payments
Yes
Yes
Yes
No

Connectivity

Garmin Venu 2
Apple Watch Series 6
Fitbit Sense
Polar Ignite 2
Bluetooth Smart to Phone Uploading
Yes
Yes
Yes
Yes
Phone Notifications to unit (i.e. texts/calls/etc...)
Yes
Yes
Yes
Yes
Live Tracking (streaming location to website)
Yes
With 3rd party apps
No
No
Group tracking
No
No
No
No
Emergency/SOS Message Notification (from watch to contacts)
Yes
Yes
No
No
Built-in cellular chip (no phone required)
No
Yes (with cellular version)
No
No

Cycling

Garmin Venu 2
Apple Watch Series 6
Fitbit Sense
Polar Ignite 2
Designed for cycling
Yes
Yes
Yes
Yes
Power Meter Capable
No
No
No
No
Speed/Cadence Sensor Capable
Yes
No
No
No
Strava segments live on device
No
No
No
No
Crash detection
Yes
Yes via 'Fall Detection'
No
No

Running

Garmin Venu 2
Apple Watch Series 6
Fitbit Sense
Polar Ignite 2
Designed for running
Yes
Yes
Yes
Yes
Footpod Capable (For treadmills)
Yes
With 3rd party apps
No (but has treadmill functionality)
No
Running Dynamics (vertical oscillation, ground contact time, etc...)
No
No
No
No
Running Power
WITH 3RD PARTY APPS
With 3rd party apps
No
No
VO2Max Estimation
Yes
Yes
Yes, via app
Yes
Race Predictor
No
No
No
No
Recovery Advisor
No
No
No
No
Run/Walk Mode
Yes
With 3rd party apps
No
No
Track Recognition Mode
No
No
No
No

Swimming

Garmin Venu 2
Apple Watch Series 6
Fitbit Sense
Polar Ignite 2
Designed for swimming
Yes
Yes
Yes
Yes
Openwater swimming mode
No
YEs
No
Yes
Lap/Indoor Distance Tracking
Yes
Yes
Yes
Yes
Record HR underwater
Yes
Yes
No
Yes
Openwater Metrics (Stroke/etc.)
No
Basic stroke type only
No
Yes
Indoor Metrics (Stroke/etc.)
Yes
Basic stroke type only
Yes
Yes
Indoor Drill Mode
No
No
No
No
Indoor auto-pause feature
No
Yes
No
Yes
Change pool size
Yes
Yes
Yes
Yes
Indoor Min/Max Pool Lengths
13M/15Y TO 150Y/M
1y/m to 1,500y/m+
10m/y-100m/y
20M/Y to 250 m/y
Ability to customize data fields
Yes
Very limited
Yes
Yes
Captures per length data - indoors
Yes
Yes
Yes
Indoor Alerts
Yes
Yes (goals)
Yes (distance)
N/A

Triathlon

Garmin Venu 2
Apple Watch Series 6
Fitbit Sense
Polar Ignite 2
Designed for triathlon
No
Not really
No
No
Multisport mode
No
Yes
No
No

Workouts

Garmin Venu 2
Apple Watch Series 6
Fitbit Sense
Polar Ignite 2
Create/Follow custom workouts
Yes
With 3rd party apps
No (Premium Coached only)
Yes
On-unit interval Feature
No
With 3rd party apps
No
Sorta (offers structured workouts)
Training Calendar Functionality
Yes
With 3rd party apps
No
Has daily suggested workouts

Functions

Garmin Venu 2
Apple Watch Series 6
Fitbit Sense
Polar Ignite 2
Auto Start/Stop
Yes
Yes
Yes
Virtual Partner Feature
No
Sorta (Pacing feature)
No
No (but can give out of zone information)
Virtual Racer Feature
No
No
no
No
Records PR's - Personal Records (diff than history)
Yes
No
No
No
Tidal Tables (Tide Information)
No
No
No
No
Weather Display (live data)
Yes
Yes
Yes
Yes

Navigate

Garmin Venu 2
Apple Watch Series 6
Fitbit Sense
Polar Ignite 2
Follow GPS Track (Courses/Waypoints)
No (but some 3rd party apps can)
With 3rd party apps
No
No
Markers/Waypoint Direction
No
With 3rd party apps
No
No
Routable/Visual Maps (like car GPS)
No
With 3rd party apps
No
No
Back to start
Yes
With 3rd party apps
No
No
Impromptu Round Trip Route Creation
No
With 3rd party apps
No
No
Download courses/routes from phone to unit
No
With 3rd party apps
No
No

Sensors

Garmin Venu 2
Apple Watch Series 6
Fitbit Sense
Polar Ignite 2
Altimeter Type
Barometric
Barometric with real-time watch face
Barometric
GPS
Compass Type
Magnetic
Magnetic
N/A
N/A
Optical Heart Rate Sensor internally
Yes
Yes
Yes
Yes
SpO2 (aka Pulse Oximetry)
Yes
Yes
Yes
No
ECG Functionality
No
Yes
NO
Heart Rate Strap Compatible
Yes
Yes
No
Yes
ANT+ Heart Rate Strap Capable
YEs
No
No
No
ANT+ Speed/Cadence Capable
Yes
no
No
No
ANT+ Footpod Capable
Yes
No
No
No
ANT+ Power Meter Capable
No
No
nO
No
ANT+ Lighting Control
Yes
No
nO
No
ANT+ Bike Radar Integration
Yes
No
No
No
ANT+ Trainer Control (FE-C)
No
No
No
No
ANT+ Remote Control
No
No
No
No
ANT+ eBike Compatibility
No
No
No
No
ANT+ Gear Shifting (i.e. SRAM ETAP)
No
No
No
No
Shimano Di2 Shifting
No
No
No
No
Bluetooth Smart HR Strap Capable
YEs
Yes
No
Yes
Bluetooth Smart Speed/Cadence Capable
Yes
No
No
No
Bluetooth Smart Footpod Capable
Yes
No
No
No
Bluetooth Smart Power Meter Capable
No
No
No
No
Temp Recording (internal sensor)
No
No
No
No
Temp Recording (external sensor)
Yes
No
no
No

Software

Garmin Venu 2
Apple Watch Series 6
Fitbit Sense
Polar Ignite 2
PC Application
Garmin Express
None
Polar Flowsync - Windows/Mac
Web Application
Garmin Connect
None
Yes
Polar Flow
Phone App
iOS/Android/Windows
iOS only
iOS/Android
iOS/Android
Ability to Export Settings
No
No
No
No

Purchase

Garmin Venu 2
Apple Watch Series 6
Fitbit Sense
Polar Ignite 2
Amazon
Link
Link
Link
Link
Backcountry.com
Link
Link
Link
Link
Chain Reaction Cycles
Link
Link
Link
Link
Competitive Cyclist
Link
Link
Link
Link
REI
Link
Link
Link
Link
Wiggle
Link
Link
Link
Link

DCRainmaker

Garmin Venu 2
Apple Watch Series 6
Fitbit Sense
Polar Ignite 2
Review Link
Link
Link
Link
Link
And again – don't forget you can make your own product comparison charts comparing any products using the product comparison database.
Summary: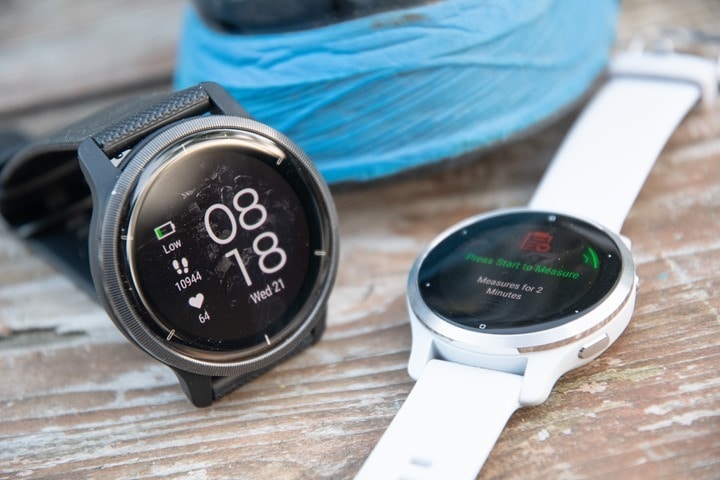 The Venu 2 is a modest upgrade in features, but a far more refined upgrade in the user interface and how clean the Venu series experience is. If you went back to my original Venu review, I noted that it felt like Garmin hadn't really spent much time on the polish elements of the new AMOLED display. Certainly, given it was their first go at things, that's somewhat understandable. But back then it was as if they just took a Vivoactive watch and stuffed it into the new display without actually takin advantage of it.
Now though with Venu, there's boatloads of display-focused touches – such as backgrounds behind the sport start screens, the improved animations for structured workouts, the touch-scrollable graphs and charts, and even the always-on watch faces now showing detailed metrics too. Is there still room for improvement? Of course – I'd love to see them do something with the post-workout page especially.
As far as actual features and tech, those are stronger too. The optical sensor seems slightly better to me, but the PulseOx is clearly far better. The Body Battery algorithms are improved, and the sleep tracking finally being the more advanced variant is great. Battery life is solid also. About my only real complaints are that in non-always-on mode (gesture mode), the gesture recognition is still not in the same league as an Apple Watch. It's better than the Polar Ignite 2 in that area (both faster and more responsive), but not perfect. Both my wife and I found that even with always-on mode, in running on a bright sunny day, that the 1-second delay when you raised your writs till it went full brightness was at times annoying. And for her, for non-workout life, the gesture wake was almost unusable (though, she comes from a heavy always-on display watch preference).
Still, the Venu 2 is a nice overall upgrade from the original Venu. As I said back at the original Venu launch, I'm skeptical on the $399 pricing. We've seen that over these 18 months since then, the bulk of the time the Venu was at $349, or even $299 more recently. Heck, even some $249-$269's here and there. I'm just not convinced that it's an everyday competitor at $399 to an Apple Watch Series 6 for the same price. Which…I suppose it's probably why it's often on sale. In any case, that's Garmin's battle to fight, and your choice to decide.
With that – thanks for reading!
Found This Post Useful? Support The Site!
Hopefully you found this review useful. At the end of the day, I'm an athlete just like you looking for the most detail possible on a new purchase – so my review is written from the standpoint of how I used the device. The reviews generally take a lot of hours to put together, so it's a fair bit of work (and labor of love). As you probably noticed by looking below, I also take time to answer all the questions posted in the comments – and there's quite a bit of detail in there as well.
If you're shopping for the Garmin Venu 2 or any other accessory items, please consider using the affiliate links below! As an Amazon Associate I earn from qualifying purchases. It doesn't cost you anything extra, but your purchases help support this website a lot. Even more, if you use Backcountry.com or Competitive Cyclist with coupon code DCRAINMAKER, first time users save 15% on applicable products! Or, with TPC (The Pro's Closet), you'll save $40 on purchases over $200 with coupon code DCRAIN40!
Here's a few other variants or sibling products that are worth considering:
And finally, here's a handy list of accessories that work well with this unit (and some that I showed in the review). Given the unit pairs with ANT+ & Bluetooth Smart sensors, you can use just about anything though.
And of course – you can always sign-up to be a DCR Supporter! That gets you an ad-free DCR, access to the DCR Quarantine Corner video series packed with behind the scenes tidbits...and it also makes you awesome. And being awesome is what it's all about!
Thanks for reading! And as always, feel free to post comments or questions in the comments section below, I'll be happy to try and answer them as quickly as possible. And lastly, if you felt this review was useful – I always appreciate feedback in the comments below. Thanks!