We've got three notable updates going into the weekend that are worthy of a quick chat. Plus one more that might drop sometime over the weekend, maybe Monday. We'll see. But for now, we've got some notable news in the ANT+ cycling realm with Stages being the first company to add ANT+ light support to a bike computer outside of Garmin. Then we've got some new navigational features on the Suunto 7. And finally, if you're planning on Zwifting anytime this weekend – especially in a large Tour de Zwift event, you're gonna want to pick up the latest update for sure.
Stages Dash Adds ANT+ Lighting Support for L50/M50: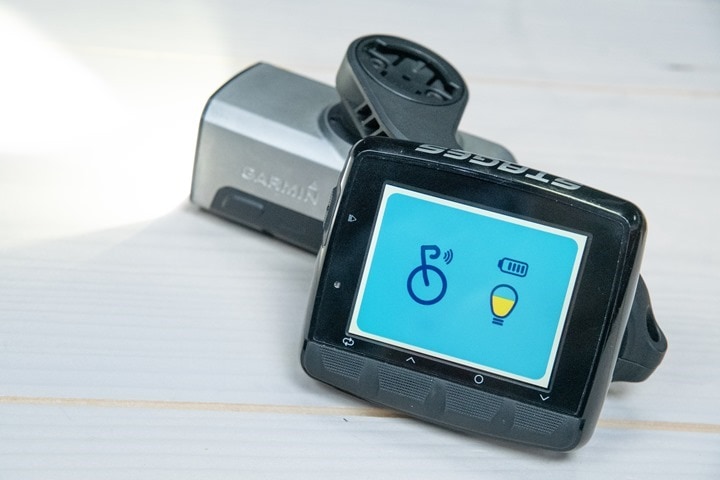 First up is Stages becoming the first non-Garmin bike computer company to add ANT+ lighting support to their Stages Dash M50 & L50. Previously Stages had added Varia Radar support, but nobody else aside from Garmin actually has supported the ANT+ lighting profile on bike computers or watches – that despite being numerous ANT+ bike lights such as those from Bontrager, See.Sense, Cycliq, and of course Garmin themselves. Remember that the ANT+ lighting profile and the ANT+ radar profile are often seen as similar from a consumer standpoint, they are indeed different technically – and thus required different implementations (since they do different things).
This comes in the form of firmware update 2.5.1, which also adds a slew of other features and tweaks:
However, that's in addition to the boatload of 'improvements' and 'bug fixes' listed.
In my case, I plugged in the Stages Dash L50 to the computer, and used Stages Sync to update it.: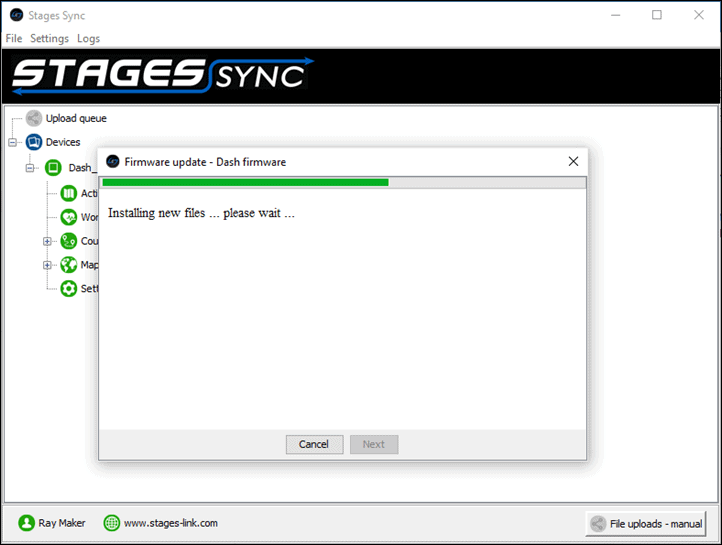 It'll finish up a moment later.
After that, I dug around my plastic bins for ANT+ lights. For all my city bikes I just have lights built into the bikes. And for my road bike I have the ANT+ Varia Radar on it. And while that would demonstrate this functionality quite nicely (since it runs both the ANT+ Radar & ANT+ Lighting profiles), I wanted something more simplistic. And the first thing I found was the older Varia HL500 lights. It's a beast! But hey, it shows that it works on old stuff. Then I went into the sensors menu and selected to scan for ANT+ sensors, you'll see the ANT+ Bike Light listed at the bottom: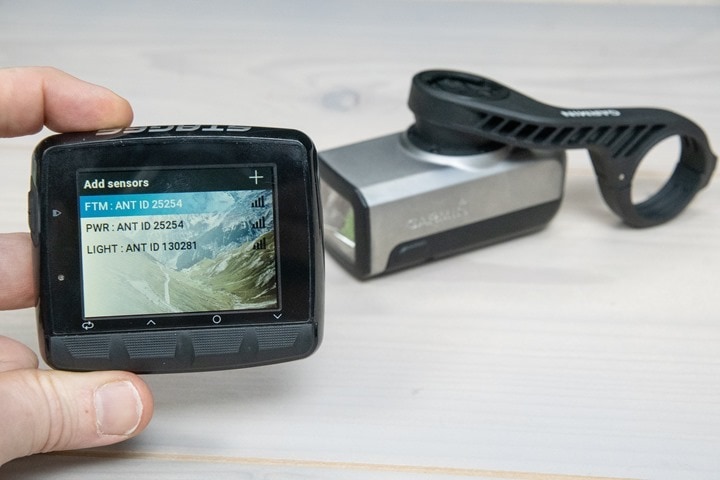 In the sensors menu you can see the state of the sensor, including battery status as well as whether the lights will auto-turn-on when you start a ride.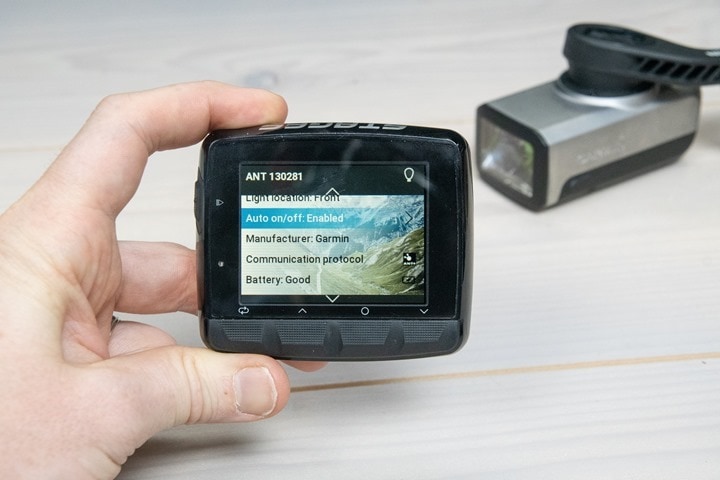 Sure enough, I started a workout and the lights automatically/instantly turned on:
Then, there's a dedicated control page for the lights, allowing you to iterate through any of the light modes. For example, this increases/decreases brightness, turns the light off, and also switches over to the blinking mode. You'll use the up/down buttons (which are shown on the screen as left/right) to change modes.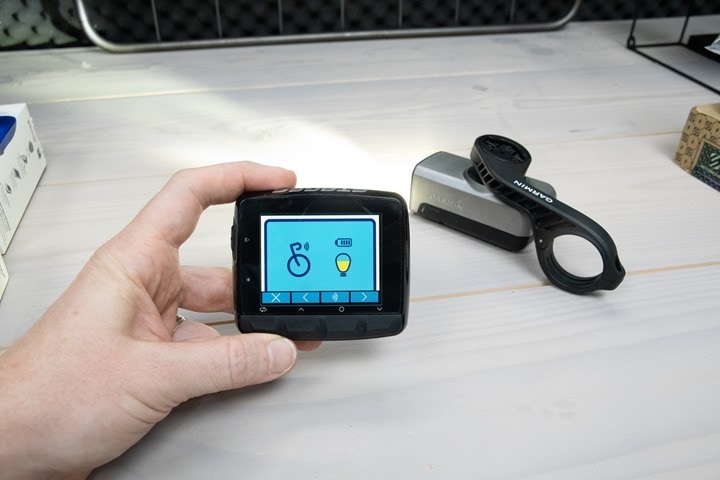 It all works pretty much as you expect. Quick and simple – the way it should be!
Zwift Large Event Performance Improvement: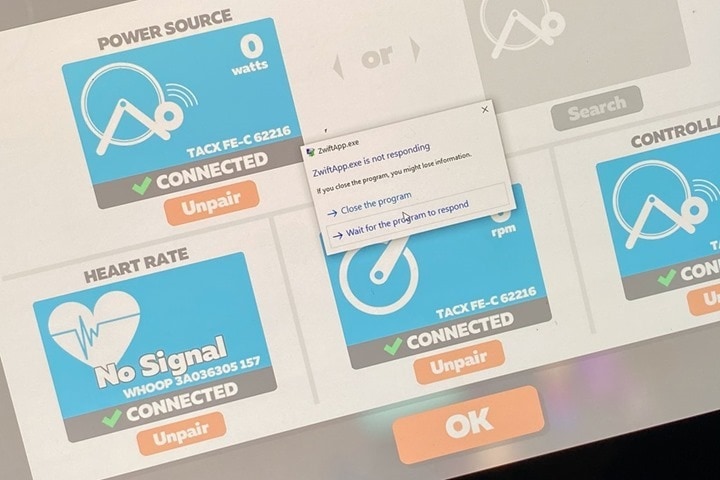 As first spotted by ZwiftInsider, Zwift has made the rare step of coming out and saying an off-schedule performance update last night related to issues seen with large events and Zwift, specifically causing everything from timers being incorrect to outright crashing.
CEO Eric Min posted the comment on a frustrated Facebook thread:
"Hi everyone — we are rolling out a patch to the game client this week which will address most of the issues you're experiencing with large events. There is additional optimisation coming in the subsequent release in Jan, which should finally resolve this. We feel your pain and are working quickly to put this one to bed. Thanks for being patient. Stay tuned."
And then co-founder Jon Mayfield weighed in, detailing a bit more:
"It's not a graphics issue, there was a game code bug that was only exposed by the recent uptick in users. A fix is done and going out soon. You should swipe-kill the app on iOS to clear out any old slowdown as right now the bug can last for days once it is triggered.

The issue can happen on any speed device, from iPad Air 1 up to $5000 gaming pc, however the trigger to hit it is much harder to hit the faster the device is. It takes a 15000 person event to hit it on my personal gaming pc, but an iPad Air 1 may hit it in a 2000 person event."
In other words – no, it's not your supposedly old hardware that's causing this issue. Rather, it impacts everyone equally.
While I appreciate that Zwift has a million priorities, and that in some cases it is people's hardware – if there's anything that irks me more than anything else, it's companies blaming users for their hardware (which is what Zwift has done entirely about this issue to date).
In fact, you'll remember my (pretty extreme) irritation this past summer when Zwift was doing the virtual Tour de France and I was attempting to participate and running into these exact same issues. I was using a wide variety of hardware from a reasonably new and powerful laptop to a Mac to an iPad, all seeing crashes that cost me numerous rides. It even marked the singular time ever Zwift has crashed on Apple TV 4K for me.
To which the Zwift/others  answer was the common refrain of: It's your hardware.

To which I wanted to reply: Go eff yourself.

But in actuality, I replied: No, it's your game. You're inability to figure out how in a supposed massive multiplayer game there might actually be lots of people using said game.
Fast forward now, to the last few weeks, with the Tour de Zwift, that people are once again seeing this issue and thus ultimately getting Zwift to pay attention.
Anyway, my rant aside – point here being that if you've got a ride coming up this weekend, especially for the Tour de Zwift, do ensure you login well before the event to get the update for Zwift. Here are the current version numbers.
P.S. – Random Zwift Rowing Tidbit for you. As I previously posted about two months ago, Zwift has basically back-burnered any rowing plans. Eric Min re-confirmed that again in this same comment thread, saying "It pains me to say that our priorities are elsewhere at the moment and we can't commit to any launch of rowing. I have every hope that we will support rowing in the future but a date for that is something I can't commit to right now."
Suunto 7 Firmware Update: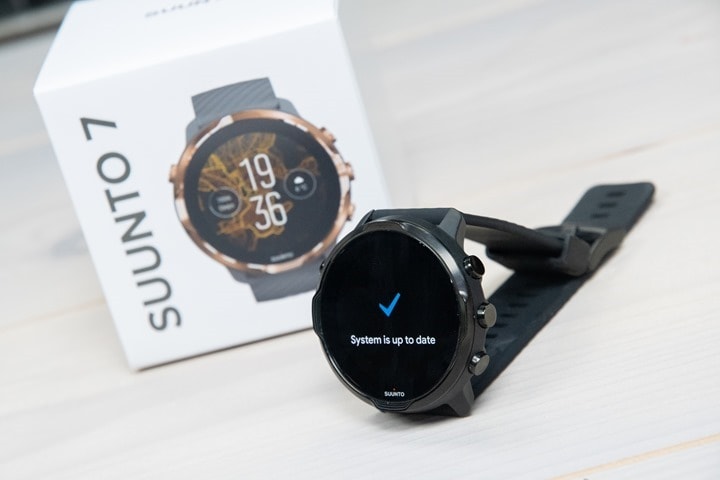 Lastly, we've got Suunto pushing out a new firmware update for their Suunto 7 Wear OS based watch. This update would come 1 year after the Suunto 7 was first announced at CES 2020. And it'd be about 5 months since their last update back in September, which added course following. You may remember I did some testing of that in the Swiss Alps video. Good times!
In any case, this new update is more minor than the previous one:
Navigation improvements:
• Route direction: Highlights the route ahead, helping you to anticipate the upcoming turns and know which direction to take
• Show custom waypoint names
• At waypoint notification
Good to see them tweaking routing bits. Though, I was secretly hoping we'd finally see Bluetooth Smart sensor support (HR sensors, cadence sensors, power meters). Oh well, one can dream.
I was also hoping I'd be able to show you these changes. But alas, despite trying for the entirety of today, I can't get my Suunto 7 to actually pull down this update. It just keeps saying it's already updated, when it's most definitely not and is still on older stinky fall 2020 stuffs. I've tried re-starting, manually forcing the update, manually disconnecting and re-connecting WiFi. Deleting WiFi and re-adding WiFi, sitting it atop an Oreo cookie as a bribe, syncing with the smartphone app for phone. No luck.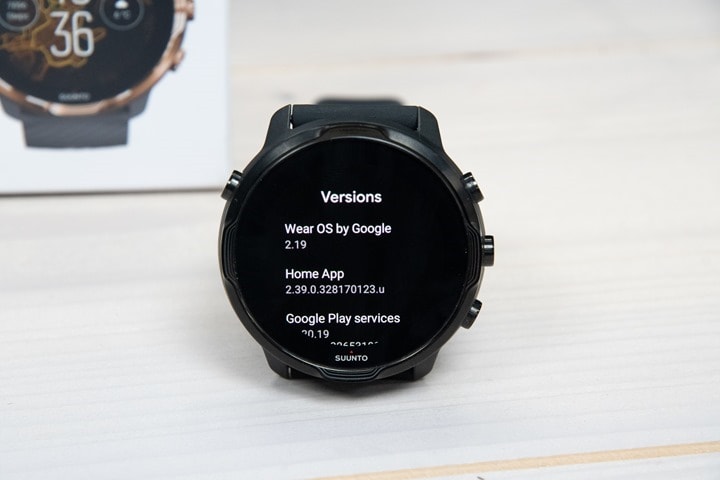 In any case – I'm sure if I give it a bit more time it'll warm up to the idea.
In the meantime, thanks for reading and have a good weekend ahead!