As we usher in July (already?), here's what I was up to this past weekend. Overall, for the most part here in the greater Amsterdam region, unless you were planning on partaking in some event, things are mostly back to normal, minus various social distancing measures that are easy to work within.  That includes the weather, which is consistently inconsistent, as always.
1) Zwift L'Etape du Tour de France Failures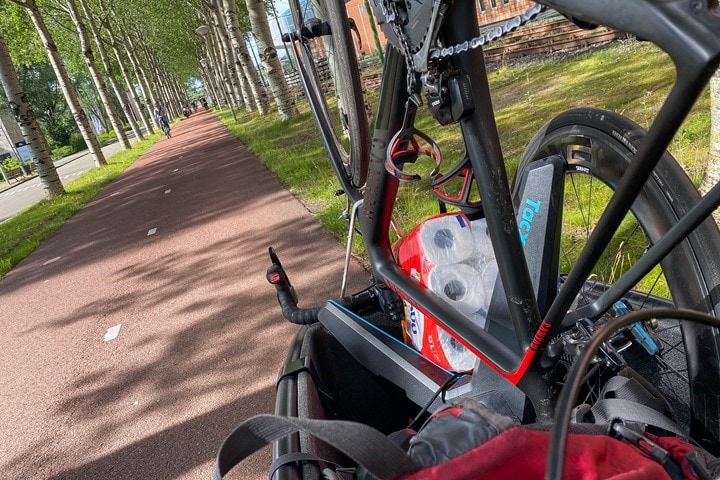 On Friday evening I brought home my road bike and another trainer. I usually use a Tacx NEO 2 (not 2T) at home, but I wanted to get some more mileage on the Flux 2.1 instead.
I kicked off Saturday morning attempting to participate in the Zwift L'Etape du Tour, for Stage 1. My first failed attempt at 9AM I'd chalk up to mostly my fault, as I got on my bike around 8:57AM, and by the time the app finished thinking about life, the group had already gone off. Though, I'd question why on earth Zwift can't just start me directly in the event starting pen, versus first starting me in another place on the world/map and then transporting me (which, is what ultimately pushed me over the edge).
So, I tried again at 11AM – this time getting there about 8 minutes early. I got off to a successful start: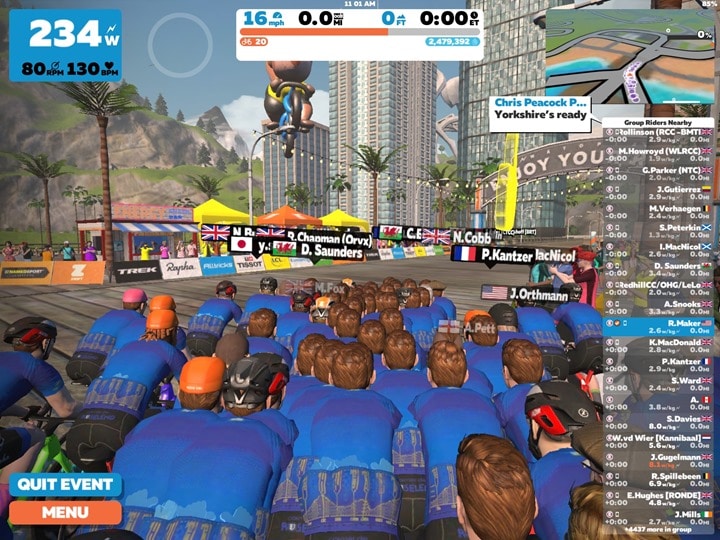 I was using an iPad atop a suitcase in our shed/garage thingy at home, along with a Tacx Flux 2.1.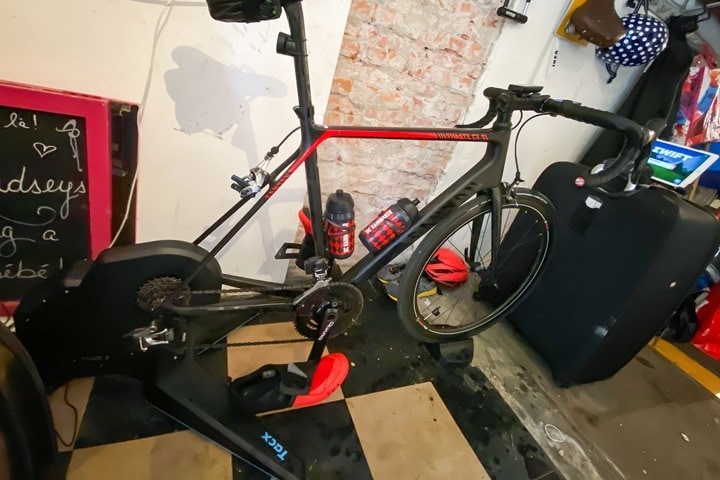 Was riding for about 25 or so minutes when a notification came in that didn't go away, so I tried to swipe it away…which totally failed and I ended up opening the notification app instead. Going back to Zwift basically froze Zwift in place. It'd do something for a second or two, and then hang.
This is me, showing it frozen, with 0 watts.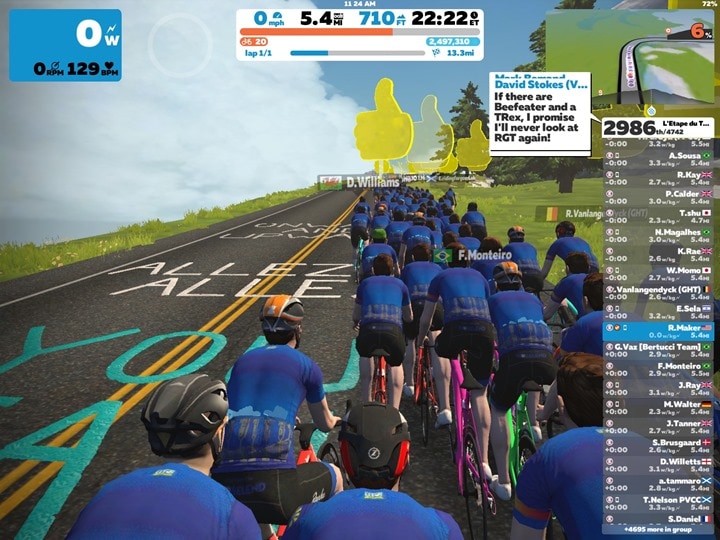 Mind you, this is pretty normal for Zwift on an iPad in events. I've seen this numerous times over the years.
So, after waiting a few minutes just in case, I killed the app and re-opened, at which point it asked if I wanted to resume my activity. Great!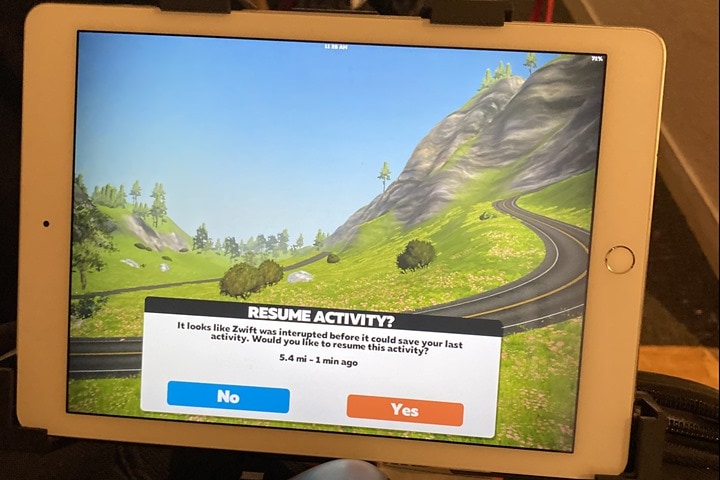 Except, no.
It resumed me on the map in regular Watopia, not the event.
Then, it asked me if I'd like to re-join the event.
Woot!
Except, no.
It then skipped me ahead a few miles towards the front of the pack.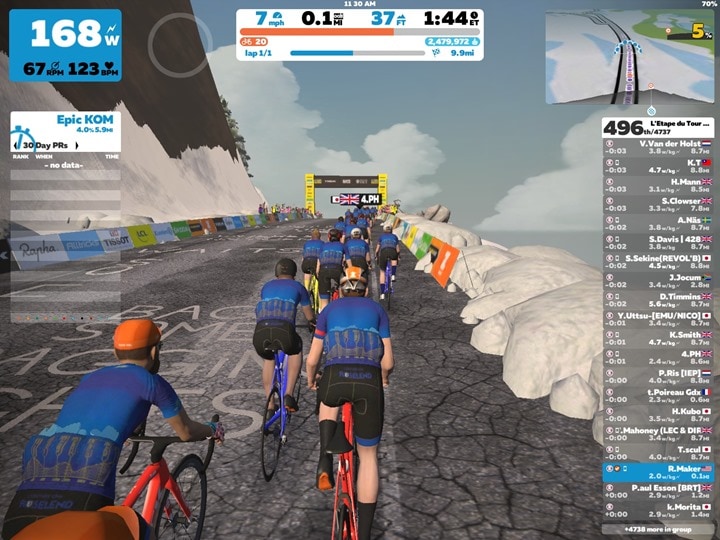 Why? Why on earth would, in an event like this, you ever skip me ahead? I don't want the 'free distance'. With 5,000 other people, there would still be people behind me. Or, if you really wanted to put me back towards the front, why not ask that first? Or just ask if I wanted to resume where I left off?
And here's the thing – no part of this is about processing power or lack thereof of the iPad. The iPad didn't freeze due to too many people. No, it hung because for whatever reason Zwift can't properly resume when it loses focus on iOS. And, let's pretend that's OK. Why, after restarting the app, can't it simply start me back where I left off? I'd have been OK with Zwift if it did that.
Sigh. I ended up finishing, but still have a giant gap in that stage. And I certainly don't care to attempt a 3rd go at that stage.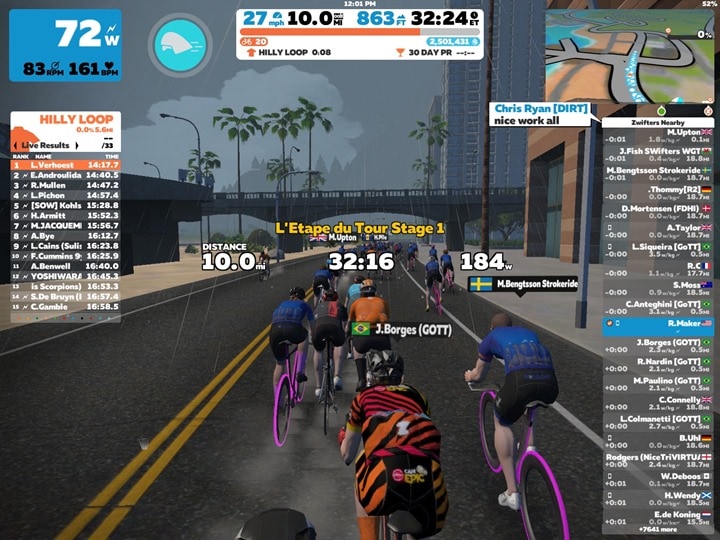 Oh, and I'm definitely not alone. And that's only the handful of people that even knew to complain there.
So, here's my proposal to Zwift management: Stop using swanky $5,000 Alienware PC's to ride your events. Seriously, just stop. Start using normal (non-Pro) iPad's and see how it works. Try it out on large scale events. This hasn't changed in years, it's still just as bad. Fix lack of background access to sensors. Fix lack of resumption during events.
2) Celebrating Cake
After my L'Etape failures, I ate cake.
The first four days of July each include a separate day of note in our family:
A) Canada Day
B) US Independence Day
C) Our anniversary
D) Peanut #1's birthday
Thus, everything got rolled together into cake on Saturday. Obviously, that cake was for her 4th birthday…or at least, that's what she thought. I mean, most Canadian's and American's celebrate those holidays with a mermaid cake – don't you?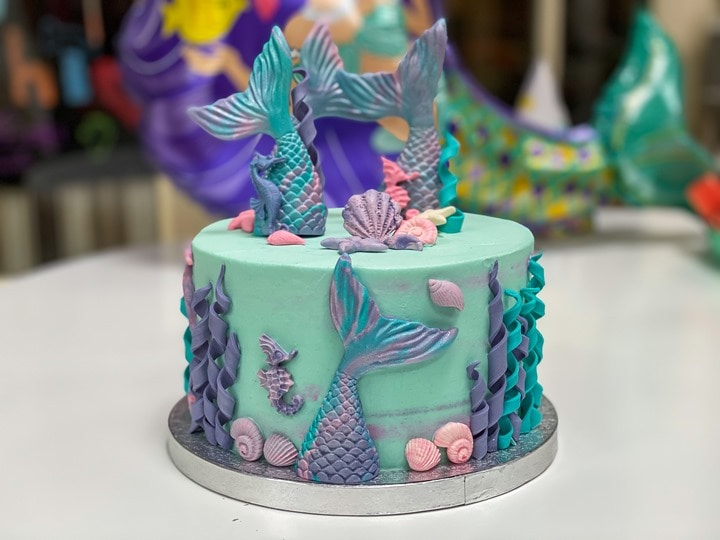 The Girl made the mermaid cake, because that's what The Peanut wanted for her birthday. It was chocolate with a crushed Oreo icing – just like what used to be served back at the Cupcakery.  Mmm…Oreos!
3) Running in The Rain
Sunday morning I went out for a run with Peanut #3. I'm reasonably sure this was her first run (she's 8 months old). Going into the run, I knew the weather wasn't exactly going to be all sunshine and butterflies, but I didn't really care. In fact, sometimes rainy runs are more fun (in the summer).
So, got her in a snowsuit and called it done: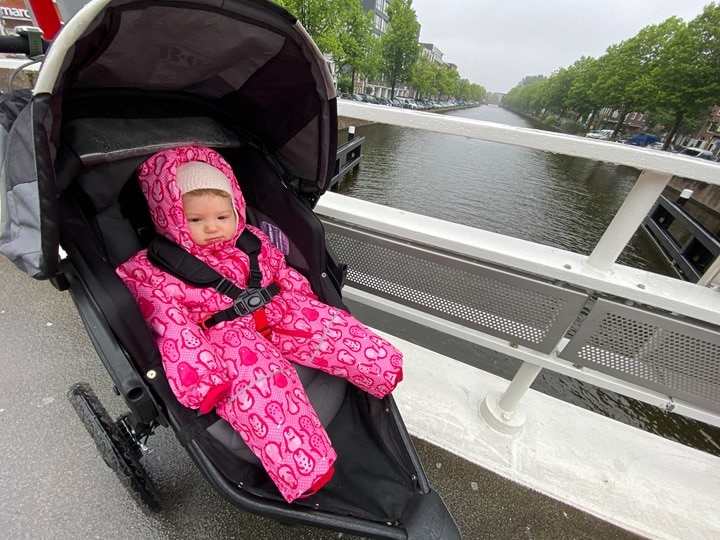 Then, off I went. First through Vondelpark, then to the Rijksmuseum (then through it), and then looped back around for another circuit in the park. All in, about 10KM in length.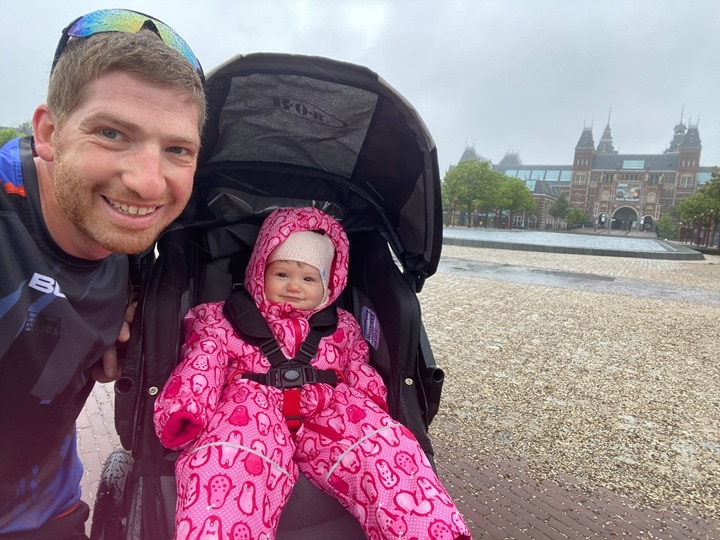 I had put a few watches on my wrist, and a few watches on the stroller. As usual, the ones on the stroller were mostly just collecting additional HR sensor data (one from a chest strap, another from a Polar OH1 Plus on an armband). Also, some GPS reference data.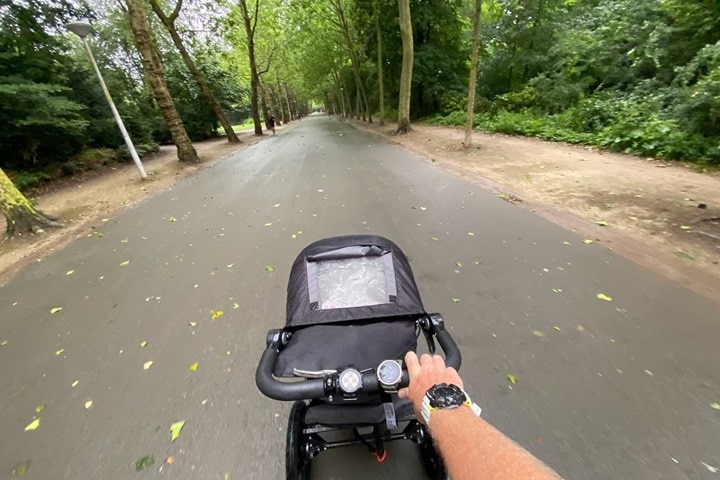 The wind was howling a bit too, with sideways rain as well.  But, all in – a nice run in the rain. Empty streets around the museum, and just runners on the paths in the park (with some socially distanced groups doing activities off on the grass).
4) Some Tour de France Virtual Watching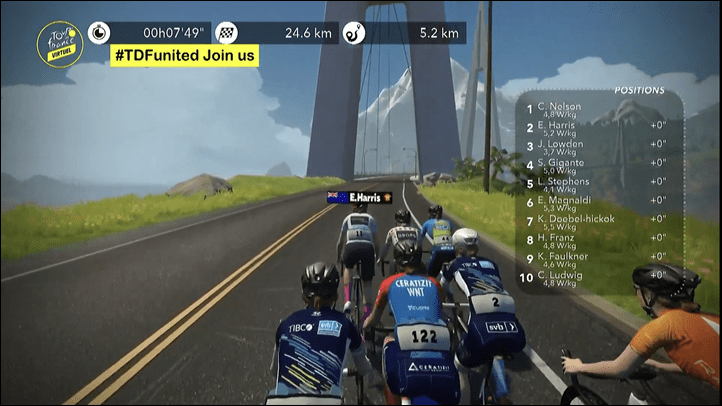 Later on Sunday I briefly watched a bit of both the men's and women's races for what was Stage 2 of the Virtual Tour de France. I had also watched a bit on Saturday too.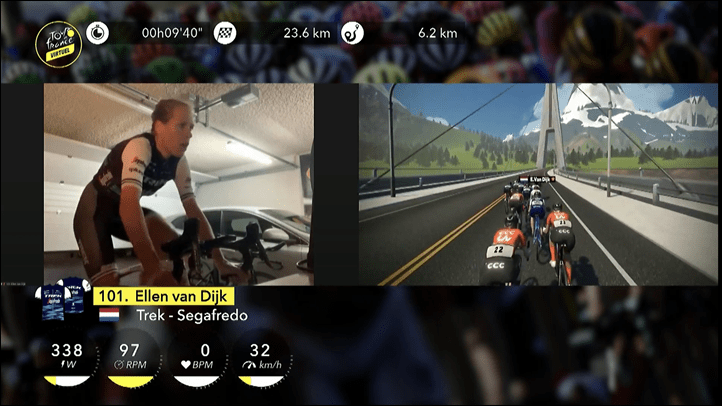 I'll probably actually watch the full stages over the course of the week in the background while I do other stuff, but honestly didn't really have four hours of weekend time to spare with the usual circus that is home with three Peanuts.
Though, I think the biggest impediment to me 'getting into it', isn't the virtual aspect, nor the graphics, nor even it being only an hour long. Rather, it's the concept that a given rider can't actually win the entire series. That's due to the restriction that a specific rider can only ride three times during the entire series (or four times for the women), it kinda takes away from the spirit of someone being able to 'win'.
I mean, I get it's supposed to be a team something or other – but…well…nobody is racing outside at this point, and nobody is 'saving' themselves for any other big event right now (certainly not one nearly two months away, if the real TdF actually happens). Again – I appreciate the distraction, I just wish it felt like more was actually on the line. I'll note of course that's fully likely an ASO or Velon driven restriction, and not one dictated by Zwift.
5) Goats, Cheese, and Bikes
I wouldn't exactly call the weather these past few days amazing.
But, after basically four months of sun – it's hard to complain too much (another few weeks though…and then I'll change my mind).
So, we finally got a couple hours of sun late Sunday afternoon and took advantage of it for a ride through the forest (Bos) to the goat farm.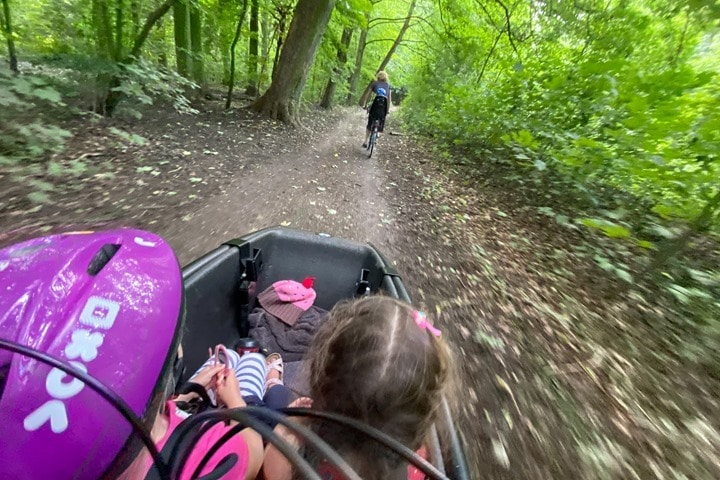 We've been here before of course, though it's been a while.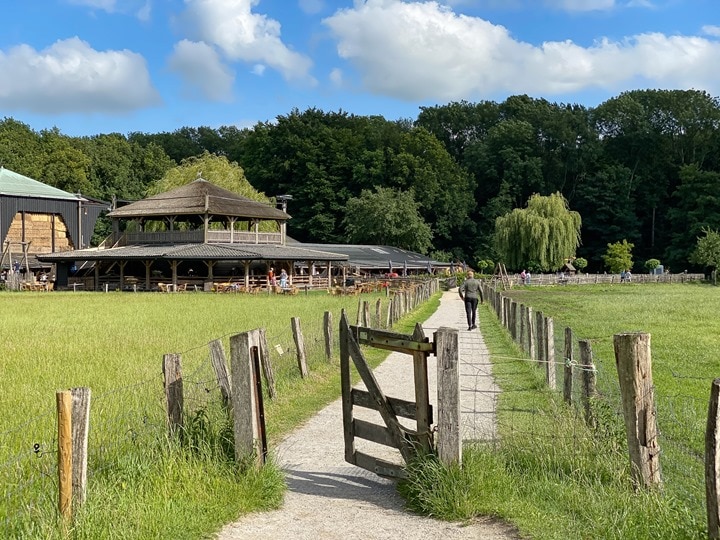 They've got roaming goats the kids can pet and baby goats that can be fed small bottles of milk.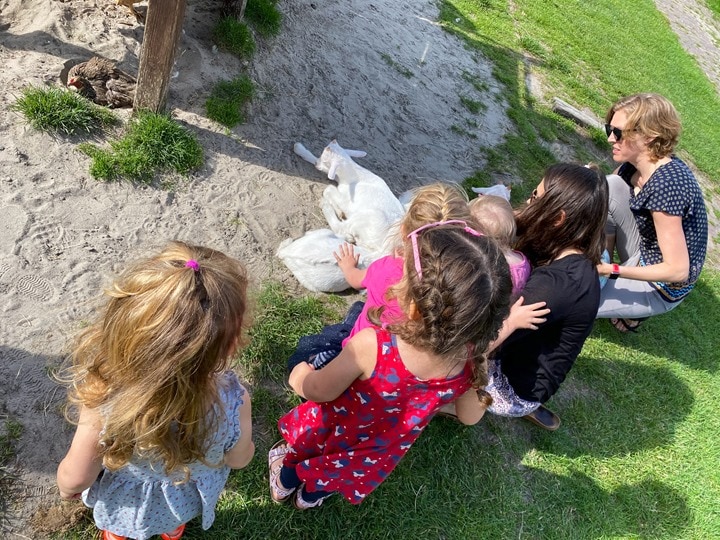 Previously to enter the grounds it was free, but with the lack of visitors due to COVID19, they've instituted a 2EUR/person fee. That's totally fair by itself.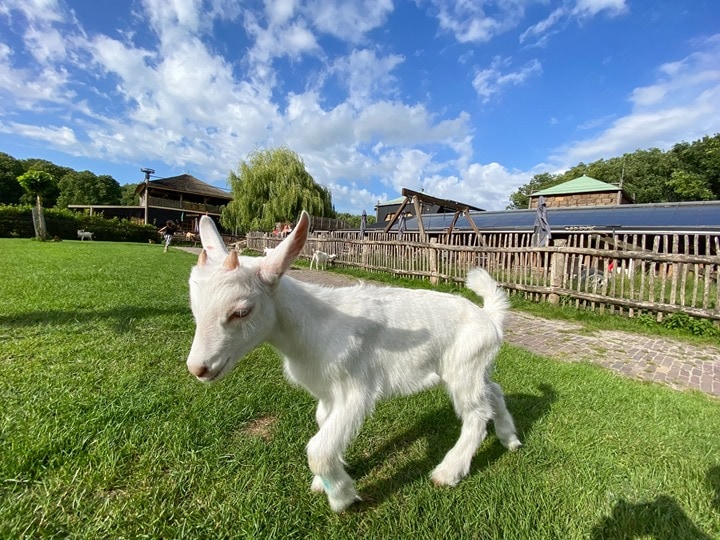 But what makes it an amazing deal is the 2EUR/person fee is actually just a voucher to the café/cheese store. In other words, it's just a totally valid excuse to buy fresh cheese from the farm.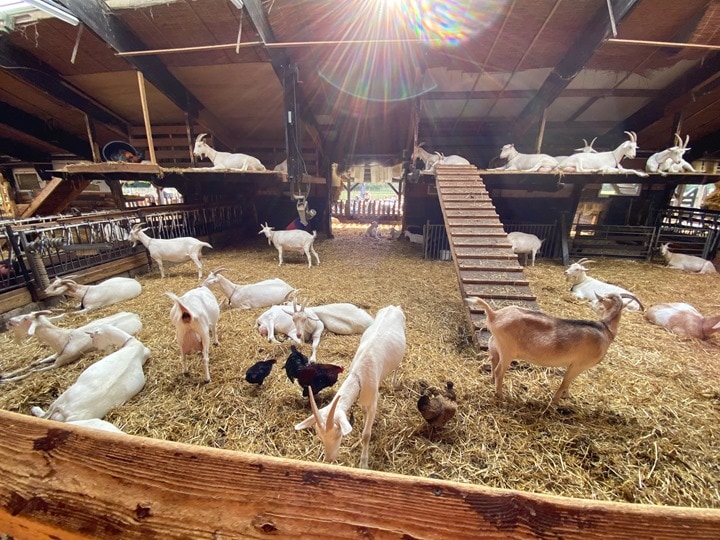 So obviously, we did that: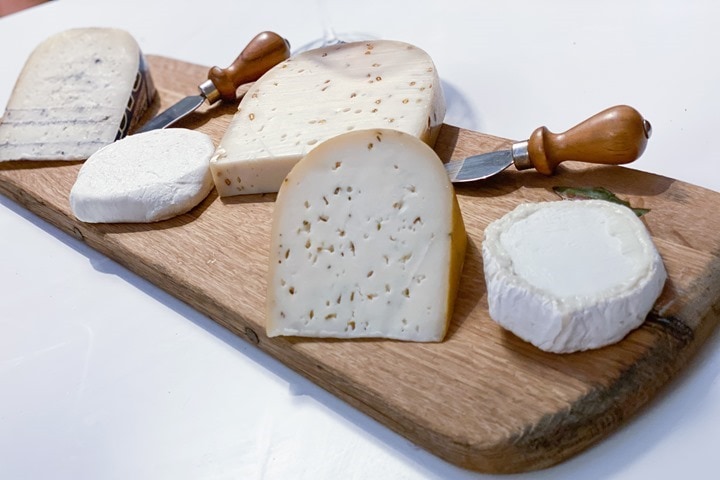 It's entirely plausible that we bought too much cheese. Maybe.
With that – thanks for reading and have a good week ahead!