Summer marches on! Sometimes that includes indoor activities, and sometimes that's including the great outdoors. But more importantly, sometimes that includes pizza. Here's what I was up to this past weekend.
1) Zwift L'Étape du Tour Stage 2
Well….right.
As you'll remember last weekend from this saga, during Stage 1 of the L'Étape du Tour, Zwift on my iPad crashed about mid-way through. That in and of itself wasn't an issue per se (well, it was, but whatever). Rather, it was the way Zwift recovers from that crash that sucks. This has nothing to do with iOS or hardware. Basically, Zwift puts you back in the same spot on the course, but not actually in the race. And then a few seconds later it offers to take you into the race, but then moves you way ahead of where you left off. Thus, you skip over large parts of the race. I completed the stage nonetheless. Also, plenty of you reported similar issues.
In any event, this weekend I tried Stage 2. This time with a mere 5-month-old Windows machine that's pretty well equipped. Once again, it *Zwift* crashed. Technically, it hung. I had set everything up well ahead of time, and was good to go. And yes, laptop atop the suitcase this week in the shed/garage thingy.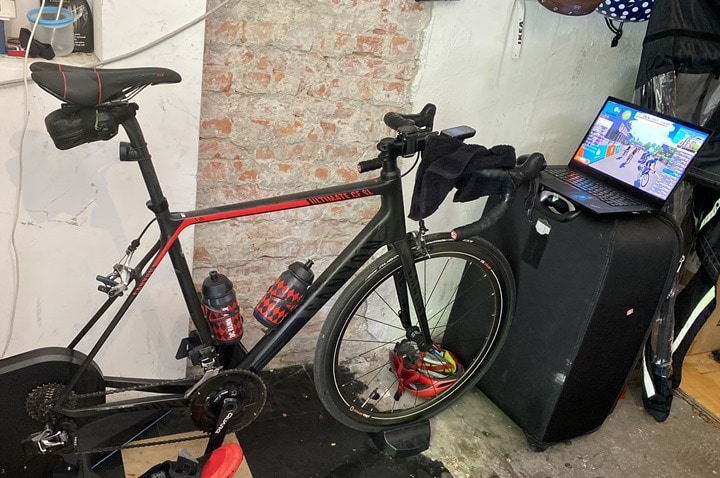 But then I noticed the Tacx trainer had dropped out of pairing for some reason a few minutes before the race when I got back to the bike. So, I simply went into the pairing, re-paired the Flux 2 over to ANT+ instead of Bluetooth Smart. No biggie. But then I saw the HR strap was off too (also originally via Bluetooth). So I went to re-pair that via ANT+ instead too.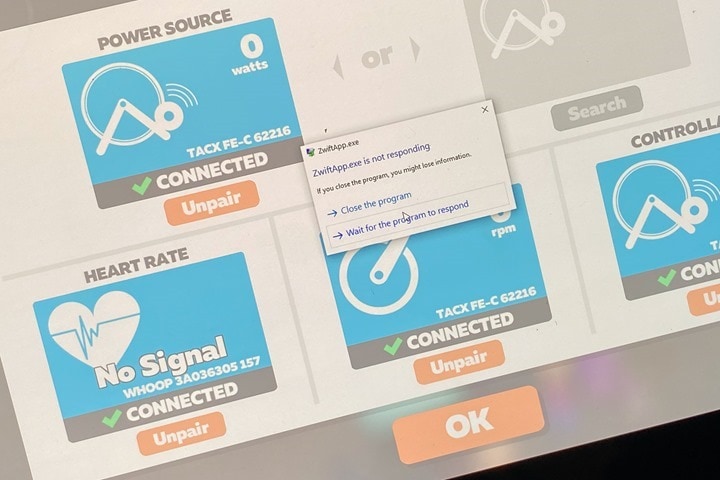 And then the app hung. I gave it a few minutes. Nothing.
I then switched to other apps. Nothing.
Eventually, I killed Zwift and opened it back up again. By that point, the race had left, and I'd lost out on my timeslot.
Now, in this case I'm pretty sure the underlying Windows Bluetooth subsystem actually froze. But that's not a valid reason to have Zwift freeze entirely. If that subsystem isn't responding, then don't hang your app forever. C'mon.
Two hours and another restart later, I completed the race. To Zwift's credit, the course is really nice, and clearly leaves lots of opportunity for expansion – both with respect to new roads, but I think also with respect to the roadside content on existing roads.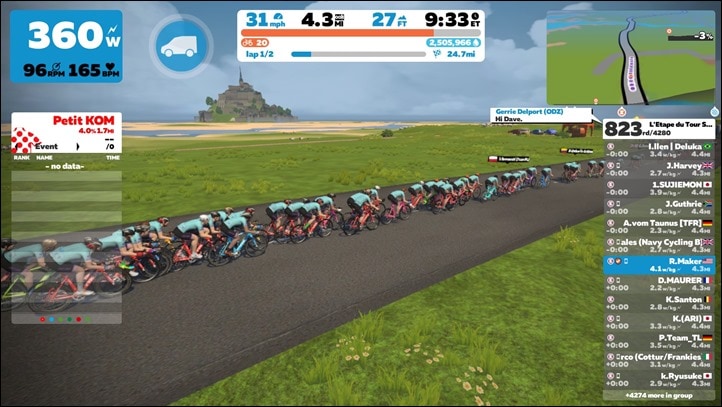 It's really well done: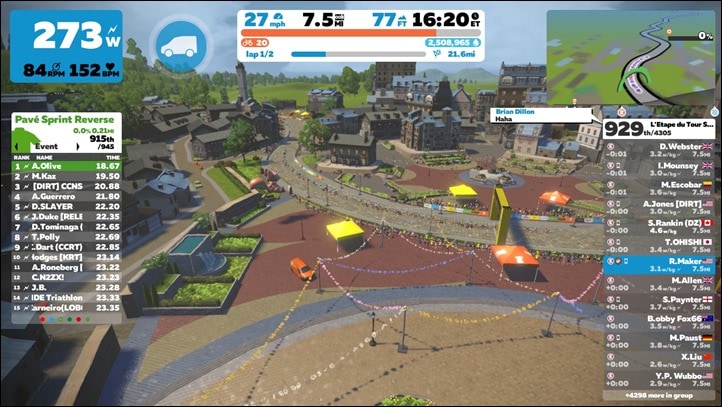 Some of the smaller touches like having the white van/trucks at the top of the climb are so realistic of a typical TdF scene.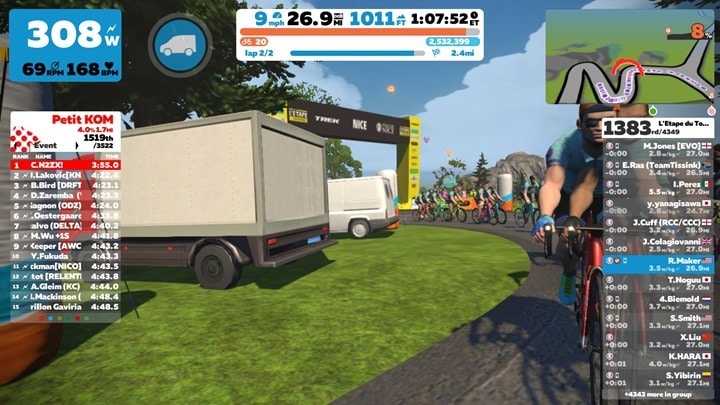 Well done there, looking forward to next weekend. Just…ya know…please don't crash again.
[And yes, again, I know that plenty of people, including myself, frequently ride Zwift without crashes. For example, I've never had a crash using Zwift on Apple TV. But that wasn't an option this weekend. I find large events are where the Zwift app crashes or handles crashes poorly. And judging by the in-game comments during the event this weekend and last, others often experience the same.]
2) Pizza & Non-Pizza
Realistically, we need more food in these posts.
Thus, I present you two items. First, pizza night with the kids. This is nothing special, we typically do it every Friday night. Everyone makes their own pizzas, and then they go on a generic pizza stone in the oven.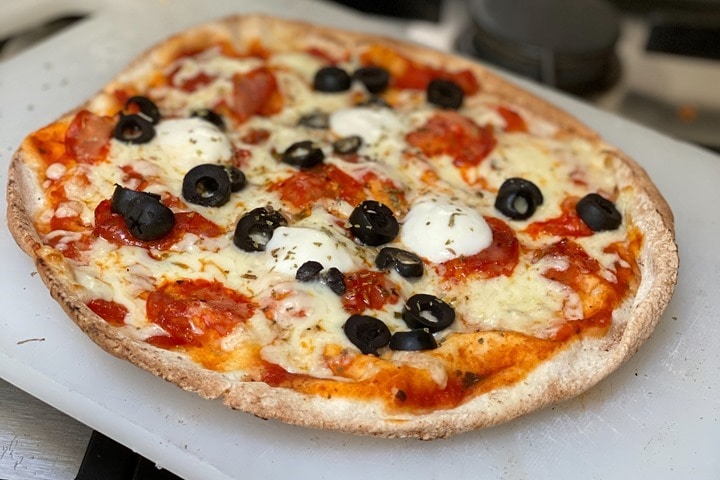 No, not a pizza oven. Just a stone for exactly 3 minutes. We've had a pizza stone forever. Someday…a pizza oven.
The next night though, we kicked it up slightly. I made two different dishes. First, this burrata dish, which sits atop prosciutto and then has a snap pea, regular pea, mint leaves, and then a microplaned bit of Parmigiano-Reggiano atop it.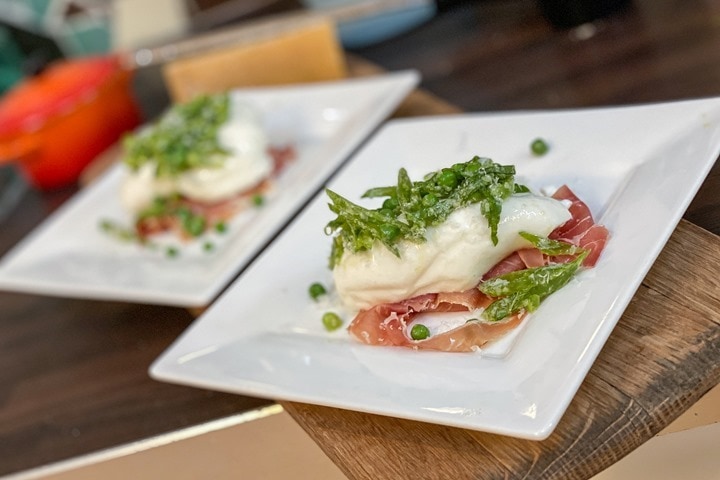 And then after that, I did a balsamic and rosemary marinade flank steak. Except…uhh…I forgot to take a picture of that. My bad. It was awesome.
Both came from the Mozza, by Nancy Silverton.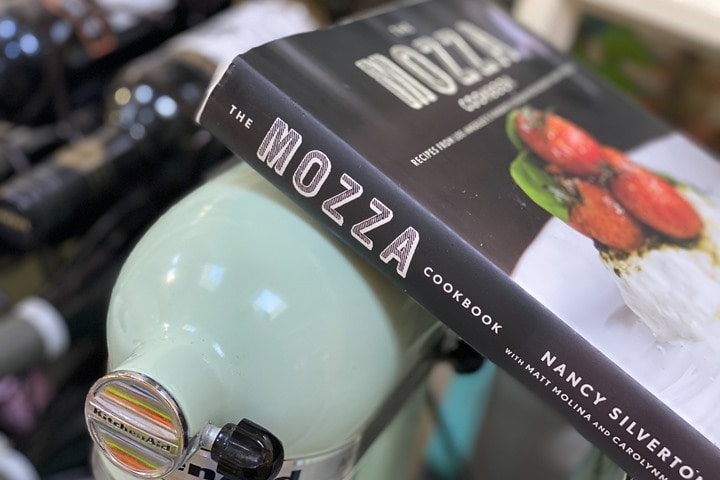 I've had this book around for years (apparently 9 years according to Amazon), and it doesn't disappoint. The burrata dish is one that takes probably 10-15 minutes total prep time, so it's pretty quick and easy.
3) Watched Athlete A
When we lived in the US, we were a mere one mile from the movie theater. Easily walkable in fact. But after moving to Europe, we rarely go to the movie theaters (well before COVID-19). Typically that was language-driven, but sometimes also release-schedule driven. In the case of languages, while subtitles are fine, we'd prefer to watch an English movie in English. So when looking through movie listings you'd want the tiny "v.o." next to it, which meant "version originale", which in turn meant (in our case), the movie was shown in English as originally filmed.
Since moving to the Netherlands…well, honestly, with three kids now, we just haven't had all that many date nights that we wanted to burn watching just a movie.
Point being, we now watch slightly more movies on Netflix instead. And this weekend was Athlete A. Here's the trailer:
It's one of those movies that you think you know the story, having seen the headlines over the past few years (but perhaps not really read much beyond that). But this is nuts.
I'd encourage anyone to watch it, but especially anyone involved in sports at a performance level, and also especially anyone with daughters. Absolutely bonkers and infuriating.
4) Biking to the Zoo:
With as much normalcy returning to the Netherlands as possible, especially over the last 5-6 weeks, one of those things is the Zoo. However, like many tourism-driven spots in Amsterdam these days, in order to go to the zoo you need a reservation ahead of time. No biggie, we just went online and did it last week for a Sunday morning time slot. Plus, being annual members we've gotta get our usage out of it!
After a week or two of mostly rain, it was finally a nice morning out for a ride across town. We ended up putting P1 and P2 in the cargo bike, and then P3 on The Girl's bike.  The trek across town took about 20-25 minutes, through parks, protected bike lanes and dedicated cycle tracks. You can watch the short time-lapse below:
Once there we did the things you do at the zoo.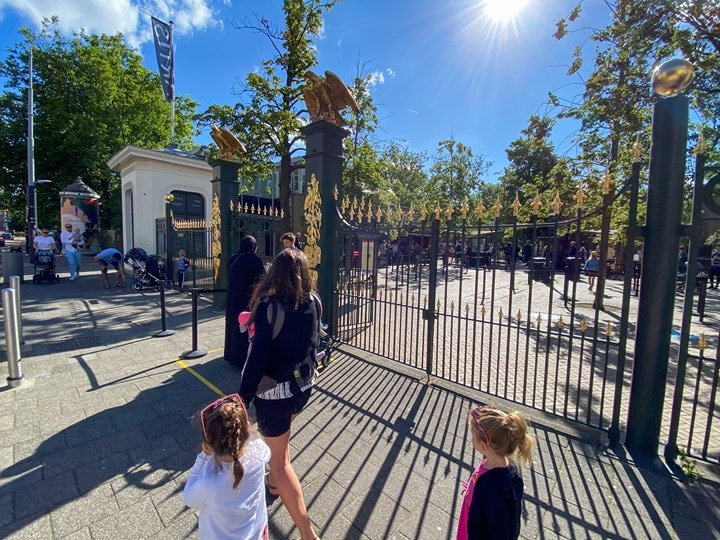 It's certainly different from before. And I'm not just talking about the baby elephant born two months ago there: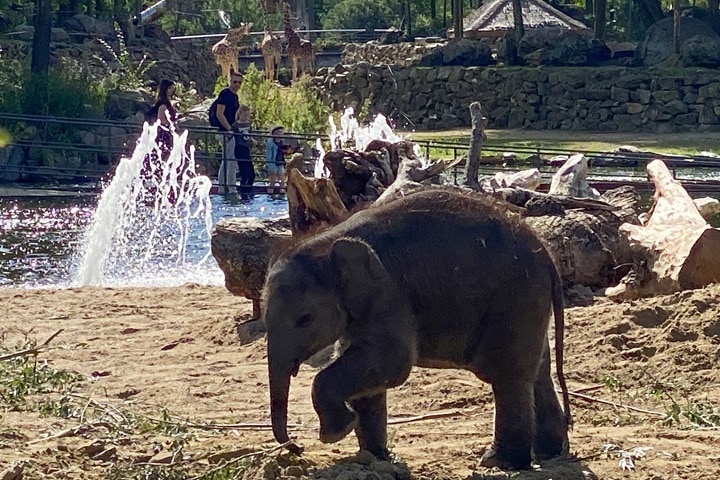 No, rather, how the Zoo is structured. Effectively they route you one-way through the entire park, no going back upstream. There's a handful of animals you can't get to, and they've taken away all the kid carts. Also of note is that some exhibits where you could walk freely with the animals (namely the lemurs and wallabies) were closed to people. Presumably to protect the animals from getting COVID as well.
But none of it was a big deal. The kids had a blast as always.
Then we rode home, back across the city, stopping occasionally to check out the sights.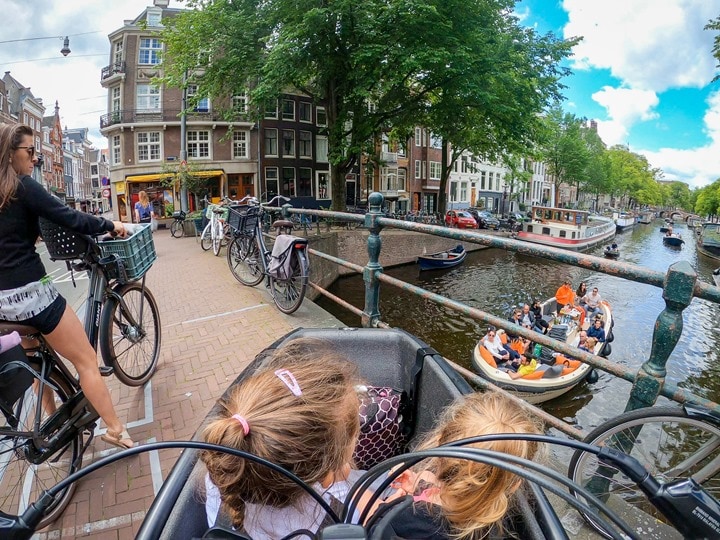 Now, it'd be appreciated if we could have just a few more weeks of sunny weather. Not asking for beach temps, just…ya know…sun.
5) Not a DCR Open House

A year ago this weekend there was the first DCR Summer Open House. That included a morning bike ride followed by some BBQ and then the full open house. That was in addition to the annual winter open house we've always done in December for many years in both Paris and Amsterdam. Obviously, that couldn't happen this past weekend. At least, mostly.
See, there's one individual that's managed to make it to *all* the DCR Open Houses but one. Yes, even the Paris ones. Harry is awesome. And he even lives here in the Netherlands. So this weekend he made his own DCR Open House ride. A mere 150KM of it! He started from somewhere down south, and then did a bit of a loop up towards Amsterdam and swung by the DCR Cave to get a photo there. Being Saturday afternoon, I wasn't there at the time – but that doesn't make it any less awesome.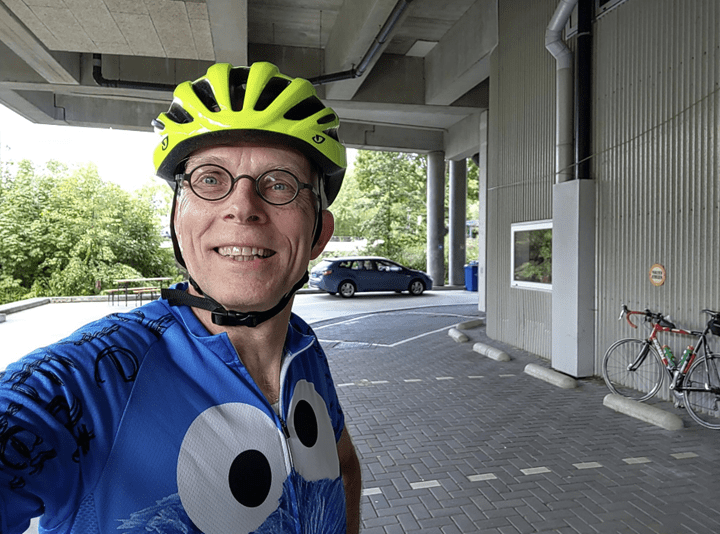 So kudos to Harry. I'm pretty sure this means he can get extra credit for the one open house he missed many years ago in Paris.
Thanks for reading, and hope to see everyone at a real open house at some point when it's all safe to do so!