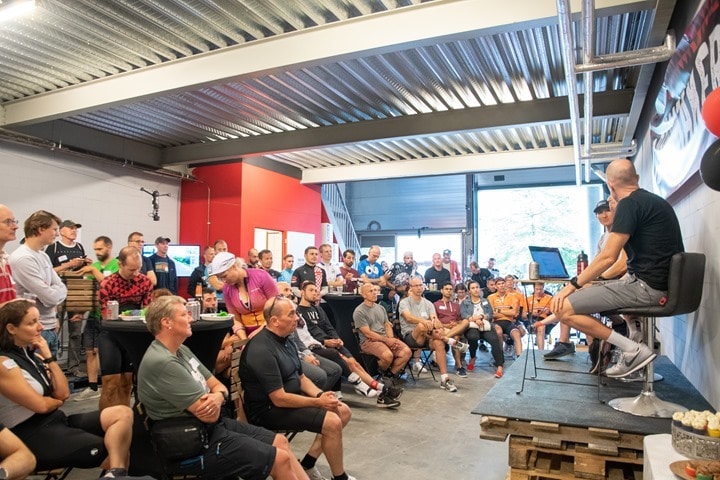 A hop, skip, and two weekends ago was the first ever summer DCR Open house. Technically the 6th open house if counting all the previous Paris and Amsterdam events, but this one was quite different in that it was held on a warmish summer morning/afternoon rather than the usual miserable rainy and cold December evenings. And we did our first ever group ride.
Of course, we also kept to tradition with plenty of giveaways, cupcakes, beer, and an assortment of food (despite our butcher's best attempts otherwise). Oh and yup – both GPLAMA (Shane Miller) and DesFit made the trek over as well. The event wouldn't be complete without them!
The Morning Ride!
Ever since the very first Paris open house we've always done a morning run. But with Amsterdam being the cycling mecca it is, we figured it was time to break the mold and organize a group ride. This of course was fraught with ways it could go horribly wrong: It could heavily rain out (always complicated with a group of mixed abilities and nobody knowing each other), we could get lost (despite my 6 GPS devices), we could run out of windmills to take photos of, or a drunk cow could get loose and crash into the group. All totally plausible. Thankfully, most of that didn't happen.
We met at the The Cave around 9AM, with the intention of setting out at 9:30AM. I had rented a slew of bike racks from the folks behind the TriHard triathlon series. Turns out that finding places to rent bike racks for events in the Netherlands is surprisingly difficult. The bike infrastructure here is so good that most business already have racks out front. But holding 50-75 largely high end 'race/road' bikes is a bit different.
The folks at Precision Hydration (our first and newest FIT File Podcast sponsor!) also hooked everyone up with piles of hydration product (and a 15% discount, also findable in the podcast show notes), woot! We'd be recording a live podcast session a bit later. But more on that in a minute.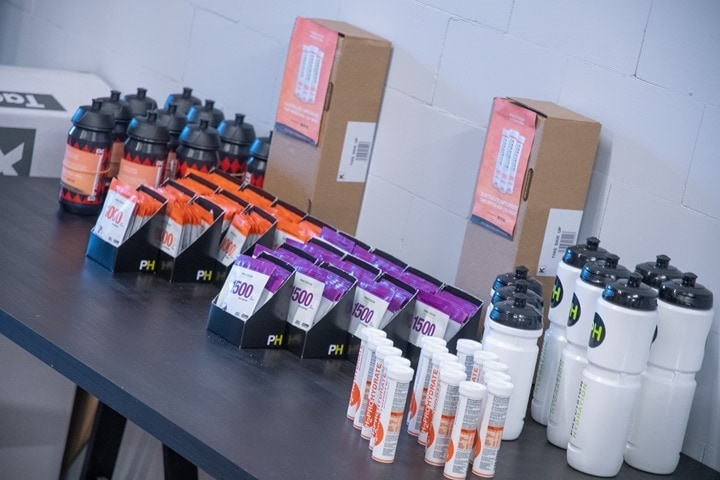 And everyone that came got a DCR water bottle as well. My latest order had just arrived the day before, as we had gone through the majority of the previous order (no, Tacx didn't sponsor this or anything else, we bought these).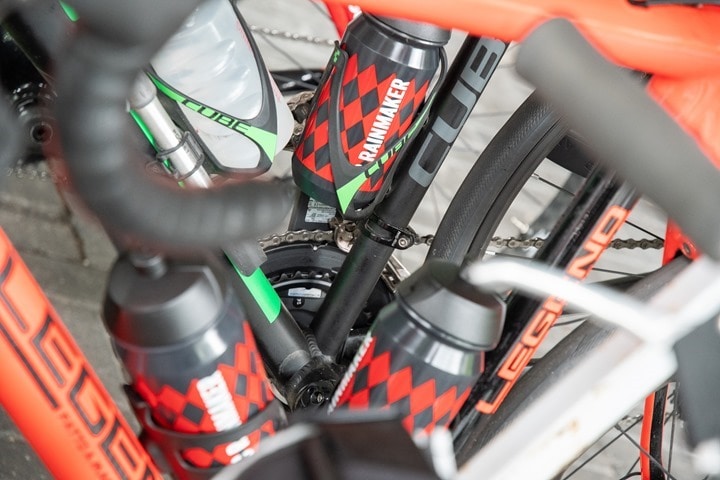 While I was out running errands, Des, Shane, and Von decided to build the Great Wall of Bottles. No relation to any other built or unbuilt walls.
With everyone all set we did a quick ride briefing before heading out. The usual: Stops required at all windmills for photos, avoid hitting small or large livestock, and keep things rubber side-down.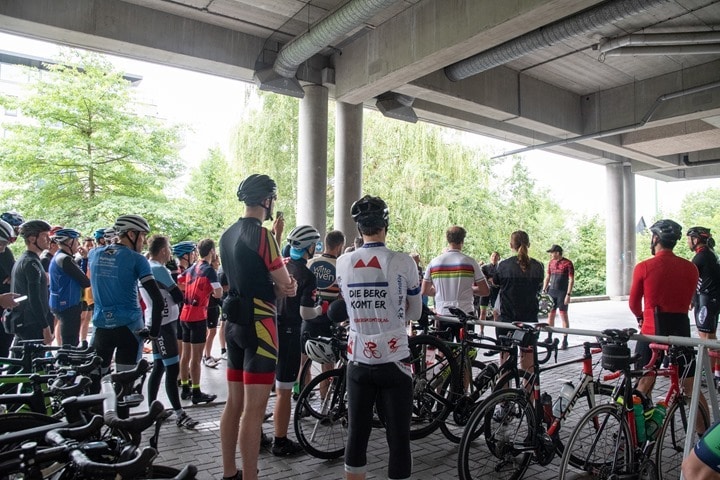 Then we headed out and crossed the street a few hundred meters away to allow everyone to get proper GPS reception.
Can't have no bad GPS reception tracks for the start of an event like this (the DCR Cave is literally under a gigantic concrete building, GPS reception is a non-starter).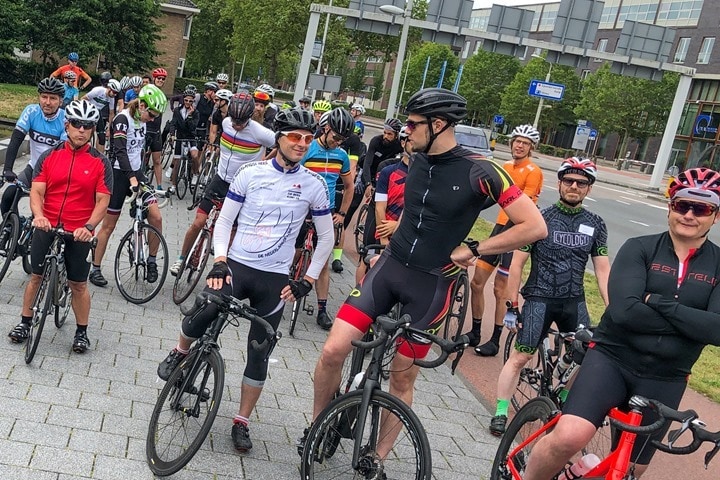 After that it was off to the countryside! It's only a 5-8 minute ride until we were riding along the Amstel River towards our first windmill. Due to just enacted regulations in the Netherlands, I was careful to properly stop my bike before taking any photos. Thus there are slightly less photos than you might otherwise see.
We had split the ~55 people who signed up for the morning ride (like usual, only a portion of the people signed up for the ride) into two groups. I'd lead the first, while Shane and Des rodeoed the second group. We spaced them only about 2-3 minutes apart, enabling us to get one big group picture in front of the first windmill we saw, easily: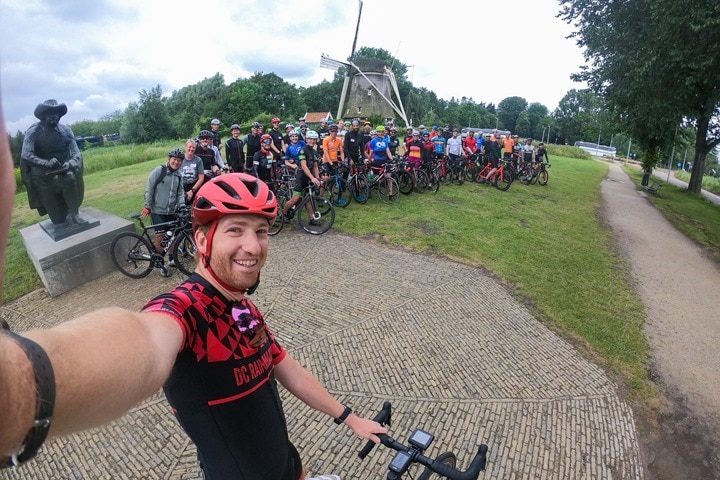 Once that was complete, it was back to the river and out along the famed Ronde Loop for our journey. It was great rotating through the group and chatting with everyone. The roads out there are super quiet any day of the week, but especially on a Saturday morning. Usually only a couple of cars is what you'll see.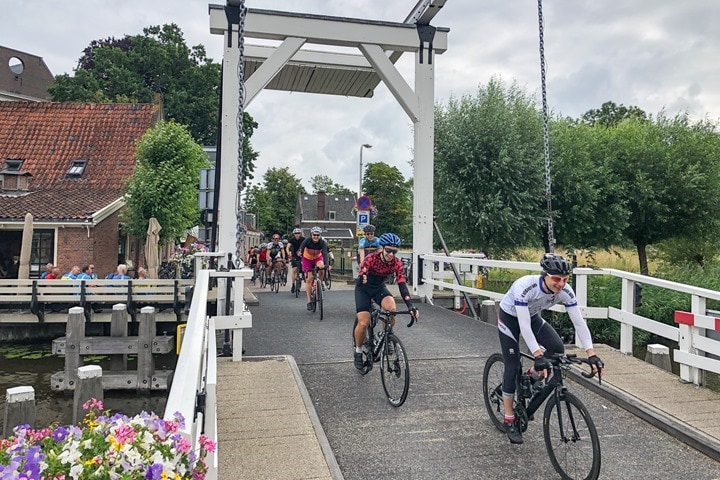 I sprinted ahead a bit to get a shot of the first group rolling past: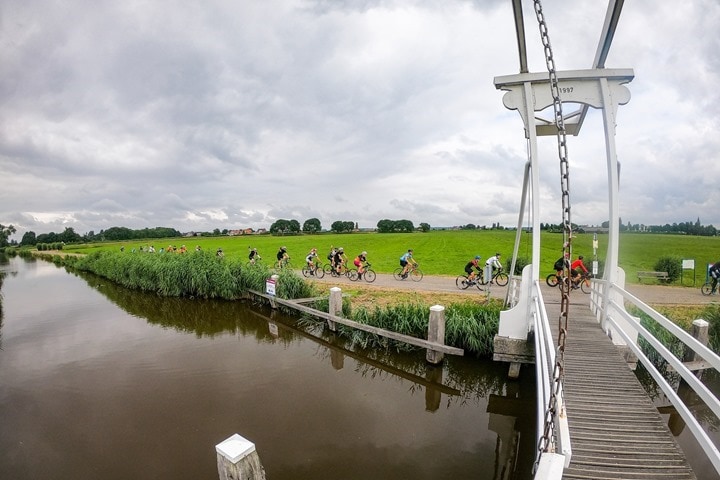 I think at some point there might have been a sprinkle for a few seconds, but we lucked out weather-wise. Later in the day it'd get a bit sunnier. But hey, it wasn't raining! Here's a few shots of the second group rollin' on by!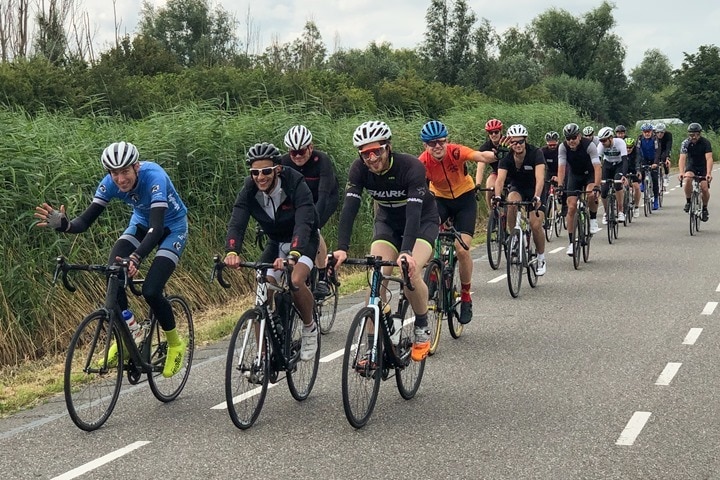 After which I did my best interval impression to catch back up to the main group. Thankfully a few folks in there knew where they were going, so we didn't have any navigational fails.
And of course, here's another windmill shot: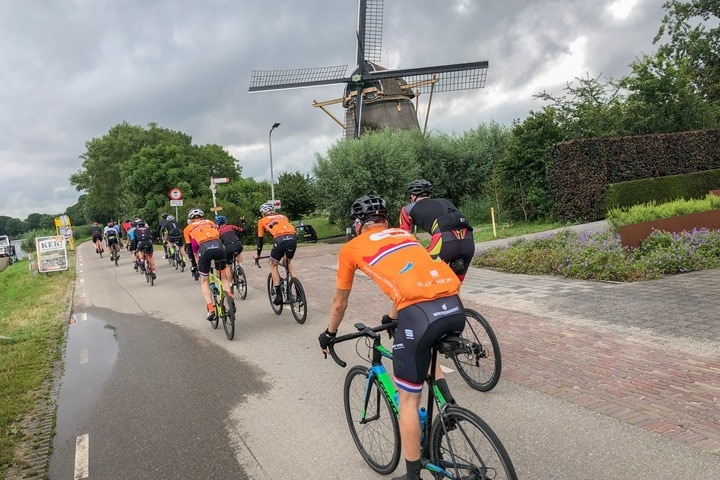 Can never have too many windmill shots in any Strava upload from the Netherlands.  We all cruised back to the DCR Cave around 11AM, separated by only a few minutes and without any livestock issues (that I'm aware of). Though Shane did post to Instagram stories a surprisingly long interaction with some baby farm animals.
See, it's like you were there on the ride!
The Open House:
With everyone back from the ride, The Girl was running the bar and there was an assortment of goods out and about to eat.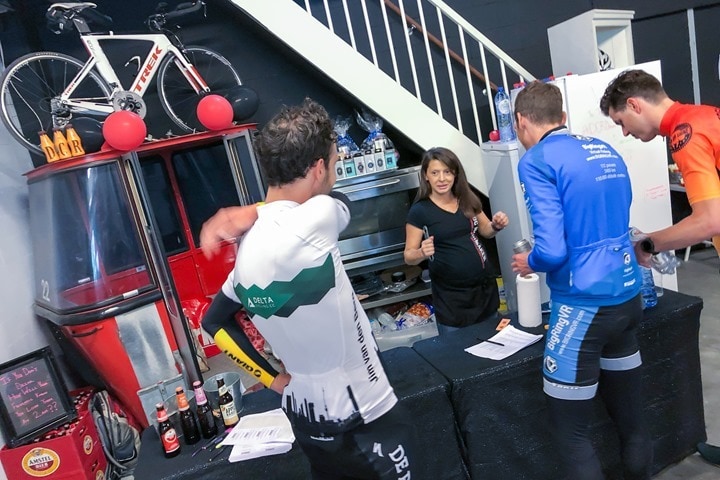 She had made something like 500 or so cupcakes, which is apparently only barely enough for 150 hungry athletes. Pic of that a bit down below.
Though, it didn't entirely help that our butcher (who was doing the BBQ'ing) was following in step with technology companies in terms of product delivery delays. They were supposed to deliver some 800 wings at 10:30AM. Reality: 150 wings at 11:20AM, with the rest 'to come over the course of the afternoon'. Sigh. No matter how much planning you do and double-checking you can't win them all.
While people were out and about eating goods downstairs, they were also exploring the main portion of the DCR Cave upstairs. The downstairs is essentially a warehouse space, while the upstairs is where all the gadget goodness awaits!
I had both a (final production) Tacx bike there for folks to try side by side with a Wattbike Atom. Downstairs was the KICKR+CLIMB, and the CycleOps H2 with their prototype rocker plate.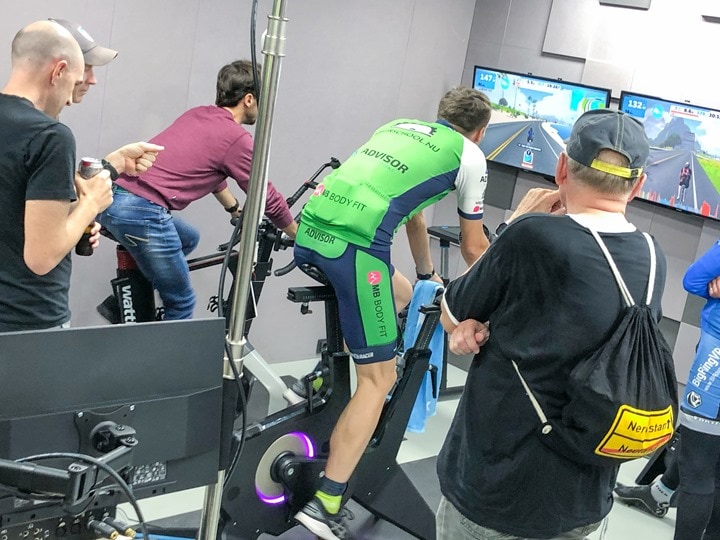 All in, guests would do some 18.3mi/29.5km on the Tacx bike during the afternoon:
Of course, we also had a pile of giveaways from Clever Training UK/Europe as well. They sent over a bunch of watches, though, we also had a bunch of extra leftover watches from the December open house after a some shipments got caught up in the mail and a few last minute shipments were sent to try and make the event. More for everyone then!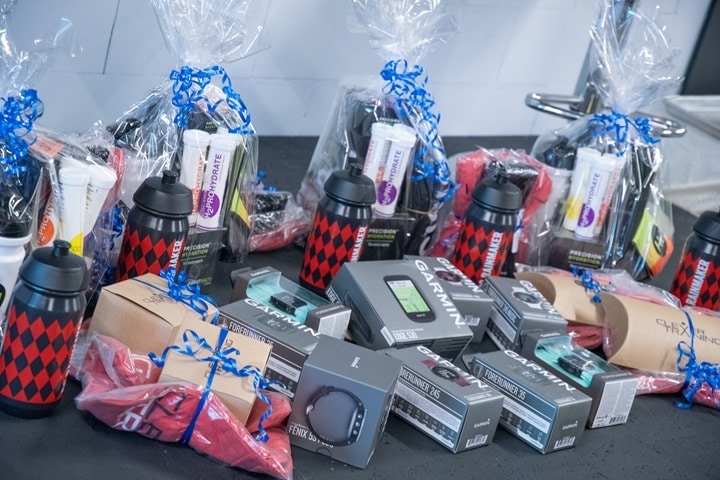 We first gave away an Edge 530 to people that went on the ride in the morning, and then from there we did random giveaways for most of the remainder of items. This also included a sweet set of prize packages by Precision Hydration as well.
However, there were two watch giveaways I did based on people's posts of photos to social media with the correct tag. For the first one I gave away a set of his and her watches to Magda & Michael – partially for their great photo, but also because while they had lined up a rental bike for the morning ride (they were backpacking across Europe), the rental company fell through. So instead they got pulled into The Girl's volunteer prep crew getting all sorts of things ready during those two hours. From cutting vegetables to organizing cupcakes. They were awesome!
Then I gave another pile of goodies out to Paul Waye for his great gallery from the ride:
Though there were plenty of other great tagged photos on Instagram as well. So here's a few:
View this post on Instagram
View this post on Instagram
With the first round of giveaways set, it was time to start a 'live studio audience' recording of The FIT File podcast. We've never done that before, but it turned out awesome. We had our usual run of weekly sports topics, including our visits to both the Tour de France and Giro Rosa that week, as well other news like the Strava/Relive fiasco. But after each one we took audience questions on it. Then at the end we took any other random questions.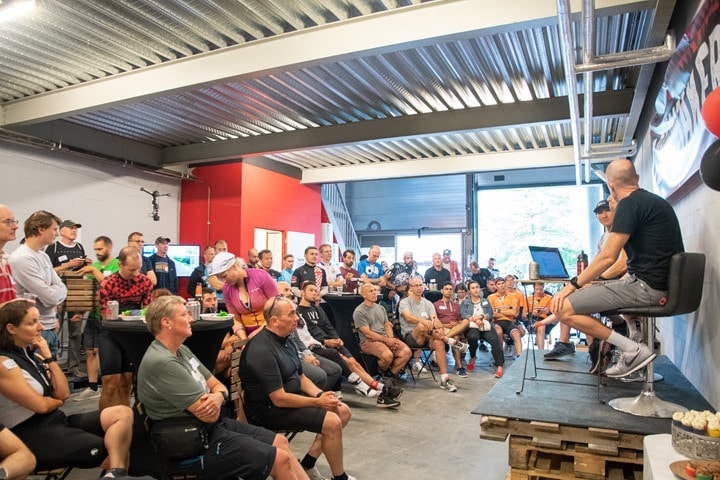 It went really well! And you can listen to the full episode here on the podcast page (or via your favorite player).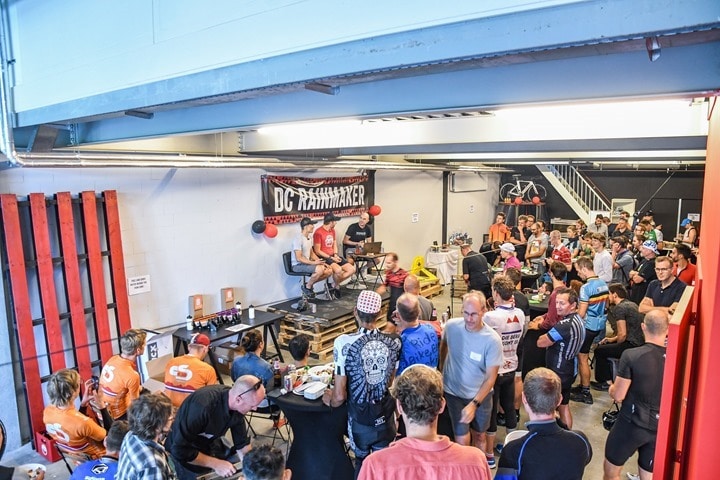 Once that was all wrapped up it was late afternoon and time to call it a day!
However, once again like years past I need to leave you with a pic of Harry and I. He's made it to 5 out of 6 DCR Open Houses AND Open House Runners/Riders – the current record holder! Plus, he won something this time around. Also, he has an amazing cookie monster cycling jersey: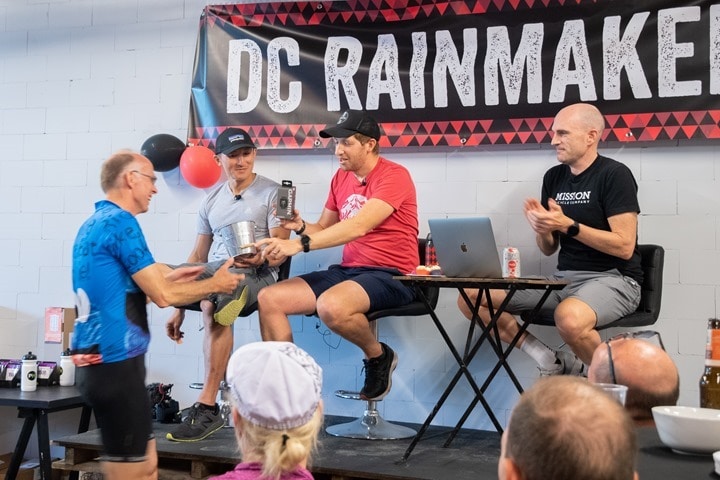 Oh – wait – a huge thanks as well to Des of DesFit for all his help. Sure, he ate the leftover cupcake icing: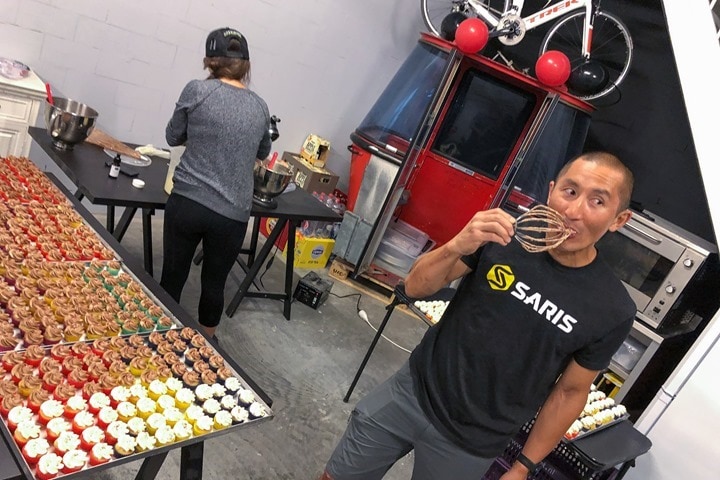 But he also jumped into the recycle bins too, and did countless other less than desirable things cleaning up.
And then there's The Girl as well – who organized almost everything at the DCR Open House. From painting the entire place in the couple weeks prior (compare it to back in December), to baking all the cupcakes, to going and getting all the food and organizing vendors, giveaways, etc…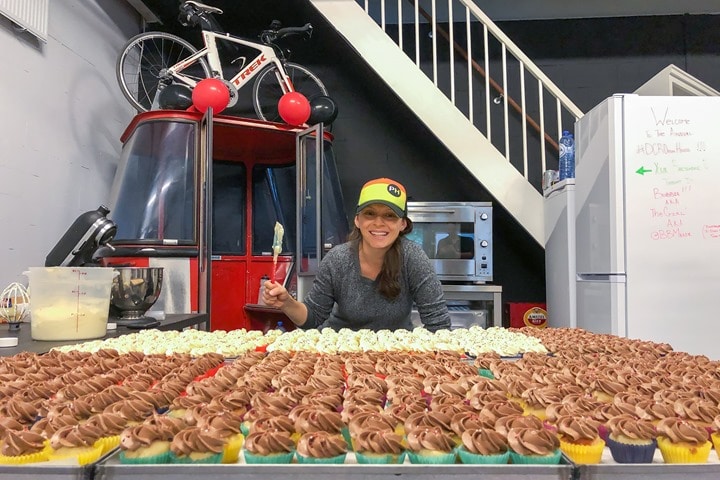 Then of course there's Shane and Von. They both did tons of setup and during event things, including stealing the yellow jersey Tour de France Tacx Neo 2 trainer from Tacx. I guess he thought it'd fit in his luggage or something. In turn we stole a few more pallets from our neighbors and built a fancy stand for it.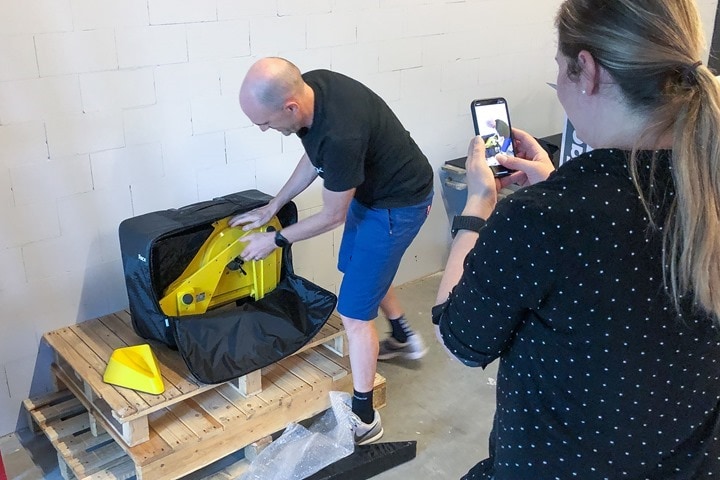 And last but definitely not least – thanks to Erin and her husband Dawie (both readers and close by friends). They made it so you can pee in the dark. Or rather, not be in the dark. The lighting fixture in the bathroom died and Dawie came in on emergency call to not only replace that light, but wiring up secondary light now. Let there be crap lighting! I mean, the lighting is great. Never mind, you know what I mean.
And in case you were wondering – the last set of wings from the butcher finally came as we were closing up. So we took them home and had dinner on the floor, campfire style. Donut plates optional.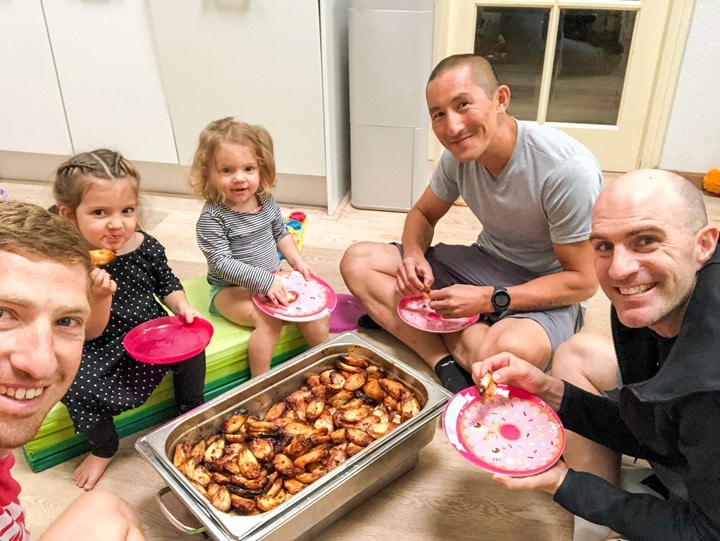 With that – looking forward to seeing everyone in December for the annual winter version. We'll aim to finalize the dates earlier in the fall this year, but historically it's been the first Saturday of December, with a run in the morning too.
And of course – a huge thanks to everyone who flew, drove, trained, or peddled to the event – in some cases from very, very, very far away. It was awesome meeting and chatting with everyone! I'm always humbled by getting the chance to talk with all the people behind the screens that quietly (or otherwise) read and watch my ramblings.
Thanks again!