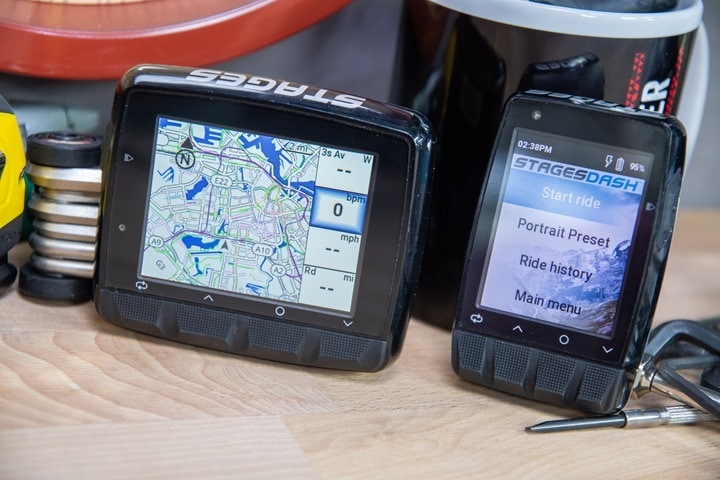 It's been nearly a year since the Stages Dash L50 & M50 started shipping, back in June 2019, which was almost a year after they were announced at Eurobike 2018.  To say both the product and this review have been on a long road would be an understatement. During that timeframe the Dash has received numerous updates, including features like Varia cycling radar support and an improved app. The remainder of the numerous updates have been largely on fit and finish, more so than dramatic new features.
More than that though, the Stages Dash L50 and M50 are the company's first color display bike computers. They are not however the first bike computer the company ever made. That honor went to the original black and white Stages Dash (which has since received upgraded internals and become the Stages Dash L10). The 'L' designator indicates a larger size, while 'M' means a medium size. The 10 or 50 portion of the name is simply the series identifier. Thus the L50 and M50 are of the same series in two formats.
When it comes to structured workouts, Stages has largely dominated that front. Renewed interest from Garmin and Wahoo may be challenging them – but the deeper you dig into the Stages Dash ecosystem the more you realize how deep it really goes. Inversely, this is Stages' first go of mapping and navigation, so in this review I explain where the product is, and isn't. Priced at $249 for the Dash M50 and $299 for the L50, they're at a similar price-point to the Wahoo BOLT (just reduced to $229) and Garmin Edge 530 ($299). But how equal are all these units?
That, I set to find out.
Stages sent over a pile of Dash media loaner units to test. Including an even greater number of mounts. My dog now has a mount on it. Once I've wrapped up this review here I'll put everything back in a hermetically sealed shipping container and send it all back to them. If you found this review useful, hit up the links at the end to support the site.
Unboxing: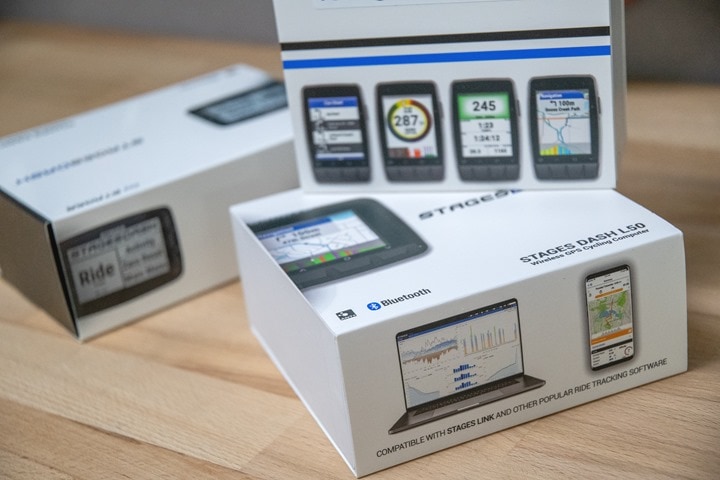 The parts in the boxes between the Stages Dash L50 and M50 are identical. Thus, we'll just unbox one of them for now – the M50 it is: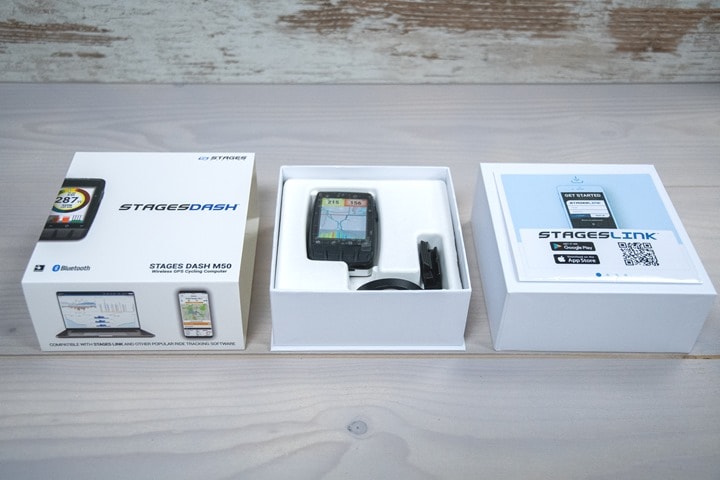 Inside you'll find the out-front mount, the Stages Dash itself, a manual that's made of some crazy water-resistant paper, plus a tether and a micro-USB charging/sync cable: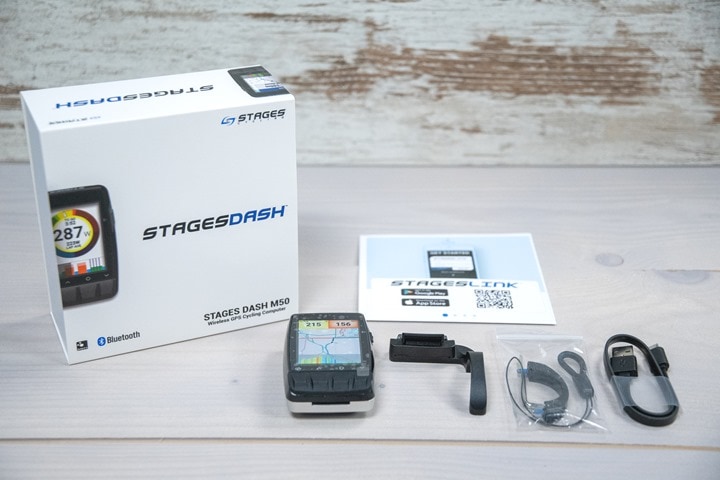 here's a closer look at the mount as well as the tether and charging cable. Don't worry, more mount shots coming up later.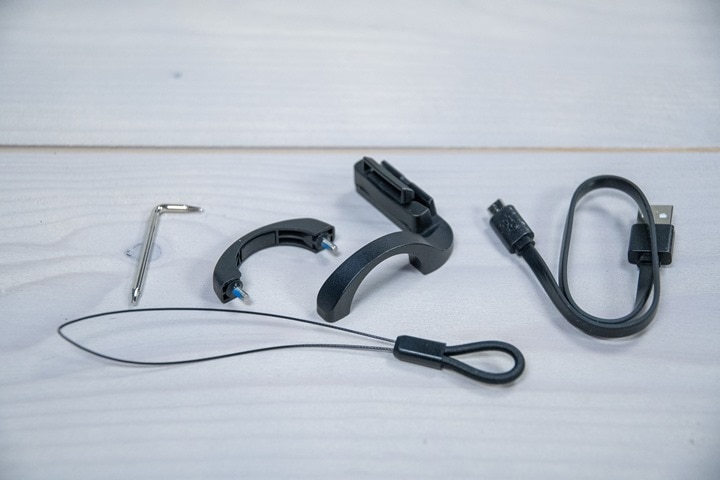 And a closer look at the Stages Dash M50:
Ok, there ya go on the unboxing – pretty straightforward. For a quick size and weight comparison, here's how it shapes up against the Wahoo BOLT and Edge 530: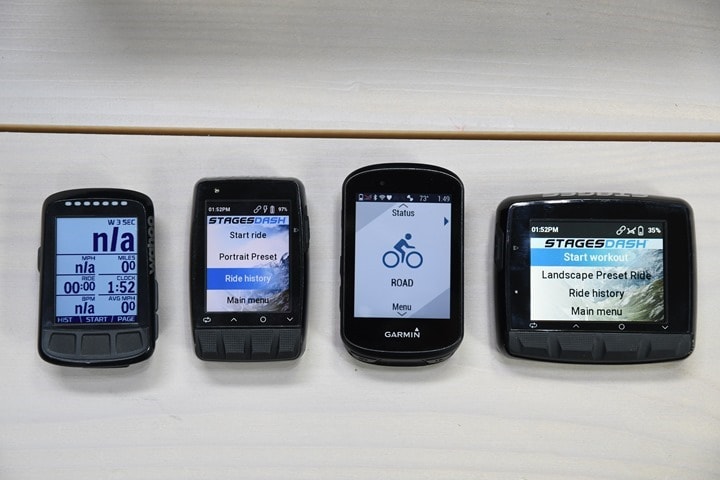 And weights (BOLT – 61g, Edge 530 – 79g, Stages M50 – 97g, Stages L50 – 129g):
Got all that? Good. Let's start using it.
The Basics:
The first thing you may or may not realize about all the Stages Dash units is that they can actually be mounted one of two ways: Landscape or portrait. That's because on the underside of the units they've got two different mounting positions, seen where the gap exists on each unit:
Here's an example of both orientations. Once you mount it a given way, you can go into the settings and choose a ride profile that switches everything to the correct orientation (which I didn't do for the secondary photo to the right):
The Stages mounts are all metal, and there's a boatload of them for tons of different scenarios/bikes/configurations. I'll give Stages credit that they realized (albeit a few years ago), that mount compatibility is the semi-secret key to anyone having success in this market. That also extends to things like GoPro camera & Di2 junction box mounting spots as well.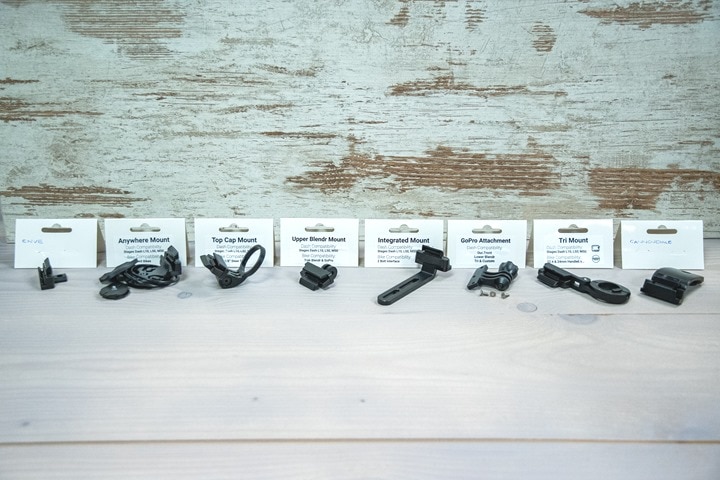 However, all that compatibility aside, I will note that the mount still remains one of the more annoying aspects of the Stages Dash lineup to me. No matter how many mounts I use on numerous bikes and numerous Stages Dash units, getting it to click right can be cumbersome and non-reassuring. And I don't feel like I'm alone in that complaint, judging from other's opinions. The main reason Stages has gone with an all-metal mount design is to decrease the dependency on the tabs seen in Garmin/Wahoo/everyone's mounts. However, to be honest, I just don't hear any sign of widespread issues here with real-world users for the last 11+ years. It's just not an issue. I'd strongly recommend Stages re-think the mount on any future products.
Nonetheless, once you get the mount and bike computer mounted, you'll power it on via the side buttons. These turn on the display (it's not a touchscreen). Navigation through the screen is done using the buttons along the bottom (or side, depending on how you have it oriented):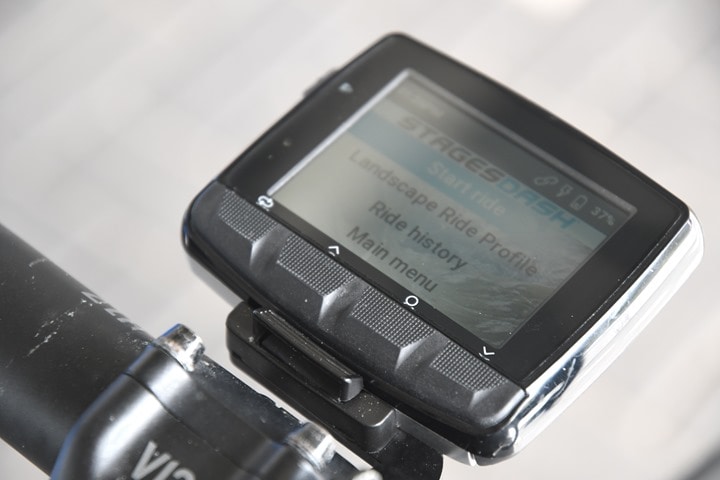 Which, unfortunately, gets me right to my second point (fear not, after this is smooth sailing), the buttons suck. They're hard to press, often require double presses that are hard to know if they triggered or not. I suspect part of that is amplified by the general slowness of the unit, so you aren't sure whether something pressed and have to press it again. Having/leaving the 'beep' on helps, since you'll hear the sharp beep tone on each button press.
The menu system is pretty easy to navigate. From the main menu, you've got four simple options. Note that the menus are *IDENTICAL* for both the Stages M50 and L50. Everything is identical except size. So I'll use them interchangeably here.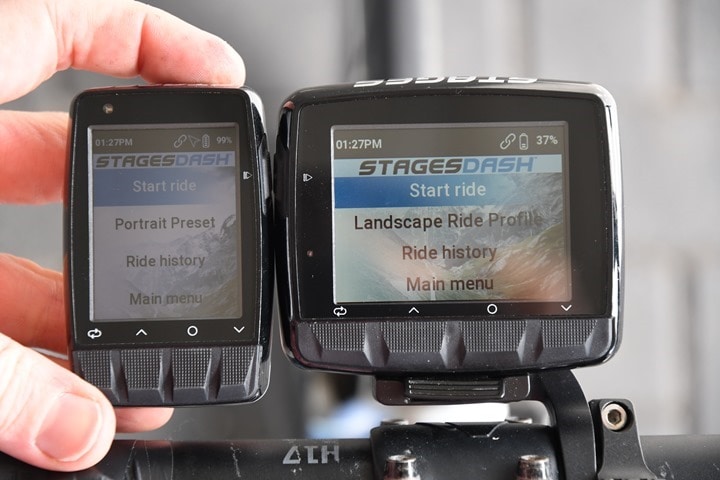 The four core options do the following:
– Start ride: Yup, it starts the ride
– Portrait Preset: This is actually the name of the specific preset I'm in, it'll show whatever you've named that preset. Think of this like your ride profile, which contains things like data field layouts and other settings
– Ride History: You can relive the glory days of…erm…yesterday.
– Main Menu: This could alternately be titled 'Settings', but it's more than that, it's where you can do things like choose a course, or a workout, and also view ride history.
We'll first talk settings, and then back into actually riding with it. I've got separate sections for courses (navigating) and structured workouts.
As I mentioned above, the 'Ride Profile' is where you group all your settings for the unit. You can have multiple ride profiles. So for example, one for road riding, one for mountain biking, another for races, etc… For those coming from the Garmin realm, this is akin to 'Activity Profiles'. Starting with the most obvious thing to configure, data pages and screens, that can be done in one of three places:
A) The Dash unit itself
B) The Stages Sync smartphone companion app
C) The Stages Link website
This is unique and a major selling point for Stages compared to Garmin (device only), or Wahoo (phone only). It's essentially the holy grail of customization and tweaking. And that concept extends straight into how you configure your data pages. I'll show it here via the web interface since it's a bit simpler to take screenshots of: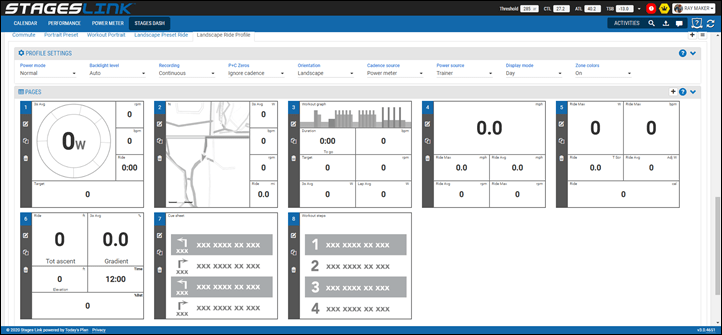 Each of your up to 9 pages can have upwards of 10 fields (Stages M50) or 16 fields (Stages L50) on them. Seriously, you can go crazy. Or not. You can also just have less fields and bigger data fields – especially on the Stages L50 with the larger screen.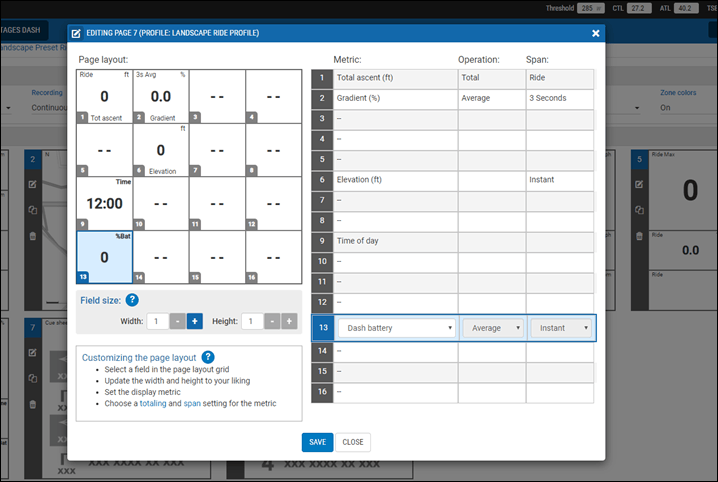 And here's the same for the M50: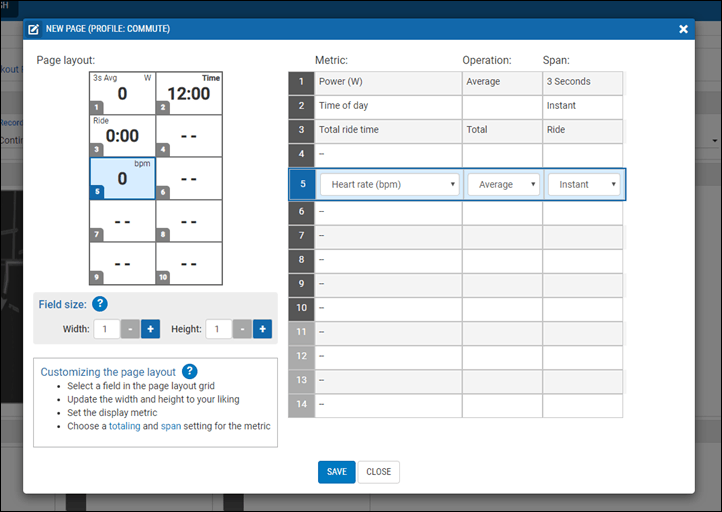 Ultimately, especially on the L50, you can get pretty creative with field layouts. I'd say that in general the 'easiest' place to configure these fields is on the website, with the least easy on the unit itself. The smartphone is in the middle. It's not that doing it on the unit is hard, it's just that the categorization process of how the menus are on the unit makes it a bit slower to do. But you do whatever makes you happy – you've got the choice here.
Here's a pile of data screen examples I created. First for the Dash M50:
And now the Dash L50:
In addition to data pages, you've got a pile of ride profile specific settings, which are the same for both units:

Essentially these bucket into display/power related options, recording options, and orientation. As noted above, both Dashes can be oriented in either portrait or landscape. And with that, you'd configure a given ride profile in one of those two orientations (since the data fields will look different in each configuration).
Meanwhile, there's a pile of settings that are across all ride profiles. These include phone connectivity settings (pairing, smartphone notifications), workout settings (how individual steps are processed) , map/course settings (orientations, trail lines, POI's, etc…), and device settings (notably language/units/time formats). I'll dive into the workout/course navigation settings in those respective sections.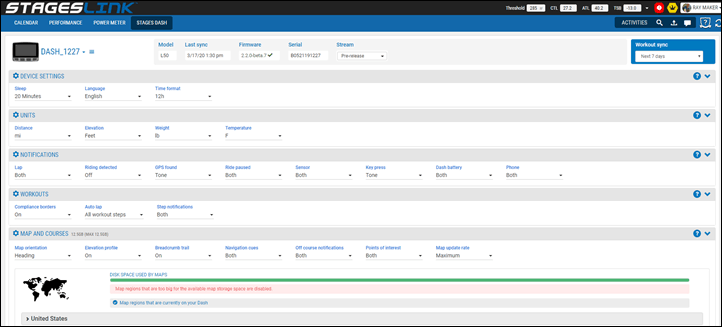 As for pairing with your phone, you'll actually have done that as part of the initial setup. It uses a simple QR code you scan with your phone and 5 seconds later you're done – pretty much the same as many devices these days. I mean, except Garmin. They're still using this process for pairing your Edge device.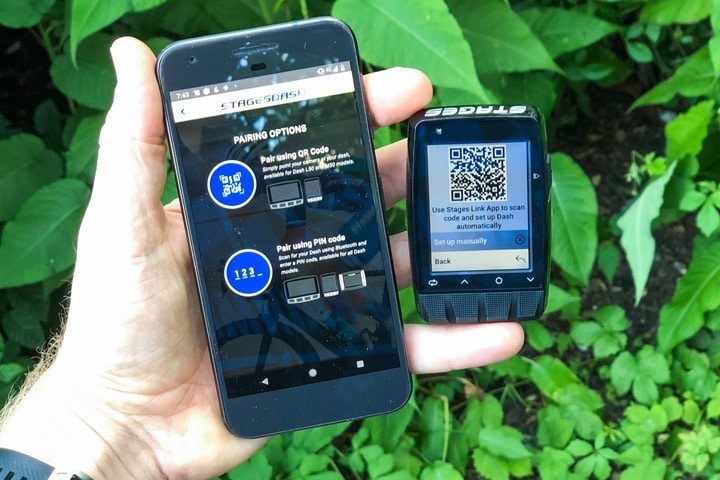 The device will display smartphone notifications mid-ride (or, if you forgot to turn it off, mid-backpack), that works just fine. In fact, it assumes that all text messages coming in are happy, and puts a little smiley face next to everything my wife sends me: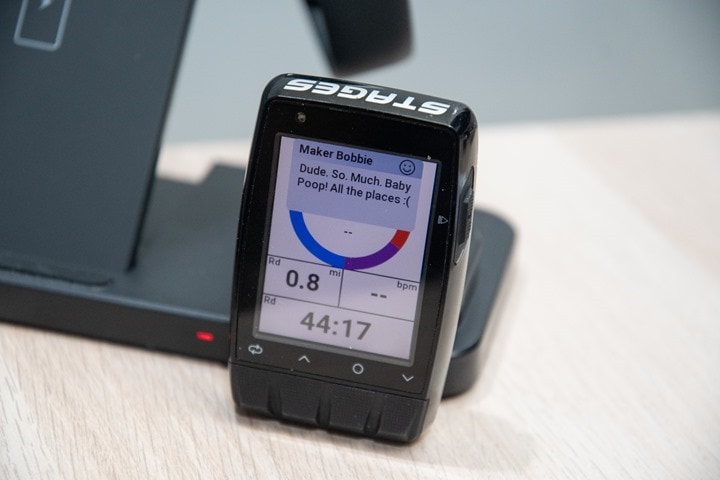 Later on, this same smartphone connection is used to upload rides via Bluetooth Smart to the Stages app/platform, and other 3rd party sites like Strava (more on that in a moment).
Next, we've got sensor pairing. The Stages Dash allows sensors to be paired only to a specific ride profile, or, in the more common sensor pooling concept to all profiles. In general, I'd recommend you just pair to all profiles, so that later on you aren't confused as to why a sensor didn't connect for a ride.
Pairing sensors is done via the sensor menu, and you'll pair ANT+ sensors and Bluetooth Smart sensors individually. This has its pros and cons. It's great for power users, but perhaps a little confusing for regular users. In every scenario I can think of, for outdoor cycling specifically, you should always pair ANT+ over Bluetooth Smart.
(Geekery explanation corner: The ANT+ power meter profile is far more mature/stable than the Bluetooth Smart one, specifically around data consistency. For radar, there is no Bluetooth Smart radar profile, so you wouldn't see them there. For speed/cadence sensors, only Garmin sensors support multiple Bluetooth Smart channels versus unlimited ANT+ connections. So again, using ANT+ makes sense to not block other apps/devices you might use. For heart rate straps, some newer straps from Polar and Garmin support dual-BLE connections, but most don't. So yes, just choose ANT+ every time unless you're pairing the rare BLE-only device.)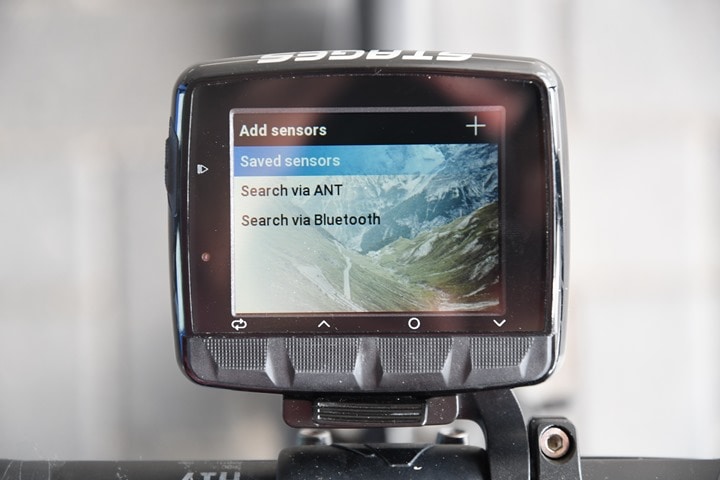 The Stages Dash M50 & L50 support the following sensor types:
A) ANT+/BLE Speed-only, ANT+/BLE Speed/Cadence Combo, ANT+/BLE Cadence-only
B) ANT+/BLE power meters: Note, no addition cycling dynamics metrics though
C) ANT+ FE-C (but non-controllable): Control firmware update slated for mid-April.
D) ANT+/BLE Heart Rate
E) ANT+ Radar: Such as Garmin's Varia Radar
Ok with all that set, let me show you how it works for a simple non-workout/non-course ride. To begin, you'll go back to the main dashboard and ensure the upper edge shows that it has GPS lock (little arrow icon), as well as icons for any sensors you have paired (like HR, power, etc…). As always, riding before any GPS device has GPS lock only makes that process taker longer.
Once that's done, tap the side little arrow button at the button to start the ride recording. You'll now see the data screens that you configured. To change to other screens, press the up/down button: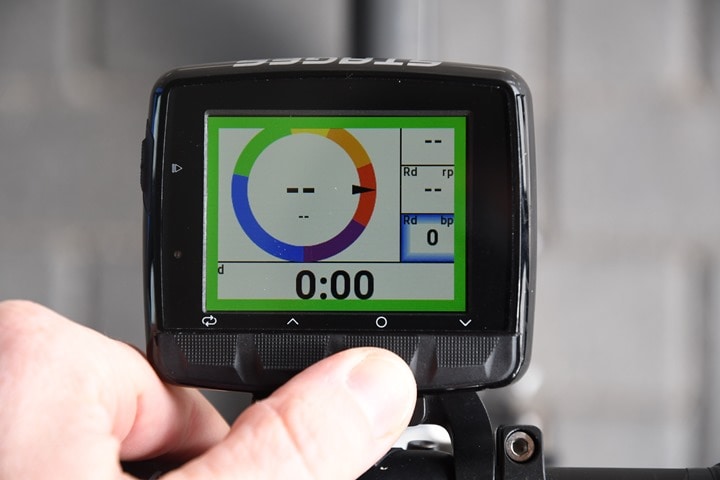 And to create a manual lap marker, press the lap button in the lower left corner. One of the main Stages Dash L50/M50 features is the colored power zone gauge. This large display box shows your exact power level according to the color-coded power levels you've defined within the Stages app (either automatically or manually).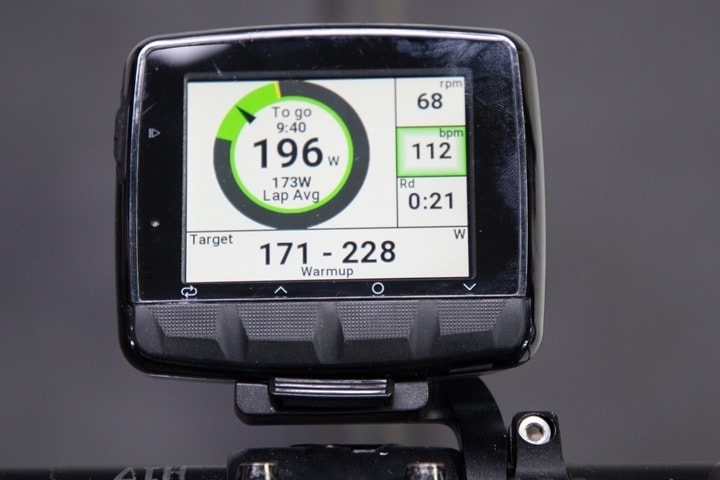 This same colorful power gauge will also be repurposed during workouts to show you target zones and how well you're working to achieve those zones.
Mid-ride you can access various settings by long-holding the circle button, which shows a mini-menu that at the top includes the most common features like backlight or power meter zero offset. Or, you can take a screenshot here too.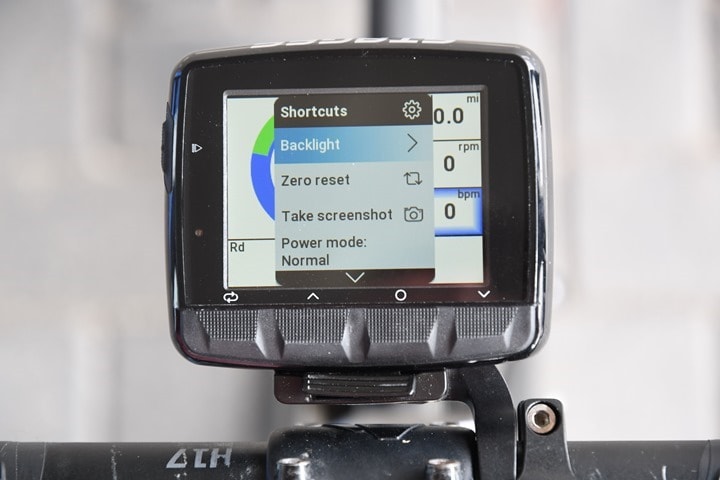 As you go down the list further though you can access the ability to edit that specific data page right from the unit mid-ride, as well as change the power settings (to save battery), or even turn the unit off altogether.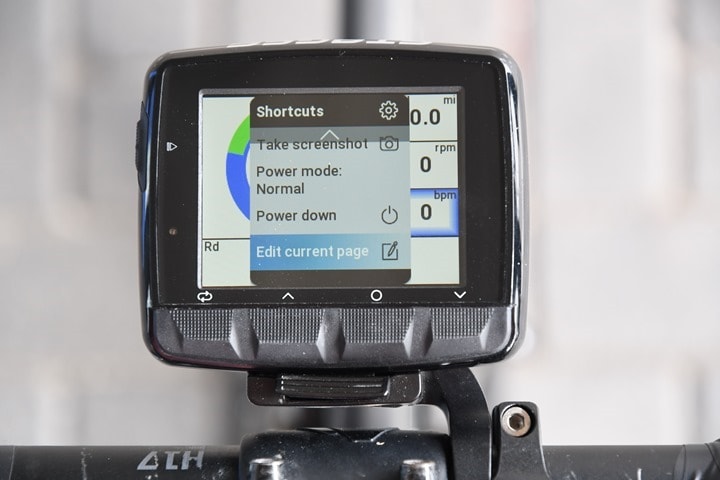 It should be noted that the Stages Dash L50 and M50 both support the Varia Radar to detect cars approaching from behind. They launched this functionality late last year, and I wrote an entire piece on it at the time.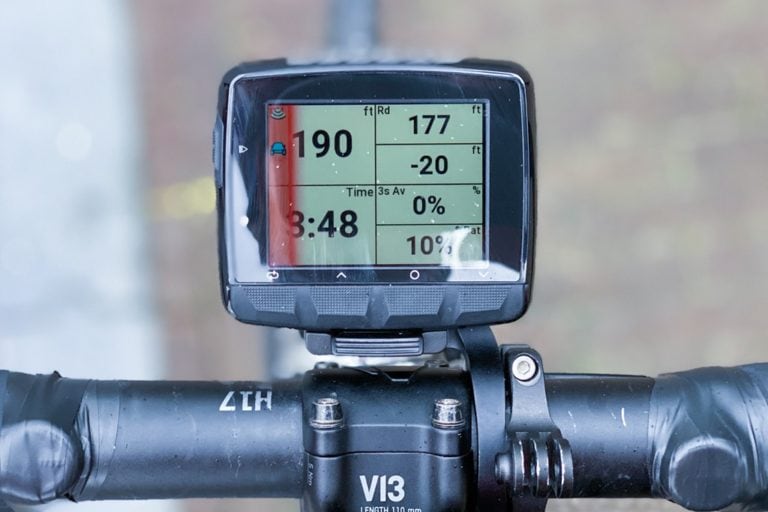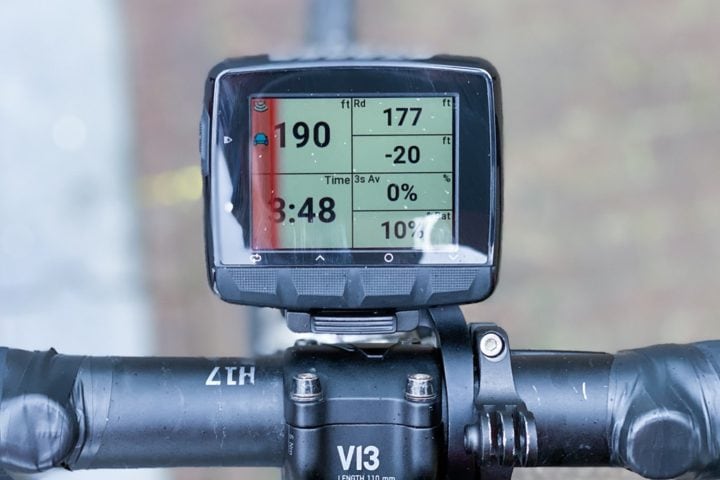 Hit up that post for more details on how it all works.
Finally, when you're done with your ride, you'll quickly tap that circle button again to bring up the ride menu, which is where you can save/end/delete the ride, or even go back and access the larger menu system (such as to change the course or structured workout):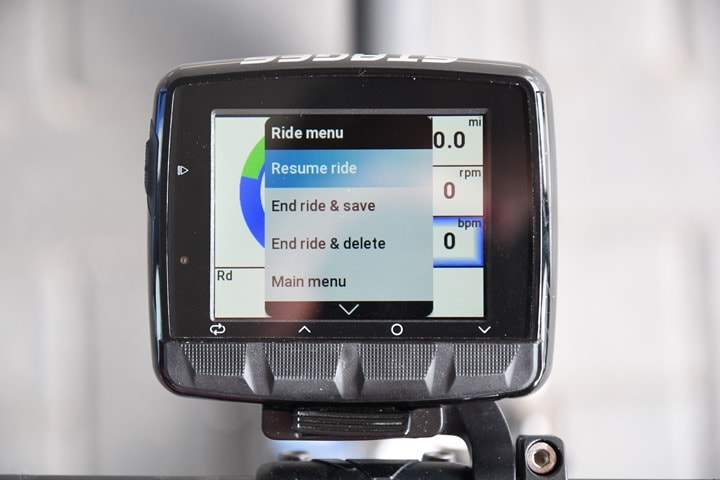 After you've saved a ride, it'll give you some top-line stats, as well as the ability to dive into more detailed stats and summaries, including maximal values for power and heart rate:
It's at this point that the unit will sync your ride via Stages Dash to 3rd party platforms including Strava, TrainingPeaks, and plenty more. See all those details in the 'Platforms & Sync' section later in the review. All you really need to know is it works exactly like you'd expect, a few seconds later your ride is over on Strava or wherever else. Also, the .FIT file is available locally as a USB mass storage device in case that's more your thing.
Finally, I'd be remiss if I didn't mention battery life. It's one of the marque marketing features of the Stages Dash – coming in at a claimed 24hrs of riding time (or 12hrs with maps/courses). On paper anyway.
In reality, it's hard to judge clearly. For example, if I go out for a ride, battery life seems fine/acceptable after a few hour ride. No major drops, enough that I don't really have to think about it.  And the display does indeed handle itself in a rather bright way the entire time. Visibility is *never* an issue on the Stages Dash L50 or M50. This baby is bright as a over-tweaked flat-screen TV in Best Buy. And atop the screen (upper left) is a small light sensor, so it automagically adjusts in real-time to your lighting conditions: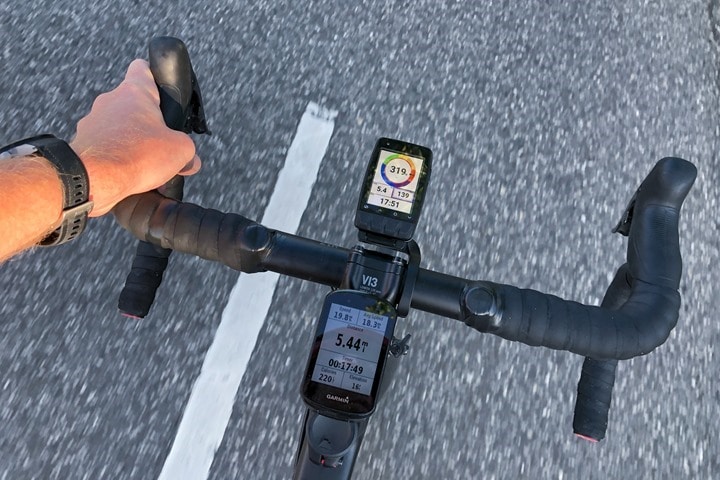 The only challenge is what happens after a ride. That's because the Stages Dash doesn't automatically turn off if it's connected to your phone for notifications. Instead, you have to manually power it off. If you don't, it'll die a slow death until it runs out of battery (albeit, probably a day later). Then you'll turn it on the next morning and find this: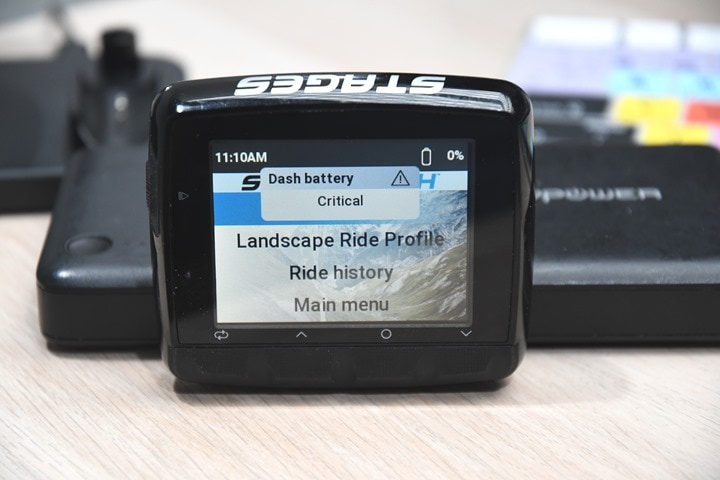 This challenge is only doubled-down on by the fact that it charges incredibly slow, and half that yet again if you charge it while powered on. Stages did note though that my unit is an older one from last summer, and that new units double the charging speed. Further, Stages is saying though that they're working on a fix to ensure the Dash follows the configured automatic shut-down time (which is 20 minutes if not in a ride/activity).
Ok, with that we've wrapped up all the basics of a simple ride. But in many ways, you don't buy the Stages Dash product for a simple ride (I mean, you could, it'll work just fine for that). You probably bought it for more advanced uses. So I've split those two use cases up below.
Structured Workouts: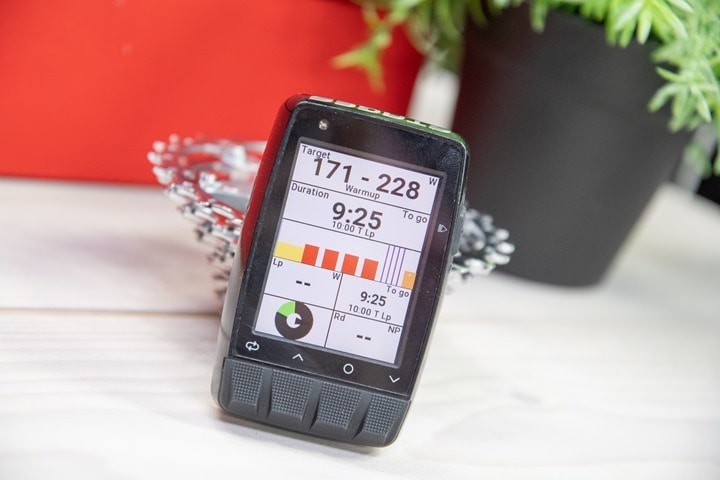 Before Garmin and Wahoo showed recent renewed interest in structured workouts, the original Stages Dash unit was leading the charge. While the on-unit bits were more impressive than Garmin or Wahoo at the time, it was really more the backend website piece that drove the combo-dish. The thing is, under the covers the Stages Link site is really Today's Plan. If you're not familiar with Today's Plan, they're a training log and analysis site. A well regarded one too – used by a few WorldTour pro cycling teams among many others. Roughly like TrainingPeaks.
That's mostly great for Stages users, because the depth of Today's Plan as a website is something that neither Garmin or Wahoo deliver within their native offerings. Instead, if you want to go as deep as Stages, you'd have to use 3rd party sites on Garmin/Wahoo, including TrainingPeaks…and ironically also Today's Plan. But, does the early Stages lead mean they're still a leader here? Let's dig in a bit.
First, I'm going to create a workout. However, you can easily take one of hundreds of workouts they have already pre-categorized and filterable: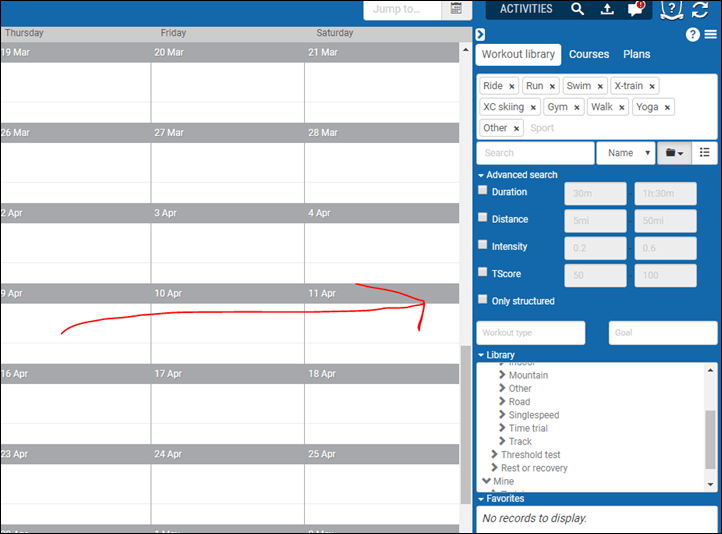 But in my case, I'm a rebel, so I'm going to create my own outdoor workout and indoor workout. First up is choosing to create one from scratch or using a template. In my case, I'm going to actually duplicate one as a baseline, and then tweak it. So I'm going to take the outdoor one I created, and make it a shorter indoor one (basically slicing off the much longer warm-up I had to get me to farm roads). The process for a new workout is identical.
You'll see up top I can specify some general details, then down below is where we get into the nitty-gritty.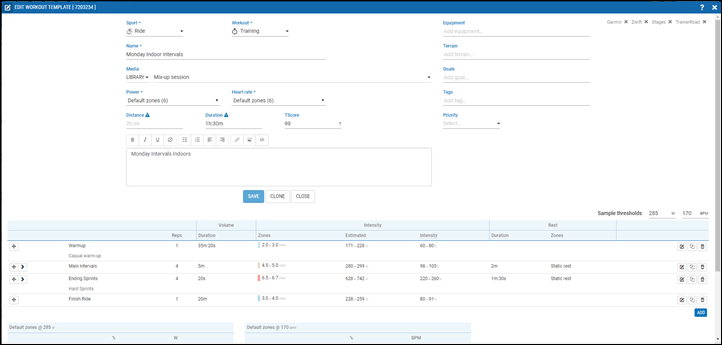 You'll see each step listed. Note at the top the 'Sample Thresholds'. The workouts are fundamentally based on power zones that you've defined in your profile. Meaning, that's how they'll be executed out on the road on your Stages Dash. However, for the workout builder bits, you'll want to ensure that the 'Sample thresholds' option is correct, else previewing it will use a default 200w threshold.

First, I'm going to tweak my warm-up from the longer 35-minutes easy to a shorter 10-minutes. I just do that by changing the time.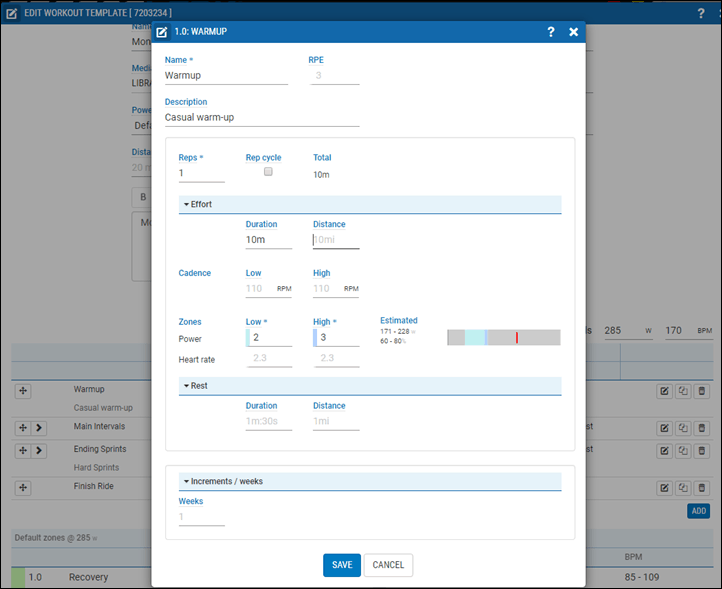 Next, I'll tweak/set my main intervals. Notice above/below it shows my estimated power zone range. For the warm-up, I've got a much larger range. Whereas below, I've reduced that range by using decimals for the power zones (e.g. 4.7 to 5.0).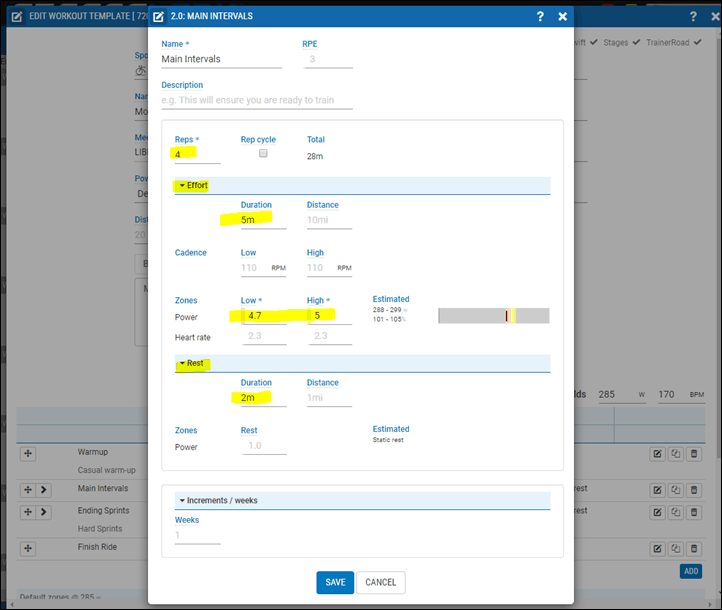 I've also set the duration at 5 minutes and the number of reps at 4, and the recovery (rest) period at 2 minutes each.  You can see how this looks in the workout builder, once I added a few sprints in there too for fun. You'll also notice it shows the zones down below using the sample value of 285w.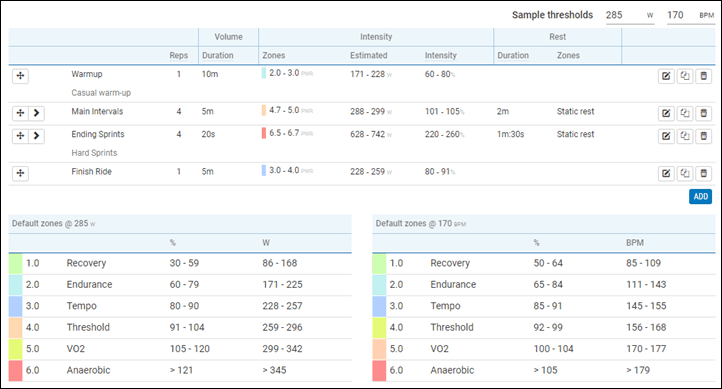 And, if we scroll back up top, it'll automatically be calculating the duration and TScore (load):
With that set, we'll go and drag it onto the calendar. We can also just save/highlight it too, which means it'll always be on the Dash, no matter the day. You can set the day/time/priority when dragging onto your calendar.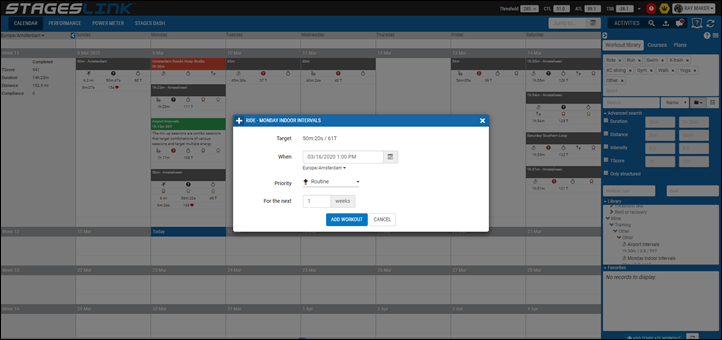 In fact, you can also add a course atop it too. But, we won't cause too much drama in this section.

However, where things start to get pretty impressive is the ability for Stages to utilize these pre-planned workouts on your calendar to predict training load. Again, this is something that isn't found in the baseline offerings from Garmin or Wahoo.
You can see this pre-ride if you click on the interval before you do it, showing you the dotted line of that activity, and what's planned on your calendar. Which then will ideally match what happens post-ride: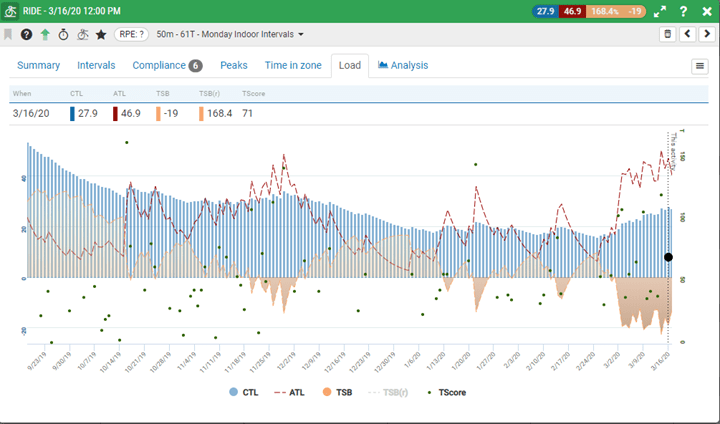 But, to show you the power of this (similar to other training lot platforms), I can add forward-looking workouts to the calendar. So what if I put this workout on the calendar for the next few weeks, twice a week – plus the longer 90min variant once a week (I know, not optimally designed, but just to illustrate a point).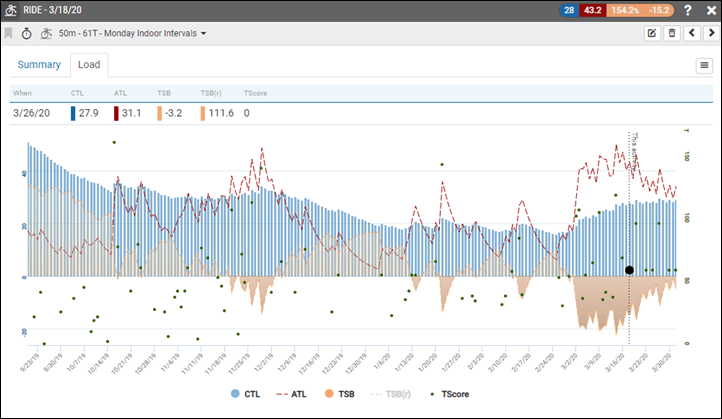 As you can see the dotted line showing me the next working (since that's what I clicked on), and then forward-looking from there with the workouts that are planned on the calendar (all sub-100 in T-Score).
In any case, let's start riding. Because the way structured workouts enumerates itself is both the same indoors and outdoors, I'm going to show you the functionality indoors. It works identically outdoors. But it's a heck of a lot easier for me to take photos indoors than outdoors. Don't worry, I've got some shots from doing some out on the road too.
Now, on the Dash we need to add the planned workout. So from the unit we'll choose 'Main Menu', and then 'Select a workout':
This allows us to choose what's on our calendar, or one of our favorited ones. If for some reason you didn't open your smartphone app to sync (or sync via USB cable), now would be the time to do so.
Once the workout is started and loaded, what you see will depend on what fields you've configured. In my case, I set it up such that I could see the entire workout (known as the workout graph), and then various data fields related to both the current interval and the workout as a whole. For example, the workout graph data field (the pretty one below) will show you the entire workout at the start of each interval/section, for what seems about 20 seconds.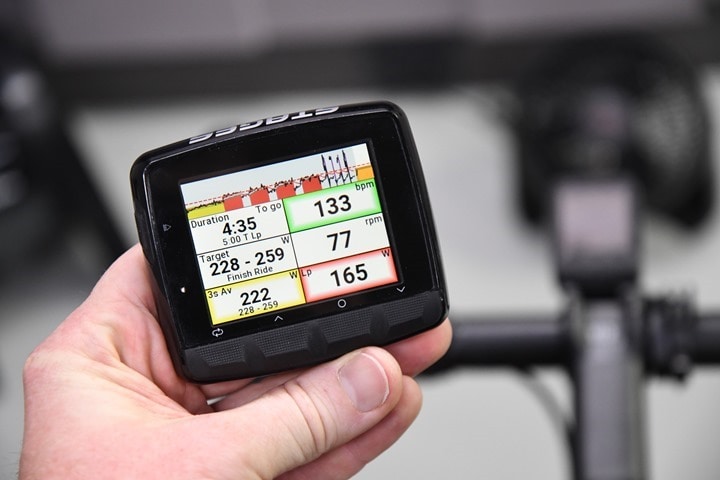 After that, it goes into a more zoomed in view of what appears to be about the next ~20 mins worth (or maybe it's just the next three chunks, either way). What you'll notice above/below though is the coloring around each square, indicating whether or not I'm above or below. In the photo above, I'm below the lap bar for that particular interval (the cool-down, as it were), whereas in the photo below I'm on-point for the target power for that interval.
I like that view, as it makes it easy to see what's coming up near-term, as well as the occasional refresher on long term.
The way the Stages Dash works (in conjunction with Stages Link) is that you have three options for how it iterates through an interval:
A) Automatically
B) Manual
C) Half and half (my lingo)
In the automatic variant, it'll automatically go forward through the workout and you're just along the ride. I'd consider that the norm for how most people assume it'd work. For the manual variant, you'll manually step into each workout step that's a work interval. So if you've got 5 minutes of hard work, it'll actually wait at the end of the rest interval, before you press lap to start the work interval. However, upon completion of that 5 minutes of hard work, it'll instantly go into the rest/recovery interval.
However, for the half and half intervals, you can basically have certain parts of the workout wait until you are ready. For example, doing a longer warm-up, and then you can start the inside section (caller inners) that starts the legit part of your workout. Or, just a different part. You can get pretty crazy here with how you iterate through things.
You can manually skip forward to the next section at any time by pressing the lap button, or pause the workout straight-up by pausing the ride. There isn't however any way to go back to a previous workout section to re-do it (such as getting hit by a stoplight 30-seconds into an interval).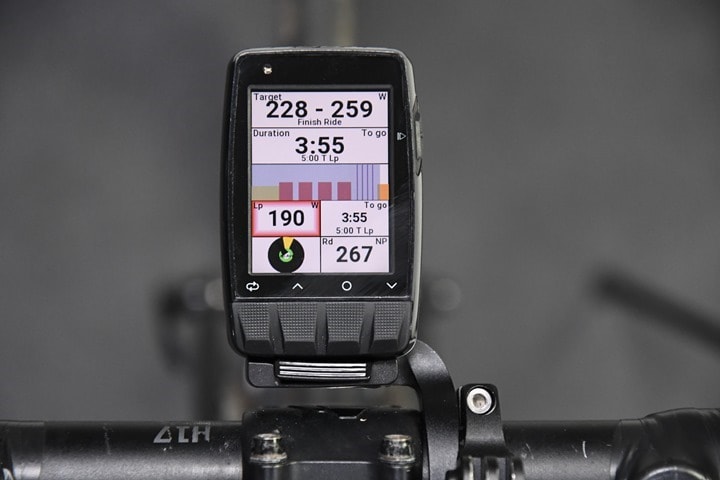 As you complete each interval you'll get a lap summary message in the lower right corner of details of the previous interval. Or, in the case of this photo, my rest/recovery section's averages: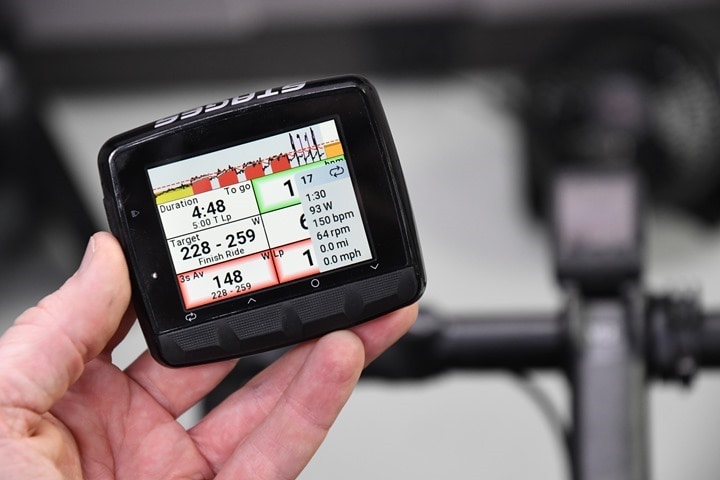 The system works well, both indoors and outdoors. At present it's not yet controlling a smart trainer, but can read data from it. It sounds like the control is coming any day now, as they're depending on that functionality for their Stages Bike and integration there. I did a workout yesterday indoors no issues (as seen in photos above). And have done them outside too.
I did run into some weird workout bug while running a beta firmware version, but I haven't seen that bug repeat in the latest beta or production firmware (I'm running one unit on each). The beta firmware I've been using is the production firmware as of today.
Now, it doesn't really end here. From an on-device workout standpoint, I think that these days the Wahoo/Stages/Garmin experiences are all pretty much the same for 95% of people. Meaning that there are 5% of people that do 'unique' things where one solution might be better than the other. Perhaps I'll take some of this quiet time to finally compare the three side by side in a structured workout.
However, where there's a clear winner is not just what happens before the workout, but also after the workout. Let's take yesterday's intervals. That then sync's back to Stages Link. It's here that I see the intervals as normal: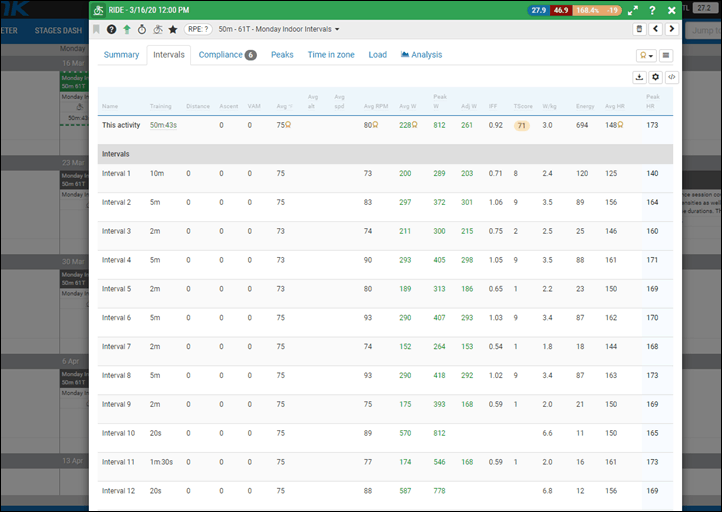 But look closer, and you can see that it's lined up what I was supposed to do for each interval with the actual interval. Even more, it shows my 'compliance' score. Obviously, I wasn't too hot there. But damn, I nailed that warm-up!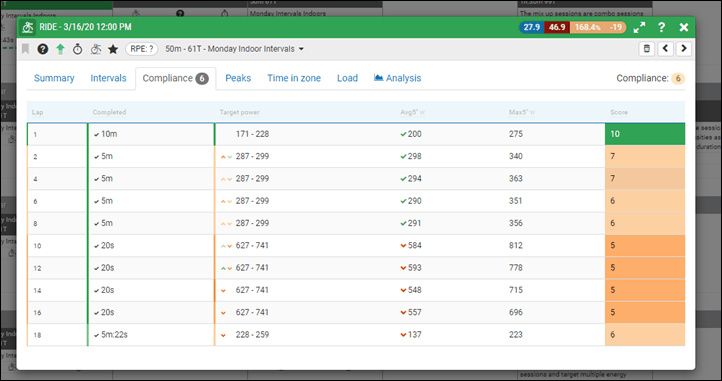 But what's fascinating about the compliance score is that it's not just a 'did you hit the zone', because clearly, I did hit all of the main interval zones (but undercut the final short sprints). You can see my average wattage for each of those is spot-on. So why the low compliance score? Well, because I was wobbly AF. I was over and undershooting quite a bit. I was doing this on an indoor smart trainer, but without it being in ERG mode. So it was…special.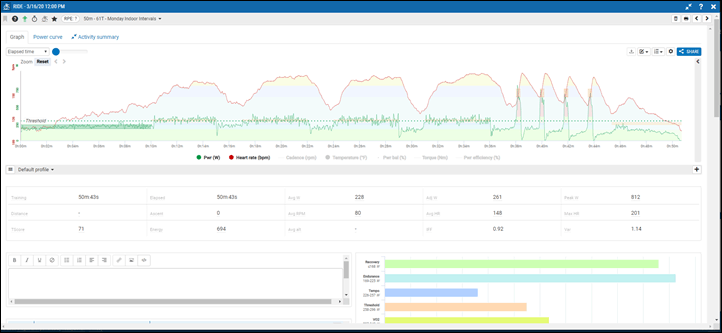 Still, that's super cool. And you can dive further and further down these rabbit holes within Stages Link all day long. Realistically I'm not sure at what point such a review becomes more of a 'Stages Link/Today's Plan' review more than a Stages Dash review. You can see my slightly older vintage Today's Plan post here. But let's be clear: This concept doesn't exist in any form on Garmin or Wahoo, at least without not including some element of 3rd party program (which, would invariably be back on Today's Plan).
Now, for those that don't have any desire/intent on using Stages Link for analysis, then the value prop does fade away a bit. If you're invested deep into the TrainingPeaks platform, then all the structured workout bits work just fine – just not in an automated sync fashion. Meaning, you can't push a TrainingPeaks workout to the Stages Dash automatically, it has to be done manually by exporting the file and manually opening it up on your computer.
Still, I get the feeling from talking to the Stages folks that they might exist almost entirely to nail the structured workout bits. I think it's been clear through every iteration of the Stages Dash lineup that their 'nailed it' feature is the entire structured workout experience. And by and large within that ecosystem, they win there.
Navigation & Mapping:
The Stages Dash has navigation and mapping. Mostly. Like many units on the market the definition of what 'navigation' is varies a bit. When it comes to bike computers, you've basically got a handful of core tiers, and a lot of grey area between them. Just to set the stage a bit, here's roughly how I'd define things.
Tier 0: No navigation, no courses, no breadcrumb trail, no maps, no nothing
Tier 1A: Can load courses, and display those as a breadcrumb trail without any mapping data
Tier 1B: Can't load courses, but might display some sort of maps
Tier 2: Can load courses with breadcrumb routing only atop actual maps, but have to have courses pre-defined
Tier 3A: Courses + pre-defined turn by turn navigation atop maps
Tier 3B: Courses + pre-defined turn by turn atop maps, but may require a phone to do routing (pre or during)
Tier 4: Courses as well as on the fly navigation to saved waypoints, with underlying maps (no phone/connectivity needed)
Tier 5: Courses as well as on the fly navigation to any address/point you can imagine, with underlying maps (no phone/connectivity needed)
Note, I made up these tiers at this moment. I reserve the right to change the naming and definitions in 5 minutes. Still, the concept hasn't changed in the last 5-7 years. Roughly speaking, here's where the market sits on these:
Tier 5: Garmin Edge 830/1030, Hammerhead Karoo, Sigma ROX 12
Tier 4: Garmin Edge 530, Wahoo ROAM
Tier 3: Wahoo BOLT/ELEMNT (depending on source), Stages Dash L50/M50
Tier 2: Wahoo BOLT/ELEMNT (depending on route source)
Tier 1: Edge 130
Tier 0: A $10 bike computer
Ok, got all that? Good. Note, there's more nuance to these levels. For example on which companies provide free maps and which don't, or which services are or aren't supported. Or how easy it is to get courses onto devices, etc… And perhaps super importantly: Whether or not it can re-route onto new roads when you get lost. But at the core, everything mostly boils down to those tiers. They are what they are, they have been what they have been, and they aren't terribly debatable. Something like Lezyne's Mega-C/XL falls into a blend of Tier 1A + Tier 3B. It's messy. Hence why I'm not going to try and boil the ocean here.
So, here's what the Stages Dash M50/L50 can and can't do:
– Can show maps for any region on the planet that you can download for free
– Can navigate with turn by turn instructions (e.g. 'Turn left on Maple Street')
– Can show points of interest in nearby areas
– Can show features like water, forests, roads, bridges, tunnels, etc…
– Cannot re-reroute onto new roads, it'll simply tell you you're off course
– Cannot choose a waypoint on the device itself to route to, must build course/route first and send to device
– Cannot choose a random address on the device itself to route to, must build course/route first and send to device.
With all that in mind, there's three main ways to get routes onto the device:
A) Simply create them using Link app/site and send to Stages Dash
B) Link up your Strava account, and have it push favorited courses to Stages Link, and then onwards to Stages Dash
C) Manually import a route file (.TCX/.GPX/.FIT)
And continuing our list format, the following services can push routes to Stages Link:
– Strava (Routes)
– Veloviewer (some routes)
– GPSises (aka Alltrails)
– Stages Link itself for creation
And finally, one minor caveat – at present here in March 2020, the route creation feature is considered a 'Premium' function of Stages Link. However, going into April, they're getting rid of the paid version and users will have everything that was part of Premium expect for the training plan generator. Stages says that if you're a Stages user and simply want Premium, to contact support and they'll add it to your account immediately for free (versus waiting till April). I've seen that manifest itself in the comments section already – so good to see!
Starting with what I typically do first, it's actually Strava routes. I tend to build all my routes there, since that's easiest for me to use across virtually any device I use. These show up in the Stages Link app automatically once I've paired my Strava account to Stages Link.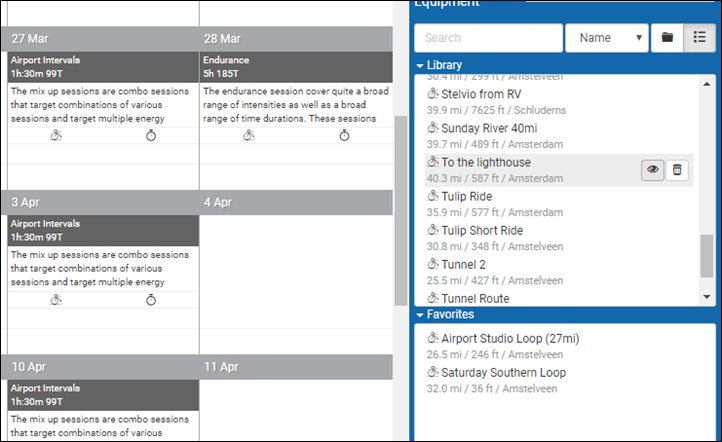 You can tap on one to tell it so favorite and push to your device. You can't however preview it from the Stages Link smartphone app, which is kinda sorta a bummer. So I can't zoom in and see details about there. However, I can do that from the Stages Link website: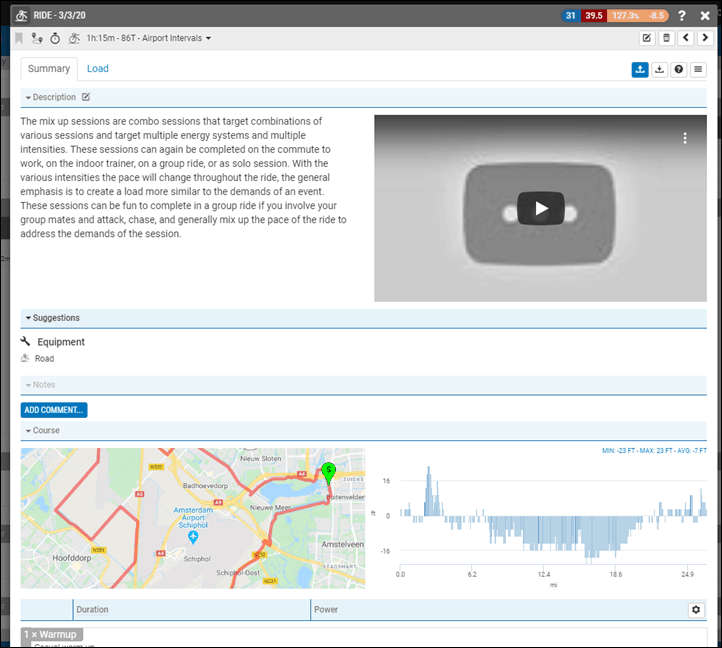 Either way, the net of either of those scenarios is that the route ends up on your Stages Dash. However, you can also manually create a route wholly within Stages Link with no other 3rd party services. This works basically just like you'd expect. You tap-tap-tap your way around, and it'll create the route.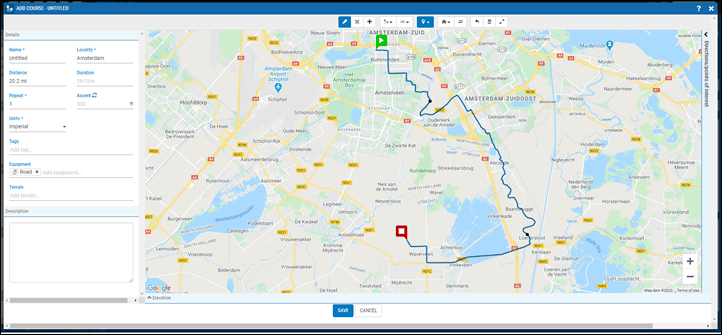 You can also add points of interest/markers too: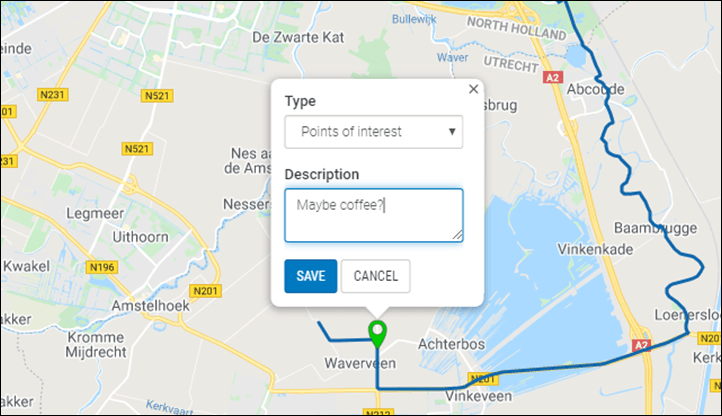 Like with workouts, you can drag a route to a given day on the calendar, and it'll ensure the course is loaded onto your device in time for that ride by syncing that route to your device. Next, on your device, crack open the menu and go into course, and then it's here that you'll select the course to follow:
Now, start riding (after pressing to start the course). You'll see your mapping page, as well as the breadcrumb trail atop that page.
Assuming the default page configuration, you'll also have a page that lists the turns. In some cases, enough mapping data will be present to give you specific street/path names. Whereas in other cases it'll just say to turn left or right (or go straight, etc…). Maps are pre-loaded for certain countries, and you can easily download maps for free for anywhere on earth with Stages Link too.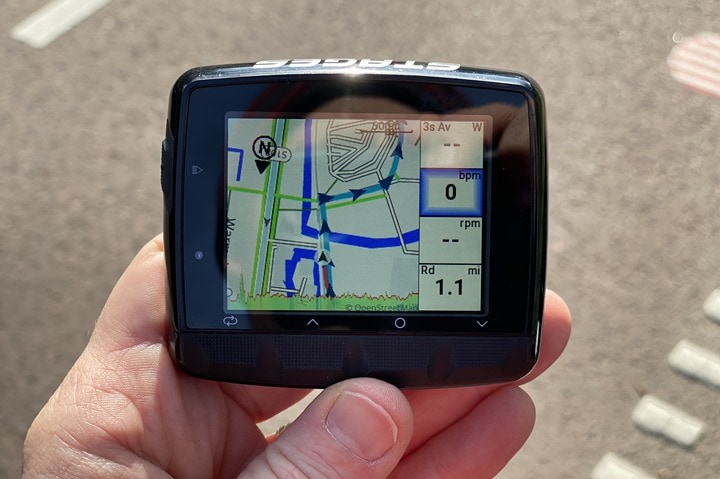 Here's an example of the cue sheet, where you can see certain turns have names, while others don't. This isn't terribly different than what you see on Garmin, Wahoo, or others – with mapping data sometimes a bit variable depending on the area.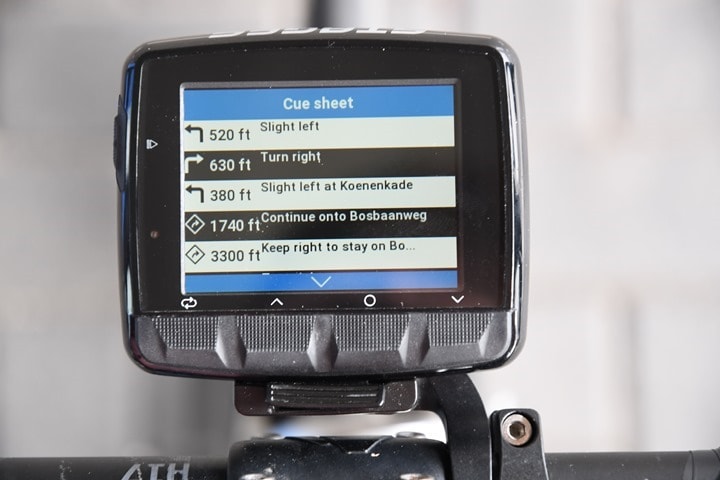 As you approach a turn, you'll get a turn banner atop any data page you're on. So you needn't stay in the map or directions page each time.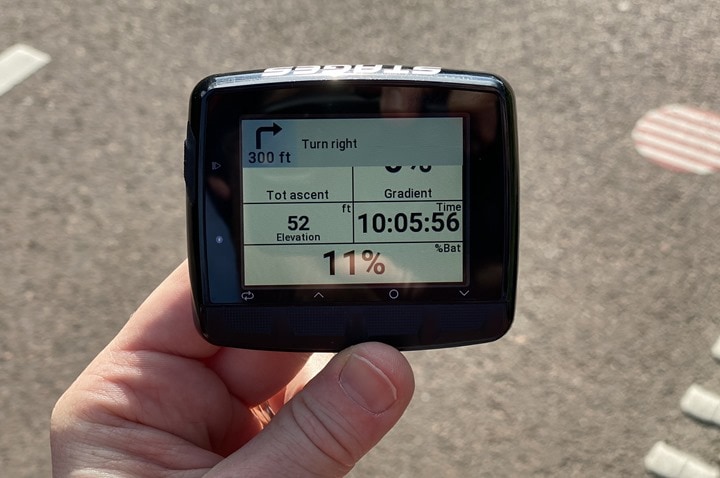 And if you go off course? It'll notify you. Albeit, it seems a little wobbly on that. For example, in order to get the below photo, I purposefully made a turn off-course. At about 50-meters (~150ft) off-course it notified me I was doing bad things, which is fine. Except, it then thought the solution was some 1050ft feet away (320m). Obviously that part isn't quite correct, but perhaps it was just practicing safe social distancing.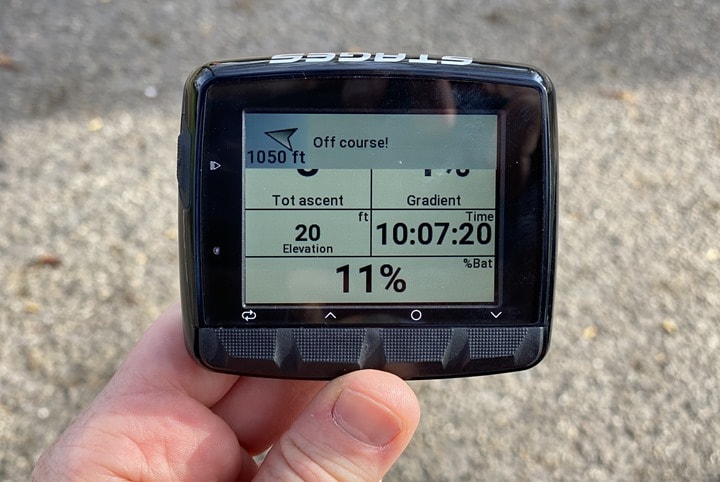 In terms of re-routing, it doesn't have that. And that goes back to all those tiers I talked about at the beginning. For more advanced units out there, it'd give you step by step instructions to get back on-course (such as the case might be with either one-way streets, or not realizing you missed the turn). The Stages Dash L50/M50 doesn't do that, at least not today. From the conversations at launch some 9 months ago, it sounds like that was potentially viable with the hardware they have, but I'd point out that's a huge lift for any company. Re-routing bicycle instructions is really, really, really hard (way harder than cars, since bikes can use both roads and non-car routes).
Finally, you can zoom in and move the map around as you see fit as well on both units by long-holding the circle button until the arrows pop-up: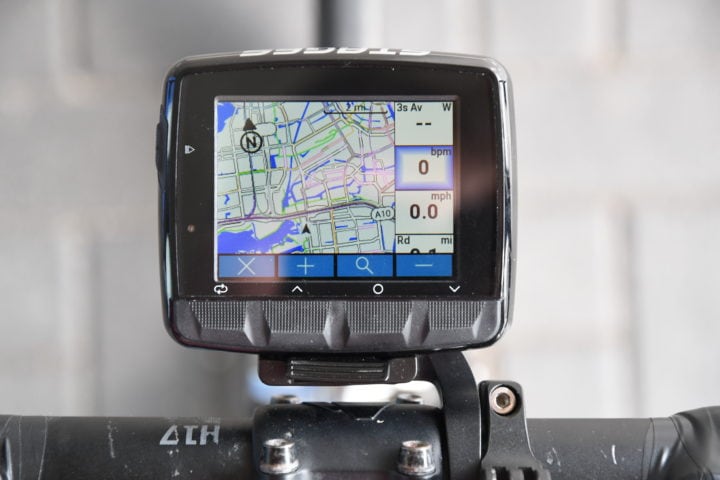 In any event, if super deep navigation isn't a big deal to you, then the Stages Dash M50 or L50 will probably fit the bill. Whereas if you were sans-phone and trying to navigate your way across Europe or elsewhere, the Stages Dash probably isn't the best solution for those needs. For me personally, when I do routing, I rarely tend to go off-course (90% of the time), so it really comes down to that 10% of the time where I might need to shortcut a route and just need a 'get me home the fastest possible way', that wouldn't be available here.
Platforms & Sync:
Just a quick note on syncing between different platforms. Obviously, as you've seen by now, the Stages Dash device is heavily tied to the Stages Dash app and backend platform (which, are free in the context of this review). Up until now-ish, that meant there were two tiers: Premium and free.
Premium got you things like more detailed ride analysis, training plans, and the course/route builder. However, starting in April the company is removing the differentiation for all but the training plan features. Meaning, you'll get the full experience (which is what you see here in this post) for free. Said another way, you're getting the full Today's Plan experience…for free. Which is huge. Until April, Stages says that users can simply hit up Stages support and they'll upgrade their accounts for free immediately.
But, how well does the Stages Dash play with other companies/ecosystems? After all, by aligning themselves to Today's Plan, it'd be roughly equivalent to Wahoo saying their entire backend was built on TrainingPeaks (it isn't, just an imaginary example). Well, for the most part we see pretty extensive 3rd party compatibility.
If you dive into your account settings, you can see all the platforms. First up is the list of platforms that Stages can accept data from. This is largely on account of Stages Link being Today's Plan. So as such, you can actually link your Garmin, Polar, or Suunto accounts here. Wahoo too (except you do that on the Wahoo side). This makes it by far the easiest platform to migrate to, since you can sync data into it ahead of time.

Next, are the things that Stages Link pushes too (primarily, sends a copy of your finished ride). Plus Strava courses:

And finally, are the applications that have access:

In my testing, I found that the sync from my Stages Dash units outbound to Strava was immediate. Assuming I had the smartphone app (Stages Link) running somewhere in the background, once I finished the ride and saved it, within about 30-45 seconds I'd get the notification that Strava had received it. Super quick. Obviously, a longer ride will take slightly longer to transfer the initial file from the Stages Dash to your phone, but we're only talking a handful of extra seconds.
Note that the Stages Dash doesn't have WiFi, so all uploads need to happen either using Bluetooth Smart with the Stages Link app (Android/iOS), or via the Stages Sync app on your desktop computer (Mac/PC). I did both variants, and had no issues either way.
GPS Accuracy: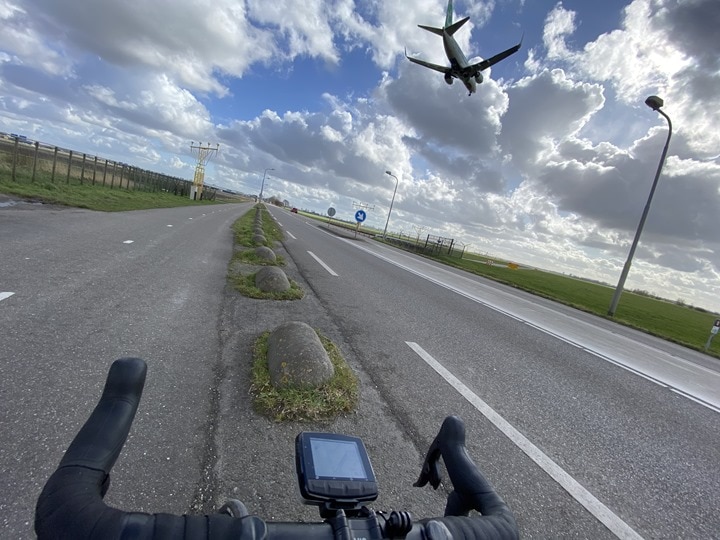 There's likely no topic that stirs as much discussion and passion as GPS accuracy.  A bike computer could fall apart and give you dire electrical shocks while doing so, but if it shows you on the wrong side of the road?  Oh hell no, bring on the fury of the internet!
GPS accuracy can be looked at in a number of different ways, but I prefer to look at it using a number of devices in real-world scenarios across a vast number of activities.  I use 2-6 other devices at once, trying to get a clear picture of how a given set of devices handles conditions on a certain day.  Conditions include everything from tree/building cover to weather.
Over the years, I've continued to tweak my GPS testing methodology.  For example, for watches, I try to not place two units next to each other on my wrists, as that can impact signal. And for bike computers, I keep them all roughly spaced on my handlebars. For some of the tests I'm using a combination of GPS bike computers as well as GPS watches to judge GPS accuracy.
As is usually the case, I'm largely just using my day to day training as my test 'venue', which mostly means the areas around Amsterdam (where I live). However, I have used the Stages Dash in other cities/locales, including in Mallorca (Spain), and within the Alps. However, both of those more elevation-oriented locations were back a number of months ago (last year) on much older firmware). So for these tests I'm just sticking to more recent data points. Though, I'll spoil the ending and say I saw no issues with GPS accuracy back then either.
Realistically, it's rare to see GPS bike computers screw up these days road-riding. It happens, but when it does it's usually quite minor. Still, I'll analyzer a number of sets here. While I just got a mountain bike last week, I haven't had a chance to put it through its paces with the Stages Dash yet. So, road-riding it is here.
In any case, here's a look at a ride a few weeks ago with the Stages Dash L50, compared against the Garmin Edge 830, Wahoo BOLT, and Apple Watch Series 5. Here's that data set: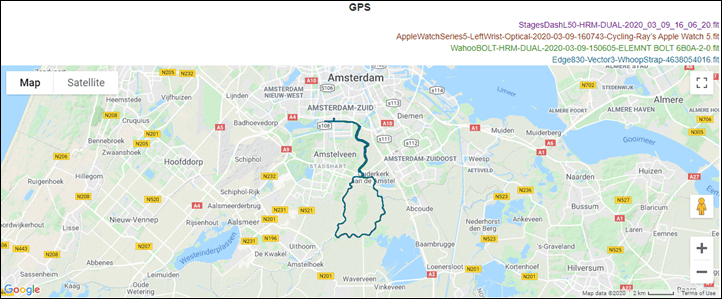 I started the ride, and then realized about 30 seconds later that my back tire was flat AF (a slow leak I've been meaning to fix for months). So, I took a quick detour into a local bike shop to grab the pump they place at the front door. However, what's more important is the rest of what you see below is spot-on by everywhere, past pretty tall buildings (the tallest ones in Amsterdam), as well as under some overpass things too. All good!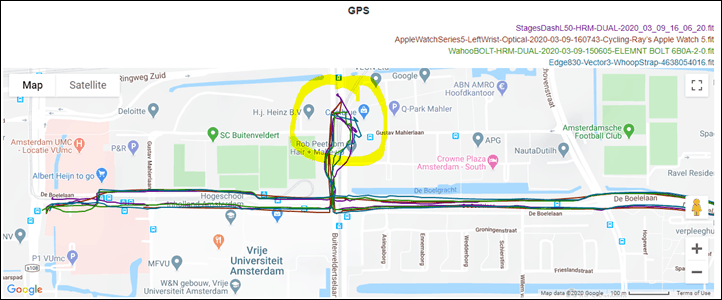 Next, we've got my crossing my highway/river overpass. What's notable here is all of the units are nice and crispy, with the little squiggle switch-backs pretty solid (the one to the left includes going under the exit ramps. Of course, that doesn't include the Apple Watch – which trail-blazed across all the turns because…Apple Watch.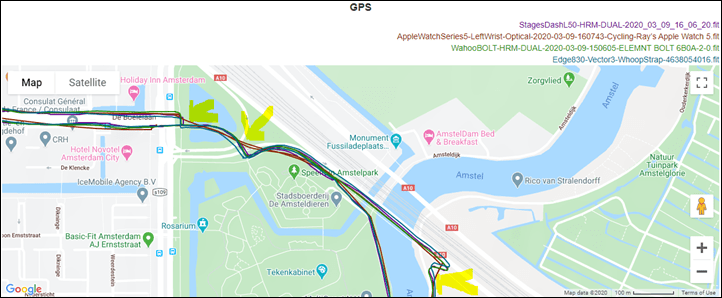 And from that point onwards, it's frankly pretty boring. All the units largely stay on the road the entire time, save a few seconds here or there where one unit might dip a couple of meters to my side into the canal for a short bit and back. A slight offset. You can see the Stages Dash L50 do it once here (to briefly tourist at a castle):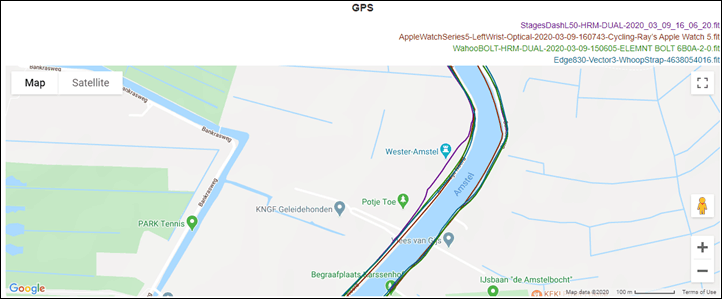 And then you can see the Garmin Edge 830 do it once here:
But we're really only talking just a couple cases of that, most of the time, they all looked identical (and boring):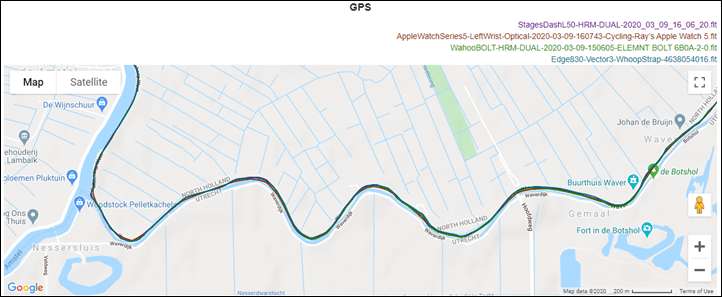 So, let's move to another boring ride. I mean, the ride was nice – just the GPS tracks are boring. This one of both the Stages Dash L50 and M50, as well as the Garmin Edge 830, Suunto 7, and Garmin Fenix 6 Pro. Mind you, the Stages M50 was chillin' in my back pocket for some of this ride snuggling with my phone, yet still laid down perfect GPS tracks. Here's that airport-loop data set: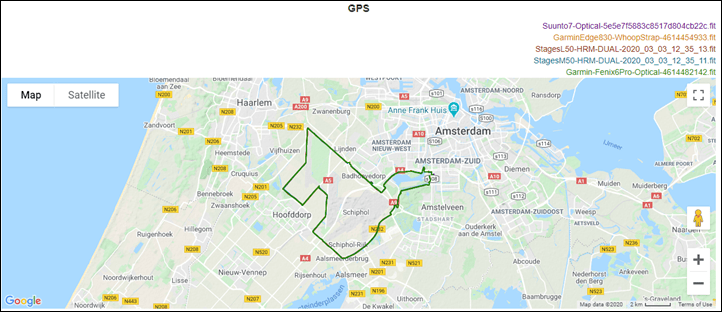 Like I said, the tracks are boringly perfect: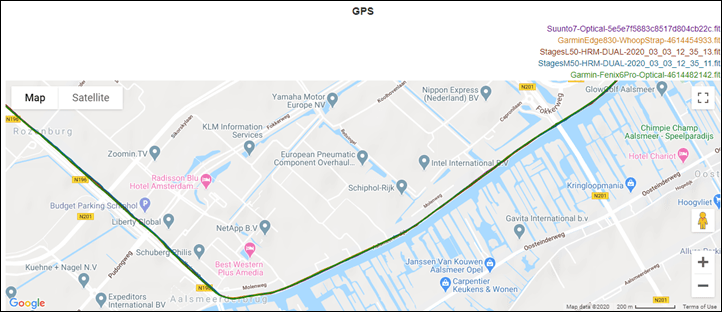 More boring: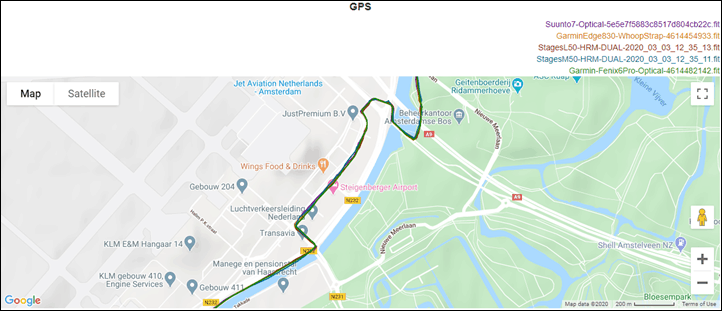 Two hours of perfectly boring tracks. But wait, what's this excitement?!?!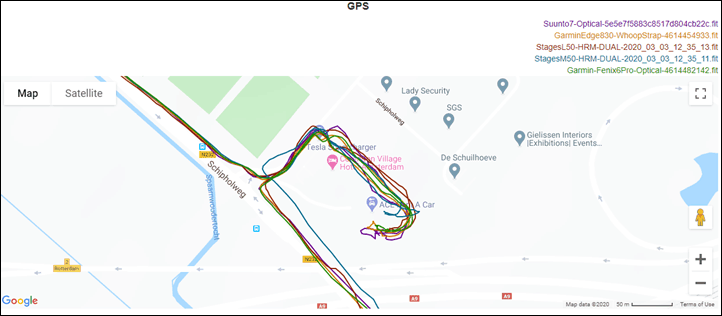 Oh, that's right. It's me, getting distracted by riding under a Boeing 747: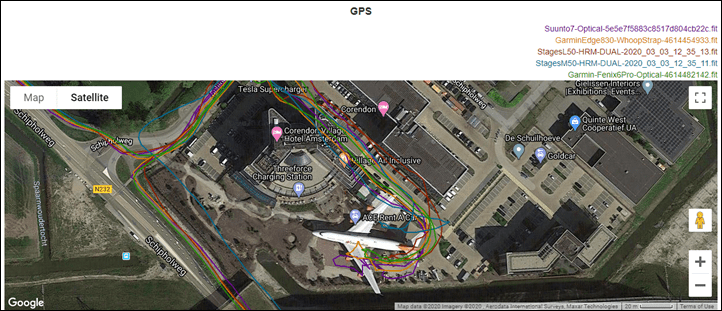 I'm not sure I can really give anyone a hard time for that situation. Nor the fact that after I left the 747, I immediately enter a tunnel – which dorks up things briefly (though, barely). But I always opt to ride under 747's when I can: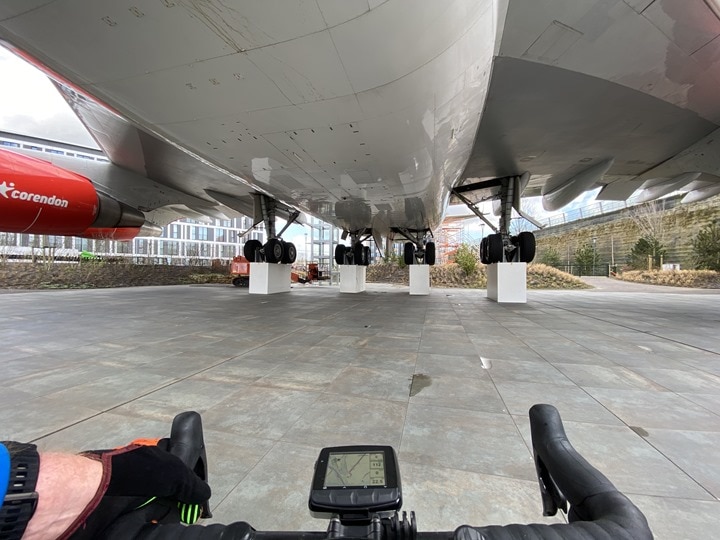 Later in the ride on a bike path, I did see a bit of separation, primarily from the Suunto 7, but it was very small, and only lasted a few hundred meters.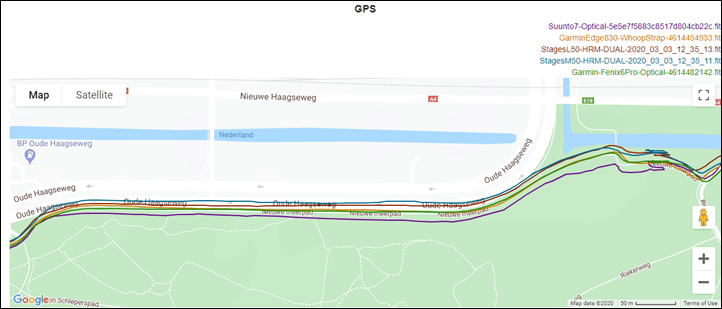 In any case, let's call that ride done and…boring.
Here's another route, slightly different from the first one:

The only excitement we got on this ride was right at the beginning, when the Edge 830 apparently forgot it's supposed to do the 'GPS Thing'. It remembered about 300 meters down the road.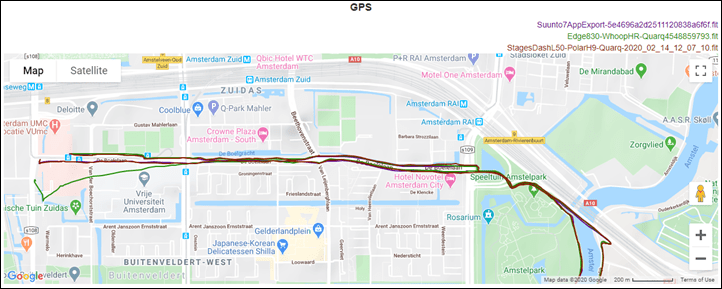 After that, pure boring: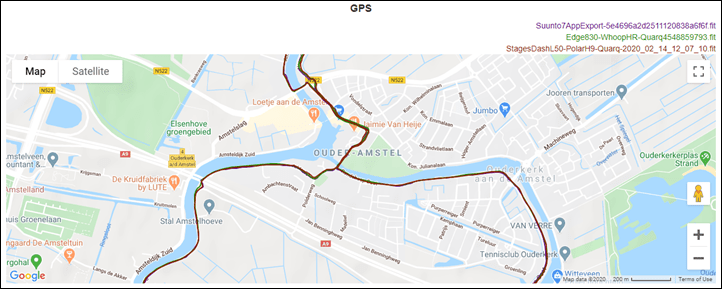 Ok – so, just in case it wasn't obvious: Zero issues with GPS accuracy on this unit (a trend I saw all the way back to last summer). Seriously, I've been riding with these things on and off since then.
Also, for lack of anywhere else to put it, I did test/look at where there were any recording differences between a Stages Dash unit and a Garmin or Wahoo one, with respect to power meters or heart rate sensors specifically. In those cases, I paired up a given power meter (Quarq on one test, Favero Assioma on another) as well as heart rate sensors (Polar H9 and Garmin HRM-DUAL) and looked to see if there were any differences between the recordings (beyond normal 1-2 second minor differences due to recording transmission/reception timing issues). They were not different at the recorded data level:

However, I will note that I see a weird quirk in the final summary screen of the Stages Dash units, where it reports a higher than actual power value for my "instant" power (I can't produce that power, I've seen many hundred watts higher). This value isn't shown anywhere else in the platform or files. Stages says they're looking into it.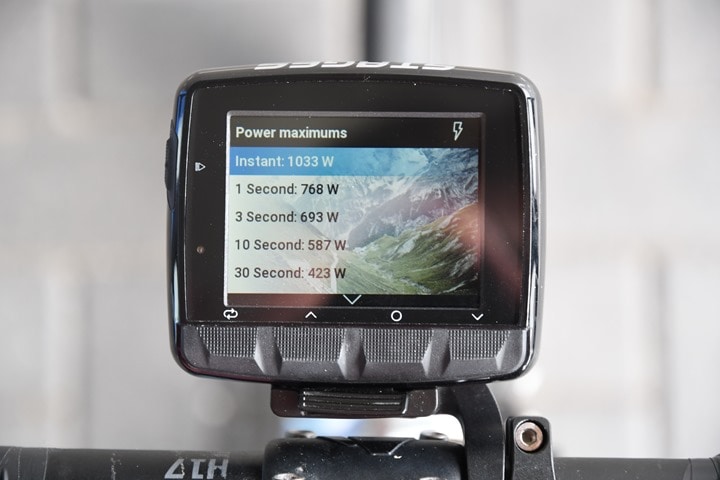 But what's key is that aside from showing that only on the Stages Dash L50/M50 ride summary screen, I see it displayed/recorded nowhere else. So, all's good in that sense.
Finally, for elevation comparisons – I'd love to have some. But, the highest thing I can go over around these parts is a highway overpass (seriously).

Within that context, all of the units I tested for these rides tracked change in elevation very closely, however they were separated by about 5m in actual elevation. On a ride anywhere else in the world you'd never notice this. But when the *entire scale* of my graph is 20 meters (the highway overpass is shown at the 10 min and 1:06 marker), it makes a mountain out of a mole hill.
(Note: All of the charts in these accuracy sections were created using the DCR Analyzer tool.  It allows you to compare power meters/trainers, heart rate, cadence, speed/pace, GPS tracks and plenty more. You can use it as well for your own gadget comparisons, more details here.)
Product Comparison:
I've added the Stages Dash L50 & M50 into the product comparison calculator so you can see how it compares to other units on the market. To keep things simple for below, I've compared it against the Edge 530 and Wahoo BOLT – primarily since those are in the same ballpark price-wise. Of course, there are plenty more units in the product comparison calculator (like the Edge 830 or Wahoo ROAM), so you can make your own charts here as well. In the meantime, here's how things line-up below:
Also, it's worth noting somewhere that while I didn't include the Stages L10 in this review, it's a beast of a unit capability-wise. Essentially it has everything you see in this review except the mapping and color bits. I dive into those specs here. Most notably, it's only $149. So if you don't care about color mapping, then you should seriously consider that unit.
Summary: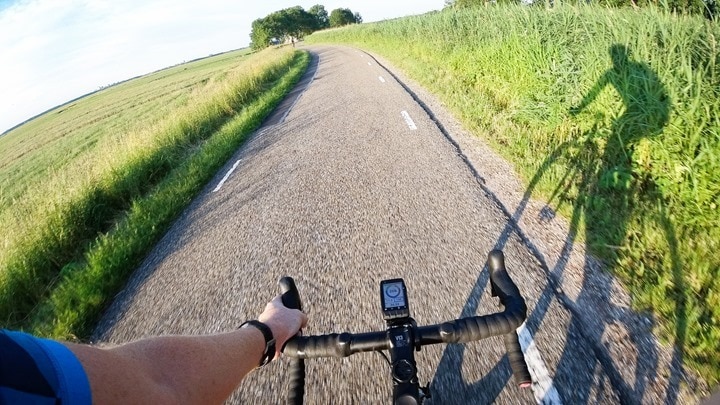 The Stages Dash M50 and L50 definitely represent a leap above Stages' first Dash unit – there's no question there. And for the size of the company, they're able to put through a surprising number of features, and with significant depth. The unsung hero of the Stages Dash lineup is actually the deeper integration with Stages Link, and the premium features they include there that other platforms like Garmin and Wahoo simply don't have. If you're an athlete training for something with specificity, then there's no beating the included Stages Link platform for the value. Especially if you often do structured workouts.
Ironically, it's this secret weapon that I think may be hurting Stages in the larger picture. See, much of the product's depth is unseen – like the greatest oceanic canyons. As such, when you look at features compared to a Garmin or Wahoo unit, things like lack of Strava Segments, lack of live tracking, lack of on-device waypoint routing, and so on, get all the attention. It doesn't help that the Dash L50 and M50 aren't as sexy looking as a 'Stealth BOLT' or an Edge 530. It's hard to explain to someone how sexy T-Scores, CTL, ATL, and inner-outer structured workouts work in a bike shop or a 30-second elevator pitch.
Said differently – the Stages Dash M50 or L50 are both incredibly solid computers for the money that are ideally suited to those with structured training with a power meter or smart trainer. They provide as a whole platform far more depth than Garmin or Wahoo can in the planning and performance metrics category. However, for someone that just wants to go out and ride, some of the value prop is lost. That said, I'm interested to see now that Stages has largely stabilized their development efforts, how they can turn that ship a bit into new features that have broader appeal to be able to eat into Garmin or Wahoo's sales.
With that – thanks for reading!