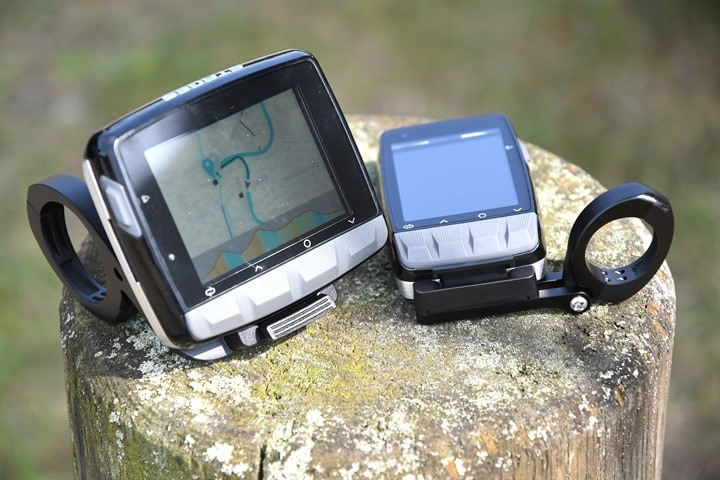 (** Update: There has since been an In-Depth Review of the Dash L50, M50, and L10 Bike computers. Follow the link for a deeper dive into the products**)
Stages may have just stumbled on making one of the best deals in GPS bike computers – the newish Stages Dash L10.  Of course, that's actually not the two units that most cycling media outlets, including myself, will probably feature in their headliner images.  And if I had more hours in the day, I'd write separate posts for them.  But I lack that time, and in the case of the L50 and M50 units – I lack enough hands-on time to justify it.
Thus, I'm going to cover them all here.  And sure, the L50 and M50 will likely turn out to be great GPS cycling units, but the L10 (at $149) shouldn't be overlooked.  In any case, as for the M50 and L50, these are Stages first forays into the mapping and color screen realm – with a medium sized unit at $249 (the M50), and then the larger screen unit at $349 (L50).  Both have the same feature set, just different battery life times and sizes.
If, of course, you want the quick and dirty version of this entire post (minus the Strava Saga), check out the below video:
With that, let's dive right into it!
The Stages L50 and M50: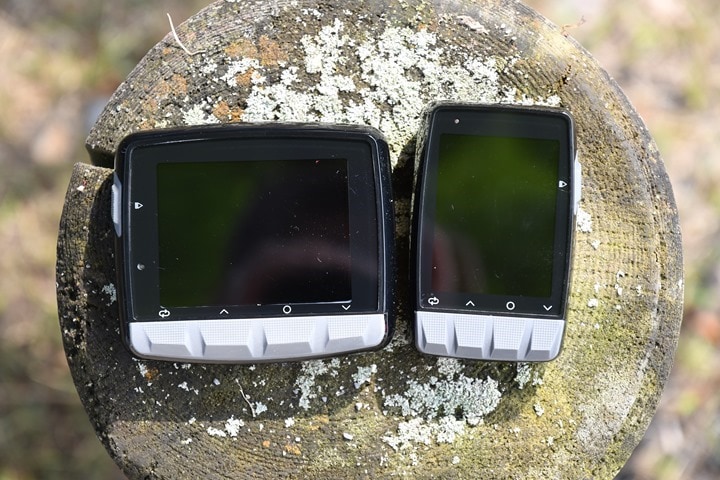 With the threesome of new units, the two color-display units are the Stages L50 and M50. The L50 is the larger one (with the 'L' denoting large, and the 'M' denoting 'medium').  Both of these units are using 320x240px transflective LCD screens, with the L50 being 2.7", while the M50 is 2.2".
While I'll get to the added functions, the big ticket item that the company is most proud of is their battery life on both units, even while at high brightness/visibility levels (which typically drain GPS devices faster than a broken wine bottle in a paper bag).
From a spec standpoint you might not catch the difference though.  The L50 claims 18 hours of GPS-on battery life, while the M50 claims 15 hours. Both of these numbers are in the rough ballpark of their competitors.  But in the case of the Stages units, these numbers are with the backlight enabled  – whereas that's definitely not the case with Garmin and Wahoo.
But let's talk features.  The new Dash units contain all the same stuff you had from before (plus the new stuff).  The existing bits they had were all pretty commonplace:
– Ability to customize display pages/metrics
– Support for ANT+ & Bluetooth Smart sensors, including power meters
– Ability to execute structured workouts on the unit itself
– GPS tracking of where you went, including barometric altimeter
Of course, as I've outlined in the past – the Stages Dash had the most impressive custom workout creator on the market, and then easily had the most crazy customizable data screens on the market too.  And it also allowed both vertical and horizontal mounting. All of that is there too.  And like before, whether or not you find the exterior of the case fashionable remains…individual.
But with the Dash L50/M50 they've added mapping to it.  The mapping here, for the time being, is the same functionality level as the Wahoo ELEMNT/BOLT, which means that you can get turn by turn directions which are overlaid atop a map.  However, only the Stages Dash shows the street names (whereas the Wahoo units just show road lines).  When it comes to re-routing mid-ride (such as missing a turn) it'll point you in the direction of where you should be, but won't give you specific streets to undo your mess.
(Slide from presentation from Stages)
Again, same as the Wahoo devices, but not as advanced as something like the Garmin Edge 520 Plus/820/1030, the Hammerhead Karoo, or the Sigma Rox 12.  All of those units support dynamic re-routing and navigation on the fly, and also have full metadata about the streets you're on – so it actually knows the street names and how it can use those streets (such as one-way streets/etc…).
As I've said many times before though – both methods are totally functional.  Just depends a bit on what you're doing.  I've used both variants to navigate long distances (over 100 miles), without issue, each have their pros and cons.
With the Stages L50/M50 you'll be able to create routes using the Stages Link app/platform, as well as import GPS/FIT/TCX files onto the devices.  The unit has 16GB of storage, of which you can use about 15GB of storage to load whatever map regions you want using their app (for free).  For reference, for their data set density they found that the state of Colorado uses about 250MB (so 0.25GB).  So easily more than enough space for plenty of map loading.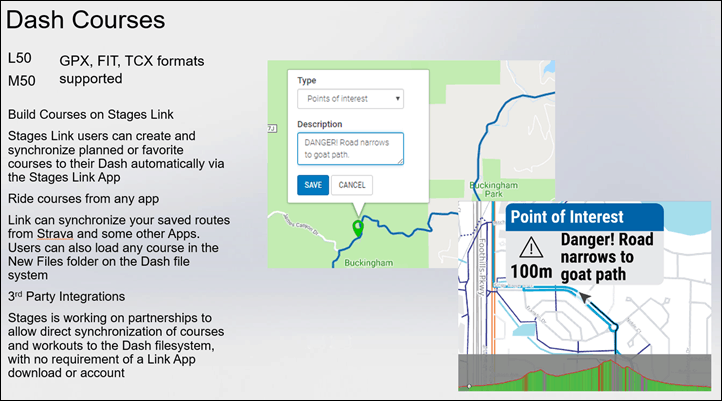 (Slide from Stages presentation)
You can also sync routes from Strava Routes, and likely soon some other services as well (but they weren't ready to announce those at Eurobike).
Next, there's the new workout functions.  The company has revamped the workout functionality here to support colors, which allow for color-coded targets and zones to be more clearly displayed.  What's interesting though here isn't actually the coloring, but what they're doing around trying to help cyclists new to power figure out their targets.
Essentially rather than doing FTP or ramp tests, they're just having you ride as you normally do and it'll figure out your zones for you.  This is roughly akin to some of the work that Xert has done on determining these zones or FTP values without putting you through the suck-ville that is an FTP or ramp test.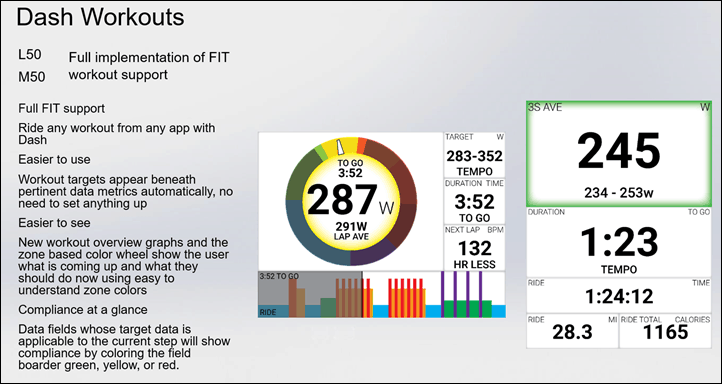 (Slide from Stages presentation)
Next on the new-things front is an overhaul of the mobile app.  There's a massive pile of tweaks here, from user interface redesign to new functions like a simplified dashboard and the ability to create courses.  They've also shifted to an activity feed model, including the ability to show wellness stats such as weight and other sync'd stats from partner platforms.
They sent over a massive pile of screenshots, which I'll just drop right here for you to scroll through.  Large galleries apparently work for the Sports Illustrated Swimsuit Issue, so I'll assume folks will like them here too:
Finally on the new tidbits front is a massive pile of mounts. It's notable that each Stages Dash unit ships with an aluminum mount. None of the cheaper plastic bits found in other company's boxes.  Atop that, they've got a pile of new mounting options they'll be offering as accessories as well – including the GoPro-compatible one (which also works with bike lights too).
Now, with all those new tidbits taken care of, there's two less-awesome tidbits to talk about.  The first may have become somewhat obvious as you're reading through this post: I don't have a lot of great photos of the unit.
In the words of Forest Gump: Shitake Happens
Or something like that.
And that's what happened to Stages. They made a required component change between their pre-production models in early-June.  Unfortunately, those components and associated pre-production units got caught up in customs for about 10 days…finally arriving in their hands the day before they left for Eurobike.  This left them with a software/hardware mismatch whereby the units going to Eurobike could basically only show one screen.  The buttons weren't functional yet.
Stages could have either not shown anything, or shown things under glass boxes.  But they were pretty upfront about it.  Had they had just a few more days they probably could have finished getting these units all cooking to a typical beta level. But alas, they couldn't just ask Eurobike to press 'pause'.
This is them at the DCR Eurobike RV two days before the show, trying to get a few units to power up to show me for the photos you see in this post.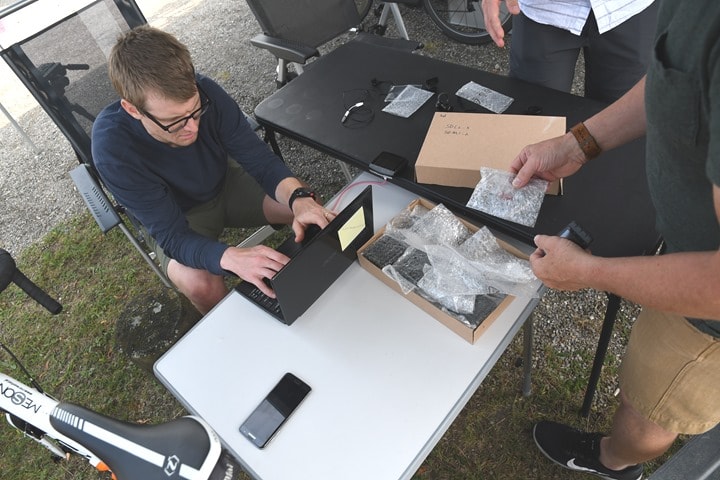 I don't have any real concerns about it at this time, as the shipping date isn't till early fall anyway.  And I've seen more functional demos via conference call.  Even the most well prepared and most well-known companies in the sports tech realm have these moments.  And to put that in perspective – many companies this year at Eurobike made last-second product pulls for the show.  It's just that the other companies had other things to distract you from the fact that you didn't know they were missing unannounced items.
Where's Strava?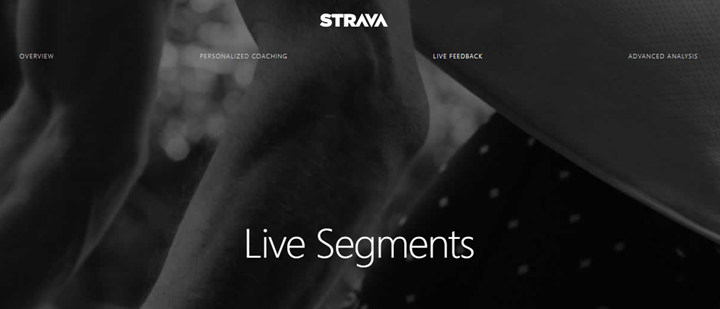 But then there's the bigger problem: Lack of Strava Live Segments.
To be clear – the unit uploads to Strava just fine, and can even pull Strava Routes just fine.  But Strava Live Segments? Not so much.
The reason? Well that's where it gets really messy, really quickly.
See, the original Stages Dash didn't have Strava Live Segments either – but the company wanted to roll it out with these new products.  Up until this point in time, that was largely a company-specific (Stages) thing, not a Strava limiter.  As long as they had Strava's blessing to roll out, it was merely a technical implementation item.  Garmin, Polar, Lezyne, Wahoo, Mio, Sigma, and probably some others I'm missing all have done so on a variety of their devices.
But when Stages went to get said blessing they were essentially told to pay a per-device fee.  Without getting too far into the specifics, that per-device fee is massive – almost as much as retailers would make.  Of course, for any company, that's a non-starter.  Stages was apparently the first company to be caught in this new Strava policy of making money on the device side of Strava Live Segments (as a reminder it already is limited to only paying Strava Premium users).
Now both Stages and Strava say they're still working this out – and thus, for the time being, I'll sit a bit longer on the sidelines while they do so.
But let me be clear upfront: I'm not a fan, and let me explain why.
This is effectively a Garmin device promotion fee. There's really no other way to frame it. See, Strava can go to smaller players like Stages, Sigma, Lezyne, and Polar (and probably even Wahoo) and force them to pay this fee (or not have the feature).  Whereas if they go to Garmin and say the same, Garmin will tell them to 'take a flying leap' (actually, they'll use other four-letter words).
Strava will have no choice of course, because Garmin commands about 95-98% of the cycling GPS market.  But more importantly – it drives people to actually subscribe to Strava Premium.  Without Garmin, Strava's back to losing boatloads of cash (which investors don't like).  It's the much tighter partnership between Strava and Garmin over the last 3 years that's increased Strava's previously non-existent revenues. Strava knows this, Garmin knows this…and everyone else knows this.
[Preemptive note: No, Garmin won't acquire Strava. As they themselves have said, it makes no sense at this point – that ship sailed many years ago. They gain nothing from an acquisition except costs and headaches. Right now they have the best business position there is from their perspective. They leverage their dominating market share to get whatever they want, early before others with exclusives without having to pay for it. If they bought Strava people would be upset at them, and the cost is too high these days anyway for any meaningful ROI.]
I'm not entirely sure what the solution is – but I don't like a solution that taxes the smaller players and effectively limits our choice of GPS units.  Right now, Stages is mostly caught in the middle.  But I'm hoping Strava can figure out a solution that doesn't simply favor the giant in the market. Plus, it's never good to put all your eggs in one basket anyway.
The Stages L10: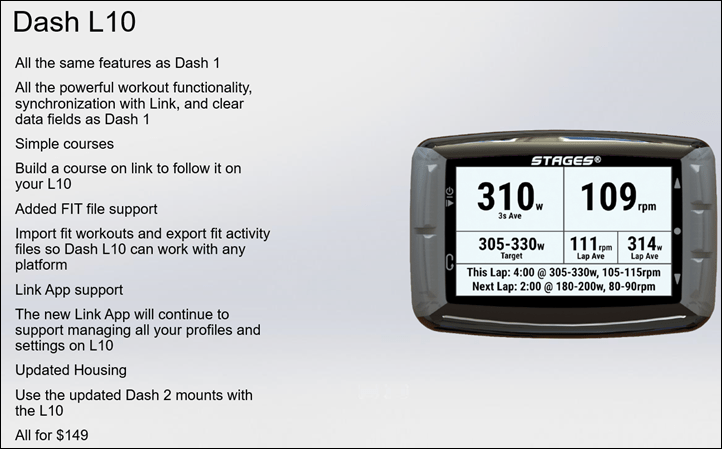 (Somehow in the whole excitement of the L50 and M50, I never got a good shot of the L10 – so…above from the presentation is what there is.)
Before we wrap things up, it's worthwhile to take a quick detour towards the new Stages Dash L10.  See, while it may look like the existing Stages Dash, it's not. At least, not exactly.
There are two items of note here:
A) First, it's a crapton cheaper – $149
B) Second, it's actually better internally
And that's all there really is to know.  Actually, it's also got an updated external case as well. Just cause.
See, Stages found one small issue with the existing Stages Dash: It ran out of computing room inside of it, from both a memory and processing standpoint.  Kinda like what Garmin found with the Fenix 3/3HR lineup.  The lead-time to design these products is years in the making, and sometimes what's required of these devices occurs faster than engineers envision (or, than product managers allow for).  So basically, Stages ran into a spot where they couldn't add the features they wanted to on the hardware they had (also, just like Garmin…and probably many more).
So the Stages Dash L10 is effectively just a Stages Dash with a crapton more internals.  What is the definition of crapton you ask? 512MB of crapton to be precise.  For this unit, they just said eff it and stuck 512MB in there (for comparison, the Garmin Edge 520 has ~54MB of usable space on it).  Of course the larger Stages M50 and L50 have 16GB on there (so 16,000MB), but that's because about 15GB of that is mapping.
Beyond the larger size, there are a few new features:
A) Ability to build courses from Stages app, and follow them on Stages L10 (no maps, just breadcrumb)
B) Ability to have native .FIT file support on the unit itself (no conversion required)
But it still retains all the stuff from the original Dash. So the ability to sync via Bluetooth Smart to your phone, the ability to download structured workouts, the ability to customize all the data pages from the Stages site if you want. ANT+ & Bluetooth Smart sensor support and all that is still there…but for half as much.
The price was $299 for the original Dash, and now for the updated version it's $149.
To put that in comparison, here's some other sub-$300 cycling-specific units on the market that support power meters:
Stages Dash L10: $149
Lezyne Super GPS: $149
Polar M460 GPS: $179
Garmin Edge 130: $199
Lezyne Mega-C/Mega XL: $199
Garmin Edge 520: $249
Wahoo BOLT: $249
Stages Dash M50: $249
Garmin Edge 520 Plus: $279
SRM PC8 GPS: $749
Why include the PC8 in there? Well, to make a point. The Stages Dash is more functional/capable than the PC8…but costs a fraction of the price.
Note that I haven't written up the post on the new Lezyne Mega C and Mega XL yet.  But in the meantime, you can watch the video I put together about those here.
Finally, to most easily compare the three new Stages versions with each other – here's a spec sheet from Stages: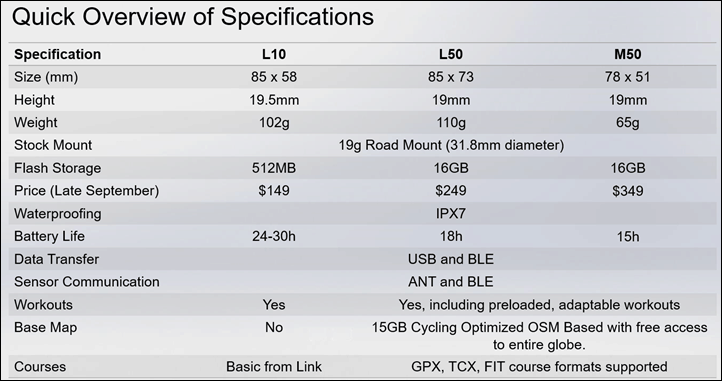 Got all that? Good.
Wrap Up: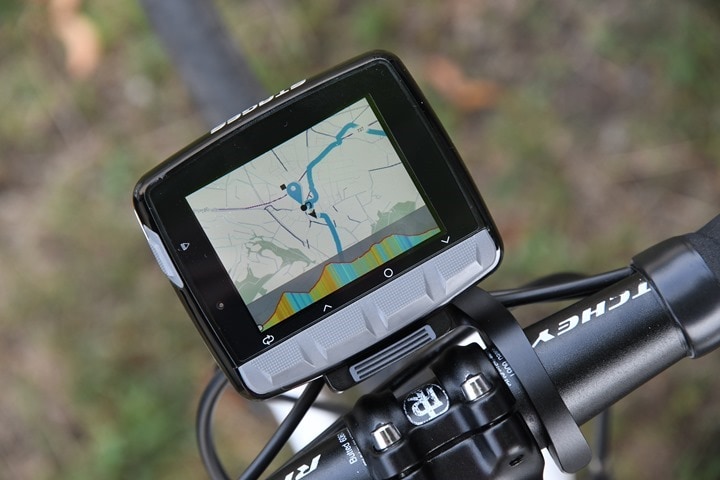 Overall I'm impressed with what Stages has brought to the table, especially in terms of pricing. I think they get it here.  The Stages L10 is an incredible deal at $149, while the Stages M50 should be competitive at $249.  The Stages L50 might be a harder go at $349, as it gets above the price point for something like the new full-functioned mapping capable Edge 520 Plus.  Obviously the Stages L50 has a larger screen and in theory gets better battery life – but well have to see how that shakes out in real-life down the road.
Which is ultimately when I'll next post about them – once I can go for a ride with them.  That was the hope for Eurobike (actually, for a few weeks prior), but alas, Forest Gump had other plans.  I'm definitely looking forward to seeing what Stages can do here.  From a mapping standpoint they're technically one-upping Wahoo, while not quite hitting the same level as Garmin's higher end units. Sorta floating in the middle, but still staying at the lower price points.
And of course – as I noted already – that new L10 is a steal for power meter users who don't care about maps or Strava Live Segments.
With that – thanks for reading!
Wanna Save 10%? Or found this review useful? Read on!
I've partnered with Clever Training to offer all DC Rainmaker readers an exclusive 10% discount across the board on all products (except clearance items).  You can pick up the Stages Dash units from Clever Training. Then receive 10% off of everything in your cart by adding code DCR10BTF at checkout.  By doing so, you not only support the site (and all the work I do here) – but you also get a sweet discount. And, since this item is more than $79, you get free US shipping as well.
Stages Dash L10
Stages Dash M50
Stages Dash L50
For European/Australian/New Zealand readers, you can also pick up the unit via Wiggle at the links below, which helps support the site too! With Wiggle, new customers get 10GBP (or equivalent in other currencies) off their first order for anything over 50GBP by using code NEWGB at check-out after clicking the links below.
Stages Dash L10
Stages Dash M50
Stages Dash L50
Additionally, you can also use Amazon to purchase the unit (all colors shown after clicking through to the left) or accessories (though, no discount on Amazon).  Or, anything else you pick up on Amazon helps support the site as well (socks, laundry detergent, cowbells).  If you're outside the US, I've got links to all of the major individual country Amazon stores on the sidebar towards the top.  Though, Clever Training also ships there too and you get the 10% discount.
Thanks for reading!