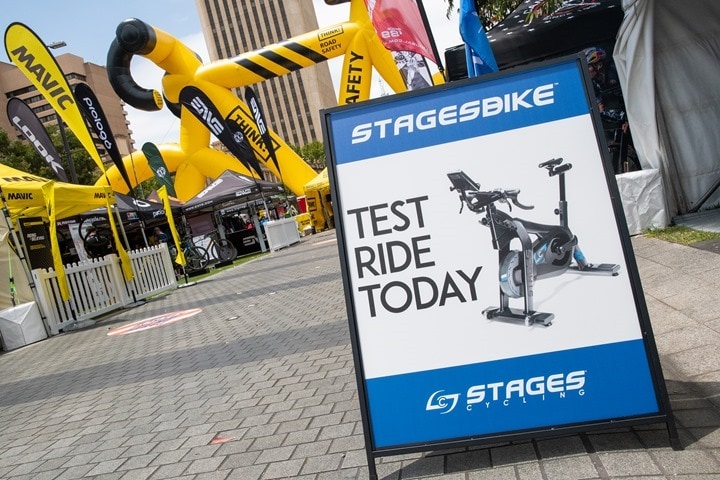 Update: You can find my final Stages Bike In-Depth Review post here!
It's been almost 5 months since Stages first announced their StagesBike at Eurobike. At the time they stated they planned to ship in Q1 2020 (which is, sometime between Jan-Mar 2020). Beyond that, it was mostly pretty quiet – as you'd expect. Also, apparently the spelling of 'Stages Bike', is without a space now. Maybe it always was. But hey – the more ya know!
However, this past week at the Tour Down Under they had three of the four, of the bikes on-hand, open to anyone that wanted to ride them. In fact, you could do your own side by side comparison of indoor smart bikes. Garmin was in a booth directly across from them, with the Tacx NEO Smart Bike, and Wahoo was three or so booths down (maybe 50 meters away) with their Wahoo KICKR Bike. Heck, someone even mentioned there was a Wattbike floating around somewhere (though, I didn't see it myself). Either way, it was open season for indoor bikes…if you were outdoors in Australia.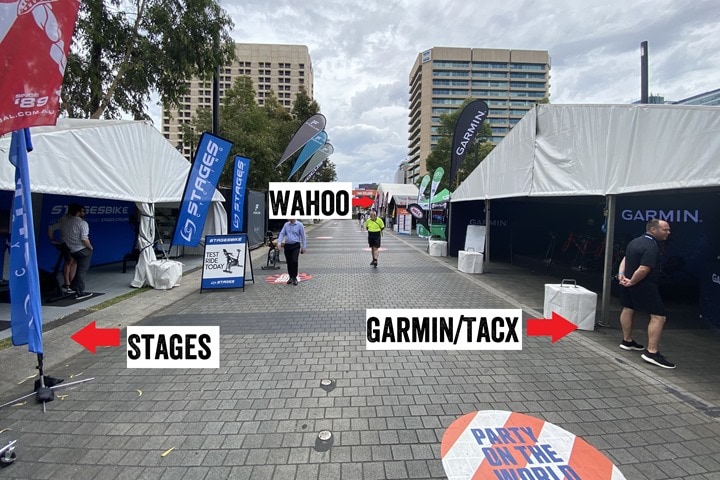 Now, I'm not going to re-hash all the features of the StagesBike – since that's what my first post was for. And nothing has really changed in that respect. Here's the 10-second specs from before, in case you want to get up to speed:
– Price: $2,600-$2,800
– Fully ANT+ & Bluetooth Smart broadcasting
– Fully ANT+ FE-C & Bluetooth Smart FTMS controllable
– Connects to apps like Zwift, TrainerRoad, Rouvy, The Sufferfest and more
– Maximum Wattage: 3,000w
– Steering buttons: Yes, once Zwift implements it
– Braking: Yes, already implemented
– Shifting: Has multiple button-based shifting, will be customizable within app
– Gearing: Can customize gearing within app to replicate "any bike gearing you can imagine" (their words)
– USB Ports: Dual USB ports on front
– Display stand: Both tablet and phone holders built-on
– Crank lengths: 165/170/172.5/175mm
Got all that? Good, let's get cookin'.
The Bike: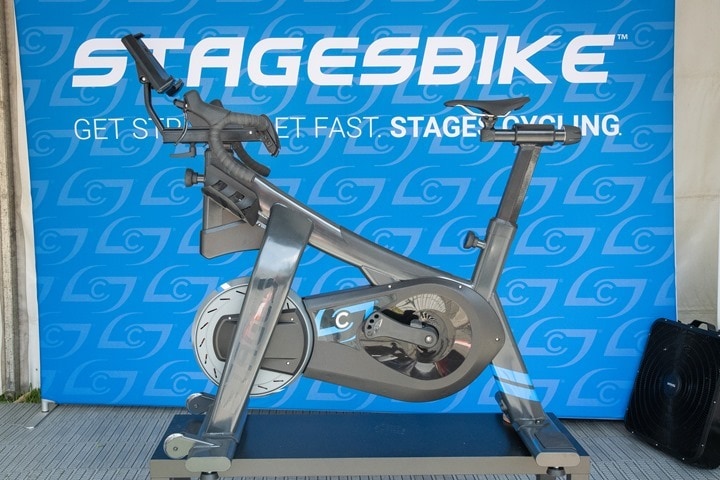 Now, I will give you the two-second tour of these production-validation bikes. That is, these were the last set of bikes to come off the production line, to be used for validation. Since then, they've completed that validation and the first set of customer-bound production bikes are actually already on the water. More on that in a moment.
As noted, Stages had four bikes floating around. Two of them were connected up to screens with Zwift running (perhaps they had other apps at other times), a third was up on a pedestal for easier inspection, and then a fourth was out-front of the booth sans-display for anyone that wanted to bake in the sun while getting in their workout.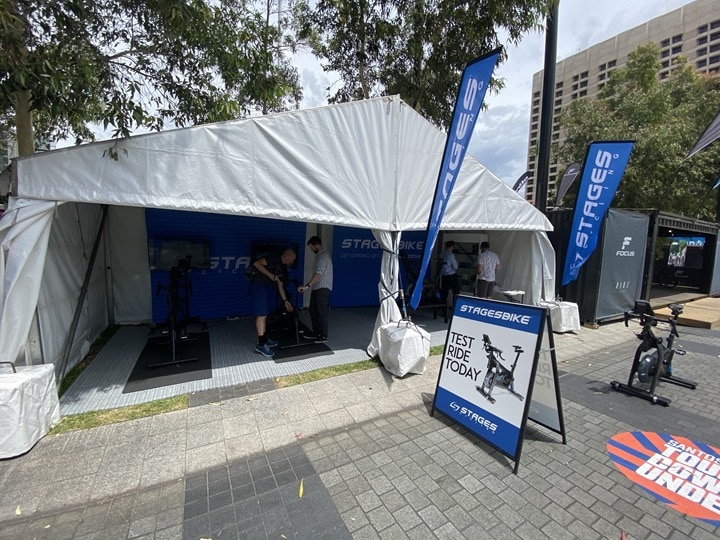 Best I can tell, there haven't been any noticeable changes to the external form of the bike since back in September. All the core components and design elements all appear virtually identical to my eyes.
One of the biggest notables of the StagesBike is that it has two Stages power meters on it, one for each crank arm. Thus giving you true left-right power balance. And unlike their Shimano-based Stages LR crankset, they have a bit more control over the accuracy here since it's their own crank arm. Though, as you may remember, they also have a third power sensor on the bike up at the flywheel, used internally for cross-referencing the data.
Above you can see those small Stages pods bumping off the top of each crank arm. Another welcomed addition compared to other smart bikes we've seen is the double water bottle holder. While admittedly I rarely go through two full water bottles on a typical weekday hour trainer ride – for those longer multi-hour winter sessions, it's a handy touch.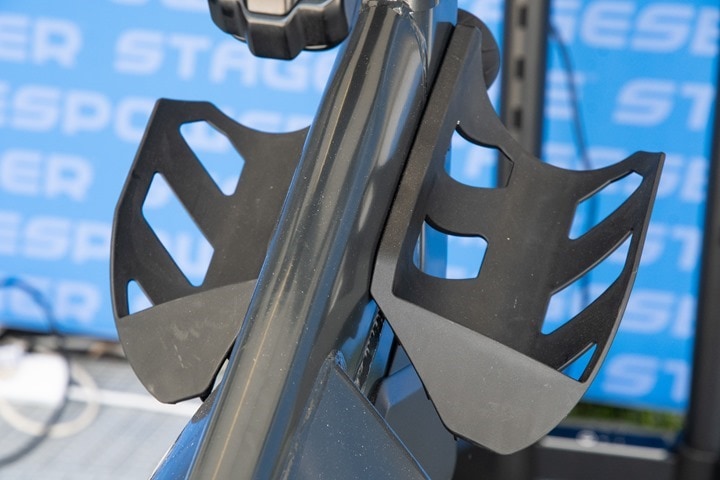 The display has mounting options for both individual phones as well as tablets (even an iPad Pro can fit). Further, you can mount a tablet up top and then place your phone, or another bike computer, on the grippy surface below it. Underneath that console are two 2AMP USB ports.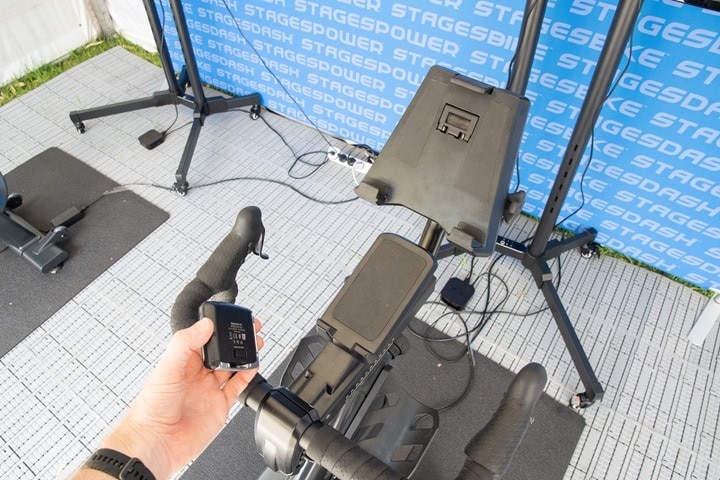 The app will be used for configuring any shifting or gearing you want, as well as other aspects of the bike. Technically the app is the same Stages Link app that's used for their Stages Dash GPS units as well.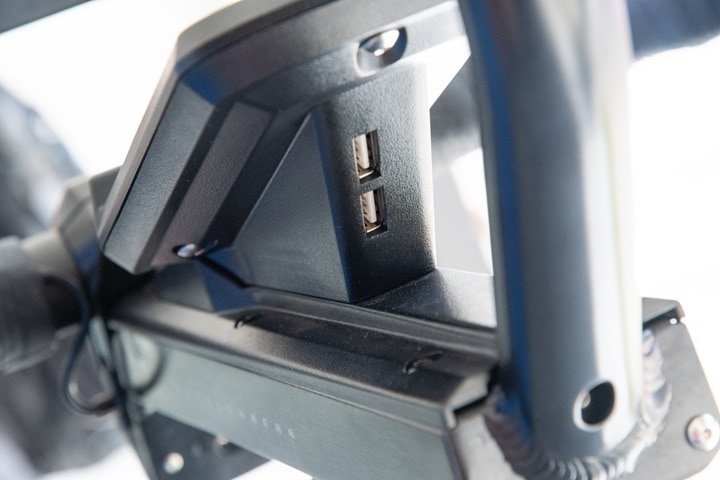 From a bike fit standpoint it's got much of the same adjustability as other indoor bikes. Crank arm lengths at 165mm/170mm/172.5mm/175mm. The seat post can go up/down, as well as fore/aft, and the same for the front console display.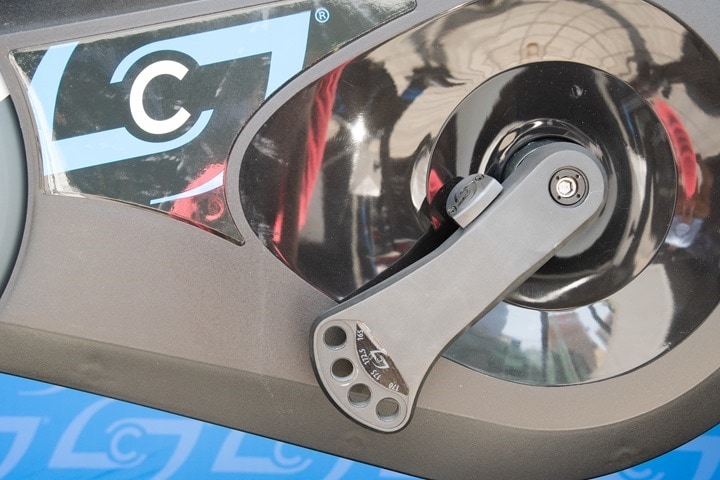 However, the step-through design here means that you don't have to deal with any thigh-gap frame/seat post rub issues like on the Tacx NEO Bike & Wahoo KICKR Bike.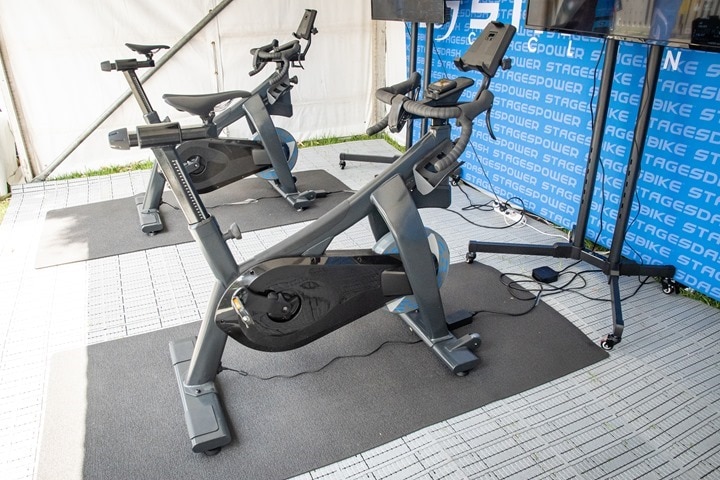 Meanwhile, the front 31.8mm handlebar means you can easily put on your own clip-on aerobars if you want to.
I did get a chance to jump on it and see how it felt. And overall it feels good. But I'll wait till I get it back in the Cave and with regular cycling shoes and apps like Zwift or such to see reaction/power accuracy, etc…
Probably the most notable thing is the beast-like weight classification achievement the company has unlocked. The StagesBike clocks in at 160 pounds (72.5kg) all-in shipped weight, with the bike itself being 138 pounds (62.6kg). Of that, the flywheel alone is a spectacular 50 pounds (22.7kg). None of the other bikes have flywheels anywhere remotely near that. Even the Peloton bike is 'only' 38 pounds (17.2kg). Go big or go home apparently.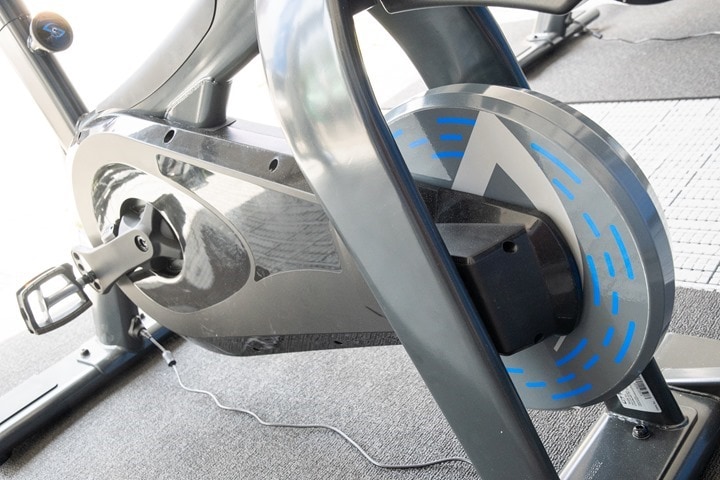 While I was able to manhandle both the Wahoo and Tacx Bike's up the DCR Cave stairs myself, I'm gonna finally have to use the darn lift thingy I had installed in the Cave to get it up to the upper floors (roughly this). Technically it's certified for more than that weight. Perhaps I'll test it with a pallet of bricks first. Yes, for some odd reason I actually do have a pallet of bricks sitting around.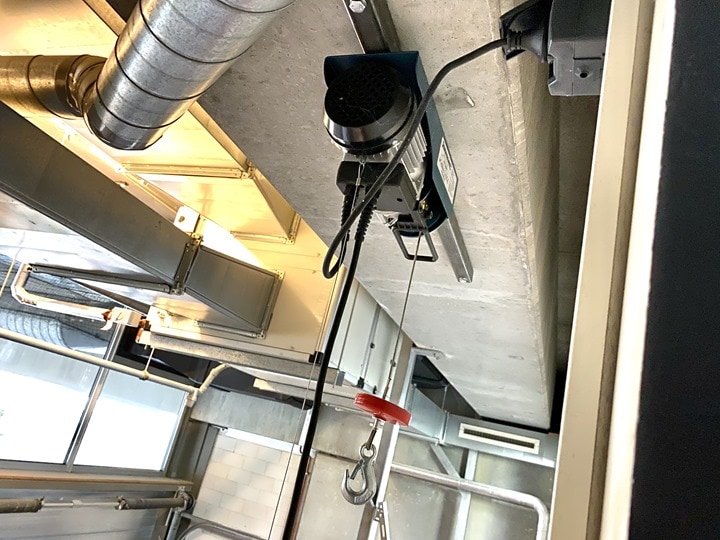 Of course, those are all problems I'll deal with next month. Or, I'll just sucker one of my friends into helping me get the beast up into the DCR test area.
Wrap-Up: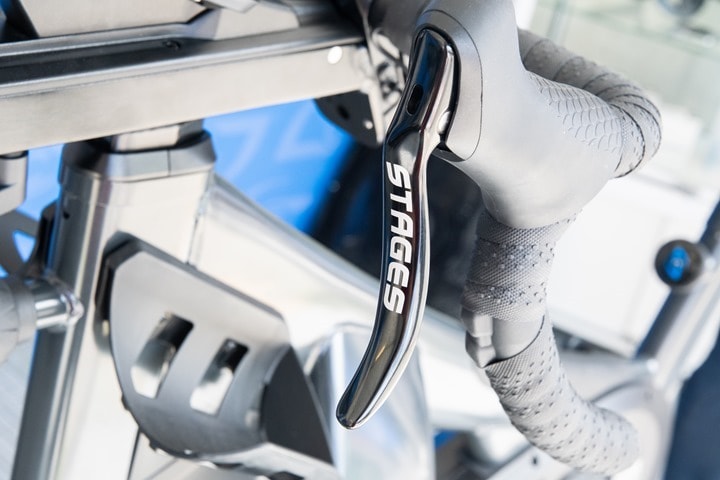 So where does shipping stand? Again, as previously planned it was always Jan-Mar of 2020, and the company says they're on target for that still. Right now the first batch of bikes is already on a ship traversing the Pacific Ocean towards the US. The main holdup at this point is simply their configuration app. That's actually in-line with what they said way back at Eurobike, that the majority of the time they needed from a development standpoint was on the app, rather than the hardware. Stages, of course, has been making indoor bikes (mainly connected/smart spin bikes) for years, and is one of the biggest players on that market. For the app, Stages is saying they're about 4-6 weeks out as of this week. So that puts them in early-mid March for first deliveries.
In-line with that, they're talking about having a bike to the DCR Cave probably in the mid-late February timeframe to begin testing. As usual, I'll wait until they start shipping to actual customers before I publish any sort of in-depth review. The same as I did for the Wahoo KICKR Bike & Tacx NEO Bike, to ensure that experience matches the end-consumer.
Thus stay tuned for later this quarter to see how things shape up (and ship out). More to come.
Thanks for reading!
—–
Hopefully you found this information useful. A full in-depth review is on the docket for the near future. But if you just can't wait and want to buy the bike now, please consider using the links in the sidebar to make your purchase and help support this site.