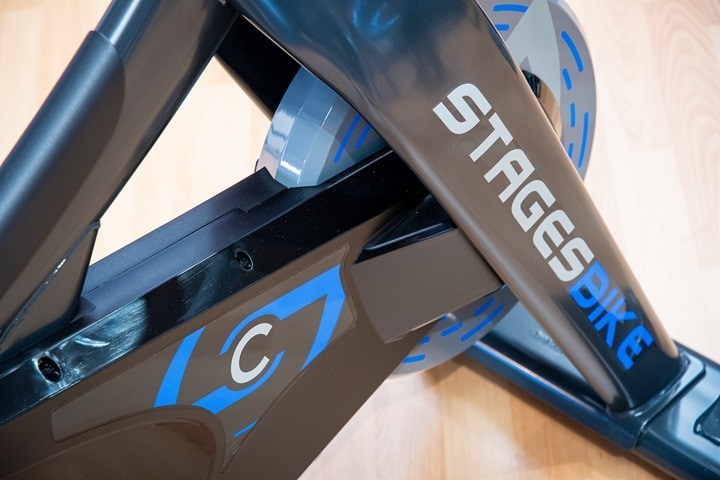 Note: My full in-depth review of the Stages Bike SB20 is published and available here, go check it out!
Stages is the first company at Eurobike 2019 to bring a new smart bike to market, though, it's hardly the first smart-ish bike they've made. In fact, it's likely nobody in the world is more familiar with connected bikes than Stages. The company makes not only their own line of bikes already, but bikes for countless major companies and brands you use in gyms around the world, including many of the most popular ones you hear in the news every day.
But today they're jumping into the resistance controllable consumer market with the new Stages Bike (they've previously had consumer-focused bikes that were not smart controlled). This new unit includes everything you'd need to be fully self-sustaining on an app like Zwift, complete with steering and brakes, as well as the ability to expand to triathlon bars and other multifunction buttons as apps might require them.
I've had a chance to get a quick test ride on the new Stages Bike, as well as spend what is hours of time discussing all the details with the company and understanding the parts. Sometime next month they hope to have a unit in the DCR Cave for more detailed testing, but until then, we'll focus on what we have today.
With that, let's dive into the tech specs.
(Also, check back in a little bit for a full hands-on video…that I'll be re-shooting early this morning after I apparently mis-framed and totally missed getting my head in the frame yesterday. Though some of you would say my head is overrated anyway.)
The Tech Specs:
We'll get right into things on the tech specs side of the house. In many ways, some of these specs will be familiar to trainer folks, whereas you'll find a new slate of specs that we need to start being aware of as more bikes hit the market. Things like supported crank lengths, adjustability limits, and handlebar extensibility. But first, let's start with the more common trainer-based metrics:
– Supports ANT+ FE-C control & Bluetooth Smart FTMS Control
– Support ANT+ & Bluetooth Smart power broadcast
– Contains a complete Stages LR dual-sided crankset for power measurement
– Contains a secondary power measurement at the freewheel to cross-reference in real-time
– Max resistance of 3,000w
– Max Incline of XXX
– Flywheel weight is ~50lbs
– Claimed accuracy: +/- 1.5%
– Ability to customize chainrings, cassettes, and shifting preferences via app
– USB ports with fast charging near display (2 of them)
– Junction box with ability to extend to additional shifters
– Ability to add in triathlon/TT bars to bike (accessory)
– Supports 165/170/172.5/175mm crank arms lengths
– Has brake levers like a normal bike
– Has steering buttons
Ok, with all those technical details out of the way, let's kinda walk through the bike from back to front. Starting off with the saddle and seat post. Both are individually adjustable. With the seat post you twist the lever to unlock it, and it goes up/down with laser-etched measurement markers as if it were going to the bottom bracket like a normal outside bike. The laser etching is notable because it won't scrub off over time like some stickers we've seen on other bikes.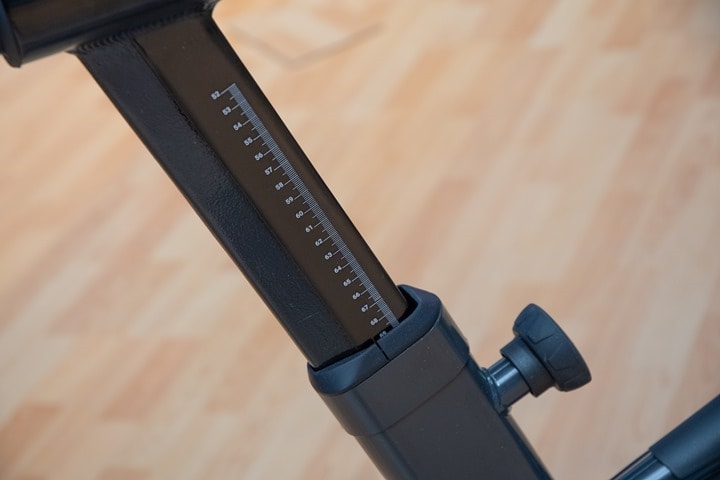 The seat adjusts forward/back using their 'infinity' adjustment system, which basically means it doesn't have to lock into preset grooves. It can just go exactly as much as you need by rotating it. Further, the saddle itself follows standard issue bike saddle rails, so you can adjust that however you'd normally like.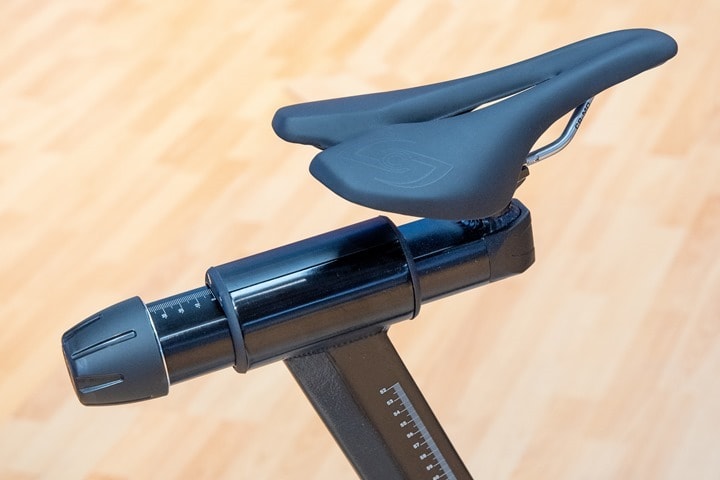 Next down below is the crank arms. It's here you'll find the Stages LR dual-sided pods, one for each crank arm, just like on an outside Stages LR crankset. Of course, the key difference here being they aren't limited to trying to backwards engineer various crankarm manufacturer's wonky tolerances and manufacturing inconsistencies (lookin' at you, Shimano), since they make the crankarm themselves.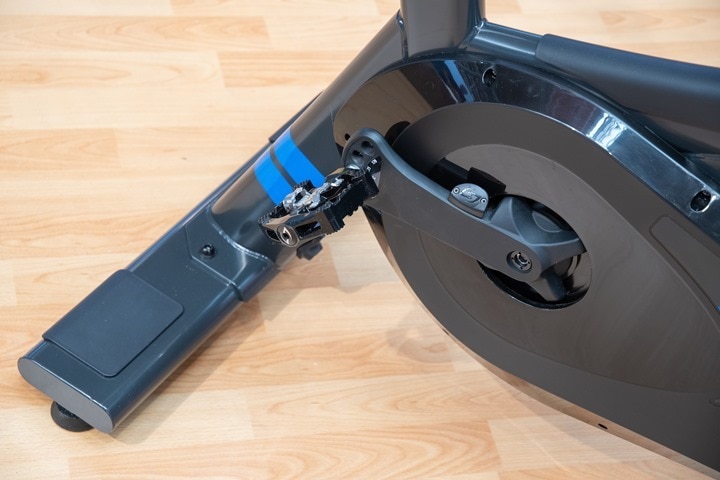 Here's a closer look: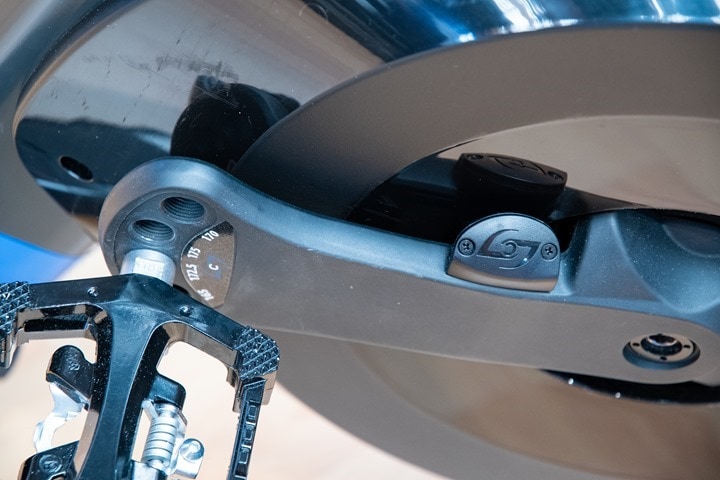 And you'll see the other pod on the other side: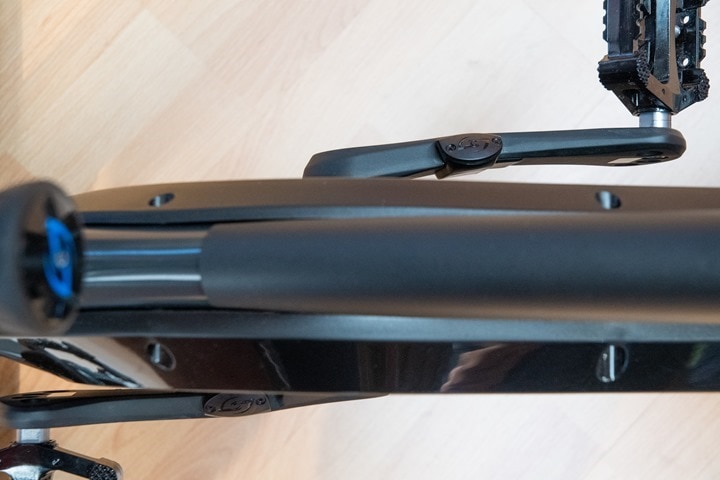 What's interesting here is that this isn't the only power measurement Stages does in the bike. In fact, inside the bike, at the flywheel, they also measure power at a much higher rate, where that power figure is leveraged for keeping the flywheel under control. Still, Stages then cross-references the two figures for consistency. Ultimately, the crank-based data set is what gets passed to your apps/bike computer.
Now you might have noticed the crazy looking four-hole pattern at the end of the crank arm. This is where you can pick exactly which crank length you'd want. It's definitely not as cosmetically clean looking as the Tacx reversible pod system on the Tacx Bike, but it's also a heck of a lot easier to quickly spin pedals into (and has a bit more flexibility).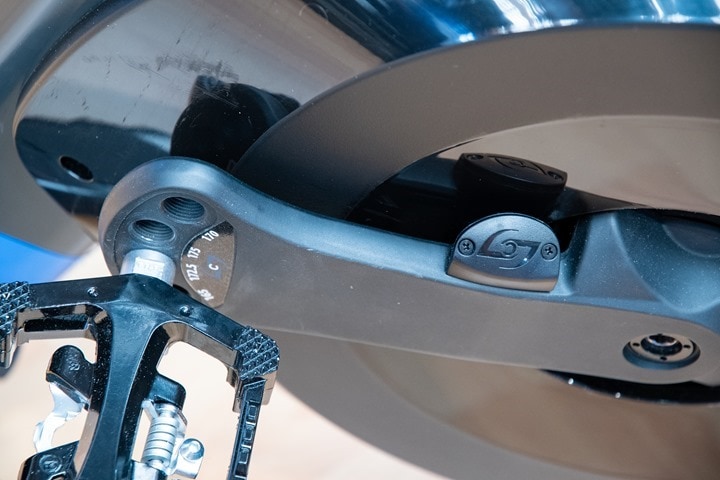 Note that the pedals don't come with the bike – you just put your own pedals on there. Heading up front you'll see there are two wheels on the front, these allow you to just lift up the back and roll it around. Since most of the weight is towards the front, it's pretty easy to lift up and relocate: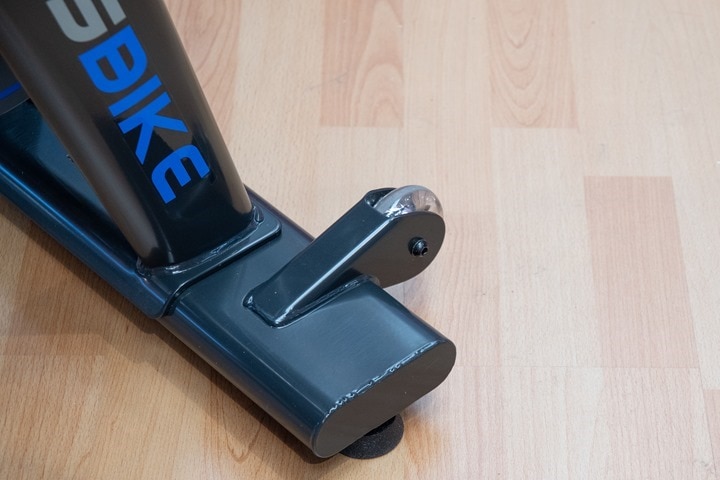 Then there are two water bottle cages: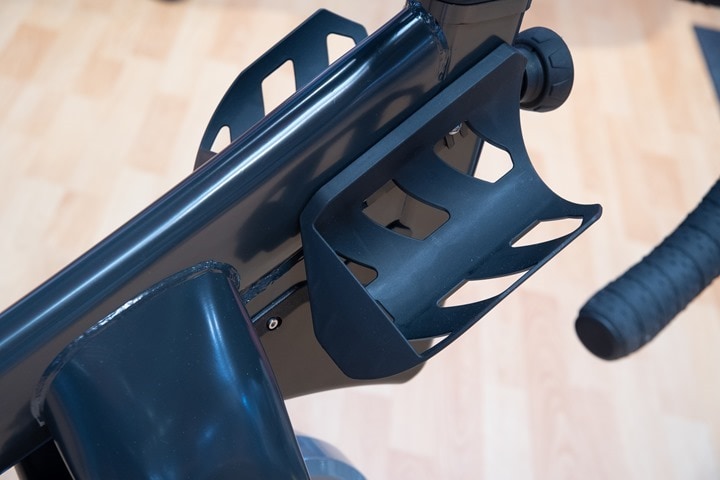 Followed by the entire front display aspect. They've got a larger tablet holder, and then inset within that is a smaller phone holder. It's got a retractable arm that automatically resizes to whatever size device you've got:
(Note: To be super clear, that's an iPad Pro sitting on the tablet holder, it is NOT the display of the bike itself)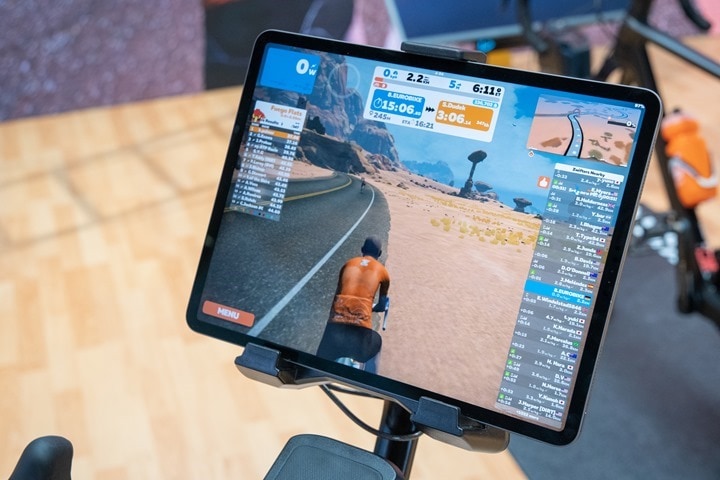 There's also a small phone holder down below it all, so you can rest your phone there: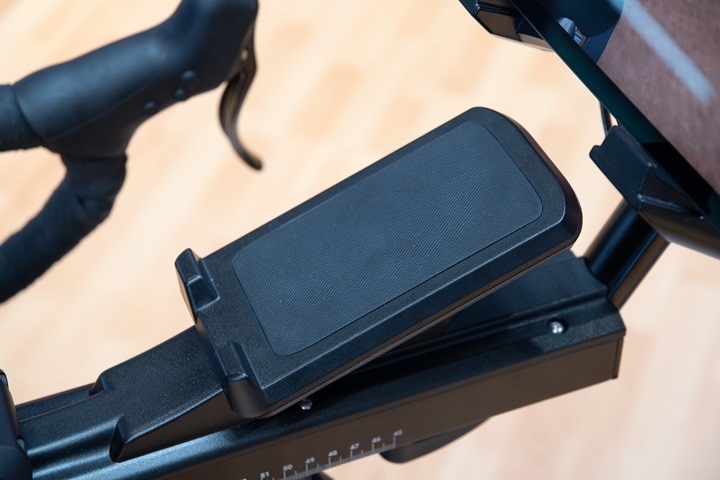 And below it are two fast-charging USB ports at 2.4A: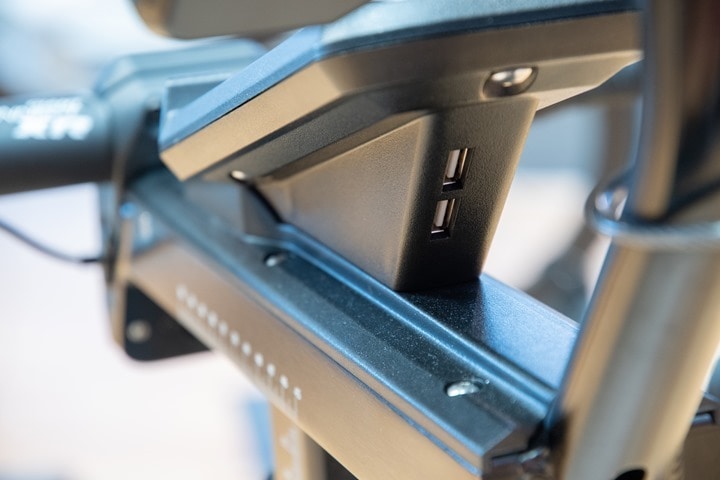 Finally, there's all the adjustability on the front handlebar rig. First, it can go up and down, again, with laser etched markers: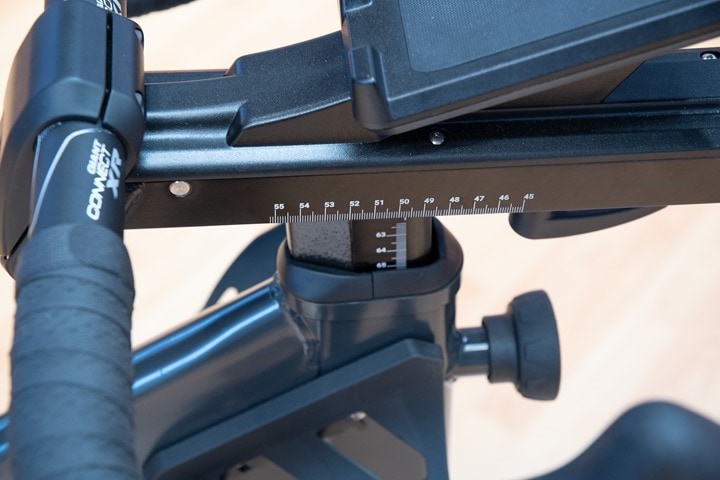 And then you've got forward/back movement too. Next, there's the shifters. On each side you've got basically five buttons:
– Upper set: To shift up/down
– Middle button: Steering to left or right
– Lower set: Shifting up/down from the drops
You can see these here, with the lower set hidden under the bar tape: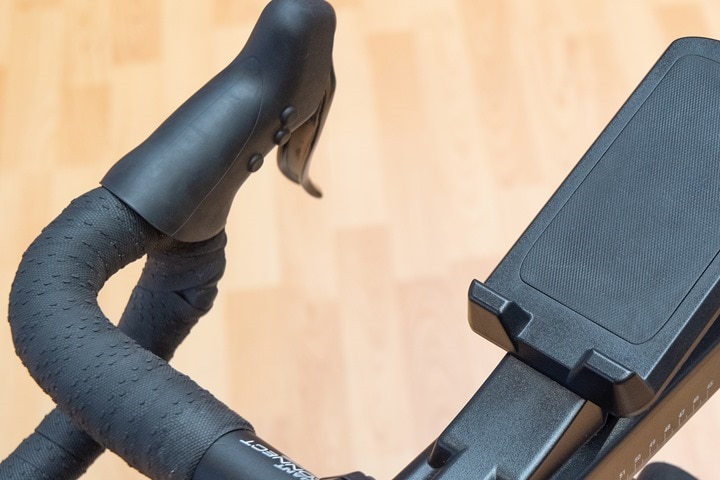 And then, of course, the brakes – which will legit stop the flywheel and your ability to spin the crank arms. That's notable from every other bike on the market in that those just stop the flywheel, but don't stop you from pedaling like a real bike would. Of course, Zwift doesn't support this today, so your avatar in Zwift just keeps on coasting. Apparently it's being discussed.
Finally, there's the little junction box at the base of the handlebars. This has extra ports for accessories down the road. For example, if you wanted to add triathlon/TT bars, you could. And they've added a spare set of ports for whatever else might come down the pipeline as apps could figure out how to take advantage of this, or extra sets of buttons (for example, perhaps to access in-game functions like power ups or such).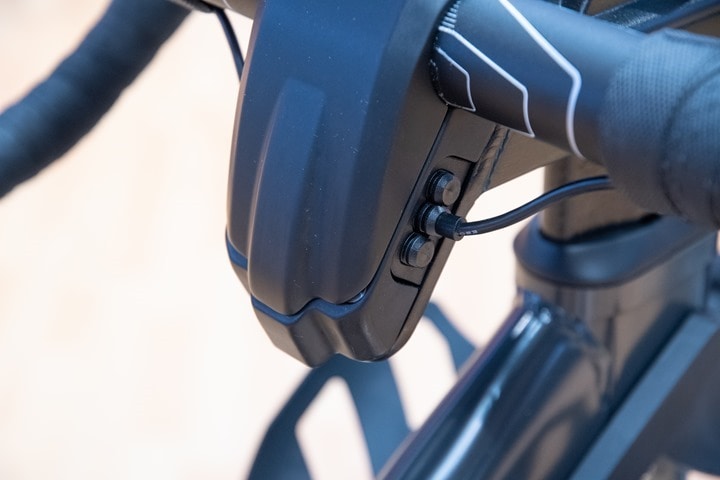 The overarching theme that you're going to see this week is that these hardware makers have laid the groundwork for much more interactivity on these indoor bikes. But it's really going to be up to Zwift and other's apps to actually take advantage of it. Be it shifting, braking, steering, or extra app buttons – the world is their oyster. Now someone just needs a slice of lemon.
Initial Ride Thoughts:
Now if I look across the gamut of smart bikes chillaxing at the various Eurobike booths this year, I'd say the Stages bike probably gets a middle of the road 'sexy score', in terms of how it looks. It's not the swankiest, but it's also not the ugliest. It's a bike born from parents that are all about durability in a commercial gym where people are using them 12+ hours a day. No matter how much Stages might try and design a consumer product, this thing is built like the tank of its forefathers.
But, that's not necessarily a bad thing. First off, it's a known quantity. As competitor Tacx learned over the past year with the Tacx Bike, building an indoor bike is hard. Some other companies have also learned that 'building an indoor bike is hard' lesson too. But more on them later. Which isn't to say that Stages job is easy – hardly so. They've had to figure out how to take a commercial product and apply it to a consumer market, specifically around things like app based configuration – which will take the bulk of their time between now and shipping in Q1.
So my initial impressions are as follows, bulletized style because it's 1:13AM and I've got four more posts to write:
– Everything about the bike feels beastly (in a good way), there's no chance you're going to accidentally break a panel or something
– Everything about the bike is tidy. There's no spare wires rambling about the frame, it's super clean
– The adjustability is better than the Tacx Bike in terms of how the actual handles work
– Trivially easy to adjust position into my rough fit (very rough, it was a tradeshow floor)
– Moving it around on the wheels is easy enough, we did that for the photos in fact
– The flywheel is…again…a beast. At 50lbs, there's nothing in this category like it
– Road-like feel is pretty darn good. Some minor areas potentially for improvement, mainly related to shifting
– Braking was impressive, when you pull the brake levers, the bike legit stops under you (none of the others do this)
– Shifting was good, though not great (more on that in a second, it's fixable)
– The shifters themselves are buttons, not actual levers, so it's not quite as realistic as a bike, but the clickiness is good
– Secondary lower drops shifting buttons are appreciated
– I liked the flexibility in the overall display holder system, plenty of places to stash a disturbing number of devices
– I disliked the lack of display on the bike itself, makes it hard with apps that don't support gear shifting on them
On the shifting bits, as I discussed in the previous section, Stages uses small buttons on each side to allow you to shift. These will be customizable by launch, but for now they were set up such that the left side shifted what would be your front ring (big/small), and the rear shifted up/down the cassette. The clickiness was good here, so I was happy with that.
However there's no display on the Stages Bike itself, so they're dependent on a given app, such as Zwift, for displaying gears. And while Zwift does display gears for some bikes – such as the WattBike Atom, it wasn't yet working for the Stages Bike. Undoubtedly, that'll probably get resolved super quick, heck – maybe even by tomorrow. But what won't get resolved so quickly is how that enumerates itself on countless other apps. Especially since there's no standard for doing so.
Over time you'll get used to it, but I found that with the Wattbike Atom is that when Zwift added the gearing display things improved dramatically, especially for small shifts to know the shift actually happened.
Speaking of which, Stages did note that they're looking at adding in a tiny virtual 'bump', like the Tacx Bike does, to let you physically feel the shift vibration via your legs. It's a super cool effect that you wouldn't even realize is being added after the fact, because it just feels so realistic. Just like you would out on your actual bike outdoors.
Ultimately, within the super short timeframe I had to test it – things are looking good thus far. I didn't see any standout issues that were concerning, and for the price point, it could be super competitive.
The Competition:
Ahh yes, you wanted it – a complete chart of competitive specs. After all, this is the Eurobike of the indoor smart bike, and there's no better place to highlight all these specs than the DCR Comparison Database and Charts. So I've slated up all the big competitors into the chart below. This chart will automatically update over the course of the day as new offerings are announced:
Function/Feature

Stages Bike (SB20)
Wattbike Atom V1
Tacx NEO Bike Smart
Wahoo KICKR Bike V1
Copyright DC Rainmaker - Updated November 25th, 2022 @ 5:28 pm New Window
Price for trainer
$2899
$2,599
$3,199
$3,499
Trainer Type
Indoor Bike
Indoor Bike
Indoor Bike
Indoor Bike
Available today (for sale)
Yes
Yes
Yes
Yes
Availability regions
Global
UK/South Africa/Australia/Scandinavia/USA
Global
Limited Initially
Wired or Wireless data transmission/control
Wireless
Wireless
Wireless
Wireless
Power cord required
Yes
Yes
No
Yes
Flywheel weight
50lbs
9.28KG/20.4lbs
Simulated/Virtual 125KG
13bs/5.9kgs

Resistance

Stages Bike (SB20)
Wattbike Atom V1
Tacx NEO Bike Smart
Wahoo KICKR Bike V1
Can electronically control resistance (i.e. 200w)
Yes
Yes
Yes
Yes
Includes motor to drive speed (simulate downhill)
No (but kinda)
No
Yes
Yes
Maximum wattage capability
3,000w
2,000w
2,200w @ 40KPH
2,200w @ 40KPH
Maximum simulated hill incline
25%
25%
20% (and -15% downhill)

Features

Stages Bike (SB20)
Wattbike Atom V1
Tacx NEO Bike Smart
Wahoo KICKR Bike V1
Ability to update unit firmware
Yes
Yes
Yes
Yes
Measures/Estimates Left/Right Power
Yes (actually measured independently)
Yes
Yes
No
Whole-bike physical gradient simulation
No
No
No
Yes
Can directionally steer trainer (left/right)
Yes (with compatible apps)
No
YES (WITH COMPATIBLE APPS)
Yes (with compatible apps)
Can rock side to side (significantly)
No
No
No
No
Can simulate road patterns/shaking (i.e. cobblestones)
No
No
Yes
No

Accuracy

Stages Bike (SB20)
Wattbike Atom V1
Tacx NEO Bike Smart
Wahoo KICKR Bike V1
Includes temperature compensation
Yes
Yes
N/A
Yes
Support rolldown procedure (for wheel based)
Cross-references power meter data
No
N/A
N/A
Supported accuracy level
+/- 1.5%
+/- 2%
+/- 1%
+/- 1%

Trainer Control

Stages Bike (SB20)
Wattbike Atom V1
Tacx NEO Bike Smart
Wahoo KICKR Bike V1
Allows 3rd party trainer control
Yes
Yes
Yes
Yes
Supports ANT+ FE-C (Trainer Control Standard)
Yes
Yes
Yes
Yes
Supports Bluetooth Smart FTMS (Trainer Control Standard)
YEs
Yes
Yes
Yes

Data Broadcast

Stages Bike (SB20)
Wattbike Atom V1
Tacx NEO Bike Smart
Wahoo KICKR Bike V1
Transmits power via ANT+
YEs
Yes
Yes
Yes (added Sept 30th, 2020)
Transmits power via Bluetooth Smart
YEs
Yes
Yes
Yes
Supports Multiple Concurrent Bluetooth connections
No, just one
Yes, 3 Concurrent
Transmits cadence data
Yes
Yes
Yes
Yes

Indoor Bike Features

Stages Bike (SB20)
Wattbike Atom V1
Tacx NEO Bike Smart
Wahoo KICKR Bike V1
Brake levers or buttons
Yes
No
Brake Levers
Yes
Shifting type
Buttons
Buttons
Button Based
Normal bike levers
Can customize shifting (Shimano/SRAM/Campagnolo)
Yes (not yet SRAM)
No
In future update
Yes (Shimano/SRAM/Campagnolo)
Can customize gearing
Yes
Mininimal
Yes
Yes (both cassette and chainrings)
Supported Crank Lengths
165/170/172.5/175mm
170mm
170/172.5/175mm
165/167.5/170/172.5/175mm
Display
No
No
Yes
Small display near top-tube
USB Ports
Two Ports (Fast Charging)
No
2 USB Ports (2AMP)
1 USB port

Purchase

Stages Bike (SB20)
Wattbike Atom V1
Tacx NEO Bike Smart
Wahoo KICKR Bike V1
Amazon
Link
Backcountry.com
Link
Link
Link
Link
Chain Reaction Cycles
Link
Link
Link
Link
Competitive Cyclist
Link
Link
Link
Link
REI
Link
Link
Link
Link
Wiggle
Link
Link
Link
Link

DCRainmaker

Stages Bike (SB20)
Wattbike Atom V1
Tacx NEO Bike Smart
Wahoo KICKR Bike V1
Review Link
Link
Link
Link
Link
Oh, and before you ask why I haven't included some products into the above – here's the quick and dirty answers:
Peloton Bike: It's not a 'smart' bike in the sense of the above, it doesn't allow you to set a specific power level (it does tell you the current power level). Rumors are Peloton is working on such a bike, but nothing today.
SRM Bike: This was also announced today, with full smart integration. I've got a chat with them in a few hours. Stay tuned!
True Kinetix Bike: This will likely be in the above chart by the end of the week. They're planning on shipping me a test unit in the next week or two, and I'll be meeting with them this afternoon. I just want to get a clear understanding of timelines and capabilities (specifically the ANT+/BLE bits) before I add them above.
VirtuPro: It could also get escalated into the above chart, I've talked about it in the past. But I need clarity on when they'll (actually) ship it with ANT+/BLE support, and realistic timelines to that. Else, it's a proprietary solution that doesn't really fit what the tables are designed for (the rest of the bikes here are compatible with all industry protocols).
Again, I'm more than happy to add products into the database. In general, my rule of thumb is I want hands-on time (or butts-on in this case), and I want some realistic level of clarity on delivery timeframes.
Wrap-Up:
From a consumer standpoint, it'd be easy on a day like today with all the new exciting smart bike announcements to look at a company like Stages and perhaps overlook their offering. After all, to most consumers in the outdoor riding realm, they're known for their power meters. But the reality is that before Stages ever made their first power meter, they were (and are) an indoor bike company. Before any other company on the show floor was making trainers, or bikes, Stages was already doing that. To them, this is their bread and butter.
That gives them a significant advantage when it comes to production. While Stages won't start shipping until Q1 2020, the majority of that time is going to be used for their app, to ensure a smooth setup and customization aspect. Again, as you'll see with other offerings, the app is going to become a more critical part of an indoor bike – ensuring your indoor ride matches your outdoor ride: Shifting preferences, virtual cassettes and chainrings, etc… But what Stages currently lacks in app readiness, they easily make-up for in manufacturing capability.
See, the bike you see in this post isn't a prototype, or hand-built. It's a fully tooled unit off the assembly line. An assembly line that has volumes staggeringly higher than any other indoor bike company here at Eurobike. As we saw with Tacx, Wattbike, and we'll see with others – getting production to scale for others is really hard. Incredibly hard. It's why many of these other bikes will have pre-order lead-times that easily take you to the end of the year.
It also gives them an advantage in understanding durability on bikes. Their commercial products for clubs offer a 10-year warranty guarantee with *no maintenance required, again with estimated use of 10-12 hours per day. No adjustments of belts, no drive chain lube, nothing. That's staggering when compared to the indoor trainer world.
Of course, let's not pretend this will be a walk in the park for Stages either. Their typical setup is delivering 50 bikes to a single gym location. They've now gotta figure out how to deliver a single 150-pound bike to a single residential room in a 3rd-floor apartment without an elevator. And they've gotta develop that app. If there's one thing Stages struggles with time and again, it's app development. Stages plans to leverage their existing distribution channels and retailers, so once they're ready to start taking orders – you'll be able to do so through your normal Stages dealer.
Their plan is that assembly is quick, with the bike only needing the front handlebars, your pedals, and three bolts attached. So for most people, they'll be able to do it themselves.  Speaking of which – Stages is hoping to get a unit sometime this fall to me, so I'll be looking forward to putting it through its paces throughout the fall and up to release early next year.
With that – thanks for reading!