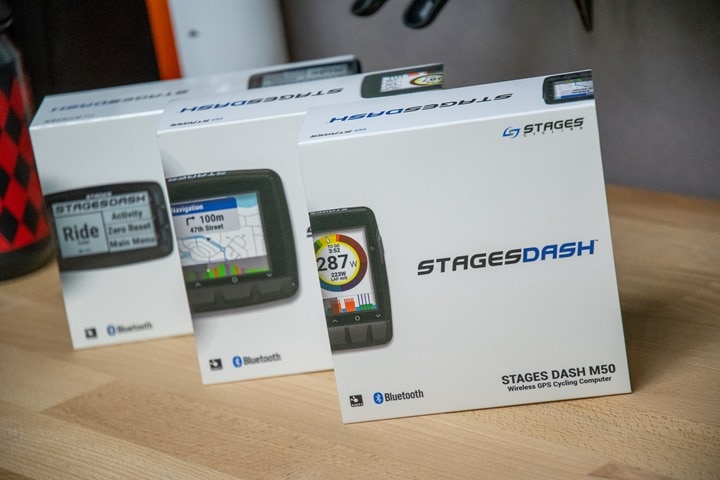 (*** In case you missed it, an in-depth review was posted of the three Dash L50, M50, and L10. See the link for more info.)
What's a 9 month timespan between friends? A baby you say? Perhaps. But in this case, it's roughly the delay that Stages incurred for their flotilla of new bike GPS units, initially announced last July back at Eurobike with a planed fall shipping date. You'll remember I checked in again back in January too with a test ride. Well wait no more, the units are finally here and shipping.
A pile of them even made their way all the way to me on the other side of the world. See, proof: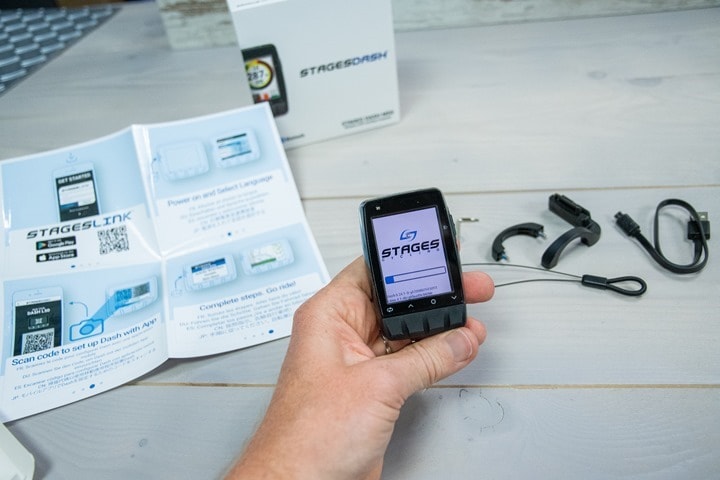 Now, this isn't a review. It's just my first impressions after a single ride last night on a final production unit with final production firmware and a final production smartphone app. Hey, even the cardboard is final production. Oh, and the waterproof manual too. More on that in a second.
And to be specific, the M50 and L10 have started shipping as of yesterday, but the L50 won't start shipping out for another week or two. Minor nuance I couldn't fit into my post title without it becoming a paragraph, but just a detail to point out. Also of note is that the price for the L50 has dropped slightly from last summer (more on that in a second).
As for my final review, expect something in the early-mid July timeframe, once I've had time to put them all through their paces. I'll be primarily focusing on the M50 and L50 in those reviews, given the L10 is very similar to the previous units. Though, I'd point out that I think the L10 may actually be the best deal in GPS bike computers today. And by 'may', I mean 'by a massive long shot'.  But before we do all that, let's actually backup a second and talk about the specs.
The Specs & Box Basics: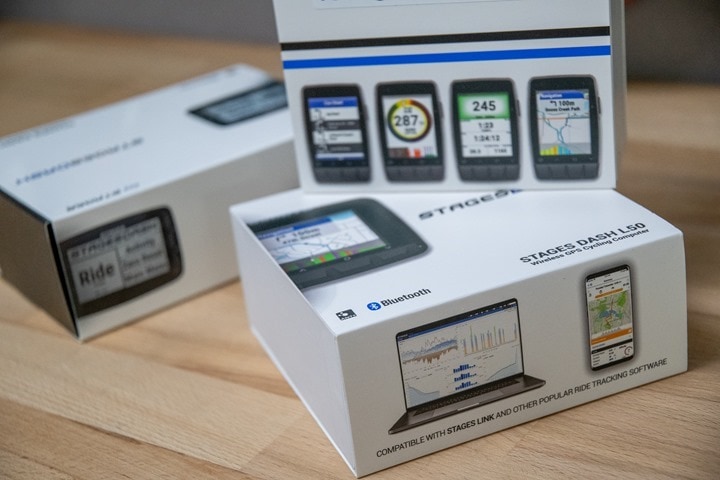 Of course, by now you've probably forgotten what the heck features these units had in them. It was nearly 11 months since they announced the units. So here's the super quick primer. Oh, and in that time Stages lowered the price of the L50 (that's the largest color one), which was supposed to be $349, and now is at $299. A smart move for sure (it wasn't viable above $299 imho).
Note on the semi-confusing naming scheme: M = Medium format, L = Large format, and 10/50 are simply series designators.  The 'first' series got the '10', whereas this newer color series got the '50'.
Stages L10 ($149): Essentially a revamped version of the original Stages Dash
– Added basic route support (but no maps)
– Added significant processing power compared to original Dash
– Added more storage space than original Dash (now has 512MB)
– Added native .FIT file creation locally
– Black and white display (buttons, no touch)
– 24 hours battery life (for realz)
– GPS support (but not additional GPS types listed for M50/L50)
– ANT+ & Bluetooth Smart sensor support
– IPX7 waterproofing and 'shockproof' (I believe it)
– Bluetooth Smart and USB file synchronization (no WiFi)
– Barometric altimeter
– Audio/visual alerts
– Internal temperature recording
– Structured workout support
– Course following support (.FIT/.GPX/.TCX)
– Android & iOS smartphone app support
– Includes all metal out-front mount
– Weighs 102g
Stages M50 & L50 ($249/$299): Two different units, mainly size driven (more on that below)
– Color screens (non-touch, see exact sizes below)
– Units have 16GB of storage space, 15GB of which is usable.
– Base maps loaded for US (other maps free to download via their website)
– Full course support, akin to something like the Wahoo BOLT (but not quite at the Wahoo ROAM/Edge 530/830 level)
– ANT+ & Bluetooth Smart sensor support (Cadence/Speed/HR/Power)
– GPS/QZSS/SBAS connectivity
– IPX7 waterproofing and 'shockproof' (I believe it)
– Bluetooth Smart and USB file synchronization (no WiFi)
– Barometric altimeter in both
– Audio/visual alerts in both
– Internal temperature recording in both
– Structured workout support for both units
– Course following support for both units (.FIT/.GPX/.TCX)
– Creates .FIT files locally
– Android & iOS smartphone app support
– Includes all metal out-front mount
– Horizontal or portrait mode orientation options (both mount and software)
– No Realtime Strava Segments support (though, you can upload to Strava just fine, and also download Strava Routes). Because.
Differences between the M50 & L50: It's pretty slim, as the software features are identical, it's just hardware:
– M50 has a 2.25" screen, versus the L50 having a 2.57" display
– M50 has 12.5hrs battery life, versus 14hrs for the L50
– M50 weighs 94g, versus 126g for the L50
– M50 size (51mm wide x 78mm tall x 24mm deep) vs L50 size (85mm wide x 73mm tall x 20mm deep)
– M50 limited to 12 data fields per page, versus 16 fields per page on the L50
Note that Stages states backlight battery is with 30% screen brightness setting. Again, here's the 2-second version:
Stages Dash L10: $149 – Basically the previous Stages Dash that's far more powerful and can now do courses. Black & white display.
Stages Dash M50: $249 – This is the mid-sized unit, kinda like a Wahoo BOLT or Edge 520 Plus. Color display, maps/courses.
Stages Dash L50: $299 – This is the largest of the units, sorta like a Hammerhead Karoo in size. Color display, maps/courses.
So looking at the boxes, I went ahead and unboxed both the M50 and L50, but for this non-review piece, here's the look inside the M50: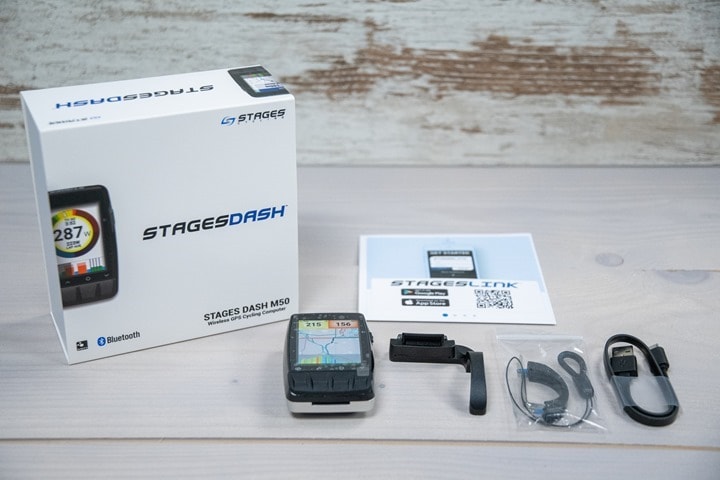 It includes the all-metal out-front handlebar mount, plus the most erect handlebar safety strap I've ever felt in my life:
Also of note is that it includes a water resistant paper that unfolds to the size of a small bus, which contains all the regulatory type stuff in a gazillion languages. Yes, I said waterproof. What, you don't believe me? Fine, I proved it for you:
I think some of you thought I was kidding about the waterproof part. No, seriously, it repels water. https://t.co/dvHFGRcVdA pic.twitter.com/V1MawyjZFA

— Ray Maker (@dcrainmakerblog) June 11, 2019
Alternatively, you can use it as an umbrella. It's what I plan to do today for my bike ride home from the office since The Girl already stole my umbrella.  Speaking of Team Overkill, there's the accessory mount lineup: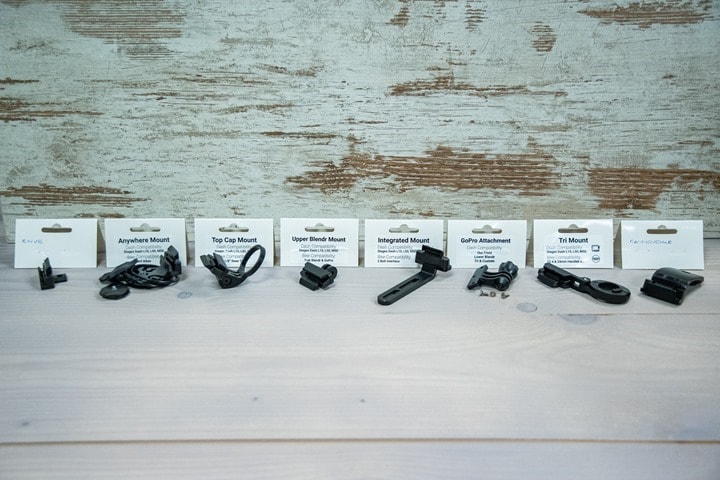 Seriously, they've got one for everything. I'm sure I could fashion one onto the dog if I needed to. My particular favorite is the GoPro underslung mount, which attaches to the main mount. I haven't attached it yet, because I'm too lazy to take the included tool and undo the tiny screws and piece it all together. Maybe later today. Maybe after another coffee.
But kudos to them, there's nothing I hate more than trying to figure out how to get a stupid custom mount onto a new bike. Here's a quick gallery of all of them closer up:
With that, let's talk about my initial ride.
First Ride Impressions – M50:
With all that background out of the way, let's head out onto the road. First though, I paired it up to my Android phone. The iOS app wasn't released until after I got back from my ride, so Pixel time it was. They use a similar QR code scanning system as the Wahoo BOLT/ELEMENT/ROAM does, and it worked without issue. Quick and efficient.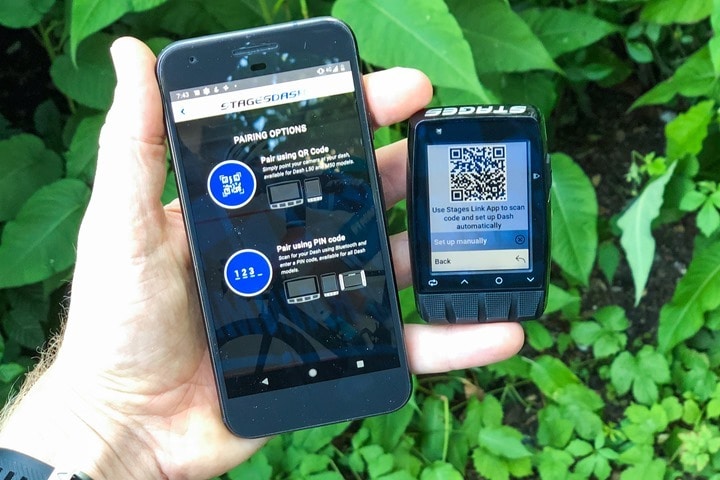 In my case I already had a Stages Link account, so it just magically sucked most of my settings down to the device, and then also asked to confirm the FTP and LtHR. I did have some issues later with syncing completed rides on the Pixel phone, which Stages since last night has already pinned down to a specific Pixel 1 issue on the Bluetooth connection timeout and will be releasing an app update to address it in the coming days.
I had planned to configure data pages/fields via the smartphone app, but that functionality was temporarily pulled for launch.  The company says it'll return in a few weeks. For now you can configure them via the website or via the Dash unit itself. So I just left the data fields at default since I was losing sunlight. After that, I paired up my power meter and HR strap. You'll do this separately for either ANT+ or Bluetooth Smart. You can name sensors and the usual configuration stuff. In my case I was using a Favero Assioma power meter pedals (dual), and a Garmin HRM-DUAL heart rate strap. Both via ANT+.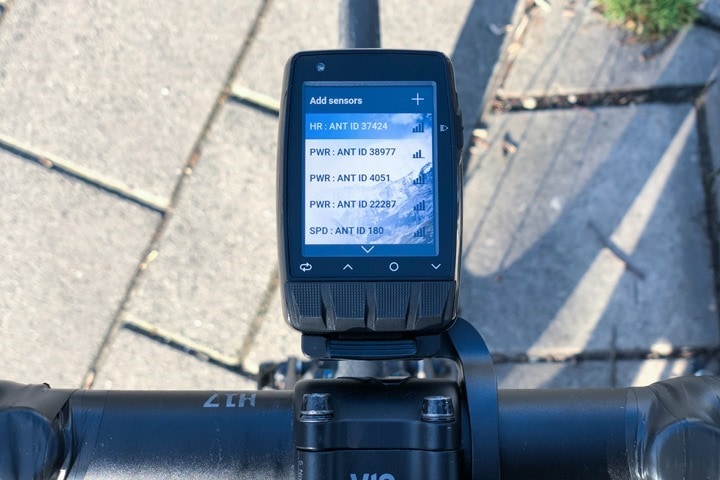 With that, I navigated back to the main menu and validated it had GPS signal lock and pressed start. Pretty simple.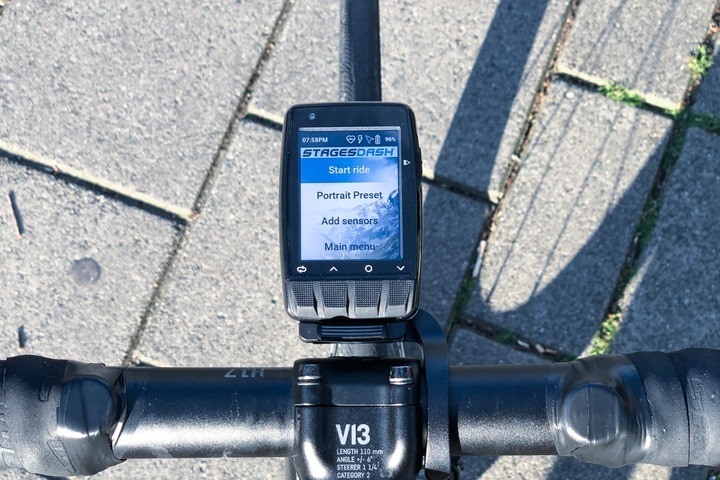 From there, I just rode. I didn't load a course or structured workout into the device, mostly because of time constraints. It'll be things I do for my review of course. And Stages has historically taken the cake on the best structured workout implementation out there, though with Garmin's recent tweaks to the Edge 530/830 workout bits, we'll have to see if that still holds true.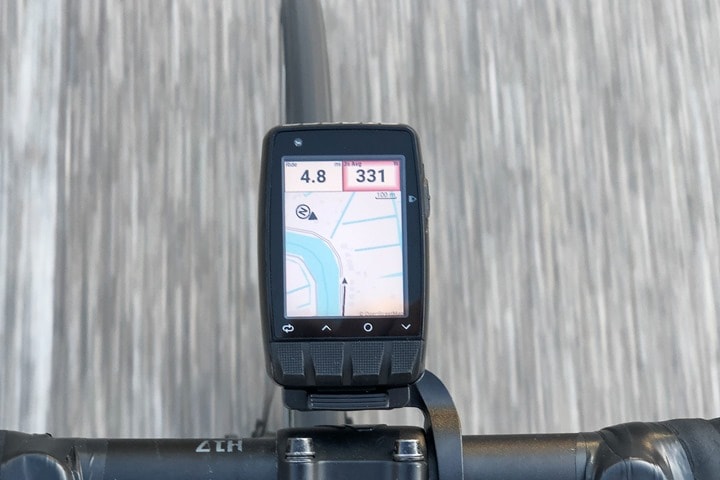 The most obvious thing you'll notice is just how darn bright the display is. Like, lighthouse bright. I left it on the default 'auto' backlight settings and let it work its magic. The responsiveness of the light sensor is quick (maybe even too quick) when passing under trees into the shade or back out into the sun. In my case at a few hours prior to sunset I still had some brilliantly bright light, but also moments in the shade that were definitely darker. The display easily handled those.
Comparing it to the Garmin Edge 830 (also set to auto backlight), it was consistently far brighter. Now personally I normally run my backlight on the Edge 830 around 20-30% or so, whereas the auto setting seemed to drop it down quite a bit lower than that. I've never personally thought the Edge 530 or 830 were that low otherwise.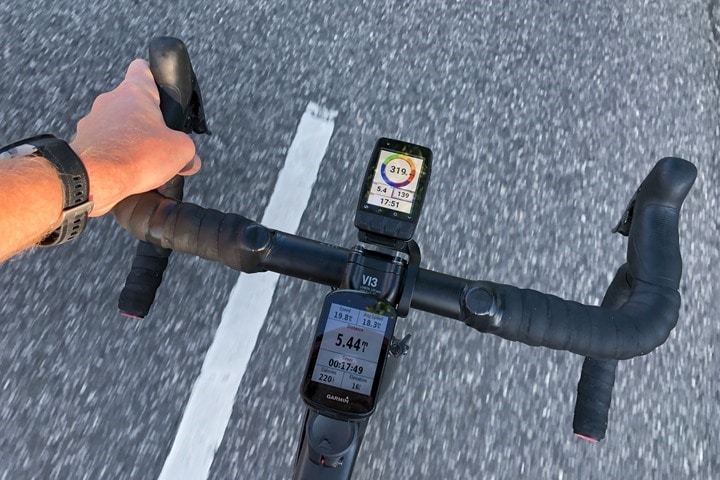 Also, I don't know what the battery burn profile looks like. Garmin records the battery data to their .FIT files, so I can see that (I was burning at 5.64% per hour, which is pretty darn close to on-spec for 20hrs with power/HR sensors/LiveTrack/etc all enabled). I'd love to see Stages write that information to their .FIT files, since the company claims 12.5 hours of backlight for the M50 even with that crazy bright screen.
Now the only downside to the screen is that the data field labels were hard to read. Super small text (and I have super good eyes). In talking with Stages they did note that since I went with the defaults I didn't have the memory context of setting up my specific fields (which is fair), but it's something they said is probably the easiest thing for them to address. Oh, and that –10ft elevation is actually quite likely. Much of the area I was riding in was below sea level.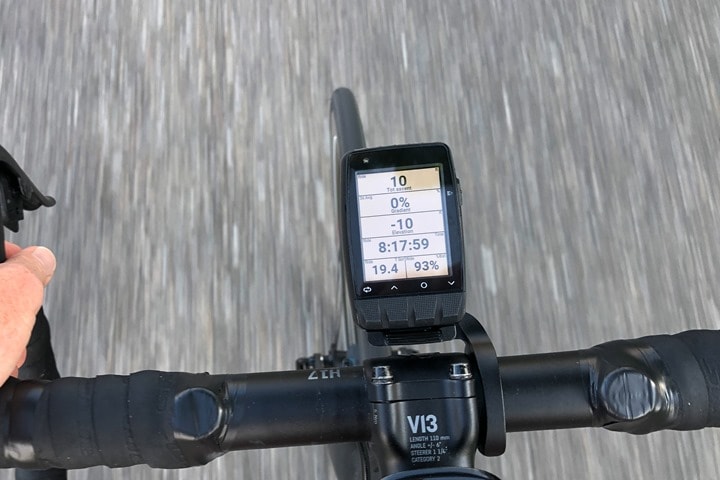 (Note: Photographically speaking, taking images of two different head units in varying lighting conditions on a moving bike is actually really difficult. Not from a photo-taking standpoint, but from a legit comparison standpoint. With most cameras, you're picking a specific portion of the image to focus on – and in turn, use as a baseline for brightness. If I pick the Stages screen, it makes that look crisp and light-balanced but makes the Garmin look dark. Inversely, if I select the Garmin screen as the focal point it'll balance for that lighting condition and over-expose the Stages. Your eyes of course do all this instantly. The only meaningful takeaway here is take the images with a grain of salt, and that the Stages screen is significantly brighter in most default conditions.)
In some ways, that same screen optimization can be said for maps as well. Here's a side by side with the Edge 830 for maps. Note, I know the Edge 830 is $399 and the Dash M50 is $249. However, for the purposes of everything we care about, the screen between the $299 Edge 530 and Edge 830 are virtually identical and the map screens also identical. So you can use them interchangeably. In any case, what you see is that the Edge provides far more context of what's around you in terms of the terrain/trails/roads, versus the Dash (and I'm not even talking about things like points of interest, road names, etc…):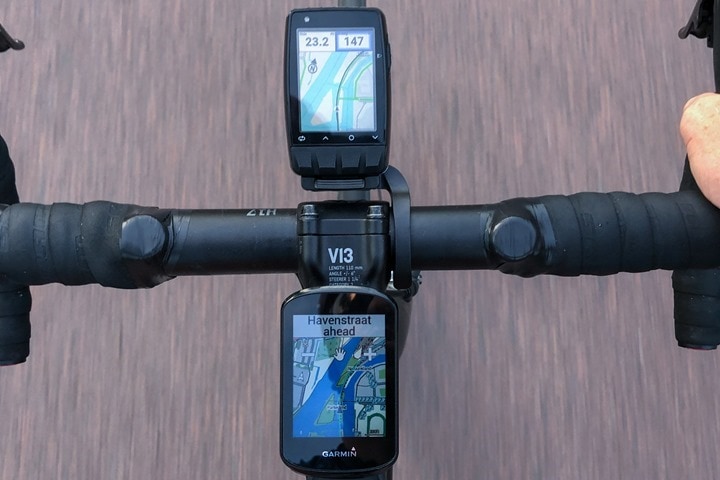 Again though, in talking to Stages they think they can pretty easily make some tweaks here, and I agree (Wahoo has also made tweaks to their ROAM in recent weeks too around this based on some feedback I've given them).  In a lot of ways, Stages has such an incredibly powerful screen/display, they just need to learn how to use all that power for good. Like giving a giant super soaker to a kid, the first little while things might be a bit overkill.
And Stages also pointed out that their goal with the minimalist screen was to highlight the bike paths more than the terrain. Which is fair, and I think that gets a little bit to the goal of what you might use the maps for. For me, when I'm using the map screen it's mostly in free-form mode, and I'm interested in understanding the surrounding landscape – really specifically around here, water and terrain. But everyone is different.
Speaking of the screen, the unit was throwing all sorts of colorful boxes at me. In the below picture only one of them is colored (the purple HR one). These are tied to zones or targets, but in my case I'll need to dig into getting these configured to my liking. I think they can be super powerful for training, but also potentially overkill. The idea is that you can set targets/coloring for any metric you want. Cadence, power, HR, etc…
Again, it's something I'll cover in more depth as part of the structured workout aspects during my final review.
From a usability standpoint, overall it's easy enough, though I find the button usability sometimes a little bit confusing. I'm sure I'll get used to that over time, but it's not quite as intuitive as Wahoo or Garmin devices. This is likely because I keep meaning to press the circle confirmation button thinking that the up/down buttons should be side by side, and the circle to the right. I'm sure they've done plenty of usability testing on this longer term, but for now it's taking some getting used to.
Also, some of my initial goes with the Android app on my older Pixel slightly soured my first ride aspects. Though they've said I shouldn't see those issues on iOS (and are fixing the Pixel issue in the following days). So I'll be switching over to that since it's my primary phone anyway.
Lastly, let's do a quick sweep of the data. In this case I had paired it to both a HR sensor and power meter (Favero Assioma) using ANT+. I duplicated that same configuration on another unit (the Edge 830), just to be able to validate the files were identical. And indeed, they were. Here's the power files overlaid, with a 5-second smoothing. You'll always get slight 1-second variations with power meters recorded to different head units due to transmission/reception recording rates. But the green and purple lines (both Assioma) are virtually identical.

More easily seen, here's the Mean/Max graph, showing the green/purple lines directly atop each other virtually the entire time (Stages/Edge files). The red file is recorded from a different power meter on a different head unit. And a different topic for a different day. A third power meter was also recorded on another watch, but that appeared to totally crap itself dropout wise (the watch, not the power meter), so I've removed it from view so you can see what's meaningful here.

GPS-wise, you can look at the entire fileset of all units over in the DCR Analyzer, but there were zero issues from the Stages (or Garmin) units during this ride. They were spot-on. Albeit somewhat annoyingly Stages doesn't write the final distance or ascent data to the .FIT file (you can see that on the Analyzer as well). So they can add those in while they're adding in battery state (notably: Stages does actually do some incredible stuff with connected sensors and firmware versions, as well as calibration points to their files that other companies, Garmin/Wahoo/etc, don't appear to do).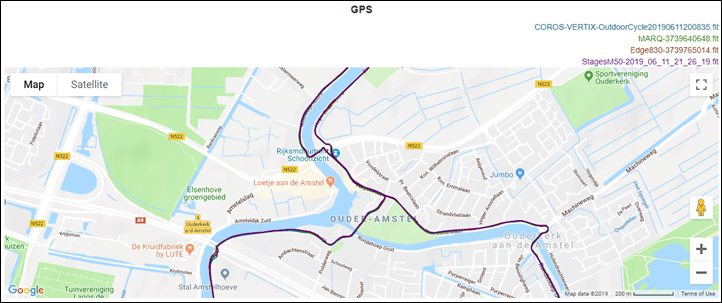 I only saw one brief imperfection near some taller buildings for a few hundred meters (upper portion that appears maybe 5-10m offset in the middle of the picture):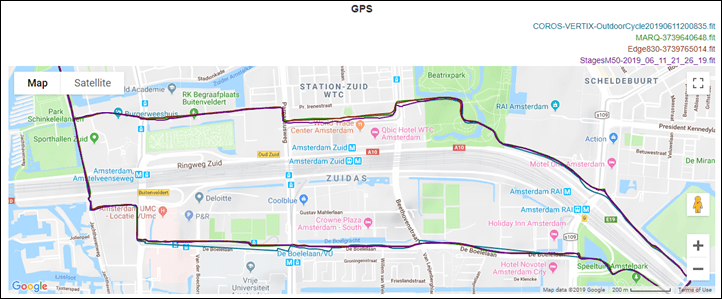 So, so far so good. But again, longer testing for sure. Back in January though when I test rode a few units, things were also remarkably good there too. You can dig into the full file set here in the DCR Analyzer.
Wrap-up: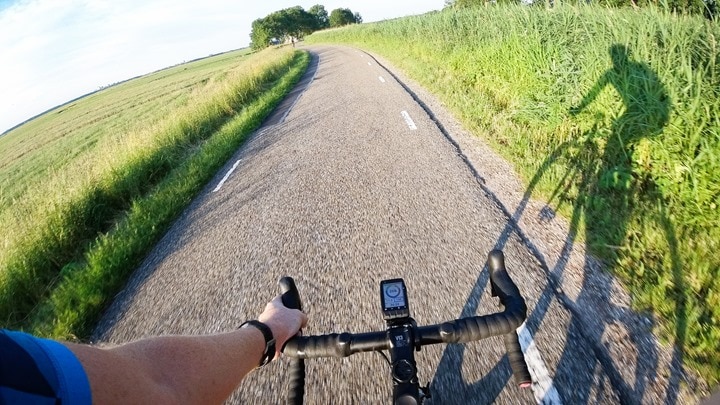 Ok, again, this isn't a review. Nope-de-nope. It's just my first impressions on the unit after a single ride. A lot of you on my new Stages Dash post from January have been asking in the comments for my thoughts once I had the final production units in-hand. So, now I do, and thus…above are my thoughts.
I think Stages adjusting their pricing was a very smart move. The original $349 price point for the L50 just wasn't viable in today's market, and to be fair, I'm not entirely sure $299 is either. But it's not outlandish. The $249 price point for the M50 is viable, assuming you're getting value out of the more data-focused aspects of the Stages lineup (be it the structured workouts, or having 12-16 fields per page). Stages won't win on features, not even close. Lacking things like Strava Live Segments means for a segment of the population (get it?), it's a non-starter. And it doesn't have the on-demand turn by turn navigation like Wahoo or Garmin has. But instead they've taken a heavy data and customization driven approach. Be it zone coloring for just about any metric you want, or the deep tie-in with their training platforms.
And while I didn't talk about it here much, the revamped L10 is astoundingly deep for the $149 price point. Seriously, not even Lezyne, which usually drives functionality at the sub-$200 range, can compete here. Of course, Lezyne also has phone to device course creation, which Stages lacks on the L10. Maybe I'll do a standalone budget battle post or something.
In any case – review in July. Probably after some Alps rides planned early July, so I can get a bit of elevation data in here. Since otherwise my Netherlands rides are all pancakes. Though hopefully with Stages being based in Boulder, it's likely they've got the elevation thing figured out.
With that – thanks for reading!

Found This Post Useful? Support The Site!
Hopefully you found this review useful. At the end of the day, I'm an athlete just like you looking for the most detail possible on a new purchase – so my review is written from the standpoint of how I used the device. The reviews generally take a lot of hours to put together, so it's a fair bit of work (and labor of love). As you probably noticed by looking below, I also take time to answer all the questions posted in the comments – and there's quite a bit of detail in there as well.
If you're shopping for the Stages Dash L50 or any other accessory items, please consider using the affiliate links below! As an Amazon Associate I earn from qualifying purchases. It doesn't cost you anything extra, but your purchases help support this website a lot. Even more, if you use Backcountry.com or Competitive Cyclist with coupon code DCRAINMAKER, first time users save 15% on applicable products! Or, with TPC (The Pro's Closet), you'll save $40 on purchases over $200 with coupon code DCRAIN40!
Here's a few other variants or sibling products that are worth considering:
And of course – you can always sign-up to be a DCR Supporter! That gets you an ad-free DCR, access to the DCR Quarantine Corner video series packed with behind the scenes tidbits...and it also makes you awesome. And being awesome is what it's all about!
Thanks for reading! And as always, feel free to post comments or questions in the comments section below, I'll be happy to try and answer them as quickly as possible. And lastly, if you felt this review was useful – I always appreciate feedback in the comments below. Thanks!