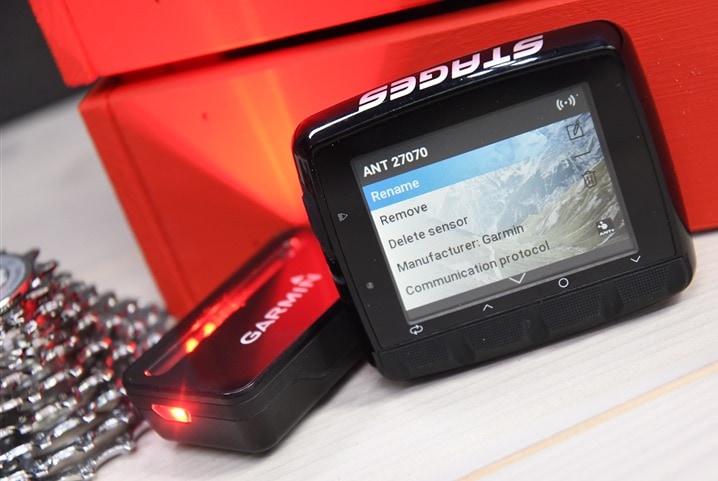 (***In case you missed it, an in-depth review of the Dash L50, M50, and L10
has be posted. Follow the links to check this out.)
Today Stages released firmware 2.0.0, which adds a whole bunch of performance tweaks and an even bigger pile of bug fixes. It also improves the battery life. But in conjunction with that, they've announced the next firmware version (2.1.0), which is only a week away – dropping on December 3rd, that'll add Garmin Varia radar support. This has Stages joining Wahoo, Hammerhead, and of course Garmin themselves for the popular accessory.
If you've got a Varia Radar RTL-500 or RTL-510 unit, you'll be in good shape next week. At that point you'll use either the smartphone app or desktop updater to transfer the firmware update.  Once you've got your unit all updated, dive into the sensors menu and add a new sensor (specifically, a new ANT+ sensor). You'll see it listed as 'RAD', for 'Radar'. Or, perhaps it really is 1990's style rad. Either way, go ahead and add it: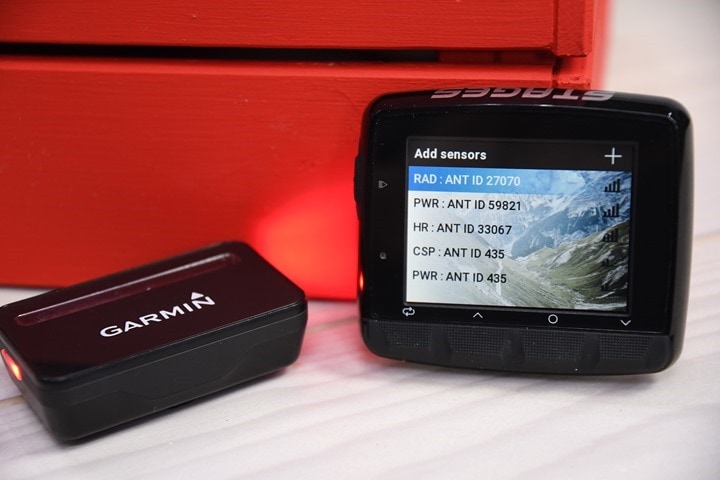 After it's added, it shows up as connected/found. It'll then give you a warning message that says you still have to pay attention. Not just while riding, but in life in general.
If within the sensors menu, you go into the details of the sensor, you'll see a bunch of stats: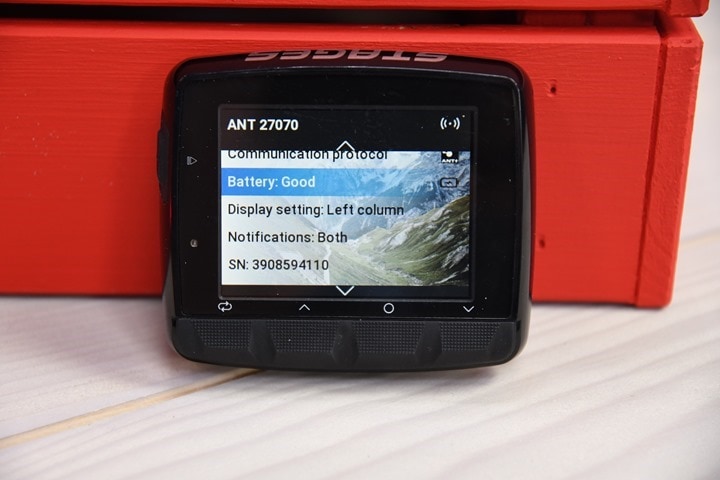 Notable are two specific ones.
A) First is the display setting, and it allows you to pick either the left side or the right side of the screen
B) The second allows you to toggle whether and how you're notified of approaching cars
Somewhat oddly, it was set for 'right column' (I'd assume that since cars would pass on the left, left column would make more sense), and also notifications was actually initially set for off. So I turned it on.
Then, I went outside for a couple hour ride. It was nice at first, and then it got mostly miserable. The weather that is, the unit itself was just fine. Speaking of which, I was using a Stages Dash L50 for these tests. It was simply at the top of the pile, the smaller M50 was lower down the pile.
Now there's two elements at play here:
A) The sidebar color
B) The car color
Stages notes the colors as follows:
Sidebar Green: No cars
Sidebar Yellow: Cars further away
Sidebar Red: Cars are close to you
Meanwhile, the speed of the car is displayed as a color of the car itself:
Blue cars: Relative speed to the rider is normal/low
Orange cars: Relative speed to the rider is high
Here, this picture kinda explains it all in one tidy spot:

And, to put it all in perspective, here's what it looks like on an actual unit.  First is the close-up showing that it's a car that's close to me (orange sidebar), but at normal speed (blue car):
Now, as it gets closer to me, you can see the dot's at the very top. The dot moves along as the car goes from the edge of radar range (a few hundred meters usually), to right next to me: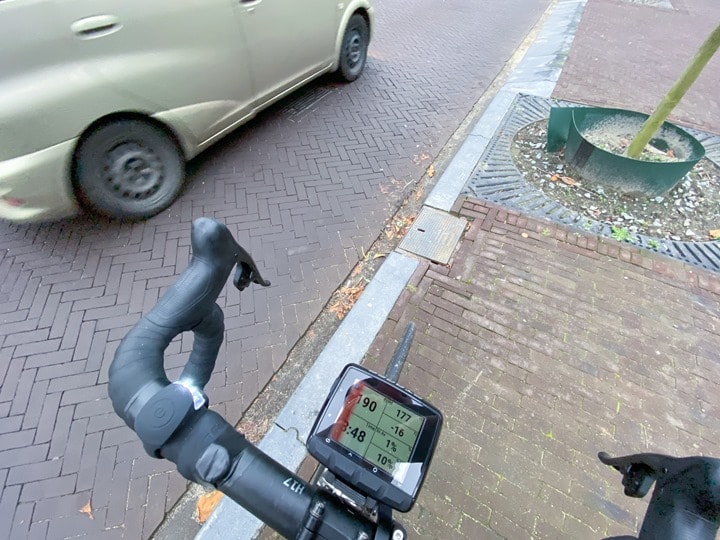 Then a split second later it flashes green, that the car has passed and the coast is clear: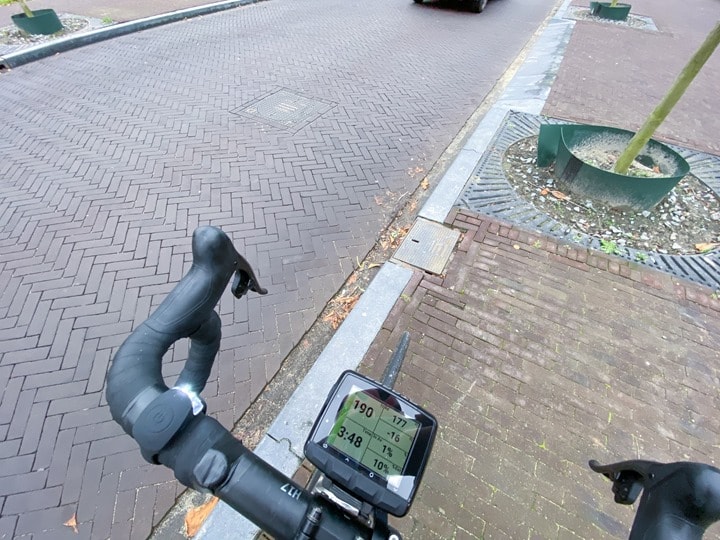 After which you'll see that it goes back to 'no sidebar' mode – since the car is now up ahead of me (remember, Varia radar only detects cars from behind):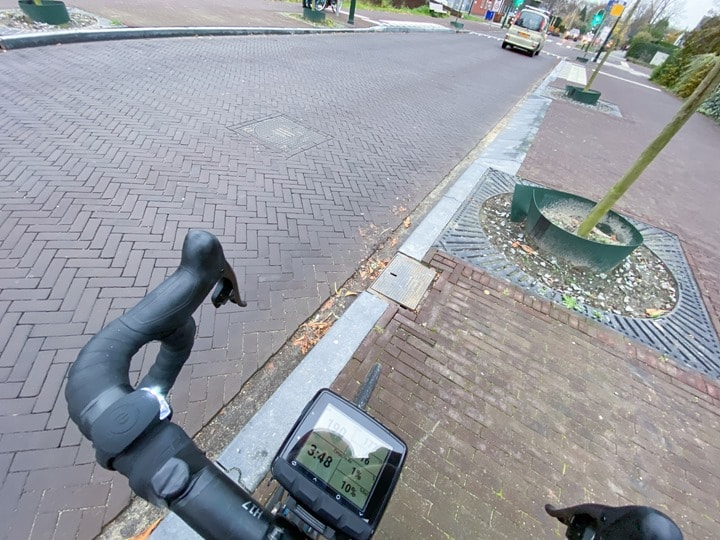 Overall this all works well enough, though it is slightly more complicated than how others have implemented it. In the case of everyone else, the sidebar color represents the speed of the car, and the little dots simply represent how far it is.  You can see an example of that below on the Wahoo ROAM, showing the red sidebar: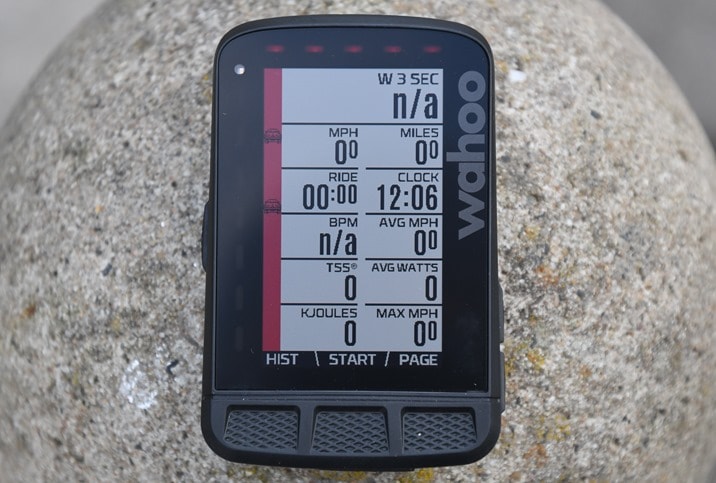 I don't believe I heard the Stages unit give any different sounds for high-speed overtaking car vs a normal car (Wahoo and Garmin do). I need to dig into the settings and see if there's also a way to increase the volume of the unit, as the tiny little double-chirp – while audible, can easily get mixed in the flurry of other chirps the unit was giving me from a navigational standpoint.
Still, for a first attempt – it's good to see them moving quickly on this. They promised it by the end of the year, and sure enough, they delivered. Or, they're poised to deliver. In fact, I think at one point they promised it in the 'fall', and technically that's also true too.
Either way – if you were looking at getting a Varia Radar (the RTL-510 is the current model), there's no time better than now. Not just because there's now multiple companies supporting it, but rather something far more practical: It's on sale. Garmin has these on sale for $50 off (down to $149). Using either this Amazon link or this Clever Training link helps support the site.
Oh – and lastly, coming up in 2.1.0 you'll be able to edit all data pages and fields, including adding and deleting profiles and pages, as well as sizes, via the Stages Link smartphone app too. And then coming in Q1 concurrently with the still on-target launch of the Stages indoor bike, they'll be releasing ANT+ FE-C smart trainer control.
Stages 30% off Sale: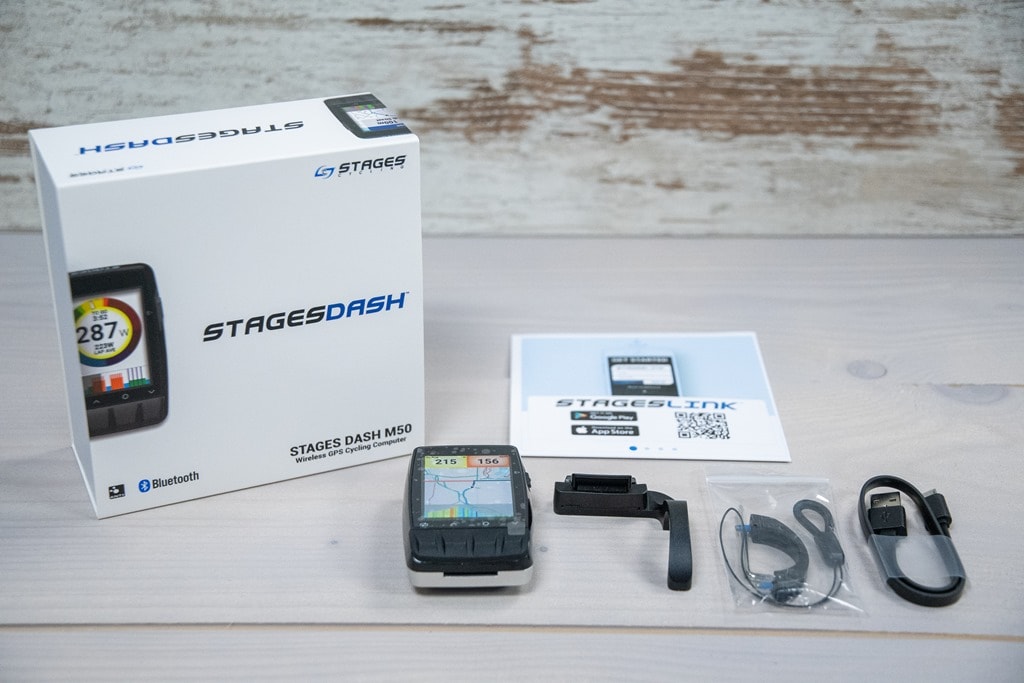 Finally, a quick heads-up that Stages has also launched a big Black Friday sale with everything at 30% off. Well, except the stuff that was already on clearance. You get 0% off that. Notably this does include the Stages Dash (all variants, including the new M50 and L50), as well as all their power meters, no matter the type.
To put that in perspective, here's a few highlights (full listing here):
– Stages Gen3 left-only power meters units (even some carbon ones) are down to $244
– Stages LR dual-sided cranksets are down to $699
– Stages Dash L10 down to $104 (the monochrome unit)
– Stages Dash M50 down to $174 (the medium BOLT-sized unit)
– Stages Dash L50 down to $209 (the larger unit)
These deals start today, and run through December 4th, 2019.
I do realize I'm behind on getting this Stages Dash M50/L50 review out. Oddly enough, this is roughly only the 3rd or so outside ride I've done here at home since…August (I've done a few others, mostly MTB, while on trips. For realz. I've spent all my bike time (which is almost every day since August) on indoor trainers, bikes, and other indoor gear like rollers and more. Sigh, at least it's not snowing out yet. In any case – hopefully I'll be able to wrap things up more quickly on this new firmware version.
With that – thanks for reading!
Hopefully you found this information useful. Please consider using the links in the sidebar to make your purchase and help support this site.