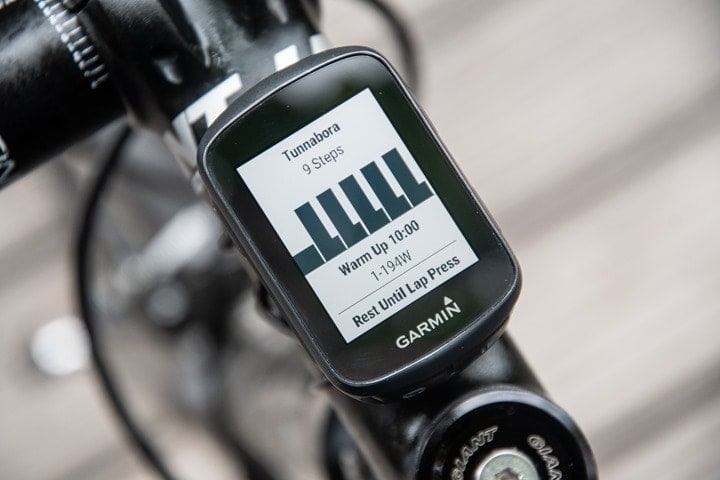 When the Edge 130 came out a bit over two years ago, I think there was general confusion on where it fit in the Garmin lineup. While I don't think that confusion was understood by Garmin initially, consumers presumed it was basically a mini-Edge 500. The problem: It wasn't.
It lacked any of the advanced workout features and related functions that people expected from a mid-range (or higher) computer. Not to mention some initial confusion on battery life.  Yet, it was still an incredibly capable unit in an incredibly small package if your expectations were aligned to the device's intentions. Still, it probably needed some tweaking…thus, the Edge 130 Plus.
The Edge 130 Plus takes that initial package and adds a handful of new features for people that want more out of it. Specifically, it adds in structured workout support, Garmin's ClimbPro for tracking painful ascents, mountain bike metrics, and incident (crash) detection. And in a planned near-term firmware update it'll have smart trainer compatibility soon too (for controlling your smart trainer). Plus a few other odds and ends I outline down below in the next section. Or, you can just hit play right here and get all the new features in one quick coffee-sized video:
As with the Edge 1030 Plus that was also released today, the unit remains the same price as its predecessor – in this case $199. The unit is also available to start shipping today as well.
I've been using the Edge 130 Plus for a few weeks now, putting it through its paces and seeing how it handles. Once I'm done with the media loaner here I'll send it back to Garmin and go out and pick up my own. If you found this review useful, simply hit up the links at the bottom of the page to help support the site. Or, consider becoming a DCR Supporter. With that, let's dive into it!
What's new: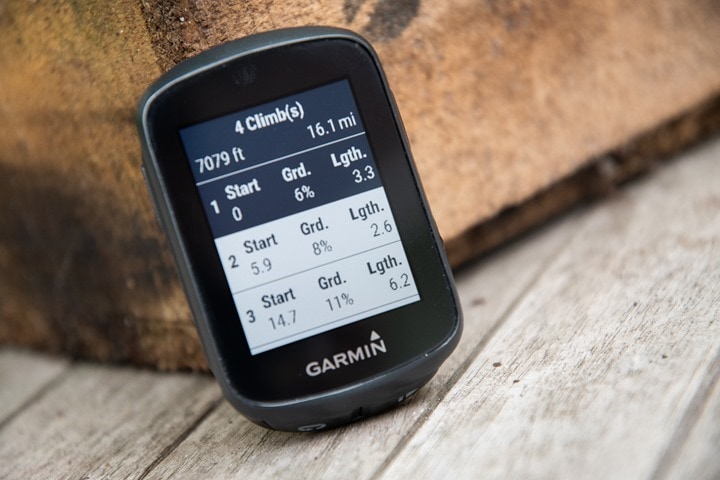 Like the Edge 1030 Plus, the changes here aren't massive. And in fact, some of the new features are shared with the Edge 1030 Plus, like the new course LiveTrack feature. But mostly, these features are about bringing higher-end functions 'down' to the less expensive Edge 130. Nothing else on this list except the setup bits are new to Garmin, they're just normally reserved for the pricier Edge 5xx series:
– Added crash/incident detection (using new onboard accelerometers)
– Added structured workout support
– Adding smart trainer compatibility coming in near-term firmware update to Edge 130 Plus
– Added mountain bike metrics (specifically Grit, Flow, and Jump details)
– Added ClimbPro
– Added hardware accelerometer (used for incident detection and mountain bike metrics)
– *New setup routine: Sensors from your older Garmin unit are automatically imported for you on first use (up to 20 sensors on Edge 130 Plus)
– *New setup routine: Your default activity profile from your other device is automatically provisioned on the Edge 130 (as close as possible given the smaller form factor/data fields)
– *LiveTrack will now show the course/route that you're on to your friends/family (whoever you've shared the route to)
*These features will come to the existing Edge 1030, Edge 530, and Edge 830 later this year in Q4. They're also launching now with the Edge 1030 Plus.
…and, that's about it.
There's not a lot per se. But hey, it keeps the same price as the original Edge 130, at $199. So that's a win, right? Speaking of which, here's that pricing list:
Edge 130 Plus: $199/199EUR (just the device + mounts)
Edge 130 Plus HR Bundle: $249 – includes device +  HRM Dual chest strap
Mountain Bike Bundle (EU/ANZ Only): 269EUR – includes the device + mountain bike mount + Edge remote control + silicone case
The slight tweak in different bundles for only offering the mountain bike bundle in Europe follows what Garmin did for the original Edge 130 as well.
The Basics:
The first thing you'll notice about the Edge 130 Plus is that it's small. It's basically the size of a skinny and taller Oreo: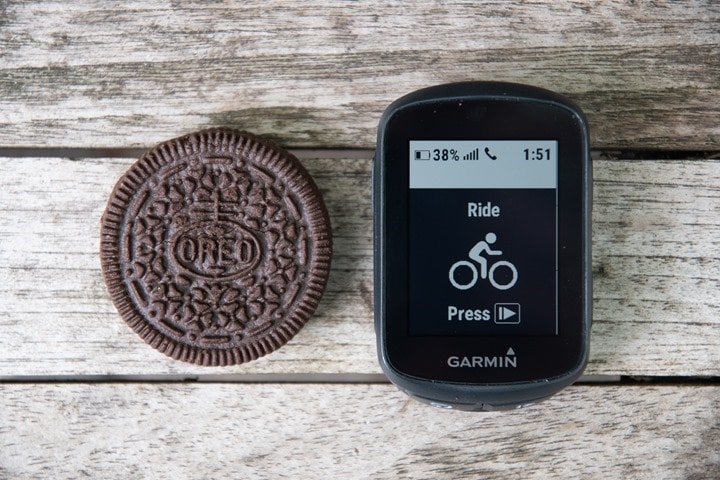 Here's the fashion side-profile shot: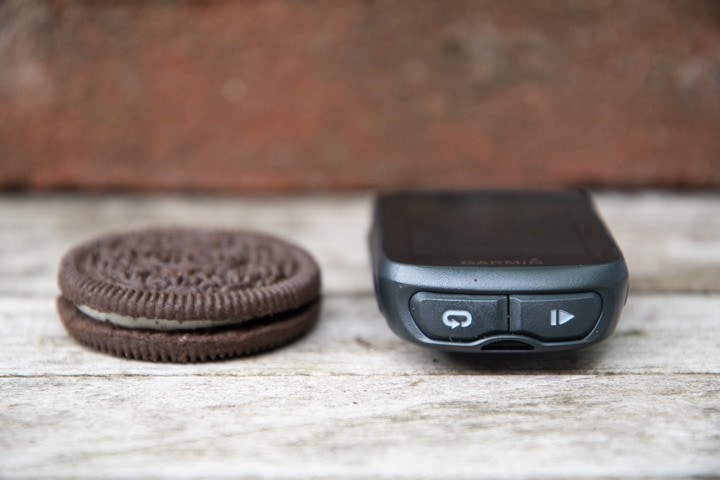 The Edge 130 Plus doesn't have a touch-screen, but instead uses its five buttons. Though, if you're coming from a larger Garmin Edge device, it'll feel a bit cramped at first – as if every possible bit of side space is basically just buttons. There's essentially three sets of buttons: One on the left for power on, two on the bottom for lap and start/stop/enter, and two on the side for up/down.
As with every other Garmin Edge device, you'll find the standard quarter-turn mount on the back, as well as the ever-disappointing micro-USB charging port: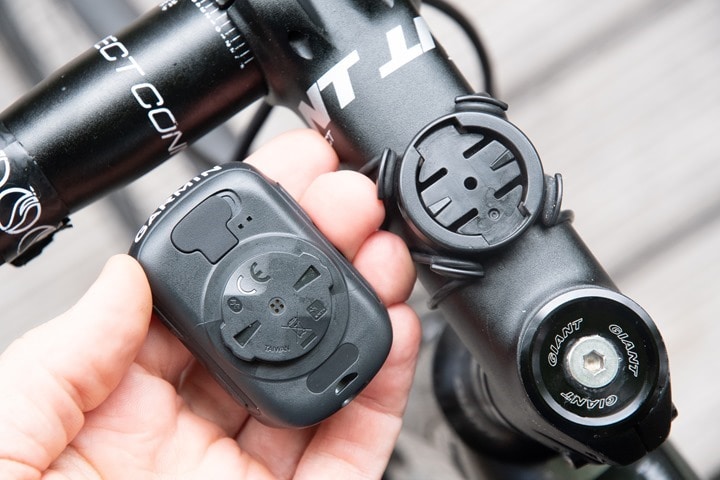 After powering it up, you'll be on the main dashboard screen. At this point it hasn't gone off and found GPS or anything. It's just connected to your phone (assuming you've paired it), and waiting for your instructions. If you had a scheduled workout/training plan though, it'll have quietly downloaded that in the background.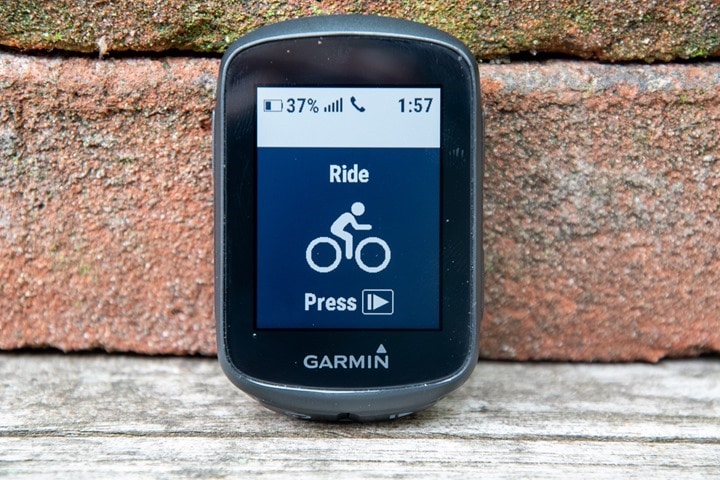 To access the main menu, hold down the upper right button for a second: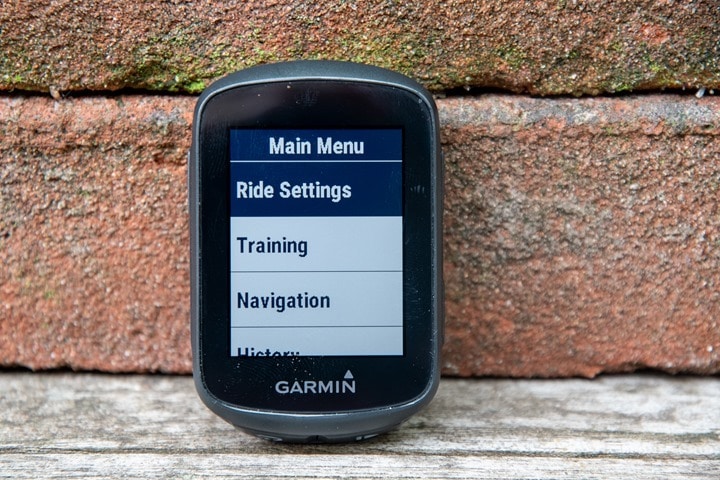 Within here you'll find all the settings for all the things. The top one ('Ride Settings') is where you'll configure your data fields. Within the Edge 130 series you have a single 'activity profile'. Meaning that unlike other higher-end units you can't create separate data field configurations for each type of cycling you have (e.g. mountain biking, race, triathlon, etc…).  For most people, that probably won't matter.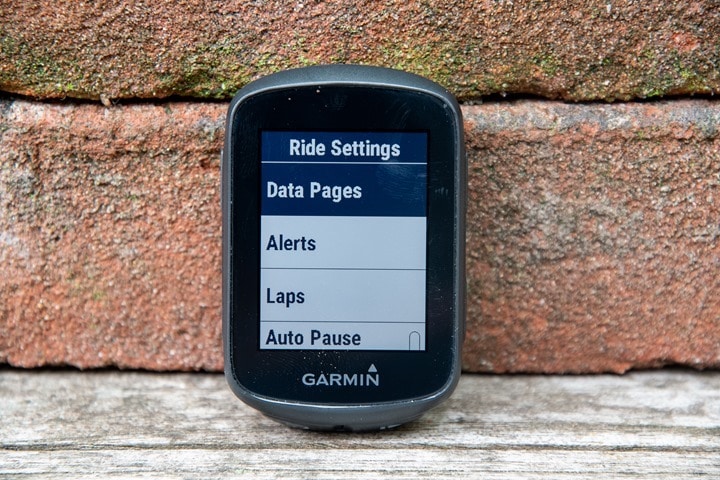 You can select from different layouts, allowing up to 8 data fields per page. That's a lot of data on this size screen. Depending on your eyesight, you might need a telephoto zoom lens to see it all, but hey, that's on you for using that option.
Now as with the original Edge 130, there's still a slightly reduced set of data fields compared to higher-end units. You'll likely only really notice this with power meter data. For example, while you've got data fields like average power, 3-second average, and lap power. You (still) lack more advanced fields like Normalized Power, power balance, and TSS/IF.
On the bright side, since bringing out the Edge 130 Plus, people have made data fields via Garmin Connect IQ that fill in some of those gaps, like this one for Normalized Power.
When it comes to sensors more generally, the Edge 130 Plus supports both ANT+ & Bluetooth Smart sensors, including the aforementioned power meters.  It also supports heart rate sensors, speed sensors, cadence sensors, connected lights, and radar sensors. It also supports the 'Extended Display' capabilities to Garmin Varia Vision as well as Garmin watches (more on that how works here).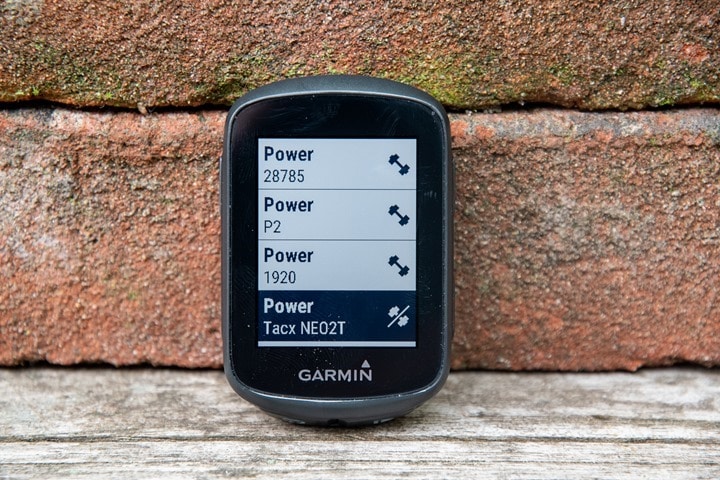 In addition, since it connects to your phone, it'll also display notifications from your phone – such as text or call notifications. And, as part of that connectivity to your phone, it'll trigger crash notifications ('incident detection' in Garmin parlance) if you have a crash and don't disable the trigger within the allotted time period.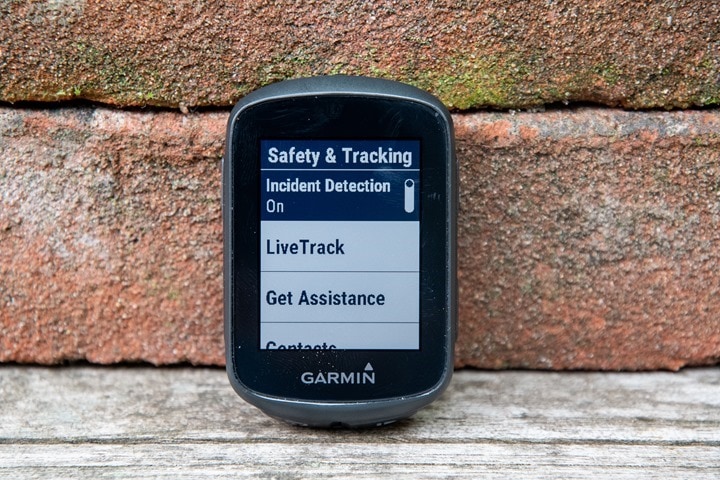 Exactly who you notify can be configured within Garmin Connect mobile, as well as what to display on the Edge itself (so when first responders find you lying on the side of the road, they know who to contact):
Ok, with all those things set, we'll get ready to head out for a simple ride. To do so we'll press the lower right button and then choose a ride type. This helps with categorization after the ride on Garmin Connect: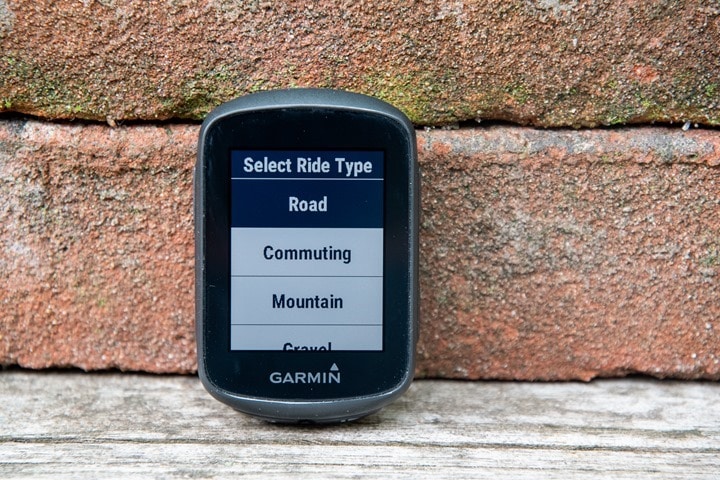 Now, it'll go off and find GPS. The Edge 130 Plus supports GPS, GPS+GLONASS, and GPS+GALILEO. It'll use the satellite pre-cache data synced from your phone to speed this up. Normally it only takes a few seconds to find GPS: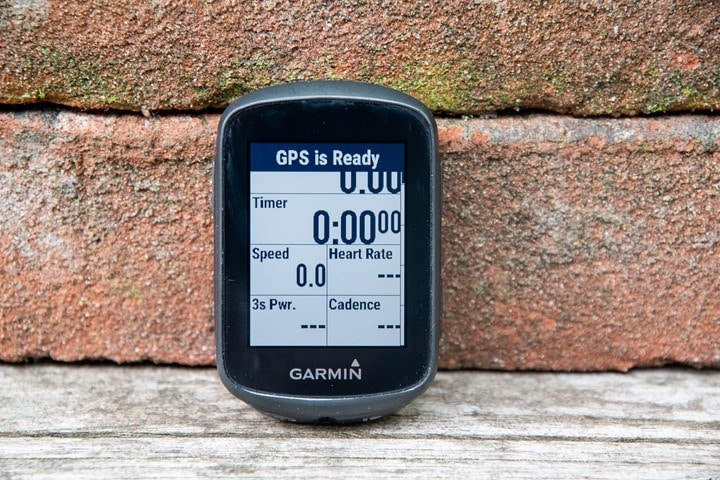 At this point it'll also connect to any previously defined/paired sensors, so you'll wake them up if you haven't already by turning your crank arm or putting on your heart rate strap (or, turning on your radar).
At this point you can press start and it'll start recording data, as with any other head unit.  You can use the up/down buttons on the right side to iterate through various data fields. If you have a course loaded, you'll see that as a data page, or, you'll just see your existing GPS track to date.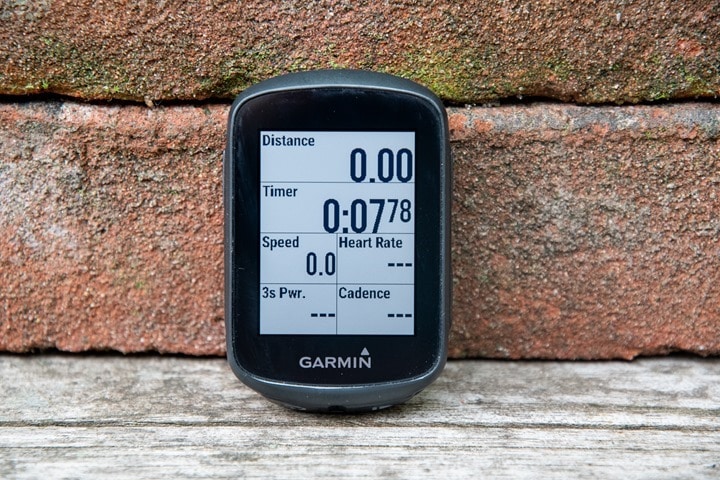 And here's a random shot mid-ride:
In this photo below you can see my GPS track as the line. I'm about to merge back with the start of the route to my left (the other line).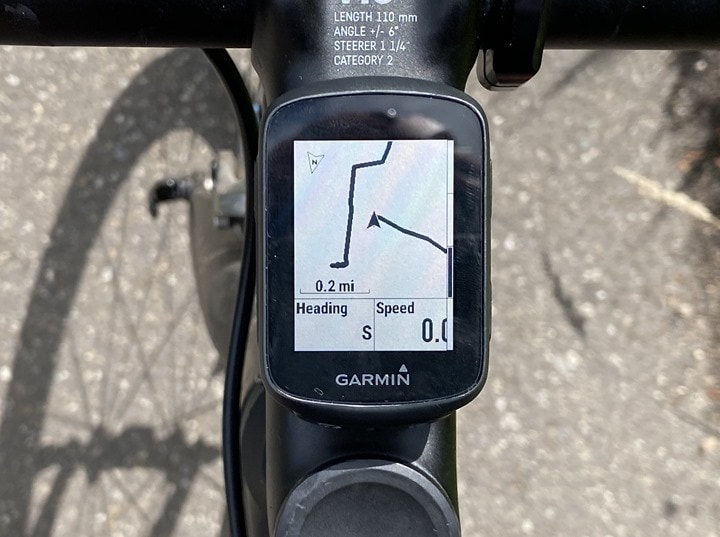 At any point in time, you can hold the upper right button down to access the settings, which allows you to edit the data pages, as well as some basic routing information.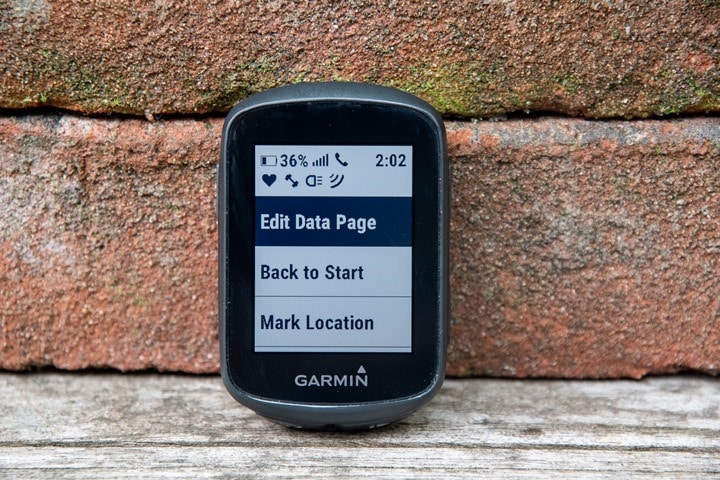 You can go ahead and route back along the same route, or, if you've saved a location (such as your house), then it'll give you directions straight back to that as the crow flies (it doesn't have maps for routing).
Also of note is that the Edge 130 Plus supports Strava Live Segments if you're a paid Strava subscriber. Strava Live Segments allows you to race Strava Segments in real-time (or, at least via offline cache) against the KOM as well as the people you follow and your PR.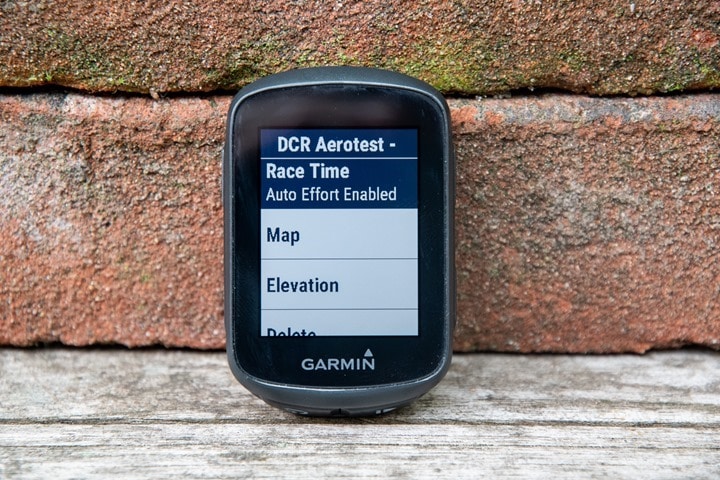 As you near the Segment, it'll pop-up a message that you're close: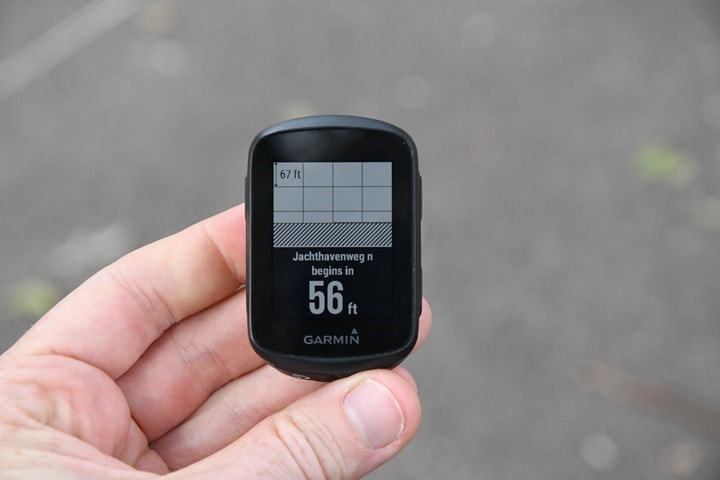 And then during it, it also shows details of where you stand in relation to the end of the segment and the leader you're chasing.  Also, you can look at Segments on the device ahead of time too. In my case, against my friend Dingeman. Which, holy crap, he was hauling on this Segment when he got it. Note Dingeman – you're on notice.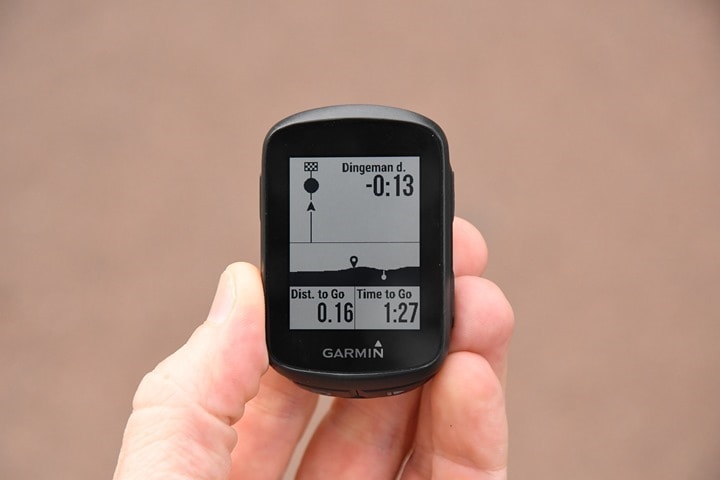 You'll want to simply star these segments ahead of time on Strava (app or site), and then they'll automatically sync to your device. It'll also pick the most popular segments in the area too. And, if you've got a course from Strava, then it'll execute/transfer those segments on that course as well. Oh, and you can double-check segments on the device itself before you go, as well as configure which effort you want to chase (KOM or PR):
Meanwhile, if you've got a mountain bike, you'll get new mountain bike dynamics that came to the Edge 530/830 last year. These are dubbed 'Mountain Bike Dynamics' and aim to give specific terms to metrics tracked off-road:
Grit: This calculates a difficulty score for each route, using elevation and GPS data. So kinda like a trail rating. If two riders ride the same exact trail, they should get the same Grit score. The higher the number the harder the course.
Flow: This is your specific rating for how well you rode the route. It's focused on the momentum of the ride, so things like braking hurt your score. A lower number is a better score. Thus, two riders could ride the exact same route and get totally different Flow scores.
Jumps: This will count how many jumps, and for each jump will include distance and hang time. Additionally, during the ride you'll get jump notifications in real-time with distance/hang time.
I didn't do any mountain biking with the Edge 130 Plus yet (probably next week), so I can't comment on those – however, as with ClimbPro you can check out DesFit's video on them.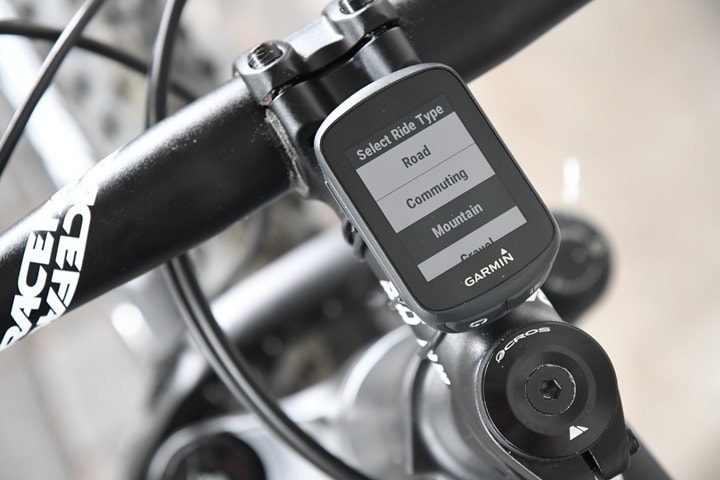 Once you're done pedaling squares, then you'll press the lower right button again to pause it (you can resume again if you just needed an ice cream stop).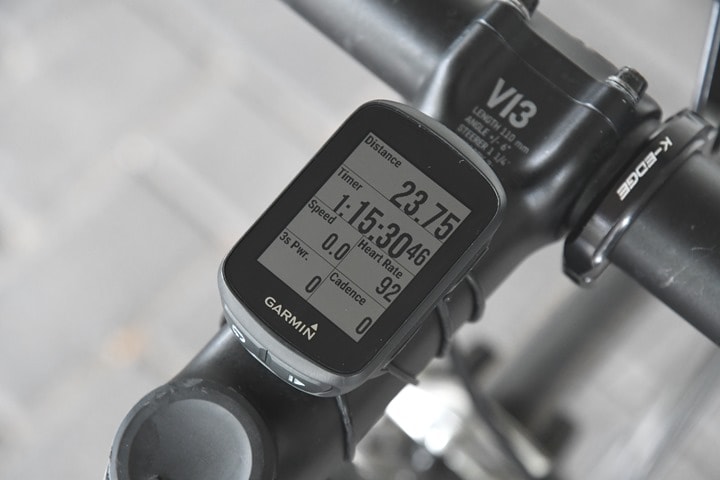 Or, you can press down to 'Save Ride' and get a short version of your ride stats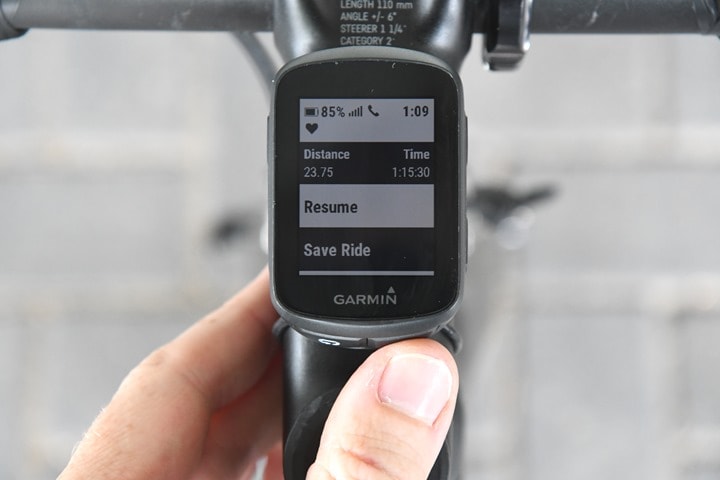 The amount of information it displays on the Edge 130 Plus itself is pretty minimal. But the good news is that you can look on Garmin Connect or the Garmin Connect Mobile smartphone app for more detailed information. In addition, it'll sync your ride off to sites like Strava, TrainingPeaks, and others that you may have configured. Here's a quick look at a recent Edge 130 Plus ride on Garmin Connect mobile (connected to a PowerTap hub power meter and a chest HR strap):
And here's that same ride up on Garmin Connect online: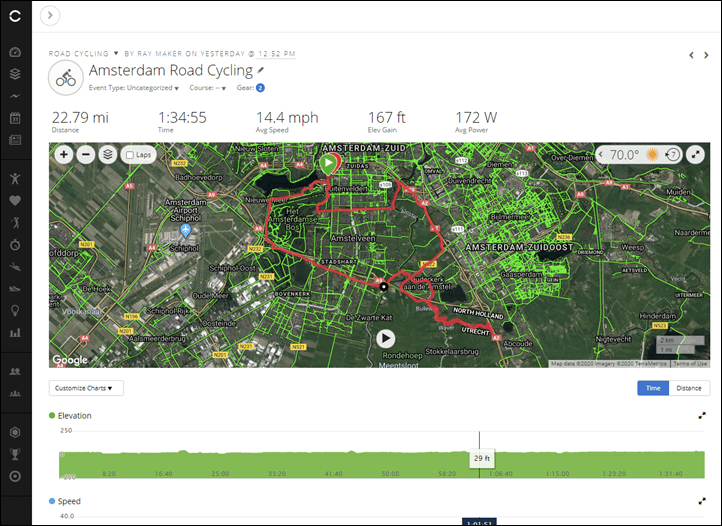 On the device itself, the Edge 130 Plus is also tracking your overall stats, such as various distance records like the fastest 40KM time, longest ride, and most ascent. It'll also track VO2Max as well as give you recovery time via the Recovery Advisor function. It's definitely not as advanced as any of Garmin's other units, but you're probably not buying this for those advanced training load type features.
Finally, let's talk battery life. The original Edge 130 got off to a rough start when Garmin went out the gates claiming 15 hours of battery life. And on paper that was mostly true. But only if you didn't use many (really any) of the features. If you added sensors, battery life dropped a bunch. Or if you added LiveTrack or phone connectivity, it dropped some more. If you looked at the screen on Sunday's after 8AM, it also penalized your battery life.
A few weeks later Garmin was forced to clarify it's battery claims in a support article that spelled out exactly which features impacted battery life and how much. Ultimately I think that was a good thing for not just consumers, but actually Garmin. Since then they've been far more clear (crystal clear in fact) on exactly what the battery life claims look like.
So to that end, here's the Edge 130 Plus battery life claims. Notably, they've reduced the overall top-end from 15 hours on the original Edge 130 to 12 hours on the Edge 130 Plus: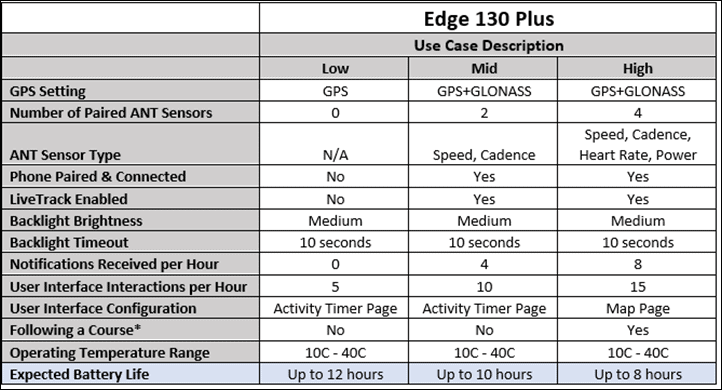 So how does that hold up? Fear not, the DCR Analyzer can tell us that. Here's my ride from yesterday. On that ride, I had sensors paired (heart rate + power meter, which also gave me cadence). I was in stock GPS mode with everything else default. I did not have a course loaded (which would penalize battery further, nor did I have Varia radar turned on). And because I was testing something else, I did not have the phone connected.
This 90-minute ride saw my battery go from 67% to 58%, with an average burn rate of 6.00%hour. That puts me on target for 16 hours, higher than the estimated. So, better than Garmin's estimates? It happens. I had very few interactions with the menu on this ride (I tend to leave things on a given page).

So let's look at another one. In this 82-minute ride I went from 96% to 85%, and sustained an 8.25%/hour rate. That puts me at 12 hours – spot on spec. I did have my phone connected on this ride, along with sensors too. No navigation.

Keep in mind that weather conditions can significantly impact things too. In my case it was basically room temperature, so that would help considerably.
Ok, with that, we've covered basically all the main basics of the Edge 130 Plus, so let's dig into the navigation.
Navigation: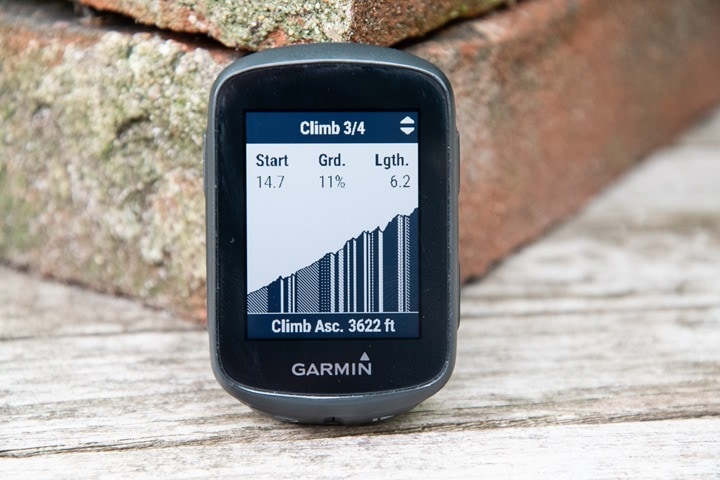 The Edge 130 Plus includes the ability to follow breadcrumb trail tracks and notify you about upcoming turns. It has similar functionality to Garmin's non-mapping wearables from a course following standpoint. That is today it won't tell you to "Turn Left on Maple Street", but it will tell you a turn is coming up in X distance, and if you've missed the turn. Routes can be created online from Garmin Connect (web), or Garmin Connect mobile (smartphone). Or, you can use Garmin's new routing sync option from platforms like Strava, Komoot, and RideWithGPS. Which, is what I did in my case, pulling in this Strava Route (which are automatically synced to the Edge 130 Plus once you star them):
It'll sync those rides in anytime you're connected via Bluetooth Smart (or USB) when the unit powers on. You can then hold down the upper right button and go into the Navigation Menu: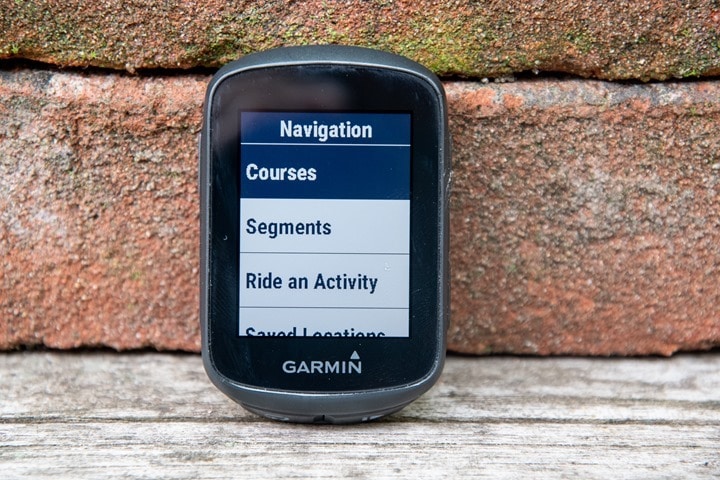 It's here you'll select a given course. This can be the one I just pulled from Strava, one from Garmin Connect, or it could be a past ride, or a saved location. Keep in mind with Saved Locations though it's not giving you routable directions. It's basically just giving you a compass heading and saying 'Good luck!'.
In any case, I'll open up the courses menu, and I can see my recent sync'd rides there: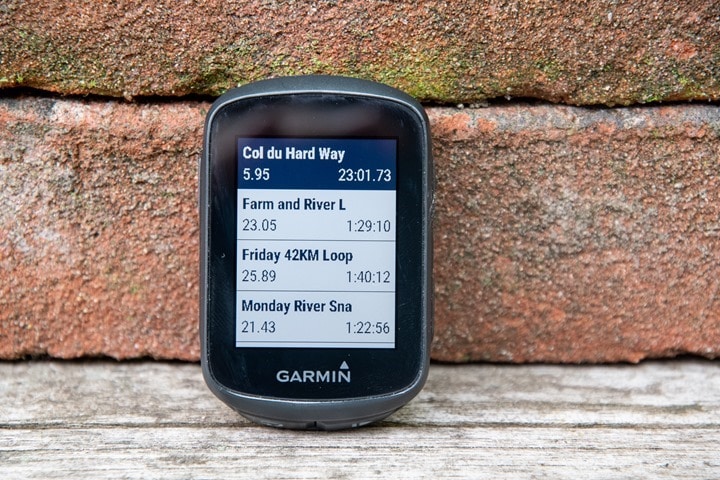 Then I can choose one and see details about that ride including a map and an elevation profile (which, isn't much here):
However, with the Edge 130 Plus you'll now also see climbs via Garmin's ClimbPro. So, let's load up a more exciting route that shows a few solid climbs to see that in action. I'll grab one of my favs from Mallorca – Sa Calobra. You can see what it looks like on Strava here: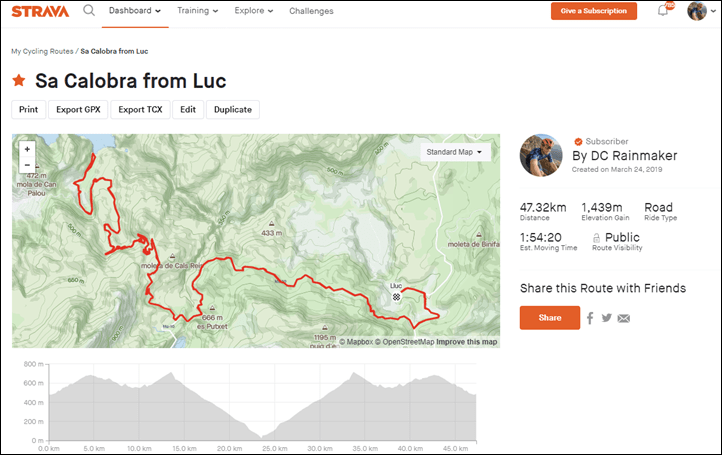 And now, pulling it up on the Edge 130 Plus to see the elevation profile first: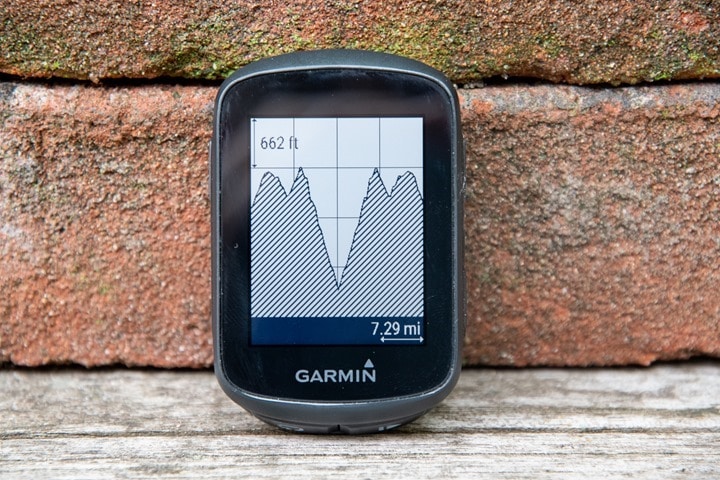 And then the ClimbPro stats via the 'Climbs' option: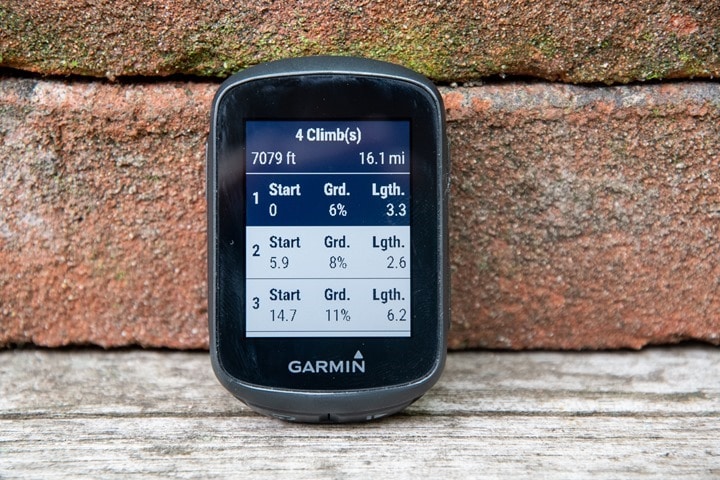 And then you can open up a given climb to see the stats of that specific climb: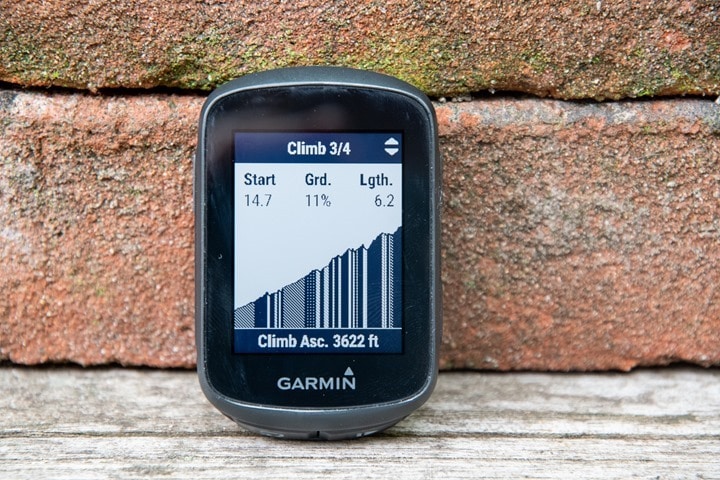 We'll talk more about that in a second.
Getting back to my local route, once you tap 'Ride', it'll go off and have your unit find GPS and put you on the cycling screens ready to ride.  At this point you'll see an overview plot of the map and where you're located on that journey: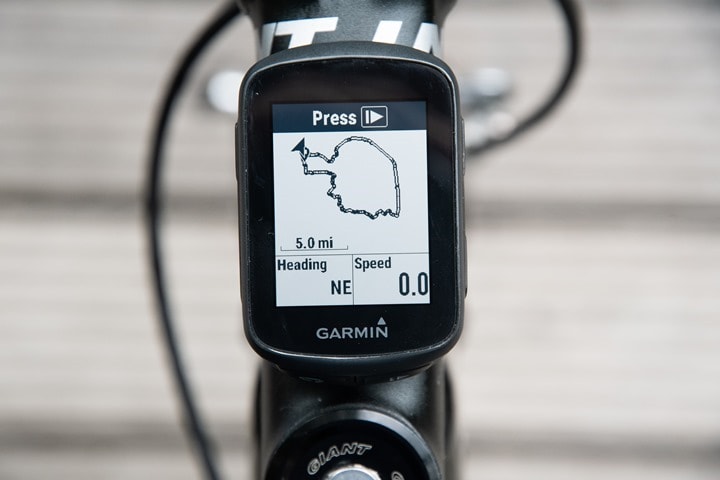 As you approach a turn it'll alert you of the change in course/direction. Or, you can simply just leave the map field up:
If you go off-course, it'll alert you of that as well: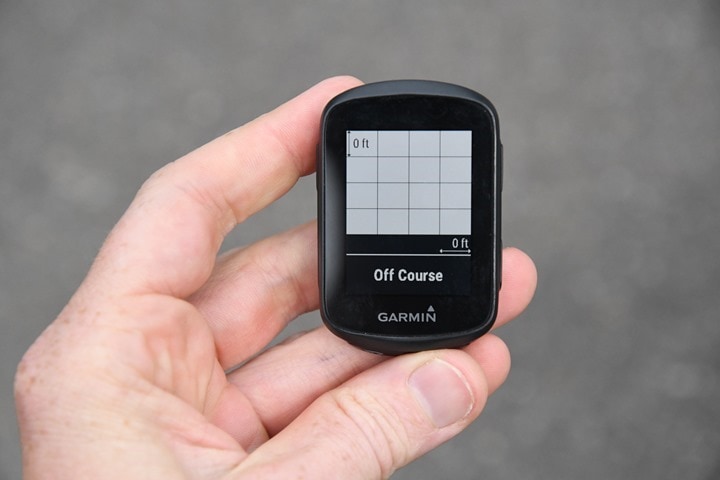 You can also change the zoom level and pan/scroll around too: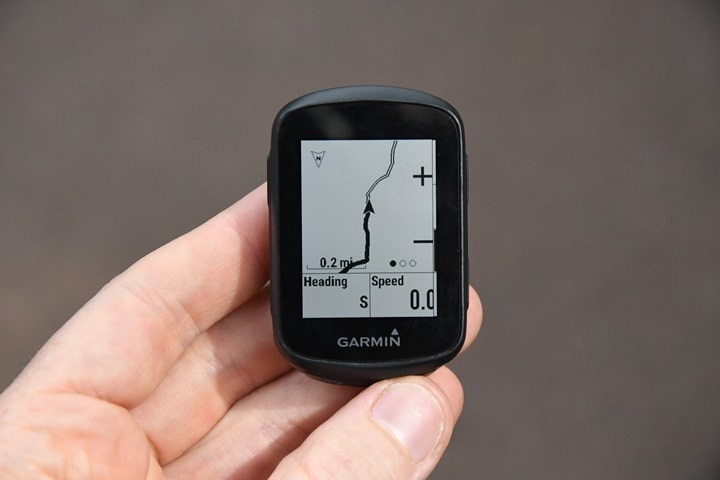 If you're on a route with legit climbs, you'll see the climbs listed on the dedicated ClimbPro page as well, showing you what's ahead or behind: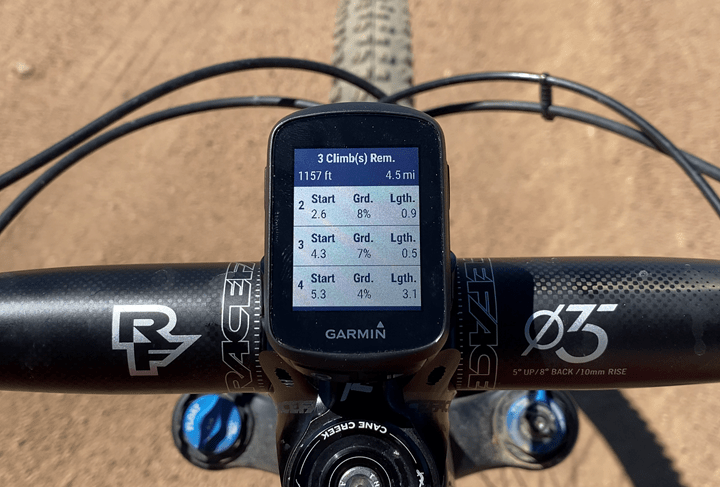 Now, in the case of ClimbPro, I lack any hills around here big enough to trigger it. But it's the same feature that rolled out on the Edge 530/830/1030 last year, and prior to that on the Fenix series. Given I can't travel right now, I'll defer to my friend DesFit for a photo of what that looks like in the mountains of Colorado. Here you can see he's midway up the climb, and has 0.86 miles remaining with 184ft of ascent remaining. The average grade remaining is 4%, and he's climbed 220ft thus far and is chilling at an elevation of 5,639ft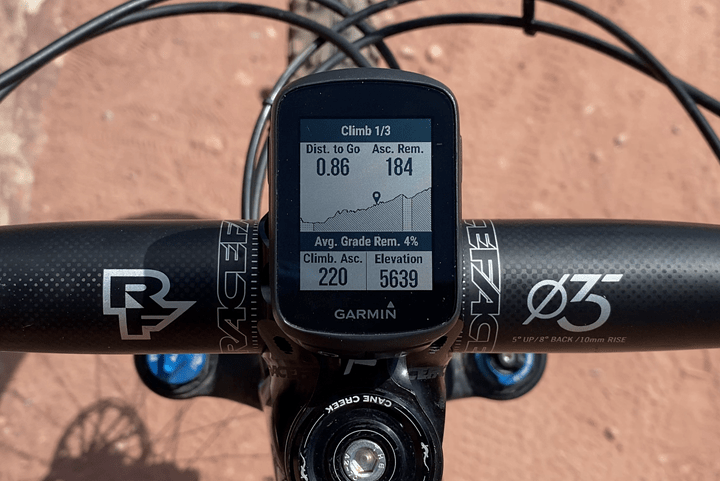 ClimbPro is super cool stuff, and has been awesome for me on other Garmin devices. Adding that alongside the mountain bike features make this a super interesting unit for mountain bikers that don't want a larger display on their handlebars.
Finally, in addition to forward-facing navigation, it can also route you back to the start, mid-ride.  In that case, you have two options – A) Along the same Route, or B) Straight Line: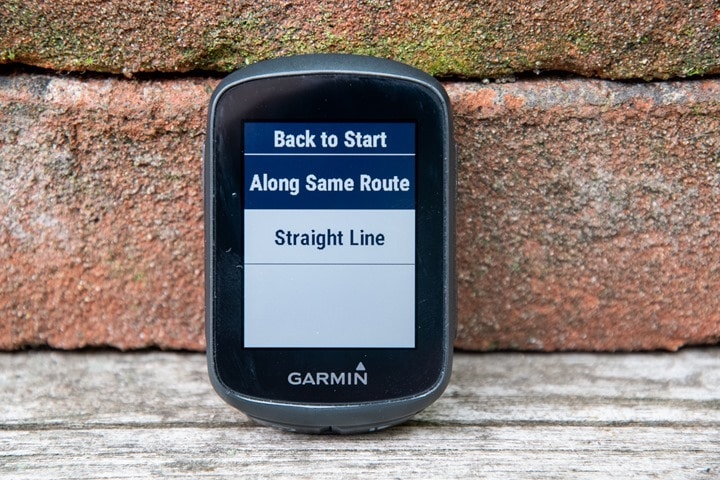 If selecting to do it along the same route, it simply backtracks from wherever you are back to the starting point.  Whereas with the 'Straight line' option, it'll do it as the crow flies.  Remember this device doesn't have a map of streets onboard, so it won't give you the shortest road-focused route home. Instead, it just assumes you are a crow and keeps you pointed in the right direction while you navigate roads.
Finally, there's the new LiveTrack course sharing option. This will share your course/route with friends/family when LiveTrack is enabled on the Edge 130 Plus. LiveTrack leverages your phone's connection, so you'll need that with you. You just need to remember to do a one-time enablement of the 'Course Sharing' option in the LiveTrack settings on the Edge 130 Plus: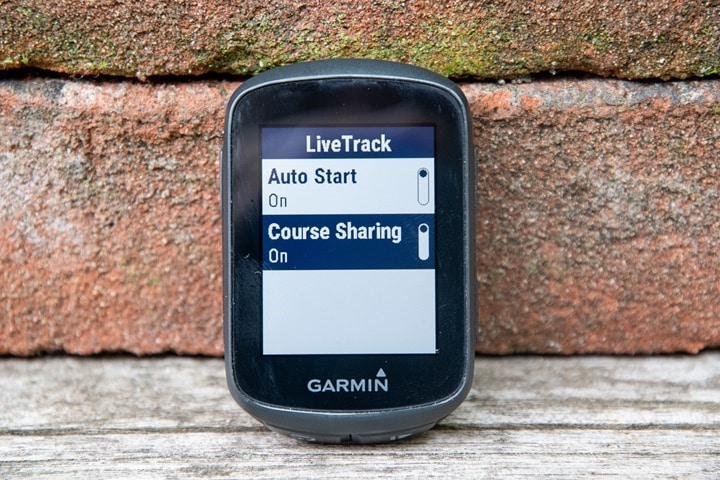 Then, the next time you're out riding, your defined contacts (within Garmin Connect Mobile) will get an e-mail like this: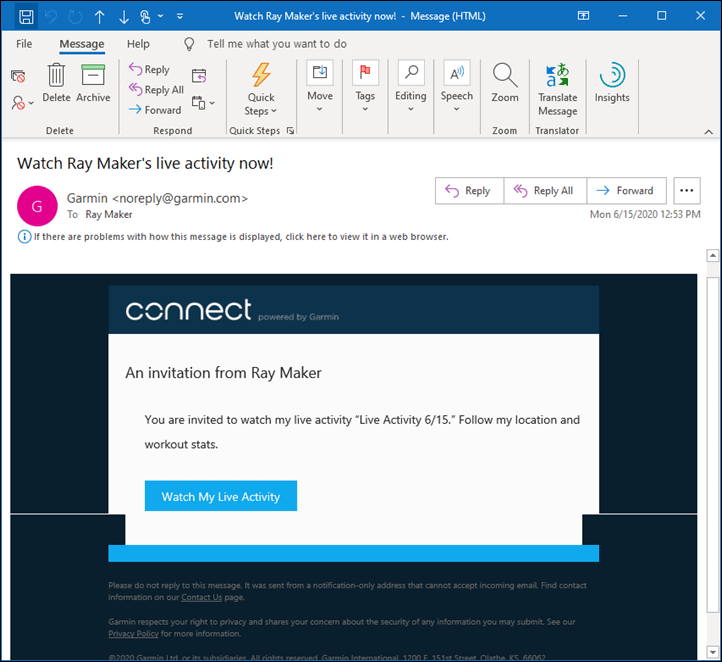 They can click on the link and that brings them here. In the below screenshot you can see I went specifically off-course (which is purple), where my blue line was off in the forest.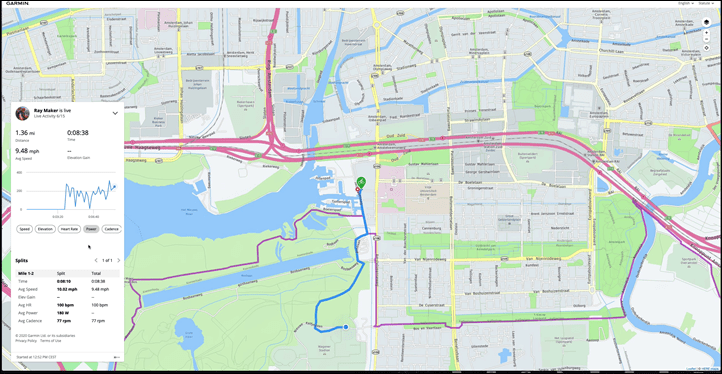 This page shows your current position, updated every 30 seconds, and then additional metrics on the side – including Speed, Elevation, Heart Rate, Power, and Cadence (if you have those sensors). They'll also see mile/kilometer marker splits. And they can change to a satellite view, or other mapping providers.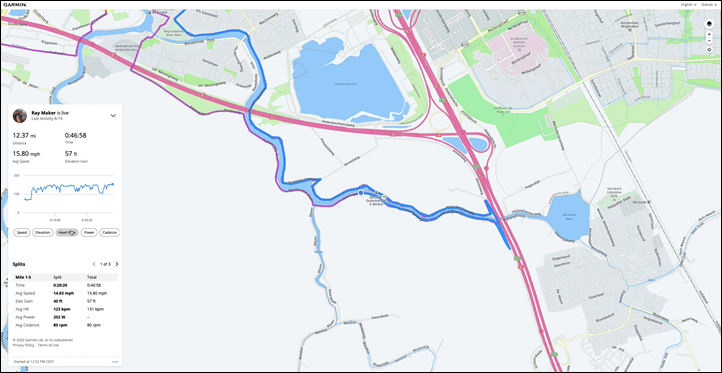 I find it interesting to see the off-course pieces show up on the live tracking link: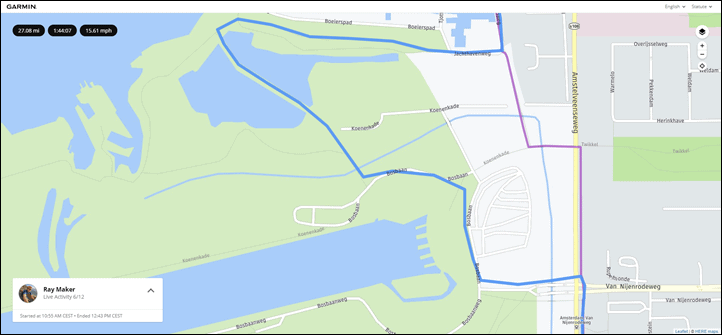 Most of my time over the last few weeks has been spent on the Edge 1030 Plus LiveTracking paired, which is technically identical to the Edge 130 Plus LiveTracking. As I noted in that review, I've had some underlying LiveTrack issues during this time period, though, yesterday's ride with the latest software was a notable success. I'll circle back down the road a bit more with the Edge 130 Plus specifically and let ya know if those troubles carry-over here or not.
Note that the LiveTrack improvements here also came today to the Edge 1030 Plus (obviously), but more importantly are coming to the Edge 530, 830, and original Edge 1030. Further, the new user interface will get rolled out to everyone. And Garmin says some aspect of wearables will get the course sharing too. Though the details of that aren't finalized yet.
Structured Workouts: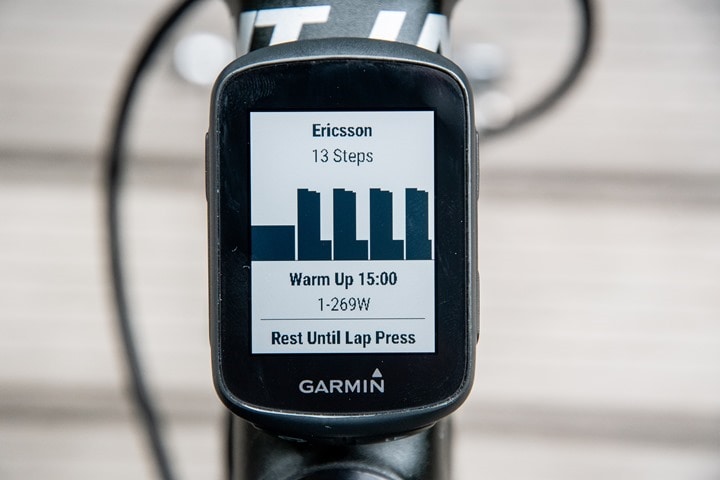 Probably one of the biggest new features of the Edge 130 Plus, aside from ClimbPro, is the new Structured Workout feature. This allows you to execute structured workouts with specific targets (like power or heart rate targets) directly on the device. This roughly follows inline with Garmin adding this capability to their sub-$200 running watches a year ago (specifically the Forerunner 45), so it makes sense to see it now on the cycling side of the house too.
You've got a couple of options for getting structured workouts on the Edge 130 Plus. You can use Garmin's workout creator online, or on Garmin Connect mobile to create workouts with targets:
These will sync to the device automatically for you.
Or, you can use 3rd party platforms like TrainingPeaks, TrainerRoad, and others to sync these workouts directly to your Edge when they come up on your training calendar. This is what I did, using TrainerRoad.
Now at this point the Edge 130 Plus doesn't yet support indoor smart trainers. That's coming in a near-term firmware update. Once that happens it'll be able to control your indoor smart trainer via ANT+ FE-C. But until then you can still do structured workouts indoors or outdoors the 'old fashioned' way.
To load a structured workout, hold the upper right button, then go into Training. From there you'll see 'Workouts' and 'Training Plan':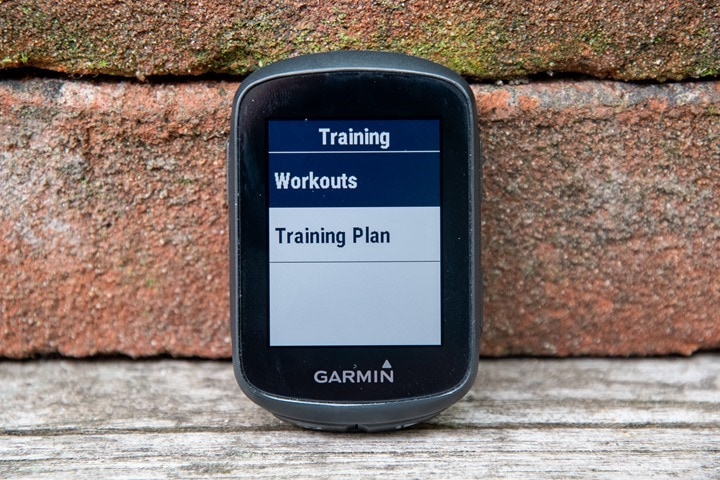 In my case, today's scheduled TrainerRoad workout has synced automatically into my 'Training' folder, titled 'Tunnabora':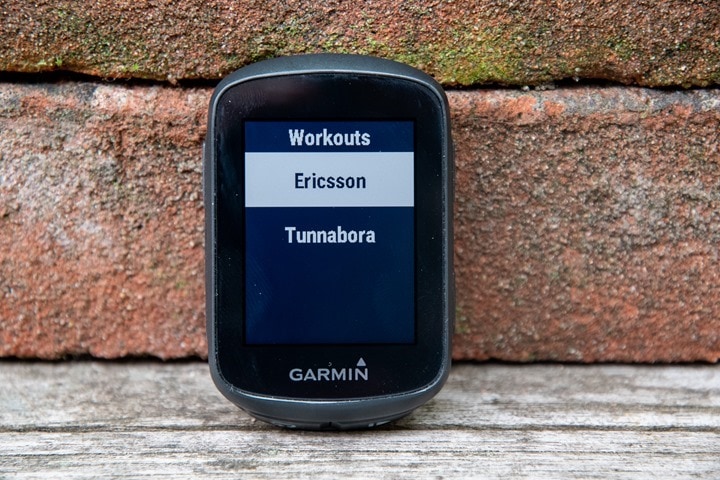 I can open it and then view the overview: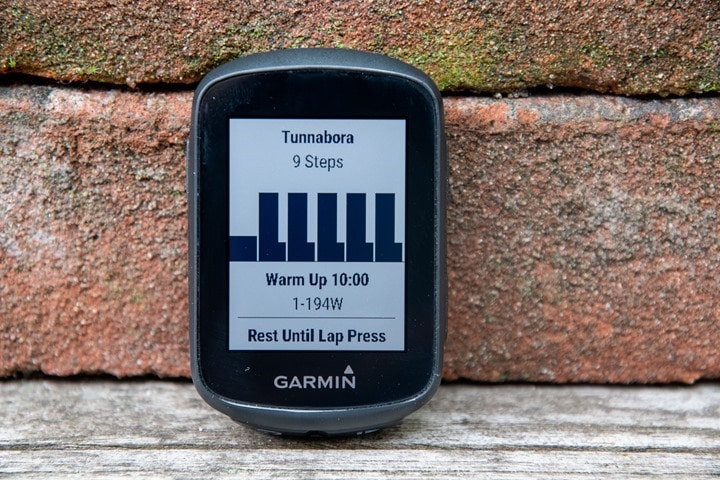 And I can scroll down to view the exact steps: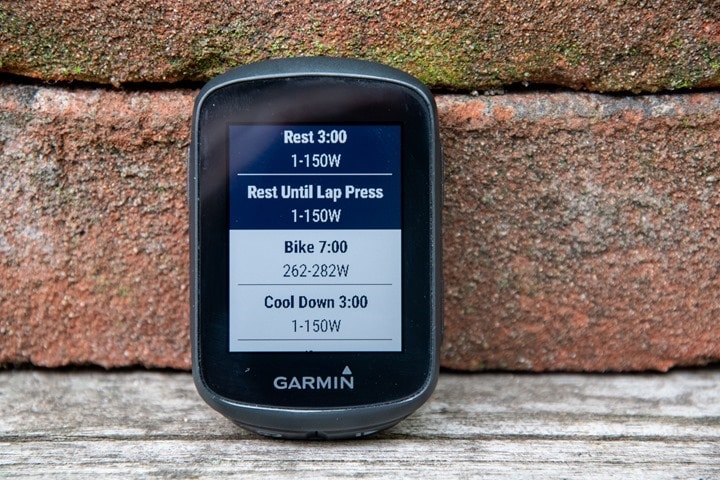 Finally, at the bottom, there's the 'Do Workout' option. As you ride the workout it'll show your target on the left side, and whether you're above or below target. It'll also list the target on the right side, as well as the overall structure at the bottom. For example, on this one you can see my current power is in the target zone nicely (where the arrow is pointing to the left block):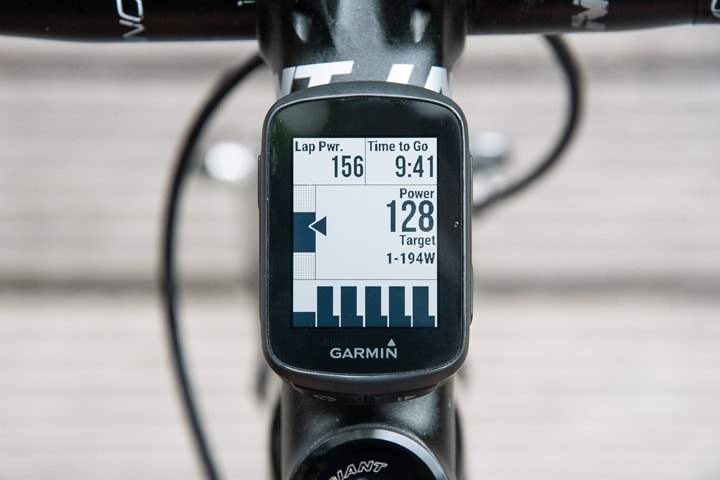 All your existing data pages are still visible/there if you want to check those too (such as other custom pages that might show heart rate or such). There isn't however any method to customize the structured training page like there is on higher-end Garmin units. But that seems like a fair trade-off for the price.
You can skip ahead in the workout by pressing the lap button, which will move you to the next interval/section. Or, depending on how the workout was created, it'll just do it automatically for you as you complete each section. In this example you can see how my current power is slightly above the target zone (I'm at 288w versus the target of 262-282w). Note the zone indicator is for your current power, not your lap power (which is actually slightly below where I need to be).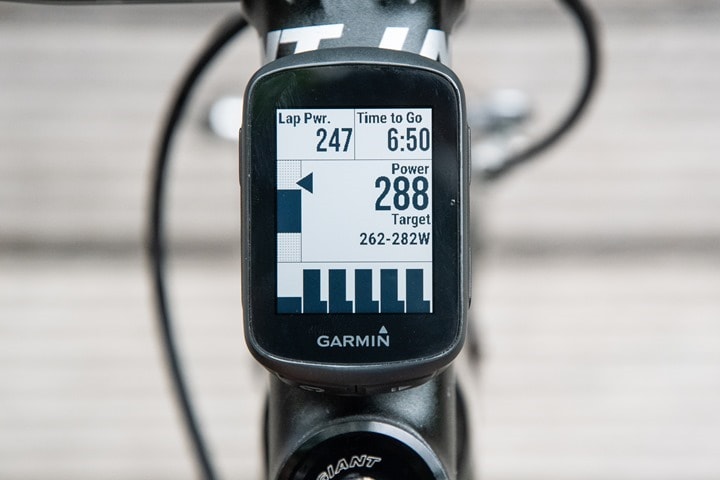 Now once Garmin adds in the trainer control bits it'll become a more cohesive package for indoor training, though, I still wonder how many people (%-wise) actually use a Garmin Edge to control their smart trainer, versus just using the various indoor training apps like TrainerRoad/Zwift/The Sufferfest/etc…. Would love to hear some stats on that.
In any case, bringing structured training to the Edge 130 Plus will definitely be appreciated for those that want a smaller unit but don't want to sacrifice some of the advanced training options, especially if you use structured workouts for outdoor training or executing specific race plans.
GPS Accuracy: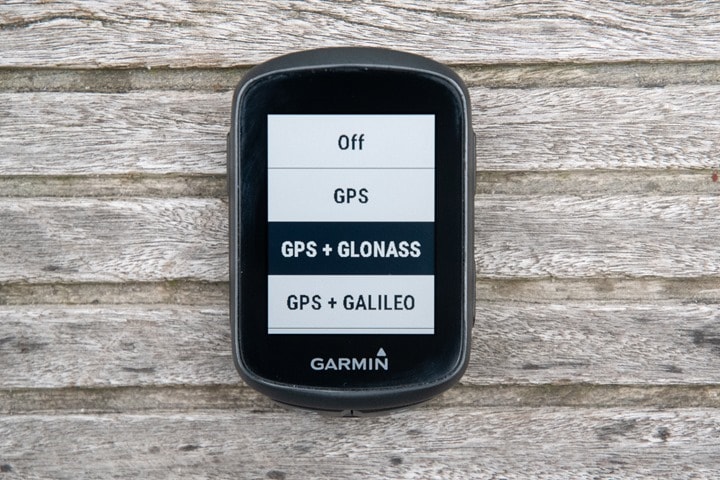 There's likely no topic that stirs as much discussion and passion as GPS accuracy.  A watch could fall apart and give you dire electrical shocks while doing so, but if it shows you on the wrong side of the road?  Oh hell no, bring on the fury of the internet!
GPS accuracy can be looked at in a number of different ways, but I prefer to look at it using a number of devices in real-world scenarios across a vast number of activities.  I use 2-6 other devices at once, trying to get a clear picture of how a given set of devices handles conditions on a certain day.  Conditions include everything from tree/building cover to weather.
Over the years I've continued to tweak my GPS testing methodology.  For example, I try to not place two units next to each other on my wrists, as that can impact signal. In the case of GPS bike computers, I put multiple units on my handlebars, though quite well separated (such as one on an out-front mount, another on the stem, and others to the side of the handlebars).
Next, as noted, I use just my daily training routes.  Using a single route over and over again isn't really indicative of real-world conditions, it's just indicative of one route.  The workouts you see here are just my normal daily rides/workouts. At least as much as is possible in this COVID-19 world without being able to travel far, I've varied my workouts and terrain (cities/buildings, trees, quiet roads, bridges, etc…). But, given I live in a pretty flat place (Amsterdam), it means there's very little high-altitude mountain type testing right now. Maybe later this summer. Sorry!
(Now, I'll give you a spoiler since you made it thus far: By and large it's pretty rare to see GPS screw-ups on road-cycling routes. And frankly, that continues here. This section is super boring because nothing 'exciting' happened.)
First up for a test ride is just from yesterday on a very diverse route where I was basically trying to break navigation. In this case there were some forested sections, lots of tree-lined sections, some farm roads, and some buildings/underpasses here and there. It's comparing the Edge 1030 Plus, Edge 130 Plus, Wahoo ROAM, and a Fenix 6 Pro on my wrist. Here's those data files: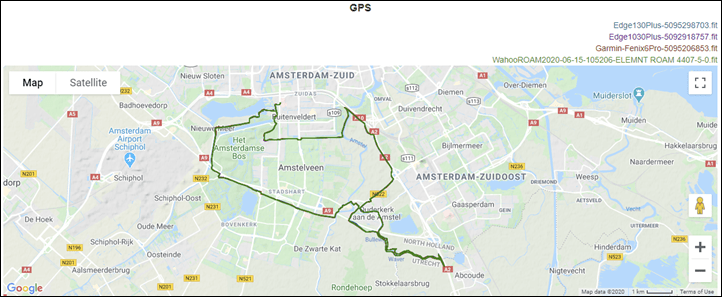 While my path looks drunk, I mostly wasn't. I was just following canals/rivers and seeing how many wrong turns I could make before I really upset the navigation of the unit. Turns out, I couldn't. On the GPS-side though, we'll start off with the beginning forested area, and you can see all the units are super close: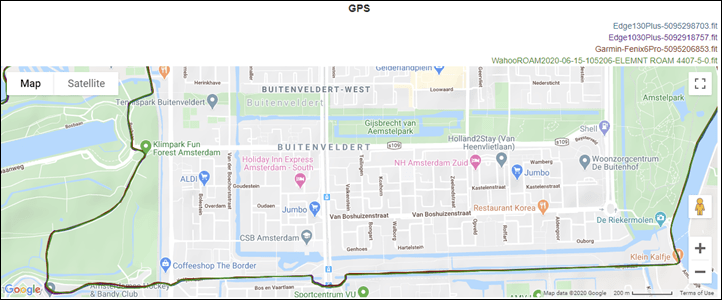 It continues this way, so close together that you can barely tell there's multiple lines there. Even on the swerving sections along the river, no divergence: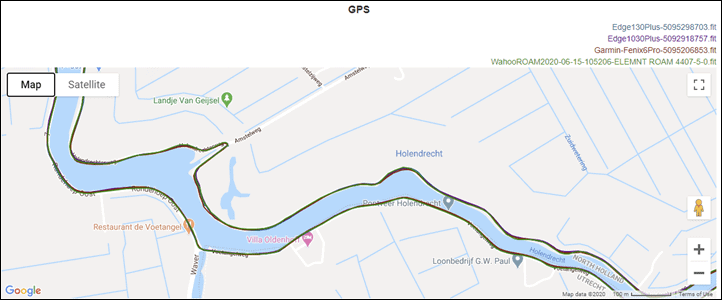 Interestingly however, a bit later I did see some divergence, specifically from the Edge 130 Plus. It went askew for about 300 meters long, slightly offset perhaps 30 meters or so. You can see the Wahoo ROAM barely snuck its head out as well. So whatever was going on with that section of tree-lined roadway, seemed to impact both – though not the others.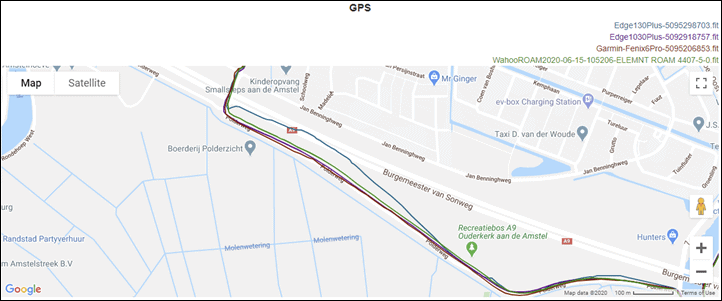 Later on as I pass some tall apartment buildings for a block or two there's a slight bit more divergence from the different units, but we're talking a handful of meters. When the tracks look so perfect on the rest of the ride, even the tiniest bit difference is noticed: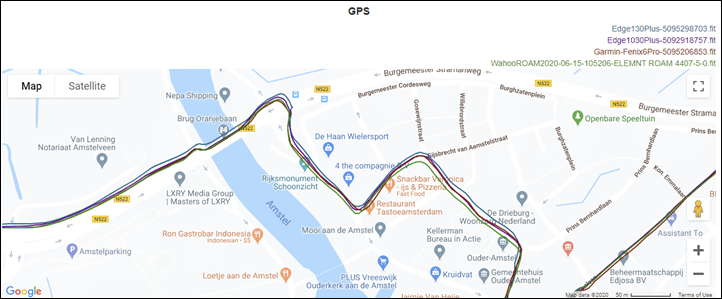 Later on in the ride we see a bit more of that slight divergence from the Edge 130 Plus, but the 1030 Plus and others remain near lock-step. The Wahoo ROAM did cut some corners though as you can see: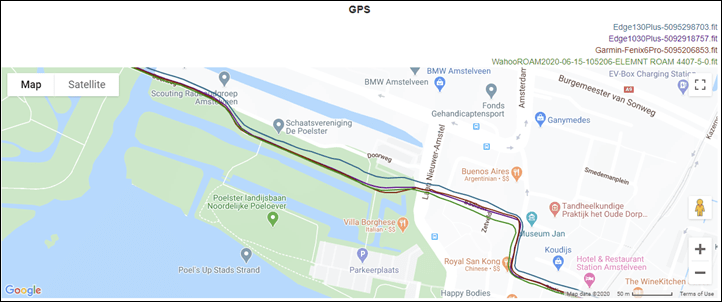 Here's another example of a ROAM cut corner. Well, I guess this is technically an overshoot followed by an undershoot. It's Mario Karting.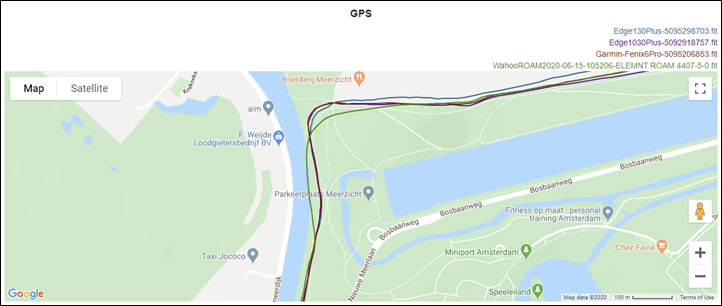 OK, let's move along to another one, this time making it a bit more complex. Sure, the overall geographic spread is smaller here, but it's because I'm doing repeated laps over and over and over at a local cycling track/loop. As such, that'll make things much more difficult to see if it can maintain lap after lap on the exact same track. Here's that data set: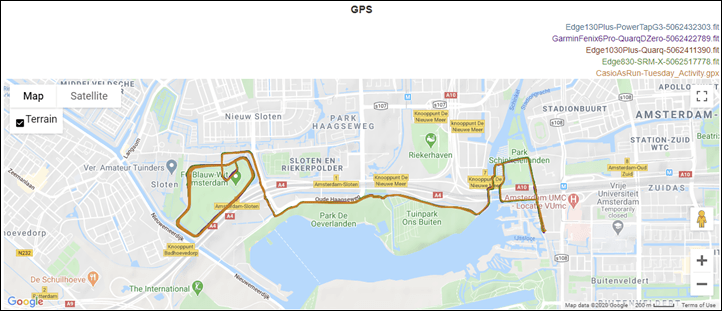 To begin, I start-out going under a gigantic 6 or 60 lane highway/train tunnel thing. Like, all the lanes. Either way, there's no issues here from anyone here. There's technically a gap half-way through those lanes where the units can see the sky. So we see a little blip there, but nothing more than a couple of meters worth.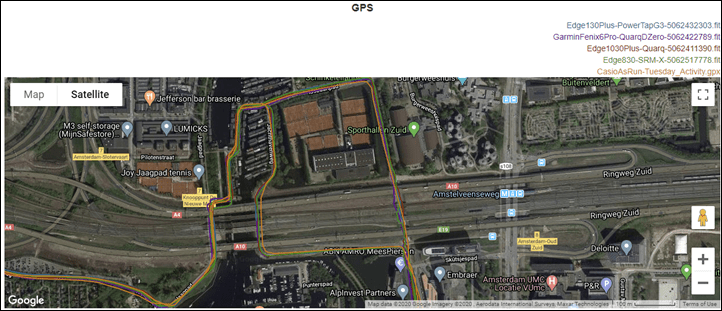 Next, cruising through/along a forest to get to the track. Everything is spot-on here too: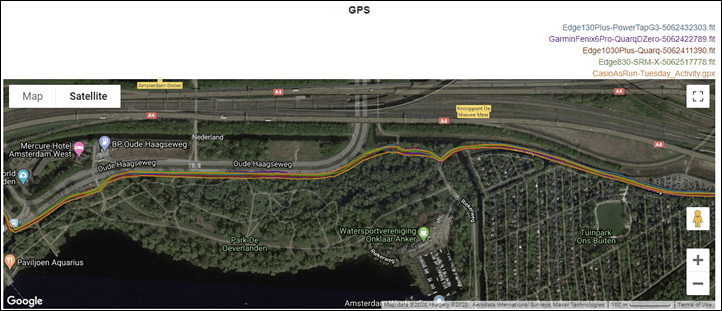 So, let's get right to the good stuff: The Track.
I'm going to split it in two pieces, the upper half and the lower half. Now, looking at the upper half it's a bit hard to tell what's going on, because the Casio unit is a bit wobbly.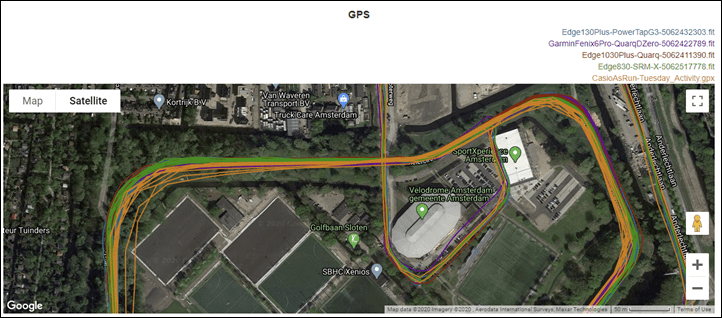 So, let's get rid of that. Here we go: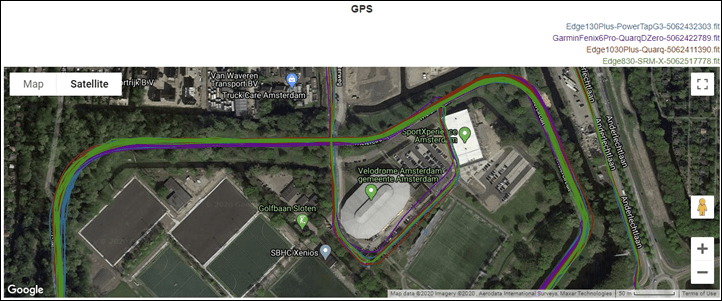 Now you can see all the units are very close to each other. What's interesting though is each unit tends to have slight preference in certain parts of the track where it might meander in/out towards a given section. For example on the upper straightaway, the Fenix 6 Pro seems to favor the southern side. Whereas the Edge 830 favors the northern side. Meanwhile, on that upper left corner turn, the Edge 130 Plus seems to favor the inside while the Edge 1030 Plus seems to hang out more middle of the road.
Here's the mid of the track:

And here's the lower half of the track: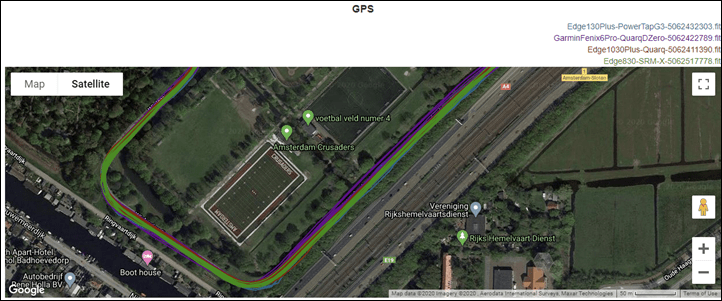 Realistically, any of these GPS tracks are fine. I'd say there's a bit more variability overall from the wrist-based Fenix 6, but for the GPS bike computers they're all virtually identical, and when the Strava Live Segments were triggering on each loop, they were doing so almost all in concert.
So, overall that ride looks pretty good.
Let's take a look at one last ride, this time a big ol' loop starting in the city, and then heading out to the countryside, before looping back to reality again Here's that data set: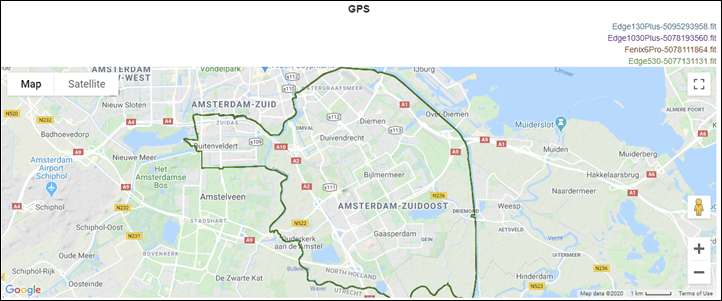 For this route I decided to make things as difficult as I could, at least initially. So, I went down a street next to plenty of tall buildings. So far, pretty good. Not perfect, but about norm for GPS next to tall buildings: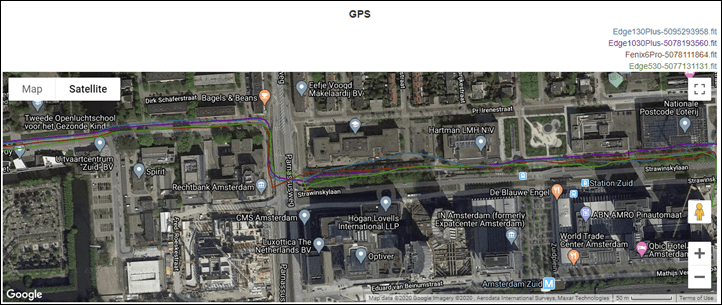 And then, by pure dumb luck I made a right turn off-course instead of a left turn. This meant I went through a bicycle underpass that curves (kinda like a 'J') rather than just going over the street. Turns out, none of the GPS units were happy with that: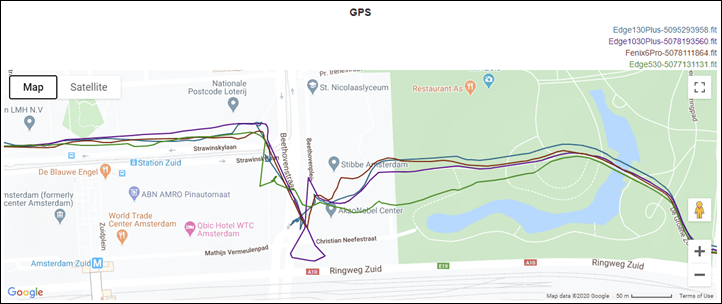 Everybody crapped the bed here. Now to be fair, there's four massive tall buildings, including one I then go through after coming out of the tunnel. I could see why all the units were displeased at this juncture.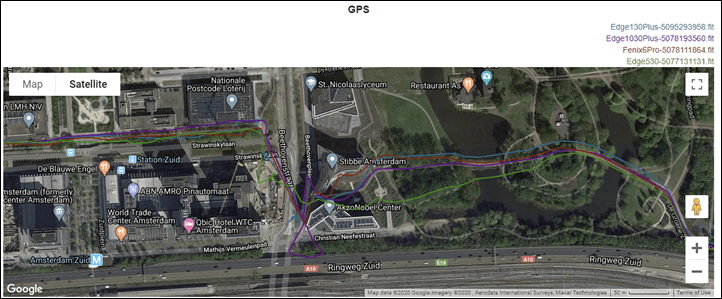 That said, within just a few meters of getting out of the buildings, all but the Edge 530 returned to the bike path immediately (a couple of seconds). The Edge 530 took a few hundred more meters before it trusted my navigational skills again. I can understand the hesitancy there.
At this point, things basically get boring again from a GPS standpoint: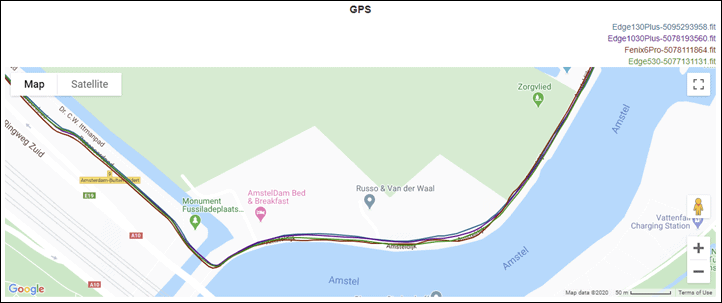 A handful of minor quibbles here and there when passing under bridges, but nothing of significance:
For the most part, all the units were stuck on each other. Sometimes, like below when I passed under high tension wires you see slight differences, but nothing much.
Mostly, it's just boring and looks like this: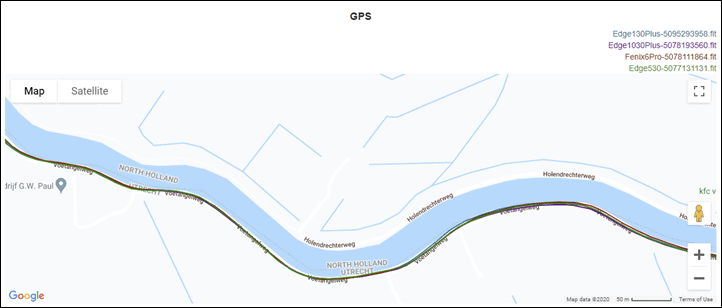 And that's the overall gist of things with GPS on both the new Edge 1030 Plus and Edge 130 Plus: Boringly accurate, minus the slight variations on that one ride for the Edge 130 Plus.
For all these tests on the Edge 130 I was in stock GPS mode, and all of them were mounted on the handlebars or an out-front mount depending on the day (or sometimes my top-tube near the stem). I didn't see any difference in GPS accuracy between those different positions. On the ride I saw the variations it was on my stem, but I had placed it there on numerous other rides without problems. I don't know why that ride has more variations than any other.
Given I only saw that kind of variations once, I'm not super concerned about it since they were pretty minor differences to the other units (and the ROAM had roughly the same level of variations on that same ride).
(Note: All of the charts in these accuracy portions were created using the DCR Analyzer tool.  It allows you to compare power meters/trainers, heart rate, cadence, speed/pace, GPS tracks and plenty more. You can use it as well for your own gadget comparisons, more details here.)
Summary: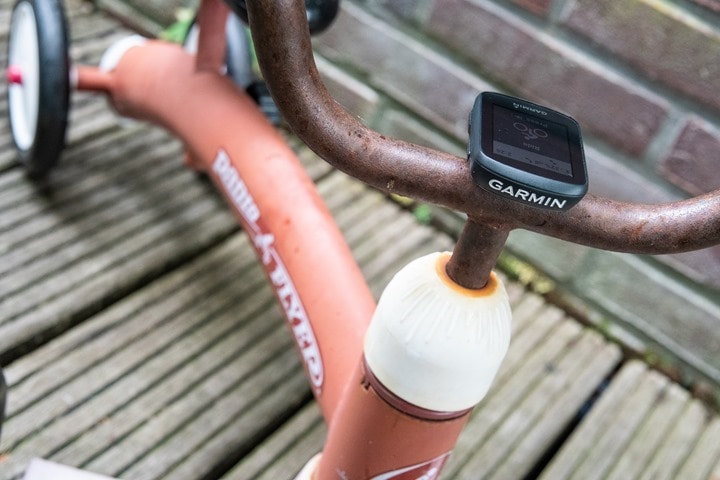 If you're looking for a small form factor GPS bike computer, the Edge 130 Plus is easily the most polished option out there, with one of the heavier feature sets. Garmin seems to have found the right balance this time around in this second iteration of the Edge 130 series. Pulling in the structured training options, and especially ClimbPro make it a solid little unit for more advanced training. Plus, the course sharing with LiveTracking is long overdue (on the Garmin platform as a whole), so it's great to see that.
Which isn't to say that at this $199 price point that it has the most features. Lezyne's Mega-C & Mega XL have actual maps being drawn on the unit for the same price point, and Wahoo's BOLT is often (including right now) on sale for $199. I'd easily take a Wahoo BOLT and its more detailed functions over a Edge 130 Plus for the same price (unless I lived in the mountains…and then ClimbPro is incredibly tempting). Still, if you're in the Garmin ecosystem with a watch already, then it likely would shift the numbers in favor of an Edge 130 Plus. As always, to each their own.
Ultimately the Edge 130 Plus fits the bill nicely in Garmin's lineup of having a lower end option that draws a clear line in the sand on features compared to the more expensive Edge 530 ($299) or Edge 830 ($399). Let alone the Edge 1030 Plus ($6 million dollars). Previously with the original Edge 130 it was a bit muddy if you used advanced features. Now I think it's pretty clear.
With that – thanks for reading!

Found This Post Useful? Support The Site!
Hopefully you found this review useful. At the end of the day, I'm an athlete just like you looking for the most detail possible on a new purchase – so my review is written from the standpoint of how I used the device. The reviews generally take a lot of hours to put together, so it's a fair bit of work (and labor of love). As you probably noticed by looking below, I also take time to answer all the questions posted in the comments – and there's quite a bit of detail in there as well.
If you're shopping for the Garmin Edge 130 Plus or any other accessory items, please consider using the affiliate links below! As an Amazon Associate I earn from qualifying purchases. It doesn't cost you anything extra, but your purchases help support this website a lot. Even more, if you shop with TPC (The Pro's Closet), you'll save $40 on purchases over $200 with coupon code DCRAIN40! The Pro's Closet has been a long-time partner of the site here - including sponsoring videos like my cargo bike race, as well as just being an awesome Colorado-based company full of good humans. Check them out with the links below and the DCRAIN40 coupon!
Here's a few other variants or sibling products that are worth considering:
And finally, here's a handy list of accessories that work well with this unit (and some that I showed in the review). Given the unit pairs with ANT+ & Bluetooth Smart sensors, you can use just about anything though.
And of course – you can always sign-up to be a DCR Supporter! That gets you an ad-free DCR, access to the DCR Quarantine Corner video series packed with behind the scenes tidbits...and it also makes you awesome. And being awesome is what it's all about!
Thanks for reading! And as always, feel free to post comments or questions in the comments section below, I'll be happy to try and answer them as quickly as possible. And lastly, if you felt this review was useful – I always appreciate feedback in the comments below. Thanks!