I still fail to understand how it's mid-November already?!? The rain and ugly weather is mostly non-stop here, but at least that means (yet) more trainer time indoors. With my parents in town this week, here's what we were up to!
1) DCR Gadget T-Shirt Came In!
Last year we designed a DCR sports-tech themed ugly sweater t-shirt, which was pretty awesome. We decided against a sweater itself, since for most people that has semi-limited appeal (especially if you're in a warm locale). This year we tweaked the design and went with a red background. While DCR Open House folks will be able to order (and then pick up at the open house) the t-shirts, you can still get one here. All without the need to travel to Amsterdam.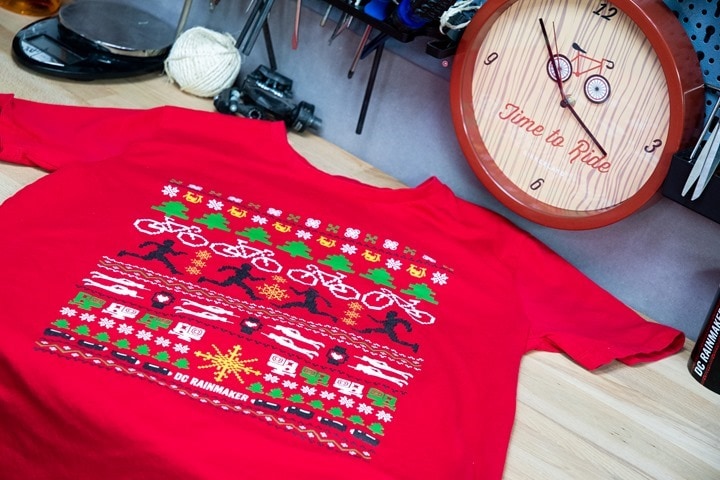 And here's a close-up: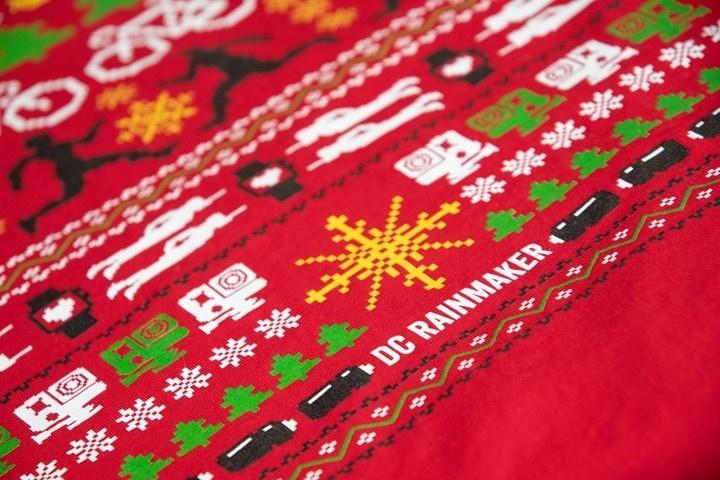 Plus, there's socks too (select drop-down)! Though, the socks haven't arrived yet (below at right is showing the back-side with the heel).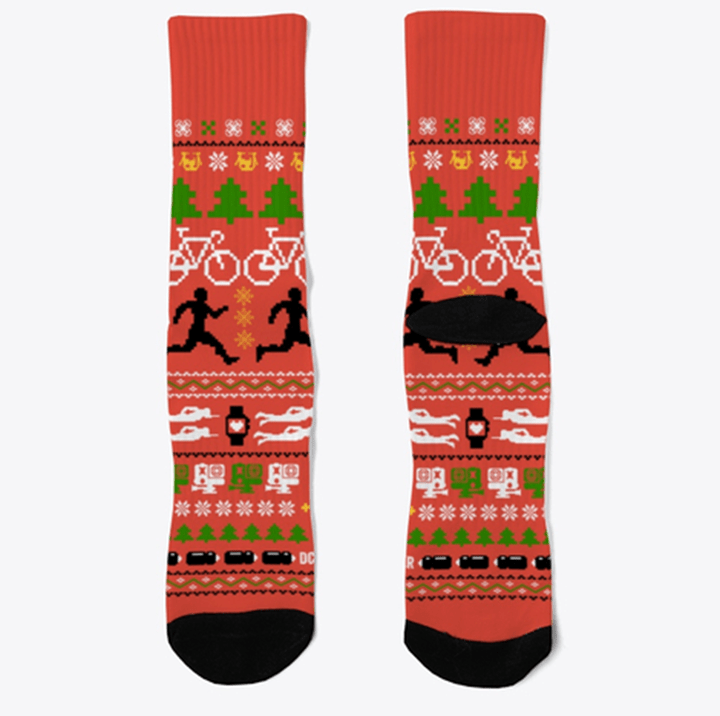 Maybe they're in Dutch customs jail. Who knows. Welcome to my shipping life. But hey, you can order them. So woot! And thanks to The Girl who once again did all the work organizing this.
2) 4iiii Fliiiight Smart Trainer Unboxing
First off, please 4iiii, I'm begging you – no more four iiiii's per product names after this. My 'I' key on my keyboard is dying at a much faster rate than the others. With that public service announcement out of the way, the trainer itself (here's my preview post), which comes in the skinniest box of all trainers: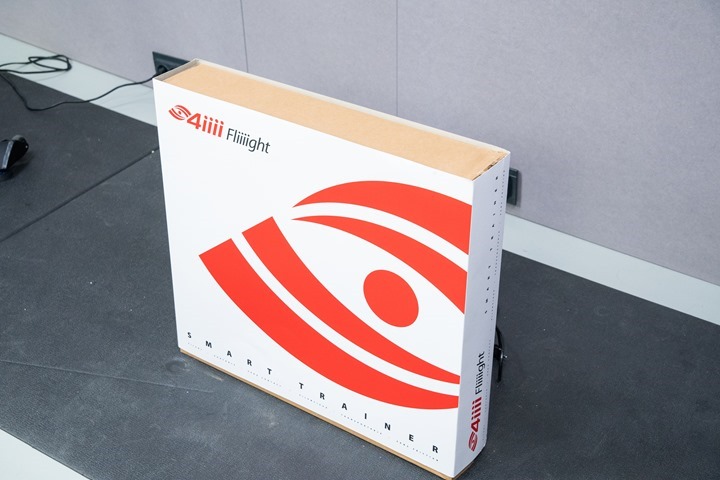 It uses magnets to produce resistance against metal rims, but unlike the past STAC trainers (remember, 4iiii bought STAC) – this one doesn't need any additional wheel weights on it. It's just unfold the unit, clamp your bike and go.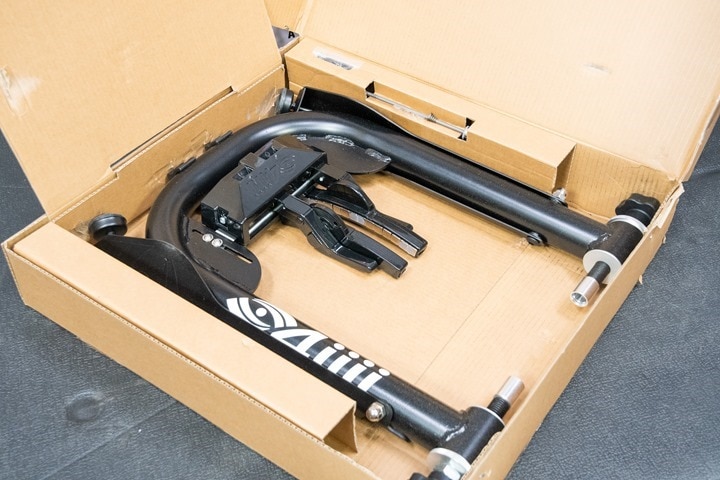 Unfortunately, while boxing and setup went incredibly smooth – on the same silly-easy level as the also-new Elite Suito trainer….the actual first ride experience on Sunday hit a few hiccups. I've sent off an e-mail to figure out why I was having the issues I was, but after a few apps and devices, I gave up for the day and went for a run. Given the particular area that failed (FTMS control from apps) is something that STAC has previously had without issue, I've gotta believe it's a software bug. In any case, hopefully it's a quick and simple fix or idea and I'll be back in business.
(Mind you, 4iiii simply joins *every other* trainer company this year with new 2019 early-season trainer issues. Not a single company has managed to avoid that list this year.)
3) Recording the Podcast
GPLAMA and I chatted for a couple of hours, though, only ended up recording about 60 minutes of it. The remainder would probably get us in trouble if we recorded it. We've joked it would be a great 'after-hours' podcast. Just once…maybe twice. And then nobody in the industry would ever talk to us again. It's our equivalence of going to the bar on Friday after a long work week.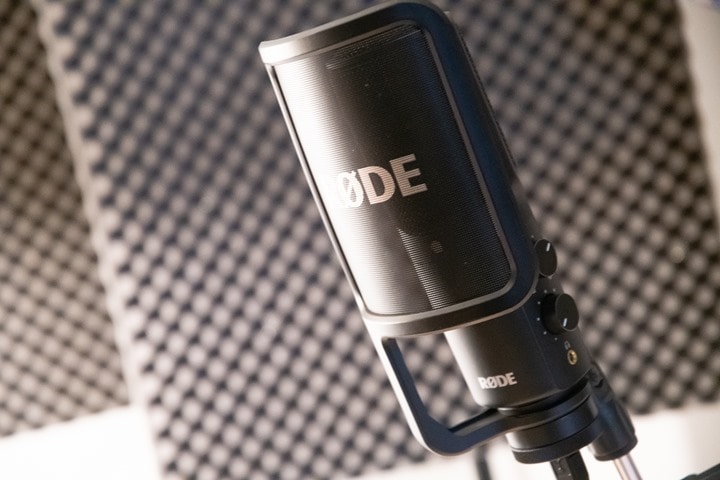 But, the recorded part is pretty good this week. And, it'll be up shortly. I'm waiting on a comment on one itty-bitty item from a company before I concurrently publish my post (they're getting back to me today).  I think it's a pretty big item. Actually, it's industry-changing. So stay tuned and watch on Twitter – because a lot of people will be saying 'holy @#$#@' – and you won't even have to listen to the after show.
4) Off to the pool
Saturday we braved the endless rain and pedaled about 30 minutes across town to the big swimming pool place. It's like an indoor water park (and in the summer, also an outdoor spot too). It's awesome.
Though my parents (who are in town) thought the driving sideways rain was less than awesome. Win some, lose some.
Unfortunately, you can't take pictures at the pool. So here's a picture on the way to the pool: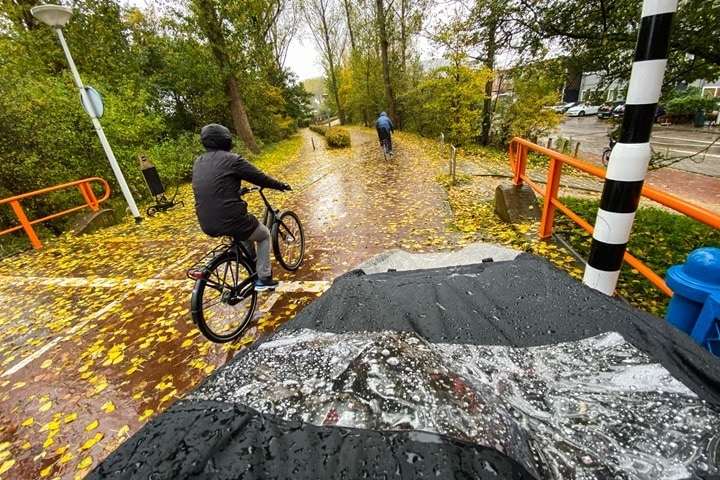 And here's a picture on the way home – with both kiddos hard asleep in the bike: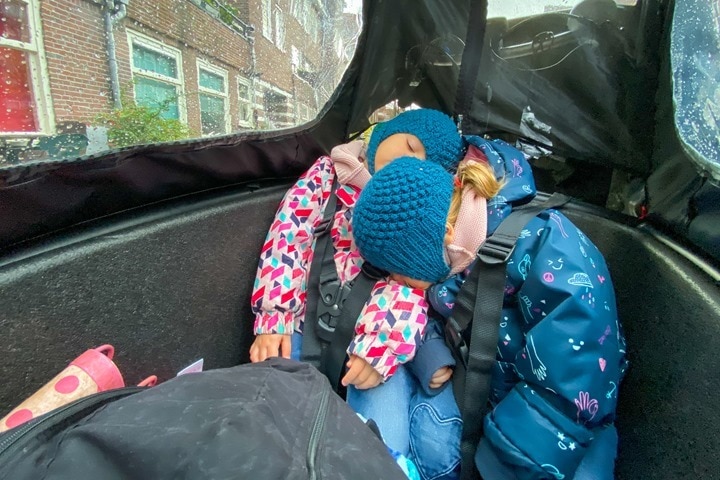 At least someone was dry during the ride.
5) Five Watches, 5 HR Sensors, One Peanut
Sunday late afternoon as the sun began to wane, I headed out with The Peanut for a run. P2 was asleep (with the grandparents), and P3 was also asleep out walking with The Girl. Also, I took a few watches: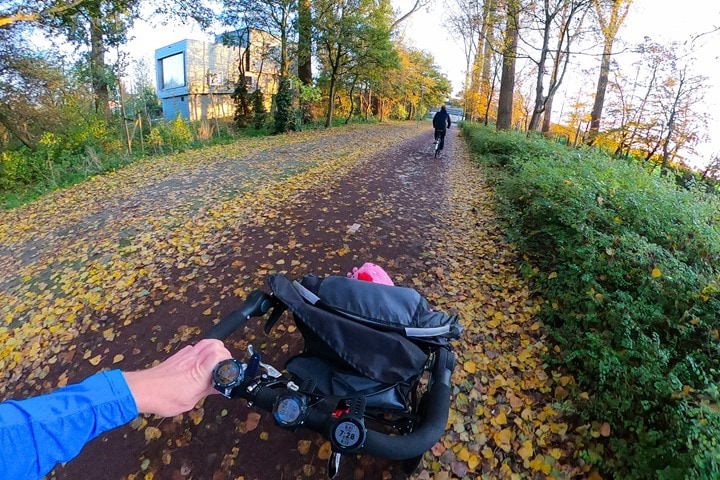 For those counting at home, I had:
1) Apple Watch Series 5 (right wrist)
2) Garmin Venu (left wrist)
3) COROS Vertix (on stroller collecting data)
4) Garmin FR935 (on stroller collecting data)
5) Garmin FR945 (on stroller collecting data)
In general, when units are on the stroller they're collecting heart rate data, GPS data, or whatever else. Speaking of HR data, in total here was the lineup:
1) Apple Watch Optical HR Sensor (right wrist)
2) Garmin Venu Optical HR Sensor (left wrist)
3) Polar OH-1 Optical HR Sensor (upper left arm)
4) MIO Pod Optical HR Sensor (upper right arm)
5) Garmin HRM-DUAL (chest strap)
The Peanut forgot her watch, a Vivofit Jr., sheesh, what a slacker! How can she expect to contribute to this data pool when she forgets the one device she needed to remember?
Turns out, it's via taking photos. She had the GoPro Max, taking selfies and pictures of ducks: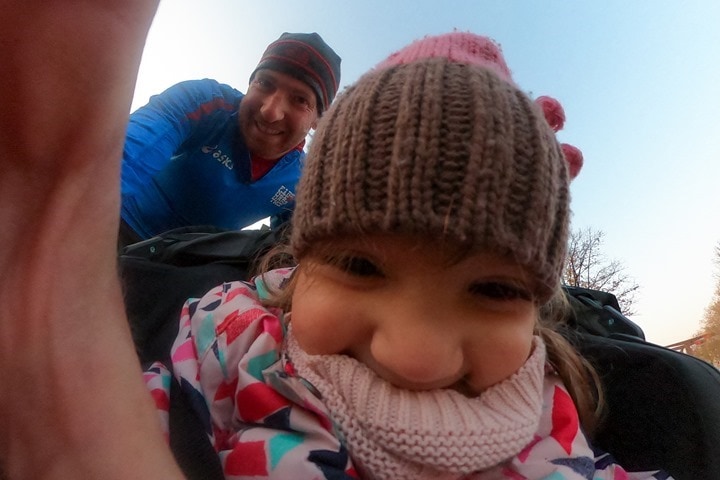 (In case you're wondering why I took Max over Hero 8, mainly because she can more or less shoot in any direction and it still magically works. 🙂
In any case – off we went. Just out along the river and then the lake. Nothing special route-wise. We had hoped to see some fuzzy cows in the woods, but only ended up seeing a few bunnies and horses. No worries, we had a good time: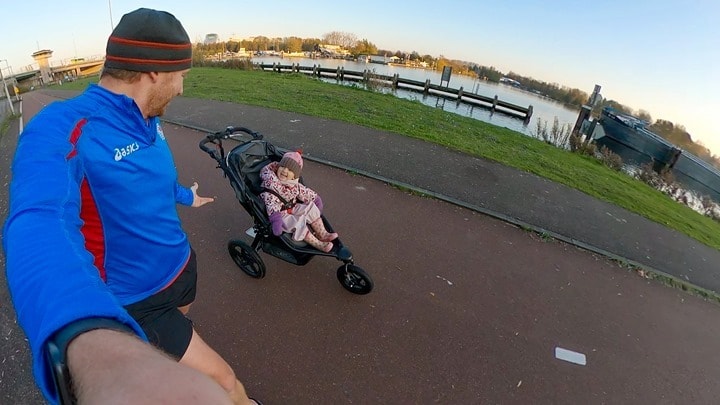 And here's that HR data, for fun. Ironically – it was exactly as you expect for a cool fall day: The chest strap struggled at the beginning (I had moistened it before the run, but by the time I got everything all set, it got dried out). The Garmin Venu struggled a little bit here and there (I was pushing the stroller with my right hand, the one with Apple Watch on it).
GPS data was mostly blah from everyone. Nobody got it spot-on, with many of the units skewing off into the woods.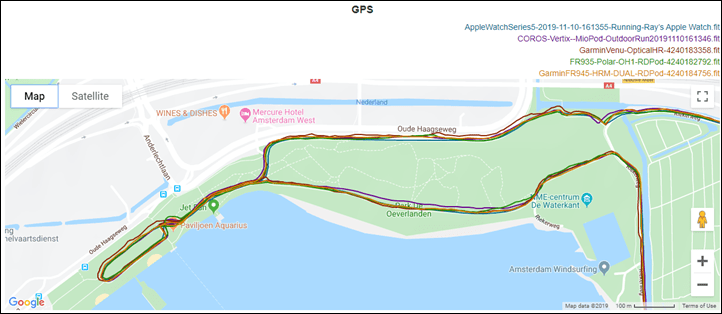 Oh, and Strava…because you always have to include Strava.
BONUS Item: Sales Begin This Week:
I'll have a much more detailed post later this week when the Clever Training VIP Sale kicks off (that's the semi-annual one that gets you 20% off an item, straight discount, no points stuffs). But until then, there's these deals below that are listed as part of the pre-Black Friday ramp up. It's a thing this year more than previous years. Who knows if there will actually be any deals by the time we get to Black Friday. All these companies are pushing deals earlier and earlier.
Update: If you're not a CT/DCR VIP member, you can enroll as a VIP member right now using code FREEVIPDCR and my link here. This will get you enrolled for free, versus the standard $20 fee (or $5 for DCR readers)
In general, most times you won't see companies increase a deal on a specific product at Black Friday. Manufacturers and retailers go to great lengths to avoid that, because customers will simply demand the difference in cash back or say they'll return and re-buy (which is at high expense to the retailer and manufacturer). So it's pretty rare for something to get cheaper later in the holiday cycle (sales sometimes re-appear). In any case, here ya go:
Product

Sale Price

Amazon

Sale Notes

Garmin HRM-DUAL (ANT+/Bluetooth Smart Strap) - 35% off!
$69
$45
Amazon
This is Garmin's ideal strap if you just want an affordable dual ANT+/Bluetooth Smart option, especially when it's on sale like this - it really becomes the best deal out there right now for a multi-connection strap.
All the above links help support the site as well. Thanks!