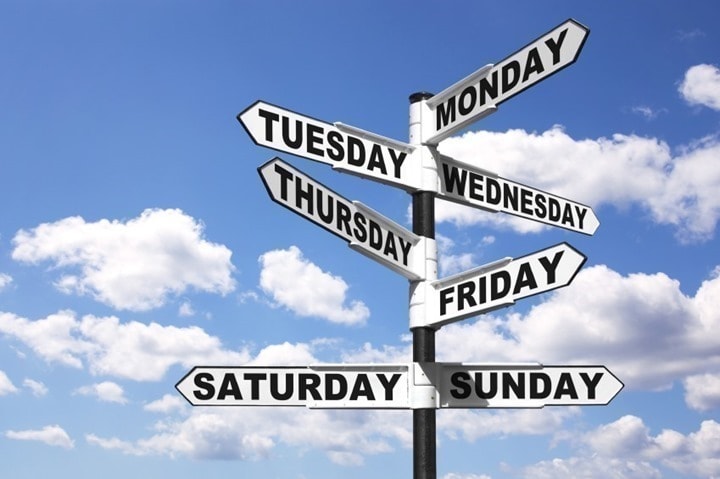 The Week in Review is a collection of both all the goodness I've written during the past week around the internet, as well as a small pile of links I found interesting – generally endurance sports related. I've often wondered what to do with all of the coolness that people write, and while I share a lot of it on Twitter and Facebook, this is a better forum for sending it on to y'all. Most times these different streams don't overlap, so be on the lookout at all these places for good stuff!
So with that, let's get into the action!
DCRAINMAKER.COM Posts in the Past Week:
Here's all the goodness that ended up on the main page this past week:
Sunday: Week in Review–August 4th, 2019
Monday: 5 Random Things I Did This Weekend
Wednesday: How to: Installing Free Maps on your Garmin Fenix 5 Plus, Forerunner 945, or MARQ Series watch
Friday: Polar Ignite GPS In-Depth Review
Expect a little bit of a quieter August, as usual. At least till the end of the month, then it'll likely be fireworks as usual once we approach Eurobike & IFA, where most of the fall things will be announced. Said differently: August is gonna be nuts for me prepping stuff for then!
FIT File Podcast This Week:
Episode 84 of the podcast is up!
– Philips sues both Garmin and Fitbit
– Kinetic R1 Smart Trainer – Ready for prime time?
– MARQ Review – Worth $1,500?
– Zwift quietly releases dinosaurs…putting it to the test!
– Equinox Bike Announcement…and then it all went to @#$#.
– How to load maps on your Garmin devices for free
– InPeak Power Meter – Handling feedback to make a better product
Listen here, or four options for where to find the podcast:
A) iTunes: If you've got an Apple device, we're there!
B) Google Play Music: Yup, we're here too (and on Google Podcasts app)
C) Spotify: Of course we're on Spotify now – you can even cache it on your wearable too!
D) RSS Feed: Follow along using the direct RSS feed
Stuff that I found interesting around the interwebs:
Here's a not-so-small smattering of all the random things that I stumbled on while doing my civic duty to find the end of the Internet (and in this case, some of these are from the past few weeks…as my backlog is a bit longer):
1) Fossil watches to allow iOS users to take calls on them: Best I know of, this is a first on iOS (happy to be wrong). Of course, still doesn't solve being able to respond to text messages (iMessage or otherwise) – another iOS blocker. But I wonder if this is a sign of something coming in September more widespread. Timing seems awfully interesting.
2) Today's Plan is free for Zwift Academy Sign-ups: This is a good and well-executed cross-promotion. Today's Plan is akin to TrainingPeaks, and is used by at least a few WorldTour Pro teams. I've written about it in the past, and it's pretty impressive. If you sign-up for Zwift Academy (the thingy where you can pretend you have a chance at a pro cycling contract), you'll get Today's Plan for the duration. Of course, 99.999% of people that sign-up for Zwift Academy simply do so to keep them in shape for the next couple months.
3) Equinox announces plans for Peloton-like bike & treadmill: In unrelated news, world comes down upon Equinox. See the podcast for our thoughts on both.
4) Samsung Galaxy Watch Active 2 announced: Less than like 5 months from the previous edition, there's a new one. From a fitness standpoint this includes what's clearly a redesigned optical HR sensor, which should be an upgrade from the hot garbage of before. Des has the full run-down below. I might pick one up this fall. Or, I might let Des suffer through it first. We'll see.
5) Rosie Ruiz passes away: She was the infamous individual who 'won' the Boston Marathon but didn't exactly run most of the race. Mere details.
6) Skydio teases R2 drone: Gotta say, this looks effin awesome, especially if there's no fakery here. The biggest issues on the R1 (which I reviewed) were the size of it (seemed like the size of a bike wheel), and the image quality (decade-old GoPro). If they solved both of those issues, while also improving the already amazing algorithm – I'll be buying one for realz this time.
7) Nine things I learned from not covering the TdF: Normally Dave Everett covers the Tour de France, but this year he was ordered not to and had to 'enjoy' it on his TV living in France. As one who has also had the 'privilege' of watching French TdF coverage, there was much to relate to here.
8) Running a 3:32 marathon with a triple-stroller: Well then, I guess I got things to aspire to after my wimpy 5K race in just a double-stroller.
Sports Technology Software/Firmware Updates This Week:
Each week I quickly highlight some of the new firmware, app, software, and website service updates that I see go out. If you're a sports technology company and release an update – shoot me a quick note (just one-liners are perfect, or Tweet it at me is even better) and I'll make mention of it here. If I don't know about it, I won't be able to post about it. Sound good?  Oh – and if you want to get a head start on things, this page is a great resource for watching Garmin and a few other firmware updates.
Garmin Fenix 5 Plus Series: Handful of fixes, including smartphone notifications on iOS
Garmin FR645/645 Music BETA firmware Update: Minor bug fixes
Garmin Edge 530 Firmware Update: This is the final production version of the beast of a firmware update I discussed last week while in beta. Tons of fixes, also some new features/tweaks.
Garmin Edge 830 Firmware Update: Same as Edge 530. Note: Garmin says the long-awaited Edge 1030 firmware update bringing in Edge 530/830 features is within the next few weeks.
Garmin Vivosmart 4: Minor tweaks
Hammerhead Karoo: Minor bug fixes
–
With that – thanks for reading!