While the wind was blowing strong this past weekend here in the Netherlands, that didn't keep us from putting our best bike foot forward. Here's this weekend's super bike-themed roundup of what we were up to.
1) More beer bottle returns
I started out the weekend returning beer bottles. Well, The Girl and I did. These are from the DCR Open House last month, and is only a fraction of them. It's as many as I could fit into the cargo bike before things started getting sketchy.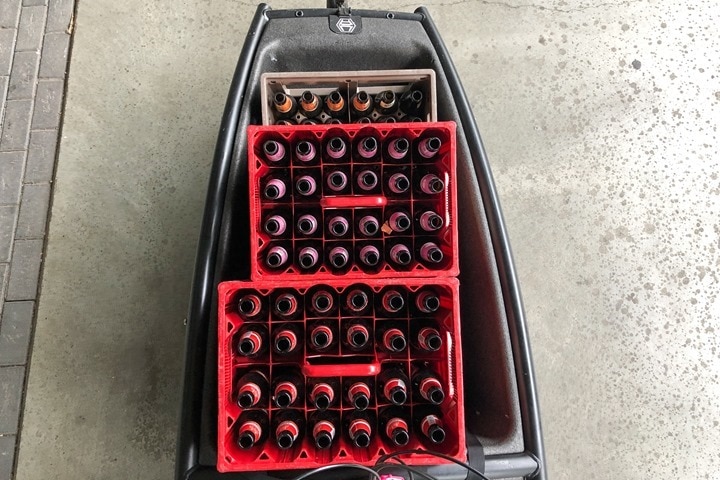 Don't get me wrong – I'm totally all in for sketchy cargo bike Tetris compilations. I live for them.  But when it comes to beer bottles, the last thing I want to do is clean up a few dozen broken bottles on a bike path. So I was super conservative here.
It's maybe 1.5km or so to the larger grocery store where we can drop them off and regain our deposit. Oh wait, I can tell you exactly how far it is. It's 1.561064km. Every time I ride the cargo bike it creates an activity using the Garmin V2 speed sensors. Note my online Garmin account is on US Eastern Time, not European time. The middle stoppage is a stoplight.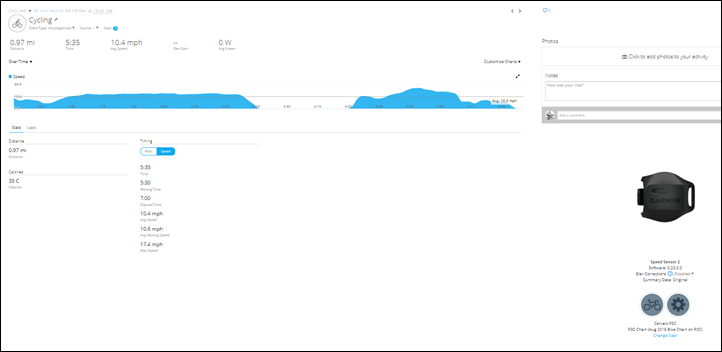 And this is what my Garmin Connect account looks like for about 48hrs worth, only one of which was a GPS activity from an actual watch. From mid-afternoon Thursday to early morning Saturday.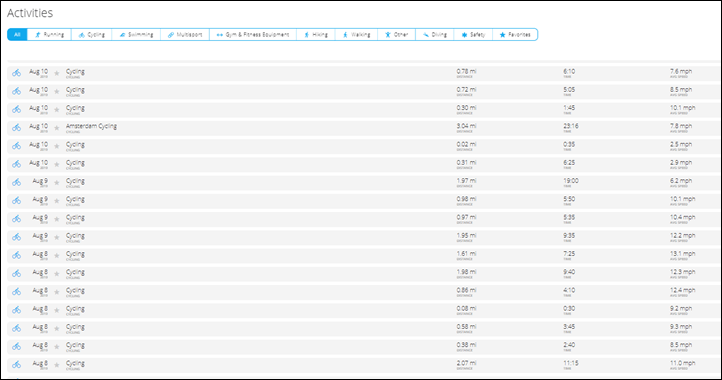 We use the bike a ton, though mostly for short jaunts – usually 1-3km is the norm. Plus of course longer treks around town. Anyway. We got those bottles returned, but have plenty more to return still. At least another three trips I think, maybe four.
2) Blowing up bike tires
Sometime within a few hours after beer bottle return, the rear tire on the cargo bike went flat. This sucks for a slew of reasons, namely that I definitely don't have spare tubes for that bike on-hand. Plus, it's a B#$#@ to change the tire on that unit. So I had to slowly pedal home the 3KM or so with a flat tire (and a bike and a trainer). Lucy was not impressed: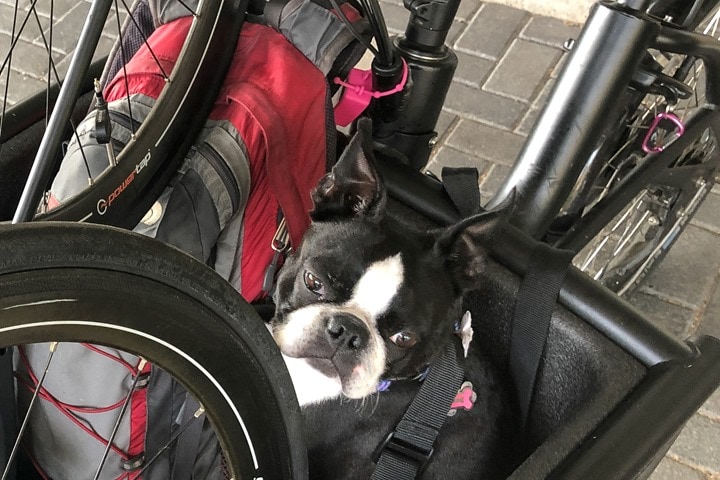 I could have walked home faster.
So Saturday morning I got to replacing the tire myself. The Girl picked up a spare tube on her way home Friday, and then I dug through YouTube to find the Urban Arrow rear tire removal instructions. None of it was hard, it's just…kinda slow. You'll also need a crate of some sort to elevate the bike off the ground.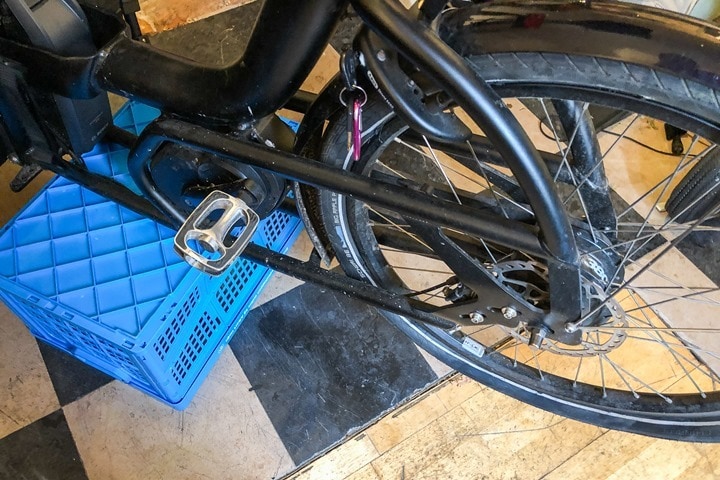 Of course, I had forgot tire irons at home, but found some in a cabinet of tools from our landlord. Woot!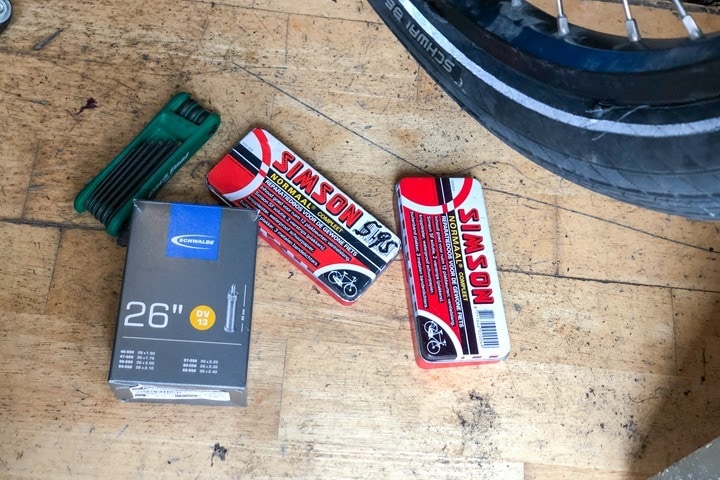 It took perhaps 30 minutes to do the entire swap and get it ready to inflate. I suspect I could easily do it again in 10-12 minutes next time, but it just takes longer when you've never done something like that before. Also of note is that the tubes are using a Dutch valve. Fear not, I bought a Dutch valve pump last year sometime. Though, I need to definitely pick one up for the studio as well.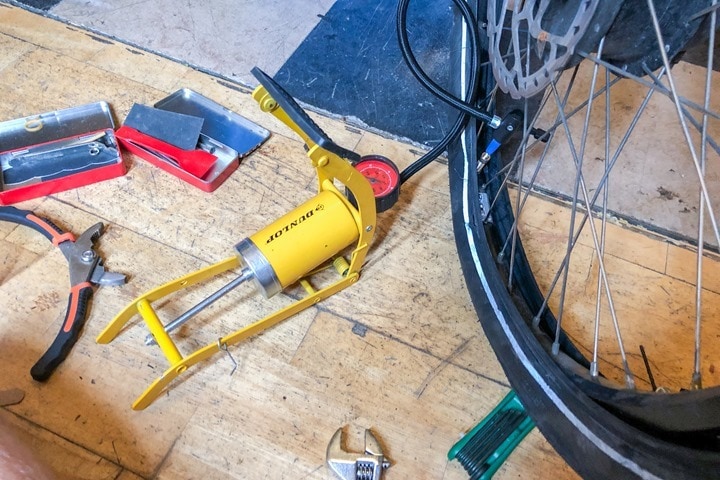 After getting everything all set, I went to the bike shop around the corner and inflated the tire with their public air compressor pump outside. Having used this public pump for a year and a half now, I know that it's set for a much higher PSI than the average cargo bike tubes/tires – so I just do it by feel instead. And, for the record, I've done this countless times before.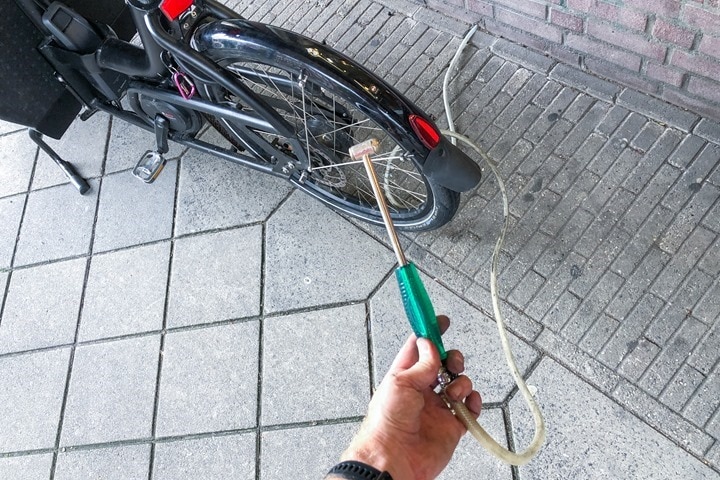 Once I was happy with the tire inflation levels, I set off for a quick test loop around the block.
I made it perhaps 50 meters when.
BOOOOOOOOOOOOOOOMMMMMMMMMMMMMM!
Seriously, most military explosive devices make less sound than this tire exploding. The entire street ducked for cover.
Also, FML.
I don't know if it was slightly over-inflated, or if the sidewalls of the tire gave in and then caused the explosion (which were frayed, but I was going to go in for service this week anyway so figured it'd last another few days). But either way…I gave up.
I walked back to the bike shop and let them deal with it this time. Sigh. Luckily our local bike guys are the best, and they squeezed our bike into their line up of bikes for the day. I suspect they know we would be lost without the minivan/ cargobike for the weekend. I was able to pick it up a few hours later.
3) BBQ Trainer Ride
Saturday night after the kiddos went to bed, I jumped on the trainer to get a workout in. The weather this weekend in Amsterdam was pretty crazy windy (55KPH+ winds with the occasional hurricane rain tossed in for fun). So as much as I enjoy outdoor riding, I needed to get various indoor training product rides done anyway. So this was sorta an excuse to do that.
By the time I got on my bike the winds hadn't disappeared, but the rain had. So I just did it outside on the deck. I didn't have any fans at home anyway, so the wind did the trick. I also didn't have my usual Wahoo KICKR Desk with me, nor an Apple TV outside, so I just used the side of the BBQ for that: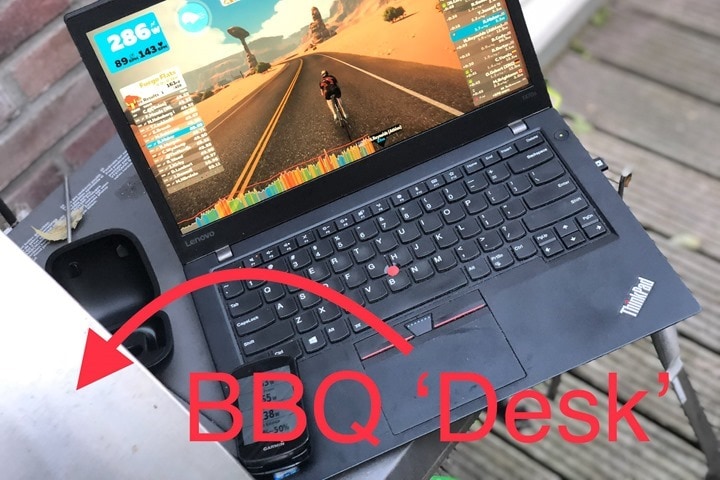 For this evening's ride I went with Zwift. The simple desert to Titan's Grove loop. I actually really like that loop. Starts out on the flats and then climbs up into the rolling terrain of the hills. As GPLAMA noted on our podcast last week, it's likely to become a really good test of trainer responsiveness – and that was definitely true here too.
One trick with testing trainer responsiveness is taking the app out of the equation. Meaning, if we look at any given trainer responsiveness scores in simulation mode (non-ERG, so things like regular Zwift mode), there are four basic combinations to take into account:
A) What app? Zwift vs FulGaz will undoubtedly produce different results
B) Which protocol? ANT+ FE-C or Bluetooth Smart FTMS? I often see differences there.
Bonus Category C) ERG mode or Simulation mode: But let's not get distracted here.
And the ANT+ vs FTMS bits are something that I've repeatedly seen across multiple trainer apps and multiple trainer companies as being differentiators between how well something executes. So much so that in some cases I've had to get both trainer app & trainer company on an e-mail string to figure out why one variant doesn't work properly.
In any event, the ride was all good, and I spent most of my time watching planes on final approach to Amsterdam Schiphol up above. Normally we only get business jets, and smaller single-aisle planes approaching to runway 04/22.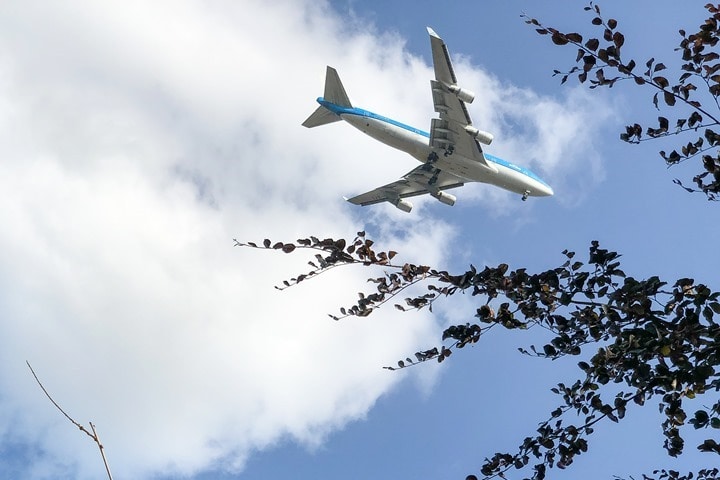 However, when the winds get crazy and in a specific direction (maybe once in every 3-4 months), then we get all the big heavies overhead. This was one of those days. 747, A380, and 777's all day long. It's fun, it is loud, and the kiddos love it!
4) Another Trainer Workout
Fast Forward to Sunday lunchtime and I was back on the trainer while the littlest Peanut napped. The winds had died down a little bit, but were still blowing for sure. In any case, back out onto the deck I went. This time I 'upgraded' to the table as my holder, from the BBQ: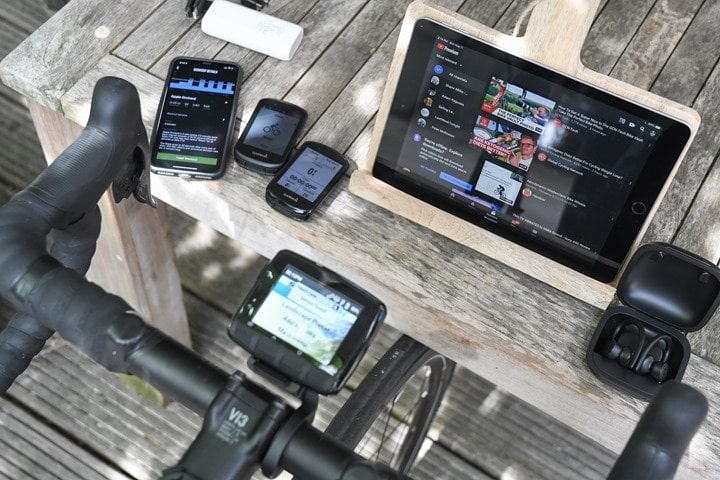 I switched over to TrainerRoad for today's workout. I always do at least one workout from both platforms in any trainer reviews I'm doing. Obviously plenty more workouts than that in each review, but I like to at least cover those two major platforms as they showcase differences in how the apps controlling the trainers matters (as noted in previous section).
In this case I was doing Apple Orchard, which includes a slew of very short 15s intervals in them. Most trainers would struggle with this workout, because a typical trainer takes 2-5s to adjust from 150w to 350w+, and then the same to get back down again. I typically test on 30×30's instead, but my test workout for that is a bit shorter in overall duration and I'll do it later.
In any case – the workout itself was just fine and dandy. No big airplanes though. Shame.
5) Finnish Batteries, Beer Bottles, and Bikes
Remember way back to last December when I went to visit Santa at the north pole in Finland? Well, during that trip the airport took some batteries from my luggage, one GoPro battery and one WIRAL battery. They went into quarantine and I happened to mention it on the post way back then. Turns out, a DCR reader was in Rovaniemi at the exact same time and he lives not terribly far away from Amsterdam, in the Netherlands. So he picked them up the next day at the airport and the batteries have been on a homestay with Christos ever since.
It wasn't really a rush for me to get the batteries back, and with all the travels I and he had, we finally caught up on Sunday and he got a personal tour of the DCR Cave…and I got my batteries. Woot!
I didn't think to get a picture, but we had the kids down at the studio playing on their bikes. It's great on the weekends as they can freely roam around the place and ride their bikes on nice smooth pavement undercover when it's pouring out. We do it a bunch on crappy weather weekends.
At some point the girls got distracted and wanted to do what the adults were doing. Which was The Girl and I still cleaning and sorting used beer bottles into crates – left over from the Open House.
See, the bottle machine won't take the beer crates if the bottle brand doesn't match the company they came from, or if there are bottles of mixed varieties in crates. So we try and prep them beforehand (it also rejects things for no particular reason too, so usually it's all for naught). In any case, the kids wanted to help – so we got them into it running (err…walking as I'd shout) bottles back and forth from the front to back.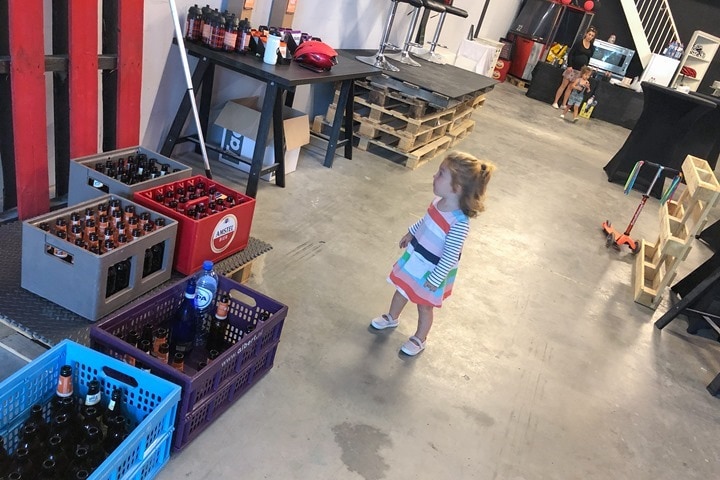 Don't worry, they got a waffle for their efforts.
With that – we wrapped up the weekend and called it donezo.
Thanks for reading!