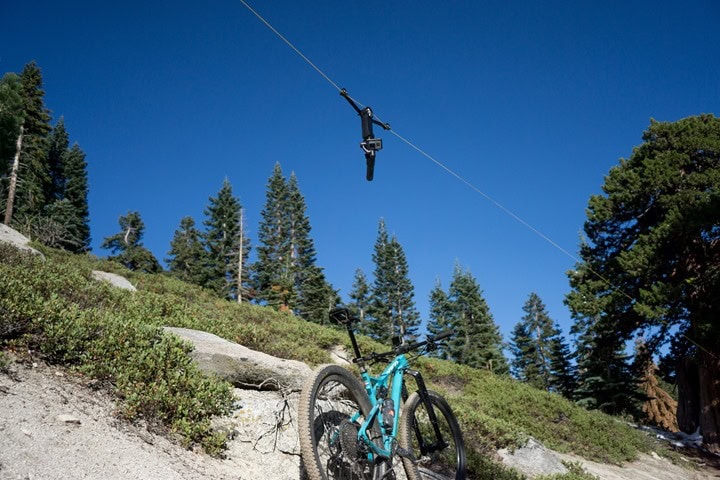 Over the last month or so you've probably seen a few action clips of mine using a funky length of 50 meters of cable and a doohicky zip across it like something out of crazy ziplining video.  That is Wiral, and as of today, they've launched on Kickstarter.
So what is it, and what's it for?  It's known as a cable cam, and enables you to attach a camera to it (GoPro, cell phone, some lighter DSLR/mirrorless cameras), and then control it zipping across the line with a small remote control.  It's ideal for situations in/around trees to follow a subject – such as a mountain biker or even a skier.  It's not so much a replacement for drone shots, as it is a complement to them.  Different shots for different situations.
In any case, in using it a bit I've got a pretty good look at how this pre-production unit ticks.  A number of shots in my GoPro Hero6 In-Depth Review were taken with it as well.  So let's dive into things.
The Components & Compatibility: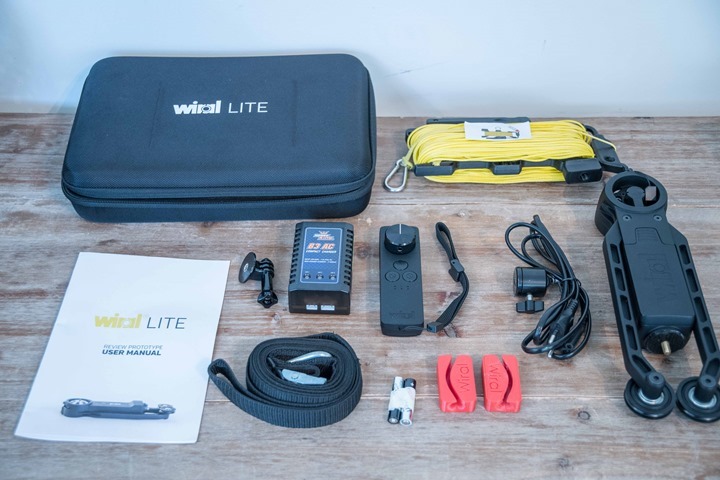 Let's take a quick look at what's in the box…err…soft shell case.  This prototype unit was shipped over for me to try out in this protective case.  It doesn't sound like the final production models will get a nifty case, though honestly you'll save some room in your bag anyway, and it seems pretty durable.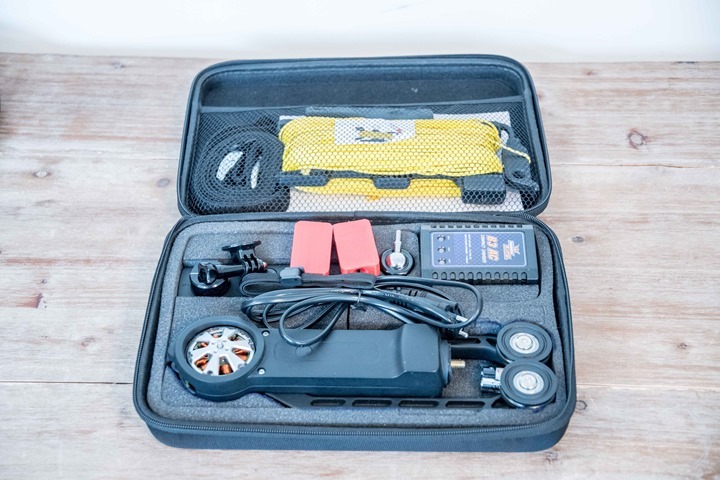 Here's the parts:
– The Wiral Lite: This is the larger wonky looking arm thing that hangs off the cable
– Remote Control: This controls the speed and direction of the Wiral on the line
– Quick Reel: This has 50m of cabling on it, and an ingenious design that makes it easy to unravel and coil the cable back up without it getting all tangled.  It's kinda brilliant
– Battery charger: The unit I have was definitely random off-the-shelf.  It sounds like the final production ones will be prettier
– Rechargeable Battery: This goes into the Wiral unit. (You'll add two AA batteries for the remote)
– End Stop Clips: You can use these to protect it against slamming into trees. Think of them like safety stops
– Tightening strap: You use this to wrench the cable tighter around a tree/pole
– GoPro Mount: A simple tripod thread to GoPro mount, nothing fancy
And here's a small gallery of everything on the table:
Here's a pic from their Kickstarter page with labels, and what the final parts should look like: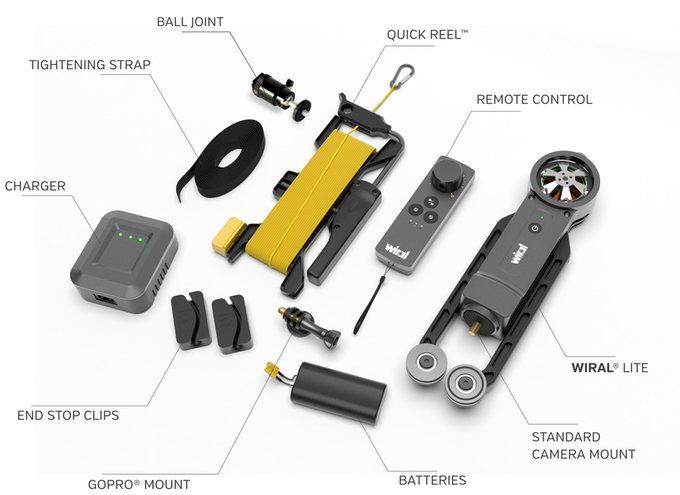 You'll have noticed some very slight differences to what's shown above, mostly in the battery charger, as well as a few minor tweaks in the reel.  Also, everything I had was pretty much 3D printed, so it was hard for me to make any judgments at this point on longer-term durability on anything.  Obviously, a proper final product wouldn't be 3D printed, and thus more durable.
The one piece in my prototype kit that isn't in the above final kit is the ball joint.  Personally, I think they should have included that, as it's what made it possible to get many of the shots I did in terms of changing the direction of the camera.  The good news is this is super cheap on Amazon, so you can easily pick it up yourself later. [Update: Even better news – it wasn't initially listed, but the company says that was a minor oversight and it will indeed be included, woot! I've added the updated photo with it above.]
When it comes to compatibility, what they've done is pretty cool.  They made a standard threaded tripod adapter on the bottom, which is compatible with pretty much any camera on earth.  The only limitation you have is weight, which has a max of 3.3lbs/1.5kg.  This covers basically all mirrorless cameras, any action camera, and any phone.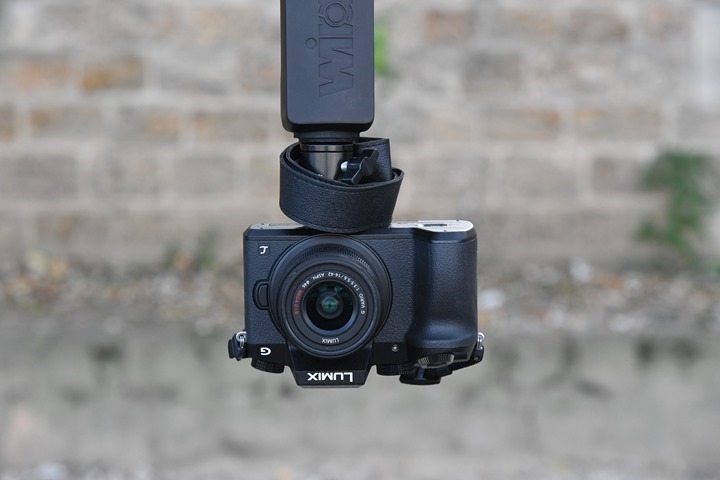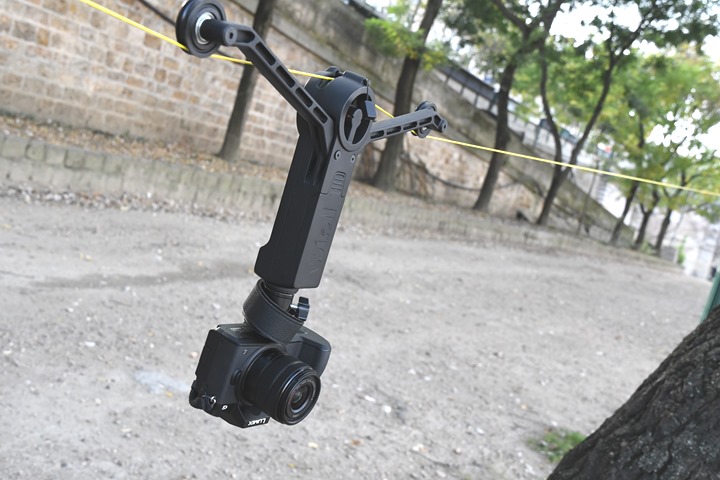 It also means you can easily mount a gimbal on it as well and still say under the limit, which is precisely what I did:
While you'll get really nice footage without a gimbal (since it's on a clean line), I found that adding a gimbal just gives it that stunningly perfect smooth look.  However, correcting for any minor wobble without a gimbal in post-production would be trivial with any of the common video editing software apps out there today.
How it works:
While there are certainly many use cases for a unit like this, I suspect most people will be using it in the woods.  Or at least between trees.  For me, in the action sports realm, that's mostly along trails like a mountain bike trail (or perhaps in winter in the trees for skiing).  But other use cases would be longer timelapse style shots over a field with sunrise/sunset/moving clouds, or even just as a secondary camera in a production that's controlled remotely.
No matter the case though, you're going to start off with getting the cable hung on two trees.  One end of the cable cam is affixed via looping the clip around a tree/pole/whatever and onto itself: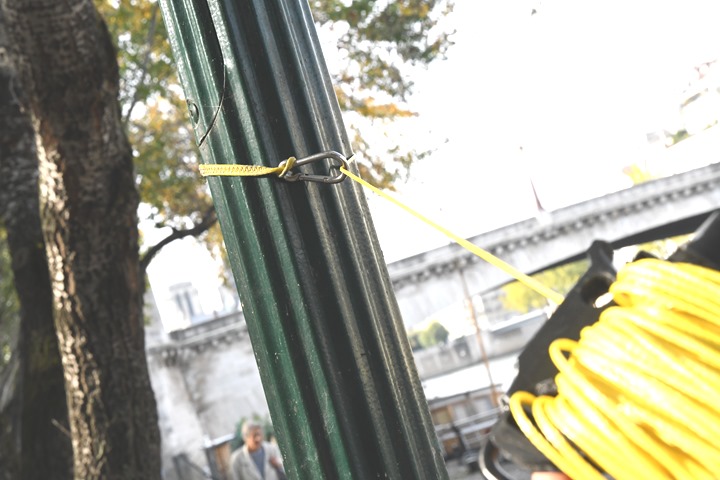 Then you'll take the Quick Reel and wander yourself 50 meters away, or less if you want: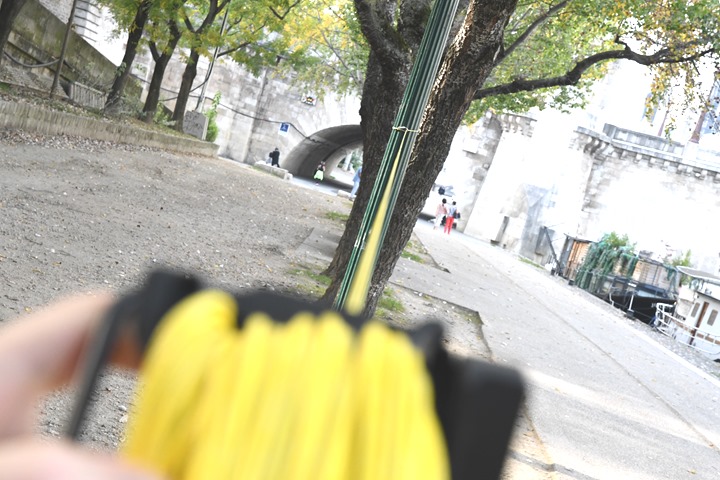 Then on the next tree you'll take the black strap, which acts as a winch of sorts, hooked onto the reel: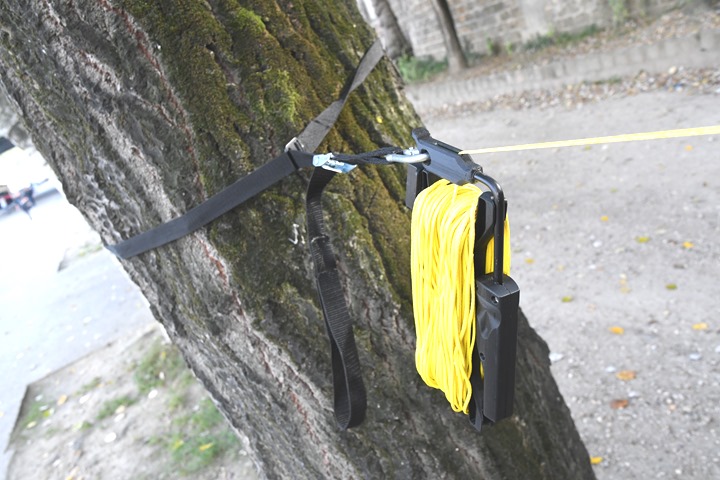 It's at this step that I'd prefer a slight design change that allowed me to just pull the yellow cord through a pulley with a lock on it.  Just my two cents.
In any case, soon you've got the cord in the sky.  I'd recommend going as tight as you can make it, since you'll get some cord droop once you add the cable cam, camera, and any gimbal you might have.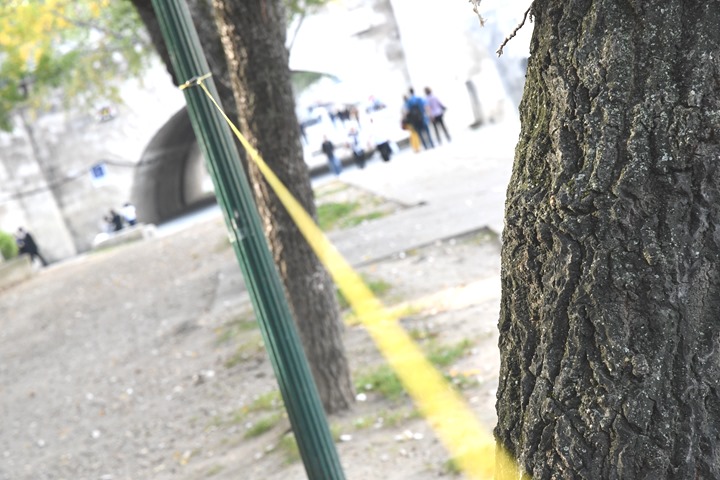 Next, simply lay the Wiral onto the cable.  The arms fold out, and then the two wheels (one on each arm) hold it in place.  There's a 'safety' notch atop the motor wheel in the middle, so that it can't fall off the wire.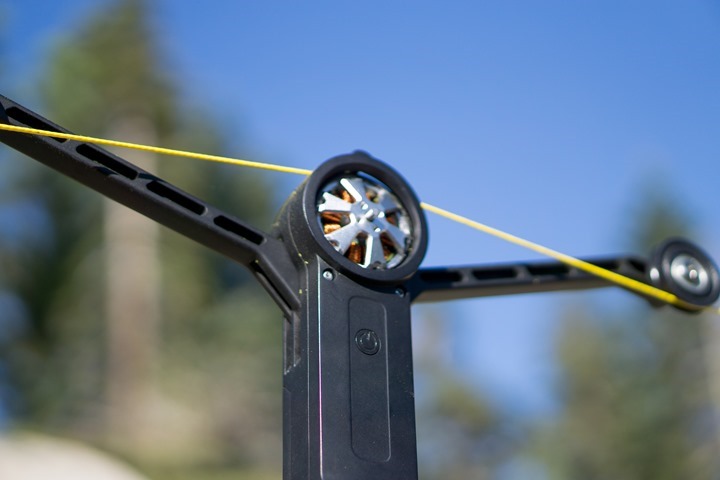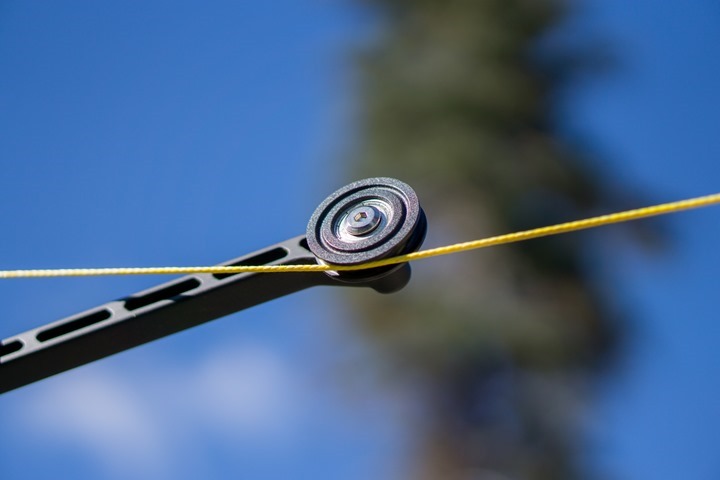 You can also add these small stopping clips at either end, which will derail the unit so it won't hit a tree at full speed if you forget.  Since the unit has the safety atop it, it just hangs out on the wire (it doesn't fall to the ground):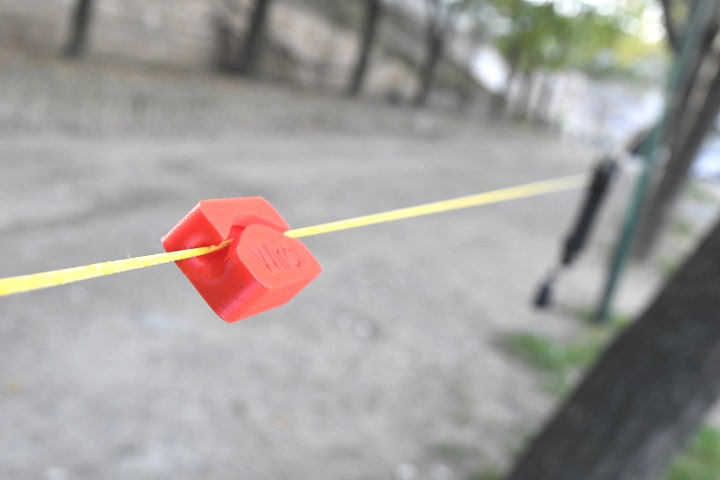 Then you'll want to attach your camera to the unit using either the default tripod mount, or some middle-man attachment connector in between (ball-joint, or GoPro, or both):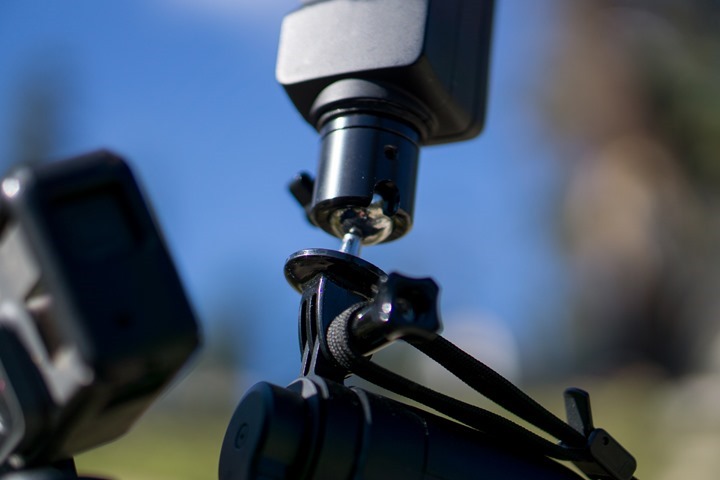 You can also attach a gimbal, which is mostly what I did: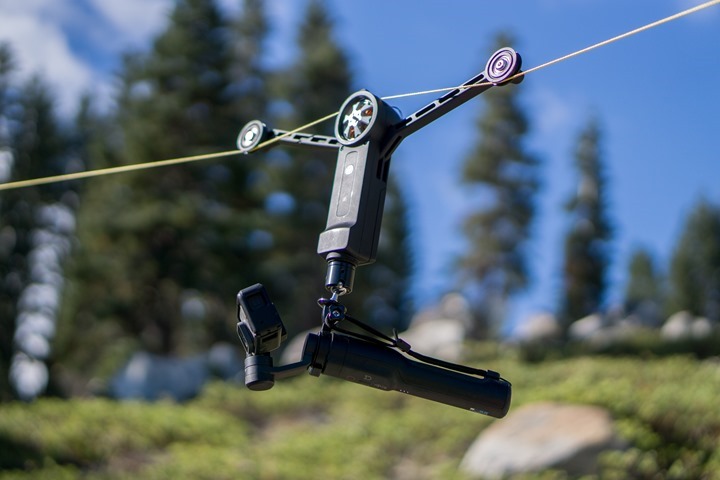 Next, you'll turn on the remote control.  This is what moves it left and right.  The little dial is simply rotated left and right depending on the direction you want it to go.  The further you turn it, the faster it goes, all the way up to 28MPH/45KPH.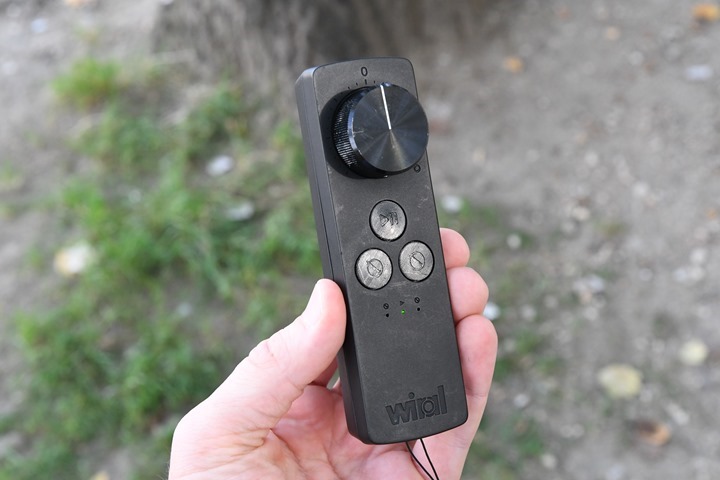 You can also set markers at either side so that it stops by itself, by pressing the left/right buttons.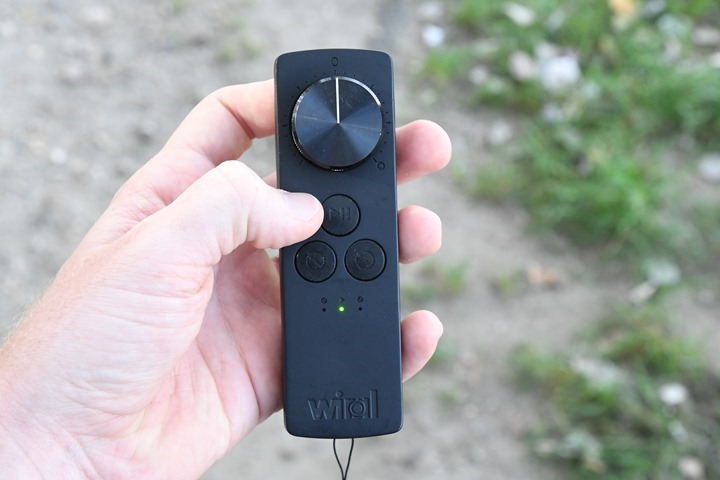 And finally, you can change the mode for things like long-duration timelapses so that it moves extra slow.  Though, the only downside here is that it's not super clear which modes you're in.
Then, it's just a matter of getting your subject into the frame and perfecting the tracking speed to the person. It took us a few tries to figure out the speed matching of me and him, but once I got the hang of it, it was easy: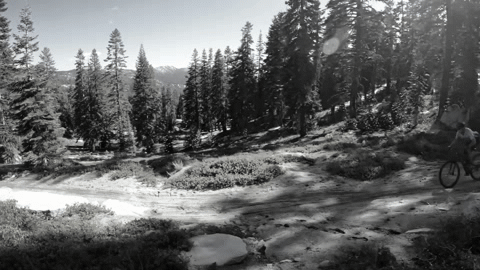 The whole thing works pretty darn well.  I think over time you'd get the setup down faster, but that also depends on how complex the shot is.  In the Kickstarter campaign they talk about a 3-minute setup. And while I'd agree you could do that, that's really only if your trees are super close together and it's easy to connect.  For our shots where messy branch-filled trees (sometimes burned trees) were 50m apart across wonky terrain while we walked in our cycling shoes…then it took a bit longer.
One quick item to note is that Wiral is upselling some additional items, specifically a phone mount, an extra battery, and a long line.  You can see these and their prices here: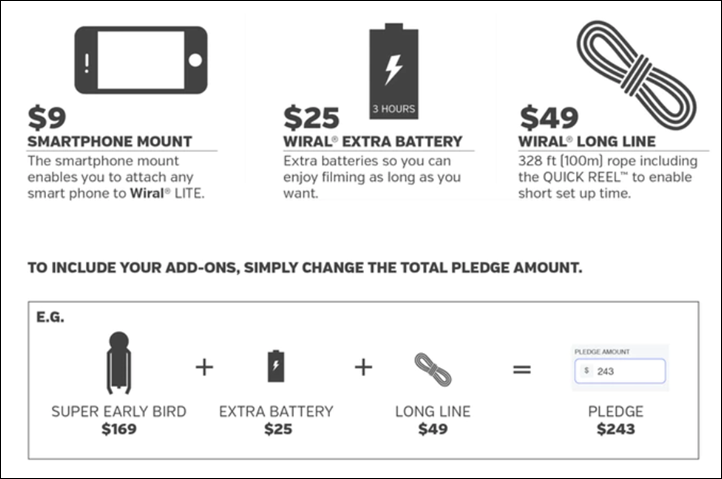 The phone mount piece, well, just depends on if you plan on using that.  As for the line, I'd say a 100m would definitely be more useful.  We ran out of line on pretty much every shot at 50m.  Not because we needed a 50m long shot, but because the specific line or shot we were trying to capture limited which trees we could use.  So we generally had to go longer/further than we wanted to so we could find another tree to attach it to.  Said differently: Trees don't always grow in the most logical of places for setting up a 50m cable cam.  100m gives you more flexibility.
On the battery front, we didn't run out of battery, mostly because 3 hours of battery time is a heck of a long time.  Most of our shots lasted 15-25 minutes of recording time.  After that, you kinda exhaust how many unique shots you're getting.  However, if you're at an event where you're filming the same thing over and over again, then it'd make sense.  Or, if you planned to spend a full 8-10 hours out in the woods in numerous locations, I'd probably get an extra.
In my case, I plan to order both the extra battery and long-line, merely so if I need it I have it, versus having to wait later on.
Some Test Footage: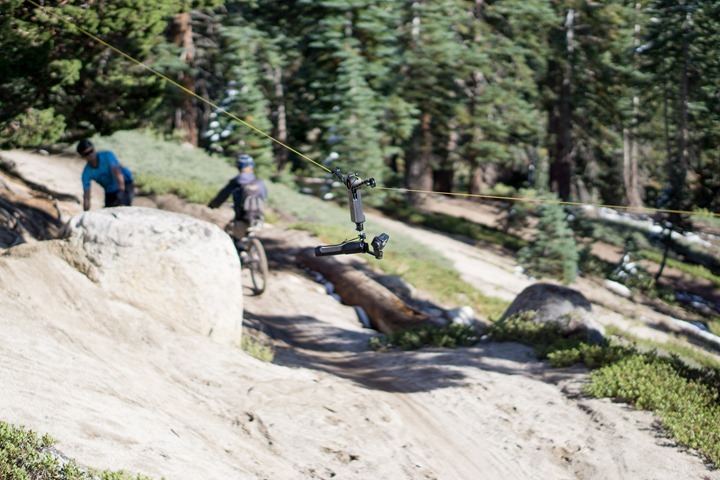 I captured a bunch of test runs out in the woods over a few different days.  I've compiled those all into a simple test video reel that you can see here.  You'll note that over time one of the big ticket items is realizing that you want to avoid getting the cable in the shot.  In some shots you barely notice it (on the left edge), whereas in others, like the burned landscape shot, it's super visible.  If I had any post-production stills (I don't), I could probably easily remove it.  This is why the ball joint adapter is so useful; because it allows you to easily tweak the orientation of the camera.
In any case, here's a quick video I stuck together of how it all works, including a bunch of demo bits, all shot with the Wiral:
Here's how that might fit into an edit of your day.  Most of this was shot on the Wiral, but a few drone shots were done instead via the DJI Spark:
The other thing we learned was that we did see some slight stretch in the cable over time on some runs.  Enough that after an hour or so of having it set up, the cable had drooped about 2-4", or basically just barely clearing some bushes at the midpoint.  And by 'barely', I mean giving them a rub each time at the end of the day.  Not a big deal, but we found the biggest challenge for really long cable runs was getting it mounted high enough to account for any droop.
As for the footage, all of it was captured on the GoPro Hero6 Black with a Karma Grip gimbal.  There was no stabilization done in post, just straight out of the camera.
Wrap-up: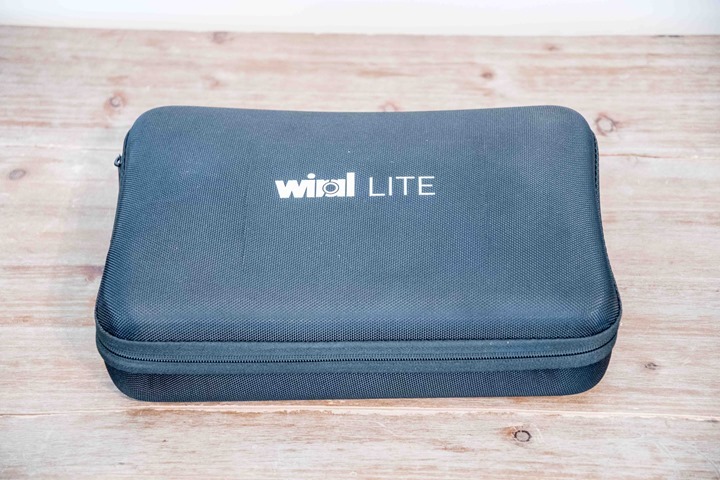 For those that do a lot of action shots in the woods, this is definitely something super-creative to add to your toolbox.  On the flip-side, if you live in a desert, this probably doesn't make a lot of sense.  Either way, the Kickstarter prices are actually pretty darn compelling.  Heck, GoPro sells a darn backpack for this same price, no electronics included.
While I think there are some minor tweaks they could make to it, none of them are show-stoppers.  As is, it's pretty easy to use, and the more you use it the faster you get with it in terms of setup (sorta like drones).  Similarly, for those making action films, in general you want to use these sorts of shots sparingly, so that it doesn't become repetitive to the viewer.  Of course, merely tweaking the angles and perspectives can do that, even with leaving the unit on the same path.
It's one of the few Kickstarter projects these days in the action cam realm I'll back.  I've been skipping most gimbal projects lately, as I don't see the unique value.  But Wiral is definitely unique, and at the Kickstarter prices especially (from $169), pretty darn cool.  I am however slightly more skeptical about the retail prices.
With that – thanks for reading!
(Side note: Huge thanks to Jonathan Lee, Nate Pearson, and Sergio Sandoval – all of who helped out in the forests around the Reno-Tahoe area with climbing trees, photographing, riding bikes, and thus all of us generally just enjoying goofing around like kids getting the footage over and over again.)