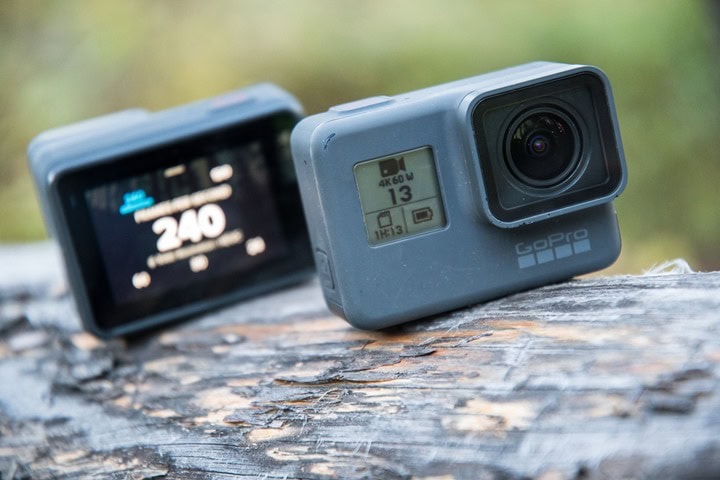 Today GoPro announced their latest action cam – the GoPro Hero6 Black.  While it may look the same from the outside, it's packed with tons of huge changes on the inside.  Some of those changes are headliner options like 4K at 60FPS (frames per second), or 1080P at 240FPS.  While many of the changes are under the covers at the image processing level, they dramatically change the image quality of both photos and videos.
I've been testing the Hero6 Black for a bit now, giving me a good grasp of how well the cameras work, both the good and the bad.  As always, once I'm done with these two loaner cameras I'll ship them back to GoPro.  You can hit up the links at the bottom if you found the review useful – I appreciate it!
What's new: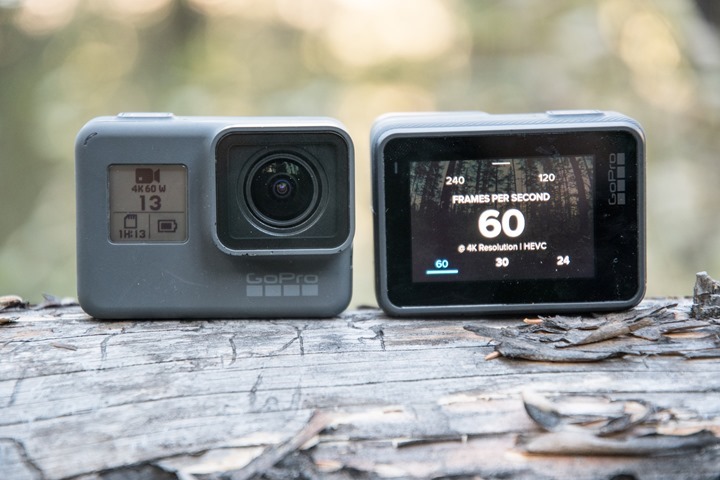 I suspect some folks will look at the Hero6 Black and see that it physically looks virtually indistinguishable from the Hero5 Black, and assume that the insides are also similar.  This couldn't be further from the truth.
Further, some will look at top-line stats like 4K60 resolution, and then assume the rest is marketing speak.  In reality, I'd actually argue the opposite.  After using a unit for a few weeks, it's clear that the lesser mentioned features like low-light performance and dynamic range are actually the real winners here.
To cover everything new in one tidy video, I've got this awesome-sauce (if I do say so) compilation I made.  From features to sample footage, it's all here:
If text and photos are more your thing, then here's here's my listing of what I'd consider to be the key new features:
1) New 4K at 60FPS: Previously the Hero5 Black was limited to 30 frames per second.
2) Image Stabilization at 4K: Previously this was limited to 2.7K, though you still can't do 4K/60.
3) New 1080p at 240: This is a significant bump from previous 720p at 240FPS, which is used in slow-mo.
4) New GoPro GP1 Chipset: This in-house chipset for image processing replaces Ambarella, which GoPro and many others have used for years.
5) Better low-light performance: This is probably what I'd consider the two biggest items on the camera. It's mind-boggling.  Also, they increased long exposure to 10-seconds from 2-seconds.
6) Better dynamic range with lighting conditions: Like low-light performance, the speed and clarity here is astounding. Check out my comparison video below to see what I mean.
7) Better image stabilization: 3-Axis image correction in all angles, most notably the roll axis in wide shots (previously it didn't correct for roll axis in wide).
8) New zoom slider option: You can zoom 0-100% within the image to a custom framing. This essentially gives you tons of flexibility compared to existing narrow/medium crops.
9) New HDR Photo Capture: While previously there was WDR, this is actually a 3-image compilation.
10) Dual 2.4Ghz/5Ghz for downloads: This dramatically speeds up downloads for larger files over 5Ghz, GoPro says this will double speeds, and that seems valid in my case.
11) Changed file formats: For 4K60 and 1080p240, they'll now use H.265 HEVC file formats, which halves the file space requirement. It also introduces some compatibility issues though (I'll cover later).
12) Slightly improved voice control: You can now turn on the camera entirely via voice, previously you had to power it on manually.
13) All mounts/cases stay the same: While not new, it's definitely notable. Mounts, batteries, cases, etc… are all identical to Hero5 Black.
14) Increased camera algorithms: The camera can now detect faces, though it doesn't expose that yet. It's used by Quik for processing afterwards.
15) Much faster touch screen: Simply put it's faster.  It responds to commands faster, both in camera mode as well as gallery mode.
Phew!
And actually, there's still a bunch of really tiny stuff I'm probably forgetting, but these are the biggies that stick out at me.  You've still got all the existing items from the previous generation, like ProTune for higher bitrate videos and more control over the image, as well as manual audio channel control.
As I noted above – I think the two biggest items are low light performance and general dynamic range increases, with the new 4K60 mode and 4K30 image stabilization being a close 3rd and 4th.  The dynamic range is apparent in both videos and photos, as you'll see in some of the examples below.
So with that – let's back up a bit and unbox the unit.
Unboxing: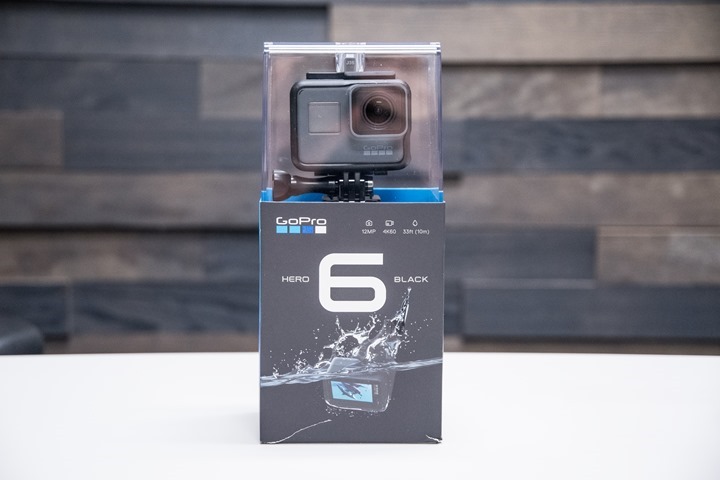 It seems only appropriate that for a video camera, that I have a video unboxing. This allows me to tell ya all sorta of vaguely related things at the same time as I dismantle the box in a less than graceful manner.  Also, I've got a ton of size and weight comparisons in there:
But no worries, let's say you want a full unboxing review experience, that continues below…with the box: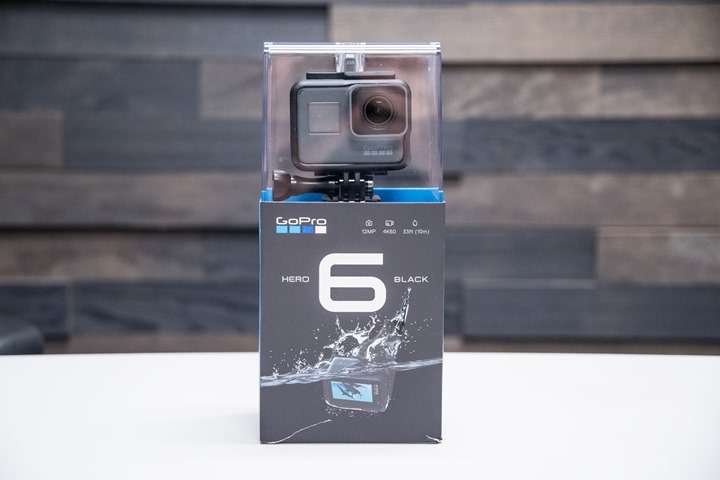 Then we've got everything in the box atop the table: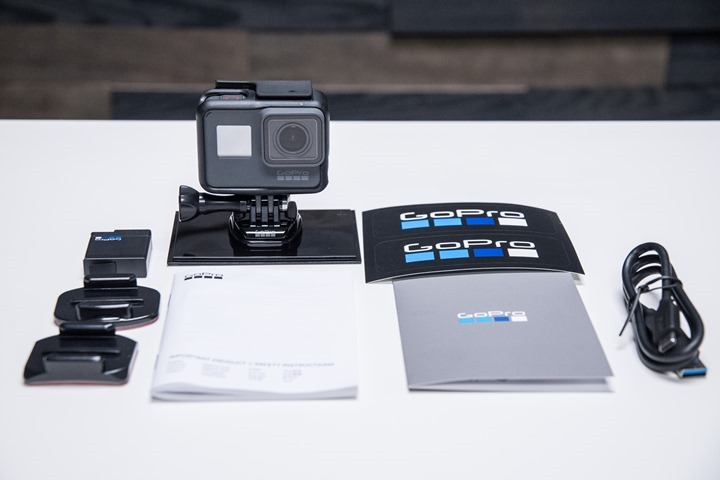 After we pull the parts out you'll find the Hero6 Black attached to a plastic plate.  Pro Tip: This plastic plate is actually meant to be kept like a mini-tripod of sorts.
The box includes two sticky mounts – one for a flat surface, and one for a curved surface.  You'll likely want more of these down the road.  Fear not, you can find giant bundles of these on Amazon for a couple bucks.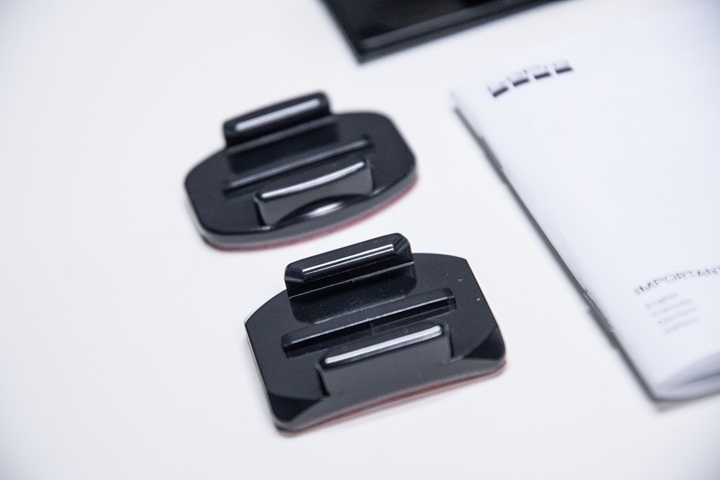 Then there's the mini-manual, stickers, and legal docs:
After that, we've got the USB-C charging cable.  Fear not, it's only USB-C on the camera side, whereas the other side is regular USB.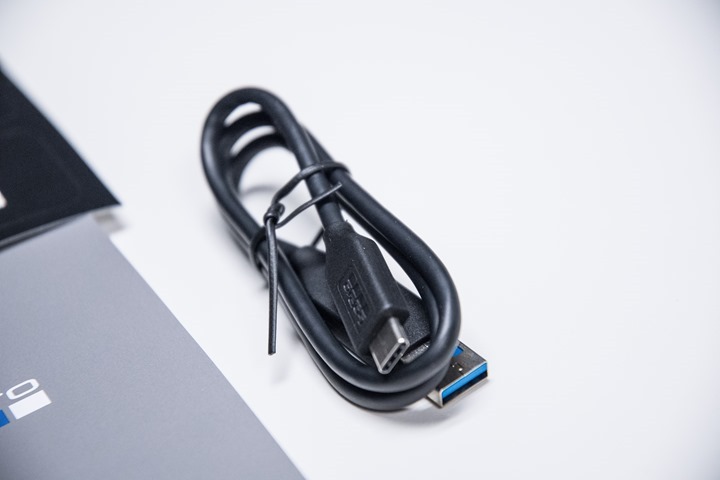 And then of course – the camera itself, alongside the battery.  The battery is identical to that of the Hero5 Black, and is totally interchangeable.
Note above that the battery goes into the battery compartment via the waterproof door on the bottom, it's the same place the Micro-SD card goes.  While on the side you'll find the USB-C charging port alongside the HDMI port.  These are protected by a small removable waterproof door.  Said door is removed when you use it with the GoPro Karma Grip/Drone.  It's also incredibly overpriced at $20 if you misplace it (which you will, at the worst possible time).
With that, we've got everything in the box.  Remember that the camera came in the mounting frame (seen up above on the little plastic stand), and you'll need that anytime you want to mount the camera.
The Basics: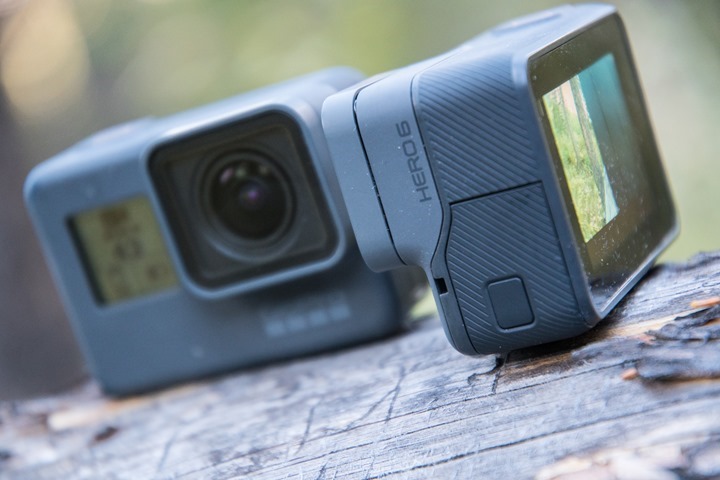 Now before we dive into things like the video and photo quality, I want to very briefly cover some basics.  First up is that the Hero6 Black is waterproof to 10m/33ft without any additional housing.  As long as you've got your battery compartment and charging door closed, you're good to go.
Speaking of which, that little charging door detaches and is easily lost if you use the gimbal a lot (which requires taking it off) at the worst possible time (usually on vacation on some tropical island).  I'd highly recommend buying a replacement door and stashing it in your suitcase in some random pocket just in case something happens.  That way your GoPro is still waterproof.
Next, we've got the touchscreen on the back.  This allows you to preview what the camera is pointed at, as well as interact with the menus.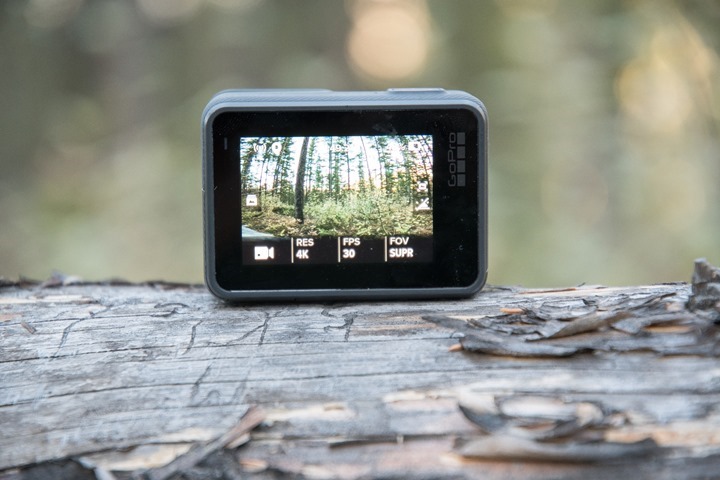 The touchscreen is also waterproof of course, but doesn't work well in the water.  For that, you'll want to use the manual buttons to change any settings.  There's one button atop the camera that starts/stops recording (or takes a photo), and another on the side to change modes and create a highlight.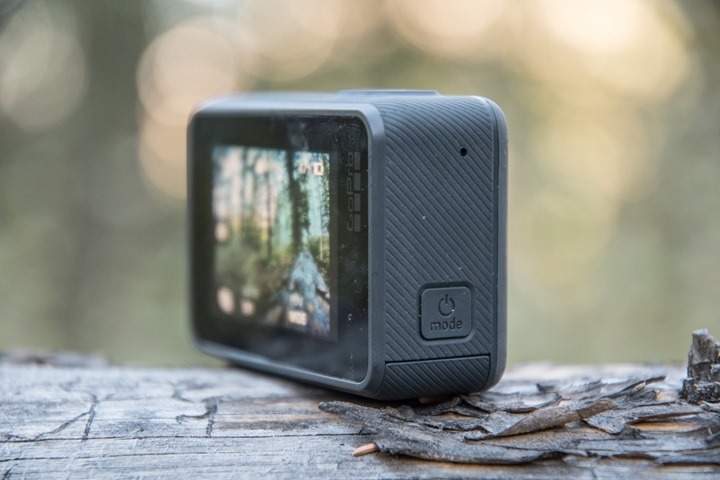 The touchscreen also allows you to review photos and videos you've taken right on the spot.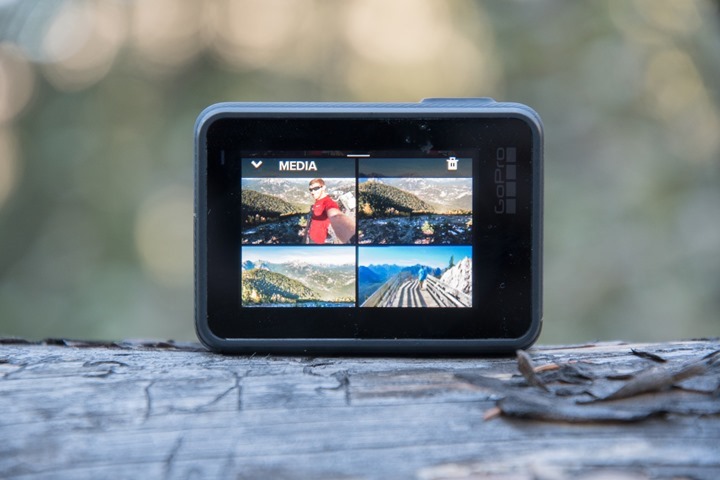 The Hero6 Black does bring with it the voice commands of the Hero5 series, while also adding in the ability to turn on the camera via voice.  As long as it was turned on at some point in the last 8 hours, it'll wake up automatically.  GoPro says this will only impact battery life about 3-5 minutes at most.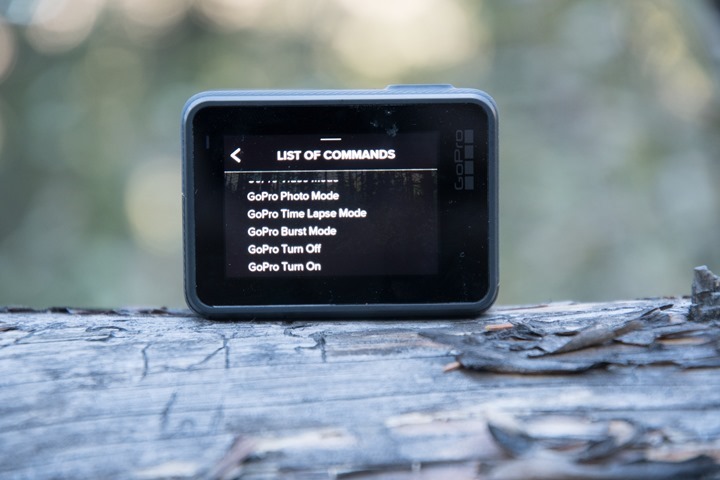 From a battery standpoint, there hasn't been much change in battery time with the Hero6 Black over the Hero5 Black.  It's all about the same, which means shooting at the max of 4K60 you'll get about an hour, whereas shooting at 1080p/30 (a lower baseline), you'll be clocking in over 2 hours.  The good news is the batteries are the same as the Hero5 Black, which also means 3rd party batteries are the same.  I've tested these 3rd party batteries in the Hero6 Black with no issues, and they're a heck of a lot cheaper.
From a mount standpoint, the camera will generally be used in that black frame case that came with it.  That allows it, in turn, to mount to any GoPro compatible mount (of which there are thousands).  It could be a mini-tripod or a helmet mount, or some other crazy contraption.  It's kinda the cool part about the GoPro mount system – tons of creativity in what people have come up with.
So, with those super quick basics out of the way, let's talk about some tech details.
Video & Audio Details: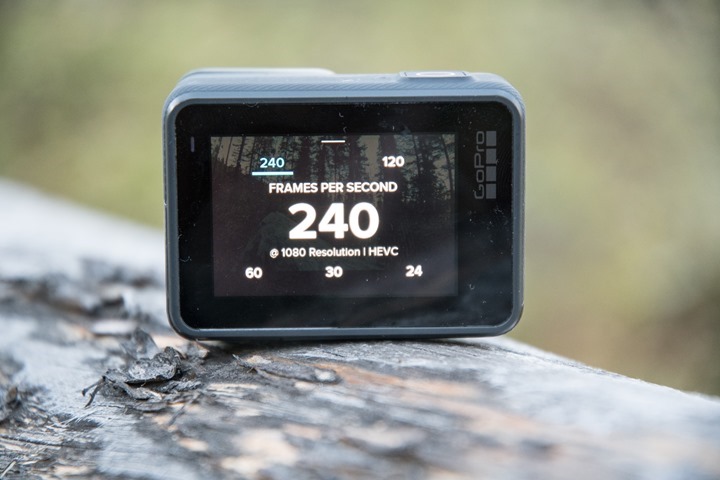 First up, we'll start with the video side of the house, given it's a video camera and all.  The first thing to note is the resolution and frame rate changes we've got to work with.  With the Hero6 Black you've now got up to 4K 60FPS, whereas that was previously limited to 4K 30FPS in the past.  Of course, that's the header item, but the real interesting item is what's happening below that key resolution.
For example, GoPro introduced electronic image stabilization within the Hero5 last year, but that was limited to 2.7K – so you couldn't take advantage of that at 4K.  That changes with the Hero6 Black, which supports image stabilization up to 4K30, and even 2.7K is up to 120FPS now.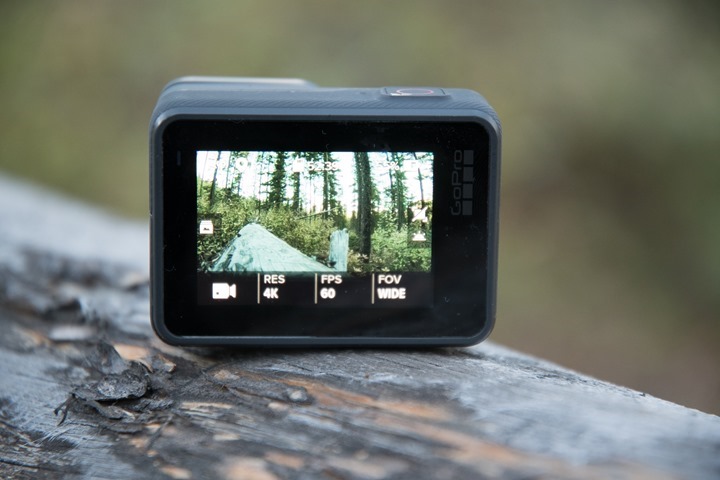 Note that video stabilization is still electronic based, and not optical stabilization like on Sony's latest action cam.  That said, I did a bit of a comparison of 4K stabilization options across four major cameras: GoPro Hero6 Black, GoPro Hero5 Black, Sony XDR-F3000, Yi 4K+, and the Garmin VIRB Ultra 30.  I repeated a test over a short mountain bike segment, comparing each one to the GoPro Hero6 Black side by side.  This allows you to check out not only stabilization, but color and dynamic range across a tricky environment:
[Video Uploading Slowly on Hotel WiFi]
Much of these image processing changes on the Hero6 black are ushered in by GoPro's new GP1 chipset.
And even the image stabilization itself is now improved.  GoPro says this is largely due to the new GP1 image processing chipset.  They developed this chipset in-house, to replace the Ambarella chipsets they and other camera manufacturers have used for years.  GoPro says the main reason they shifted to an in-house developed chip was that it would give them a competitive edge.  Versus previously if you looked at past cameras the core image processing chipset would soon be used by competitors.  For example, the GoPro Hero5 Black was on virtually the same chipset as the Garmin VIRB Ultra 30.
Of course, some of that's also marketing and likely a desire to save costs.  There were certainly newer and better chips that GoPro could have taken advantage of from Ambarella at the time of the Hero5 launch, as well as now the Hero6 launch.
Either way, the results are actually impressive, and it's resulted in a number of improvements I outlined above.  The two biggest visible improvements would be better low-light support and better dynamic range, both of which are easily seen in my overview video above.  The best way to explain these is that you get better exposure in both bright and dark conditions, as well as faster exposure.  So for example when mountain biking through trees on a sunny day the camera reacts very quickly to lighting changes so you don't end-up with image blow-outs.
With the shift to 4K60 as well as 1080p240 (which provides super smooth slow motion capabilities), GoPro has also moved file formats to H.265/HEVC.  The HEVC is the format that Apple uses when recording photos/videos these days on iOS11, and is designed to reduce the file size by approximately half while retaining the same image quality.  On the GoPro Hero6, only a portion of the video modes use this file format, they are:
HEVC Modes: 4K60, 4K(4:3)30, 4K(4:3)24, 1080p240, 2.7K120, 2.7K(4:3)60
Whereas all other modes use the existing H.264, as that's more widely compatible.  And in fact, there are a bunch of caveats to be aware of with H.265, mostly around compatibility.
For example, when GoPro's main smartphone app automatically transfers footage to your phone when within range of the camera, it won't do so for H.265 footage.  That you'll have to transfer manually.  Further, for H.265 footage you can't preview it from the camera, you have to transfer it first.  And finally, older operating systems and apps won't support it.  Even as of today, September 28th, 2017, the video editing giant that is Final Cut Pro X doesn't support it.  So you have to spend considerable time converting all your clips first, which makes puppies die.

One of those new modes is 1080p240, which enables you to really slow down the footage you capture in high-speed situations.  Previously GoPro only offered 1080p120, or 720p240.  There's a massive difference in quality between the 720p and 1080p at 240FPS.  It looks spectacular on the Hero6.  You can check out some sample footage I did with exploding water balloons within the main video up above (about mid-way through).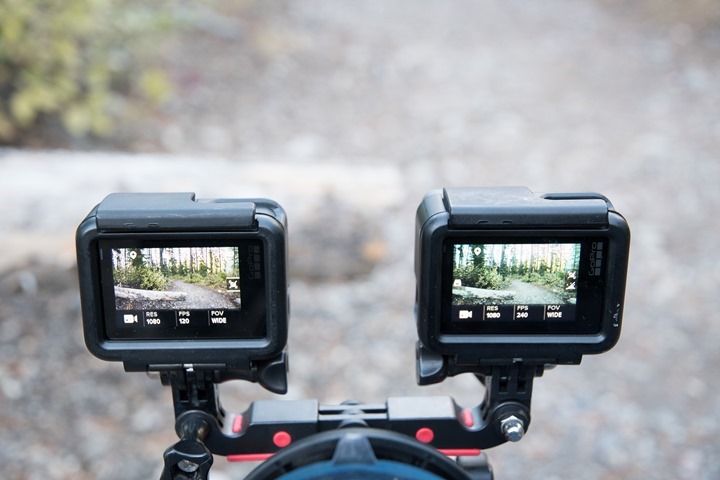 Next, the Hero6 Black allows you to use a small zoom slider to zoom in on the image within certain modes.  This gives you more flexibility than the typical Medium/Narrow crop options, since you can use the slider anywhere between 0% and 100%.  Note that it's not available on all modes, like 4K60 or 1080P240.
Finally, like in the past, you've still got ProTune mode for making changes to the camera settings (like exposure and color profile) on the camera itself, as well as giving you more flexibility later in post-production.  That also goes the same for audio flexibility with the three microphones that are on the GoPro Hero6 Black as well, enabling you to record individual mics if you'd like, or have it do automatic wind reduction for you.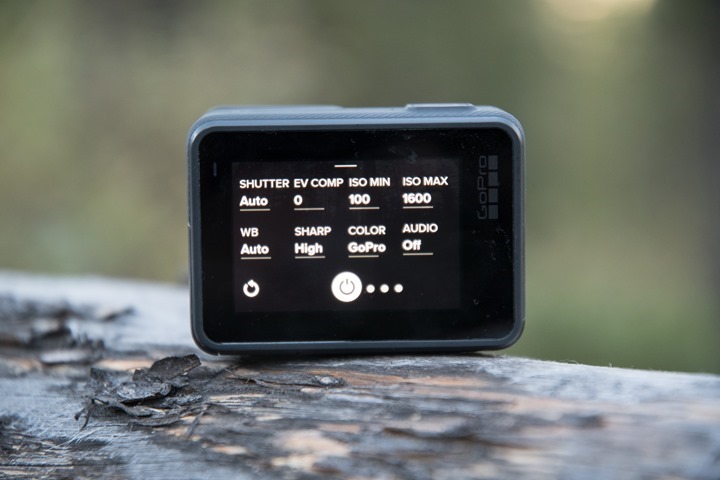 All in all, things are pretty impressive on the video front.  As I said in the video – it'll be easy for folks to get focused on 4K60, but that's not really the star of the show here.  It's how well it performs in lower-light conditions as well as the clarity and dynamic range that's the real winner.
That said, the HEVC file format will likely be a stumbling block in the short term, at least until app and platform compatibility catches up with it.
Next, a quick chat on audio.  The Hero6 Black, like the Hero5 Black has three microphones on it. These microphones are arranged in a manner that allows them to do wind cancellation by using the microphone not hit by the wind.  Most of the times it works, but not all the times.
What's cool though is that you can enable individual track recording via ProTune, so that each of the microphones is recorded individually to the MicroSD card, alongside your video.  This gives you ultimate control in post-production (albeit, an ultimate headache to deal with).  Still, the option is there.
While GoPro says audio quality is improved over the Hero5 Black, it sounds pretty similar to me.  I suspect what they're saying is that there are various edge cases that the Hero6 Black has improved upon.  A few items here, a few items there.  Nothing wrong with that, but I don't see wholesale improvements across the board.
To demonstrate the audio quality, here's some sample footage that's straight out of camera:
As you can see (err…hear), the audio quality depends a bit on the situation, but also really more on whether or not it's in the frame case.  The frame case definitely hurts audio quality in most situations, but certainly not all.  You can see in the running portions it actually sounded pretty darn good, whereas at other times with secondary noises (like the last audio clip), it reverberated the sound a bit, making it sound worse.
Ultimately, if you learn where the mics do well and not well, you can get pretty OK quality from it (like, Pro Tip: Don't touch the mics with your fingers while holding it and talking).  At the same time, the reality is that a waterproof camera will have lesser quality from an audio standpoint because more protections have to be put in place than a non-waterproof camera.  If you're looking to use it to vlog or other speaking-focused thing, I'd encourage you to look at other options (it's why 100% of top vloggers use dedicated mics).
But, if you just want to capture the moment and not fuss about perfect audio quality – it does a pretty darn good job.
Photo Details: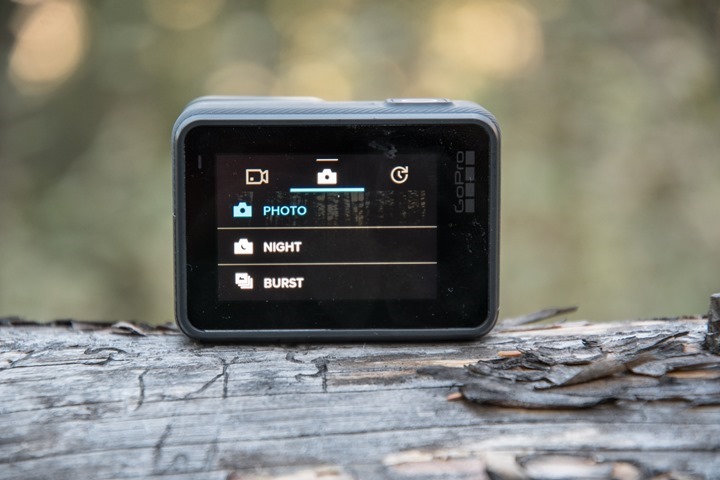 Next, we've got photos, where an action cam is one of the main ways I take photos during workouts.  Within the Hero6 Black you've got all the same modes you had in the past, so things like burst mode, time-lapse mode (both photo and video), as well as the ability to control photo exposure via ProTune.
But you've also got some new stuff.  Most notably a new HDR mode, which is different than the WDR mode in the past.  HDR works much like that on other cameras/phones in that it takes multiple frames with varying exposures at once and combines them together into a single photo.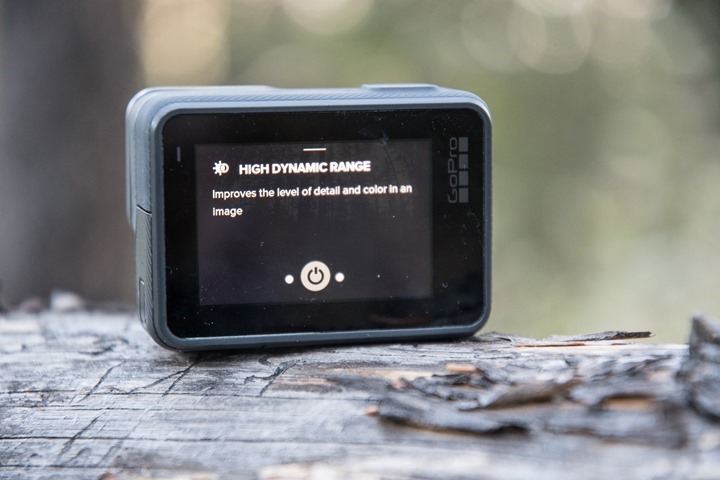 The result is a photo that in some cases could have much better visibility in the shadows, and not be as overblown in the highlights.  Take for example this comparison left and right.  The one on the left is regular, versus the one on the right is HDR.
You'll notice the ground on the non-HDR one is underexposed, whereas on the HDR you see everything.
Here's another example, this time with me in the frame (left regular, right HDR):
The concern you sometimes have with HDR though is things end up looking 'fake', with too much saturation or contrast.  And that can certainly happen here.  But I find it's less work to take an HDR photo and fix some things on my phone (reduce contrast/saturation), then it is to do the opposite (fix lack of detail in shadows or overblown areas).
The next thing you'll notice on photos is just how brilliant they are (non-HDR).  Much of that comes from the new GoPro GP1 chip, which has far better dynamic range and coloring.  Check out this shot I took – totally unedited, straight out of camera (non-HDR):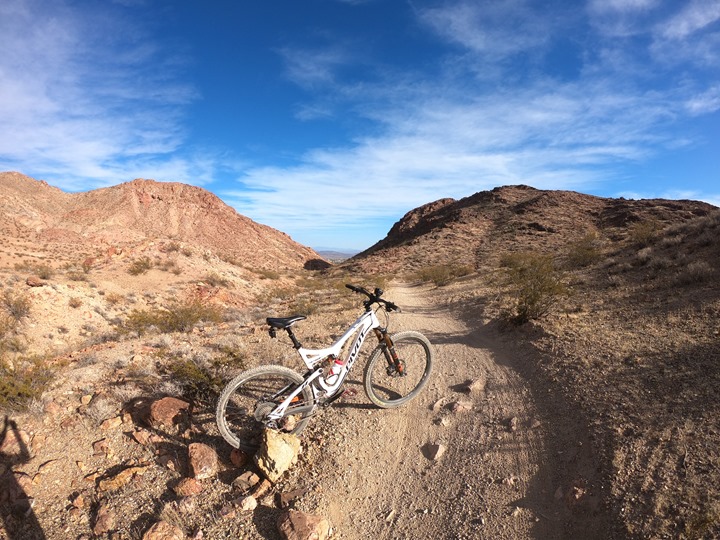 It's just brilliant.  Shooting the desert is always tough, especially later in the day.  This came out fantastic.
Next, note that the new zoom option applies to photos as well.  This allows you to simply move the slider up/down to get just the right shot without having to change framing or moving the camera.  Here's two side by side shots, one taken zoomed in, and one at full wide:
For fun, here's a small gallery of photos I took, all of which are non-HDR, straight out of the camera.
Lastly, one item worthwhile noting is that you can now specify the exposure in photos up to 30 seconds long.  This allows you to get legit night scenes (albeit probably not with action).  This feature also carries through to the time-lapse mode as well, so you can use it in conjunction with that.  Further, you've still retained the RAW format for photos as well, so you can enable that to get more post-production control.
GoPro Apps:
Finally, we'll wrap up with GoPro Capture and GoPro Quik.  GoPro Capture is their phone app that allows you to control and offload files from the GoPro action cameras to your smartphone.  GoPro Quik meanwhile is an editing tool that allows you to quickly generate 'edits' (videos) using your captured content.  The app can leverage things like accelerometer data, highlights, and even facial recognition to pull together an automated edit of your day.
Starting with the regular app though, we've got the ability to connect to your camera and then either download photos/videos from it, or control it.  You can also setup WiFi from it so that the camera will connect directly to WiFi networks and upload your goods:
From a camera control standpoint, you can change virtually every setting on the camera remotely using WiFi (up to the range of WiFi).
Much of this is all the same that's been on the camera/app for years.  However, in the last year they've enabled the camera to quickly offload files anytime it's nearby your phone.  This means that by the time you open up the app, it's already got the photos and videos loaded on it.  It's mostly pretty slick, and you can see them on the top up there from different days:
I say 'mostly', because sometimes it's a bit finicky.  Also, it doesn't automatically transfer over any of the higher end stuff, like 4K60 or 1080P240.  You have to do that manually.
Further on the 'mostly' front, you can't preview 4K60 or 1080P240 content from your phone via WiFi to the camera, you have to download it all to the phone first (the whole file), which can take a long time.  So that's definitely a bummer.
Part of the conduit though from Capture is over to GoPro Quik, which is their editing app.  It's here that it'll put together automated day highlights, or, you can create your own.   You'll start by pulling in footage, both from the GoPro as well as anything else you've got on there (like phone videos/photos).
Then you can go ahead and choose a theme, duration, and music as well.  All of which usually doesn't take too long.
At this point, you can tweak the edit as you see fit by adjusting clips and some basic special effects.  It's somewhat the perfect app while sitting in an Uber to the airport to knock out an edit before your flight home from vacation.
Finally, it'll export out a short clip for ya.  Here's an example of one I did last weekend:
As you can see, I didn't spend a ton of time within the app.  Instead, I just let it do its thing for the most part.  It's also dependent on the footage you give it.  So I had less establishing shots with this – as well as less variety on this specific day that I fed it (since it didn't pull in the 4K60 footage automatically).  Still, it's not too shabby for minimal effort.
Meanwhile, much of this same stuff is available on the desktop side as well.  You can see here the combination of local clips and GoPro Plus (their cloud service) clips, all in one single pane of glass: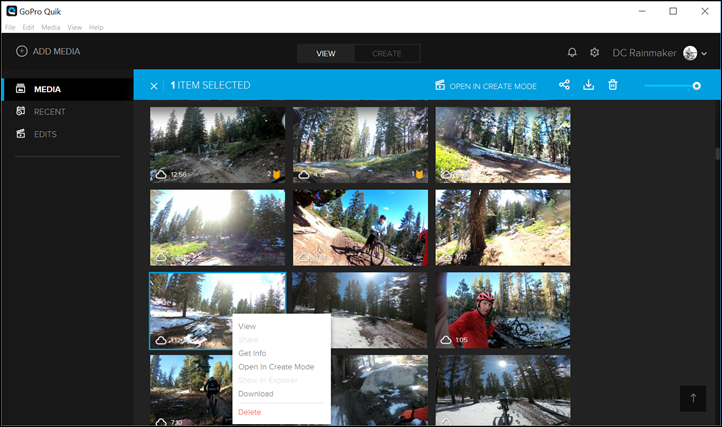 I can then choose a given clip to start creating a video.  In this particular case the clip I selected was on the cloud, so it downloads it first.  This clip got there via WiFi from the camera.  I can also add more clips as I need to, and it'll pull from from the appropriate source.  Note: Ignore the fact that this particular clip has mud all over the lens. #MountainBikingLife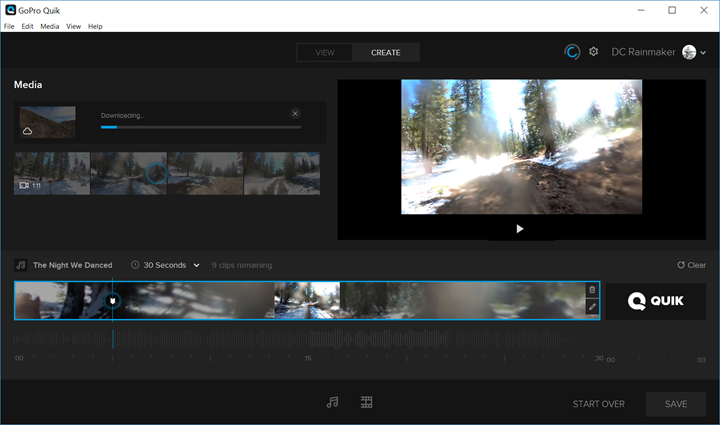 Next, I can simply tap exciting moments throughout the video clips, which in turn add the dots (clips) to the timeline.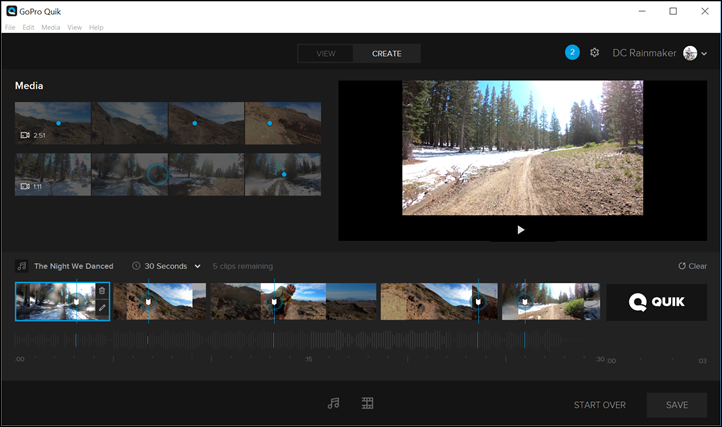 Next, I can add/change the music, or tweak the clips.  Further, I can add gauges to overlay on top of the footage too.  Apparently these two clips don't have the GPS data in them (though I'm pretty sure I had it enabled), so you'll get a bit of a message about that.  But you can see down below the different gauge types: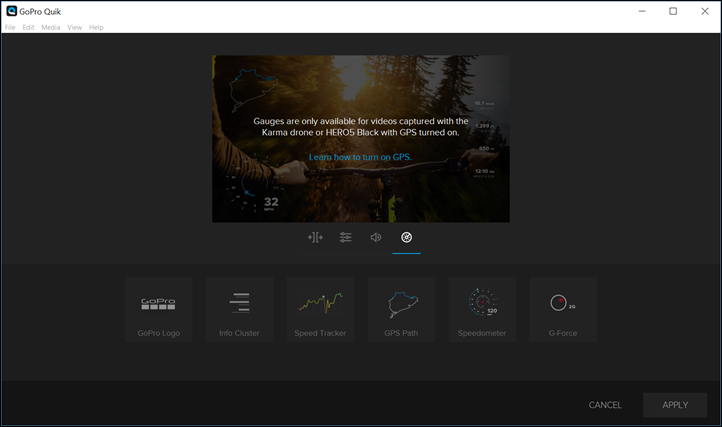 It's essentially pretty basic though, you don't have a lot of customization you can do here like you would in Garmin's VIRB Edit that has near limitless possibilities (especially including customizations).
So I'll go back out and capture some more gauge-friendly footage in the next few days to add in, though it seems pretty similar to what I saw on the Hero5 Black (including various updates since then).
In any event – after that's done you can export out the Quik story which is cut to music just like on the mobile app.
And all and all, GoPro's made some pretty solid improvements here in the last year on this front.  Things are much cleaner than before, with most of the kinks worked out.  It's not going to be for power users (I won't likely use the desktop piece ever), but it's definitely great for many others.  The mobile app piece though I'm far more likely to use to put together short edits for Instagram or similar.
Camera Model Comparisons: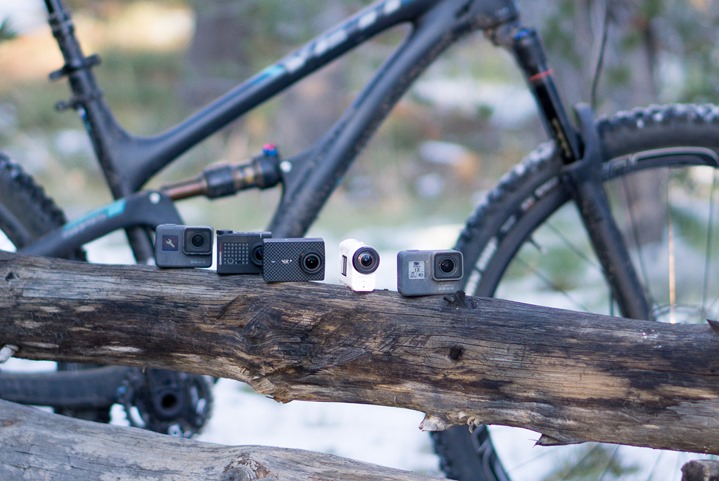 I've loaded the GoPro Hero6 Black into the product comparison tool for action cameras, which covers all the action cams I've reviewed.  I'll likely be adding in the Yi 4K+ camera into that, though I can't say I'd recommend it at this time (more on that after the table).  In any case, here's the rundown of feature differences:
Function/Feature

GoPro Hero6 Black
GoPro Hero5 Black
Copyright DC Rainmaker - Updated November 24th, 2020 @ 7:00 am New Window
Price
$399
$299
Availability
Global
Global
WiFi Builtin
Yes (2.4Ghz/5Ghz)
Yes
Bluetooth to Phone
Yes
Yes
Recording Light
Yes
Yes
GPS builtin
Yes
Yes
Altimeter builtin
Yes
Yes
Water Resistant
10m/33ft
10m/33ft
Accellerometer
Yes
Yes
Video Preview Screen
Yes
Yes
Voice Control
Yes
Yes

Battery

GoPro Hero6 Black
GoPro Hero5 Black
Recharges via
USB-C
USB-C
Removable battery
Yes
Yes
Recording Time
1hr 4K / 2hr20m 1080p30
1hr 4K / 2hr20m 1080p30
Secondary attached battery
Only via USB
Only via USB

Storage

GoPro Hero6 Black
GoPro Hero5 Black
Storage Card Type
Micro-SD
Micro-SD
Maximum Card Size
128GB
128GB

Video

GoPro Hero6 Black
GoPro Hero5 Black
4K
24/25/30/60 fps
24/25/30 fps
2.7K
24/25/30/48/50/60/100/120 fps
24/25/30/48/50/60 fps
1440p
24/25/30/48/50/60/80 fps
24/25/30/48/50/60/80 fps
1080p
24/25/30/48/50/60/80/90/120/200/240 fps
24/25/30/48/50/60/80/90/120 fps
Records 360* Video
No
No
Automatic Image Rotation
Yes
Yes
Image Stabilization
Yes - up to 4K30
Yes - up to 2.7K
Looping Recordings
Yes
Yes
Timelapse Mode (constructs timelapse video)
Yes
Yes
Travelapse/Hyperlapse Mode
No
No
Pro Settings Mode
Yes
Yes

Audio

GoPro Hero6 Black
GoPro Hero5 Black
Internal Microphone
Yes
3 mics
Supports Bluetooth Microphones
No
No
Pro mode with seperate tracks
Yes
Yes

Photo

GoPro Hero6 Black
GoPro Hero5 Black
Megapixels
12MP
12MP
Timelapse Mode (photos on interval)
0.5,1,2,5,10,30,60s
0.5,1,2,5,10,30,60s
Burst Mode
Up to 30 photos/second
Up to 30 photos/second
Continuous Shooting Mode
Yes
Yes
Concurrent w/video mode
Yes
Yes
Records 360* Photo
No
No
Pro Settings Mode
Yes
Yes
RAW photo creation support
Yes + HDR Mode too
Yes

Sports

GoPro Hero6 Black
GoPro Hero5 Black
Skiing Mode
No
No
Control from sport computer
No
No
ANT+ Sensor Connectivity
No
No
Bluetooth Sensor Connectivity
no
No
ANT+ Profile Types
No
No
Overlays sport data on recording
Yes
Yes

Phone

GoPro Hero6 Black
GoPro Hero5 Black
App platforms available
iOS/Android
iOS/Android
Use as remote control
Yes
Yes
Video preview
Yes
Yes
Transfer video-photos from camera
YEs
Yes
Multi-camera live control/preview
No
No

Software

GoPro Hero6 Black
GoPro Hero5 Black
App for computer
Windows/Mac
Windows/Mac

Accessory

GoPro Hero6 Black
GoPro Hero5 Black
Remote control button/key
Yes
Yes
Diving case
YEs
Yes

Device Connections

GoPro Hero6 Black
GoPro Hero5 Black
USB Connector Type
USB-C
USB-C
Micro-HDMI
Yes
YEs
Composite Video
With adapter
With adapter
Audio 3.5mm Stereo Mic
With adapter
With adapter

Purchase

GoPro Hero6 Black
GoPro Hero5 Black
Amazon
Link
Link

DCRainmaker

GoPro Hero6 Black
GoPro Hero5 Black
Review Link
Link
Link
Oh – and you can make your own comparison charts using the comparison calculator here, so if you've got different cameras you want to compare – go forth!
As for why not the Yi 4K+, the main reason is it just feels cheap.  Be it the waterproof case with the poor latch mechanism that easily falls off, or the construction of the unit itself.  While it does make some decent footage, I'm not sure it's worth the tradeoff in an action scenario versus some of the other options.  Perhaps as more of a static b-roll camera.  Just my two cents.
When it comes to comparing this to the Garmin VIRB Ultra 30 for sports, that's a tough one.  This easily bests that camera from an image quality standpoint, but does still lag behind for things like data metrics.  Garmin dominates data overlays and such, and GoPro isn't playing in the same league there. On the flip-side, if you've got a secondary Garmin device to capture those metrics, you can use the GoPro camera footage with that data.  So perhaps that's an option for some.
Summary: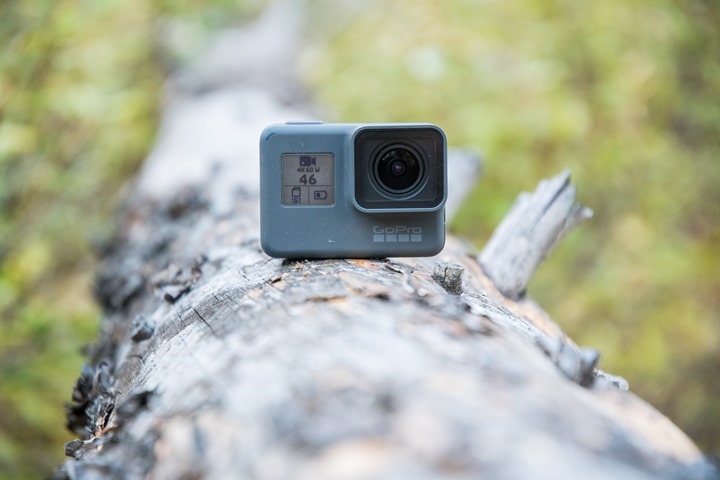 Overall, I'm blown away by the GoPro Hero6 Black.  As regular readers know, I'm all about a few core things, and in particular with action cameras: Image quality, ease of use, and the end-state specs.  And in all three categories this nails it, especially image quality.  But even with recent improvements over the past year for the GoPro apps, things got considerably better.  And of course, having the flexibility of 1080p240 and 4K60 is huge.
Which isn't to say there isn't room for improvement from GoPro.  Certainly, there is. Things like the lack of automatic transfer of higher end footage to GoPro Quik is one area.  As is the ability to preview that footage from the mobile app while on the camera.  And then pieces of the desktop app are still occasionally frustrating.  Still, from a hardware standpoint, I have almost no complaints (ok, maybe that little $20 charging port cover).
Overall though, this will undoubtedly be my 'daily driver' action cam that I use all the time.
With that – thanks for reading!

Found This Post Useful? Support The Site!
Hopefully you found this review useful. At the end of the day, I'm an athlete just like you looking for the most detail possible on a new purchase – so my review is written from the standpoint of how I used the device. The reviews generally take a lot of hours to put together, so it's a fair bit of work (and labor of love). As you probably noticed by looking below, I also take time to answer all the questions posted in the comments – and there's quite a bit of detail in there as well.
If you're shopping for the GoPro Hero6 Black or any other accessory items, please consider using the affiliate links below! As an Amazon Associate I earn from qualifying purchases. It doesn't cost you anything extra, but your purchases help support this website a lot. Even more, if you shop with TPC (The Pro's Closet), you'll save $40 on purchases over $200 with coupon code DCRAIN40! The Pro's Closet has been a long-time partner of the site here - including sponsoring videos like my cargo bike race, as well as just being an awesome Colorado-based company full of good humans. Check them out with the links below and the DCRAIN40 coupon!
These are my favorite action cam accessories that I use day in and day out across all the action cams. They just work dependably, and are my go-tos!
And of course – you can always sign-up to be a DCR Supporter! That gets you an ad-free DCR, access to the DCR Quarantine Corner video series packed with behind the scenes tidbits...and it also makes you awesome. And being awesome is what it's all about!
Thanks for reading! And as always, feel free to post comments or questions in the comments section below, I'll be happy to try and answer them as quickly as possible. And lastly, if you felt this review was useful – I always appreciate feedback in the comments below. Thanks!